Boot: 2022-2023 Salomon S/Lab MTN Summit
Stated Flex: 120
Available Sizes: 22.5-30.5
(Note: all top-end boot models from Salomon for 22/23 will be available with size offerings starting at a true 22, which is a 258mm BSL for the S/Lab MTN Summit).
Stated Last (size 26.5): 99 mm
Stated Range of Motion: 75°
Stated Forward Lean: 13.5° (adjustable to 16.5°)
Size Tested: 27.5
Stated Boot Sole Length (size 27.5): 298 mm
Blister's Measured Weight (size 27.5):
Shells, no Liners: 963 g & 971.5 g
Liners, no Footbeds: 212.5 g & 215 g
Shells + Liners = 1187 g & 1178 g
Stock Insoles: 29 g
Closure: 6-Point BOA System with "Touring Belt" + 45 mm Velcro Strap with Oversized Cuff Buckle
Power Strap: 25 mm Velcro
Shell Material:
Cuff: Pebax + Carbon-Reinforced Spine
Lower Shell / Shoe: Grilamid+
Soles: Full-Contagrip-Rubber, Non-Replaceable, 30% recycled materials
Binding Compatibility: TLT pin / tech style bindings only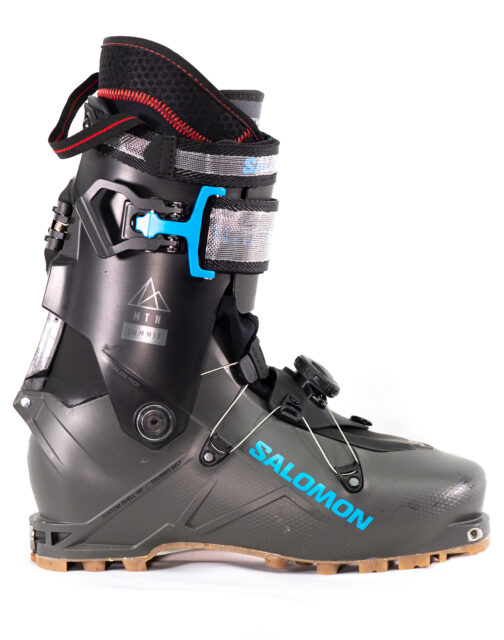 Salomon recently revealed their new Summit series of boots, which is the brand's lightweight touring collection for the 22/23 season. We have the top-of-the-line S/Lab MTN Summit in for a review, and it comes with some impressive specs: <1200-g weight in a size 27.5, a reported 75° range of motion, stated flex of 120, and several other unique features.
As we discussed on our recent GEAR:30 podcast episode about 22/23 gear, many brands are expanding their offerings in the lighter, touring-specific class of boots, so as we spend more time on some of these boots, we're looking forward to doing a bunch of direct comparisons. But in the meantime, here are some of our first observations about the design of the S/Lab MTN Summit.
Jonathan Ellsworth and I have both spent a few days in the 22/23 S/Lab MTN Summit, and we discuss our initial on-snow impressions in our recent Flash Review.
What Salomon Says about the S/Lab MTN Summit
This series was built with the help of Cody Townsend, and keen-eyed viewers of Cody's Fifty Project may have spotted a prototype in the Summit Fever episode from Mt. St. Elias. The MTN Summit boots are designed to be the more uphill-friendly, less downhill-oriented alternatives to the Salomon S/Lab MTN and Shift Pro boots.
A notable aspect of the new MTN Summit series of boots is that they are all built with less environmentally harmful materials, including 40% recycled polyethylene in the liner, a shell and cuff built from 46% bio-sourced materials, and a full rubber sole that's composed of 30% reground materials.
Salomon also makes a point of mentioning how the MTN Summit boots are "designed with durable and removable elements that make it easier to repair, recycle or replace," rather than having to buy a new boot when certain parts wear out.
This shift to using more sustainable materials and construction methods in ski hardgoods is one we're seeing across the industry, and it's nice to see quantitative numbers on the exact percentage of recycled and bio-sourced materials being used. Salomon's global product manager for alpine skis and boots, Quentin Boutry, says "all of the [22/23] skis and boots have been designed with sustainability in mind." The new MTN Carbon & MTN Pro skis, which replace the venerable MTN Explore series, all feature "100 percent sustainable cork inlay, 30 percent recycled ABS, 80 percent recycled topsheet and a fully recycled base."
The 22/23 Salomon MTN Summit Series
The MTN Summit series consists of five brand-new models, all featuring the same fit and construction, but with different flex patterns (the stiffest S/Lab version also gets an additional 25 mm power strap). All models are built with a similar recycled and bio-sourced materials composition. The S/Lab MTN Summit is offered in a unisex approach, with sizes ranging from 22.5-30. (All of Salomon's top-of-the-line, stiffest boots will be offered down to a size 22.5 for 22/23, which is great to see.)
This lineup is comprised of five boots:
S/Lab MTN Summit (MSRP: $799)
MTN Summit Pro (MSRP: $699)
MTN Summit Pro W (MSRP: $699)
MTN Summit Pure (MSRP: $599)
MTN Summit Pure W (MSRP: $599)
In the size 27.5 we have, the S/Lab MTN Summit comes in a bit below 1200 grams, which is a bit heavier than some of the lighter, reportedly softer options in the lightweight class, such as the Scarpa F1 LT. However, the S/Lab MTN Summit is still considerably lighter than more downhill-oriented "freeride touring" boots like the Atomic Hawx XTD series and the longstanding Salomon S/Lab MTN.
For reference, here are our measured weights (per boot, in grams) of several relevant boots in the same class as the S/Lab MTN Summit. We've also added the weight of the burlier Tecnica Zero G Tour Pro, Scarpa Maestrale XT Salomon S/Lab MTN, and Atomic Hawx Ultra XTD 130 to give an idea of the weight differences between the "lightweight touring" boots and the more downhill-oriented "freeride touring" boots.
988 & 991 Scarpa Alien RS, 28.0 (18/19–19/20)
1014 & 1023 Dynafit TLT Speedfit, 26.5 (18/19–19/20)
1064 & 1070 Fischer Travers Carbon, 27.5 (16/17–18/19)
1065 & 1069 Dynafit TLT 7 Performance, 28.5 (17/18–18/19)
1106 & 1101 Scarpa F1 LT, 28.0 (20/21–22/23)
1110 & 1114 Atomic Backland Carbon, 27.5 (19/20–21/22)
1178 & 1187 Salomon S/Lab MTN Summit, 27.5 (22/23)
1232 & 1232 Salomon S/Lab X-Alp, 27.5 (17/18–19/20)
1288 & 1286 Arc'teryx Procline Carbon Support, 27.5 (16/17–19/20)
~1310 (avg. weight) Scarpa F1, 28.0 (17/18–19/20)
1309 & 1311 Tecnica Zero G Tour Pro, 26.5 (18/19–22/23)
1505 & 1510 Scarpa Maestrale XT, 27.0 (19/20–22/23)
1545 & 1549 Salomon S/Lab MTN, 26.5 (15/16–22/23)
1557 & 1564 Atomic Hawx Ultra XTD 130, 26.5 (20/21–21/22)
The S/Lab MTN Summit's shell layout consists of (1) a heat-moldable Grilamid+ lower shell, (2) Pebax upper cuff, and (3) a carbon-reinforced "spine." With its walk mechanism in ski mode, the cuff attaches to the spine, which is bolted to the lower shell. In walk mode, the cuff detaches from the spine, allowing for lots of range of motion. Covering the throat of the lower shell is a textile gaiter.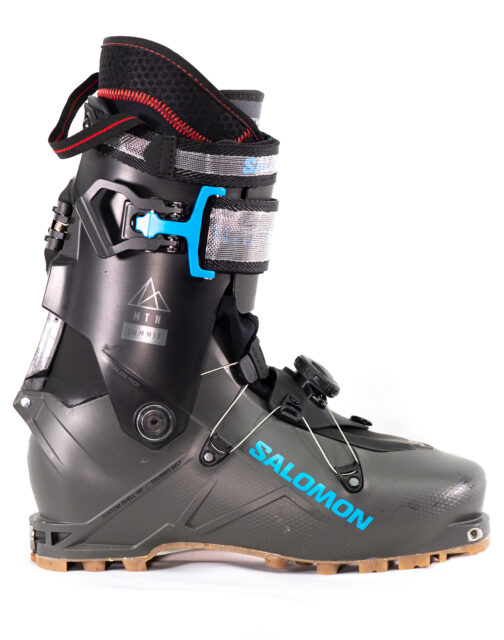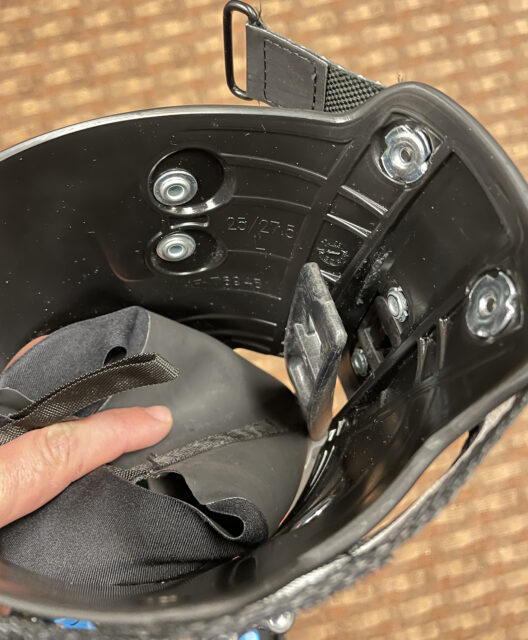 The S/Lab MTN Summit boot comes equipped with Salomon's "Custom Fit Tour Light Liner," which is heat-moldable. While it is positioned as a lightweight touring liner (and is in fact pretty light, at about 213 g per liner), it does have impressive foam density in the heel and ankle pocket (this is definitely the densest part of the liner). The tongue is held in place by two elastic straps over the instep right at the throat of the boot, where the gasket of the shell ends.
The liner has significant flex billows in the back, around 30 mm wide, positioned above the Achilles / below the calf.
The liner also has two straps for easy entry, both on the tongue and in the back near the top of the cuff, for picking up the boot and positioning the tongue while getting in the boot.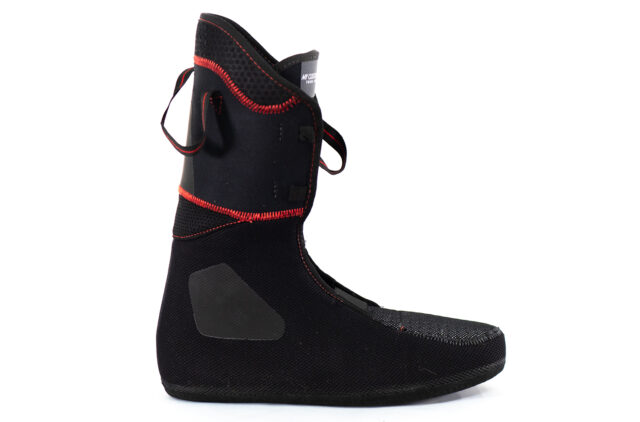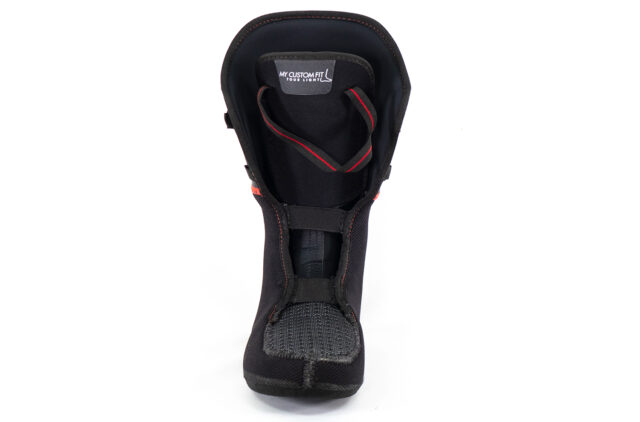 It is also worth noting that we've found this liner to be extremely easy to take in and out of the shell. This isn't always the case for lightweight touring boots, especially those with softer fabric gaiters around the throat of the boot and/or flimsier liners. I'd chalk some of this up to the liner itself, as well as the slippery gaiter fabric.
The MTN Summit boots have an external "Surelock" walk mechanism that's very similar to the mechanism on the S/Lab MTN. Visually, this mechanism looks much more compact than the big external latch that's become so common these days, but is still easy to open and close with gloves, thanks to a little pull tab. The mechanism is pulled laterally across the cuff, rather than the typical vertical mechanism featured on most touring boots. Same as on the original S/Lab MTN (previously called the MTN Lab), the S/Lab MTN Summit's Surelock mechanism creates a solid-feeling connection to the carbon-reinforced spine that makes it very obvious when you're in walk mode vs. ski mode.
This mechanism, combined with the S/Lab MTN Summit's open-throated shell design, makes for a reported 75° of range of motion, which is right in line with most of the <1200-g boots and notably broader than most heavier boots.
The Surelock walk mechanism is attached to the cuff via rivets, so it might be challenging to service while in the field, though we have yet to have the walk mechanism break on our multiple pairs of the S/Lab MTN.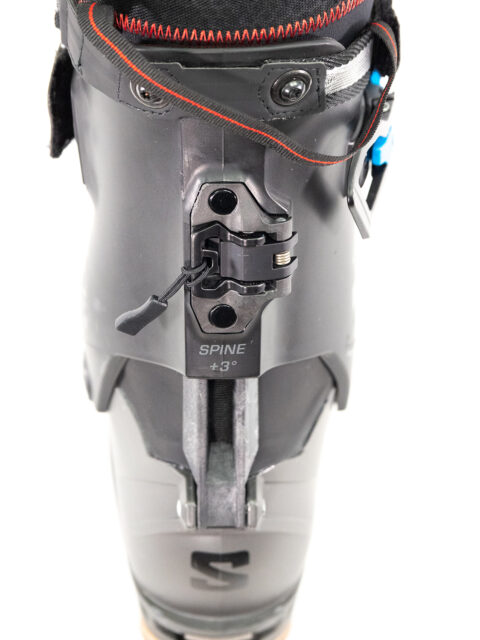 Adjustable Forward Lean
The MTN Summit boots come stock with 13.5° of forward lean but can be adjusted 3° forward (to 16.5°) by flipping the metal piece on the spine of the boot into which the Surelock piece slots.
Closure System
The MTN Summit series is built with Salomon's new 6-point BOA closure system with a "touring belt" (a flexible elastic/rubber piece over the ankle) that's adjusted via the BOA closure system across the ankle/instep area of the boot. The closure system starts behind the forefoot, and then moves across the instep, back towards the ankle, and then across the throat of the boot via the touring belt. This overall layout is similar to boots like the Scarpa F1 LT and 19/20–21/22 Atomic Backland, though the MTN Summit's addition of the touring belt has the potential to make for a more locked-in fit through the ankle.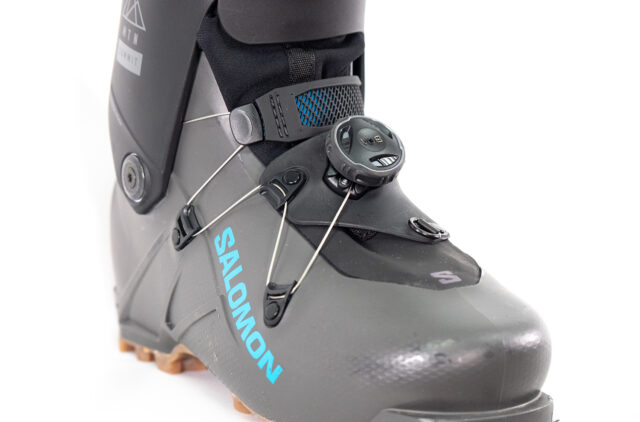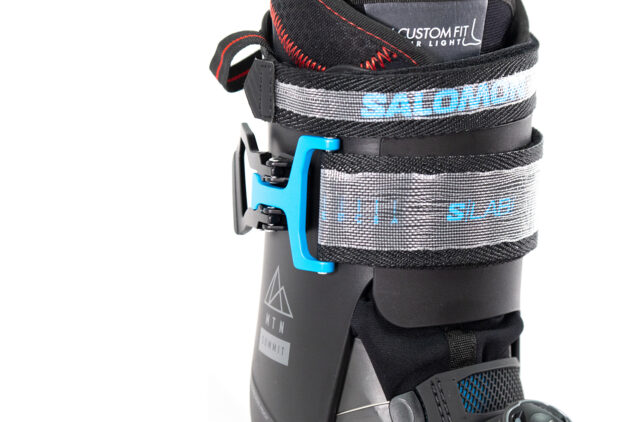 Above the BOA is a 45mm-wide velcro strap that is closed via an oversized buckle. The tightness of this buckle is altered by adjusting the velcro position, and then closing the buckle as the final tightening mechanism, which provides a good amount of leverage to cinch the cuff of the boot securely. It also makes it easy to loosen the cuff simply by opening the buckle and keeping the positioning of the velcro the same, though I think most people will want to loosen the velcro for extending skinning / walking.
Atop the larger velcro / buckle strap is a simple 25 mm velcro strap that serves as the power strap for the S/Lab version of the MTN Summit (the softer MTN Summit boots do not feature the extra strap). It sits atop where the shell meets the liner. It is also worth noting that it is affixed with two Phillips-head screws, for easy replacement.
Soles & Binding Compatibility
The S/Lab MTN Summit features Salomon's Skywalk touring sole, which has a grippy, fairly soft rubber compound. The Winter Contagrip lug pattern has a pretty aggressive-looking, open tread. Between the tread and tackiness of the rubber, this seems well-built for walking in tough terrain. As mentioned above, this sole is built with 30 percent reground rubber material. Because this is a new material composition and it feels pretty soft and grippy, it will be interesting to see how it holds up over time.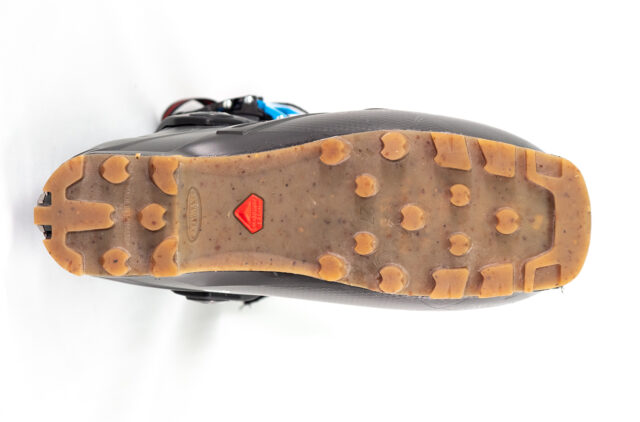 The MTN Summit boots feature toe and heel welts for automatic crampon compatibility, but its sole is not norm-certified, so it can only be used with TLT "tech" / "pin bindings, such as the Salomon MTN Pure. It will not work with MNC bindings such as the Salomon Shift MNC.
Cuff Adjustment
While the MTN Summit boots don't feature any built-in cuff adjustment, it is worth noting that the cuff attachments to the lower shell are all fully replaceable and serviceable parts, via a torx wrench. It also features a "Frictionless Pivot," which we first saw in Atomic's Backland series, wherein the pivot point is built with igus polymer bushings that aim to keep friction to a minimum, are self-lubricating, and are fully serviceable and replaceable when needed.
As always, this section comes with a major caveat: the only way to figure out if the MTN Summit will work for your feet is to go to a trusted bootfitter. And as we always say, fit is the most important factor when picking ski boots.
This also requires another temporary caveat, since Jonathan and I typically wear size 26.5 boots and we have the size 27.5 S/Lab MTN Summit. We're shipping it up to Paul Forward (who typically wears a 27.5) so he'll be able to say more about the fit in the future.
With all that said, a few things stand out with the fit of this boot. First and foremost is its toe box and forefoot, which feel notably roomy, especially for a boot with a stated last of 99 mm for a 26.5. Just looking down at the MTN Summit, its toe box looks notably more bulbous / less pointed than many touring boots, such as the Fischer TransAlp Pro. While fit is so subjective, a roomier toe box in a boot like this seems to make sense — long days of skinning / hiking often equate to a good bit of foot swelling.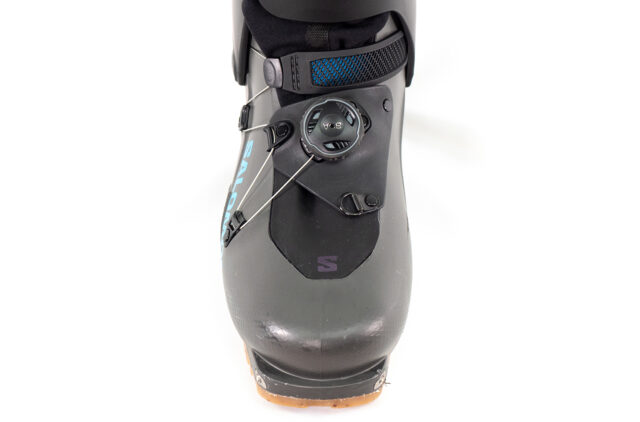 Jonathan and I have both been able to get good ankle / heel hold in this boot, while the forefoot of the boot feels very roomy on my feet. I'd expect that, given it's a size bigger than my usual, though the size 27.5's 298 mm BSL did make me think it might feel a bit shorter and lower volume even in this bigger size.
We'll leave it at that for now, but Paul will be providing more thoughts in our eventual full review.
After a brief hiatus, Salomon is back in the lightweight touring boot game, and the S/Lab MTN Summit is an interesting addition to this growing — and diversifying — category. It's notably lighter and offers a larger stated range of motion than nearly all stiffer boots, yet it's got a stated flex that's stiffer than many of the similarly light and lighter options. Blister Members can check out our Flash Review linked below for our initial on-snow impressions, and then stay tuned for our full review.
Flash Review
Blister Members can read our Flash Review of the S/Lab MTN Summit for our initial on-snow impressions. Become a Blister member now to check out this and all of our Flash Reviews, plus get exclusive deals and discounts on skis, and personalized gear recommendations from us.