2022 Intense Tracer 279
Wheel Size: 29" front, 27.5" rear
Travel: 170 mm rear / 170 mm front
Material: Carbon fiber
Price: Complete bikes $5,499-$7,199
Size Tested: Large
Blister's Measured Weight: 34.6 lbs ("Expert" Build, size Large)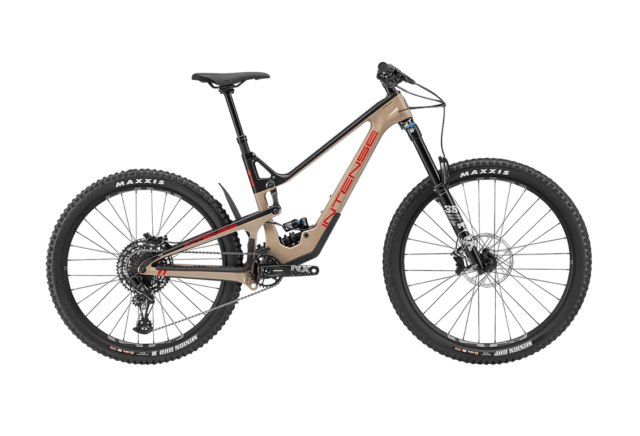 Intro
The Tracer has been a part of Intense's lineup for over two decades. As the sport and the bikes we enjoy it on have drastically changed over that period, so has the Tracer. While it started as a longer-travel XC bike, it now stands as a modern Enduro bike. That evolution involved a lot of significant updates, and this most recent update is a noteworthy one.
The new Tracer 279 was first teased in the summer of 2021 and was officially released in April of this year. The Tracer 279 has undergone some pretty notable changes which we will get into below — including a new mixed-wheel-specific configuration.
The Frame
The Tracer 279 is only available in carbon fiber, and it has 170 mm of rear suspension travel (up from 165 mm) paired with a 170 mm fork up front. While the previous version of the Tracer had 27.5" wheels front and back, the Tracer 279 is designed around a mixed-wheel platform and is only available as such.
Mixed-wheel bikes (either dedicated setups or with the option to run either a 27.5'' or 29'' rear wheel with a 29er up front) have become somewhat common of late. However, it's less common for a company to offer their Enduro race bike with a dedicated mixed-wheel setup as Intense has done with the Tracer.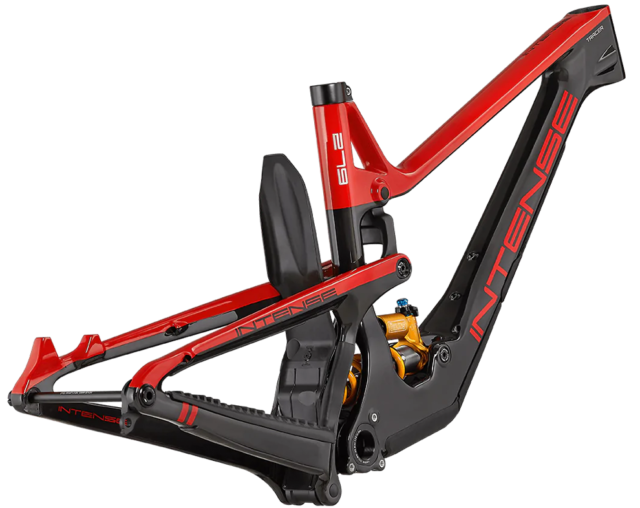 Also new for the latest version of the Tracer 279 is its rear shock placement. Intense uses a variant of a VPP suspension layout that they call "JS Tuned," and with the Tracer 279, they've moved the rear shock to the lower linkage of the bike's rear suspension, whereas it was previously mounted to the upper link. The layout is fairly similar to what Santa Cruz has done with their bikes in recent years, with a pair of counter-rotating links and the shock nestled low in the front triangle.
The Tracer 279 also has fully guided internal cable routing, a shuttle guard on the downtube, and molded frame protection in several other places on the bike. It uses a threaded bottom bracket, and it also has in-frame storage accessed on the underside of the down tube, near the bottom bracket. Additionally, the Tracer utilizes a flip-chip to offer two geometry settings — more on that below. There's room for a water bottle inside the front triangle, too.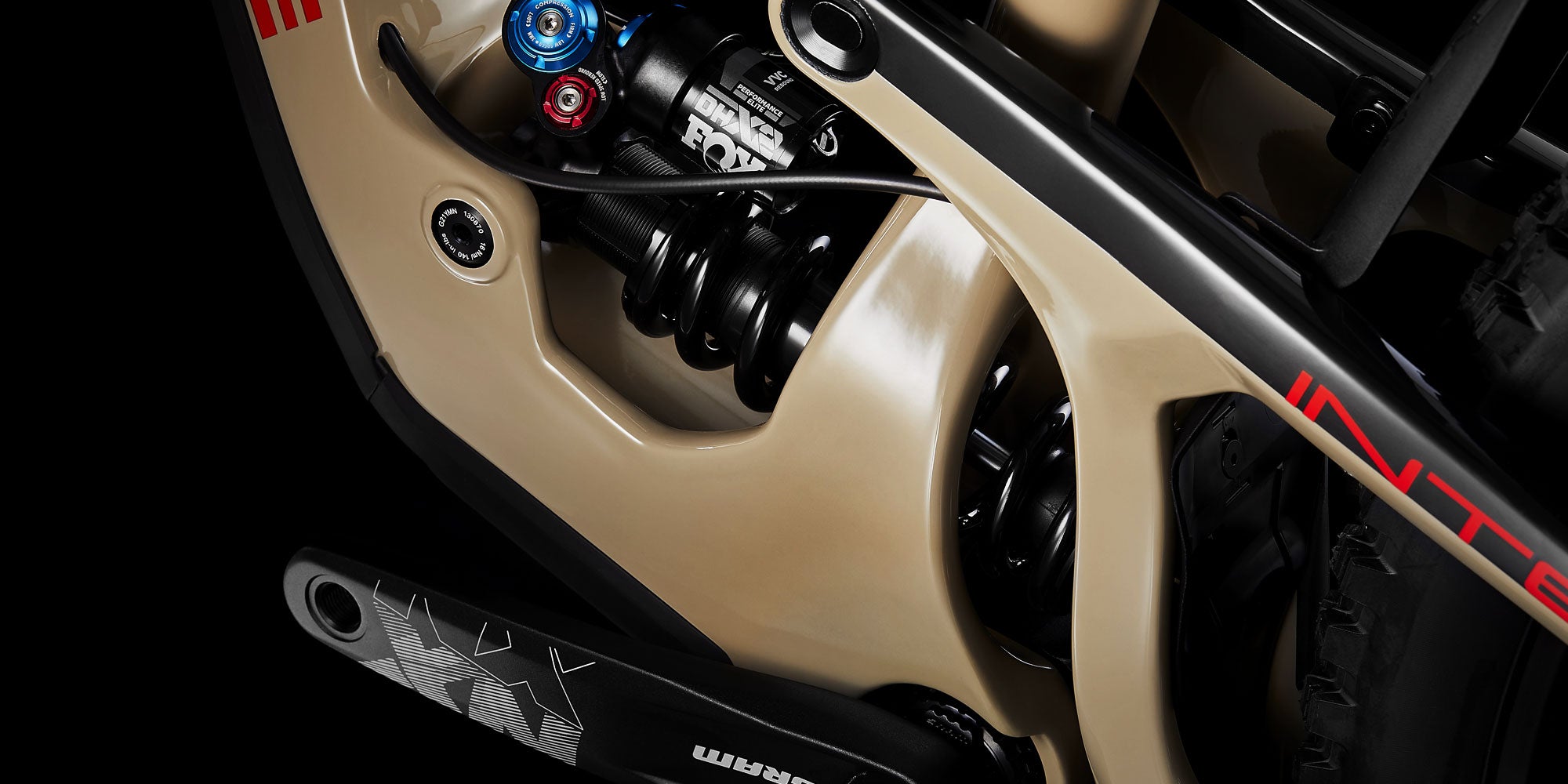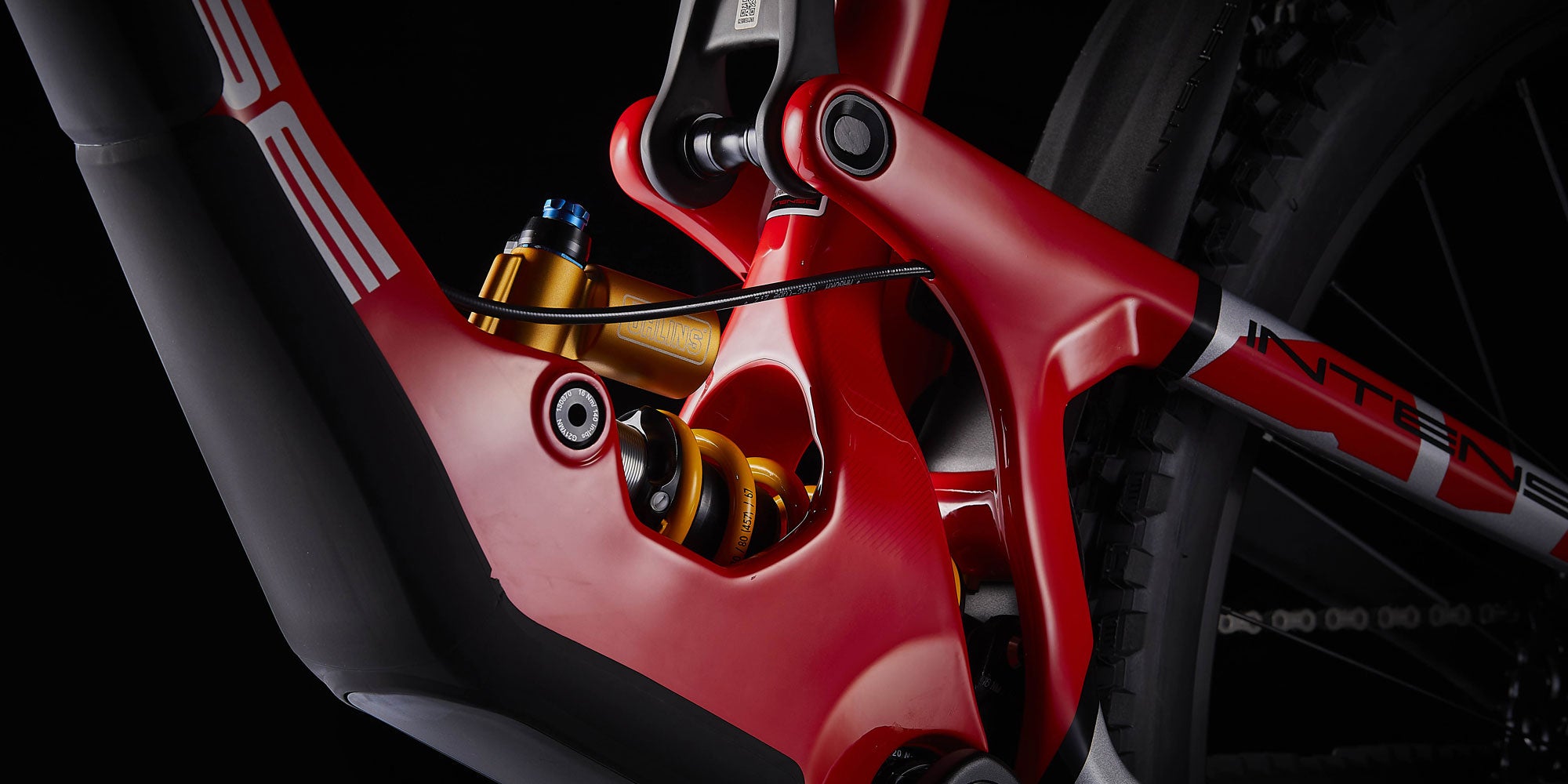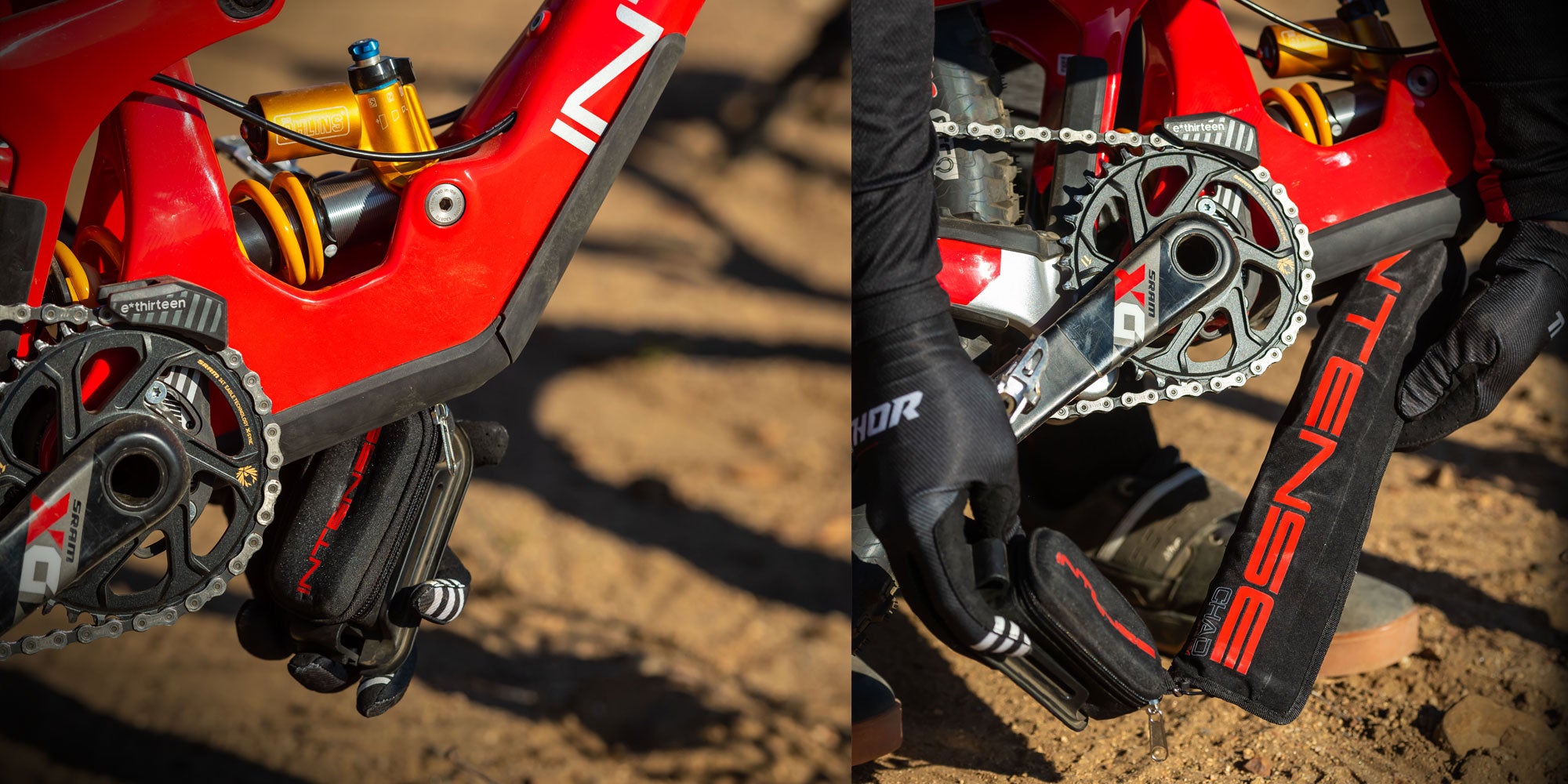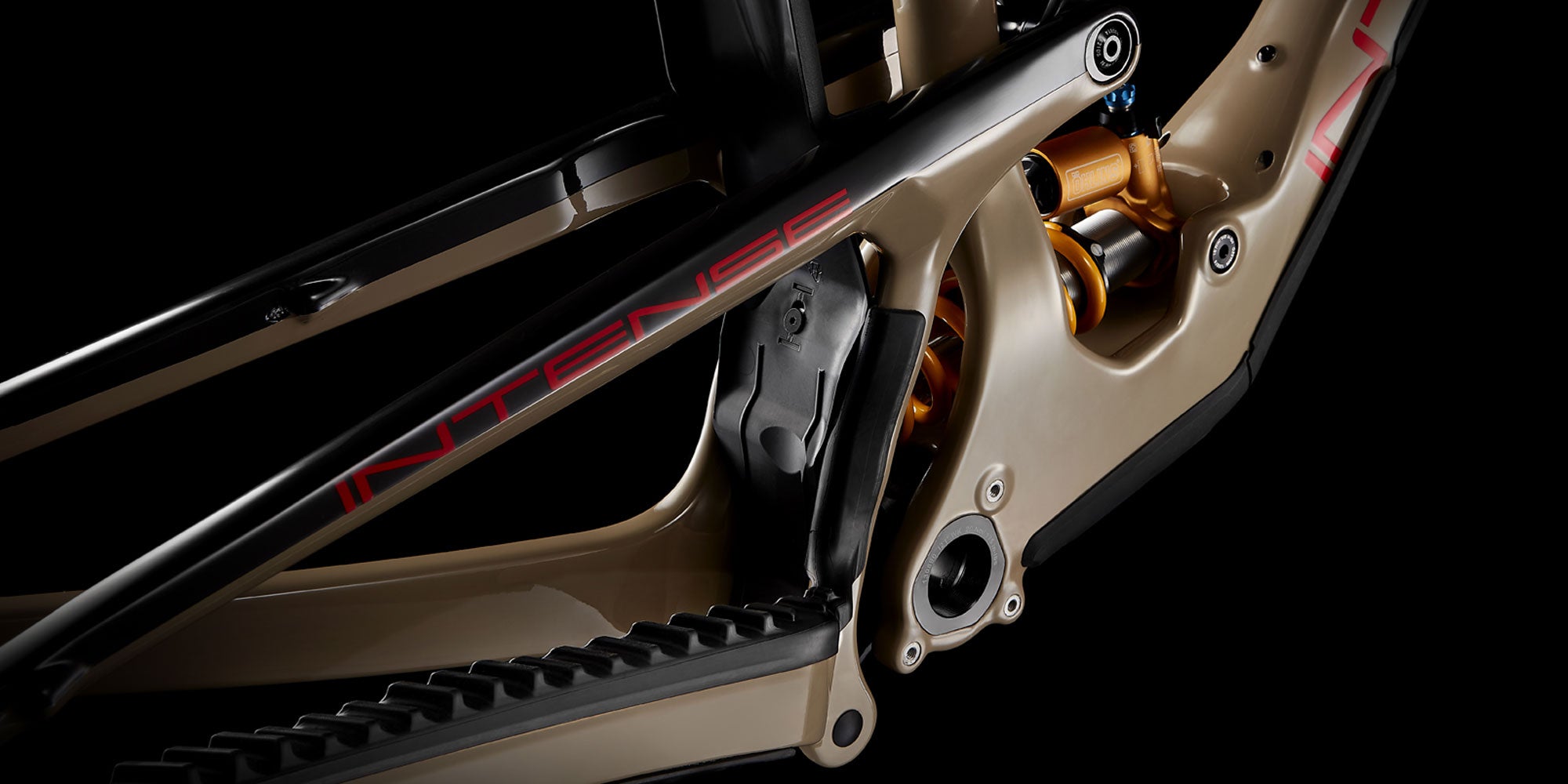 Fit & Geometry
As you'd expect from just about any mountain bike update these days, the Tracer 279 received longer and slacker geometry, paired with a steeper seat tube. Looking at the Tracer's geometry chart, nothing pops out as being out of place, and everything looks cohesive — which is great, since the previous Tracer was starting to look quite dated by today's standards. You can see the full geometry charts below:
The Tracer 279 is available in four sizes, Small through Extra Large. In the High geometry setting, its reach starts at 425 mm for the size Small, then 455 mm for the Medium, 480 mm for the Large, and 505 mm for the Extra Large. Its head tube angle is 64.5º and its seat tube angle is 77.9º in every size. Stack height starts at 615 mm on the size Small then grows by 9 mm for each larger size.
Switching the Tracer over to the "Low" geometry setting slackens the bike out by half a degree, lowers the bottom bracket by 7 mm, and shortens the reach by 5 mm in each size. It's worth noting that each size shares the same 437 mm chainstays (rather than different lengths for each size), but apart from that, the Tracer has thoroughly modern geometry you'd expect to see on an Enduro bike today.
The Builds
Intense has kept things quite simple with the Tracer 279's build kits by offering just two: "Expert" and "S." Neither build kit is entry-level; rather, both offer a moderate to somewhat high-end mix of components. Both kits come with a coil shock, and Intense sells a Tracer 279 frame with an Öhlins TTX22M coil shock for $3,299.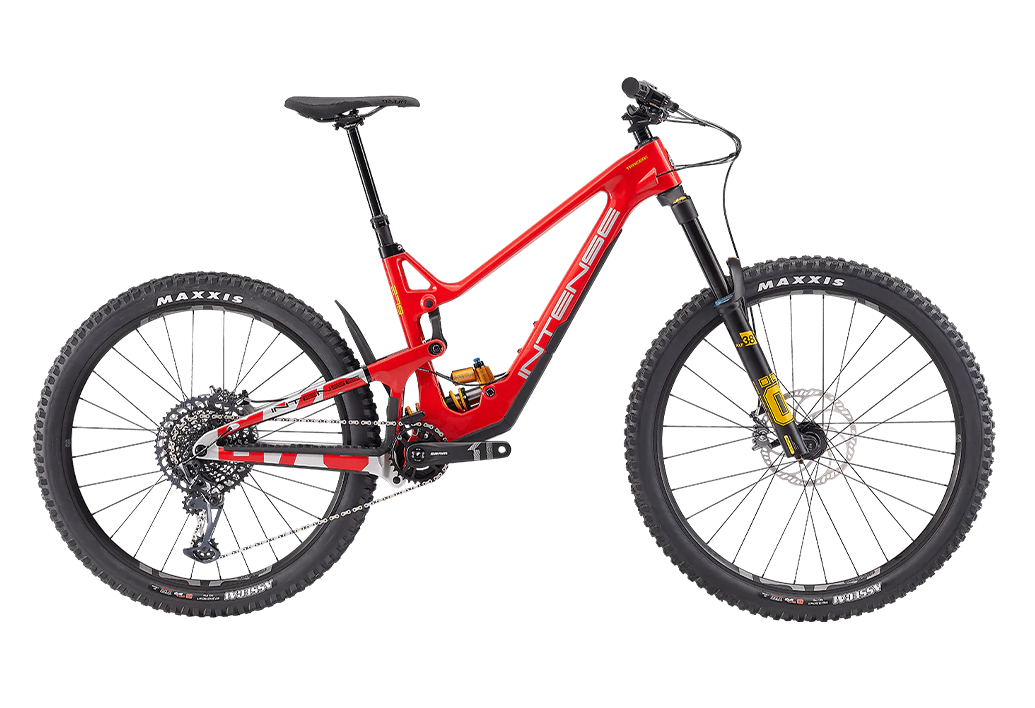 For reference, the complete build options are as follows:
Fork: Fox 38 Float Performance

Shock: Fox DHX2 Performance Elite

Drivetrain: SRAM NX Eagle

Wheels: e*Thirteen LG1 Enduro 30 mm Alloy / Intense Alloy Hubs

Brakes: SRAM Code R, 200 mm Centerline rotors

Dropper: Intense Recon
Fork: Öhlins RXF 38 m.2

Shock: Öhlins TTX22M Coil

Drivetrain: SRAM GX/X01 Eagle

Wheels: e*Thirteen LG1 Enduro 30 mm Alloy / e*Thirteen Race Hubs

Brakes: Magura MT7 Pro, 203 mm Storm HC rotors

Dropper: e*Thirteen Infinite
The Tracer 279 Expert features a Maxxis Minion DHF 2.5" tire up front and a Maxxis Minion DHR II 2.4" tire out back, both with MaxxTerra rubber compounds and Exo+ tire casings. The Tracer S 279 has the Maxxis Assegai 2.5" tire front and rear, both in the MaxxGrip rubber compound and burlier DH casing.
Some Questions / Things We're Curious About
(1) Most mixed-wheel mountain bikes on the market tend to feel a little more nimble and playful than otherwise similar 29ers, so exactly how game-on will the Tracer 279 feel?
(2) Given this, is the Tracer more versatile than most Enduro race bikes, or is it still a specialized racing tool?
(3) And how does the Tracer stack up against a whole bunch of the other Enduro bikes we've been on recently, including the V2 Santa Cruz Megatower?
Flash Review
Blister Members can read our Flash Review of the new Tracer 279 for our initial on-trail impressions. Become a Blister Member now to check out this and all of our Flash Reviews, plus get exclusive deals and discounts on gear, and personalized gear recommendations from us.
Bottom Line (For Now)
Intense's most recent take on an Enduro race bike is certainly an interesting one. The Tracer 279 combines modern geometry, a mixed-wheel setup, and 170 mm of coil-sprung suspension into a package that looks to be competitive with the ever-growing market of Enduro bikes. We've been spending some time on it and will continue to flesh out what makes the Tracer stand out in its class, so let us know of any questions you have about this bike below, and stay tuned for our Full Review.