GT Sensor & Sensor ST
Wheel Size: 29''
Travel:
Sensor: 130 mm rear / 140 mm front (Aluminum) or 140 mm rear / 150 mm front (Carbon)
Sensor ST: 120 mm rear / 140 mm front
Geometry highlights:
Sizes offered: S, M, L, XL
Headtube angle: 65° (Sensor) / 65.4° (Sensor ST)
Seat tube angle: 77° (Sensor) / 77.5° (Sensor ST)
Reach: 480 mm (size Large)
Chainstay length: 440 mm
Frame material:
Sensor: Aluminum and carbon fiber versions available
Sensor ST: Carbon fiber
Price:
Sensor Carbon frame w/ RockShox Super Deluxe Ultimate shock: $3,500
Complete bikes: $2,300 to $5,750
Blister's Measured Weight (Sensor ST Carbon Pro, size M): 28.5 lbs / 12.9 kg
Reviewers:
Eric Freson (5'10'', 170 lbs / 177.8 cm, 77 kg)
Kara Williard (5'9", 167 lbs / 175 cm, 75.7 kg)
Test Location: Gunnison / Crested Butte, CO
Test Duration: 4 months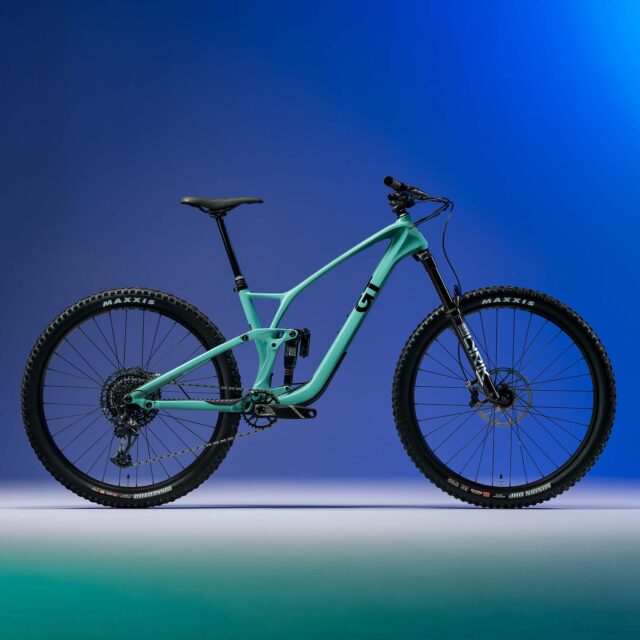 Intro
Back at Sea Otter 2023, GT launched a new Sensor and its shorter-travel sibling, the Sensor ST. Since that release, we've been spending a lot of time on the revised Sensor ST — time for the full review.
The Frame
The Sensor and Sensor ST share a frame, with the travel change coming by way of changes to the fork travel and shock stroke (more on that in a minute). It's a Horst-link frame built around 29'' wheels at both ends and offered in aluminum and carbon fiber versions (though the Sensor ST builds all get the carbon frame). GT says that the carbon frame is 600 grams lighter than the previous iteration, which they've accomplished by a combination of weight reduction in the front triangle, swapping in carbon fiber seat stays (the chainstays are still aluminum) and some other refinements here and there.
The carbon frame gets tube-in-tube internal cable routing; the aluminum version goes to internal routing as well, but uses bolt-on ports in lieu of the internal guide tubes on the carbon version. Both get ISCG-05 tabs and use a vertically-oriented 185 mm eye-to-eye trunnion shock; the stroke and thus the amount of travel produced varies by the frame version and build. The Sensor Carbon gets 140 mm of rear travel by way of a 55mm-stroke shock, paired with a 150mm-travel fork; the aluminum bike drops to a 50mm-stroke shock, for 130 mm of rear wheel travel and pairs that with a 140mm-travel fork. And then the Sensor ST shortens the shock stroke further, to 47.5 mm, for a claimed 120 mm of rear wheel travel, again with a 140mm-travel fork.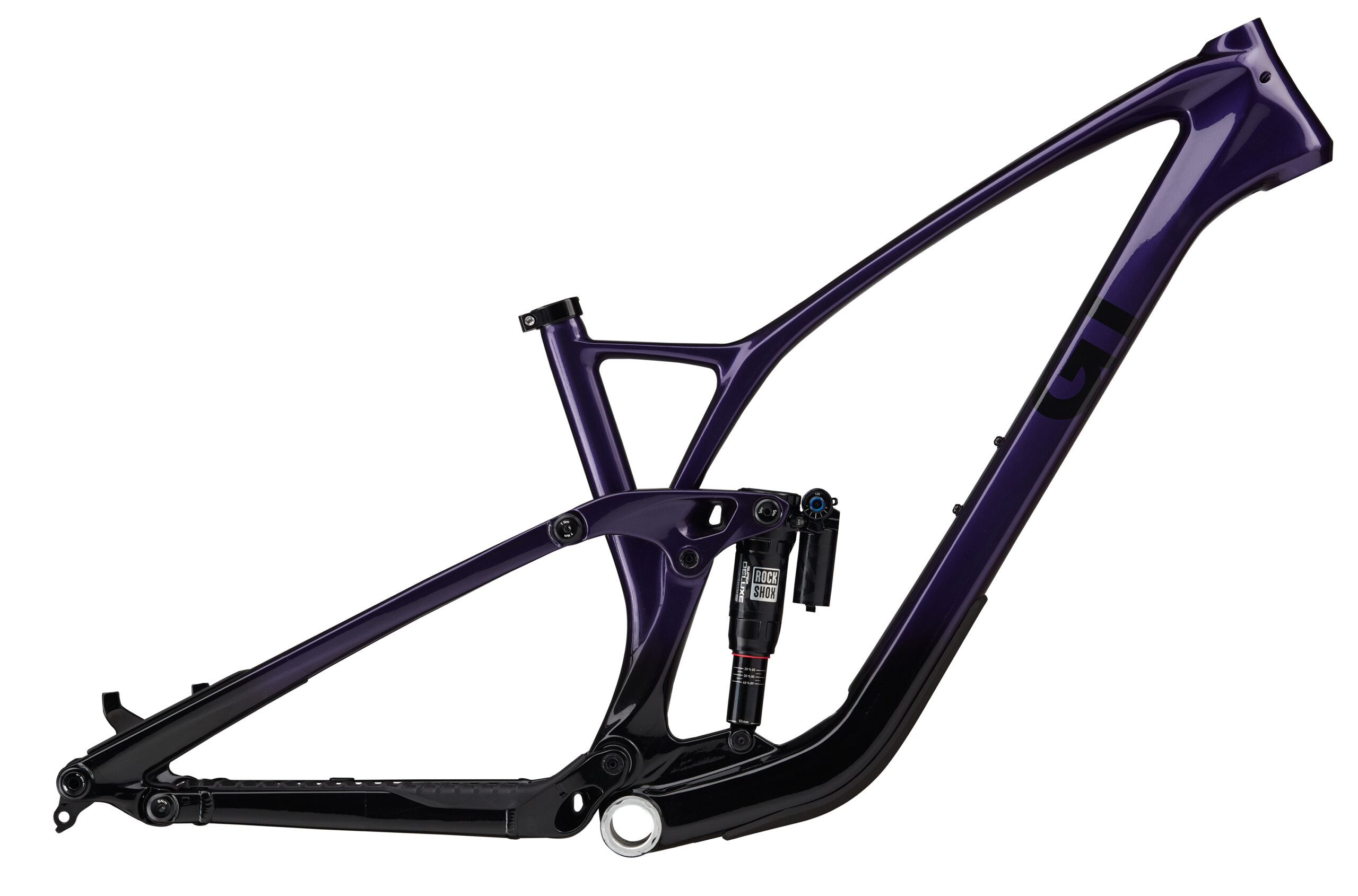 Based on those numbers, it would appear that GT is doing some slight fudging of the rear travel numbers — the aluminum Sensor getting 10 mm less travel than the carbon one with a 5 mm drop in shock stroke sounds about right, but the Sensor ST losing another 10 mm with just a 2.5 mm shock stroke change is more suspect. We'd bet on the Sensor ST having a bit more than 120 mm travel, but GT is hardly alone in doing some rounding of their stated travel numbers to hit nice, round numbers.
Anyway, both versions of the Sensor / Sensor ST frame get a UDH derailleur hanger, a threaded bottom bracket shell, and rubber guards on the chainstay and underside of the downtube. The chainstay guard appears to only really cover the top side of the stay, so it'll be interesting to see if there's any notable chain slap on the underside of the stay. There's also room for a water bottle inside the front triangle across the full size range.
Fit & Geometry
GT offers the Sensor and Sensor ST in the same four sizes as the prior-generation one, Small through XL, but the reach has grown much longer — by as much as 20 mm per size — along with a slight slackening of the head tube, steepening of the seat tube, and lengthening of the chainstays. The headtube now sits at 65° on the Sensor Carbon; the Sensor ST steepens that to 65.4° by way of the shorter fork, and the Sensor Aluminum clocks in at 65.5°. The seat tube angle is now 77° for the Sensor Carbon and 77.5° on both the Aluminum and ST versions, and the chainstay length is 440 mm across the size range.
The other notable change is that the Sensor now has a much, much shorter seat tube to make room for longer-travel dropper posts for more riders, and GT has taken advantage (at least on the higher-end Sensor builds). So on that note:
The Builds
GT offers five builds on the Sensor and two on the Sensor ST, with the Sensor Sport and Sensor Comp getting the aluminum frame, and the carbon one used on the rest of the range. A Sensor Carbon frame is also available with a RockShox Super Deluxe Ultimate shock for $3,500.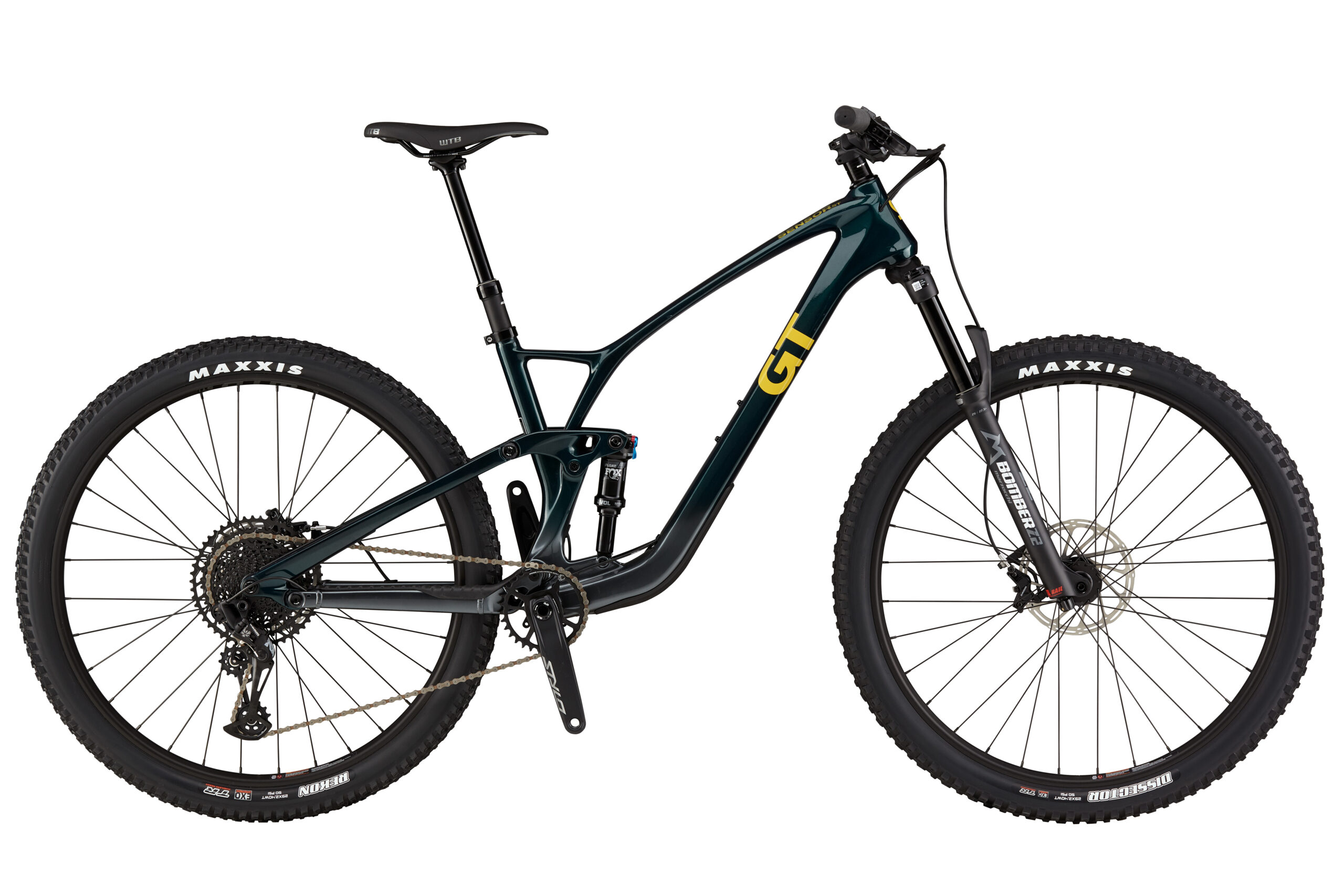 Some Questions / Things We're Curious About
(1) How does the Sensor stack up to the modern class of mid-travel Trail bikes?
(2) And how much rear-wheel travel do the various Sensor versions have? A few millimeters one way or the other doesn't really matter much at the end of the day but… we're still curious.
FULL REVIEW
The Gunnison Valley has no shortage of lung-busting climbs, all-day epics, and flowy trails. The arrival of the GT Sensor ST Pro at Blister HQ coincided fantastically with trails opening up this spring and has given us time to try it on the diverse riding conditions the valley affords. Short-travel over-forked Trail bikes tend to be a good time around here, but does the Sensor ST stack up in this increasingly interesting class?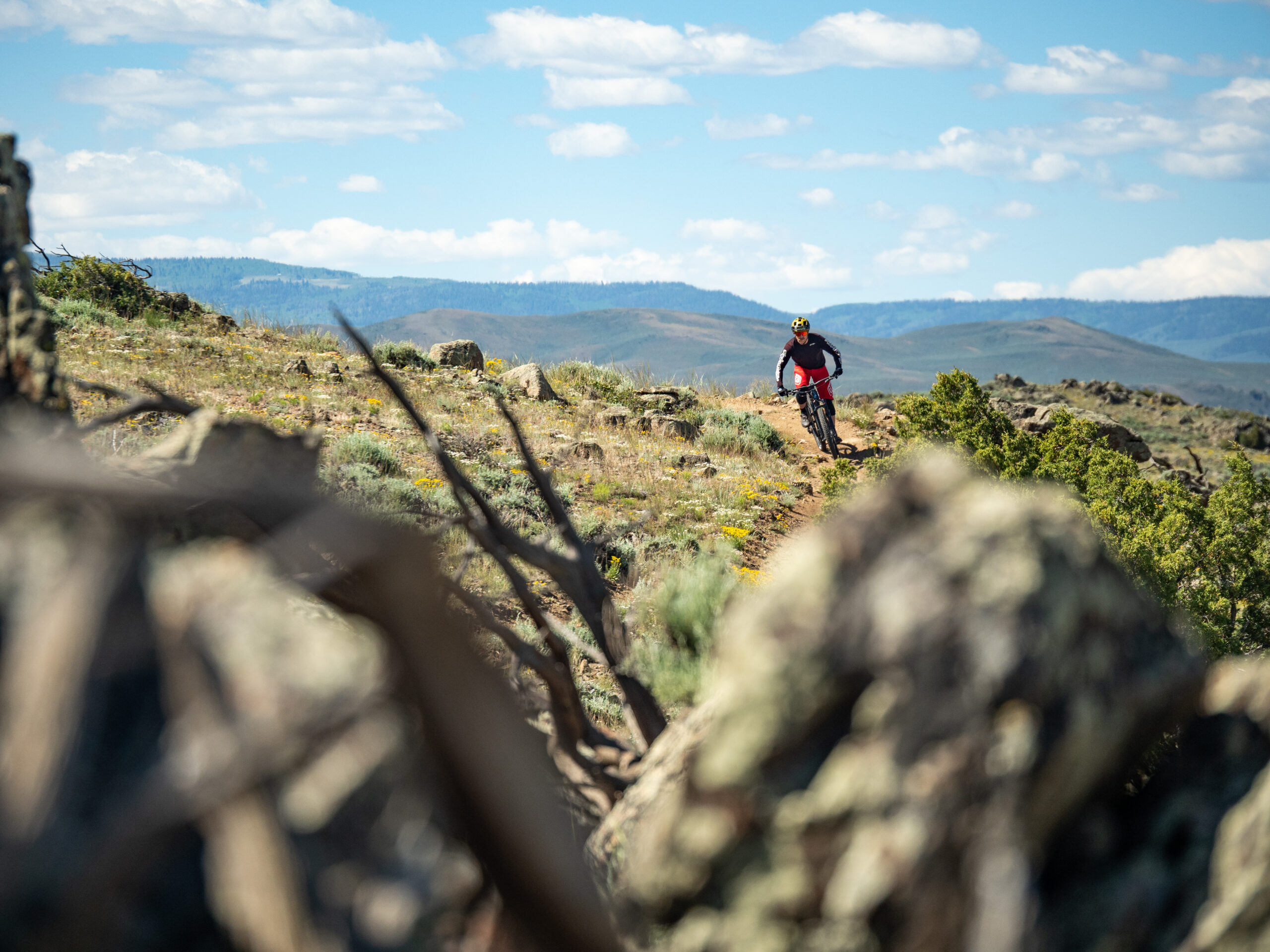 Fit and Sizing
Eric Freson: (5'10, 170 lbs/ 177.8, 77 kg): After a bit of cockpit setup, I felt right at home aboard the size Medium Sensor ST. The numbers of the Sensor ST fall into that category of being "on trend" rather than "trend-setting," which I personally appreciate, since it made the adjustment and familiarization period quick and painless. Our size Medium frame turned out to be a good fit for me, and since I bounce between size Medium and Large frames so often, it's always fun to play the "reach game" and see where my preferences land relative to the bike. I felt comfortable aboard the Sensor ST, with its moderate 455 mm reach fitting nicely with the bike's intentions of being lively, snappy, and agile (rather than super stretched out, lazy, or long).
Regarding the rest of the geo numbers, a couple stood out to me. An aspect that is a bit progressive is the Senor ST's stack height, being on the higher side thanks to its notably tall headtube. This has made running a higher bar position easy (and aesthetically pleasing) compared to many short-travel bikes, and allowed me to run my bar height similar to the longer-travel rigs I spend time on later in the year, which was excellent for continuity. It also helped me create leverage over the front end at lower speeds and helped to maintain front-end geometry during higher-speed braking or suspension compression events.
Where the Sensor ST is also notably longer, for its class, is its chainstay length (440 mm across all sizes) and wheelbase (1216 mm on the Medium). I did notice the stretched-out chainstay and wheelbase manifest as an increased feeling of stability and rear-wheel tracking ability in rougher terrain, and I would attribute some of the bike's capable feel in these instances to this choice. This design is a nice way to up the overall speed limit of the bike, without taking away from some of the benefits of the average cockpit sizing.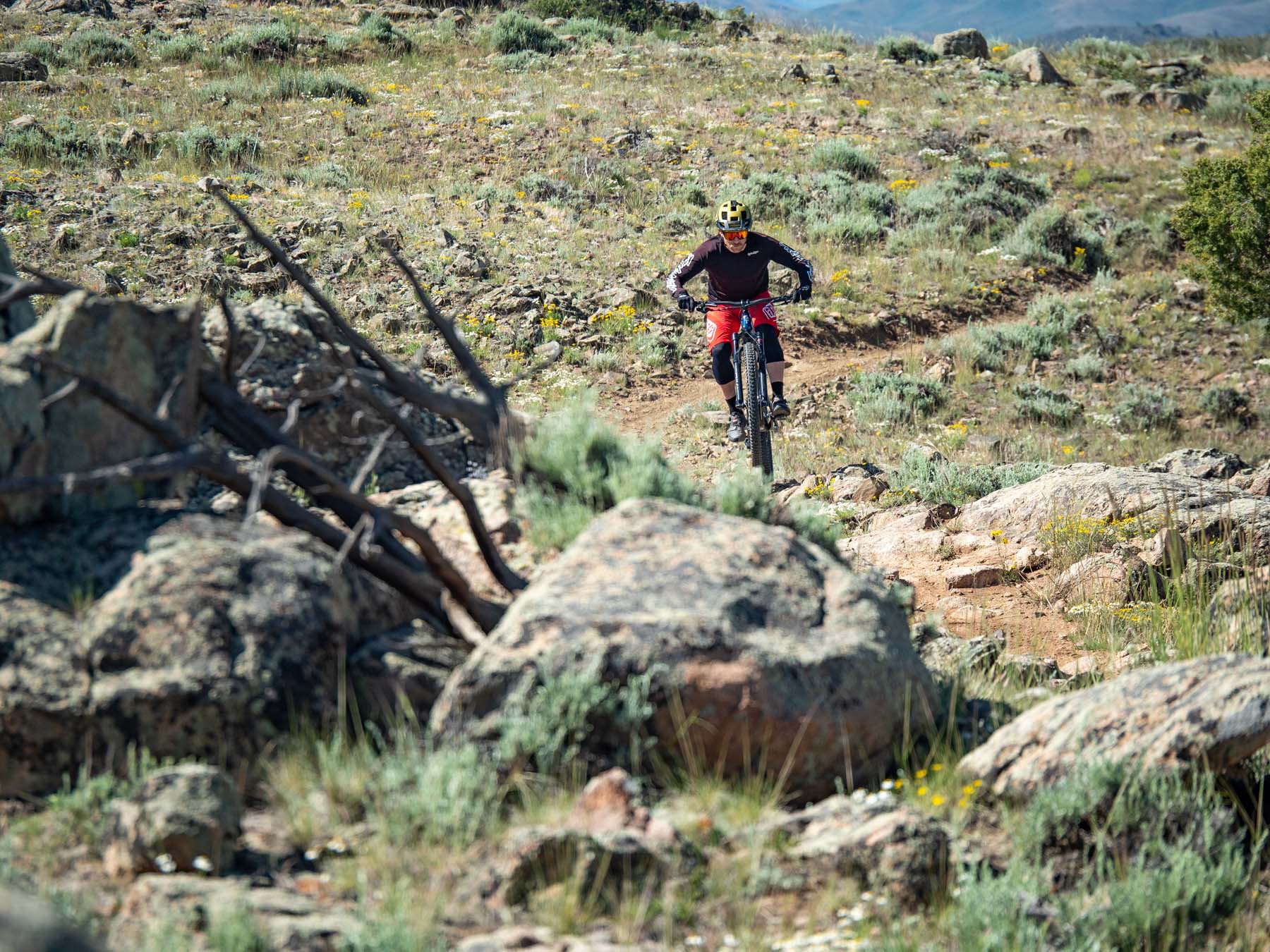 Kara Williard: (5'9", 167 lbs / 175 cm, 75.7 kg): Eric spent a good bit more time on the Sensor ST than I did, so he will be the point person on this one, but I definitely resonate with everything that he mentioned regarding sizing.
Eric and I are in a similar boat when it comes to the perpetual toss-up of Medium vs. Large frames, but as he said, the sizing of the Medium GT Sensor ST worked out nicely and provided a really comfortable fit. In the case of the Sensor ST, I didn't find myself wondering what the Large frame would feel like when either climbing or descending — the Medium felt great.
Climbing
Eric: On this Medium frame, the seat tube angle works well with my preferred saddle and knee positioning. It put me in a position to feel efficient while seated and climbing, and even on longer and sustained climbs, I didn't notice myself standing out of the saddle to readjust or moving around in the saddle to give muscle groups in my legs a break. Standing out of the saddle and attacking didn't lead to spinning tires either, thanks in part to the wheelbase and chainstay length and in part to the rear suspension doing a good job of remaining somewhat active under power.
The Sensor ST's pedaling efficiency has been impressive throughout my time riding it. When standing up out of the saddle and attacking, you can produce a bit of suspension movement, but it doesn't feel mushy and has good support under high-wattage efforts. The rear-wheel traction and tracking have been great with the shock left open, and running ~25 to 28% sag. I used the climb switch if it's smooth and found its valving to offer an efficient but not jarring ride, which was appreciated.
The bottom bracket on the Sensor ST feels low during out-of-the-saddle climbing efforts, and I often found myself paying close attention to crank arm placement through rocky sections of the trail when standing and pedaling, to avoid clipping pedals. That low bottom bracket has some real upsides on the way back down, but does demand a little extra care when doing more technical climbing.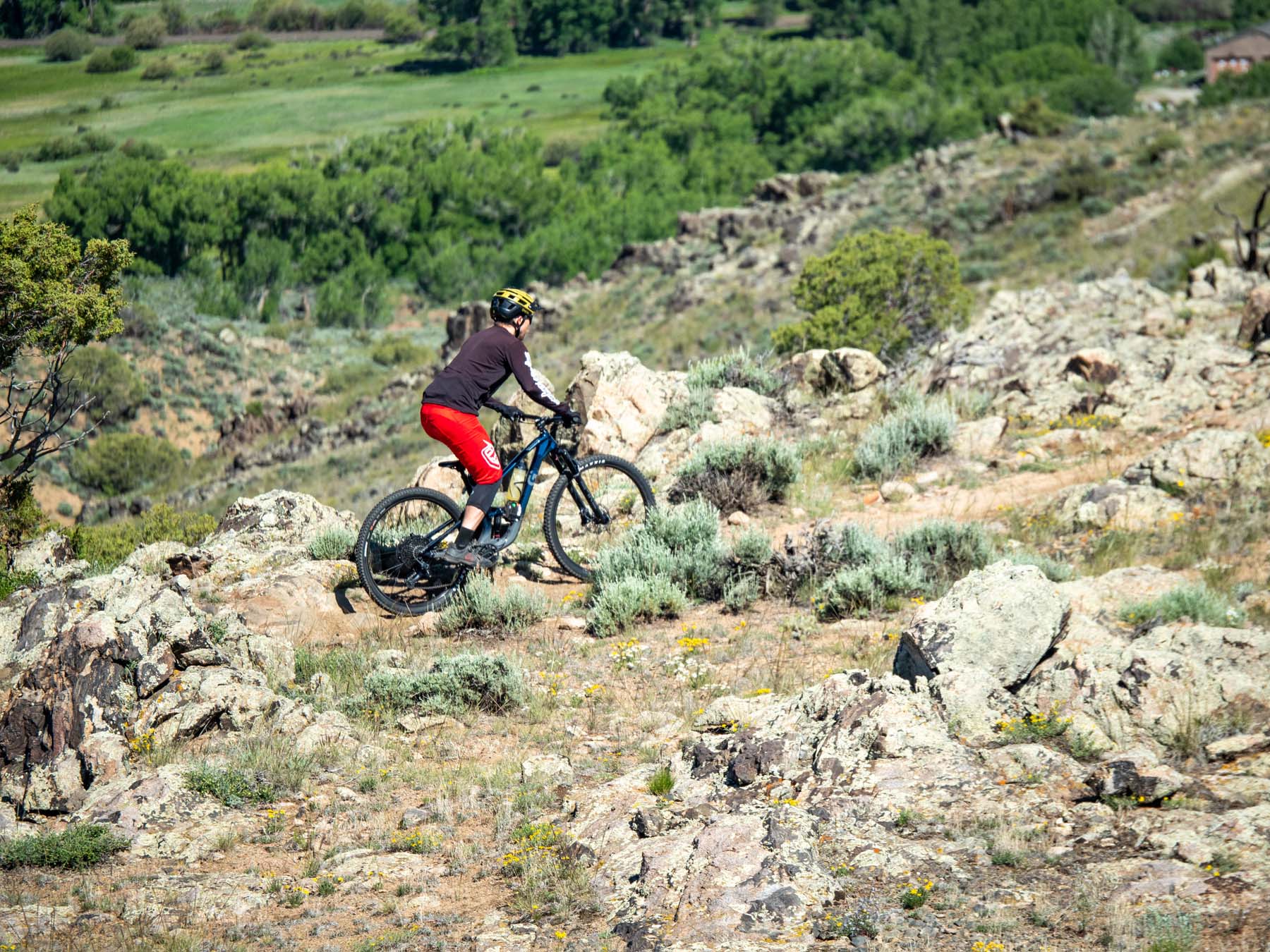 Riders who like marathon races, stage races like the BC Bike Race, or enjoy long days in the saddle but would also like more progressive geometry than most 120mm-travel bikes offer should have the Sensor ST on their radar.
Kara: Eric is on point with this one — I really enjoyed the GT Sensor ST on the ascent. It's efficient, the pedaling position is comfortable, and traction under power is still quite good despite that efficient pedaling platform. While I would agree that the bottom bracket is a bit on the low side, it actually provides a tad bit more clearance than the Transition Smuggler (my personal bike), so I actually found myself paying a bit less attention to clearance than I have grown accustomed to doing on the Smuggler. I think the Sensor ST is plenty manageable with a little attention to technique and timing.
Descending
Eric: One of the first things I noticed while riding the Sensor ST was that it is impressively quiet, with little in the way of chain slap, pings, or other noises to distract. On long days or after-work rides where I find myself trying to unwind my brain, this is always appreciated. After messing around with the sag a bit (I settled on 27%), I have also come to be very impressed by the job that the compression damping circuit on the RockShox Deluxe Select+ RT does in terms of remaining composed and calm on bigger impacts. The rear-end kinematics of the Sensor ST have been all-round impressive. This does not mean the Sensor ST rides like a bike with 160 mm of travel, but, for having 120 mm on tap, it feels fast and encourages speed. There are limits to its composure, and they come quicker than on a bike with more travel. But the Sensor ST deserves its 140 mm fork — it feels nicely balanced with the (well managed) 120 mm of travel in the rear.
With its easy-to-load-up suspension, super low standover, low bottom bracket, and 65° headtube angle, what I'll remember most is feeling encouraged to stand up out of the saddle and attack the trail in rolling terrain, put a foot out moto-style more often than normal in flat corners, and tuck the rear end under my body to flick the Sensor ST around in those tight apex corners.
Because of the rewarding nature of moving weight around on the Sensor ST, I found myself frequently loading up the front or rear tires. The progressive nature of the bike allowed this without much consequence and also meant that I could steer the bike with the back tire far more than some other bikes in this category and travel, which can become overwhelmed and unstable. That being said, if you wanted to ride efficiently from a centered stance and log miles, the ST was happy to do that, too. Its reach and stack numbers don't make that approach feel quite as fast or efficient as a more XC-oriented trail bike, but that also helps to make the Sensor ST feel comfortable and approachable for a wide variety of riders.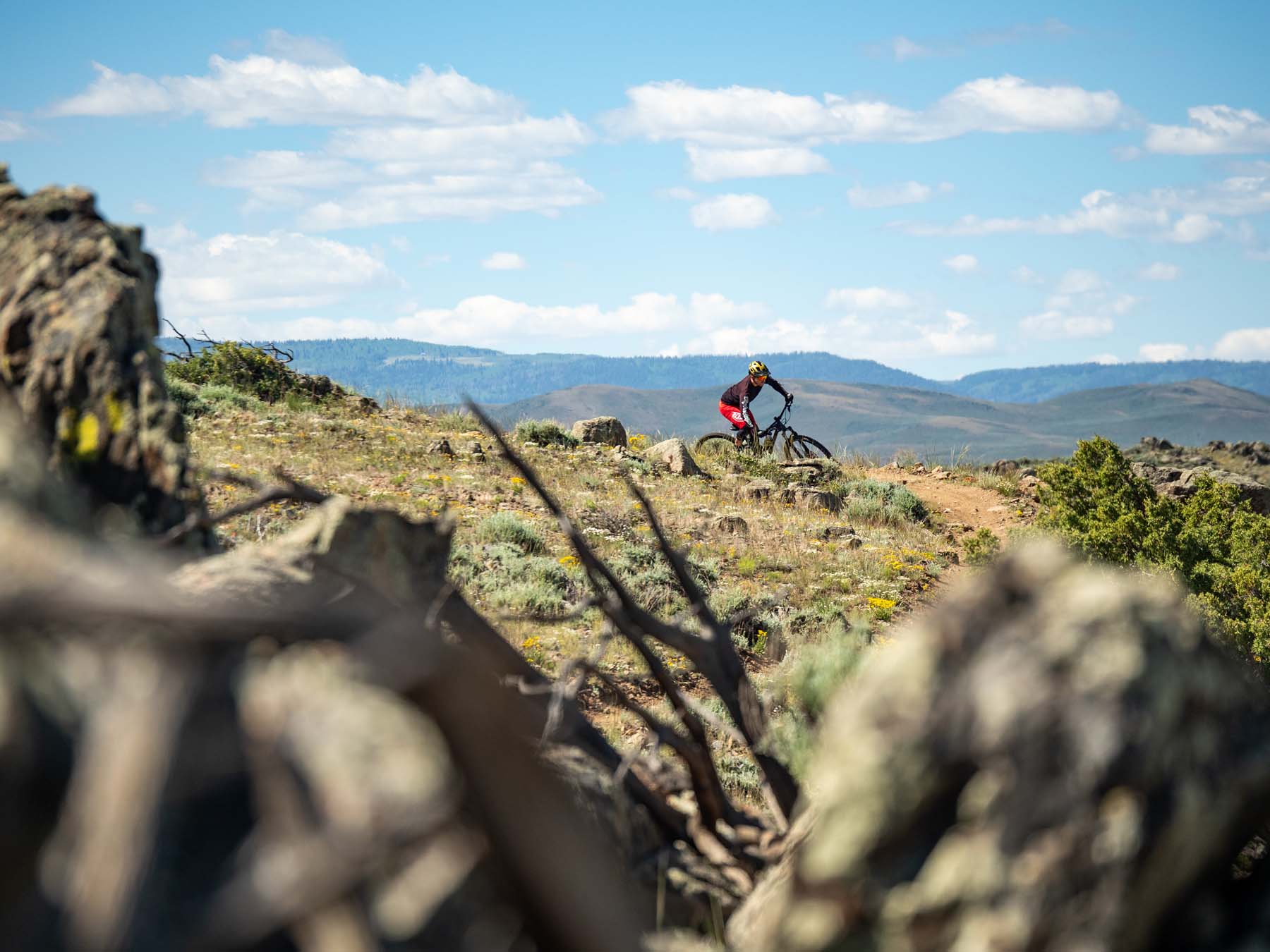 Generally, I found The Sensor ST to be a bike that is responsive to weight transfers, without being overly unsettled by them. It's a lot of fun. The Sensor ST builds speed well and is eager to use terrain features to create speed or get airborne. It thrives on fast, pump-y terrain, and wants you to get on the pedals out of corners to get to the next one sooner.
Kara: Yep, I'm in agreement with Eric here. Not much more to add, he's covered it well.
The Build
Eric: The build on our Sensor ST Carbon Pro review bike was easy to get along with for the most part, but there were definitely some things I'd change. Highlights for me included the RockShox suspension, with the Pike Select+ chassis feeling stiff and precise, and the RockShox Deluxe Select+ RT's compression circuit planted and composed. The Maxxis Dissector and Rekon combo is a favorite of mine for our decomposed granite (loose / sandy over hard) or just simply dry trails we often have here, with decent rolling speed and impressive cornering bite for their lug height and casing weight. And while it doesn't matter from a performance standpoint, the flakey / shiny paint job of the Sensor ST is great looking and on brand.
As trails in Crested Butte began to dry out and the rides became longer, I did miss a more precise drivetrain (the Sensor ST Carbon Pro comes with a SRAM NX drivetrain, with a GX derailleur). It's no deal breaker (and of course, you can't put top-of-the-line everything on a bike with a $5,000 MSRP), but it always just seems like my shifting feel and precision hold up a little better over more miles, water crossings, and lube starvation with the higher-spec derailleurs, chains, and cassettes. And that proved true in our case — soon after I handed the Sensor ST off to Kara, its NX shifter broke. If it were my bike, I'd upgrade the drivetrain when it was time to replace it.
The SRAM G2 brakes have never been my favorite. During the longer, faster, and more demanding braking required on the more sustained Crested Butte descents, the mushy lever feel and soft bite of the G2s became more noticeable than on the more rolling terrain of my initial rides aboard the Sensor ST. The G2s are way better than, say, the Shimano XT cantilever brakes that came on my first GT (a raw aluminum Avalanche), but these days, I'd put SRAM Codes on just about any bike for their increased power and better heat management. The GT-branded dropper lever and lack of alignment / measurement hashes on the bars were both misses for me, since they made the cockpit setup more of a chore than normal.
Finally, if this was my bike, I'd be putting a chrome GT "Wings" sticker of the previous logo on top of the existing one for maximum nostalgia.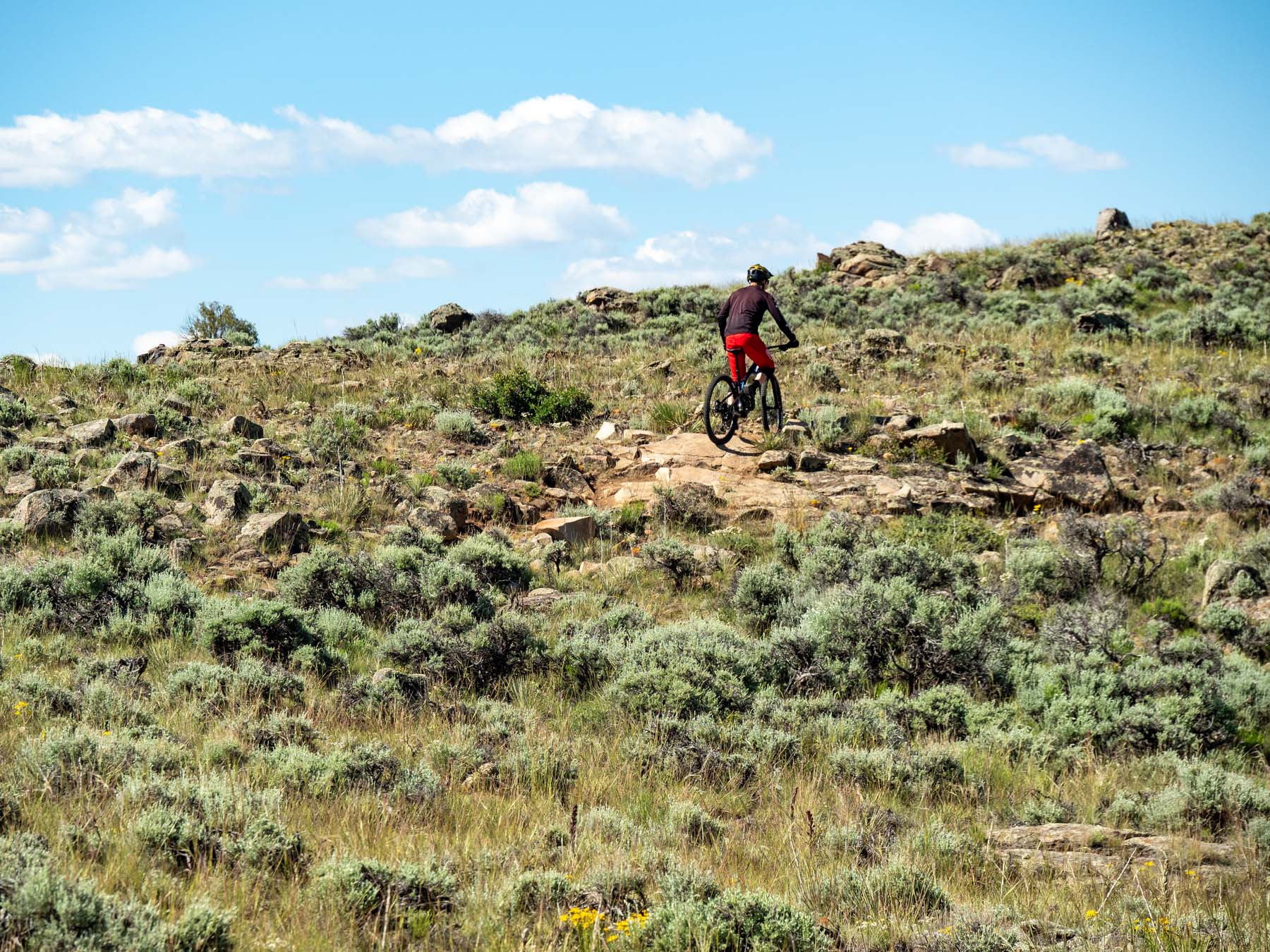 Comparisons
The Phantom feels like a burlier, more descending-oriented option in the short-travel category. While that takes away from some of the energy and fun at lower speeds compared to the Sensor ST, when a trail's average speed rises, the Phantom feels fast, predictable, and composed in a way the Sensor ST can't quite keep up with. Both bikes have great shock tunes with out-of-the-box progressivity that help them to punch above their respective travel. The Phantom feels like a more specialized tool than the Sensor ST, in that it's a more notably aggressive short-travel bike, whereas the Sensor ST is a little more well-rounded and versatile.
When comparing the size Large Trail 429 that we reviewed to the Medium Sensor ST, the two actually have the same wheelbase but the Trail 429 has a steeper headtube angle. Even in the larger size and with the 140mm-travel fork on the "Enduro" build, the Trail 429 generally feels quicker, more agile, and sportier than the Sensor ST thanks to the 429's low weight, DW-link suspension, and overall build, while the two feel similarly stable at speed. However, the Trail 429 feels more focused and serious than the more playful Sensor ST. I can probably achieve faster times on the Trail 429, but I'd probably have more fun on a casual group ride with the Sensor ST.
These two have different wheel sizes, but the Shadowcat winds up being similar in feel to the Sensor ST in a number of ways. The Shadowcat enjoys the same type of energetic and involved riding style which rewards weight transfers, engagement, and a cheeky attitude. The Sensor ST feels more robust and capable of holding up to the thrashing that this type of riding imparts on a bike year after year, while the Shadowcat generally has a higher level of refinement and polish than the GT. The Shadowcat's shorter chainstays also make its rear end easier to whip around, while the Sensor ST offers a bit more traction on steep climbs. Price points and build kits make the distinction pretty straightforward — the GT is a lot more affordable, and the Shadowcat offers much higher-end build specs.
These two bikes feel the most similar of everything listed above. They've got similar-ish build specs as tested (at least in terms of component level; the details differ a lot), similar weights, and similar flex and feel of the chassis. The Sensor ST feels like it has a higher ceiling for big compressions and impacts, while the Ripley AF felt more linear and had more of a focus on efficiency and chewing up the miles than the Sensor ST. But both excel as trail generalists and would be comfortable and fun on any trail appropriate for a "trail bike," with great value to boot.
These two bikes have quite a bit of overlap and share their strongest attributes. Both bikes provide tons of versatility and are pretty nimble and quick handling, whether pedaling uphill around a tight corner or playing around with body position on fast and flowy descents. The Smuggler feels just a bit more stable on the descent and offers a touch more rear suspension for bigger and/or repeated impacts, and the Sensor ST is just a bit more efficient on the climbs. The Sensor ST is a little more affordable when it comes to breaking into the carbon-frame class (it's also a good bit lighter), but the Smuggler has several higher-end build options for those who want premium components.
Who's It For?
Eric: The Sensor ST and I got along really well, and part of the magic is that this bike seems to be tailor-made for the type of trails I am riding frequently in the spring and fall — quick elevation gain and loss, flat corners, drifty, and janky. I also appreciated its quiet, composed ride and high speed limit relative to its travel, but as you'd hope for a bike in this class, it still encourages me to get out of the saddle and attack on a faster and more sustained trail. I love finding that combo in a shorter travel and over-forked package. Once the speed really elevates and the trail straightens out, you can begin to outride the capabilities (and intent) of the Sensor ST, in which case you should be looking at the standard Sensor.
Bottom Line
Eric: The GT Sensor ST encapsulates what I think a good short-travel Trail bike should do. It can thrive in most environments and survive almost anywhere. For someone who wants to log a lot of miles, rides with enthusiasm and energy, enjoys a bike that rewards rider inputs, and wants aggressive geometry in a shorter-travel package, the Sensor ST is a winner.