2022 Pivot Shadowcat
Wheel Size: 27.5"
Travel: 140 mm rear / 160 mm front
Frame Material: Carbon Fiber
Build Overview: See Below
Price: $6,199 to $13,599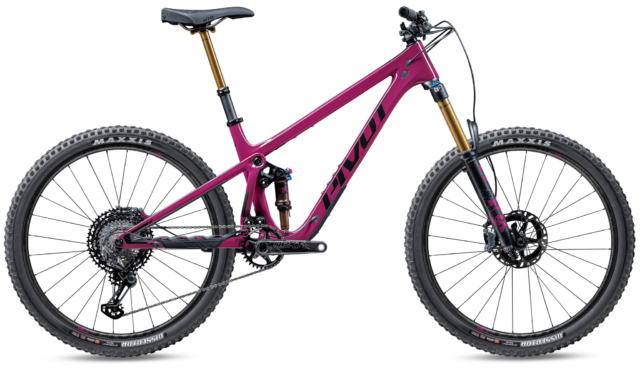 Intro
The Shadowcat is a brand-new offering from Pivot that replaces the Mach 5.5 in their lineup, and in a world where seemingly every new bike is a 29er (or a mullet), the Shadowcat is a mid-travel Trail bike that sticks with 27.5'' wheels at both ends.
Not that we're complaining. I've argued more than once that a lot of people made the jump to 29'' wheels right at the same time that mountain bike geometry was improving wildly and over-attribute the changes they felt to the bigger wheels over the modern geometry, and that 27.5'' wheels absolutely still have their place in the world. And it's not like 29er fans are short on options these days, either. But the wheel size is far from the only thing that's interesting about the Shadowcat.
We recently got in a Shadowcat for a long-term review, and Blister Members can read our Flash Review of the new Shadowcat for our initial on-trail impressions. Become a Blister Member now to check out this and all of our Flash Reviews, plus get exclusive deals and discounts on gear (including We Are One carbon wheels), and personalized gear recommendations from us.
In the meantime, let's dig deeper and see what Pivot has come up with.
The Frame
No surprises here, for anyone who's familiar with Pivot's recent offerings — the Shadowcat is available in carbon fiber only and features DW-Link suspension with the new vertical shock orientation that Pivot has been moving toward for the last few years. That layout leaves room for two water bottle mounts inside the front triangle (on the downtube and underneath the top tube) plus a third under the downtube. Interestingly, the mount on the top of the downtube offers two different positions for the bottle (via four total bolts, in an overlapping pattern) and Pivot's Dock Tool multi-tools are available as well.
Pivot offers all the standard features that you'd expect on a modern, high-end frame: the cable routing is internal (and, per usual for Pivot, features provisions for Fox Live Valve suspension), there's molded rubber protection on the chainstay, seat stay, and downtube, ISCG chain guide tabs are included, and the derailleur hanger is a SRAM UDH. And Pivot's preferred PF92 bottom bracket standard is here, too.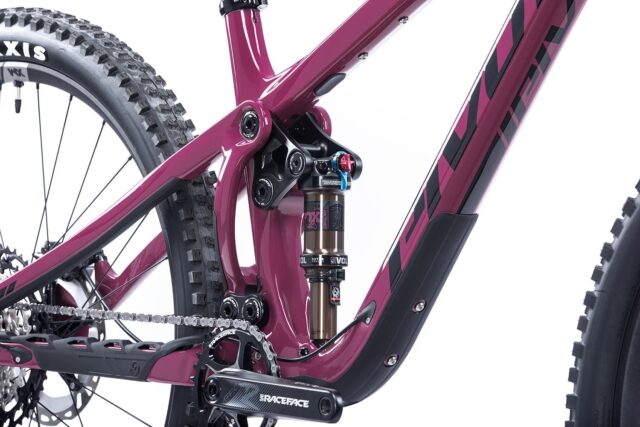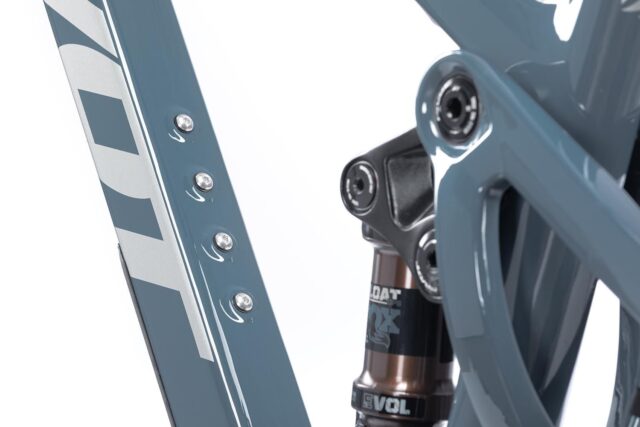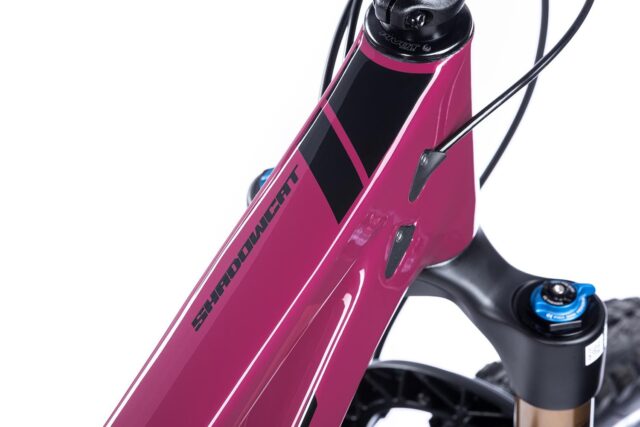 Actually, there's one surprise — the Shadowcat uses a 148 mm Boost rear end, instead of Pivot's typical 157 mm SuperBoost. Pivot says that weight was enough of a priority on the Shadowcat that they opted to save a few grams with the narrower rear end. And on that point, Pivot notes that the Shadowcat frame is especially light for a 140mm-travel bike, stating that it's lighter than their 120mm-travel Trail 429 frame, and only 45g heavier than their Mach 4SL XC race machine. They don't specify an actual frame weight, however.
Fit & Geometry Pivot offers the Shadowcat in four sizes, XS through Large, which they say fit riders from 4'10'' to 6'3''. Reach ranges from 410 to 480 mm, and all sizes get a 65.8° headtube angle, 430 mm chainstays, and a 76° effective seat tube angle. All of that adds up to wheelbases that range from 1,142 mm on the XS through 1,230 mm on the Large.
Pivot talks a lot about the Shadowcat being snappy and agile, and the geometry numbers would seem to back that up — we'd expect the Shadowcat to be solidly on the quick-handling end of the spectrum for this sort of bike, but are curious to get on one to find out more.
The Builds
Pivot tends to offer a ton of different build options on most of their bikes, and the Shadowcat is no exception. The builds break down into Pivot's typical Race / Pro / Team hierarchy, with SRAM and Shimano options for each. The full rundown is as follows: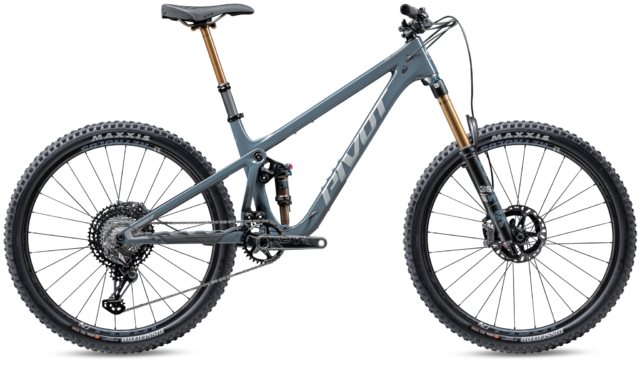 That's all very much in keeping with what we're used to from Pivot — lots of high-end build options, with a mix of Shimano and SRAM drivetrains, but with Fox suspension throughout. It is worth noting that the Shadowcat comes with Fox DPS straight body shocks throughout the range — which is slightly unusual for a bike with 140 / 160 mm of suspension travel, and points to its intentions of being quick and light first and foremost.
Some Questions / Things We're Curious About
(1) The Shadowcat offers a somewhat unusual combination of traits — it's a lightweight mid-travel Trail bike that seems to be quite focused on being efficient and snappy, but packages that with 27.5'' wheels and a bit more suspension travel than most bikes that place such an emphasis on efficiency. So how does that add up on the trail?
(2) And for folks who do want a very lively, efficient ride, who will be better off on a shorter-travel 29er, and who will get along best with the added squish and smaller wheels of the Shadowcat?
Flash Review
Blister Members can read our Flash Review of the new Shadowcat for our initial on-trail impressions. Become a Blister Member now to check out this and all of our Flash Reviews, plus get exclusive deals and discounts on gear like We Are One carbon wheels, and personalized gear recommendations from us.
Bottom Line (For Now)
Pivot's new Shadowcat is an intriguing new bike that offers a combination of features that we don't often see in 2022 — but that it's easy to imagine being very appealing for certain riders. We've got a Shadowcat in for long-term testing and have a full review in the pipeline.