Altra Timp 1.5
Test Locations: Gunnison-Crested Butte Valley and Colorado Springs, CO; Zion National Park, UT
Test Duration: 388 miles
Stated Heel-to-Toe Drop: 0 mm
Stated Stack Height: 29 mm
Stated Features:
Footshape Toe Box with fully cushioned Zero Drop Platform
A-Bound and EVA Midsole with Innerflex
Outsole: DuraTread rubber with TrailClaw
Upper: Multi-Directional Mesh
Insole: 5 mm Contour Footbed
Gaitertrap
MSRP: $130.00
Reviewer: 6'1", 145 lbs (see running profile)
Size Tested: 11.5
Stated Weight (US Men's 9): 298 g / 10.5 oz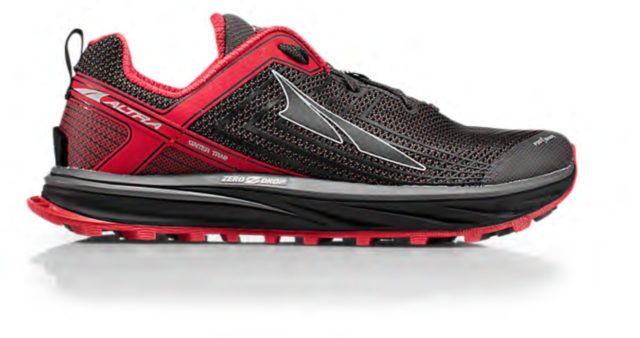 Share on facebook
Share on twitter
Share on pinterest
Share on reddit
Share on email
Review Navigation:
Specs //
Intro //
Fit //
Weight //
Upper //
Midsole & Cushioning //
Outsole //
Performance //
Bottom Line
Intro
The Altra Timp is a highly cushioned shoe intended to fit somewhere between the moderately cushioned Lone Peak and the maximalist Olympus in the brand's trail lineup. While it's marketed as a fairly maximal shoe, we found that the Timp 1.0 felt both more precise and less protective than other shoes with similar stack heights (check out our review of the Timp 1.0). Altra claims that the new Timp 1.5 offers a softer, more flexible midsole and an improved fit through the heel. So does the Timp 1.5 retain the ground feel and precision of the previous version, or is it an entirely different shoe?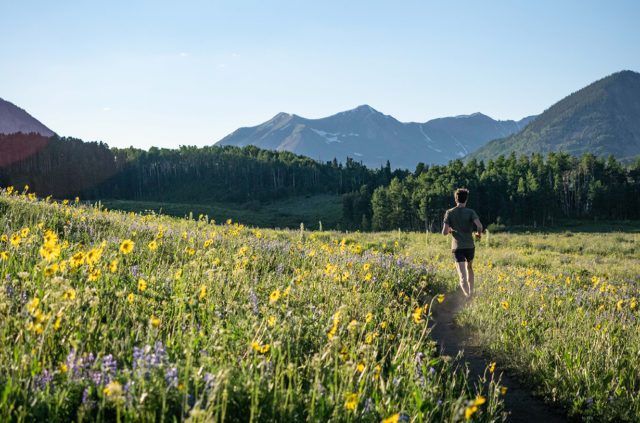 I've now put around 388 miles on the Timp 1.5, so I've got a pretty good idea of how it performs on a variety of terrain. Here I'll try to answer the above question while expanding on the other features of the Timp 1.5 that make it a unique and pretty awesome shoe, in my opinion.
Zero Drop
As with every Altra shoe, the Timp 1.5 has no heel-to-toe offset / drop. You've probably heard this before, but if you're used to shoes with a higher drop, you should be careful when switching to the Timp or any zero-drop shoe. We recommend checking out Altra's Transition Plan before getting out on trail in the Timp if you're new to zero-drop shoes in order to reduce the chance of injuries.
Fit
While the original Timp felt sloppy around the heel and instep on my low-volume feet, the Timp 1.5 fits my feet very well. I generally prefer shoes that have a close-fitting heel and midfoot in combination with a wide forefoot, and the Timp 1.5 delivers on all of those aspects. Its heel cup is well padded without feeling sloppy, and its stiff heel counter works in tandem with the padded collar to securely hold my heel on all kinds of terrain without rubbing or blisters.
The fit through the midfoot of the Timp 1.5 is very similar to the Altra Superior 3.0 and Superior 3.5. Both the Superior and the Timp are built on Altra's PFS2 last, which I find works better than other Altra shoes for my narrow, low-volume feet because of the closer-fitting midfoot. It allows me to get a locked-down fit, which makes the Timp 1.5 feel surprisingly secure on technical terrain for a shoe of its stack height (and considering its very wide toe box).
The Timp 1.5 has the same wide, "footshape toe box" as all Altra models, which provides plenty of room for toe splay. Relative to other Altra shoes I've run in, the Timp 1.5 did feel a little bit shorter in my normal size (US Men's 11.5). I haven't run into any problems with my toes hitting the end of the shoe, but as with all shoes, I would recommend trying on the Timp's 1.5 before buying to make sure you get the correct size (and that their fit works for you to begin with).
Weight
On paper, the Timp 1.5 is one of the heavier shoes I've recently used. With that said, the fairly high rebound of the midsole and secure fit of the upper make it feel surprisingly light on trail. It doesn't feel as fast as a more minimal, speed-oriented shoe like the Altra Superior 4.0, but that's also not what the Timp is designed to be. For comparison, here are the stated weights (all for a US Men's 9) of the Timp 1.5 and some shoes in its class:
255 g / 9 oz Hoka One One Torrent
268 g /9.5 oz La Sportiva Lycan
281 g / 9.9 oz Hoka One One Evo Speedgoat
298 g / 10.5 oz Altra Timp 1.5
315 g/11.1 oz Altra Timp 1.0
Upper
The Timp 1.5's upper features the biggest change from the previous version of the Timp. The funky double-layer reflective material of the Timp 1.0 is gone, with the new upper consisting of what I'd call a "medium weight" mesh, stiff toe bumper, and a few minimal overlays. The one carryover from the previous version is the slightly asymmetrical lacing system and gusseted tongue, though the degree of asymmetry of the laces has been dialed back vs. the original Timp. I'm not always a huge fan of asymmetrical lacing systems, but the one on the Timp works pretty well for me. The lacing system doesn't extend as far down the midfoot / forefoot of the shoe as most more traditional straight-lacing designs do, but I'm still able to get it tightened down enough for a secure fit. As I mentioned before, the upper fits very similarly to the Altra Superior 3.0 and 3.5, so if those shoes worked for your feet, the Timp 1.5 probably will, too.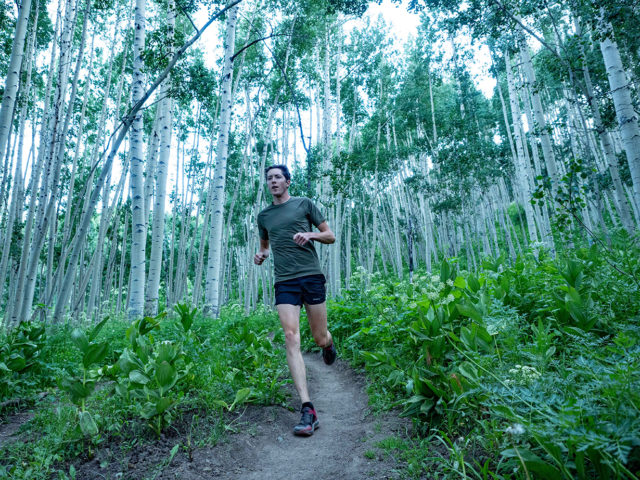 As far as breathability is concerned, the Timp 1.5 seems on par with most other shoes I've used. The Timp 1.5 does get fairly sweaty during hot runs, but not to the point that it causes problems. The shoe also drains well after creek crossings, though I often find that I need to stop and tighten the laces if the uppers get totally saturated.
Midsole
The Timp 1.5's midsole consists of a thin layer of Altra's A-Bound material on top of a layer of fairly standard EVA foam. The A-Bound material feels springy and responsive in other Altra shoes I've used, and the same holds true for the Timp 1.5. While this makes the shoe feel snappier than I'd expected for its high stack height, it does mean that the Timp lacks the soft, pillowy feel of similarly cushioned shoes. This hasn't been a problem for me since I prefer shoes with fast, responsive midsoles, but if maximum plushness / cushioning is your primary concern, the Timp probably isn't the best option (but the Altra Olympus might be).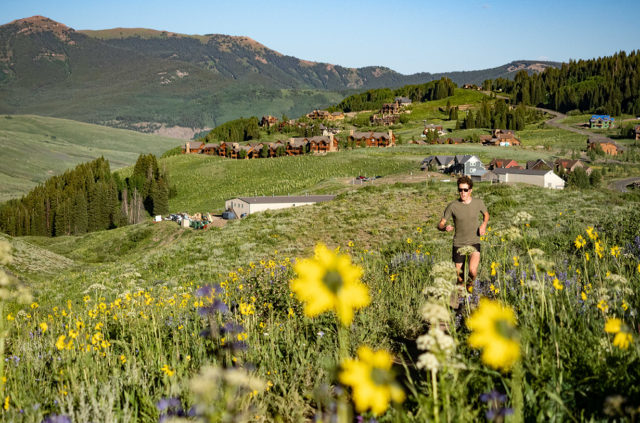 The Timp 1.5's midsole material has definitely compacted a little after 388 miles, but it has maintained enough cushioning and efficiency that I still enjoy running in the shoes. Overall, the Timp 1.5's slightly softer midsole seems to be a bit better than the original Timp when it comes to rebound / energy.
Outsole
The Timp 1.5's outsole is unchanged from the first version of the shoe. It features a combination of Altra's DuraTread rubber and exposed midsole foam material. The TrailClaw outsole pattern uses low-profile, moderately spaced lugs that grip well on a variety of surfaces. The DuraTread rubber is sticky enough for slickrock and dry, rocky trails but hard enough to retain pretty good durability. The Timp 1.5 does feel noticeably slippery on wet rocks and roots where a shoe with stickier rubber and larger, more widely spaced lugs would be better (e.g., Hoka Speedgoat 3). The Timp 1.5 can also struggle to grip a little on loose gravel, but it grips well on pretty much everything else.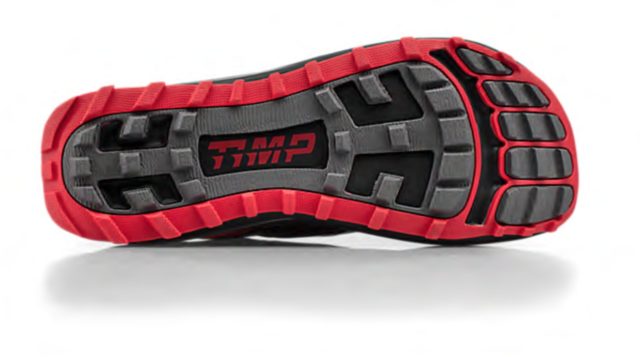 On Trail
In our review of the Timp 1.0, we commented that it did not feel like the maximal, cushioned shoe that its specs would suggest. The same holds true for the Timp 1.5. For a shoe with a 29 mm stack height, the Timp 1.5 feels surprisingly minimal on trail. While the layer of A-Bound material provides some good bounce, the rest of the midsole is fairly soft, allowing for good ground feel, but not all that much of the "plush" feel you typically get with a shoe with this much cushioning. The Timp 1.5 obviously doesn't feel as close to the ground as a shoe with a much lower stack height, but for a shoe with this much cushioning, the Timp 1.5 does provide good ground feel.
As someone who usually runs in more minimal shoes, I really enjoyed this aspect of the Timp 1.5. The shoe feels close to the ground and precise on technical terrain, but it's got enough cushioning to protect my feet over the course of longer runs. Like the 1.0, the 1.5 doesn't have a rock plate, but there's enough cushioning that I've never had issues with major foot fatigue on rocky terrain.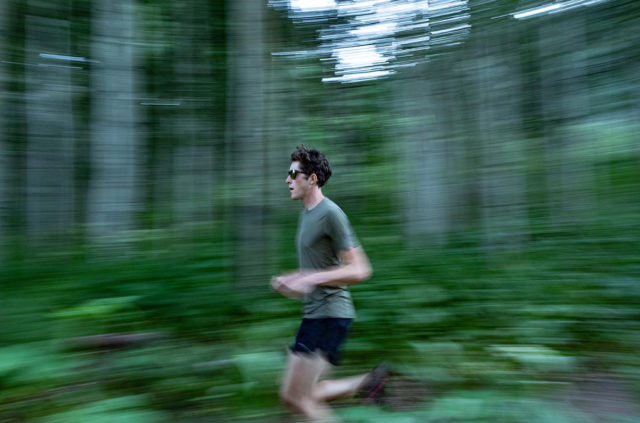 The only area where I've run into problems with the Timp 1.5 is on extremely uneven / off-camber terrain. While the 1.5 has a closer fit than some other Altra shoes, it's still a fairly wide and accommodating shoe. This translates into great comfort on long runs, but it also allows for a little more foot movement inside the shoe than I prefer on off-camber trails.
Relative to the Altra Superior 4.0, the Timp 1.5 provides much more cushion / protection but doesn't fit quite as precisely. It also doesn't feel quite as stable as the Superior 4.0, probably because of the Timp 1.5's higher stack height and slightly higher-volume fit. The Timp 1.5's cushioning did feel substantially more springy and resilient than the Superior 4.0, a shoe that I found to feel a bit like a flat tire. If you've run in the Hoka One One Speed Instinct 2, I thought that the Timp 1.5's ride felt very similar. Like most Altra shoes, the Timp 1.5 provides significantly more room for toe splay than the Speed Instinct 2, which I found made it more comfortable on long runs.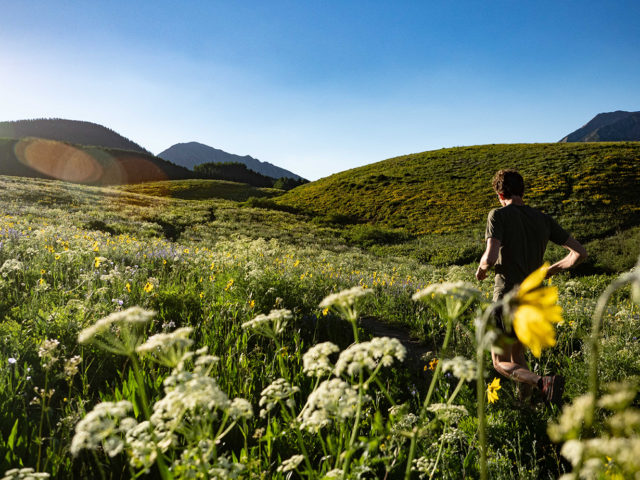 Finally, The Timp 1.5 feels much more stable on technical terrain than the Hoka One One Evo Speedgoat, but like the original Timp, the 1.5 doesn't feel nearly as "maximal." While the Timp has a notable amount of fairly springy cushion, the Evo Speedgoat feels much more resilient in the long run and provides slightly better energy return. It also offers better protection than the Timp 1.5 — I've never thought twice about stepping on sharp rocks in the Evo Speedgoat, but you definitely notice when you land on a particularly sharp rock in the Timp 1.5 . With that said, the Evo Speedgoat's narrower fit makes it less comfortable for me on long runs than the Timp 1.5. It also offers much less ground feel than the Timp 1.5.
Durability
Like many of the Altra trail shoes I've used, the Timp 1.5's biggest weakness seems to be long-term durability.
After 350 miles, I was convinced that the Timp 1.5 had at least another 100 miles left in it. 38 miles later, the uppers have completely blown out. What started as some minor fraying in the flex point of the forefoot quickly progressed to gaping holes through which I can easily fit a few fingers.
I was especially bummed about the upper's sudden demise because, aside from that, the Timp 1.5 was holding up really well. The DuraTread outsole rubber has worn down a little, but looks remarkably good considering how many miles of rocky running I've put on it. While the lugs are getting somewhat worn down, none of them have completely ripped off. The midsole still feels like it has plenty of life left in it as well, though the forefoot has compacted a little.
While the Timp 1.5 didn't last as long as I'd hoped and expected, I still think it's a great shoe. Just know that, if you do decide to grab a pair, there's a good chance that the upper will be the first thing to go, and it might break down faster than average. Altra will likely update the Timp in a few months, so I'm very interested to see if they're able to improve the durability of the upper.
Who's It For?
While the not-so-maximal feel of the Timp 1.5 has been a plus for me, it might cause problems for runners who are primarily interested in the Timp 1.5 because of its generous cushioning. If you're looking for a max-cushioned, super comfortable shoe, I'd recommend checking out the Altra Olympus or Hoka Speedgoat. While both of these shoes have fairly similar stack heights to the Timp 1.5, they feel much more cushioned and protective on trail.
But if you prefer minimal shoes, the ground feel they provide, and just want something with more cushion for longer runs and rougher terrain, then Timp 1.5 is one of the best shoes I've used. It's got much of the ground feel, flexibility, and stability of a minimal shoe, but with enough cushion to remain comfortable over long runs.
Bottom Line
As with the previous version of the shoe, there's more to the Altra Timp 1.5 than meets the eye. While it's not the pillowy, cushioned shoe that you might expect from its 29 mm stack height, it is a fun, comfortable shoe if you're looking for something a little more minimal-feeling but with more cushioning than the many, more minimal shoes on the market.
Share this post:
Share on facebook
Share on twitter
Share on pinterest
Share on reddit
Share on email