Hustle Avery REMTech Magnetic Clipless Pedals
Reviewers:
Luke Koppa: 5'8", 155 lbs (173 cm, 70 kg)
Dylan Wood: 5'11", 155 lbs (180 cm, 70 kg)
Test Location: Gunnison & Crested Butte, CO
Test Duration: 4 months
Blister's Measured Weights:
Pedals: 389.5 g per pedal / 779 g per pair
Standard "REMplate" Cleats w/ hardware: 53.5 g per cleat / 107 g per pair (stated weight)
Large "REMplate" Cleats w/ hardware: 47.5 g per cleat / 95 g per pair
Blister's Measured Dimensions: 118 x 95 x 19 mm
MSRP: $219
Mounted to: Canfield Lithium, Santa Cruz Megatower, Ibis Ripley AF, Commencal Meta TR 29, Canyon Spectral 29
[Note: our review was conducted on one of the last prototypes of the Hustle Avery REMtech pedal. The differences between it and the production version are very minor, and we note them in the "Design" section below.]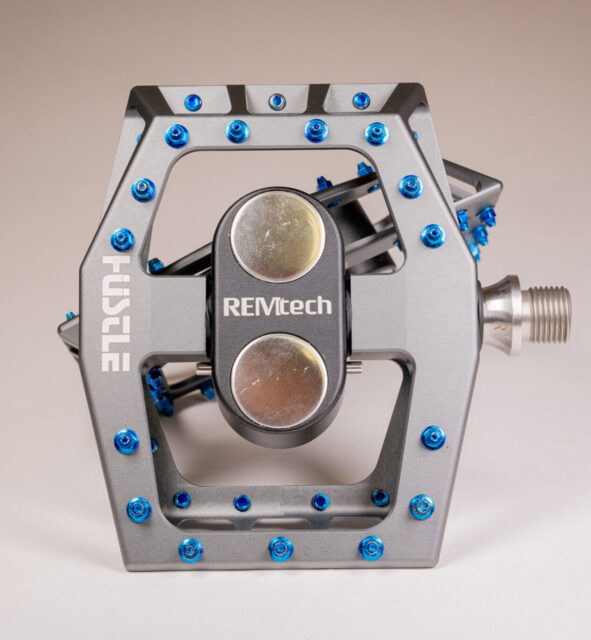 Intro
The idea of having a pedal with better retention than flats and better ease of entry and exit than clipless options has always been intriguing to many riders, and over the years, a few brands have attempted to hit that sweet spot by using magnets.
The Avery REMtech Pedal from Hustle is the latest magnetic pedal offering, and the goals with the Avery are basically what you'd expect: it's supposed to provide the best of both the flat and clipless worlds.
This season two of our reviewers spent several months riding with the Avery Pedals; Dylan Wood typically rides with clipless pedals, while Luke Koppa prefers flats. Now that the Avery Pedals are available for pre-order, it's time to dive into how they work, how they compare to traditional flat and clipless pedals, and who we think should consider getting a pair.
Background
Hustle Bike Labs is a small company based in Gunnison, Colorado. The idea for their REMtech design was the result of a scary incident on the Portal trail in Moab, Utah, where their founder, Craig Payne, wasn't able to release from his clipless pedals and consequently ended up hanging on the edge of a cliff. After that, Craig set out to create something that would solve some of the issues that clipless pedals have, without sacrificing too many of their advantages.
Design
After years of developing and testing prototypes, Hustle landed on the final design that's now available to pre-order. The REMtech ("Rare Earth Magnet") pedal uses two Neodymium magnets embedded in an otherwise pretty traditional flat pedal body, with 15 removable pins per side. The magnets are housed in a nylon composite body that can rotate about 30º in either direction, relative to the rest of the pedal body.
The magnets have a combined stated pull force of 100+ pounds per pedal. For more on the specifics of magnetic pull force and the numbers associated with it, Hustle has a helpful FAQ page on their site for those who might be curious to learn more about the rare earth magnets used on this pedal and how Hustle calculated their pull force. Below, we'll just go into how these pedals actually feel and perform in terms of retention.
The Avery REMtech Pedal works with any two-bolt clipless shoe; included with the Avery pedal is a set of two 56×32 mm REMplate "cleats," which are basically two stadium-shaped (i.e., 2D pill-shaped) plates of ferrous metal. The REMplates we've been using with the Avery pedal are slightly larger, at about 61×38 mm, and should be available to purchase separately from the pedals in the future. Both plates are equally thick at 5 mm.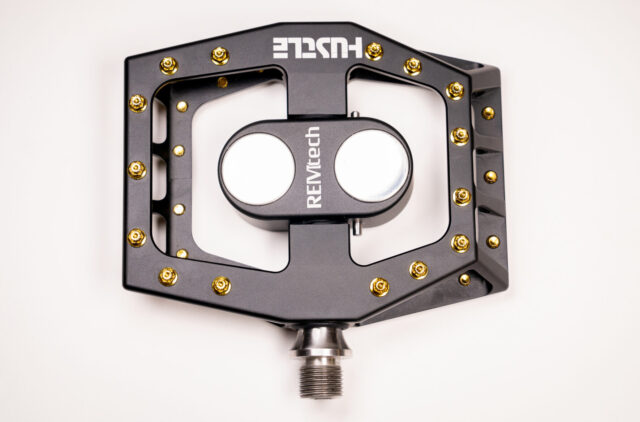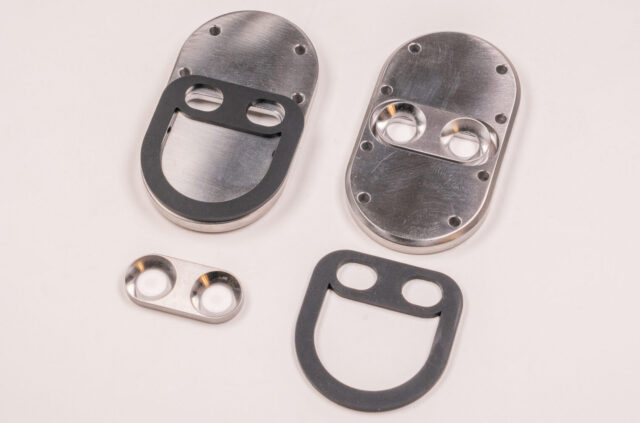 Because the body of the Avery pedal is very similar to a traditional flat pedal, it is beneficial to use a clipless mountain bike shoe with a fairly flat sole that can interact with the pins on the pedal, such as the Ride Concepts Transition that we used throughout our test. More XC-oriented clipless shoes with rockered / curved soles likely won't work quite as well due to their minimal contact with the body and pins of the Avery pedal.
Materials-wise, the pedal body of the Avery is made out of 6061 aluminum alloy. The axle is made from 430 stainless steel, and the Avery pedal uses sealed bearings and a roller bearing sleeve. Nothing out of the ordinary here, other than the stainless-steel-capped Neodymium N52 magnets, which are housed in aluminum and held in place by the pivoting nylon composite body.
In terms of dimensions, the Avery's pedal body is about 95 mm x 120 mm. Compared to most regular flat pedals, the Avery is both narrower and longer than average. Compared to DH-oriented clipless pedals, the Avery's platform is notably larger overall.
As we noted in the specs, the Avery pedals we used were some of the last prototypes before the final production version. Our pair is by and large the same as the production version, with the only differences being improved seals on the final product and a deeper 8 mm hex slot in the axle for the Allen wrench you use to remove / install them on your cranks.
First Rides
Dylan Wood: For context, I have almost exclusively been riding clipless pedals for the past eight years. Like most people, I learned to mountain bike on flat pedals, and I also used to switch back and forth between the two pedal types when my bike quiver consisted of an XC hardtail and a full-suspension Specialized SX Slope (those were the days).
The Avery REMtech Pedal is unique, and definitely takes some getting used to. Unlike clipless pedals, which basically only have one position of entry, you can connect your shoe (with the REMplate) to the magnets on the Avery pedal in a variety of positions. For someone who is used to only having their foot on a single spot on the pedal, this did take some practice to get my foot where I wanted it to be on the pedal.
It is also worth noting that I started using the Avery pedal with all fifteen pins installed. While this provides phenomenal grip on the pedal, it also makes it really hard to readjust your foot if you don't quite nail the placement you're looking for. I then reduced the number of pins to only six (two taller ones on the front, four standard ones on the rear) and this allowed me to adjust my foot while it was "clipped in," and it also gave me some clipless-like "float" while on the pedal. This came at the sacrifice of some grip, and I eventually settled on a total of eight pins by adding one pin on both the left and right side of the pedal.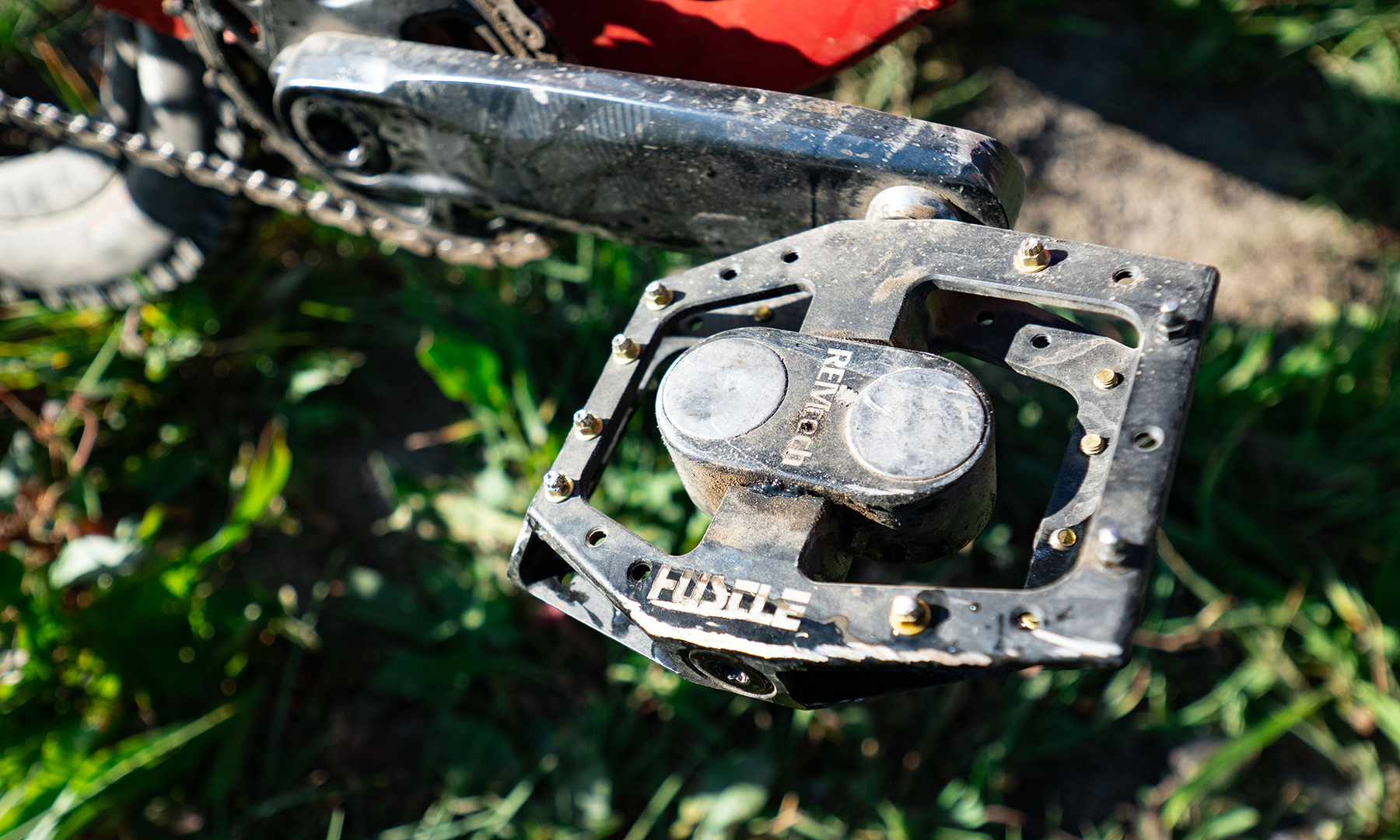 Hustle makes it easy to experiment with pins; you can install and remove them with a 4 mm socket on a wrench, or the dedicated tool they include with the pedals. Hustle includes standard pins that protrude by about 4 mm from the pedal body, as well as slightly taller, more narrow-ended pins that are about 5 mm tall. It is also worth noting that the pins screw into the pedal and the end that makes contact with your shoe is not threaded, but they are narrow-ended with a 4 mm hex-shaped bottom that is the widest part of the pin, allowing you to get a socket over and screw them in. During our time with the Avery REMtech pedals, we never had an issue getting a pin in / out of the pedal body, and overall, the pins themselves seem quite durable. We would recommend adding a drop of Loctite to the pins once you've settled on your preferred number and layout, as a few pins on our pair came loose over time (but never came fully out of the pedal body).
Luke Koppa: I'm someone who has yet to move past flat pedals — my experiments with traditional clipless pedals have been limited to a few rides, and I generally get along pretty well with flats.
With that in mind, the Avery REMtech pedals also took some getting used to. Similar to Dylan, it took me a few rides to get used to the step-in process, and more specifically, the ideal placement of my shoes on the pedals. Getting your feet on the pedals and making a relatively solid connection between the magnets and metal plate is super easy, and is basically just like putting your foot on a flat pedal. But figuring out the ideal placement, where you have the strongest connection between magnet and metal, takes a bit more practice. Combined with my initial hesitancy to trust the magnets' ability to keep my feet on the pedals, that meant I was pretty apprehensive for the first few rides.
However, after roughly five rides with the Avery REMtech pedals, I felt like I had it down. And after a couple weeks on them, I really didn't have to think about them any more than I do with flats. The thing that took more time to adjust to was actually related to the clipless shoes I was using (Ride Concepts Transition), but more on that further down.
As for pins, I got the pedals after Dylan had settled on his preferred eight-pin layout (shown above) and I was overall very happy with it. I like to be able to easily adjust my feet on my pedals, and this layout let me do that while still offering plenty of retention, apart from one specific scenario that I mention below.
Climbing
Dylan: As I mentioned earlier, I have been using traditional clipless mountain bike pedals for a while now, and I've consequently developed the muscle memory of pulling up on my pedals when I am climbing.
When I first tried the Hustle Avery REMtech pedal, I didn't really change my pedal stroke at all, and I found that I could pull up on the pedals an impressive amount when seated and pedaling at a higher cadence and lower watts. As I continued to test the limits of this pedal by increasing the amount of force I was using while pulling up on the pedals and slowing down my cadence, I was happy with how much retention the Avery pedal offered. I definitely found its limit, but I had to reach back a couple years into my XC race days to find the kind of power that is pretty rare in my riding these days, where I typically prefer to just cruise uphill at a steady pace.
The only times I prematurely popped out of the Hustle Avery REMtech pedal on the uphill was during technical climbs. I found that, if I needed to put a bunch of power down all at once to get over a root or something, I would pull up on my rearward pedal a bit harder than the Avery pedal could handle, and my foot would come out of the pedal in a forward motion. I think this mostly comes down to the fact that I've been used to the nearly unlimited retention of a clipless pedal on the upward axis (opposite to gravity).
Overall, I was impressed by how little I had to adjust my natural pedal stroke on the uphill with the Hustle Avery REMtech pedal, and I think Luke's take as a flat-pedal fan will be equally interesting.
Luke: Coming from flats, I viewed any sort of ability to pull up on the pedals as a bonus, and the Avery REMtech pedal certainly allows for more of that than any flat pedal I've used. I can "scoop" most flat pedals well enough on the descent, but I'm much less adept at that when I'm huffing and puffing up some techy and/or steep section of trail.
Like Dylan, I didn't find myself really changing my cadence or general uphill approach (which I'd sum up as "sit, spin, & try not to think about how out of shape you are") when switching from flats to the Avery REMtech pedals. I did feel like my cadence naturally got just a bit smoother since I could balance out my inputs a bit by both pushing and pulling on the pedals (with flats, I have a slightly jerkier, stabby-ier style).
As for techy bits of trail, as a flat-pedal rider, my natural instinct is not to lift up on my pedals, so I didn't run into any issues with popping off the Avery REMtech pedals on the uphill. If anything, I may have been able to clean a couple sections that I haven't been able to on flats. But overall, I'd say I noticed the benefits of the Avery pedals (relative to flats) the most on long, smooth climbs where I felt like I was a bit more efficient with the power I was putting down (and up!).
Also, regarding the weight of the Avery REMtech pedals, I was a bit surprised I didn't really notice it. At about 390 g per pedal, the Avery weighs nearly twice as much as most of the flat pedals I've used (magnets are heavy, after all), but at least for me, I think that bit of added efficiency while pedalling basically canceled out its added weight, relative to flats.
Dylan: Yep, I also didn't notice the weight of the Avery pedal at all. There are so many other factors that can make pedaling more or less efficient, such as your rear tire's weight, rolling speed, and tire pressure; the efficiency and lubrication of your drivetrain; and even the stiffness of your shoe. Personally, I just don't think I can pick up on the fact that my pedals are ~150 grams heavier each with so many other variables, so it did not bother me. Of course, if you're coming from super minimal, ultralight clipless pedals like the Crankbrothers Eggbeater, the Avery pedals probably aren't for you.
Descending
Dylan: This is where the Avery REMtech pedal starts to truly make sense, but like climbing, it did take some getting used to.
My first time doing some legitimate descending on these pedals was at the CBMR Bike Park here at Mt. Crested Butte. I was impressed by how much retention they offered on the downhill — it was definitely more than I expected. I could pull up on the pedals a fair bit to cheat some bunny hops, though they definitely keep you more honest than clipless pedals do. There were a few times when I yanked up on the pedals too hard (e.g., nose bonking over a roller and lifting the rear end) and I pulled my foot right off the pedals. Would this have happened on a clipless pedal? No. Did it happen because I've developed arguably poor technique after relying on clipless pedals all these years? Absolutely.
There were also a couple of instances when I came out of the Avery pedal in a rough rock garden. In each of these instances, I came out of the pedal in the forward direction. I also figured this was likely due to my technique being reliant on the retention of a traditional clipless pedal, but I wanted to be sure.
So I did a day in the bike park on a pair of Luke's flat pedals; a pair of ripped pants and bloody shins later, I can confirm that my years of clipless habits likely caused me to come off the Avery pedal in rock gardens. On flat pedals, there were several instances of my feet coming off the pedals in the forward direction. Admittedly, these were less frequent than with the magnetic Avery pedal, but it led me to believe that I just needed to drop my heels more, as if I were on flat pedals. Again, I am interested in Luke's take here as someone who has exclusively ridden flat pedals.
After a couple of rides on the Hustle Avery REMtech pedal though, I started to feel much more comfortable with them, understood them better, and really began to enjoy them. After the adjustment period, the Avery pedal has kept my feet on the pedals much more effectively than flats, where I found my feet were "hovering" over the pedals on rough, rowdy sections of trail. Compared to clipless pedals, the Avery is so much easier to release from. While the twisting motion required to release from clipless pedals takes some getting used to, I found that if I wanted to get my foot off the Avery pedal, I could very easily do so with little drama. I can see this being beneficial for someone who wants more retention out of their flat pedals but doesn't want to commit to learning the muscle memory involved with releasing from clipless pedals.
The in-and-out ease of the Hustle Avery REMtech pedal is what I really enjoyed about it. After a bit of training to understand where your foot needs to be on the pedal, it is much easier to just place your foot on the pedal and go, rather than fumbling around and trying to place the cleat of your shoe exactly where it needs to be. This encouraged me to put a foot out in corners more than I would with traditional clipless pedals because I knew I could get my foot back where it needed to be much easier and get going quicker. It also made starting right above technical sections much easier, since I no longer needed to take an extra second to trackstand and enter my pedal before dropping into something steep.
As I mentioned earlier, it is very easy to exit the Avery pedal, too. This gave me a boost of confidence, knowing I could bail much easier from my bike if I was eyeing up some technical section or tricky skinny log. The ability to simply take my foot off the pedal was assuring when I was getting myself into something where the consequence of not being able to unclip was high, such as the Portal Trail that inspired this pedal in the first place. And I know this is a niche category, but if you are someone who likes to ride across skinny logs / bridges or your trails have some features like that, it is convenient to be able to put a foot out in tightrope-like balancing fashion (if you're confused, watch what the rider does 12 seconds into this video).
Luke: Overall — and after some time spent getting used to them — I came to love the Avery REMtech pedals on the descents.
Regarding the entry / exit process, I was pretty blown away by how mindless it proved to be. My main worry with the Avery pedal was not being able to get my feet out when I wanted to, but that was dismissed within 5 minutes of using them. "Rolling" your ankle perpendicularly from your bike is the easiest way to get your feet off the Avery, but unless you're pulling directly up (the direction in which the magnets' force is the strongest), it's super easy to just pull your feet off the Avery.
Of course, immediately realizing how easy it was to get my feet off these pedals brought up a new concern — would these magnets actually keep my feet on them?
After a few weeks with the Avery REMtech pedals, this was no longer a concern. But just like any new relationship, the Avery pedals and I had to slowly establish a level of trust before fully diving into something serious (relationships with pieces of gear are the same as with human beings, right? Asking for a friend…)
During my first few rides with the Avery, I was very hesitant. This was largely due to the foot positioning required by clipless shoes and where their cleat slots are. As a flat-pedal rider, I'm used to having my foot pretty centered length-wise on a pedal and dropping my heels pretty significantly. With the Ride Concepts Transition clipless shoes I used, the cleat / REMplate (at the rearward most point in the shoe's slot) is notably farther forward on my foot. That meant I was balanced on the pedal closer to the ball of my foot than the arch, and that frankly felt weird. At first, I felt that — as soon as I dropped my heels — my foot was just instantly going to fly off the pedals.
Fortunately, that was definitely not the case. Throughout my time with them, I never popped off the Avery REMtech pedals purely from pushing down on my heels too much. The magnets are surprisingly strong.
And after I adjusted to the new foot positioning, I began to really love the Avery pedals. This was primarily cause I could now pull up on my pedals, which was particularly nice in the air and on flowy, rolling terrain where pumping and popping are the keys to maintaining and building speed.
After about two and a half months riding with them, I've only had one instance where I fully popped off the Avery when I didn't want to. I was trying to pre-hop a roller, had apparently grown too accustomed to the retention of the Avery, and ended up mistiming the pop and needing to rely too much on lift from my feet. But I haven't had my feet come off in rough rock gardens, and I've generally come to trust the Avery to keep my feet attached to my bike when I need them to. Regarding Dylan's experiences with his feet coming off in the forward direction, that has never been an issue for me. I think that just comes down to the fact that I always focus on dropping my heels, since flat pedals basically require you to do so, particularly in rough terrain.
That said, there have been a few times when my feet pivoted a bit on the Avery that caused some worry. Ironically, with flat pedals, I'm used to my feet pretty much staying put (I prefer pretty grippy pedals & shoes), even when I'm twisting and turning them in an attempt to not look like a total goober in the air. With the Avery, I found my feet occasionally shifting / pivoting on the pedals more than I typically would be able to on flats. This was only in the air and never caused my foot to come all the way off, but it did startle me a bit during my first few rides with the pedals. For reference, I used the Avery with eight pins on each face of the pedal, and I think this may have happened less often if I added a few more pins to the sides of the pedal body.
Overall though, after the adjustment period, I felt totally confident riding the Avery REMtech pedals as hard as I would on my trusted flat pedals, if not harder. Particularly in rough sections of trail, I think there were a few occasions where my feet may have gotten knocked off my flat pedals, but they stayed put on the Avery pedals. This is tough to gauge, but at the very least, the Avery pedals easily matched the retention of my grippiest flat pedals (currently, the OneUp Aluminum pedals). And the Avery pedals offered the added bonus of being able to lift the rear of the bike much more than I could with any flat pedals.
The Quirks of a Magnetic Pedal
Dylan: I know some of you are reading this and wondering what sort of considerations there might be for having pedals with very strong magnets on your bike, so I want to address some of those.
The REMtech pedals do like sticking to anything ferromagnetic (i.e., attracted to a magnet), such as the hood of your car, and they do have sharp pins on them. Craig of Hustle Bike Labs warned me of this and showed me some small scars on his hands, so I made sure to be cautious with the pedals and I have yet to have any sort of incident. This is only really a problem when the pedals are not installed on the bike, and the pedals do come with a protective sleeve that you should keep on until the pedals are installed on your bike.
Your tools, which are often ferromagnetic, can be snatched up by the pedals. Not a big deal, just something to consider. I found that I could stash a metal tool on the pedals trailside while doing a repair, which is actually kind of convenient, though I am not sure Hustle would recommend doing this since it has the unlikely potential to damage the Neodymium magnets.
The Avery REMtech pedal can pick up some debris, especially if you are in a place with a lot of ferromagnetic dirt and rocks. This never happened when I was just riding my bike, but it would happen if I set my bike down and the pedal sat in some loose ferromagnetic dirt. It is pretty easy to clear the magnets of debris, though.
Mud sticking to your shoes and pedals can reduce the amount of retention the pedals have. This is basically just the same as if you were using standard clipless pedals; you kind of just have to whack and slide your shoes against the pedal a few times before "clipping in," and then things are mostly back to normal.
The pins of the Avery pedal should touch the soles of your clipless shoe — the design of the Avery pedal relies on it. On a shoe like the Ride Concepts Transition, which has a fairly flat sole and uses the same rubber compound as some of Ride Concepts' flat pedal shoes, this isn't really a problem. You can expect your soles to wear out around the cleat area a bit faster, though, and clipless shoes with dramatically curved / rockered sole profiles may not work since they might not be able to contact the pins / platform of the REMtech pedals.
For reference, here's an image of two Ride Concepts Transition clipless shoes, both used for about two seasons. The one on the left was used with Hustle's magnetic Avery REMtech pedal for about 4 months, while the one on the right was used exclusively with traditional clipless pedals without pins.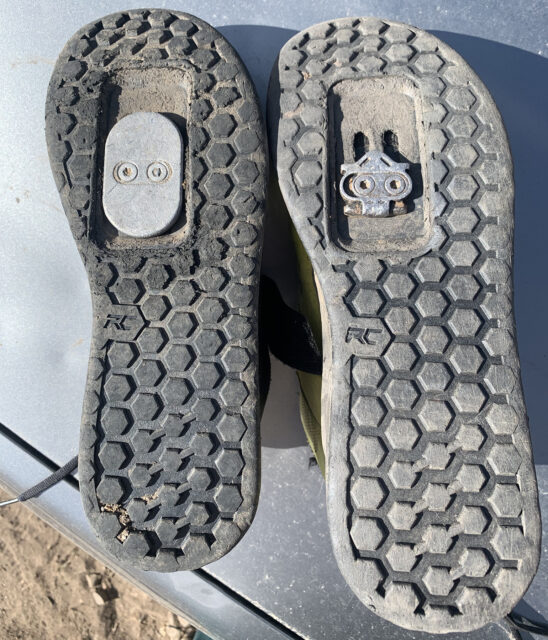 Luke: I never picked up any cool trail-side ferromagnetic debris with the Avery REMtech pedals (was kinda hoping to add to my piggy bank…). I did manage to get my fingers between the two Avery pedals when swapping them to a different bike, and while no blood was drawn, I can confirm that it's probably not a mistake you'll make multiple times.
Frankly, the biggest "quirk" I noticed during my time with the Avery REMtech pedals was actually related to the clipless shoes you have to use with them. As we've now mentioned a few times, Dylan and I both used Ride Concepts Transition shoes with these pedals. Those shoes are definitely on the more downhill-oriented side of the spectrum for clipless shoes, and consequently have a pretty long cleat slot that extends fairly far back on the foot. However, they still left me with the pedal being centered closer to the ball of my foot than the arch, and that probably took just as much (if not more) getting used to than the REMtech magnetic system itself.
To be clear: this is pretty subjective territory and not specific to Hustle's pedals — I think just about any flat-pedal riders would have to adjust to any clipless shoe and where it puts your feet on any pedal that connects with something in the cleat slot of clipless shoes. But it is something I didn't foresee coming into this review, so I figured it'd be worth mentioning for flat-pedal riders considering the Avery REMtech pedals. And fortunately, rumor has it that Hustle is partnering with G-Form to work on something to address this…
Who's It For?
Dylan: This is pretty straightforward to me. If you ride with clipless pedals and want easier entry and exit, but still want better retention than flat pedals, the Hustle Avery REMTech magnetic pedal is a unique solution. Similarly, if you ride with flats and want better foot retention but don't want to fully commit to clipless pedals, the Avery offers a lot to like. I could also see someone who regularly switches between flat and clipless pedals appreciating the Avery, since you could just use one pair of pedals and one pair of shoes for everything, with some compromises on either end.
Luke: Yep, from the perspective of a flat-pedal rider, the Avery clearly solves the main problem I have with traditional clipless pedals — the ease of entry / exit. Getting your feet on and off the Avery is about as easy as it is with flat pedals, but the Avery also lets you get away with pulling up on the pedals when you want, and I think it offers better retention than most flat pedals on the market.
If you're perfectly happy with either clipless or flat pedals, that's great and you should stick with them. But if you feel caught in between those two categories, then you've got good reason to consider the Avery REMtech pedals.
Bottom Line
Dylan: The Hustle Avery REMtech Magnetic Clipless Pedal is one of the most interesting products I've ever used. I don't think it is for everyone, but for the demographic of riders who could benefit from using this pedal, it has the potential to change the way that you ride your bike.
Would I say that this pedal is the best of both worlds when it comes to the freedom of a flat pedal and the retention of a clipless pedal? Not exactly. I would say it is about 90% as easy to get out of as a flat pedal, and about 50% as retentive as an average clipless pedal. Would I say that this magnetic pedal is a very interesting middle ground between the two? Yeah, that's more like it.
Luke: Saying I was "skeptical" before trying the Avery REMtech pedal would be an understatement. But after using it as my only pedal for a couple of months, it was frankly hard to go back to traditional flat pedals.
I agree with Dylan in that the Avery pedal definitely isn't for everyone. It's pretty pricey, it's not light, and it doesn't magically solve every downside of other pedals without introducing some compromises. But if you're like me and are still hesitant about the binary "in or out" nature of clipless pedals but still want some of their benefits (namely, the ability to lift a bike with your pedals & overall better retention), the Avery REMtech pedals are pretty dang cool.