2022 Canyon Lux Trail
Wheel Size: 29''
Travel: 110 mm rear / 120 mm front
Material: Carbon fiber
Stated Weight:
Frame only, including Fox DPS shock and all hardware: 5.01 lb (2.28 kg)
Lux Trail CF6: 26.7 lb (12.1 kg)
Lux Trail CF9 Emily Batty Edition: 24.0 lb (10.9 kg)
Price: Complete bikes $4,000 to $7,000; see below for details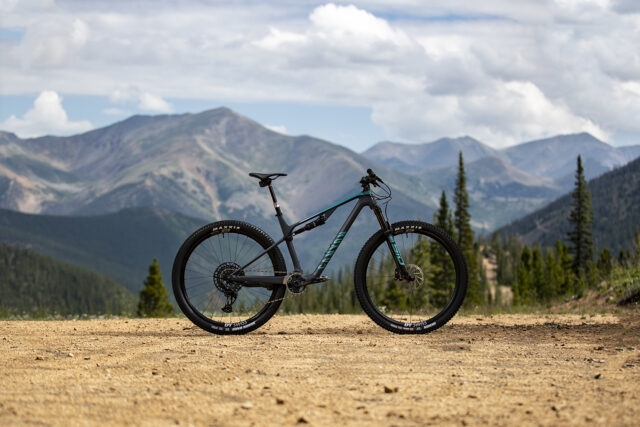 Intro
The Canyon Lux has seen its fair share of success as an XC race bike, and now it's got a longer-travel, more aggressive sibling — the Lux Trail.
Canyon says the new bike is a viable option for everyone from XC racers looking for a more compliant, comfortable ride to everyday Trail riders who simply want to cover as much ground as fast as possible. But how does the Lux Trail stack up on paper to the other contenders in that class, and who should be looking at this sort of bike vs. a true dedicated XC race rig?
The Frame
The Lux Trail shares its rear triangle with the standard Lux, but the front triangle is all new and gives the Lux Trail substantially more aggressive geometry than the Lux — more on that below.
The Lux Trail is only available in carbon fiber, and all four build levels share the same frame, apart from paint. Amusingly, Canyon lists a breakdown of the weights of all the individual frame components, including paint, and the finish on the Team Replica is significantly heavier (115 g) than that on all the other models (40 g).
Either way, the Lux Trail is notably light, even for this sort of short-travel, XC-derived Trail bike. At a claimed weight of 5.01 lb (2.28 kg) for the frame and shock, it substantially undercuts the Transition Spur (5.4 lb / 2.45 kg) and the Pivot Trail 429 and Yeti SB115 (both 5.9 lb / 2.68 kg), for example. The Specialized Epic Evo is lighter still, at a frankly mind-blowing stated weight of 3.66 lb / 1.66 kg with its shock, but that bike is a massive outlier in that regard, and the Lux Trail is still relatively light.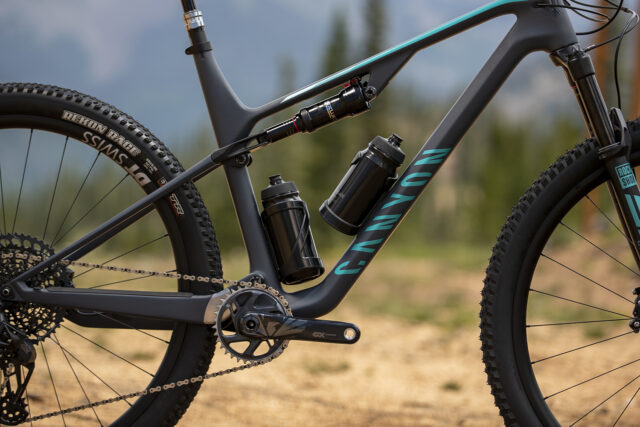 The Lux Trail gets 110 mm of rear wheel travel (up from 90 mm on the Lux) by way of a four bar suspension linkage with a flex stay in lieu of a dropout pivot. It's very similar to the Epic Evo and Spur (albeit with a different shock orientation, in the Spur's case) and is a relatively common move on shorter-travel bikes in the name of weight savings. And speaking of weight, the Lux Trail is rated to a total system weight (rider, bike, and gear) of 110 kg / 242 lb. Rear tire clearance is stated up to 2.35'' / 2.4'', depending on make and model of the tire.
The Lux Trail can fit two large water bottles inside the front triangle, features fully-guided internal cable routing, and gets a rubber chainstay guard. Canyon also includes what they call an "Impact Protection Unit" — essentially their version of Trek's Knock Block system, which prevents the handlebars from rotating around 360°. In the case of the Lux Trail, Canyon's goal is to prevent the controls from contacting the top tube in the event of a crash. This of course also means that bar spins are out of the equation, which doesn't seem like much of a limitation on this sort of bike (though I will personally buy a beer for anyone who pulls one off during an XC race — send us the video).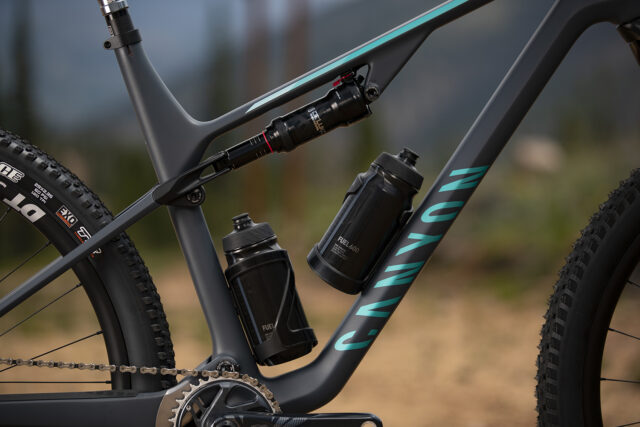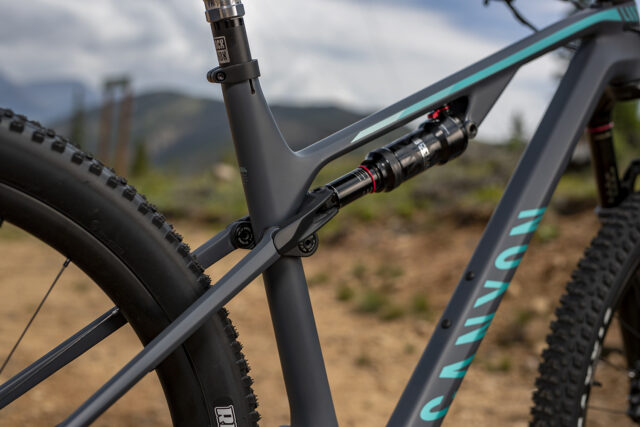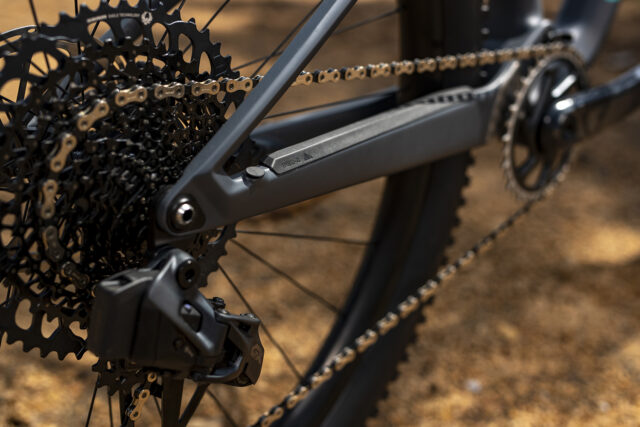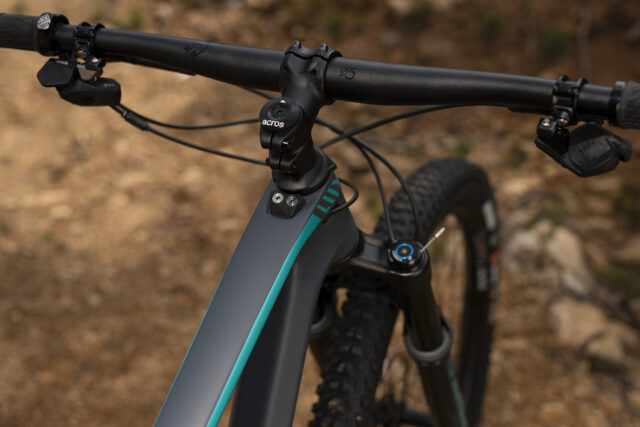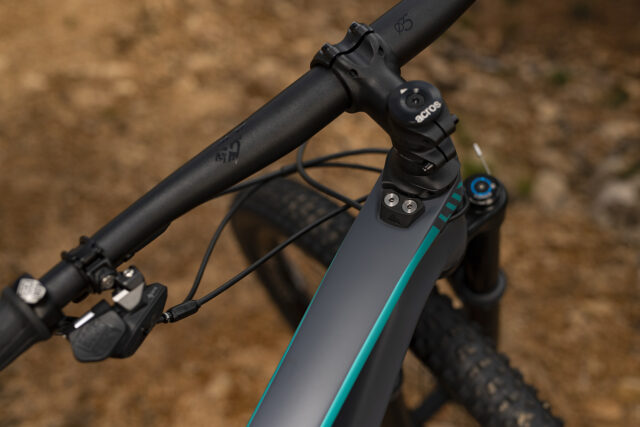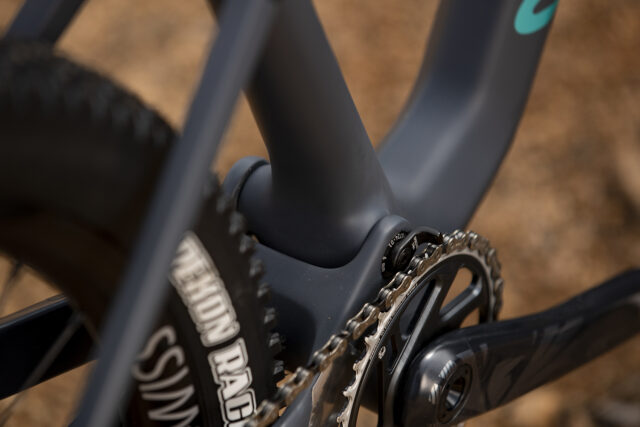 The Lux Trail features a custom upper chain guide integrated into the main pivot. It's extremely small and minimalist — essentially just a small aluminum tab that extends over the top of the chainring to help out with chain retention, at an added weight of just 3.7 grams.
Fit & Geometry
Canyon offers the Lux Trail in four sizes, from Small through XL, which they say cover riders from 5'4'' through 6'6'' (165 – 202 cm). All four sizes get a 67.5° headtube angle (a full 2.5° slacker than the Lux), a 74.5° seat tube angle, and 435 mm chainstays. Reach ranges from 440 to 500 mm in neat 20 mm increments, all of which adds up to wheelbases from 1,152 mm on the Small through 1,227 mm on the XL. You can see the full geometry chart below:
On paper, it seems like that should make the Lux Trail quite a bit more stable and forgiving than the standard Lux (and most dedicated XC race bikes). That said, the Lux Trail is definitely still on the XC-ish end of the spectrum for a Trail bike — and given that Canyon also has the 130mm-travel Neuron in their lineup, that makes a lot of sense. The Lux Trail is still supposed to be a very fast, very efficient bike that's capable of covering a ton of ground quickly — both up and down — and the combination of light weight, short travel, and geometry that lands in the middle ground between an XC-race and Trail bike seems perfectly suited to that goal.
Compared to the standard Lux, the Lux Trail has a substantially longer reach to go with its slacker headtube angle, and especially given that the Lux Trail is meant to be run with a shorter stem and wider bars, that makes a lot of sense. We expect the Lux Trail to still be quite agile and efficient while adding a healthy dose of stability and descending prowess, but are looking forward to throwing a leg over one to find out more.
The Builds
Canyon is only offering the Lux Trail as a complete bike — there's no frame-only option — in one of four builds, ranging from $4,000 to $7,000. Here are the build highlights for the four options:
As per usual for Canyon, there's a wide range of builds on offer, from mid-range to very high end. And while there's no truly budget option, the Lux Trail is quite a good value for what you're getting. And like we said about it's much longer-travel stablemate, the Spectral, the top-end Lux Trail build might actually be the most impressive value. Yes, $7,000 is a lot of money, but you also get a full Shimano XTR drivetrain and brakes, Fox Factory suspension and seatpost, and DT's top-end carbon wheelset (which retails for almost $2,800 on its own). For reference, the Specialized Epic Evo Pro — which comes with a very similar spec, apart from including less-expensive Roval wheels — retails for $8,800. The equivalent build on a Pivot Mach 4 SL goes for $9,200, and so on.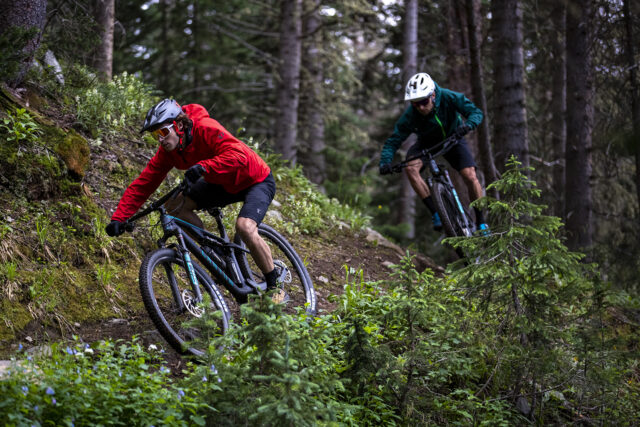 Some Questions / Things We're Curious About
(1) On paper, the Lux Trail looks like it matches up most neatly against the category of XC-derived bikes with a bit of extra travel, like the Specialized Epic Evo, Yeti SB115, and Transition Spur. But how does it stack up on the trail compared to those sorts of bikes?
(2) And what are the tradeoffs when going with something like the Lux Trail, as compared to some heavier, more aggressive short-travel bikes like the Guerrilla Gravity Trail Pistol and Pivot Trail 429?
(3) On the flip side, does the Lux Trail still feel like it would be at home on the starting line of a typical XC race? Or is it more of an everyday Trail ride for an XC-minded rider, and an option for longer, more technical sorts of endurance races?
Bottom Line (For Now)
Canyon's new Lux Trail looks like a very compelling option for riders who want much of the efficiency and agility of an XC race bike, but in a more stable, forgiving package. We expect it to be a great option for covering lots of ground very quickly and are looking forward to getting on one to find out more. Stay tuned for a full review to come.