2022 Trek Top Fuel
Wheel Size:
Travel: 120 mm rear / 120 mm front
Material: Aluminum and Carbon versions available
Price:
Aluminum frame w/ Fox DPS Performance shock : $2,300 USD / $2,900 CAD
Carbon frame w/ Fox DPS Factory shock: $3,700 USD / $4,600 CAD
Complete bikes $2,600 to $11,000 USD / $3,450 to $14,650 CAD; see below for details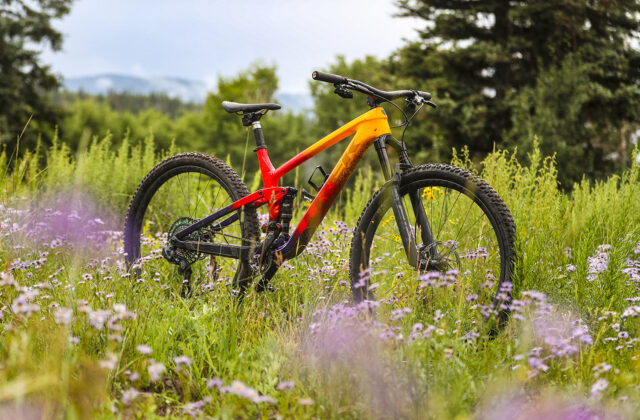 Intro
When Trek first launched the Top Fuel in 2004, it was a dedicated XC race bike, and it stayed in that camp through several subsequent generations. In 2019, Trek nudged the Top Fuel a bit closer to the Trail category since the Supercaliber took over as their XC race full-suspension bike, but with just 115 mm of rear travel and XC-oriented geometry, that Top Fuel didn't stray too far from its roots.
However, the all-new 2022 Top Fuel looks to add a big dose of Trail-bike capability, and features a bunch of interesting design details, too.
The Frame
The overall layout of the Top Fuel hasn't changed much from the prior iteration. It still uses Trek's ABP suspension layout (a four-bar arrangement with a pivot concentric to the rear axle) with a vertically-oriented shock, and it's still available in both aluminum and carbon versions. Both feature threaded bottom bracket shells, internal cable routing, and a storage port in the downtube. A water bottle does fit inside the front triangle on all sizes, but Trek says the XS is limited to a 15-oz one, and the Small can only accommodate a 20-oz bottle.
Both frame versions also feature Trek's Knock Block 2.0 steering limiter, which has now increased the turning range to 72 degrees. Trek originally introduced the system to allow for a bigger downtube that would interfere with the fork crown if the bars got turned too far, but the new Top Fuel has no such limitation. Similar to the latest Trek Slash, the Knock Block system carries over on the Top Fuel to protect the cables from getting yanked on in a crash, but it can be removed if desired. There's also ample rubber protection on the chainstay, seatstay, and downtube. A flip chip (Trek calls it a "Mino Link") toggles between two geometry positions, which we'll outline in more detail below.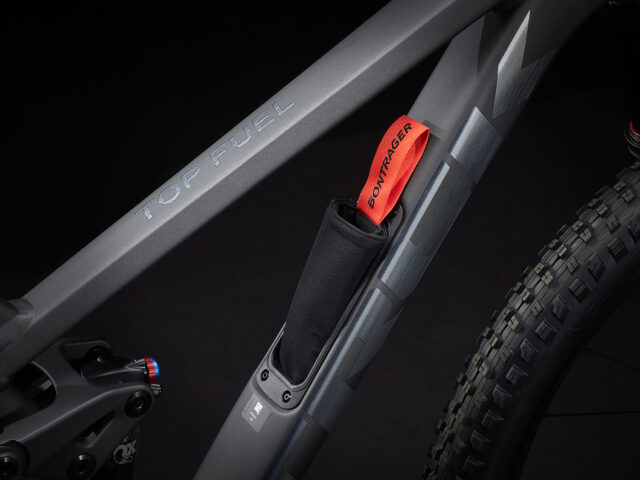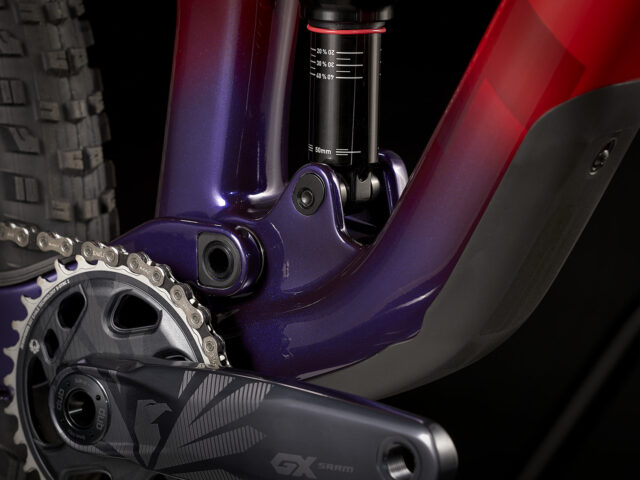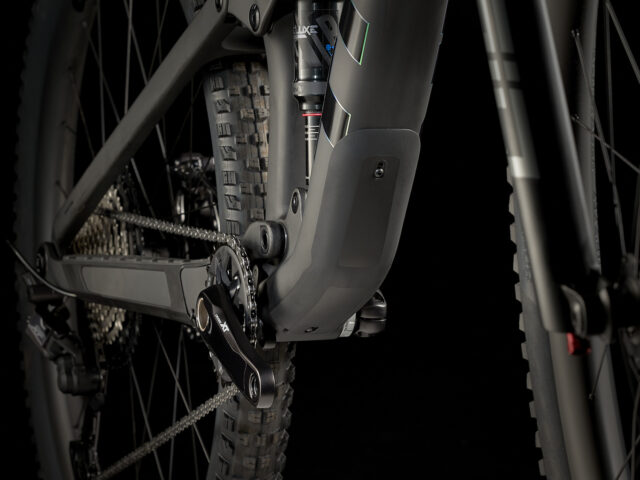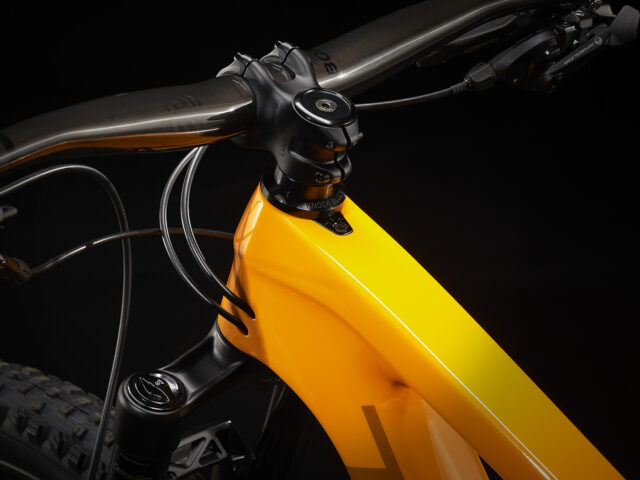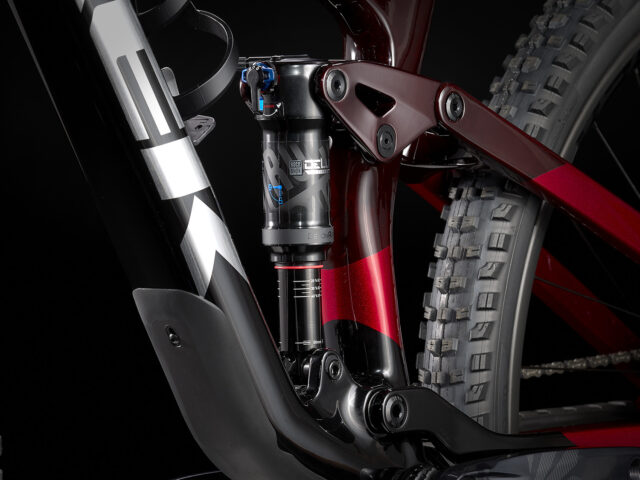 Fit & Geometry
One of the most exciting details about the Top Fuel is that it's offered in a whopping seven different frame sizes, ranging from XS through XXL, with a M/L snuck in the middle. This means that there's both an especially wide range of sizes available, and that the jumps between sizes are a little tighter than average in the middle part of the range. And like we just saw from Rocky Mountain on their new Element — a bike that is squarely in competition with the new Top Fuel — the XS size Top Fuel gets 27.5'' wheels, while the rest of the range rolls on 29'' ones. That makes a lot of sense, for all the same reasons that we talked about in our First Look of the Element — shorter riders generally have less butt-to-tire clearance, and a shorter front wheel and fork makes it a lot easier for shorter folks to appropriately weight the front wheel, too.
The Top Fuel's headtube angle sits at 66° in all sizes, and that's paired with a 76° effective seat tube angle and 435 mm chainstays across the board. Reach ranges from a very short 400 mm to 520 mm across the size range. Interestingly, instead of doing neat 20 mm jumps between each size, Trek opted for a 30 mm jump between the Small to Medium, then tightened things to 15 mm between the Medium to M/L and the M/L to Large (the M/L frame's reach clocks in at 465 mm). All those numbers are stated in the low position with the stock 120mm-travel fork; the high position steepens things by 0.4°, and Trek also condones running a 130mm-travel fork, which slackens both angles by 0.5°. For reference, here's the full geometry chart:
There's a huge range of geometry in modern ~120mm-travel bikes, from heavily XC-derived models to quite aggressive options (usually spec'd with a longer-travel fork), and the new Top Fuel sits somewhere in the middle of that range. Given how Trek has talked about the bike, that makes a lot of sense — this is supposed to be a bike for people who want a very sprightly, efficient bike with a solid dose of downhill capability for when things get rougher, and the Top Fuel slots in neatly there. It's notably similar to the Transition Spur and Pivot Trail 429, and just a touch less aggressive than the brand new Rocky Mountain Element and Guerrilla Gravity Trail Pistol — all strong contenders in this category.
The Builds
Trek offers the Top Fuel in nine different builds, with prices ranging from $2,600 to $11,000, and there's a great range of SRAM and Shimano options across a big spectrum of price points. And bonus points to Trek for sticking to Shimano on the least expensive few options — as we've discussed several times this past year, SRAM's mid-to-high-end options work great, but Shimano has a clear advantage on the more budget-oriented end of the spectrum.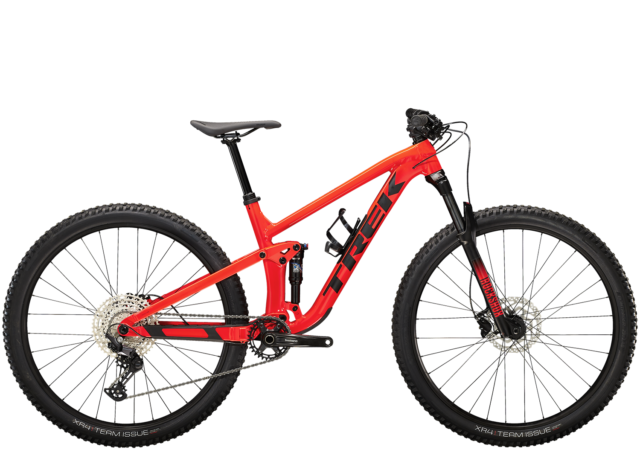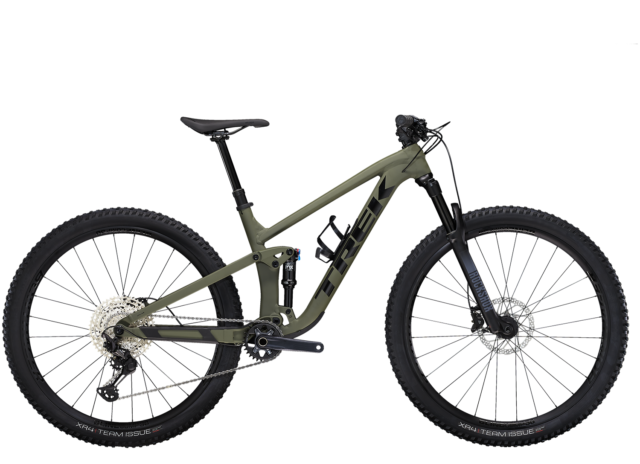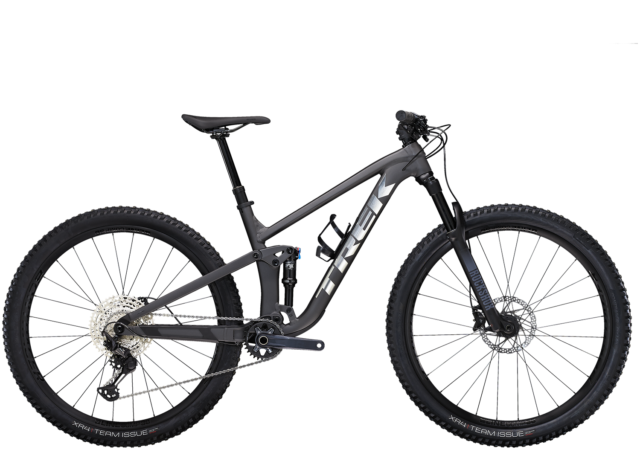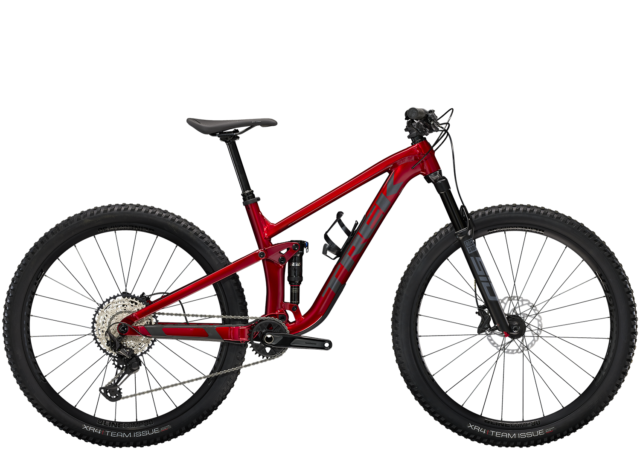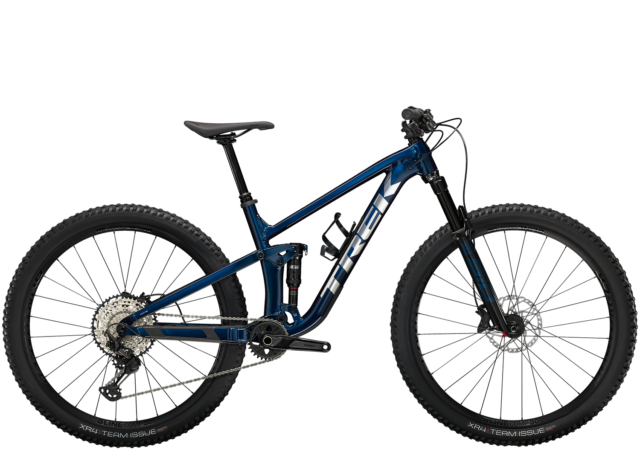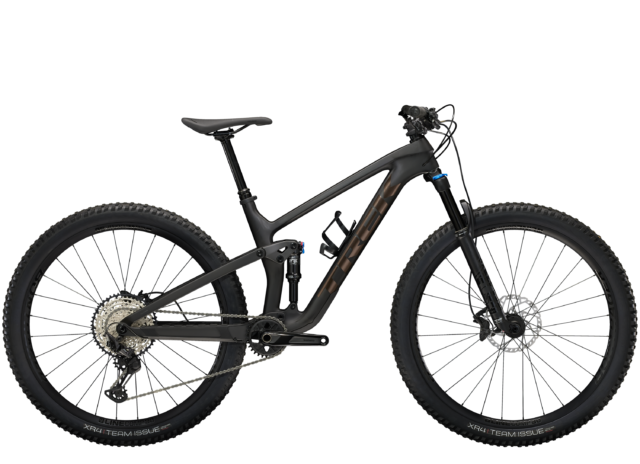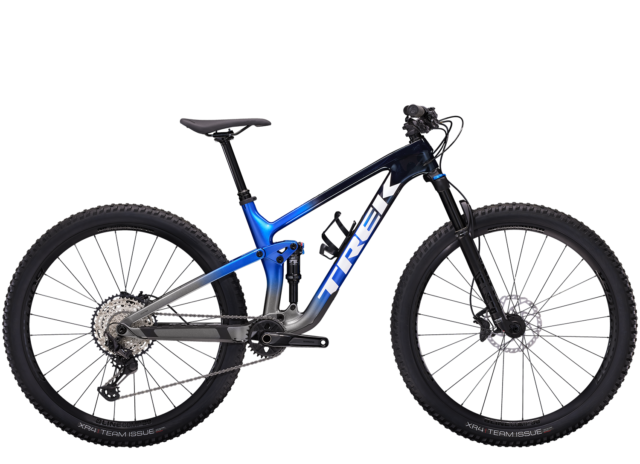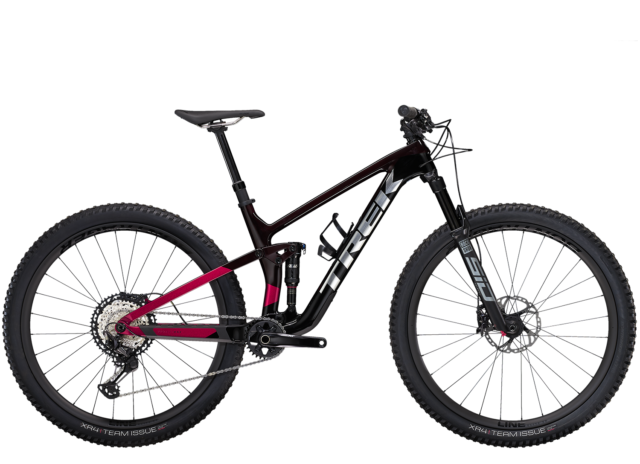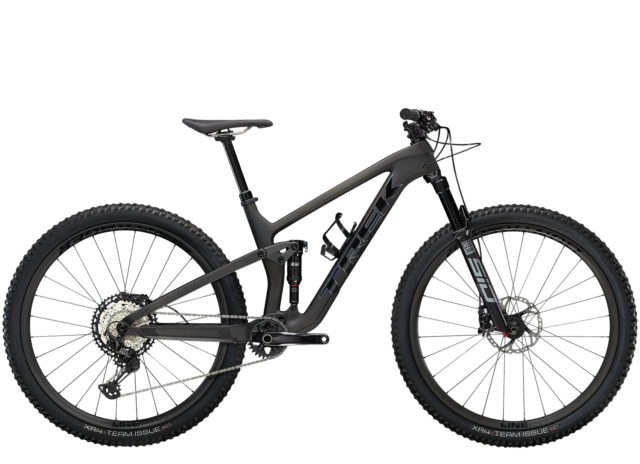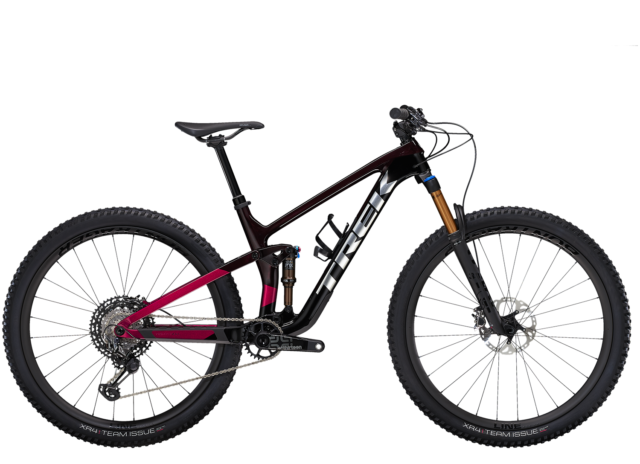 For reference, the complete build options are as follows:
That's a lot of builds spanning a huge range of price points, and there should be something for just about everyone in there. And per usual for Trek, certain models will be available through their Project One program, if you'd like to pay a little extra for custom paint.
Some Questions / Things We're Curious About
(1) On paper, the Top Fuel looks like it'll slot in somewhere between the most XC-derived 120mm-travel bikes and the most aggressive options in the class, but does that prove true on the trail?
(2) As shorter-travel Trail bikes get more and more capable, should more people who'd previously be shopping in a longer-travel category be looking at these sorts of options, including the Top Fuel?
Bottom Line (For Now)
Trek looks to have done a great job of modernizing their longstanding Top Fuel model, and in turn, bridging the gap between the Supercaliper XC race bike and the Fuel EX Trail offering. We're hoping to get on one to see how it stacks up in a rapidly-growing field of contenders in that space, and will have a full review to come if we can make it happen.