When considering a new mountain bike, there are so many similar-looking bikes on the market being made by so many different companies, it is virtually impossible to (1) know where to begin; (2) quickly figure out which one or two products from a given brand might work well for you; and (3) determine what products from other brands might be the most similar and also worth considering.
In our "Blister Brand Guide" series, we provide an overview of the entire product lineup of a brand and highlight how each product stands out from the rest to help you find the best women's mountain bike or men's best mountain bike for you.
In our individual product reviews, we go very deep into the details of particular products. With these Brand Guides, the goal is not Depth, but Breadth. Our Brand Guides and full reviews are designed to complement each other — provide a broad overview of entire company lineups, and then also very detailed reviews of individual products.
Our mountain bike Brand Guides are presented by CBGTrails. Learn more and start planning your trip today at cbgtrails.com, then download the CBG Trails app for info on the 750+ miles of singletrack and 150+ trails in Crested Butte and the Gunnison Valley, Colorado.
Rocky Mountain has been making mountain bikes since 1981. They also started Race Face Bicycle Components in 1993. Since then, both brands have had great success in the mountain bike industry. Today, Rocky Mountain only makes mountain bikes, from cross-country to downhill options, and they offer certain models in both alloy and carbon frames.
Rocky Mountain uses their "Ride-9" system, which consists of two flip chips that allow for nine different geometry positions on many of Rocky's full-suspension bikes. Changing the Ride-9 position also slightly tweaks the suspension rate. They also use Ride-4, a similar system with only 4 positions. All full-suspension Rocky Mountain bikes (except the Thunderbolt) also feature a size-specific shock tune, meaning that smaller size bikes get lighter-weight-oriented tunes, and vice versa.
For model-year 2021, Rocky Mountain added two new bikes and has discontinued their XC hardtail, Vertex. Info on the Vertex can be found in our 2020 Rocky Mountain Bike Brand Guide.
They are currently based in Vancouver, British Columbia, Canada.
Current Warranty (for the original owner)
Five year warranty for all carbon fiber and aluminum mountain bike frames

One year for paint, decals, and frame hardware

Six months for pivots and bushings
For more information, visit Rocky Mountain.
Rocky Mountain's suspension design: Smoothlink
(For more on different suspension designs, see our Suspension 101 article)
Before we get into their specific models and build options, here are some things to keep in mind when deciding on which build level to go with, and why.
First, when looking at complete bikes, suspension and wheels are going to make the biggest difference in how a bike really rides. Spend money on those before other things like higher-end drivetrain parts, cockpit parts (e.g., stem, handlebars, etc.), cranks, etc.
Tires make an enormous difference in performance, but are cheaper and easier to upgrade, especially since they tend to wear down quicker than other components. Upgrading a lower-end front tire to something better — and saving the original for rear-tire use — can be a good way to improve a bike while still making use of the originals, since front tires are generally a lot more important than rear tires when it comes to traction.
Drivetrain parts can be upgraded piecemeal as they wear out, or if you just want to upgrade down the line. Higher-end cassettes are mostly just lighter, while higher-end shifters and derailleurs get lighter, smoother, and sometimes last a bit longer as you go up in price.
We'll outline here the different models in Rocky Mountain's MTB lineup, organized from most cross-country-oriented (XC) to downhill-oriented (DH). In other words, the bikes at the top of the list are optimized to pedal and climb uphill very well, while the bikes at the bottom are optimized to handle very rough, steep, and challenging descents very well.
We've included some notable information for each model:
Available build kits & their MSRP
Best Budget Build

: These are the build kits that we think make the most sense for people trying to spend the least amount without ending up with a build that's going to immediately break or need to be upgraded.

Most Performance for the Price

: These are the build kits that we think make the most sense for people seeking the best balance of performance and cost. I.e., if you don't need to get the cheapest bike, but you also don't need the absolute lightest bike

or all the newest bling,

this is the build we think makes sense for you.
Suspension travel (e.g., 100 mm of travel, 130 mm of travel, etc.)

Wheel size (e.g., 27.5", 27.5+, 29")

Frame material options (e.g., alloy vs. carbon)

A brief description of what the bike was designed for and any notable design details.

Some of the bike's most direct competitors from other brands

Which Rocky Mountain bike it's most similar to

Reasons why you should buy it

Reasons why you should

not

buy it
Rocky Mountain's Mountain Bikes
(Most Cross-Country-Oriented to Most Downhill-Oriented)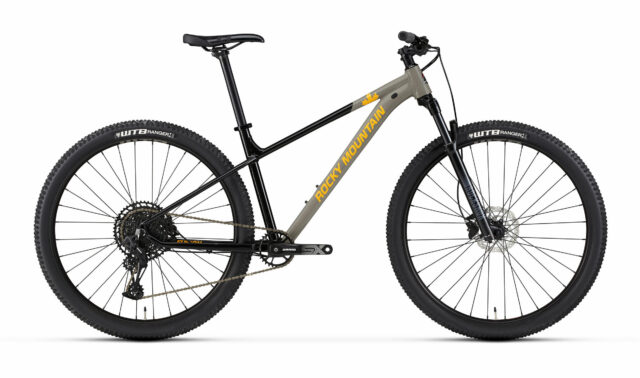 Rocky Mountain's entry-level sport XC bike (i.e., not racing oriented), ideal for beginners or those who prioritize low price over top-of-the-line components, low weight, and performance.
10: $749

30: $899

40: $1,199 – Best Budget Build & Most Performance for the Price
Specialized Chisel

Scott Aspect

Kona Kahuna

Trek X-Caliber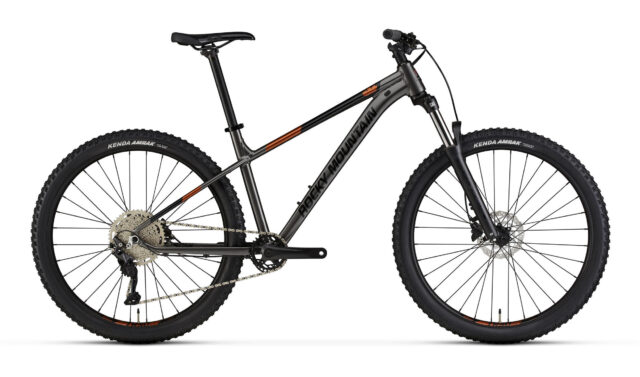 This entry-level Trail hardtail is a solid option for beginners on a tight budget looking for 27.5" wheels.
More like the Fusion than the Element.
10: $749

20: $839 – Best Budget Build & Most Performance for the Price
Specialized Fuse 27.5"

Kona Fire Mountain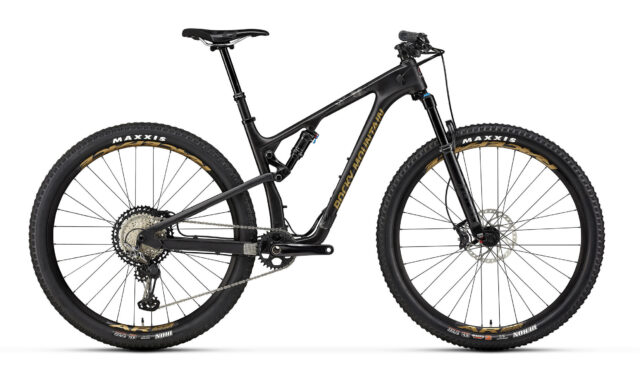 A full-suspension XC bike that features Ride-9 geometry adjustment system. The XCO edition features a 100 mm fork along with a more XC-oriented build kit. Other kits feature a 120 mm fork.
More like the Growler than the Soul.
50: $4,599 – Best Budget Build

70: $5,799 – Most Performance for the Price

70 XCO Edition: $6,199

90: $7,499

Frameset: $2,899
Specialized Epic & Epic EVO

Santa Cruz Blur

Trek Top Fuel

Pivot Mach 4 SL

Giant Anthem 29 & Trance Advanced Pro 29

Kona Hei Hei

Scott Spark & Spark RC

Intense Sniper XC & Sniper Trail

Norco Revolver FS 100 & Revolver FS 120

Cannondale Scalpel & Scalpel SE

Mondraker F-Podium & F-Podium DC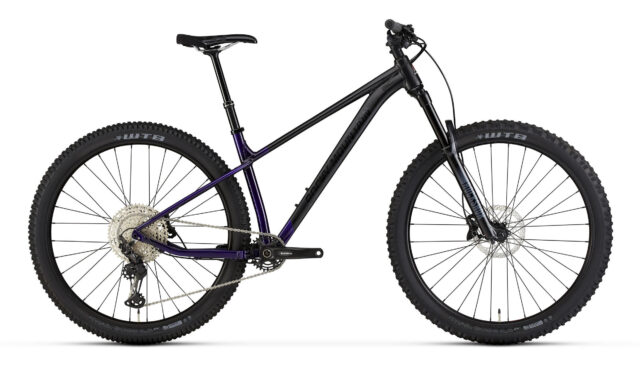 The Growler can inspire confidence on loose trails thanks to its wide 2.6" x 29″ tires. It comes with a 130 mm fork on the "20" build, a 140 mm fork on the "40" build, and a 150 mm fork on the "50" build. This bike is a great choice for beginners and those on a tight budget who want something with higher-end components and more downhill-capable geometry than the Fusion and Soul.
More like the Thunderbolt than the Element.
20: $999

40: $1,599

50: $1,999 – Best Budget Build & Most Performance for the Price
Santa Cruz Chameleon 27.5"+

Kona Big Honzo

Devinci Kobain HT

Giant Fathom 29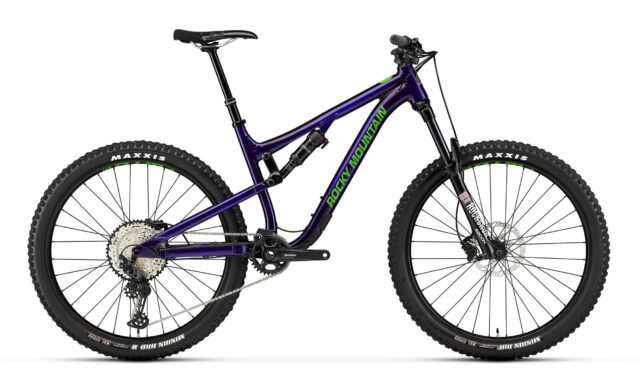 This bike is designed to be a quick and nimble option for those on a budget looking for a do-it-all, full-suspension trail bike. Comes with Ride-9 adjustment and can run 26"+ wheels and tires.
More like the Instinct than the Growler.
Alloy 10: $2,199

Alloy 30: $2,499 – Best Budget Build & Most Performance for the Price
Giant Trance

Kona Process 134 27.5

Ibis Mojo

Trek Remedy

Evil The Calling

Intense Primer 27.5

Devinci Troy 27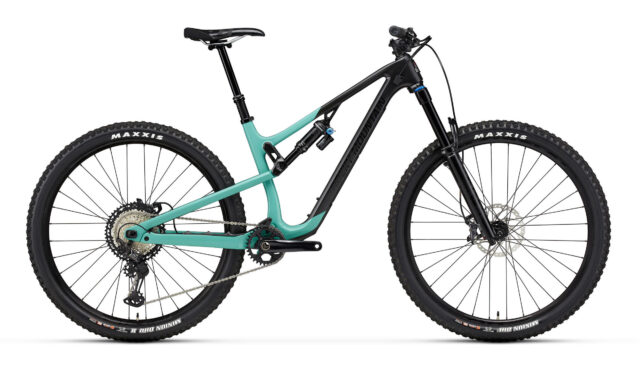 Released March 2021, the new Instinct is Rocky Mountain's best Quiver Killer. The updated Instinct has longer and slacker geometry, and has updated suspension kinematics. This bike shares the same frame as the Altitude with a different front shock mount. Features Ride-9 geometry adjustment system and 10 mm of chainstay length adjustment.
More like the Altitude than the Thunderbolt.
Alloy 30: $3,129 – Best Budget Build

Alloy 50: $4,499

Carbon 30: $4,499

Carbon 50: $5,549

Carbon 70: $6,899 – Most Performance for the Price

Carbon 70 Coil Edition: $7,629

Carbon 90: $9,399

Carbon 99: $10,449

Carbon Frameset: $3,549
Specialized Stumpjumper

Pivot Switchblade

Kona Process 134 29

Commencal Meta TR

Giant Trance X 29

Intense Primer 29

YT Jeffsy 29

Norco Sight 29

Devinci Troy 29

Evil The Offering

Scott Genius

Cannondale Habit

Revel Rascal

Canyon Strive

Ibis Ripmo &

Ripmo AF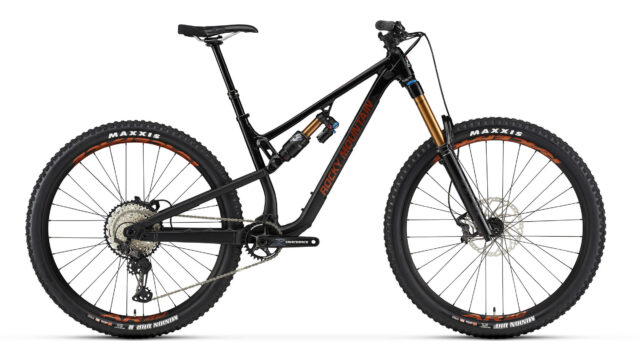 Rocky Mountain's Enduro race bike. Updated for the 2021 lineup, the Altitude got more travel, rolls on either 27.5" or 29" wheels, got more progressive geometry, and received updated suspension kinematics. Features Ride-9 geometry adjustment system and 10 mm of chainstay adjustment.
More like the Instinct than the Slayer.
Alloy 30: $3,649 – Best Budget Build

Alloy 50: $4,489

Alloy 70: $5,479 – Most Performance for the Price

Carbon 50: $5,739

Carbon 70: $7,329

Carbon 70 Coil Edition: $7,329

Carbon 90 Rally Edition: $9,499

Carbon 99: $10,449

Carbon frameset: $3,859
Specialized Enduro

Trek Remedy &

Slash

Pivot Mach 6 &

Firebird 29

Santa Cruz Bronson &

Megatower

Yeti SB150

Giant Reign 29

Intense Carbine

Nukeproof Mega

Devinci Spartan

Scott Ransom

Mondraker Superfoxy

Kona Process X

YT Capra

Norco Sight

Canyon Spectral

Evil The Wreckoning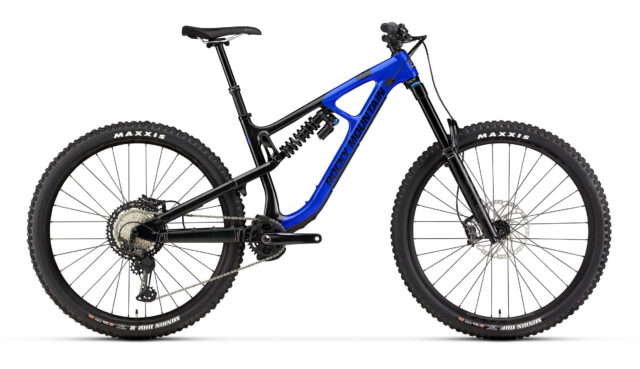 Rocky Mountain's most downhill-capable bike. Updated for 2020, this bike got longer and slacker in addition to some changes to the suspension kinematics. Features Ride-4 adjustment system. There is also the "Park Edition" build of the Slayer, which comes with a dual-crown fork.
Alloy 30: $3,759 – Best Budget Build

Alloy 30 Park Edition: $4,279

Alloy 50: $4,599

Carbon 50: $5,539

Carbon 70: $6,789 – Most Performance for the Price

Carbon 90: $8,359

Carbon frameset: $3,239
Santa Cruz Nomad

Yeti SB165

Commencal Clash

Transition Patrol

Norco Range

Canyon Torque

Mondraker Dune, & Dune Carbon XR