Strafe Castle Jacket
Test Locations: Mt. Crested Butte, CO; Taos & Santa Fe, NM
Days Tested: 30+
Reviewer: 5'8", 125 lbs / 172.7 cm, 56.7 kg
Size Tested: Small
Blister's Measured Weight (size Small): 948 g / 33.4 oz
Face Fabric: Recon 2-layer 4-way stretch
Insulation:
Body: 133-g PrimaLoft® Gold Insulation with Cross-Core
Sleeves/Hood: 80-g PrimaLoft® Gold Insulation with Cross-Core
100% polyester, 35% PCR (post-consumer recycled) content, bluesign® approved
Lining: Double ripstop, 100% nylon
Stated Features:
Backpack-friendly seamless shoulders
soft microfleece lined front hood & chin guard
bluesign® approved, Polartec® Power Dry® thumbhole cuffs
Adjustable (& removable) bluesign® approved, DWR (durable water repellent) coated 4-way stretch powder skirt with gripper elastic
Integrated and insulated helmet compatible hood with 3-point adjustment
Full length interior and exterior windguard with center front placket and magnet closure
Covered mesh-lined underarm vents
Pockets:
1 exterior chest pocket (zip)
1 Interior mesh chest pocket w/ media port (zip)
2 exterior hand pockets w/ magnet closure (zip)
1 exterior pass pocket on lower sleeve (zip)
1 interior large mesh drop pocket
MSRP: $499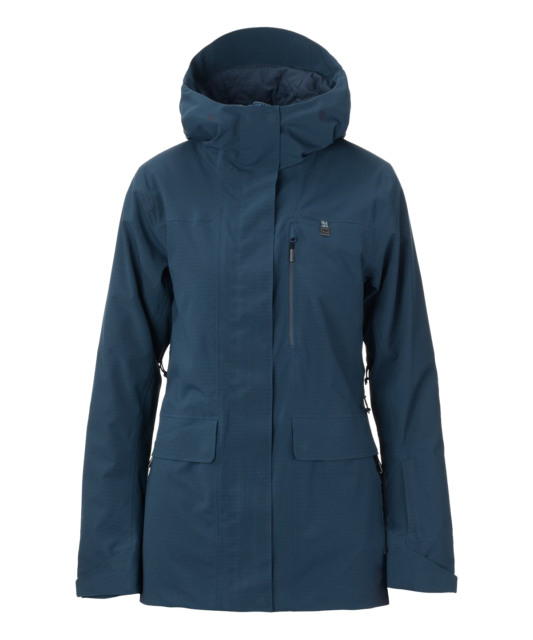 Intro
Strafe is known for making fashionable and technical outerwear and the Castle Jacket is a great example of this. First introduced for the 20/21 season, the Castle Jacket is heavy on features without screaming "technical outerwear," and warm without being overly bulky.
Over the past few years I've really started to gravitate towards insulated jackets (and pants). Partly because I've had the opportunity to test good ones like the Castle jacket and the Flylow Sarah Jacket, and partly because I find myself getting colder more easily, despite wearing the same tried and true layer combos. Having a jacket I can throw on over a base layer without having to add a thick midlayer is my new ideal. I've been wearing the Castle Jacket for the majority of my resort ski days this season, and while I am fortunate to have many jackets to choose from, I tend to reach for this one more than any other.
Fit
I really like the fit of the Castle Jacket, which isn't surprising since I've tested a number of Strafe jackets and I've found a size Small to fit me perfectly. For reference, I'm 5'8", 125 lbs / 172.7 cm, 56.7 kg.
Strafe describes the Castle's fit as "tailored," which I'd agree with particularly when comparing it to other insulated jackets. It's on the longer side, with the back measuring 30.5" / 77.5 cm from collar seam to hem. When skiing / standing, the jacket covers the upper half of my rear. The jacket has a pretty straight cut but I've found it offers plenty of room for my hips. I've always preferred straight cuts to flared women's cuts since my hips generally don't require extra room. If you're the opposite, the Castle Jacket does have a two-way zipper, and on occasion (such as skiing with my son and snowplowing / pizza-ing), I tend to keep the bottom slightly unzipped.
The Castle's sleeves are a great length for me. The cuffs stay down over my mittens even when fully extended to buckle my boots, which speaks to the length of the sleeves and the 4-way stretch of the fabric. The collar of the Castle Jacket works well when sitting on the lift and hunkering down on a cold day, but when skiing, I find it tucks itself under my chin. The magnetic snaps and micro-fleece lined chin make it easier and more pleasant to snuggle into the collar. But on several occasions, I have opted to leave the jacket slightly unzipped instead of having the collar bunch up against my neck.
Pockets
The style, number, and functionality of its pockets make the Castle Jacket a standout compared to other ski parkas I've used. With six well-designed pockets, I've never found myself looking for a spot to put something and not being able to find free pocket space. I also like that I can add heavy and somewhat large items to the jacket without feeling or seeing the jacket look weighed down.
The smallest of the six pockets is a zippered pass / ID pocket on the lower-left sleeve. There are two zippered chest pockets and both are on the left side. One of the pockets is on the interior and has a cord port while the exterior pocket is micro-fleece lined. Both chest pockets fit my rather large cell phone. I keep my phone in the interior pocket when it's really cold and I don't want my battery to die instantly, and in the exterior when I need quick access to it. The interior pocket is smaller and since the pockets have some overlap, I tend not to keep bulky items in both of them at the same time as it can be a little uncomfortable.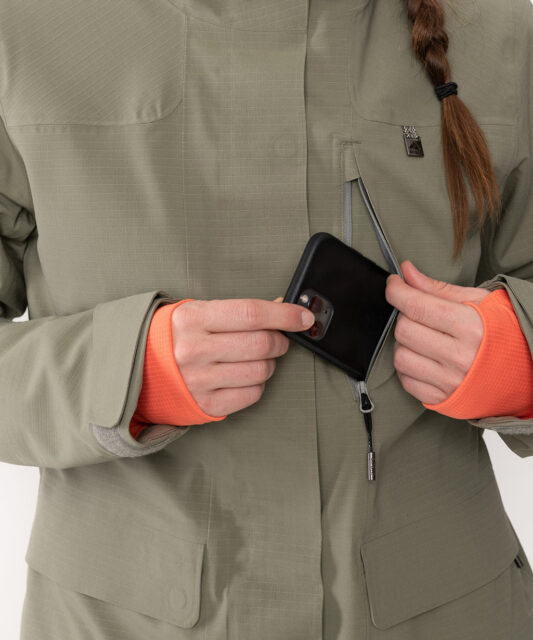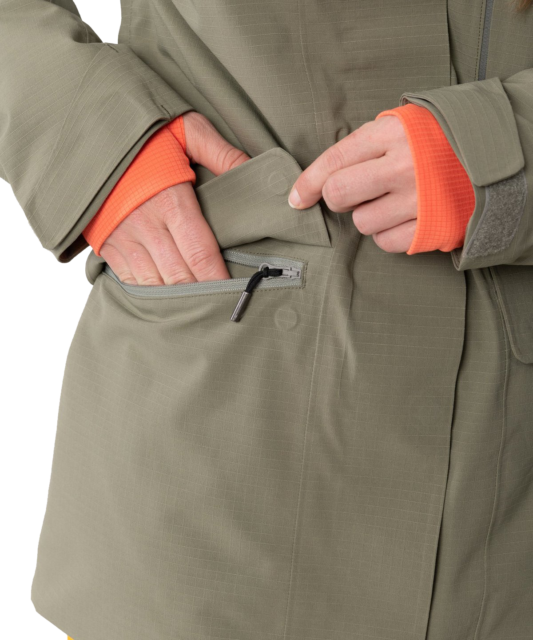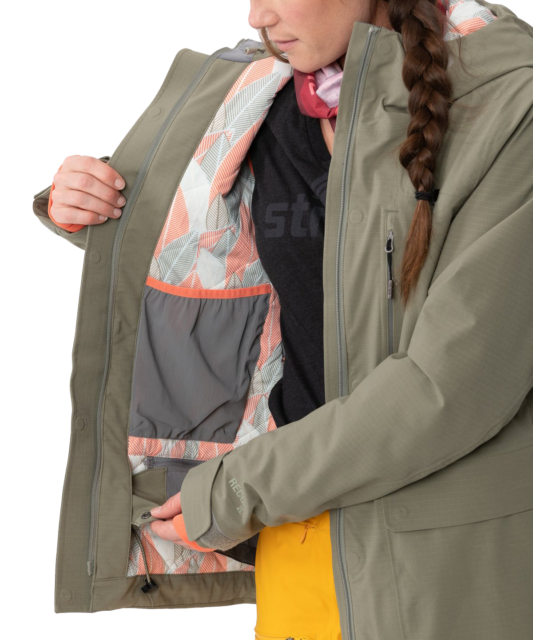 The handwarmer pockets are a new design — at least new to me. They are a drop-in style with magnetic closure flaps, but they are also tapered away from the center and have a zipper that moves from the center to the outside. I initially disliked them as I found it hard to use the zipper when I was in a hurry. I've since learned that using the zipper isn't always necessary. For me, these pockets are usually reserved for snacks. When I don't need to access the contents for a while, I zip them in. But when I am skiing with my son, I leave the pocket unzipped. Between the tapered design and magnet closure, I never worry about items spilling out even when I bend down to pick up my son.
The sixth pocket is an open, internal, dump pocket on the right side. The pocket is mesh and stretchy so it can accommodate fairly large / bulky items. I tend to use it for a collapsible water bottle or small camera. I've found it's easy to access the contents to load / unload.
Other Features
The velcro cuffs on each of the Castle's sleeves are large, about an inch wide, and they are easily adjusted with mittened hands. The cuffs are also wide enough that it's easy to place my mittens inside the cuffs without any sort of struggle. This is key for me as I spend a lot of time riding lifts with my kiddo and seem to be constantly taking my mittens off and on to feed him fruit snacks.
The hem of the jacket has an elastic cinch to help eliminate drafts but I never found the need to draw it tight since I found the powder skirt and extra length of the jacket to work well to eliminate any potential drafts. The powder skirt has two double-snap options, grippy elastic to help keep it in place, and is removable via a zipper, though I tend to use the powder skirt in all conditions, using the wider of the two settings for mobility's sake.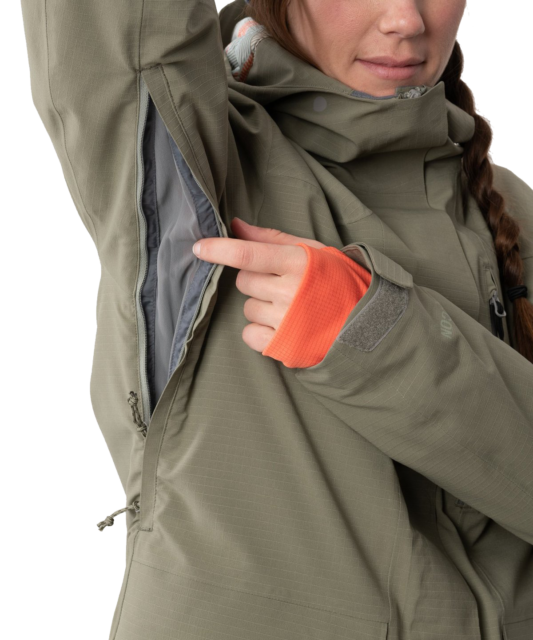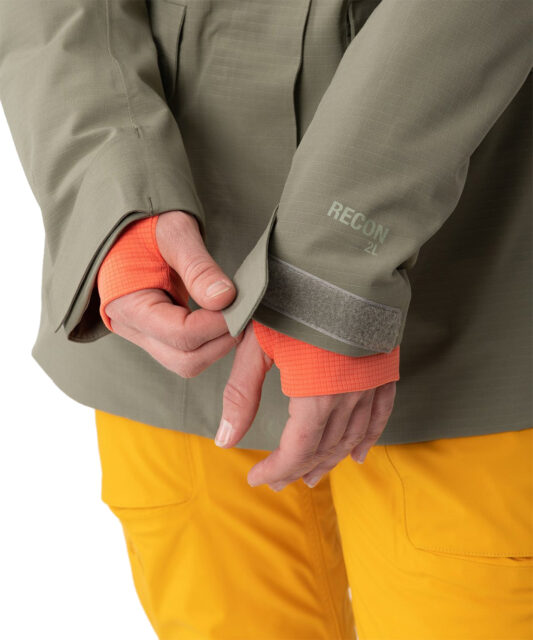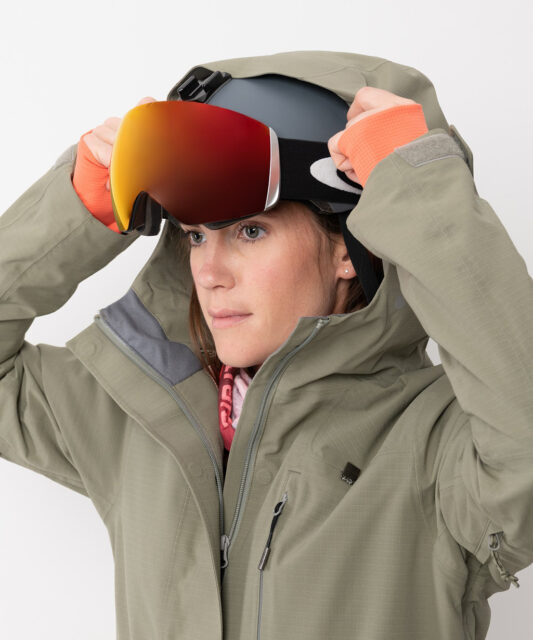 The Castle Jacket has 13.5" / 34 cm underarm vents, which help make it a bit more versatile than an insulated jacket without ventilation options. The double-zippered and mesh-lined vents have saved me from overheating on a number of occasions when I've found myself bootpacking with temperatures close to 30°F / -1°C. The Recon 2L fabric is a bit better than average when it comes to breathability, but in an insulated shell, I've found shedding excess heat can be a slow process. If I'm in need of a quick cooldown, the Castle's vents are my go-to. They are easy to open and the mesh lining keeps snow out while skiing down. On the flip side, the mesh interior also makes it a little tricky to zip shut sometimes.
One feature that I could do without are the internal thumbhole wrist gaiters. I am usually okay with built-in thumbhole cuffs because, most of the time, they can be pushed out of the way without too much bunching. And Strafe makes some of my favorite thumbhole wrist gaiters thanks to the lightweight, soft, and stretchy Polartec Power Dry fabric they use. On occasion, even well-designed thumbhole cuffs feel like there's too much material around my wrists. I tend to notice the bunching when wearing base layers with extra long sleeves that require me to roll or scrunch them. Between the long sleeves on the base layer, thumbhole wrist gaiters, and insulated sleeves, the sleeves start feeling a little tight and uncomfortable at the wrists. Admittedly, when I think about the features of this jacket, I tend to forget there are thumbhole cuffs. But I would be fine if they weren't part of the jacket. I rarely use them (only when I forget gloves and am trying to load skis) and would be fine if they ditched them altogether.
The Castle Jacket has an insulated hood with a laminate visor and cinches on both sides and in the back. The helmet-compatible hood fits over my helmet, but it is a snug fit. I would have preferred a more generous fit to make the hood a bit more comfortable, especially since it is adjustable. But when skiing, I only wear a hood on really cold and / or snowy days so very rarely does the hood bother me.
Fabric & Performance
The Castle jacket's fabric has a matte finish with a textured ripstop weave that makes it look, dare I say, a bit sophisticated. The fabric, Strafe's stretchy Recon 2-layer laminate with a ripstop mechanical stretch face fabric, feels durable, and while it doesn't feel soft to the touch like the Flylow Sarah Jacket, it is pretty supple. The Recon membrane and DWR finish have shed water well and have held up and kept me dry when worn in some recent heavy, wet snowstorms. And on cold, snowy days, I certainly reach for this jacket thanks to its combo of weather resistance and warmth.
The Castle's quilted liner is soft and doesn't have the slick, nylon-y feel that's more typical of other insulated jackets. The Castle's liner is printed with custom artwork that provides a nice contrast and a playful look, especially when compared to the otherwise monotone / sophisticated look. When zipped up, the colorful liner is hidden.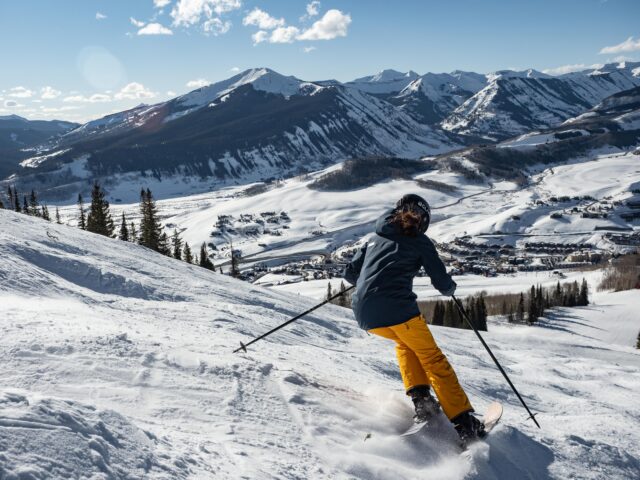 The body, sleeves, and hood of the Castle are all insulated using PrimaLoft Gold Insulation with Cross-Core. This is one of PrimaLoft's warmest insulations, providing extra warmth without as much extra weight or bulk. The Castle jacket isn't overly bulky or heavy by any means. The body is filled with 133-g insulation while the sleeves and hood feature a lighter 80-g insulation.
I've found the Castle jacket to be quite warm when paired with a thin base layer and my Patagonia R1 midlayer for temperatures below 25°F / -4°C. Anything warmer than that, and I ditch the R1 midlayer. If I'm planning to hike inbounds on warmer days, I tend to reach for an uninsulated jacket, but I have found myself hiking while wearing the Castle Jacket when it was 30°F (-1°C) and sunny with zero wind. The underarm vents helped cool me off a little on the up but I mostly relied on them for the down, where I could get more airflow. Strafe's Recon fabric is somewhat breathable, but with the Castle's insulation, it doesn't have the ability to expel my body heat fast enough on warm days. If I plan on hiking while skiing inbounds, I only wear the Castle Jacket on cold days, or I make sure to leave my midlayer at home.
Weight
When I'm wearing the Castle jacket, I don't really notice its weight. But when I pack it or grab it to throw in the car, it always surprises me how heavy it is, especially when compared to my other insulated jackets. Given that the Castle is an insulated jacket that I won't be using in the backcountry where weight and packability are priorities, this doesn't bother me, but below are our measured weights for some other insulated and uninsulated ski jackets to show how it compares.
463 g Fjällräven Keb Eco-Shell Jacket W, size Small
519 g Flylow Domino Jacket, size Medium
538 g Patagonia Women's SnowDrifter Jacket, size Small
561 g Arcteryx Sentinel LT Jacket, size Small
571 g Strafe Meadow Jacket, size Small
589 g Flylow Vixen Coat 2.1, size Medium
667 g Flylow Kenzie Jacket, size Medium (insulated)
685 g Flylow Billie Coat (original, older version), size Medium
800 g Flylow Sarah Jacket (19/20 version), size Medium (insulated)
948 g Strafe Castle Jacket, size Small (insulated)
Who's It For?
If you are looking for a warm jacket that can be worn around town and / or on the mountain, the Castle Jacket is a great option — especially if you like skiing on cold days. It's warm, comfortable, weather resistant, and mobile, but it also looks a bit more refined than a traditional puffy jacket.
Bottom Line
With its warm insulation, weather resistant membrane, removable powder skirt, generous feature set, matte-finish face fabric, and streamlined look, the Strafe Castle jacket makes a great winter jacket for skiing, and / or casual wear. If you find yourself adding more and more layers under your shell every season, maybe it's time to consider an insulated jacket. And for an insulated jacket, the Castle Jacket looks pretty sleek and also offers some breathability and ventilation for 'warmer' winter days.