Arc'teryx Sentinel LT Jacket
Test Locations: Crested Butte, CO; Snowbird, UT; Taos, NM; Sun Valley, ID
Days Tested: 30+
Size Tested: Small
Blister's Measured Weight (size Small): 561 grams
Material: 3-layer Gore-Tex w/ C-KNIT backer & 80-denier polyester face fabric
Stated Features:
Laminated high-strength hanger loop
Helmet-compatible StormHood™
RS™ (Rain Shield) pocket zipper sliders
WaterTight™ pit zippers angled for easy access
Die-cut Velcro® cuff adjusters
Powder skirt with stretch panel, gripper elastic, and Slide 'n Loc™ snap closures
DWR (Durable Water Repellent) finish
Pockets:
2 exterior hand pockets (zippered)
2 exterior chest pockets (zippered)
1 exterior bicep pocket (zippered)
1 interior chest pocket (zippered)
1 interior drop-in pocket (elastic)
MSRP: $699
Reviewers:
Rebecca Chow: 5'7", 125 lbs / 170.2 cm, 56.7 kg
Kristin Sinnott: 5'8", 125 lbs / 172.7 cm, 56.7 kg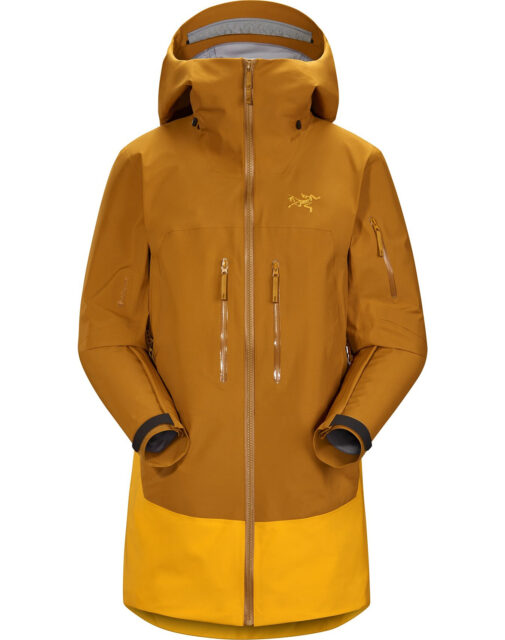 Intro
Many folks have become fans of the Arc'teryx Sentinel AR jacket for its durability, longer fit, and / or reliable weather resistance. That said, it's a pretty burly jacket with a flannel backer, and therefore not ideal for uphill travel and warmer conditions.
Fortunately, fans of the Sentinel AR who are in the market for something more touring-oriented will be happy to hear that Arc'teryx has made just that. The Sentinel LT is a lighter weight (hence the "LT"), more supple, and longer-cut version of the popular Sentinel AR. Fully featured with a 3-layer Gore-Tex C-Knit construction, here's what Arc'teryx has to say about the Sentinel LT: "The Sentinel LT Jacket is a highly versatile big mountain jacket built for weather protection in a progressive design."
Rebecca Chow and I have both tested the Sentinel LT in various resorts and on backcountry ski tours, in storms and on mild, sunny days. We've been consistently surprised by the versatility of this jacket, and think it makes for a very appealing 50/50 option for folks who split their time between lift-accessed and human-powered skiing.
Fit
Rebecca Chow (5'7", 125 lbs / 170.2 cm, 56.7 kg): I am in between a size Small and Medium for just about everything. Typically, I gravitate toward a Medium, since I prefer a looser fit in outerwear (layer me up!). Kristin ended up getting the Sentinel LT in a size Small and, since Kristin and I are similar builds, figured it would fit me too. Curiosity got the best of me and I checked my measurements against Arc'teryx's size guide and, interestingly enough, I was placed in the Extra Small.
Initially, I was concerned about how the longer silhouette would fit around my hips. The size Small Sentinel LT measures 43.2 cm / 17 in across the bust and 50.8 cm / 20 in across the hips. Arc'teryx did consider women's hips by making the bottom of the jacket flare out below the torso. That said, I think this is a limiting factor of the jacket and important when determining which size to get. Too small, and you will get a jacket that's tight on the hips. Too large, and you will get a jacket that is overall too baggy and, considering the length of the hem, the Sentinel LT could have too much fabric to feel comfortable moving around in if sized too large.
But while the Small Sentinel LT is a little more form-fitting than what I usually go for, I wouldn't say it is too small. It provides enough room to fit comfortably over a few puffy layers, the length of the sleeves is perfect, and it isn't so baggy that it would look out of place around town.
Kristin Sinnott (5'8", 125 lbs / 172.7 cm, 56.7 kg): Like Becca, I find the fit of the size Small Sentinel LT to be roomy yet not so large that it feels excessively baggy while moving around. The sleeves fully cover the palms of my hand when my arms are by my side. This length is ideal for me when skiing since I never have to worry about the sleeves riding up when I need to extend my arms.
The torso of the Sentinel LT is quite long and the nearly straight hem means the jacket is long in both the front and back. While the longer cut does provide protection from cold drafts, it can get in the way when trying to skate across flat sections or when sitting on a chairlift. The size Small Sentinel LT's front zipper length is 79.5 cm / 31 in long and the back measures 72.5 cm / 28.5 in from the hood seam to the hem (overall, the back is a touch longer than the front). The Sentinel LT's length is similar to the Strafe Castle Jacket, though the Castle Jacket has a two-way zipper, which I tend to leave slightly unzipped — especially for long chairlift rides. If I don't, and this is also the case with the Sentinel, when I sit, the jacket bunches up. If you're using the Sentinel for touring, this will not be an issue, but when spinning lifts, I find myself sitting on the back of the jacket while the front bunches a bit. Not a big deal, just something to be aware of.
Features
As described by Arc'teryx, the Sentinel LT "is equipped with a full set of features specific to freeride touring: helmet compatible StormHood™, RS™ zipper sliders on chest and hand pockets and an RFID pocket, pack compatible WaterTight™ pit zippers for venting, integrated powder skirt, with Slide 'n Loc™ attachments for compatible pants, an internal laminated pocket and an internal mesh dump pocket."
Rebecca Chow: Overall, the stated specs on the Sentinel LT suggest a very feature-rich jacket. And while there are lots of them, I haven't found all the features to be that useful.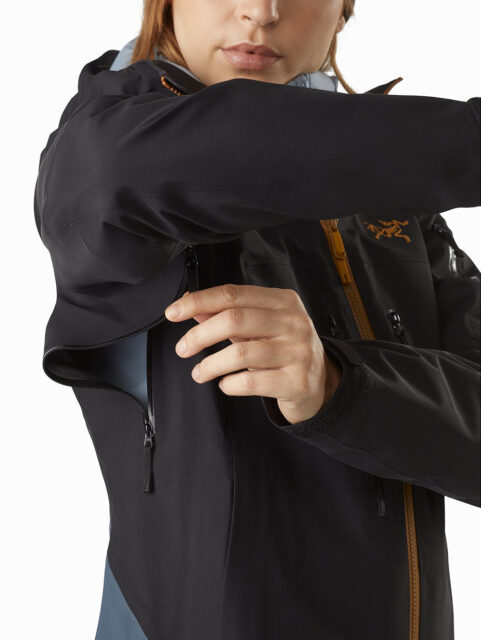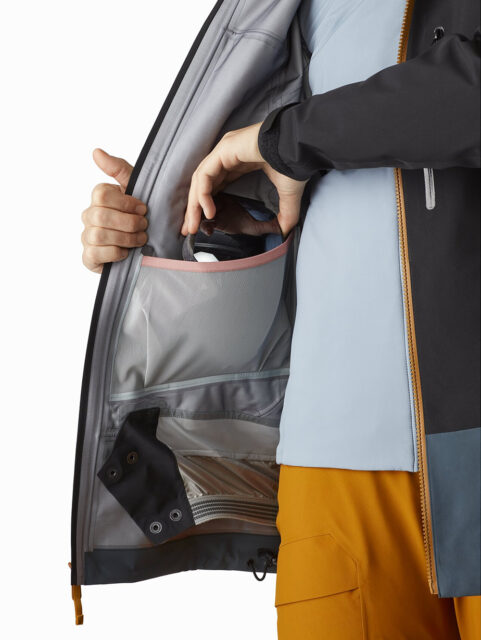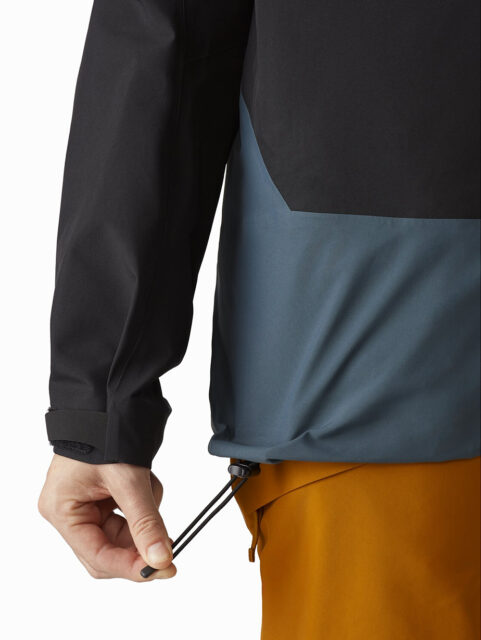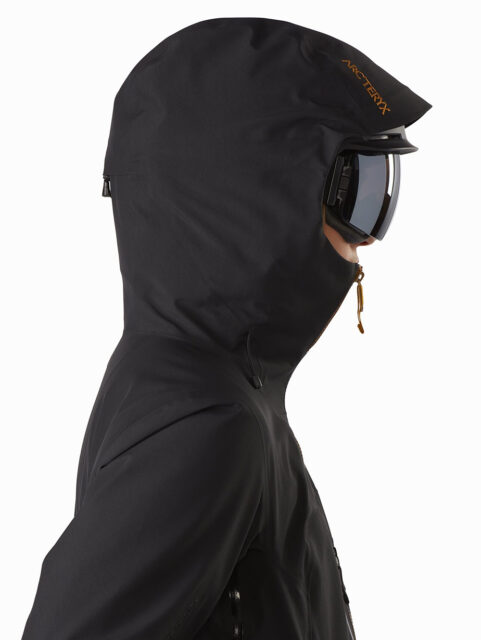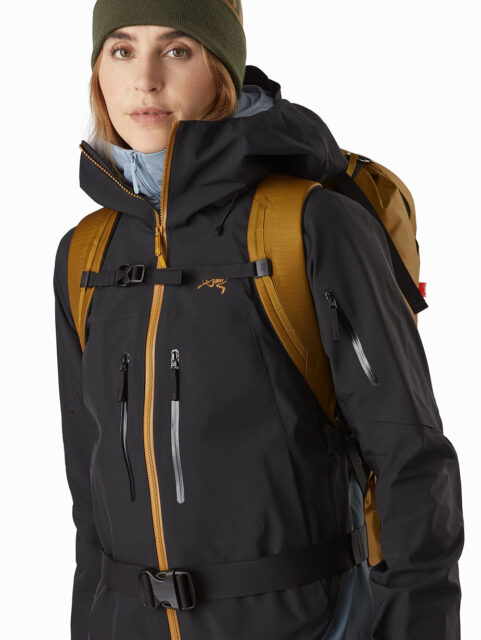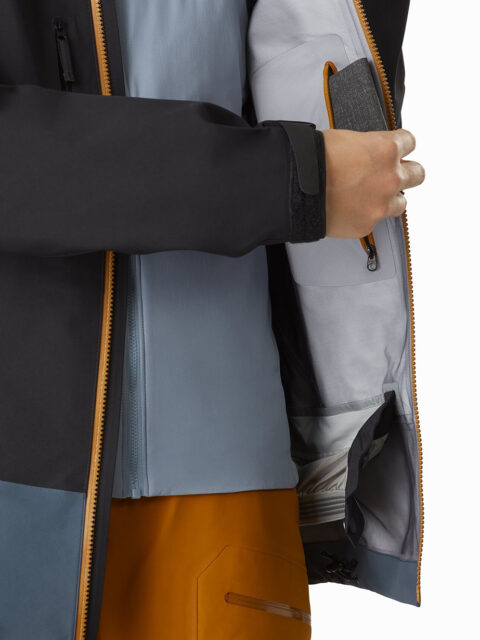 My favorite features are the zippers and the hood. The WaterTight and RS zippers are solid. It's easy to zip / unzip the main zipper and the side reinforcement gives me peace of mind that I won't accidentally zip in the jacket's material. The hood / neck of the jacket comes up well over my chin, which is something I've had a hard time finding in jackets. For skiing, this becomes very beneficial on cold and windy days when you need more protection for your face.
The Sentinel LT's pit zips are a bit different than most, running slightly more back-to-front than purely up-and-down under the arm. They also feature two, small zipper pulls. I haven't quite figured out what the benefit of this design is, given that the pit zips don't seem particularly long (33 cm / 13 in). While they still offer some noticeable ventilation, I prioritize quick and easy unzipping and found the Sentinel LT's pit zips a bit harder in this regard due to the small size of the zipper pulls and where they're located.
Kristin Sinnott: I found the Sentinel LT's underarm vents to be fairly useful, and "average" to slightly longer than average when compared to other backcountry or 50/50 jackets. For reference, the vents on the Patagonia SnowDrifter Jacket are 32 cm / 12.5 in, and those on the Flylow Domino Jacket are just a little shorter at 30.5 cm / 12 in. While I agree with Becca that the size of the Sentinel LT's zipper pulls is relatively small, having a two-way zipper makes it easier for me to quickly vent the jacket. Which means I don't have to ask for assistance as often when opening or closing the vents.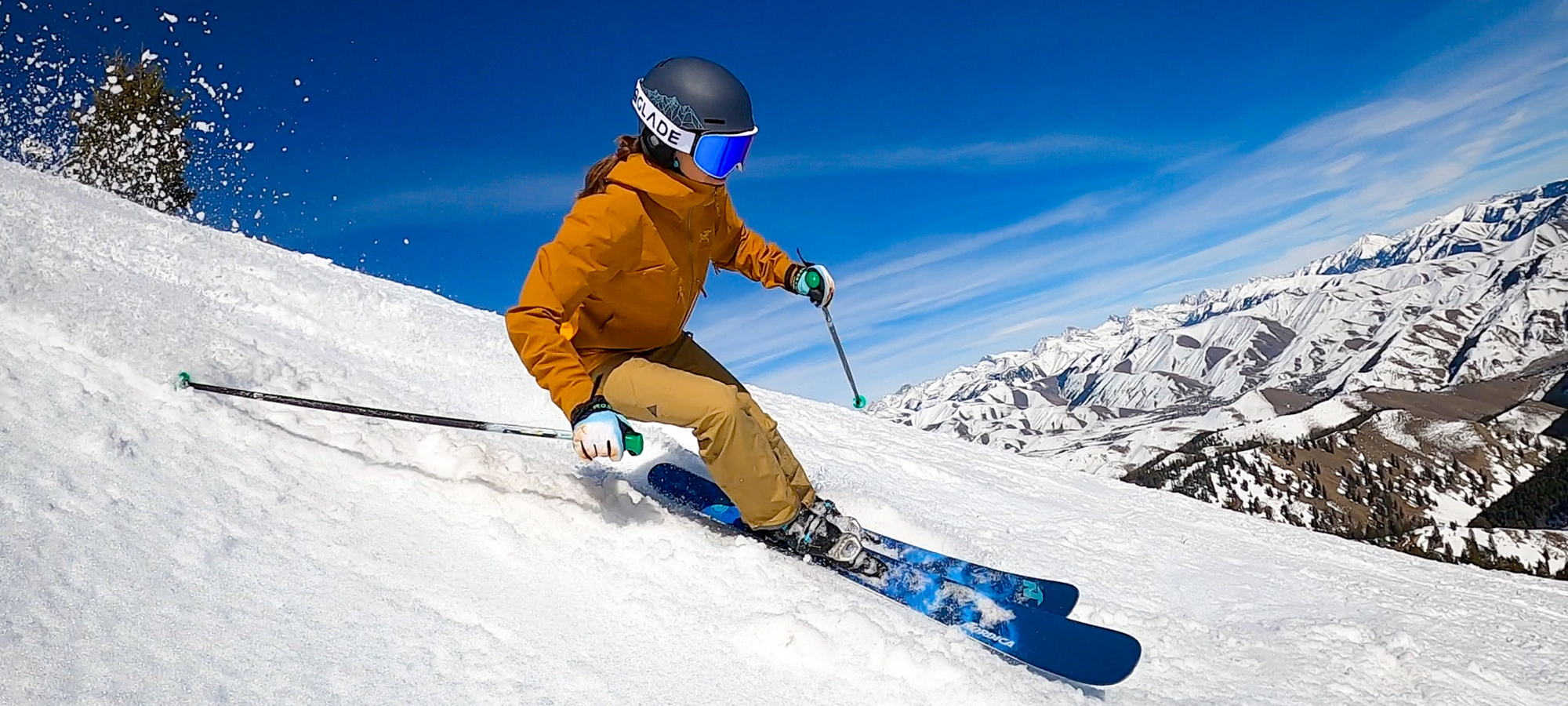 The Sentinel LT's hood and high collar make it easy to tuck oneself in on a windy day. With the collar fully-zipped, my goggles down, and the hood over my helmet, the only thing visible is my upper lip. The hood fits over my Glade Tenmile Helmet, but even without cinching it down, there's not a lot of extra space. That makes it great for keeping drafts down, but if I had a larger helmet, it might be a little tight. The hood can be cinched down by using the three external drawcords, and the built-in visor pairs nicely with a hat when out touring.
The attached powder skirt has double snaps, a stretch panel, and gripper elastic. It also features Slide 'n Loc snap closures that attach to specific Arc'teryx ski pants like the Sentinel AR or LT Pants.
Pockets
Rebecca Chow: There are five external pockets, one internal zippered pocket, and one internal drop-in pocket. For the external pockets, the two on the chest have 17.8 cm / 7 in zippers which are large enough to easily slide a cell phone into and out of. The two hand pockets are 38 cm / 15 in deep but the zipper is only 15 cm / 6 in long so it's challenging to actually fit anything large into them. In general, the Sentinel LT's hand pockets are what I'd call "unacceptably inaccessible" while wearing my Patagonia Ascensionist backpack or any backpack with a waist belt. The top of the pocket is accessible when wearing a pack but, with the waistbelt falling squarely on the bottom of the pocket, it's hard to actually make use of the pockets. Fortunately, the Sentinel LT's dual external chest pockets are both accessible with most backpacks.
The internal mesh dump pocket is 13 cm / 5.5 in deep with a 17cm / 6.5 in elastic opening. It's a perfect spot to stash a sandwich, beanie, extra neck gaiter or mask, or a collapsible HydraPak soft bottle. However, it isn't quite deep enough to hold my 106mm-wide Black Diamond skins. The other internal pocket is zippered and fits a phone and / or other small, valuable items like credit cards, cash, etc.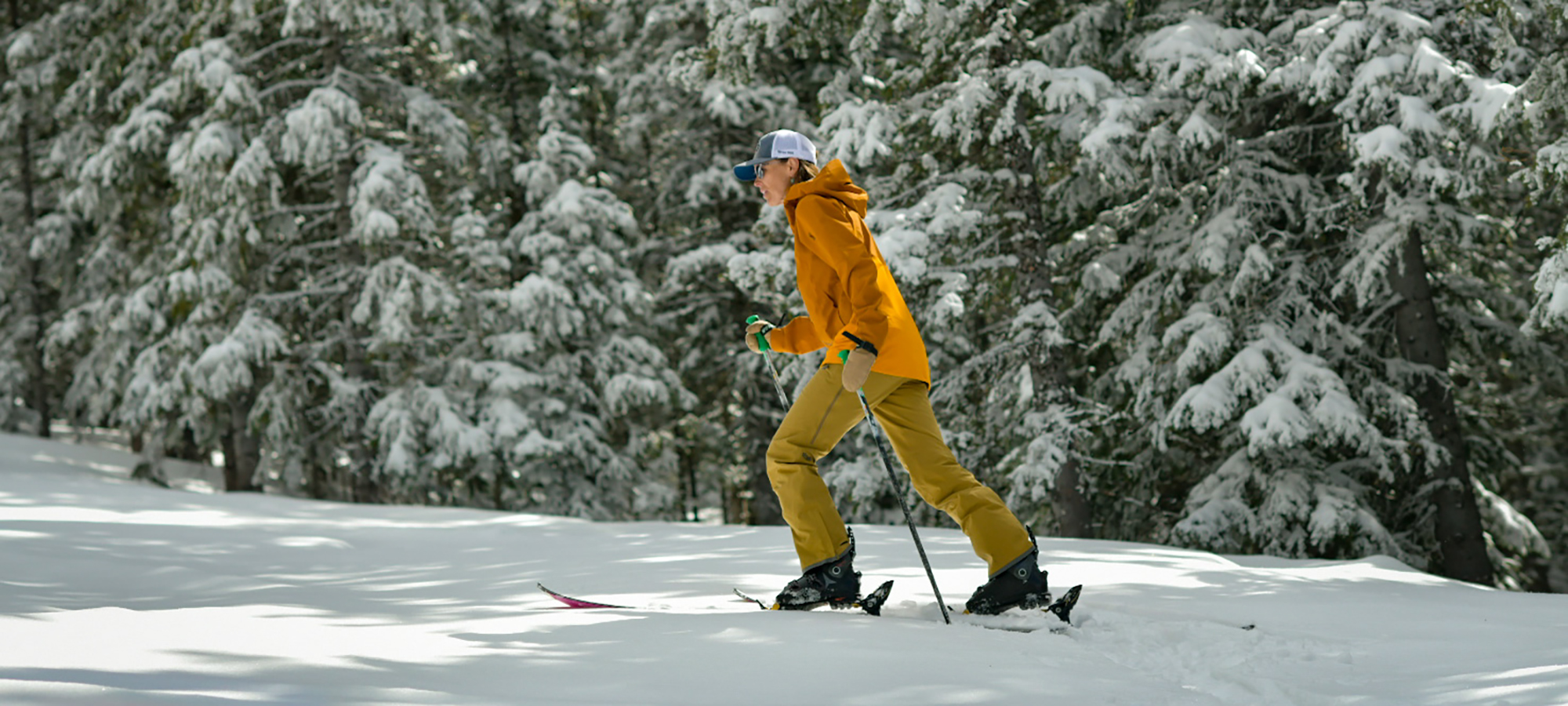 The pass / card pocket on the right bicep is small and only really useful for a small snack, pass / ID, or lip balm. It is the only pocket that has bellows / pleats, allowing the pocket to expand and hold bigger items. In general, the pocket openings are very constricted / flat. This helps keep the jacket's silhouette streamlined, but don't plan on being able to stash an entire picnic or wider skins in the pockets.
Weight
Rebecca Chow: Weighing in at 561 grams for a size Small, the Sentinel LT is about 30 grams lighter than the stated weight of the Sentinel AR jacket. 30 grams is not much lighter, especially for a "lightweight" jacket, though the Sentinel LT is a bit longer than the AR.
While it's not the lightest jacket on paper, the Sentinel LT's light and "barely there" feel has easily been the most surprising attribute for me. I've even forgotten to take it off when I got home.
It packs down pretty compactly, but not as small as other jackets with less and / or lighter material like the Flylow Domino, Patagonia Descensionist (RIP), or SnowDrifter Jackets. Of the jackets we've tested, the Sentinel LT is slightly heavier than more breathable, backcountry-specific jackets, but lighter than many resort-specific ones — another reason we love it as a 1-jacket quiver or a 50/50 piece. For reference, here are our measured weights for a number of women's ski / snowboard shells:
463 g Fjällräven Keb Eco-Shell Jacket W, size Small
519 g Flylow Domino Jacket, size Medium
526 g Patagonia Women's Descensionist Jacket, size Small
538 g Patagonia Women's SnowDrifter Jacket, size Small
561 g Arcteryx Sentinel LT Jacket, size Small
571 g Strafe Meadow Jacket, size Small
589 g Flylow Vixen Coat 2.1, size Medium
685 g Flylow Billie Coat (original, older version), size Medium
Materials & Performance
Rebecca Chow: The Sentinel LT uses a three-layer (3L) construction with a standard Gore-Tex membrane bonded to Gore's C-Knit backer and a robust, 80-denier, plain-weave polyester face fabric (with a durable water repellent finish).
This is a fairly common construction among high-end shells, falling slightly on the burlier end of the spectrum (particularly compared to other shells that claim to be "lightweight"). With the standard Gore-Tex membrane, the Sentinel LT isn't as breathable as Gore-Tex Active nor reportedly as durable as Gore-Tex Pro, but we've found the standard Gore-Tex membrane to be pretty versatile and reliably waterproof. I won't go onto the materials-science soap box here, but you can check out our Outerwear 101 & 201 articles for that, as well as our GEAR:30 podcast with Gore for more information.
As we've come to expect from any standard 3L Gore-Tex shell, the Sentinel LT's fabric feels very sturdy. This sort of durability often translates to a stiff handfeel. And while it isn't as soft and supple as Flylow's Domino jacket or the Patagonia SnowDrifter Jacket, I have been surprised by how well the Sentinel LT conforms and moves with my body both on the ascent and descent. This is the main upside of Gore's C-Knit backer — it's not as stiff or crinkly as their Gore-Tex fabrics with standard backers.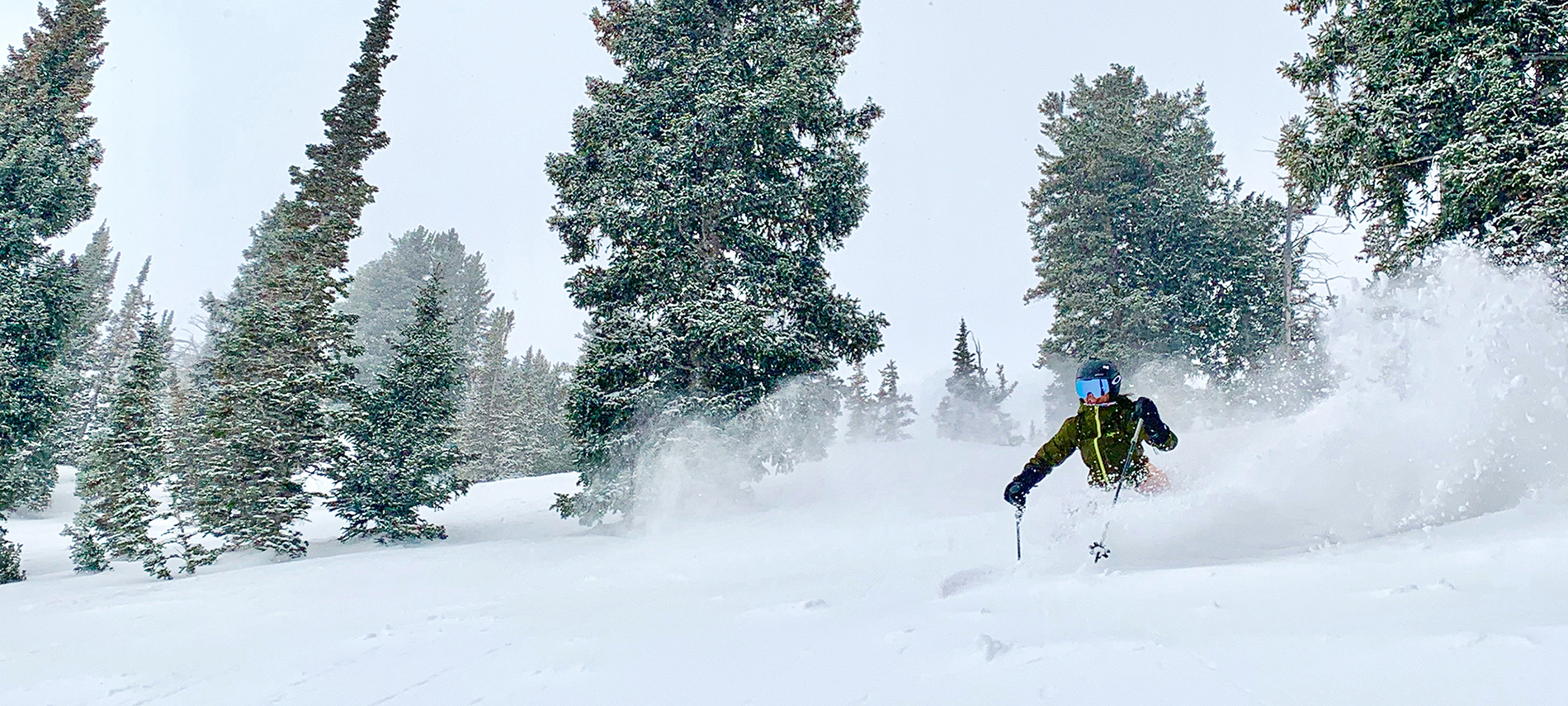 I've used the Sentinel LT for both mild-weathered ski tours and inbounds storm days, and it's performed well in both.
I easily work up a sweat while walking, so being able to wear any shell for an entire ski tour is rare. While there have been multiple tours where the Sentinel LT was too warm and not breathable enough (>30°F / -1°C and / or humid days), there have also been days when it's mild and sunny (<30°F / -1°C, <50% humidity) where I've comfortably worn the Sentinel LT for the entirety of the tour. On the other end of the spectrum, during colder, storm days in Snowbird, Utah, and Taos, I've layered with a wool base layer and down puffy and have stayed warm and dry using the Sentinel LT as a shell. I'd say its level of warmth is similar to most shells (i.e., it doesn't offer much on its own). Overall, I think the Sentinel LT strikes a nice balance of breathability and weather protection. It's not the most breathable shell we've used, but it's decent in that regard, has done a great job of keeping out water and wind, and is more durable than a lot of the lighter, more breathable options.
When it comes to fit, fabrics, and performance in various weather conditions, my gauge is whether or not I notice a piece of apparel during activity. Ideally, I want my clothing to be unnoticeable and to be able to move how I want without restriction. The Sentinel LT hits these marks quite well.
Durability
After more than 30 days in the Sentinel LT Jacket, we haven't experienced any durability issues. Given the sturdiness of the 80-denier face fabric, we expect the fabric to hold up quite well in the long run. It's already survived some bushwhacking without any visible wear. And as mentioned before, the zippers also feel very sturdy and durable. In general, we've had very good experiences in the majority of Arc'teryx products we've used when it comes to long-term durability. That, combined with the Sentinel LT's substantial-yet-supple fabric, makes us optimistic about how it will hold up over time. But as always, while we spend more time in this piece, we'll update this section if anything new comes up down the line.
Who's It For?
The Sentinel LT is ideal for someone who wants a shell that doesn't feel too light / unsubstantial for frequent days in the resort, but one they can also wear on the skin track without feeling like it's excessively bulky or hot on the uphill. Keep in mind that the fit of the jacket is on the longer / slimmer side and we would recommend trying it on before committing.
There are definitely other, better options if you're looking for a touring-specific shell and prioritize minimum weight and maximum breathability. For that, we'd recommend something like the Flylow Domino or Patagonia Ascensionist. And if you're primarily skiing in the resort and don't need the long fit or supple fabric of the Sentinel LT, there are many less expensive options, such as the Patagonia SnowDrifter and Flylow Billie Coat. But if you are mainly skiing in the resort with the occasional tour, the Sentinel LT is durable, breathable, and warm enough to be an excellent 1-jacket quiver.
On the other hand, if you live and tour in a wetter climate where you more often need a burlier shell to stay dry and warm on the skin track, you could consider the Sentinel LT as a more touring-oriented jacket.
Bottom Line
As a top-of-the-line, fairly light, fully-featured, 3L Gore-Tex jacket, the Sentinel LT can easily serve as a 50/50 resort / backcountry jacket for folks who prefer a longer fit and prioritize weather resistance and durability over minimum weight or maximum breathability.