Patagonia SnowDrifter Jacket
Reviewer: 5'8", 125 lbs
Size Tested: Small
Blister's Measured Weight: 538 g
Blister's Measured Front Zipper Length: 74 cm / 29"
Materials: 3-layer H2No Standard Performance Shell w/ 5-oz, 75-denier 100% polyester (70% recycled) stretch ripstop face fabric with a DWR finish and soft knit backer
Stated Features:
Helmet-compatible, two-way-adjustable fixed hood with laminated visor
Cohaesive® embedded cord-lock system in hood and hem
Pit zips
Adjustable cuffs
Adjustable powder skirt
Webbing loop at center back connects to any Patagonia® Snow pants
Concealed RECCO® reflector
Pockets:
2 exterior handwarmer pockets (zippered)
1 exterior chest w/ internal secure media pocket w/ cable routing and internal access (zippered)
1 exterior upper-arm pocket (zippered)
1 interior drop-in pocket
MSRP: $399
Test Locations: Santa Fe & Taos Ski Valley, NM; Telluride & Arapahoe Basin, CO
Days Tested: 15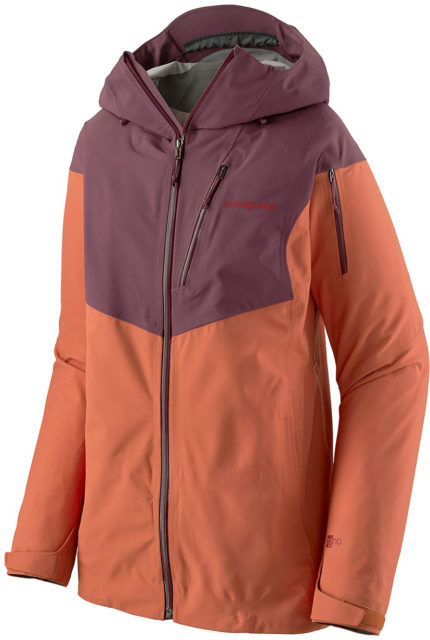 Intro
New for the 2019-2020 season, the Patagonia SnowDrifter Bib and Jacket have replaced the backcountry-specific Patagonia Descensionist kit. The Descensionist was a favorite among the Blister men thanks in large part to its extremely breathable fabric. But the downside to the Descensionist's exceptional breathability was a lack of weather resistance compared to most other "waterproof / breathable" shells.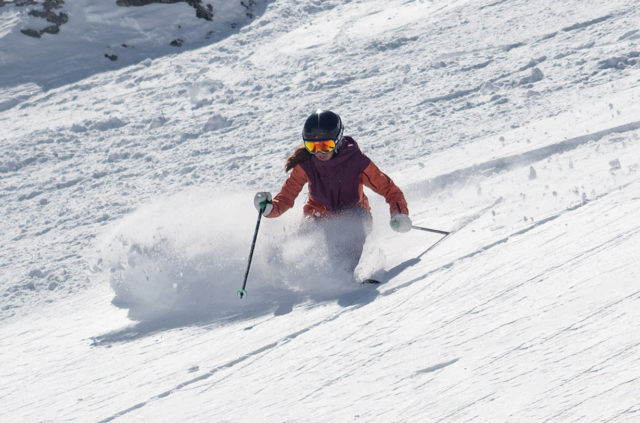 With a softer fabric that's also more weather resistant and has a better drape to it, the SnowDrifter Jacket definitely has a different look and feel than its predecessor, but I have found it to be a far more versatile jacket. Sam Shaheen already posted his reviews of the men's SnowDrifter Jacket & Bibs, and now I'll offer my take.
Fit
While the SnowDrifter is designed to be "backcountry ready," its fairly relaxed fit makes it feel equally at home for resort skiing. Overall, the SnowDrifter's fit is fairly similar to that of the Descensionist Jacket (though its different fabric makes it drape a bit differently). At 5'8" and 125 lbs, the size Small SnowDrifter jacket was roomy enough to comfortably accommodate plenty of layers (including my Cotopaxi Monte Hybrid Jacket) but wasn't so big that it looked baggy.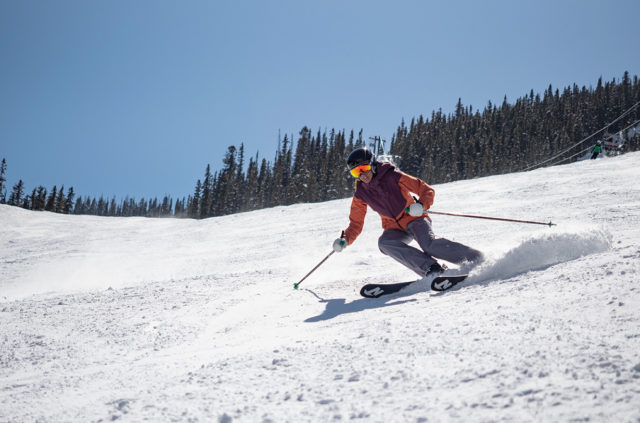 The torso is an ideal length for me, with the front hitting below my hips and the slightly longer back covering my rear. The sleeves are long enough to allow complete range of motion without exposing my wrists and it's easy to tuck my gloves under the jacket and secure them with the velcro cuffs.
Pockets
The SnowDrifter Jacket's left chest pocket is on the smaller side, especially when compared to other ski jackets I've been using (Strafe Meadow, Flylow Vixen 2.1, & Flylow Billie Coat). The SnowDrifter's chest pocket is large enough to accommodate my large cell phone but every time I take out my cell I feel like it's going to catch on the pocket and cause me to drop it. But I do appreciate the contrasting color on the interior of the pocket as it helps make the contents inside the pocket more visible.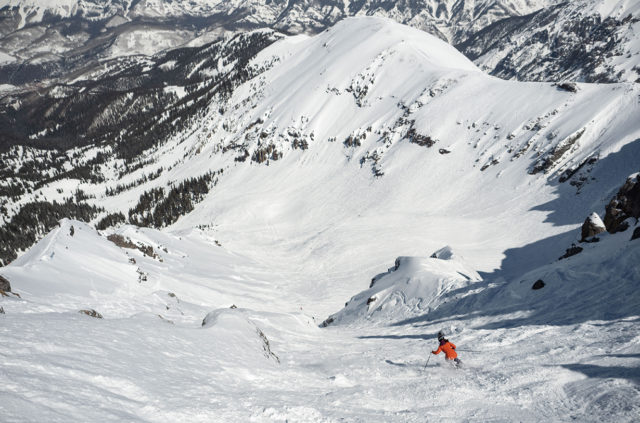 There is a secondary zippered pocket located inside the left chest pocket that's perfect for a credit card, driver's license, or other small items you want to keep in a safe place. The small pocket on the SnowDrifter Jacket's left upper-arm is perfect for lip balm or a ski pass. The upper-arm pocket never weighed the jacket down against my arm, which sometimes tends to happen when I put chapstick in a lower-arm pocket on other jackets.
The SnowDrifter Jacket's two handwarmer pockets function well for the most part, but they do get covered by some backpacks' hip belts. The SnowDrifter Jacket's internal mesh drop-in pocket is great for stashing a small water container (the HyrdaPak Ultraflask 300 ml fits perfectly), goggles, or gloves.
Other Features
The SnowDrifter has 32 cm / 12.5" underarm vents, which makes them the longest pit zips of all the jackets I've tested. The vents also have dual-sided zippers that come in handy when wearing a pack or when there are zero friends around to offer you an assisted zip. But the little bit of extra length of the vents also helps when it comes to being able to find and reach the zippers on my own. The vents don't have a mesh liner or backing so they open wide and dump a lot of heat — just remember to zip them shut before dropping in for a powder run.
The SnowDrifter Jacket's helmet-compatible hood comfortably fits over helmets (even my large POC Skull X helmet) and hats. It's not so short that it only partially covers the hood but also not so big that it creates a sail as you descend. The embedded cord-lock system means the hood can be adjusted quickly, even when wearing gloves, and there aren't a ton of cords flapping around. When not in use, the hood drapes nicely on the back of the jacket — it maintains some shape instead of just flopping down and catching the wind. Unlike Sam and the men's SnowDrifter Jacket, I haven't had any issues with the collar pulling back on my neck when skiing fast.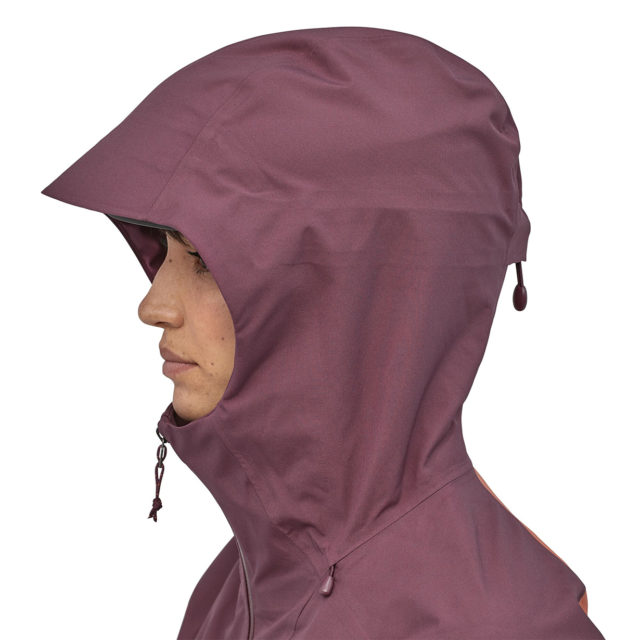 The SnowDrifter Jacket's adjustable powder skirt has cinches on both sides and an elastic backing with silicone grippers to help keep it in place. When not needed, the skirt can be snapped to the inside of the jacket to keep it out of the way. I usually forget to snap it but since the skirt is made of light fabric, it's easy to forget it's there — whether it's snapped closed or not.
Weight
While weight never plays a huge role for me when selecting a ski jacket, it is nice to know how they stack up. For reference, here are some of our measured weights for a few notable jackets in this class. Keep in mind the weight differences to keep things apples-to-apples.
463 g Fjällräven Keb Eco-Shell Jacket W, size Small
519 g Flylow Domino Jacket, size Medium
526 g Patagonia Descensionist Jacket, size Small
538 g Patagonia SnowDrifter Jacket, size Small
571 g Strafe Meadow Jacket, size Small
589 g Flylow Vixen Coat 2.1, size Medium
685 g Flylow Billie Coat (original, older version), size Medium
The Keb Eco-Shell lacks a powder skirt and handwarmer pockets, making it less suited for a 50/50-style ski jacket. For backcountry jackets, the Domino, Descensionist, and SnowDrifter are all within 19 grams of each other, and of the three, the SnowDrifter is the closest to a 50/50 jacket in my mind. I do find it interesting that there is only an 8-gram difference between the SnowDrifter the Descensionist, even though the SnowDrifter offers much better protection from the elements and a more substantial-feeling fabric.
Materials
As mentioned, the guys at Blister (particularly Sam) loved the breathability of the Descensionist Jacket. And yes, it was definitely breathable, and that was great on the skin track.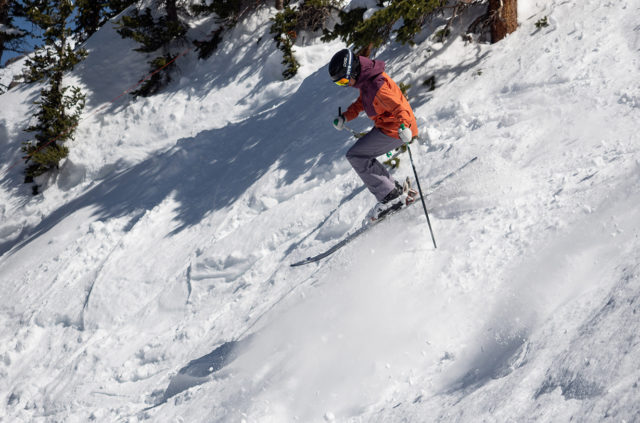 But with the SnowDrifter, Patagonia has created a softer and better-looking (IMO) jacket that performs better in all categories apart from uphill travel. While I can't argue that the Descensionist's breathability wasn't nice, I found myself frustrated by the lack of wind protection every time I wore it. Lately, most of my backcountry skiing has been taking place during spring in New Mexico, which typically means lots of wind. While some people will take breathability over water and wind resistance, I personally don't like feeling any wind cutting through my outerwear, and the SnowDrifter solves this issue for me.
The SnowDrifter's 3-layer H2No laminate and DWR finish have done a great job of protecting me from wind and water (again, better than the Descensionist). It has proven to be fully waterproof during my time in it. The SnowDrifter's soft polyester knit backing provides a comfortable layer against the skin for those warm days when only a t-shirt is needed under the jacket. That thin backer also provides a little extra warmth for the cooler days. While not nearly as breathable as the Descensionist or similarly touring-oriented softshells, I'd say the SnowDrifter is still pretty good compared to the whole waterproof / breathable market when it comes to breathability.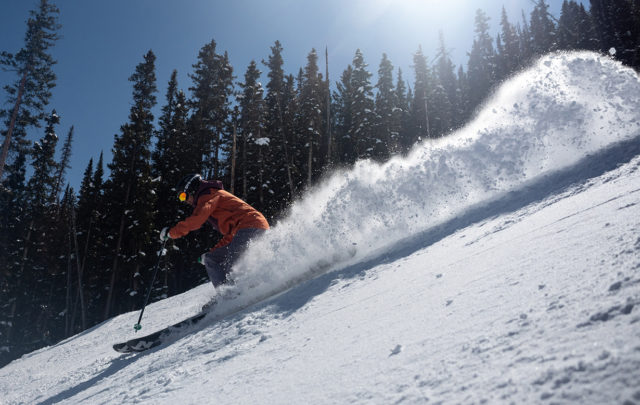 The SnowDrifter's fabric is made of 100% polyester (face fabric, membrane, & backer) with the idea that, once the product is beyond repair, it can be recycled. As mentioned above, the fabric has a very soft hand feel and there is zero "swishing" noise when moving.
Durability & Patagonia's Worn Wear Program
After ~15 days of testing, I've had zero durability issues with the SnowDrifter Jacket, which isn't too surprising based on past experiences with Patagonia ski jackets. The material looks and feels durable enough to withstand years of ski-shouldering — whether on hike-to terrain or just when schlepping gear to the chair.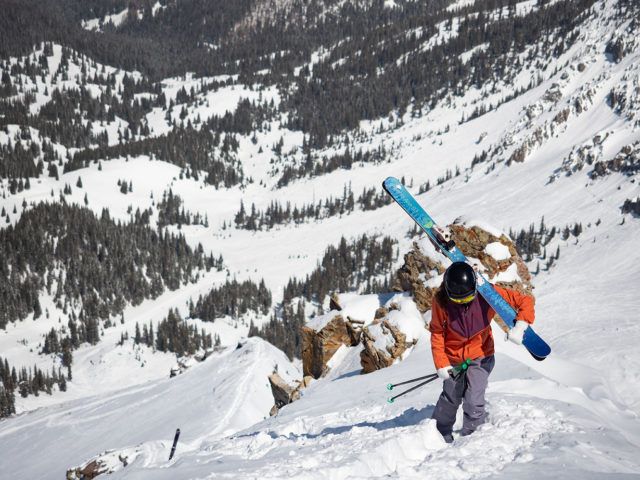 On top of that, Patagonia provides a marketplace on their website for previously used items that are in good condition but can be purchased for a fraction of the cost. So, if after a season or two, you're ready to move on and try a new jacket, Patagonia will buy items back as long as they meet their criteria. And Patagonia offers their excellent Worn Wear program where they'll do their best to repair your gear so you can keep using it for years to come.
As always, I'll update this review if we run into any durability issues down the line.
Who's It For?
Skiers and snowboarders who loved the idea of the Descensionist Jacket but who wished for better weather protection and a more substantial, comfortable fabric should give the SnowDrifter Jacket a look.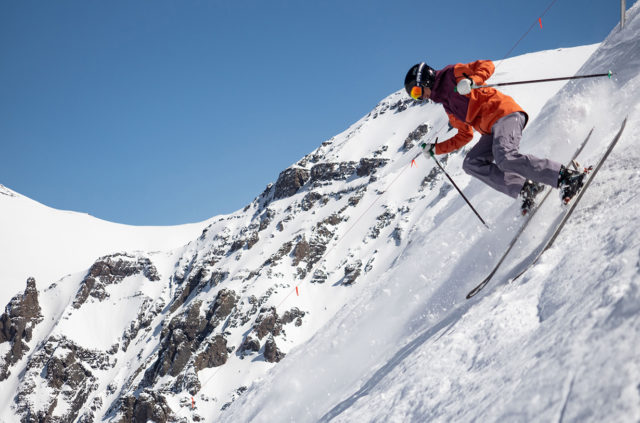 And those who have never tried the Descensionist but who are looking for a jacket that functions well both in the backcountry and in the resort, the SnowDrifter is a great option for a 50/50 jacket. It could also work as a dedicated inbounds jacket or dedicated touring jacket, though there are burlier options for resort use and lighter, more breathable alternatives for touring.
Bottom Line
The Patagonia SnowDrifter Jacket's freeride-style fit, great colorways, and soft fabric make it easy to throw on for just about any day when you find yourself with skis or a board attached to your feet. As with any shell, layers are needed on cold days, but the SnowDrifter's relaxed fit allows layers to be added comfortably. I also found myself grabbing this jacket to run errands in since it's so comfortable and looks good.
While not as breathable and comfortable on the skin track as it's predecessor, the Patagonia Descensionist Jacket, the SnowDrifter offers increased wind and water protection which I think makes it more versatile when it comes to adverse weather conditions and use inside the confines of a ski resort.