REEB Steezl
Wheel Size: 29'' (29'' front / 27.5'' rear compatible)
Travel: 155 mm rear / 160 mm front
Geometry Highlights:
Sizes offered: S, M, L, XL, XXL
Headtube angle: 64°
Seat tube angle: 77°
Reach: 480 mm (size Large)
Chainstay length: 434 mm (size Large)
Frame Material: Steel front triangle / aluminum rear triangle
Price:
Frame w/ shock starting at $3,795 (multiple options available)
Frame, fork, and shock packages from $4,695
Complete bikes from $6,695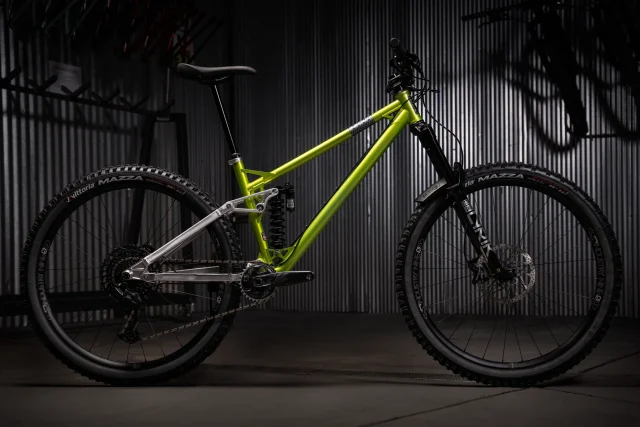 Intro
REEB calls the Steezl an "Enduro rig meant to pedal all day and destroy descents." On paper, it does look like it could be an especially versatile take on a relatively aggressive bike. It does so with some interesting design details, including a steel front triangle that incorporates a 3D-printed main pivot assembly, and a bunch more. So what has REEB cooked up here, and what makes it stand out? Let's take a look.
[If you want a whole lot more on REEB's backstory, their philosophy on bike design, and more, check out Ep. 121 of Bikes & Big Ideas with Jeff Lenosky and Adam Prosise from REEB.]
The Frame
The Steezl gets 155 mm of rear wheel travel from a fairly standard Horst link layout with a vertically oriented shock, and pairs that with a 160 mm fork (in stock guise; REEB says you can go up to a 170 mm one if you want). A flip chip at the lower shock mount lets you toggle between a 27.5'' or a 29'' rear wheel with minimal changes to the geometry, with all sizes running a 29'' front wheel. Pretty normal so far.
Things get more interesting when it comes to the construction. Following in the footsteps of REEB's shorter-travel SST, the Steezl gets a steel front triangle that uses a mix of Chromoly tubes and a 3D-printed stainless steel main pivot assembly and downtube / seat tube junction. Unlike the SST, which carries that same construction to the rear triangle — including a 3D-printed flex-stay piece in lieu of a dropout pivot — the Steezl opts for a more conventional aluminum rear end with a bearing pivot between the chainstay and seatstay. An aluminum rocker link drives a 205 x 62.5 mm Trunnion mount shock to produce the Steezl's 155 mm of rear wheel travel. REEB doesn't list any kinematic details for the Steezl, but says that it works well with both air and coil shocks, and they offer builds with both (more on those below).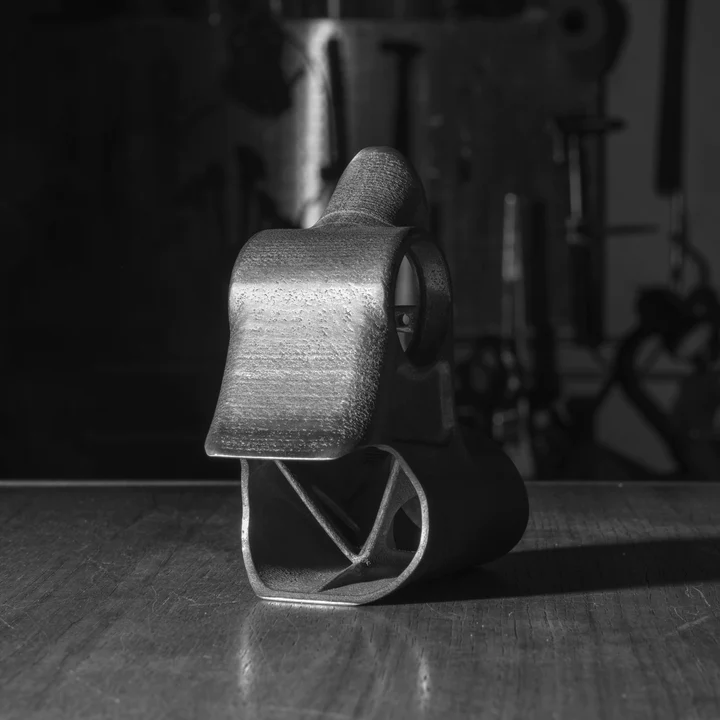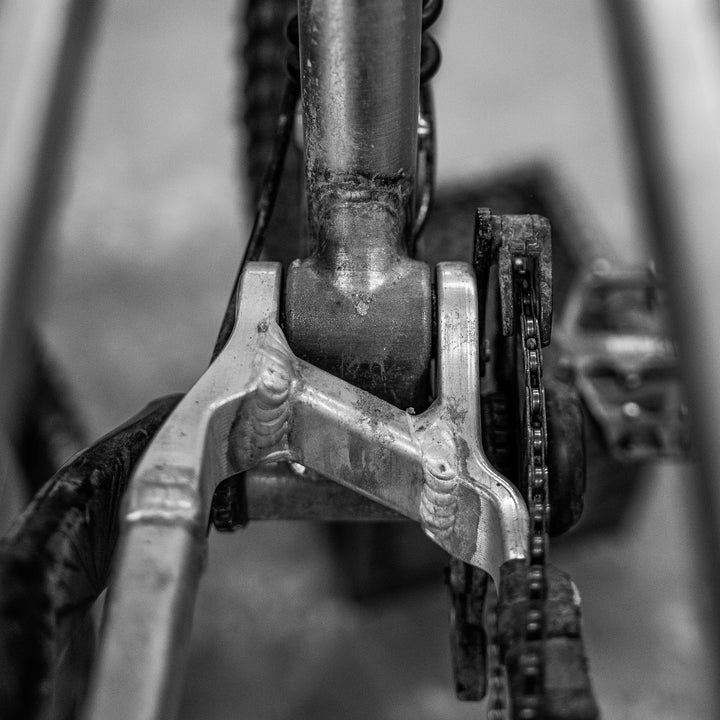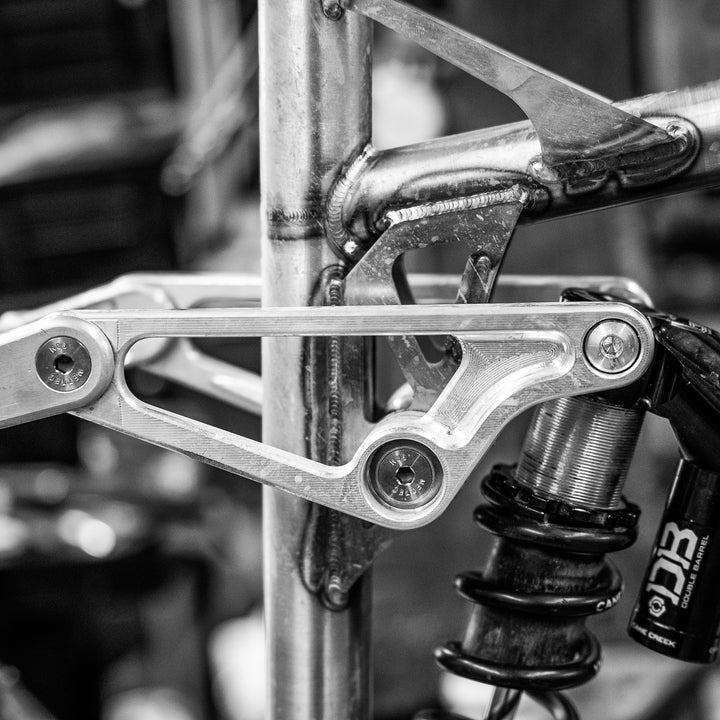 The other design details are pleasantly no-nonsense. There's a threaded bottom bracket shell with ISCG-05 tabs, fully external cable routing with bolt-on guides, room for a water bottle inside the front triangle on all sizes, and a nice, straight seat tube for ample dropper post insertion. The Steezl uses a UDH for Sram Transmission compatibility, and tire clearance is stated at up to 2.6'' wide.
Like all of REEB's frames, the Steezl is made in REEB's own facility in Lyons, CO. The Steezl is offered in two stock colors, a subtle blueish-gray that they call "Kongcrete" (below) or a much-less-subtle (but pretty sweet looking) sparkly neon green, dubbed "Ectoplazm." Custom paint is available for an upcharge.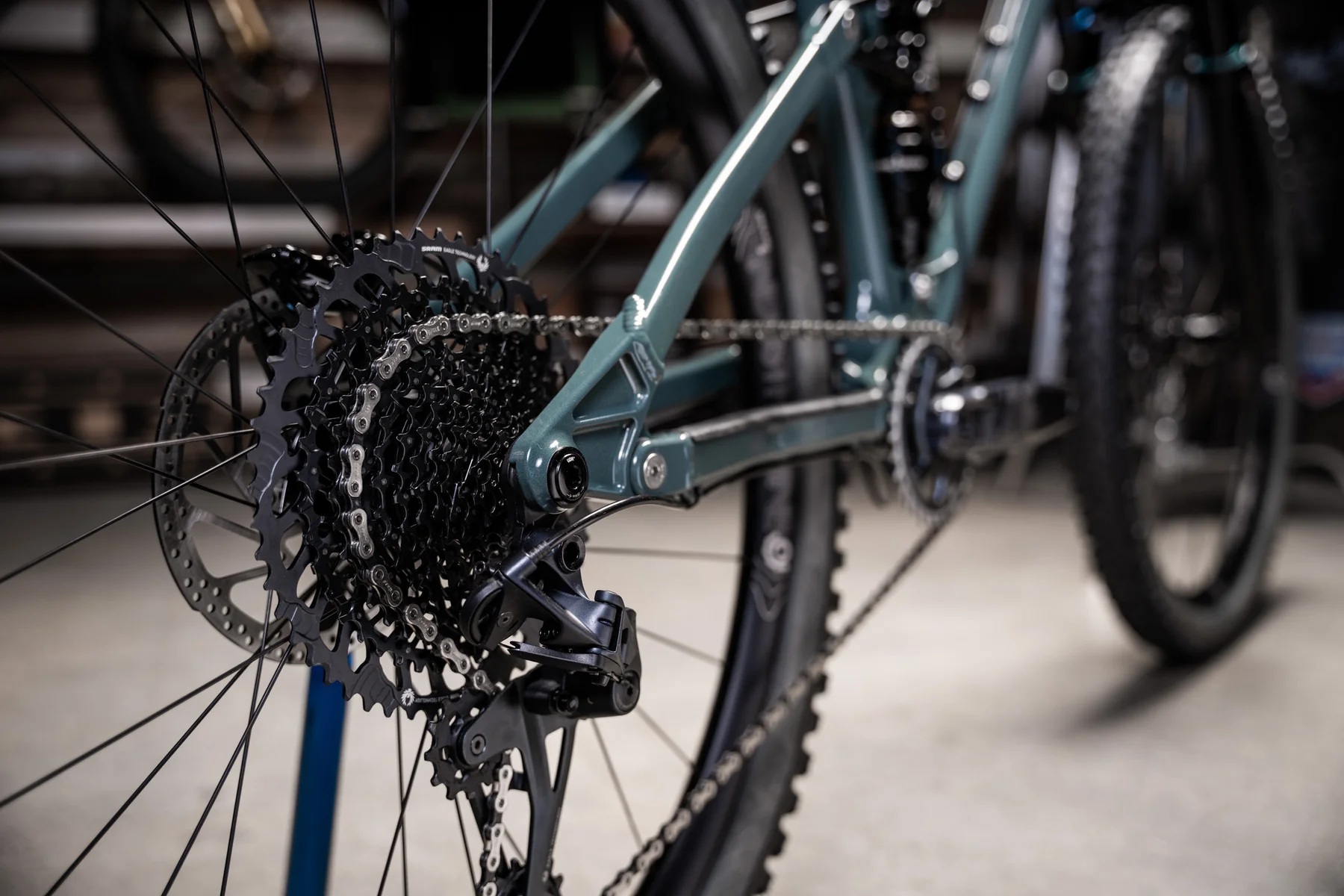 Fit & Geometry
REEB offers the Steezl in five sizes, labeled Small through XXL, with reach numbers ranging from 445 to 520 mm, with the Medium coming in at 460 mm and each successive size gaining 20 mm from there. All five get a 64° headtube angle and 77° seat tube angle, plus a 25 mm bottom bracket drop. The Small, Medium, and Large frames default to 434 mm chainstays while the XL and XXL bump those up to 444 mm, but the rear ends can be swapped if you want to mix and match. And if you want to go further off menu, REEB is offering semi-custom geometry on the Steezl, for a limited time. Get in touch with them if you're interested.
Those are nice, well-rounded-looking numbers that seem in keeping with REEB's description of the Steezl as a bike that's capable of handling some burly terrain, but also maintains a solid dose of versatility for all-day rides and big climbs. The Steezl is long and slack enough (1,260 mm wheelbase on the Large) that it should be pretty stable at speed, but looks to be dialed back a notch or two compared to many of the biggest Enduro bikes out there — which is probably a great place to land for a lot of people.
The Builds
REEB's website lists four standard builds for the Steezl, but they're basically like two different builds with a lot of (way more than four, actually) options for suspension packages.
Small and Medium bikes default to a 27.5'' rear wheel while the larger sizes come as 29ers, but REEB offers custom builds if you want to tweak things, including the rear wheel size.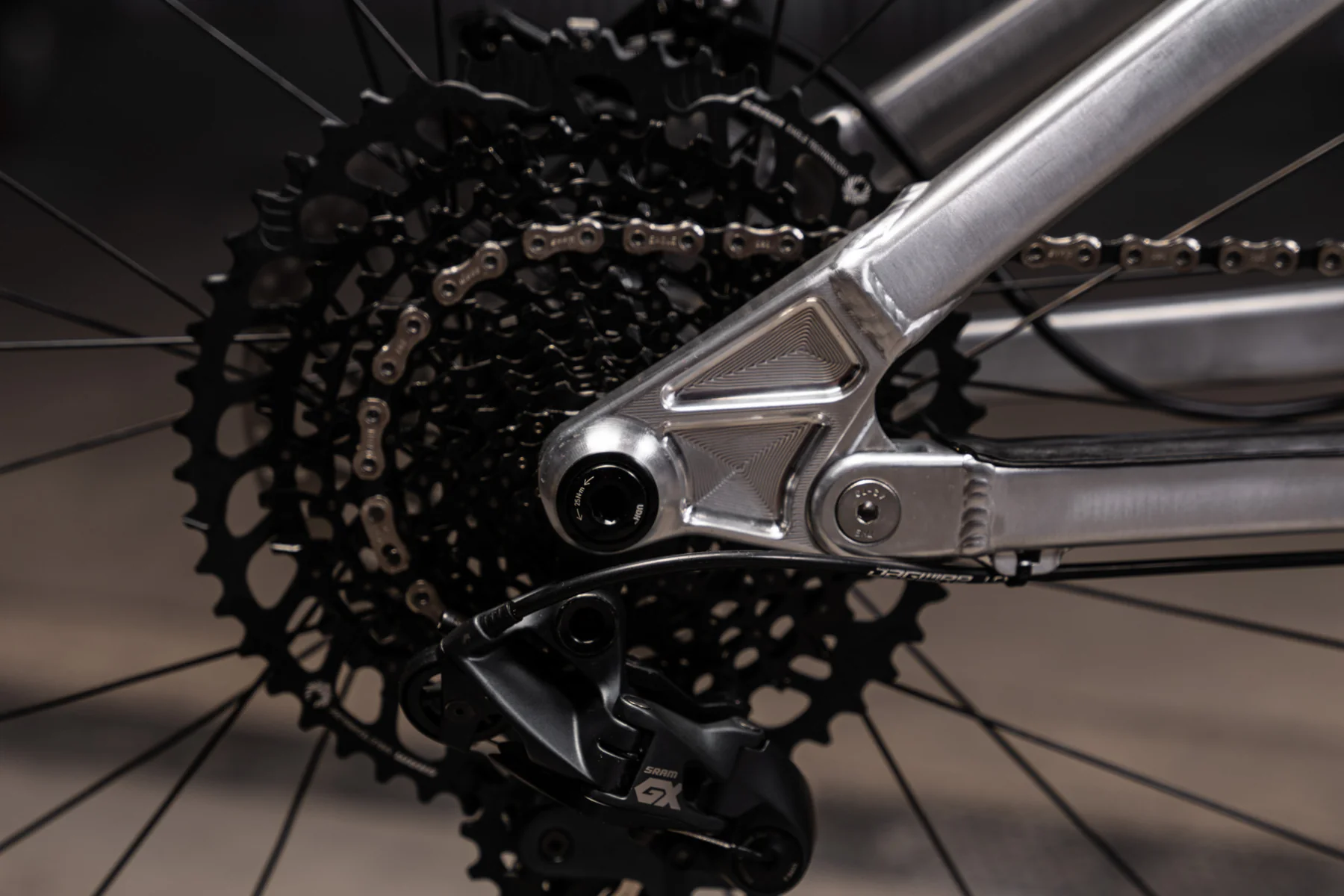 Interestingly, our review bike showed up with what is essentially the GX Air build (with the RockShox Lyrik / Super Deluxe Air suspension package), but with a GX Transmission swapped in for the standard GX offering. The X0 builds also get some fancier finishing parts (OneUp carbon bar, Industry Nine stem, etc.) over the Spank aluminum bits on the GX ones. Both come with Vittoria Mazza Trail tires, in a 2.6'' front / 2.4'' rear combo.
Some Questions / Things We're Curious About
(1) Where does the Steezl land on the spectrum between the more aggressive Trail bikes on the market and the bigger, burlier Enduro ones? We're guessing it'll blur the lines between those categories a little bit and are excited to spend more time on one to find out.
(2) If that assumption proves to be correct, how does the Steezl compare to a bunch of other bikes that we'd say similar things about, such as the Ibis Ripmo, Starling Murmur Enduro, We Are One Arrival 152, and others?
(3) And how much does the steel front triangle contribute to the overall feel and performance of the Steezl? We've recently been on a lot of steel full-suspension bikes, and there's a big range of ride qualities across them — so where does the Steezl fit in?
Bottom Line (For Now)
On paper, REEB's description of the Steezl as a bike that's able to go hard on bigger descents, while still being efficient and nimble enough to handle all-day epics looks about right — but we'll just need to spend a bunch of time on one to find out. We've got a Steezl in for review and have started spending time on it, so stay tuned for more to come soon.
Flash Review
Blister Members can read our Flash Review of the Steezl for our initial on-trail impressions. Become a Blister Member now to check out this and all of our Flash Reviews, plus get exclusive deals and discounts on gear, and personalized gear recommendations from us.