Starling Murmur Enduro V3
Wheel Size: 29''
Travel: 135 mm rear / 140 mm front (Trail mode) or 150 mm rear / 160 mm front (Enduro mode)
Frame material: Steel
Price: £1,658.33 (Frame only, ~$2,000 at time of publication)
Geometry Highlights:
Sizes offered: M, L, XL, XXL
Headtube angle: 65.3° (Trail) / 64.5° (Enduro)
Seat tube angle: 78.3° (Trail) / 77.5° (Enduro)
Reach: 485 mm (size Large)
Chainstay length: 445 mm (all sizes)
Size Tested: Large
Reviewer: 6′, 170 lb / 183 cm, 77.1 kg
Test Location: Western Washington
Test Duration: 3 months
Blister's Measured Weight: 36.6 lb (16.6 kg)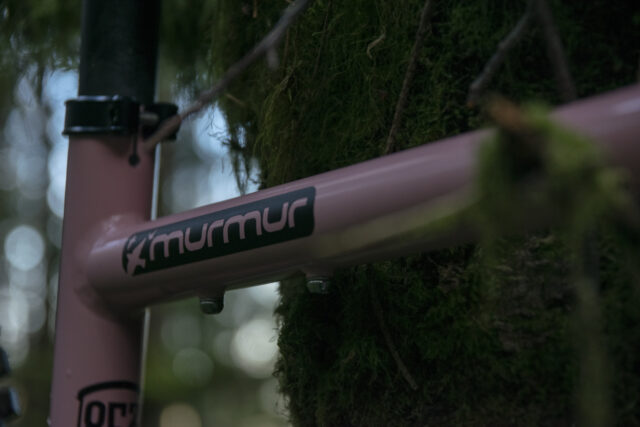 Intro
There aren't that many true single-pivot bikes on the market these days, and steel full-suspension frames are rare as well. The Starling Murmur is both, so would it feel like something of a throwback, a normal modern bike, or something else entirely? I was curious to find out.
[Check out our First Look for a more detailed rundown on the design and details of the Murmur.]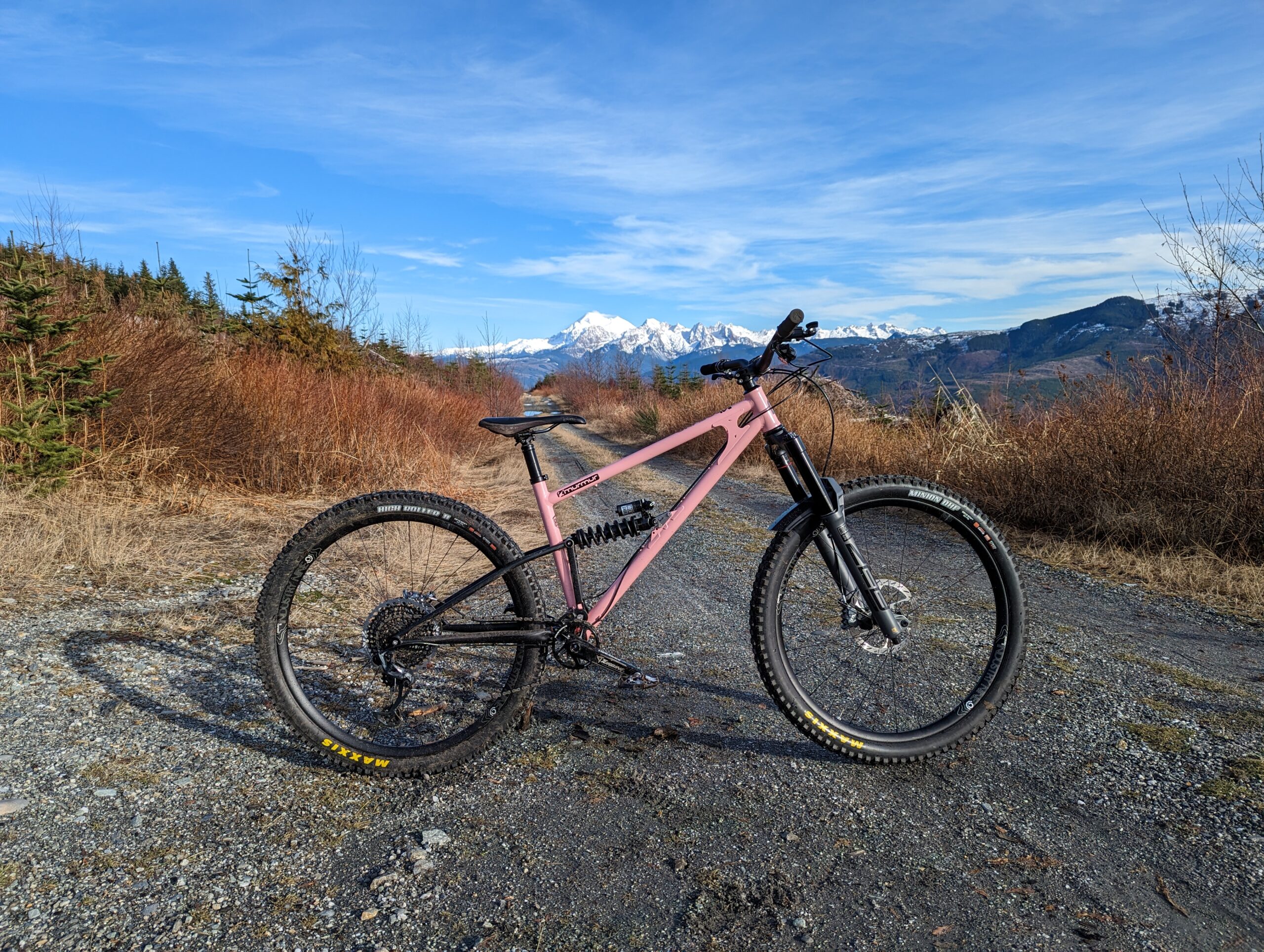 Fit & Sizing
At 6' (183 cm) tall, I'm at the higher end of Starling's recommended size range for the Large Murmur and the very bottom end of their band for the XL, but even as someone who tends to like comparatively long bikes, I wasn't all that tempted to size up to the XL frame — I really like the fit of the Large.
That said, I do think Starling's recommendations are pretty accurate, at least for my preferences and body proportions. If I had to tweak the sizing of the Large one way or the other I'd definitely make it a little bigger rather than smaller, but the 30 mm jump in reach (and 35 mm step up in effective top tube) from the Large to the XL is a bigger one than I'd want to make.
The Murmur is a bike that's on the more stable, descending-oriented end of the spectrum for a 150mm-travel bike, but it's also one that's still dialed back a bit as compared to a lot of the 160+mm-travel Enduro bikes out there. Given that, the fit of the Murmur — which for me feels about middle-of-the-road as far as what I'm comfortable with — seems like a good place to be. It's roomy enough that the Murmur's sweet spot feels pretty big, but not so big that it feels too stretched out or like I can't throw the bike around when I want to.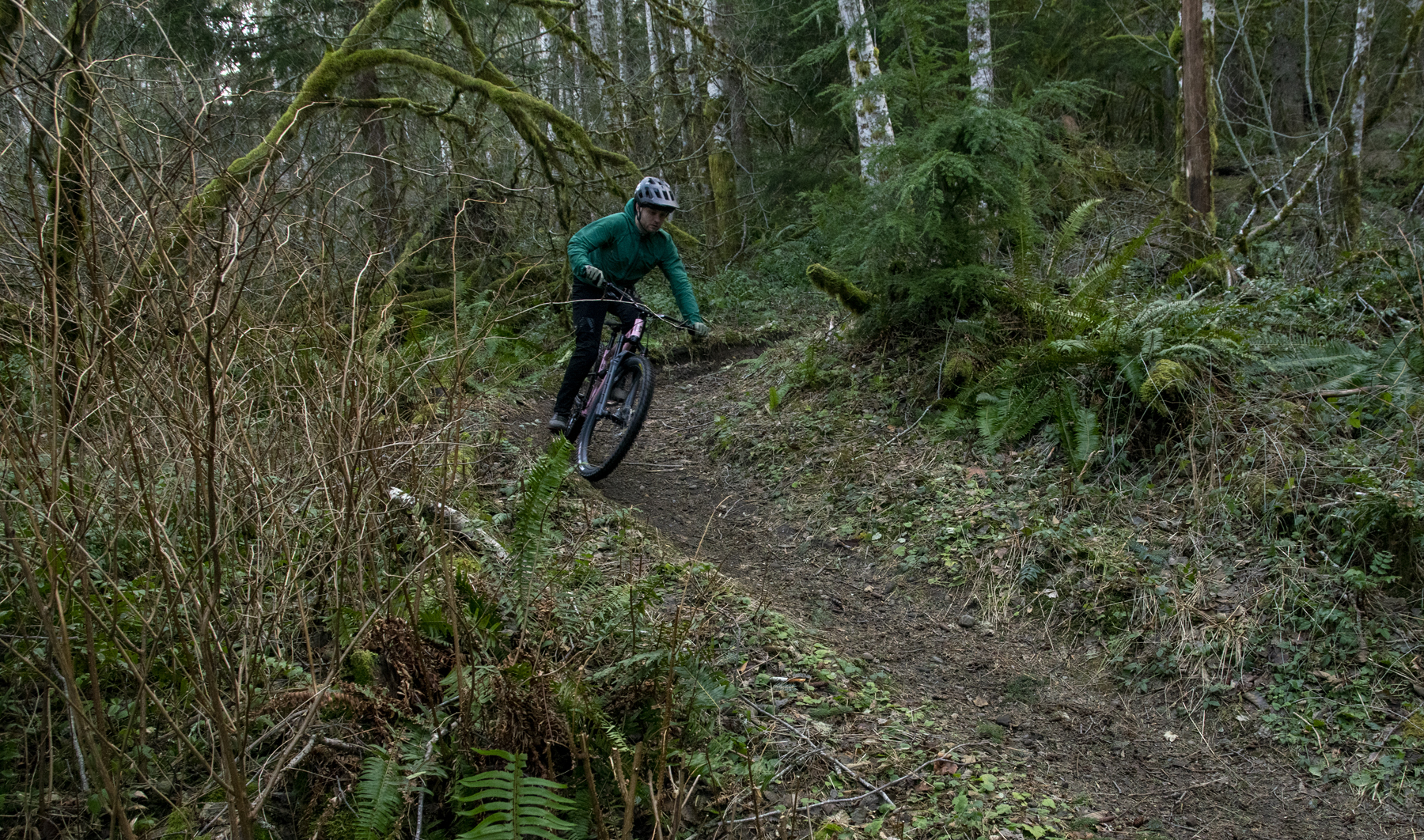 Climbing
The Murmur's pedaling efficiency is decent, but it's definitely aimed more toward grinding its way to the top than it is interested in really putting the hammer down and going especially fast on the way up. The Murmur feels like it's probably a little less efficient under power than average for a 150mm-travel bike, but not by much — it's plenty respectable, just not a standout.
An area where the Murmur really does excel is in traction under power — there's lots of grip available, and though there's a little suspension movement as you mash the pedals, that combination makes the Murmur put down power very well on loose, tricky surfaces. And compared to a lot of other bikes that I'd say similar things about, the Murmur does a better job than most of not feeling wallow-y or too quick to blow through its travel on steeper climbs. The steep seat tube and moderately long chainstays probably help there, as does the fact that the suspension generally feels a little on the firm side off the top (more on that later). But despite not feeling ultra-plush and cushy, the Murmur does a really nice job of keeping the rear tire gripping and you moving forward.
The Murmur is a little longer (in terms of its wheelbase) and not as quick handling at low speeds as the bikes that I'd label best-in-class for overall technical climbing capability, especially if we're talking about technical climbing of the super tight, stair-step-y variety. The Murmur does fine there for what it is, but more compact, quicker-handling bikes tend to be easier to manage, and the Murmur doesn't magically circumvent those limitations. But on loose, rooty, slippery climbs where you don't need to maneuver super precisely and loft the bike up and over things as much as you are just trying to continue putting power down despite a lack of rear wheel grip, it's especially good.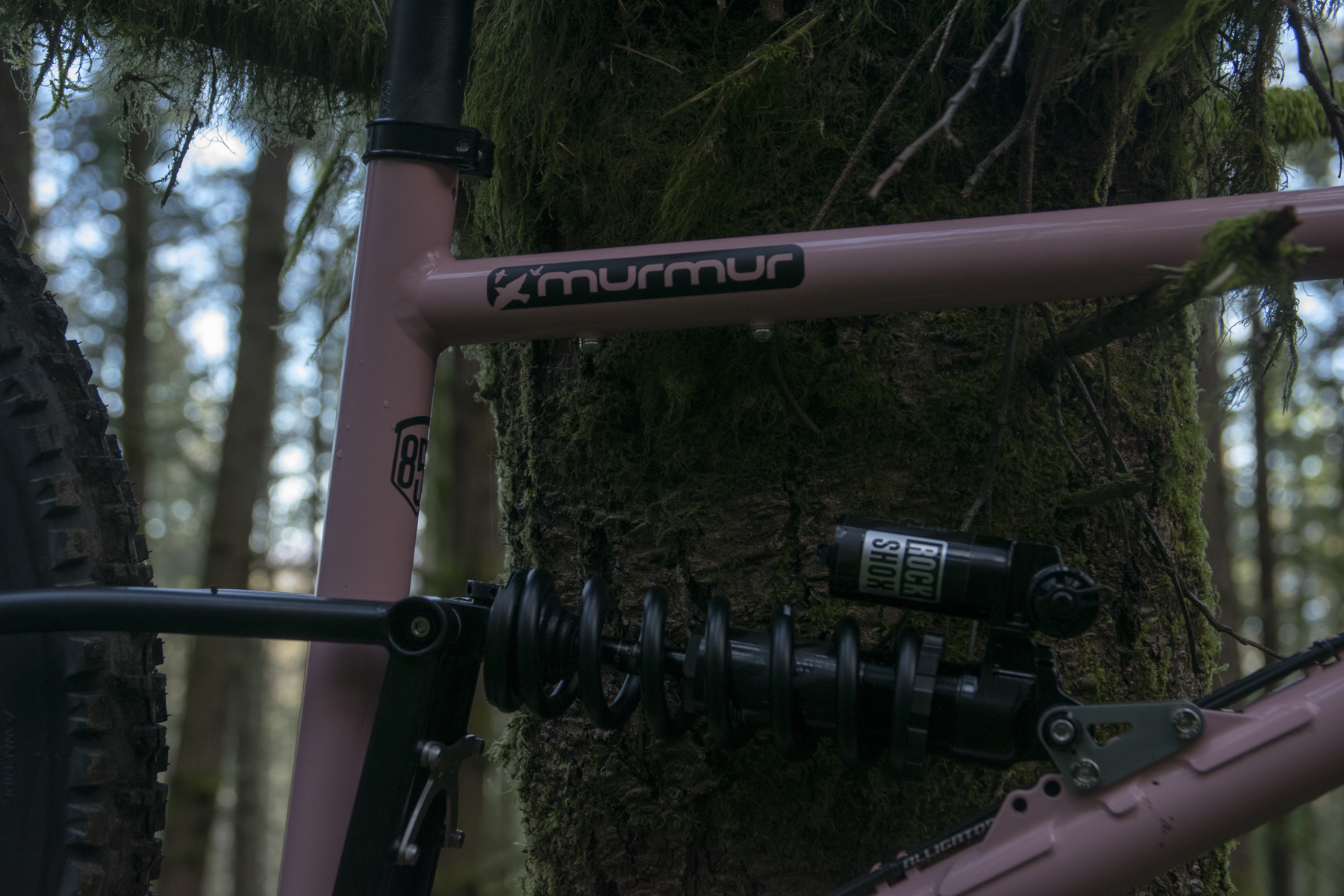 All of that makes the Rock Shox Super Deluxe Ultimate that I tested on the Murmur (in both air and coil configurations — more on that in a minute, too) an especially good fit for the Murmur since it has one of the firmer climb switches on the market. That firmer-than-average climb mode does a great job of making the Murmur's pedaling performance more efficient when you don't need so much traction (e.g., on a fire road climb) but the grippy open mode is there if you need it.
Descending
Like the Ibis Ripmo V2S that we just reviewed, the Murmur Enduro feels like it bridges the gap between true all-rounder Trail bikes and the modern crop of super-long-travel Enduro sleds — which is probably a really nice place to land for a lot of folks. But what really sets the Murmur apart is the combination of traits and ride feel that it uses to go about it (and we'll comment more on how specifically it stacks up to the Ripmo in the "Comparisons" section below).
[The Murmur also offers a "Trail" configuration by way of a movable shock mount and swapping in a shorter stroke shock and reducing the fork travel. Again, check out our First Look for a more detailed rundown.]
Things start off pretty normal. The Murmur Enduro hits a nice middle ground of being reasonably stable at speed without going so far down that road as to be particularly ponderous and awkward in tighter spots. The Murmur's preferred body positioning feels fairly neutral — which is to say that it doesn't need a ton of care to weight the front wheel, or demand that you stay centered and upright on the bike. Its sweet spot also feels fairly large, with a lot of room to move around on the bike without upsetting its balance or weight distribution.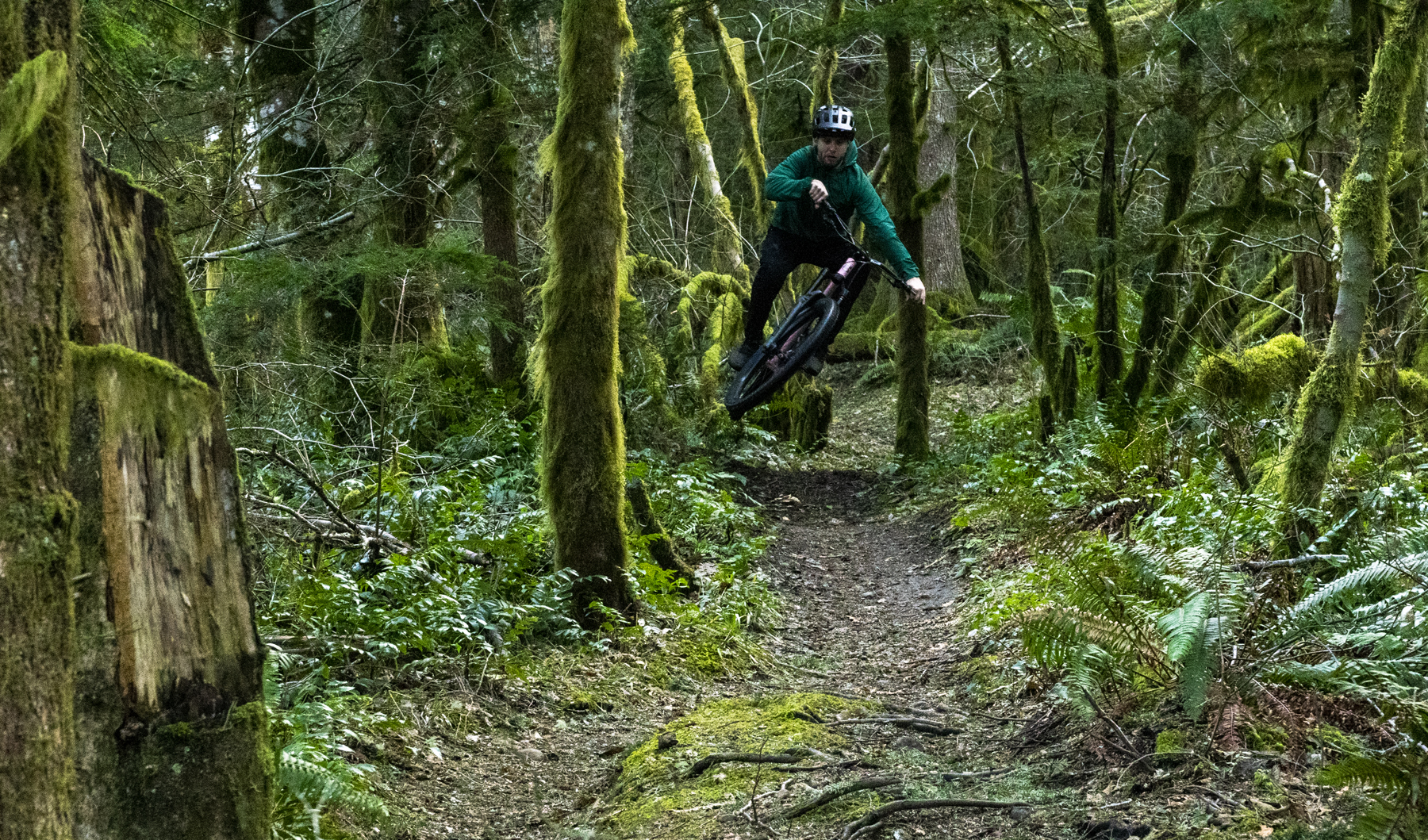 But where the Murmur starts to feel different from most bikes I've been on recently is when it comes to suspension performance and ride quality — in ways that I think are really good in certain respects, and less ideal in others. For starters, the Murmur's suspension feels a bit firmer than average off the top, but it pulls a neat trick of still offering pretty good traction and not feeling harsh, despite not being wildly supple off the top on very small bumps. Put differently, the Murmur doesn't feel ultra plush and cushy in terms of its suspension performance, but does feel smoother and transmits less feedback to the rider than a lot of the generally firmer, more supportive bikes out there.
And in some circumstances, that's a really nice combination of traits. A lot of the bikes that I'd rank especially highly for small-bump sensitivity can feel kind of wallow-y and unsupportive when you start going faster and hitting things harder — especially on chattery mid-size rooty and rocky sections, where you're not using full travel much, but instead are demanding that the suspension cycle really quickly back and forth through the middle part of the stroke. In those kinds of situations, the Murmur feels nicely composed and planted, offering very good traction and stability without feeling dead or lacking in support if you want to pump or boost off something.
The Murmur frame definitely doesn't feel especially stiff, especially in the rear triangle, and I think that bit of built-in flex has a lot to do with the unique way that the Murmur rides. Despite a lot of the bike industry marketing about new models of everything being "X% stiffer than before!" it's not like stiffer is always better, and the Murmur is a nice example of that. I'm widely on the record as having generally liked the extra stiffness of the newer crop of extra-beefy single-crown forks (e.g., the Fox 38 and RockShox ZEB) but also found certain benefits to the torsional flex in the inverted Manitou Dorado when I reviewed it last year, and have complained about things like 35mm-diameter carbon handlebars often being brutally stiff. I've admittedly griped about certain frames being unduly flexy and imprecise, too. I don't see those takes as being the least bit inconsistent; they just illustrate that there's no one-size-fits-all answer to tuning stiffness, and it's a variable that needs to be taken into consideration in concert with a whole other host of factors to make a bike ride as intended.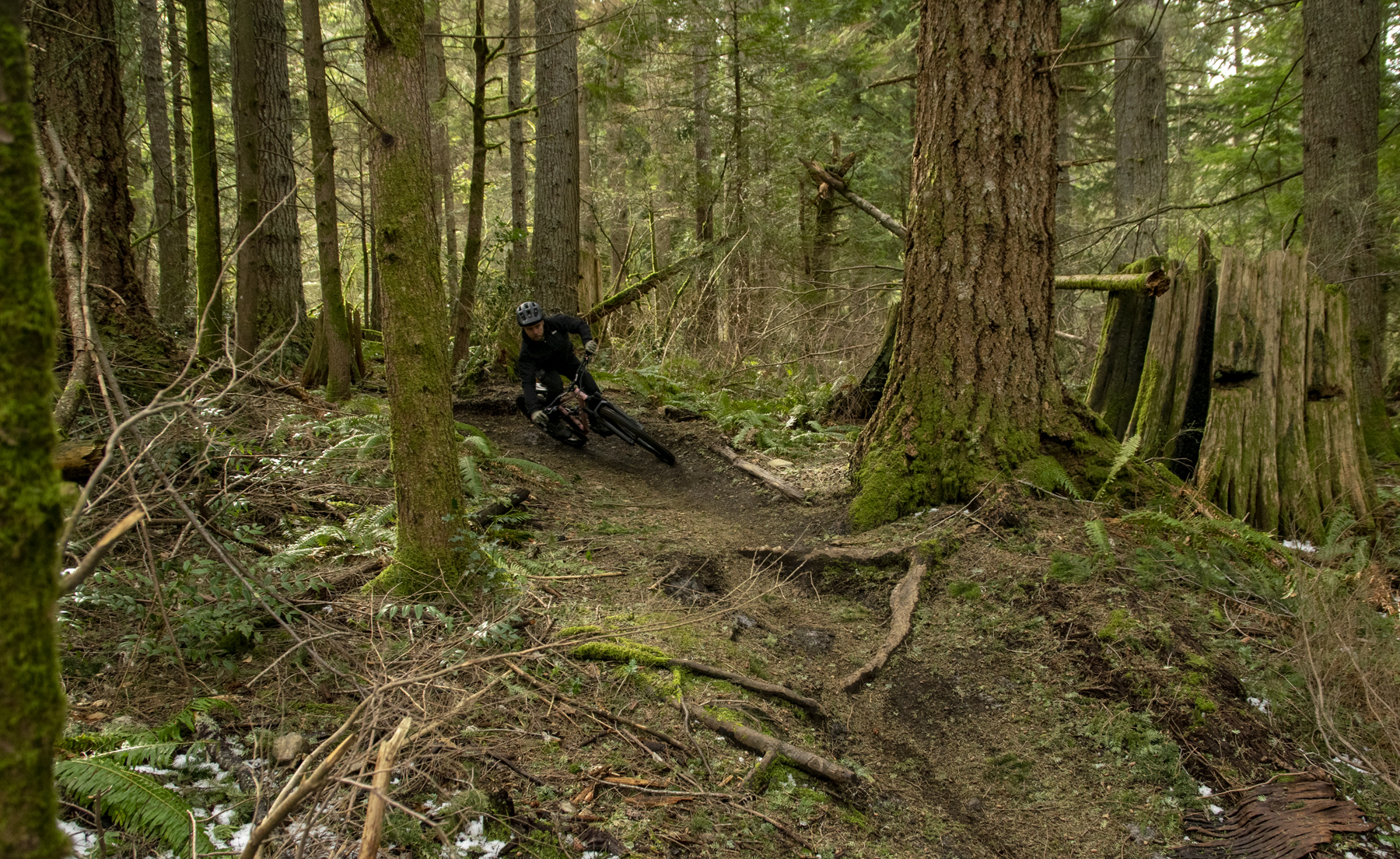 Anyway, that's a long-winded preface to me saying that, yes, the Murmur feels a bit less stiff than average for a modern frame, but that little bit of extra flex feels like a coherent, intentional design decision that helps add up to the whole that is the Murmur, rather than an oversight or categorical shortcoming. And while it's hard to decouple all the different variables that go into a frame design and how they combine to produce the end result, my thinking is basically that the extra compliance of the Murmur frame helps it feel smooth and grippy over smaller trail chatter — especially stuff like awkward, off-camber roots — despite not having suspension that feels mega-plush and stuck to the ground. By not solely relying on ultra-cushy suspension to keep the rear wheel gripping, the Murmur can offer a ton of traction while still being more lively and pop-y than many of the most planted, grippy bikes out there.
All that said, the Murmur does feel a little vague and imprecise in really well-supported, high-speed corners, where the frame flex does feel noticeable in a less desirable way. It never felt like a huge issue for me, and I think that if I were just riding the Murmur as my primary bike (rather than swapping back and forth between a few different ones at any given time) I'd get used to it pretty quickly and never think about it again, but there is a noticeable difference. That said, I'm neither especially heavy (though I'd like to think I ride pretty hard) and tend to prefer more raw, natural trails with fewer big bike-park-y berms, where the sensation felt most pronounced; as per usual, it's best to know thyself and be honest about what you do and don't care about in a bike. If a mega-stiff frame is high on your list of priorities, the Murmur probably isn't a great call, but I think the Murmur's ride quality has some very real upsides, and that the tradeoffs aren't going to be a huge deal for most people.
The Build
Starling doesn't offer stock builds on the Murmur, and instead lets buyers customize to their heart's content. The package that Trail Labs — Starling's new US distributor — put together for our review bike was along similar lines to how I'd approach it.
The main point here is that, while 150mm-travel bikes can cover a pretty big spectrum in terms of their intended use, the Murmur Enduro is definitely toward the more descending-oriented, well, enduro-y end of that range, and building it up accordingly makes sense. Our review bike showed up with a RockShox ZEB fork, Super Deluxe Air and Coil rear shocks (more on those in a moment), Magura MT7 HC3 brakes, Industry Nine Hydra Enduro S wheels, and so on. I swapped a few things around, including installing a longer-stroke dropper post and changing a few of the contact points for ones that I personally prefer (namely the seat, grips, and handlebar), but the core parts were appropriately beefy for the Murmur.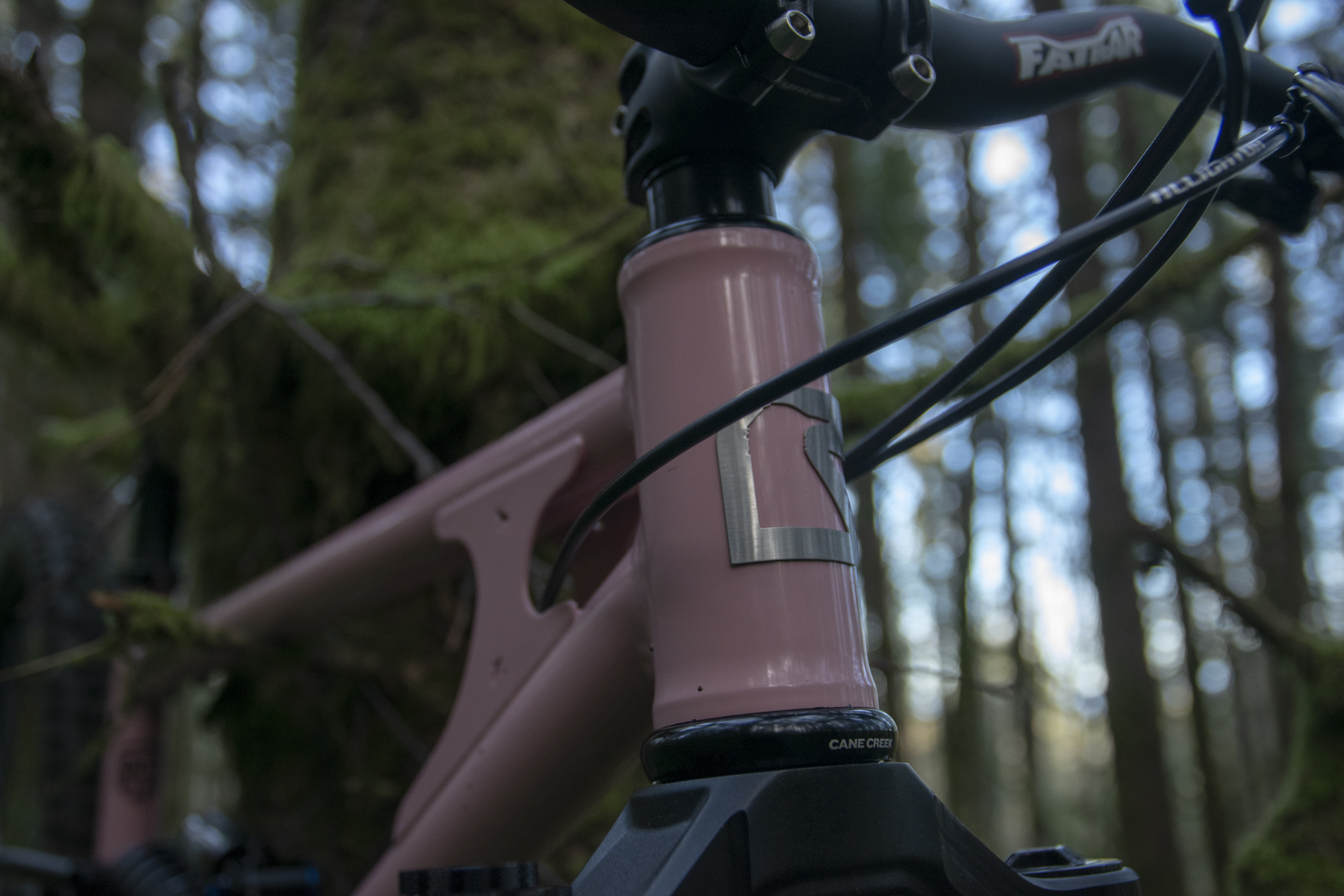 I'd hoped to be able to convert the Murmur into Trail mode to see how that iteration compares, but unfortunately, that didn't pan out for a few reasons. But based on how the Enduro configuration feels and what the conversion does to the bike's geometry and suspension travel, my hunch is that it would still feel like a comparatively aggressive, descending-oriented bike for its travel range — just in a little bit more nimble, lively package than the Enduro spec.
It's also worth mentioning the clean simplicity of the Murmur frame. In a world of elaborate multi-link carbon fiber bikes, the simple lines and thin-tubed steel construction of the Murmur stand out. All the hardware is nicely thought out and easy to work on, and though I didn't go so far as to press out the bearings, I disassembled the rear end just to see how it all goes together, and it's all quite tidy. I'm also a fan of the external cable routing, though it does look cleanest with everything routing through the headtube gusset, which does mean that you still need to disconnect the brake hose for installation and removal. You could definitely run it outside the gusset, maybe with a zip tie to secure it if you were so inclined, though.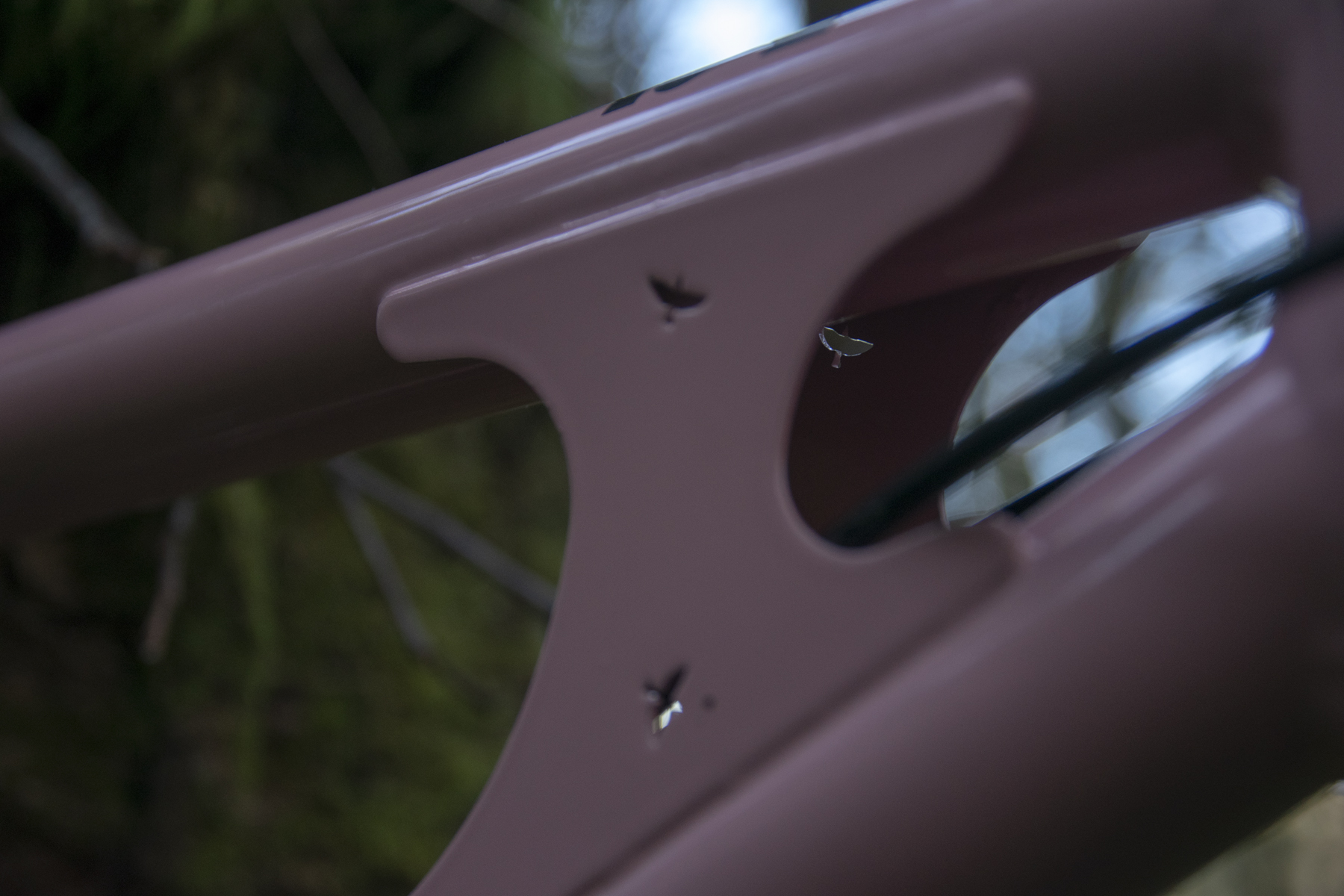 One of the things I was most curious about going into the Murmur review was how the single-pivot suspension, which produces far less progression than most modern multi-link bikes, was going to feel, and what sorts of shocks were (and weren't) going to feel well suited for it. Somewhat to my surprise, I found myself preferring the coil version of the Rock Shox Super Deluxe Ultimate over the Air one (both of which were equipped with the optional hydraulic bottom-out feature).
The difference essentially came down more to midstroke support than bottom-out resistance. With the more supportive coil shock, I felt like the Murmur stayed more composed and higher in its travel, as opposed to settling in a little deeper, and relying more on the end-of-stroke ramp-up to keep from bottoming out, as opposed to riding a little higher in the travel and leaving more suspension on the table to deal with whatever you're about to smash into. The lack of progression is, I think, the biggest reason that the Murmur's suspension feels a little firmer off the top than a lot of modern bikes (since, in order to achieve a similar overall spring force at bottom-out, a more progressive bike would be softer off the top and firmer deeper in the travel) but again, the Murmur's overall ride characteristics feel like they add up to a nice, harmonious whole.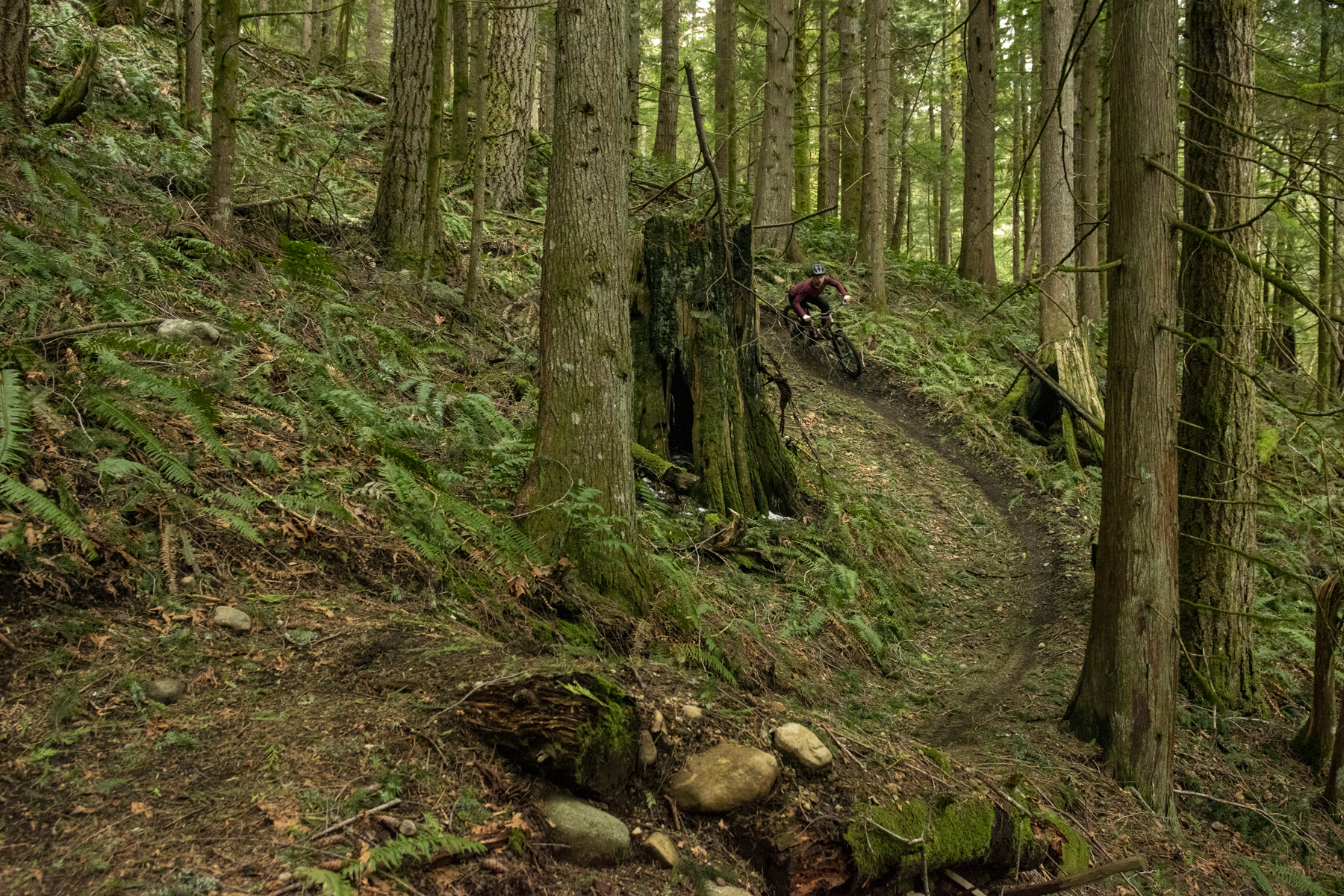 The Super Deluxe Air did feel a little more supportive and controlled than the coil version when each shock was very deep in the travel, but the Air version also felt like it was quicker to blow through the middle part of the travel than I wanted. That was particularly noticeable when plowing into a rough section of trail at speed, where the rear of the bike would settle deeper than I wanted it to, and I felt like the chassis became a little imbalanced as the rear suspension settled deeper than the front — even with air pressure settings where I couldn't quite use full travel on the shock. And with the hydraulic bottom-out and high-speed compression both set to +1 (i.e., one click from closed, out of five), the coil shock didn't give me any real issues with harsh bottom-outs or anything like that. Did I use full travel a little more often on the Murmur than I do on most bikes? Yes. But it's not like I was having full-on clanking harsh bottom-outs often (or hardly ever). I'd absolutely put a coil shock on the Murmur over an air one, and the Rock Shox Super Deluxe Coil felt very nicely suited to the task.
Comparisons
The Smash is one of the better comparisons here — in terms of fit, handling, and preferred body positioning, it and the Murmur Enduro are largely similar. That said, the Murmur is a touch more stable at speed, not quite as quick handling when you're not moving as quickly, and generally feels like a little bit "more" bike. The Smash pedals a little more efficiently but doesn't offer as much traction under power — but once again, we're talking about relatively subtle differences, rather than big gaps between the two.
The bigger differences between the Murmur Enduro and the Smash (and you're going to hear a version of this a lot in these comparisons) are in terms of ride feel. The Smash frame feels substantially stiffer than the Murmur and a little more precise in how it responds to steering inputs, but doesn't track as smoothly on awkward, off-camber rough sections in particular, and generally feels like it transmits a little more feedback to the rider on small chatter. The way that the Murmur mutes those little impacts out without feeling like the suspension is moving a ton and swinging the balance of the bike around in doing so is pretty special.
And though we weren't able to try it in that configuration to see how it compares to the Guerrilla Gravity Trail Pistol, the Trail mode on the Murmur is a bit like Guerrilla Gravity's modular frame platform, where you can convert one model of bike into another by swapping a few parts around.
The Rallon is another bike with substantial similarities to the Murmur in certain respects, but it's very starkly different in the areas in which they diverge. As with the Smash, the fit, handling, and body positioning on the Rallon feel largely similar to that of the Murmur. Both are on the more versatile, not-quite-so-ultra-stable end of the spectrum for Enduro bikes, but the similarities mostly end there.
Despite having 10 mm more travel at both ends, the Rallon actually pedals substantially more efficiently than the Murmur, but it also gives up a fair bit of traction and compliance under power to get there. And while the suspension on both bikes feels more supportive than plush and cushy, the Murmur feels smoother and transmits less feedback to the rider, while the Rallon feels very stiff and ultra-precise, but not as compliant and forgiving. So in total, the Rallon feels like a more game-on bike that needs to be pushed harder to feel in its element, whereas the Murmur is smoother and more comfortable if you're not at maximum attack; the Rallon's chassis feels more stable (more in terms of suspension performance than handling) at high speeds.
The Firebird is sort of like a more stable, more planted, less efficient pedaling version of the Rallon. That makes the Firebird a bit more bike than the Murmur, in that it's more stable at speed but also more ponderous in tighter spots. The Firebird's bottom bracket is also quite a bit higher, which feels noticeable in how it handles in medium- to high-speed corners in particular — check out our Full Review for more on that. The Murmur feels more in line with most bikes in this class in that regard, and is easier to load up through the pedals through faster corners, rather than leaning the bike over more and using steering input to "catch" it to exit the corner.
The Murmur Enduro and the Carbonjack are similar in terms of where they land on the spectrum between long-travel Trail bikes and the biggest, most stable Enduro sleds out there, but that's about it. The Carbonjack fits and handles quite differently, with a strong preference for a centered, upright body position to maintain weight balance between the two wheels, and quicker-feeling steering via handlebar input (but similar stability overall). The Carbonjack's suspension feels a bit more specifically firm and lively at the expense of some compliance and traction.
The Arrival is another bike that lands in a similar place to the Murmur on the Trail to Enduro bike spectrum but feels very different in how it goes about that. The Arrival has a strong preference for a more forward, aggressive body position and feels less forgiving of being ridden from a more neutral, centered stance. It's also more lively and eager to pump and boost off everything than the Murmur, which feels more planted in terms of its suspension performance and ride feel. The Arrival is also more precise than the Murmur in terms of its handling, but can't match the off-camber root-hugging traction of the Murmur, and the Arrival feels like it takes a more specifically aggressive touch to come alive.
Very different. The Murmur is more stable than the Bronson, not as quick-handling in tight spots, and more composed at higher speeds. The Murmur's sweet spot in terms of preferred body positioning also feels much bigger. The Bronson is a more nimble, playful feeling bike whereas the Murmur is more focused on going fast on rougher, more natural trails.
The Murmur Enduro feels more stable and fully descending-focused than the Ripmo, while the Ripmo is quicker-handling, more efficient under power, and generally more versatile as an all-rounder Trail bike. They're not so far off from each other that cross-shopping them is crazy, but it should be easy to figure out which is a better option for any given rider. The Murmur is more composed at speed but less engaging when the trails flatten and tighten up.
The Nomad is more bike than the Murmur Enduro in most respects — it's more stable at speed, more ponderous in tighter spots, and pedals a little less efficiently. The Nomad is actually similarly quick-handling once speeds pick up a bit — its combination of stability and agility when it's moving a bit is one of its best attributes — but that agility does fall off as speeds drop off, and it also requires a more centered, upright stance to work best than the Murmur, which feels more neutral in that regard.
This one's interesting — there are certain attributes where the two feel somewhat similar, but overall they don't remind me of each other at all. Both the Murmur Enduro and VHP 16 have a ton of traction under power and on awkward chattery sections of trail, but despite having a little more suspension travel, the VHP 16 actually pedals more efficiently and is a touch quicker handling and correspondingly less stable than the Murmur. The Murmur has a bigger sweet spot in terms of its preferred body positioning / how much room it gives me to move around on the bike but doesn't corner as precisely or have as good small-bump sensitivity overall.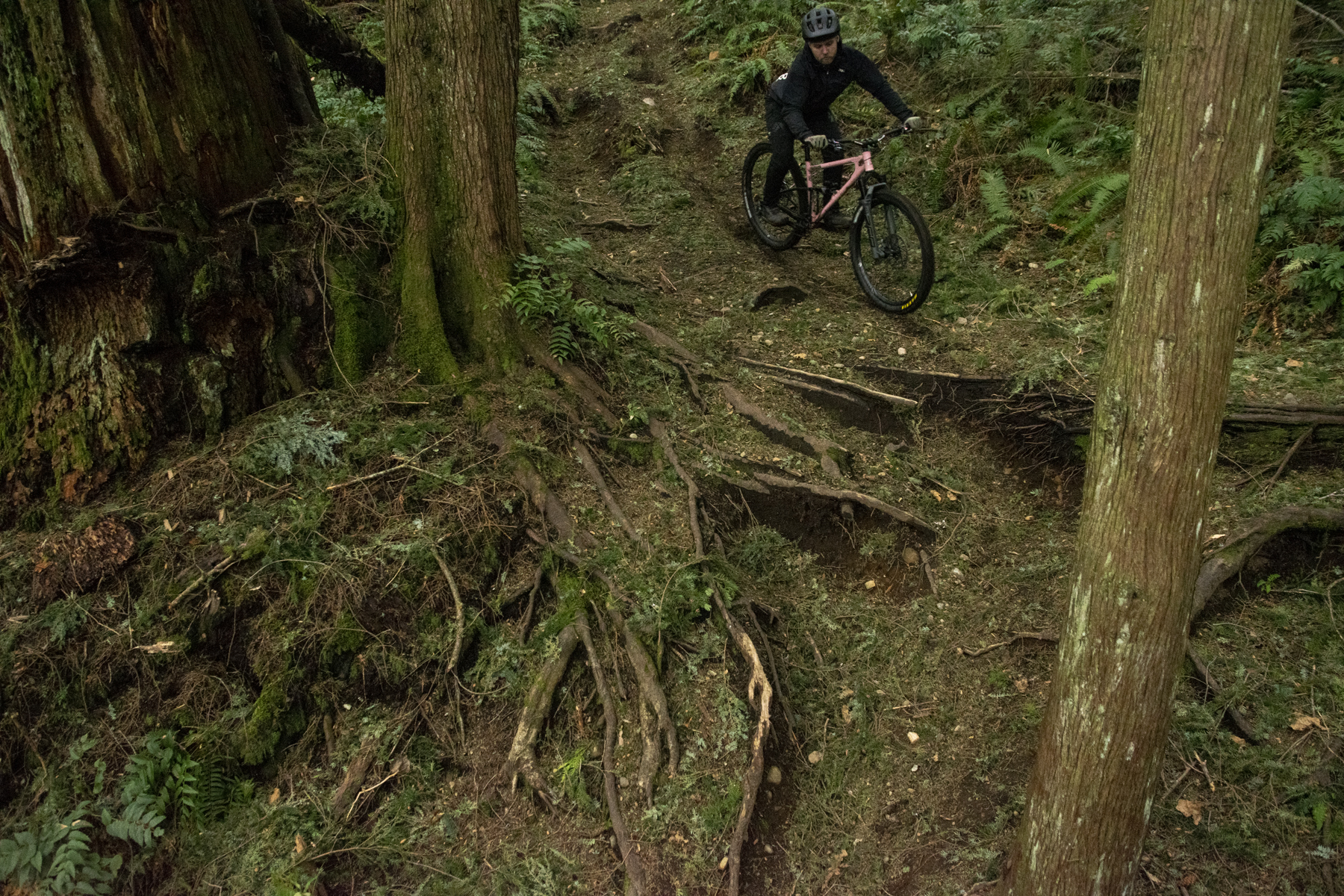 Who's it For?
The Starling Murmur Enduro is an interesting and compelling take on a fairly aggressive bike that blends a lot of the high-speed stability and descending prowess of longer-travel Enduro bikes into a package that's just a little more versatile than most — especially for folks who are drawn to the simplicity of the single-pivot layout and/or UK-made steel construction.
But the Murmur isn't just a curiosity for riders who want something weird and different. It's a genuinely good bike, period, albeit one that offers a somewhat different combination of traits and ride feel than most other bikes in its class. The Murmur's greatest strengths are in traction and composure on rougher, off-camber, slippery bits of trail — probably not coincidentally, the kind of stuff the UK is famous for. It does feel like it gives up a little bit of precision in certain situations, especially when the frame is really heavily loaded laterally (e.g., in a high-speed bermed corner) but I mostly felt like those differences felt like, well, more just perceivable differences than something that was all that detrimental to my riding.
And as a bonus, the ability to convert between Trail and Enduro configurations on the Murmur V3 adds some flexibility to the whole package, too.
Bottom Line
I wasn't sure what to expect from the Starling Murmur going into this review. I hadn't ridden a steel full-suspension bike (apart from one ride on the Contra MC) in a while, and it had been even longer since I'd been on a true single-pivot frame. And while the Murmur Enduro does feel notably different from just about everything else I've been on recently, it's first and foremost just a good, descending-oriented all-rounder, albeit a slightly different take on the genre than most.