2021 Pivot Firebird
Wheel Size: 29''; 27.5'' compatible with an extended lower headset cup
Travel: 165 mm rear / 170 mm front
Material: Carbon fiber
Price: Complete bikes $6,599 to $13,799; see below for details
Size Tested: Large
Blister's Measured Weight: 34.4 lb (Firebird Pro XT/XTR Coil, size Large)
Reviewer: 6', 170 lb / 183 cm, 77.1 kg
Test Location: Washington
Test Duration: 2.5 months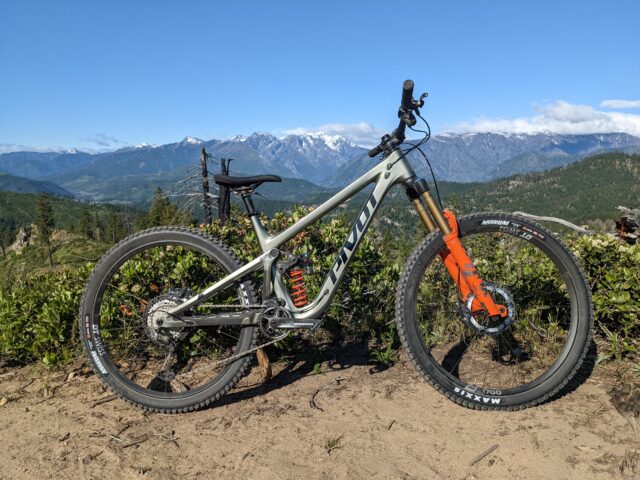 Intro
Pivot's EWS race team has been spotted riding what appeared to be a new version of the Firebird this season, and now that new bike is here. The new bike is longer, lower, and slacker than the previous model, and features an overhaul to Pivot's new vertical shock layout, and a whole bunch more. We've got the full rundown on the new bike with everything you need to know, so read on to find out all the details on the new Firebird.
The Frame
As per usual for Pivot, the Firebird is available in a carbon frame only, and features DW-link rear suspension — 165 mm of it, in this case. The design language that Pivot has been rolling out on their more recently-updated models (including the Switchblade, Trail 429, and Mach 6) carries over here too, with a vertically-oriented rear shock, and somewhat sharper angles than their swoopier-looking bikes of old.
The Firebird's feature set won't surprise anyone who has kept tabs on Pivot's more recent models. Cable routing is fully internal, though there's no Shimano Di2 integration. A water bottle fits inside the front triangle on all sizes, and Pivot's Dock Tool mounts are included underneath the top tube and down tube. There's a large rubber guard on the downtube, and ribbed rubber guards on the chainstay and seatstay as well. ISCG-05 tabs are there if you want to run a chainguide (and an upper guide is included on complete bikes). The Firebird uses a SRAM UDH derailleur hanger, post mount tabs for a 180 mm rotor, and a 31.6 mm seatpost.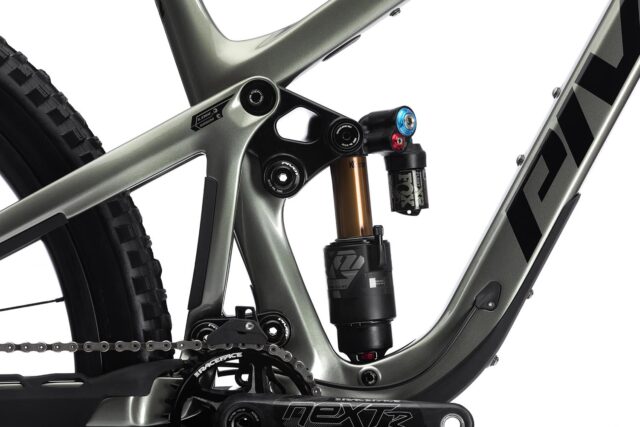 Pivot's preferred Superboost 157 mm rear end and BB92 press fit bottom bracket are here too, as is a flip chip to toggle between two geometry settings, which we'll describe in more detail below. Interestingly, Pivot does say that the Firebird can be run with 27.5'' wheels in the high geometry position, along with a 17 mm extended lower headset cup (available from Pivot) to compensate for the shorter height of a 27.5'' fork and wheel. There's no mention of mixed wheel compatibility though. Tire clearance is stated at 29'' x 2.6'' or 27.5'' x 2.8''. Interestingly, Pivot has also gone to a larger-than-average 49.6 mm top headset cup, paired with a standard 56 mm Zero Stack lower. This should make a bit more room to run an angle-adjusting headset if you're so inclined, though Pivot doesn't endorse running the Firebird with a dual crown fork (which would open up even more room to experiment, due to the 1 ⅛" steerer tube).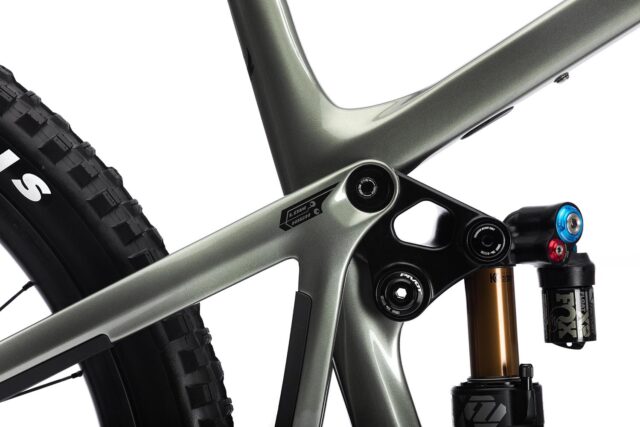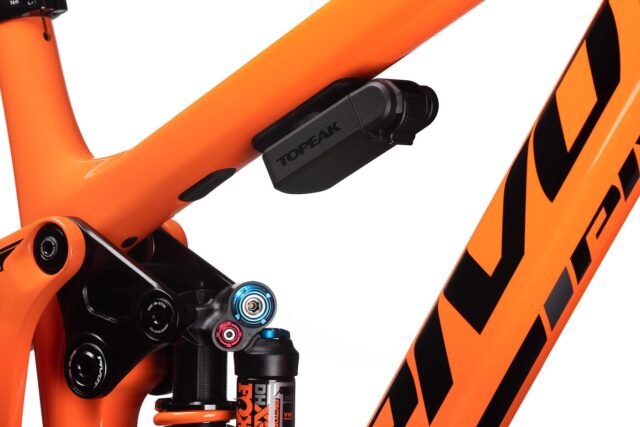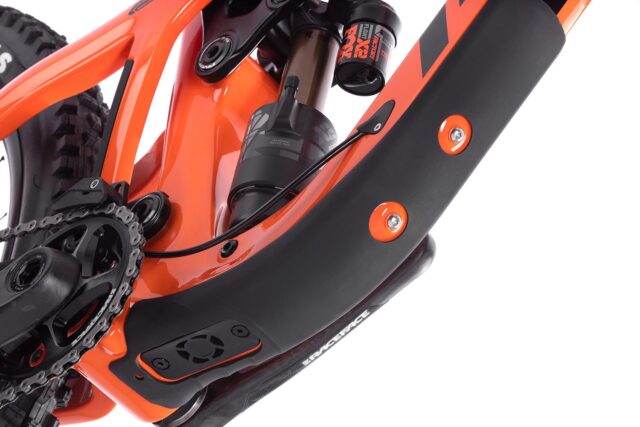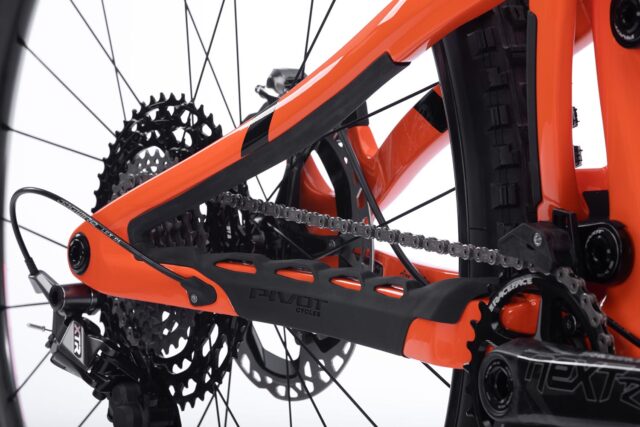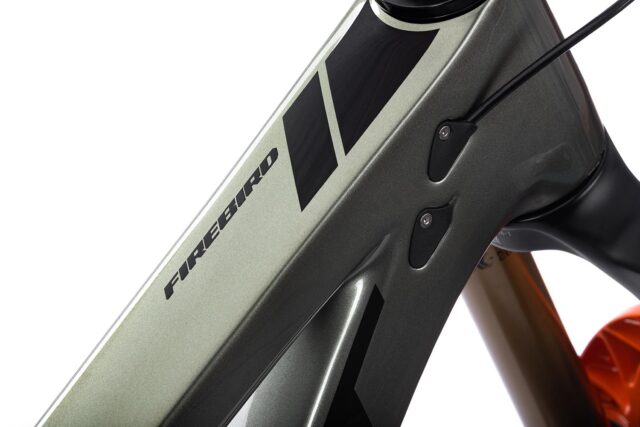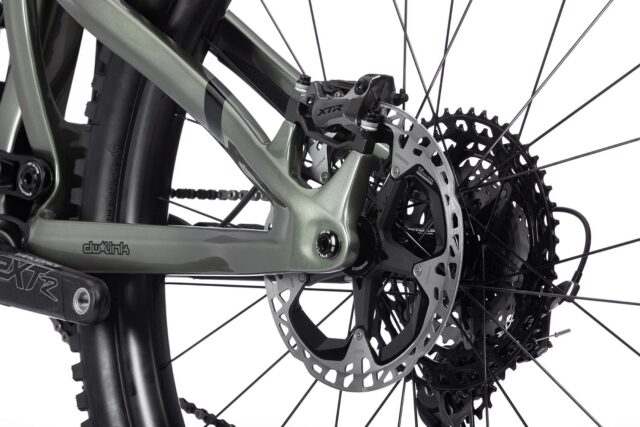 Fit & Geometry
The Firebird is offered in four sizes, from Small through Extra Large, which Pivot says covers riders from 5'2'' through 6'9'' (157 through 206 cm). They also note that, while they offer a suggested sizing range for each size, the Firebird has a fairly short headtube and seat tube which means that riders have some flexibility to size up or down depending on their personal preferences and riding style.
Pivot talks a lot about how the new Firebird is made to go fast, first and foremost, and its geometry is indeed a big step more aggressive than the outgoing model. The headtube angle has been slackened by a degree (to 64° in the low setting), the effective seat tube angle has steepened by about 2° (varies by size), and the reach has grown by about 15 mm (again, varies by size). You can see the full geometry chart below:
In a new move for Pivot, the Firebird features variable chainstay length based on frame size. The changes are accomplished by moving the suspension pivot points relative to the bottom bracket shell on the front triangle, so it's not possible to mix and match rear triangles to change the chainstay length. This is an increasingly common strategy that we're seeing from a lot of brands, including Forbidden, Norco, and others, and we think it makes a lot of sense. Chainstay lengths of the Firebird range from 431 mm on the small through 445 mm on the XL; interestingly, the sizing increments get larger as you move up in size, with the Medium frame getting 434 mm stays, which grow to 438 mm on the Large.
A flip chip at the upper link toggles between two geometry settings, with the high position steepening the headtube angle by 0.6° and raising the bottom bracket by about 6 mm. And the bottom bracket height might be the most notable number on the geometry chart for the Firebird. With a 20 mm bottom bracket drop in the low setting, it's much higher than a lot of similar 29ers such as the Transition Spire (32 mm, low setting), the Cannondale Jekyll (30 mm), and the Privateer 161 (30 mm); at 14.2 mm in the high position, there's less BB drop than many 27.5'' bikes with similar travel.
Overall though, these are fairly standard numbers for a modern Enduro bike — not wildly aggressive by the standards of the class, but not what we'd call dated or super-conservative either. We'd expect this to all add up to a bike that is quite capable at speed, like Pivot claims, but also doesn't look to go as fully all-in on that pursuit as some other bikes out there. Our hunch is that Firebird will actually maintain a decent dose of Trail bike versatility, but we're looking forward to getting on one to find out more.
The Builds
Pivot tends to offer a ton of different build options on most of their bikes, and the Firebird is no exception. The builds break down into Pivot's typical Race / Pro / Team hierarchy, with SRAM and Shimano options for each.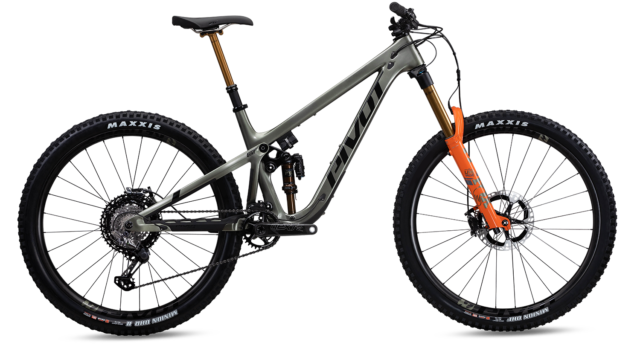 For reference, the complete build options are as follows:
There aren't any budget options here, as we've come to expect from Pivot, but there is a huge spread of options in the mid- to high-end range. It's also noteworthy that Pivot offers so many suspension options within what is otherwise the same build spec — you've got your choice of air or coil rear shocks, or a full Fox Live Valve suite (including the first appearance of a Live Valve 38 that we've seen) on a number of the builds.
Some Questions / Things We're Curious About
Pivot talks a lot about the Firebird being an Enduro race bike first and foremost, and we don't doubt that it's quite capable in that realm, but how versatile is it as a more regular Trail bike too?
And how does the Firebird stack up against some of the more game-on bikes in the category that we've ridden recently, including the Privateer 161, Forbidden Dreadnought, and Santa Cruz Megatower?
Does the somewhat higher than average bottom bracket height feel noticeable on the trail (for better or worse) or is it a non-factor?
Bottom Line (For Now)
The new Pivot Firebird is an exciting update to their longstanding Enduro race bike, and has already shown its mettle on the EWS race circuit, with a couple of top-5 finishes under Ed Masters and Matt Walker. We're excited to get on one and see how it stacks up, and are working to make that happen soon. Stay tuned for a full review to come.
FULL REVIEW
The Pivot Firebird is their big Enduro bike — which their team has been piloting to some great results on the EWS circuit — and when they updated the bike last fall, I was quite excited to get on one. And having now spent a few months with the new Firebird, it's proven to be an interesting take on making a fairly game-on race bike, but one that I really clicked with.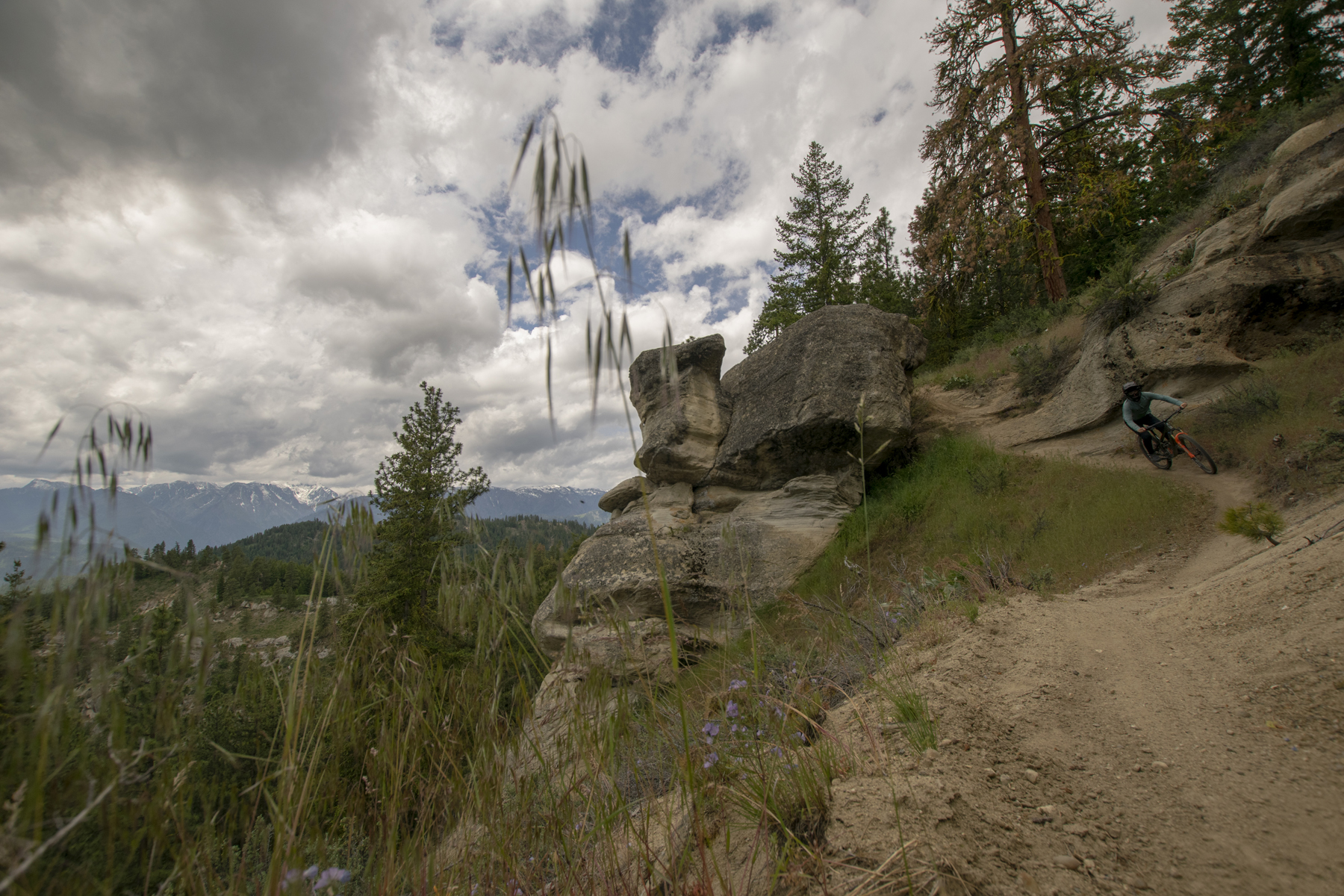 Fit & Sizing
At 6' tall, I'm right on the border between Pivot's recommended sizing for the Medium and Large Firebird, but I opted for the bigger bike and didn't second guess that decision at all. The Firebird's seat tube angle is steep enough to keep the cockpit from feeling too stretched out when seated, and while the Large Firebird is, overall, a pretty big bike, that added stability and room to move around on the bike was welcome on a bike that encouraged me to go fast and push hard, rather than take things easier and adopt a more playful approach.
I suspect that opting for a Medium Firebird would likely make the bike feel a bit more nimble in tight spots and potentially a little more versatile as an all-arounder Trail bike that wouldn't take quite as much speed to come alive, but — as will be a consistent theme throughout this review — that wasn't really how I was tempted to use the Firebird. For a bike that I was most inclined to use as a proper go-fast Enduro bike, the bigger, more stable size felt like a good call, and I was 100% happy with the fit.
Climbing
For a 165mm-travel Enduro bike, the Firebird is a solid, well-rounded climber. Pedaling efficiency is good, if not as exceptional as the very most efficient bikes in its class, but the Firebird's suspension does a better job of remaining active under power than most bikes that are significantly more efficient. The pedaling position is good, with a steep but not over-the-top seat tube angle, and the Firebird didn't give me any trouble keeping the front wheel planted on steep climbs or anything like that.
Put differently, the Firebird feels on the more efficient side of the spectrum for a 160+mm-travel Enduro bike, but it hasn't totally sold out other attributes in search of absolute maximum efficiency. If you come in expecting the Firebird to be a good climbing Enduro bike — which is to say that it'll get you to the top without much fuss, but doesn't want to do it terribly quickly — you've got the right idea. But the Firebird didn't trick me into thinking I was on a much shorter travel bike or anything like that.
The Firebird also stands out for being a fairly good technical climber for a long-travel Enduro bike (a class of bikes that does not, generally speaking, excel in that area). The combination of fairly firm, supportive suspension, a somewhat higher-than-average bottom bracket, and not wildly long wheelbase (again, by the standards of modern Enduro bikes) all add up to the Firebird being easier to pedal through and loft up chunkier sections of climbs than many of its competitors. Once again, if technical climbing prowess is truly a top priority, you're still probably better off with something more compact and shorter travel. But the Firebird is a good option for a true Enduro bike that makes fewer compromises on that front than a lot of bikes in its travel range.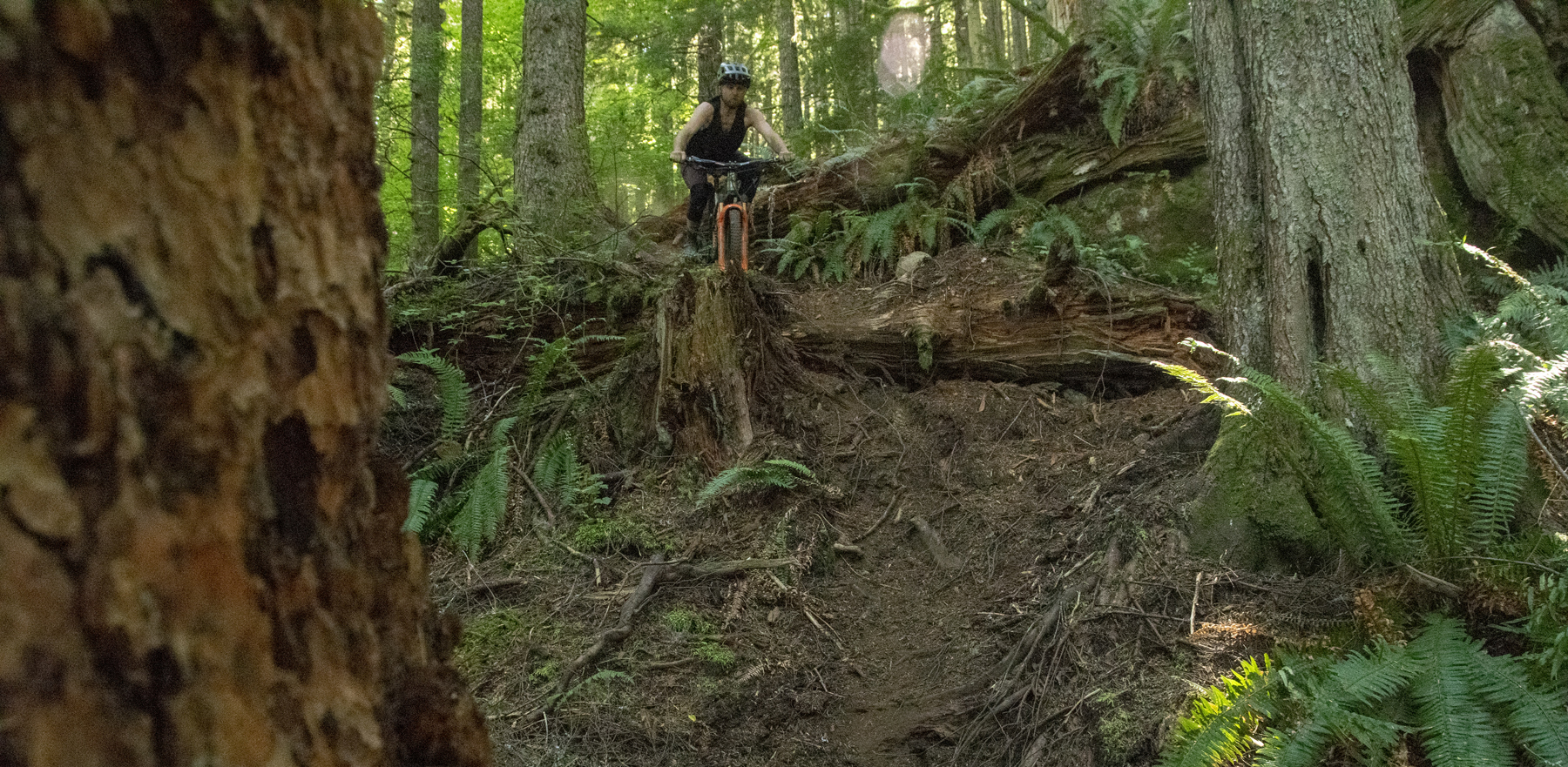 Descending
Pivot talks a lot about the Firebird being a game-on, speed-oriented bike first and foremost, and they're largely right to do so. The Firebird is a bike that works best when it's being pushed hard and ridden with a relatively aggressive touch and isn't especially interested in being ridden more lackadaisically. But in contrast to a lot of other big Enduro bikes that I'd say similar things about, the Firebird is notable for being somewhat more nimble in tight spots and not needing quite as much speed to come alive.
That's not to say that the Firebird feels like a bike that blurs the line between being a long-travel Trail bike and a full-on Enduro one or anything like that; rather, it feels like a proper Enduro bike for a rider who wants a bike that's fairly stable at speed, but a bit quicker to change direction than most similarly-stable bikes, and is willing to ride somewhat precisely to get the most out of the bike. And if that sounds appealing to you, the Firebird is excellent. In terms of its preferred body positioning, the Firebird has a slight bias towards getting forward and weighting the front end but is overall relatively neutral, and also its sweet spot feels plenty large, no doubt helped by my decision to size up to the Large.
The Firebird's suspension performance is also quite good and feels in keeping with the rest of the design and intentions of the bike. It's on the firmer, more supportive end of the spectrum as opposed to being super plush and cushy, but small bump sensitivity is plenty respectable, and the Firebird doesn't feel like it's wildly emphasizing any one trait over another. We'll cover the options for air and coil shocks more in the "Build" section below, but the Firebird strikes me as a bike that I'd expect to work well with either, depending on your priorities and what you want to emphasize. Riders looking for a very plush, muted ride are probably not going to find the Firebird to be their first choice. However, the combination of very good support and composure that it offers first and foremost, while still having respectable, if not outstanding support and traction works very well in concert with everything else the Firebird has to offer, and it comes together to feel like a harmonious, well-considered whole.
One of the more standout attributes of the Firebird is that it feels especially nimble and easy to change direction once you get it up to speed, for a bike that is as stable as it is.
That qualifier is important. The Firebird is a fairly long, stable Enduro bike first and foremost, but it is more nimble than a lot of other bikes that are similar in that regard. And I think the somewhat higher-than-average bottom bracket is a significant piece of that puzzle. The best way I can describe it is that the Firebird feels notably quick to lean side to side, and especially in situations like a tight, awkward chicane, the ease with which it stands up out of a corner and initiates the next one is readily noticeable.
The tradeoff there is that the Firebird isn't the most engaging bike when it comes to loading the bike up through the pedals and really railing through a well-supported banked corner, and compared to a lot of other (mostly lower) bikes, doesn't give quite the same feeling of being able to get low "in" the bike and steer by pushing through your feet as effectively. The Firebird just works better doing its steering through more aggressive lean angles and more steering input at the handlebars, but if you're willing to work with it on that point, it handles very well.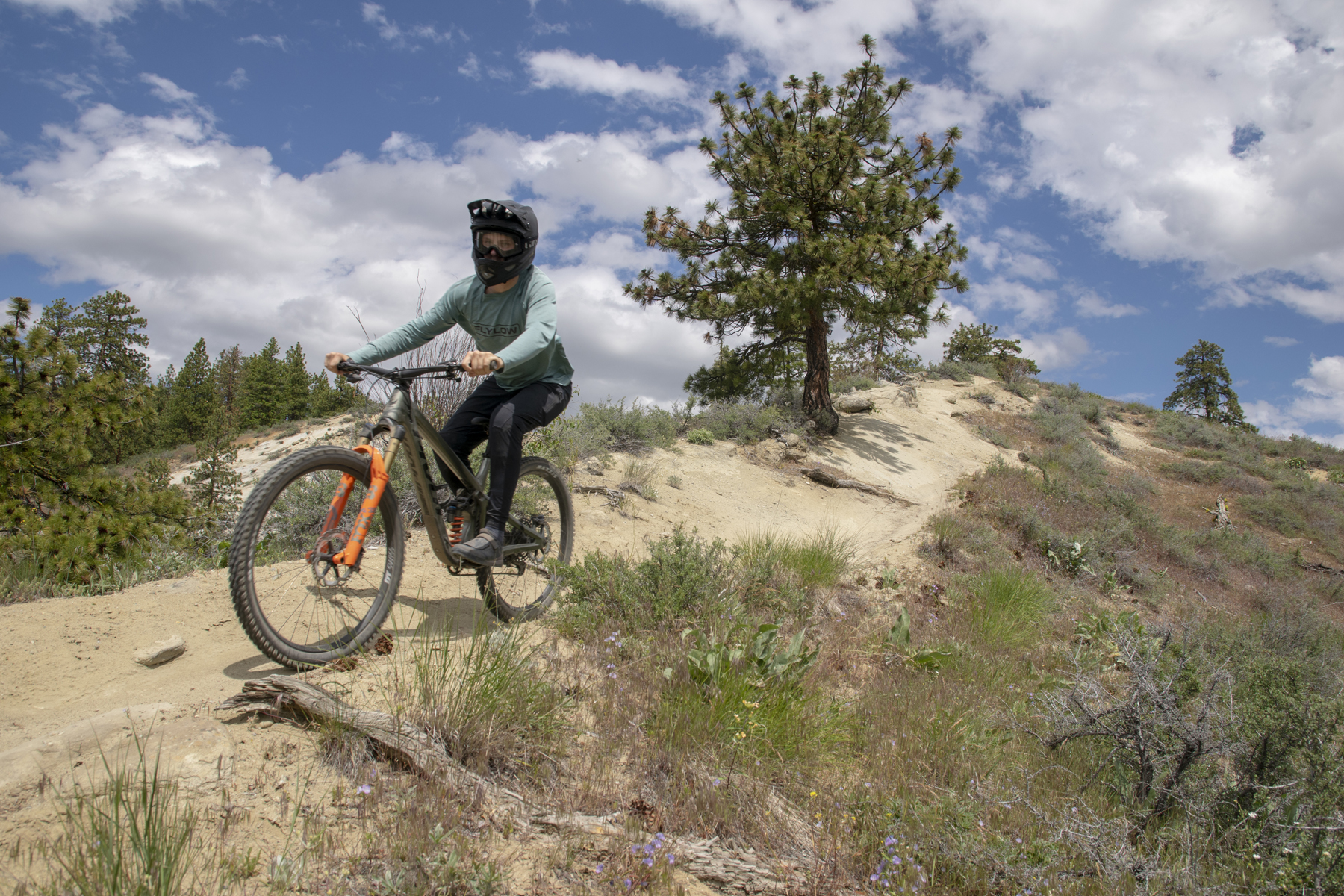 Of course, all that is not just down to bottom bracket height. The Firebird is also not wildly slack (64° headtube angle in the Low position) nor is it crazy long (438 mm chainstays and a 1,267 mm wheelbase, for our size Large test bike), all of which add up to it being a bit quicker handling in a number of respects compared to many other (generally longer, slacker) bikes in its class. But the exact handling feel of the Firebird is a little bit of an outlier in this class, and I think the bottom bracket height is a significant part of the equation.
That said, it didn't take me long to adapt to the Firebird's preferred way of doing things, and especially for a bike that's meant to be an EWS race bike — which involves a lot of semi-blind racing on courses that often involve tight, awkward sections, I think those tradeoffs make a bunch of sense. The Firebird feels extremely cohesive and well thought out, with real clarity in what Pivot wanted to target for the bike. And while that target is a little bit different than most of the other big Enduro bikes I've been on recently, it makes sense, and the combination really clicked for me. Particularly for courses that blend some high-speed, flat-out sections with a number of tight, janky ones, the Firebird would be an excellent Enduro race bike.
The Firebird also isn't the quietest bike out there. I originally miss-attributed much of the noise I was hearing to rattling from the finned Shimano XT brake pads, but having done some more experimentation, I think it's actually mostly down to cable rattle inside the downtube. It wasn't ever too bad, and I could have mitigated it further with some extra housing dampers and the like, but folks looking for a dead silent bike should be warned. On the flip side, Pivot is one of the few companies I can think of to put ports for routing the brake hose through either side of the frame, depending on which side you run that lever on (likely with some encouragement from their Brit- and ANZAC-heavy athlete roster).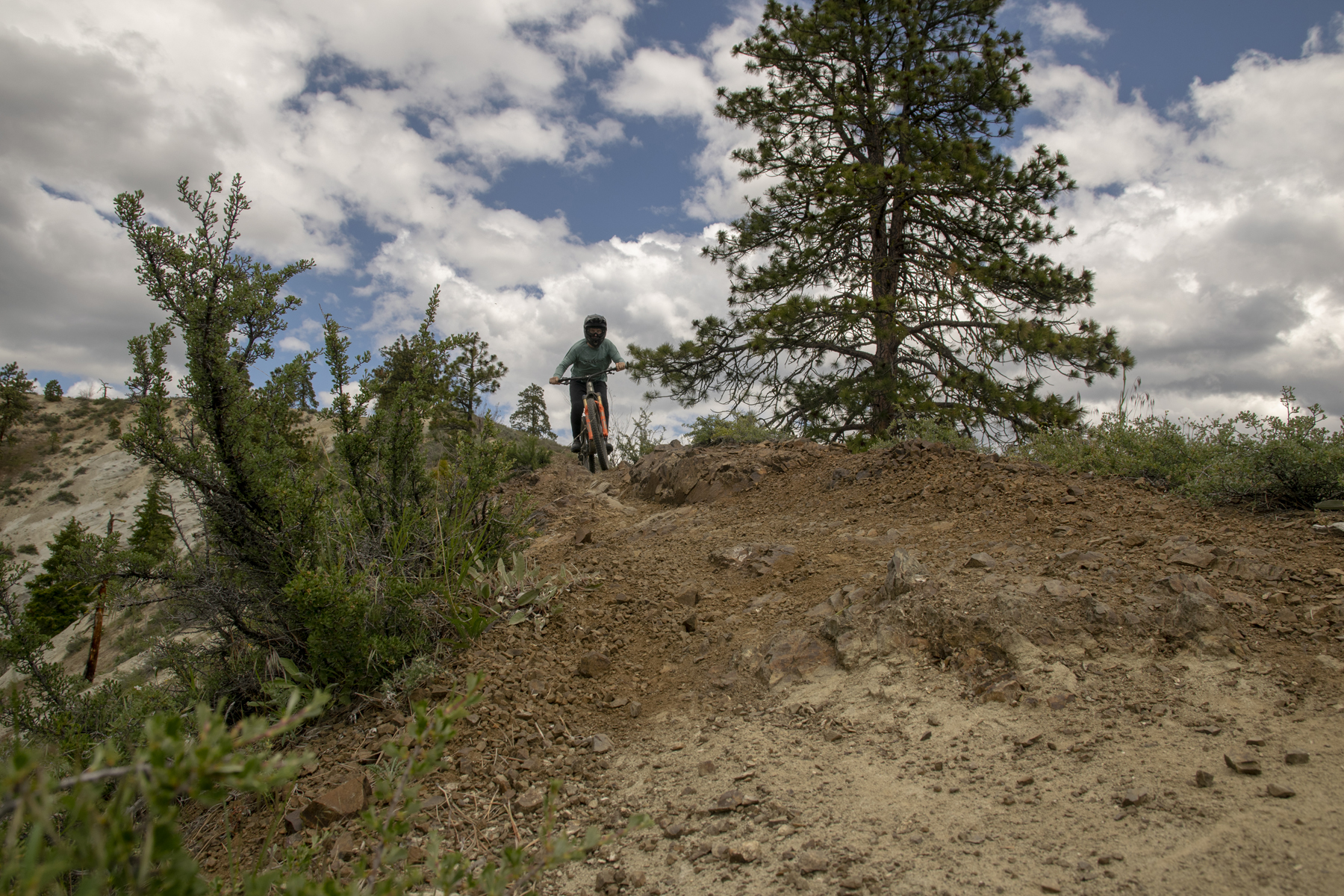 The Build
I tested the Firebird in Pro XT/XTR Coil guise, and (as you'd hope for from an $8,200 build), it's quite nice all around. The Shimano XT drivetrain (with an XTR derailleur) shifts great, and though I've often complained about various models of Shimano's brakes developing a wandering bite point after a bit of use, this particular pair of XTs didn't give me any trouble. The Fox 38 / DHX2 Factory suspension combination is excellent, and the DT Swiss XM1700 wheels are a great call for a nice aluminum wheelset that's not wildly expensive (though you could maybe argue that their burlier sibling, the EX1700, would be more appropriate on a 160+ mm travel Enduro bike).
Pivot offers both air and coil shocks on the Firebird, and while it doesn't feel like a bike that's clearly better suited to one over the other, I didn't second guess my decision to test the Firebird with a coil build. I did drop to a 475 lb spring from the stock 500 lb one after a few rides (which is right in line with Pivot's recommendation for my 170 lb weight) and was happy with the results. The Firebird's linkage felt plenty progressive to handle a coil without issue, and while an air shock would likely make the rear suspension feel a touch more lively (and save a little weight), I was happy with the choice of the DHX2.
My only significant complaint with the Firebird's part spec was the choice to include 2.5'' Exo+ casing, MaxxTerra rubber Maxxis Assegai tires at both ends. Pivot's argument is that they wanted to keep a bit more Trail bike versatility in the Firebird, and while they're certainly right that heavier casings and stickier rubber would be more work to haul around, I found the stock tires to feel like something of a limiting factor when it came to downhill performance. Stickier MaxxGrip rubber makes a huge difference when it comes to wet root and rock performance in particular (which I'll grant is more of an issue in my neck of the woods than in Pivot's home state of Arizona) and the light Exo+ casings also felt squirmier and less supportive than I'd prefer on this sort of bike, especially with a relatively high volume rear tire such as the 2.5'' Maxxis Assegai. I also promptly put a couple of significant dents in the rear wheel before swapping to DH casing Continential Kryptotals after a few rides, and those felt much better suited to the Firebird than the stock tires.
I wouldn't feel so strongly about the tire choice if I wasn't as into the Firebird as a go-hard Enduro race bike, but because it does that so well, I found myself regularly overwhelming the lighter-duty stock tires. While it does a commendable job of not feeling too awkward in tighter spots for what it is, the Firebird doesn't really strike me as a bike for folks who want to blur the line between a long-travel Trail bike and an Enduro one, so trying to walk a middle ground with tire choice doesn't make a ton of sense to me. But of course, tires are an easy swap and something that's going to wear out anyway, so it's not a huge deal by any stretch.
I did also swap out the stock bar and stem for my preferred Renthal alloy bar / Syntace 40 mm stem combo, due to my wrists' preference for less backsweep than the 9° stock Pivot branded bar. That one's entirely down to my personal preference / physical dimensions so I can't really fault Pivot for the choice, but I was more comfortable on the Firebird once I made that change.
My final (very minor) quibble with the build is that Fox's current generation Transfer lever has a somewhat limited adjustment range in terms of roll around the bar in Shimano I-Spec integrated clamp guise. I run my brake levers a lot flatter than most people, which definitely exacerbates the issue, but I'd prefer to be able to rotate the lever farther back on the bar so I don't need to reach for it quite so much. It didn't present a major issue for me, but there's some room for improvement there, and in particular, folks who both run their brake levers fairly flat and have smaller hands might have some trouble.
The tweaks that I made to the build spec were largely just down to personal preferences, though (and things that I wind up changing on a lot of review bikes for similar reasons). Overall, the Pro XT/XTR Coil build treated me well and felt mostly well chosen for the overall design and intentions of the Firebird.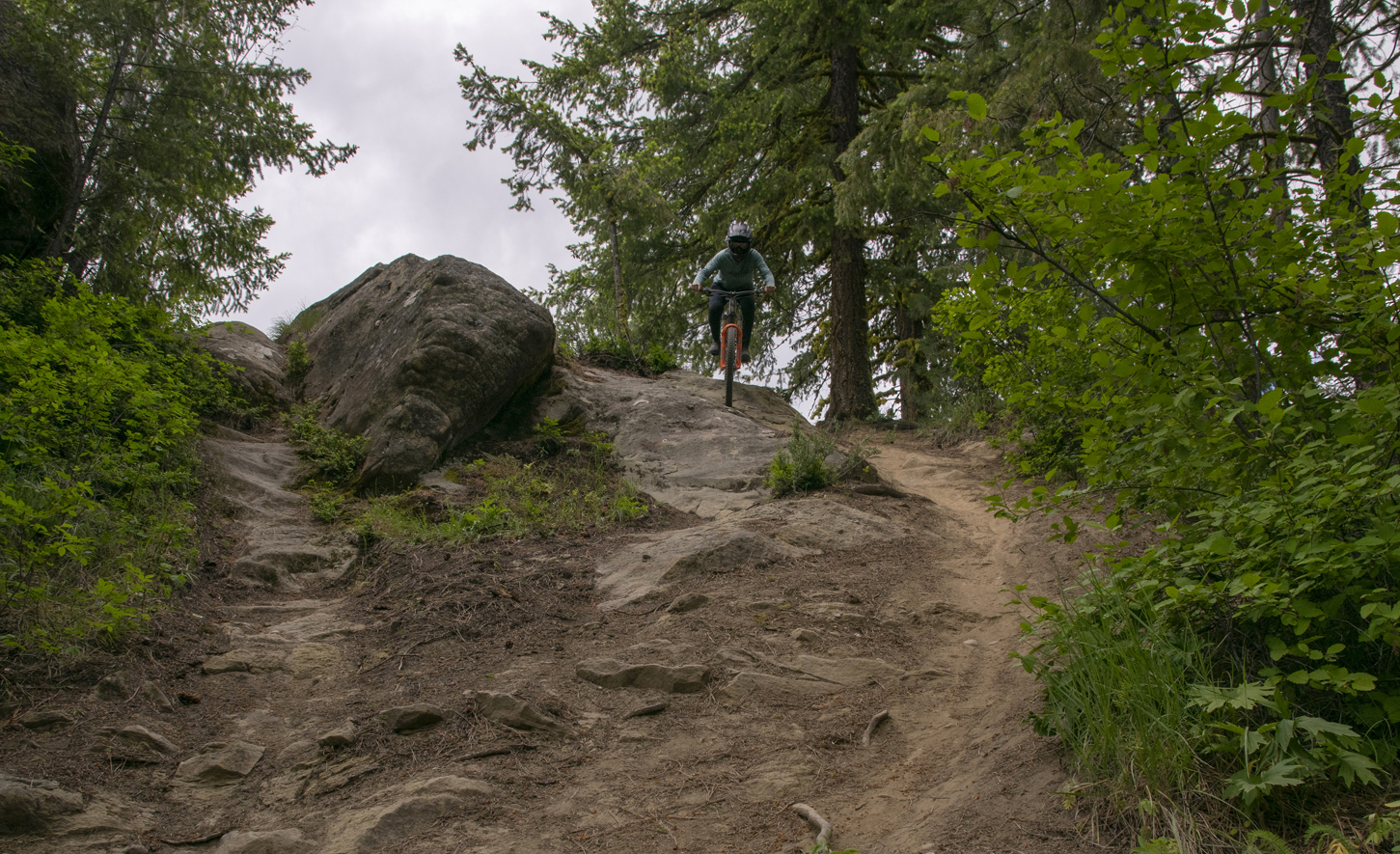 Geometry Settings
I briefly tried the high setting on the Firebird for the sake of completeness but found myself with a clear preference for the low one. The Firebird isn't wildly slack and has what is, if anything, a moderately high bottom bracket even in the low setting, so I really wasn't inclined to deviate from there. The high setting maybe makes the bike feel a little more versatile as an all-arounder Trail bike, especially in areas where that involves pedaling through a whole lot of rocky chunk (like Pivot's home of Arizona), but that wasn't how I was inclined to use the Firebird, and as a more winch-and-plummet Enduro bike in the PNW, the low setting felt like clearly the way to go.
Comparisons
Both the Firebird and the 161 are fairly game-on Enduro bikes that are going to work best for people who want to push them fairly hard most of the time, and also remind me of each other a fair bit in terms of their fit and preferred body positioning (at least when you're standing up on the pedals — the exceptionally steep seat tube on the 161 makes the seated pedaling position feel significantly different). Both bikes also feel best with a somewhat firmer, more lively suspension setup, and both want to be ridden relatively dynamically and actively, as opposed to being super planted and just mowing down whatever's in their path.
But there are significant differences in other areas. The Firebird's small bump sensitivity is better, and it's a little easier to muscle around in awkward tight spots. The 161 pedals more efficiently, though it gives up a fair bit in terms of traction and suspension sensitivity under power to get there. The substantial difference in bottom bracket height is also apparent in their overall handling: the much-lower 161 is easier to really load up through the pedals and carve through well-supported, good corners; the Firebird is quicker to throw side to side in tighter, jankier spots.
As with the Privateer 161, this is one of the better comparisons here, but there are still significant differences. The Jekyll and Firebird are in the same ballpark when it comes to pedaling efficiency, and both favor a somewhat more firm, supportive suspension setup over being super plush and planted. But the Jekyll is more stable at speed, less nimble in tight spots, and a bit more adept at bulldozing whatever's in its path at the expense of some of the notably-sharp handling that sets the Firebird apart. The two bikes aren't miles apart or anything — and again, they're a solid comparison overall — but the ways they differ are fairly clear.
In some respects, these two are pretty similar, but when you take the whole package into account they don't remind me of each other all that much. The Rallon is the more efficient pedaling bike by a narrow margin, and overall feels like a little bit less bike than the Firebird — it's lighter, more nimble, not quite as stable, and a little less planted in its suspension performance.
Their differences in bottom bracket height are also notable in how they contribute to the overall handling feel of the two bikes. The Rallon works better than the Firebird at being really loaded up through your feet, settling "into" the bike, and carving through a well-supported corner; the much-higher Firebird favors staying a little lighter on your feet, leaning the bike more aggressively, and adding a little more steering input to produce similar results.
But if you like the sound of the Firebird, but are worried it'll be overkill for you and your riding, the Rallon is one of the closest things to a slightly dialed-back Firebird that I can think of; conversely, the Firebird is a bit like a more stable, more planted version of the Rallon in many respects.
The Megatower feels like it's got similar goals to the Firebird in terms of intended use, but it goes about them somewhat differently. The Megatower isn't quite as efficient under power as the Firebird, but it's more plush and planted in its suspension performance, offers a bit more traction, and is a little more stable in a straight line. The Firebird is quicker to change directions and feels lighter on its feet but takes a slightly more active touch and more precise riding to get the most out of it.
The Megatower also feels biased towards a slightly more upright body positioning and more neutral stance, whereas the Firebird favors getting a little more forward and specifically weighting the front end.
Take everything I just said about the Megatower and amplify it. The Range is about as stable, planted, and composed when plowing through rough trails at speed as ~170mm Enduro bikes get, but it's also notably inefficient under pedaling power, and a lot of work at lower speeds and in tighter spots. The more you want a bike that you can pedal to the top, but that really emphasizes high-speed, rough terrain descending performance over all else, the more sense the Range makes; the Firebird is going to be the better-rounded, more versatile option for most people.
Pretty different. The Capra feels something like a slightly easier-going, less game-on version of the Megatower. It's still definitely a big Enduro bike, but compared to the Firebird, it's happier being ridden less aggressively and doesn't need as much speed and rider input to come alive. It's also more plush and planted in its suspension performance, less lively and slightly less nimble, and more focused on being forgiving and approachable than outright fast.
Very similar story to the Capra. The Gnarvana is probably a little bit more stable and game-on than the Capra, but not by all that much — the Firebird still feels like the more focused race bike, whereas the Gnarvana is happier not going flat out 100% of the time.
Super different. The 4060 LT is more plush and cushy, and significantly quicker-handling and more playful feeling than the Firebird. The Firebird is more focused, more stable, more demanding, and takes more speed to come alive. The 4060 LT is more of a modern take on a freeride bike.
Quite different. The Dreadnought is more stable in a straight line and does a better job of simply mowing down rough sections of trail, but, in sharp contrast to the notably nimble, crisp-handling Firebird, can feel pretty awkward and hard to muscle around in tighter spots. The two bikes aren't far off from each other in terms of pedaling efficiency and all-around versatility, but the Firebird feels much more precise and sharp, whereas the Dreadnought is more of a blunt instrument.
The G1 is more stable and composed at speed than the Firebird, but also needs more speed to come alive and is more work to muscle around in tight spots. There are some similarities in their suspension performance when it comes to where they land on the spectrum from very plush and planted to supportive and lively, but their differences in geometry and handling greatly overshadow those similarities. The G1 is also, if anything, a little more efficient under power, though that difference is fairly slight.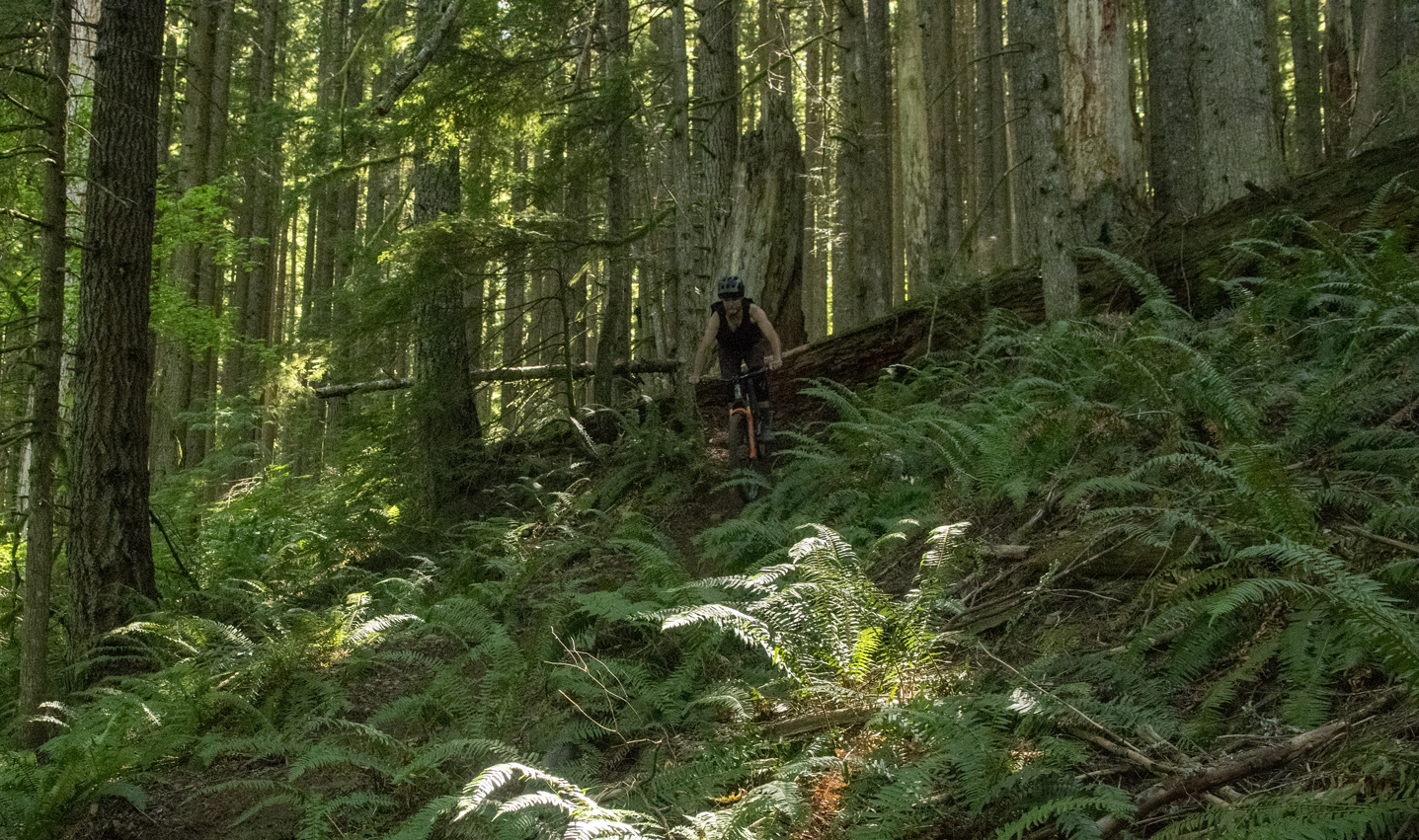 Who's It For?
The Firebird is a bike that wants to go fast and be pushed fairly hard to come alive, and it feels like a great option for folks who want an Enduro race bike that is fairly stable and composed at speed but is notably sharp-handling and agile given its level of stability — or for folks who aren't necessarily racing but tend to ride steeper, more technical descents quickly. There are better options for people who want a bike that'll just steamroll everything in its path, but those sorts of bikes tend to feel less precise and be more work to muscle around when things get tighter and more awkward, and the balance that the Firebird strikes there is a really nice one.
Bottom Line
The Pivot Firebird isn't the most wildly aggressive-looking Enduro bike on paper, and it is indeed a bit quicker-handling and sharper feeling than a number of the (mostly longer, lower) options on the market. But it's still a pretty game-on feeling bike that wants to be pushed hard and go fast when it can, and that combination makes a ton of sense for an Enduro race bike that's trying to balance flat-out stability with still being relatively easy to manuver in the tighter, jankier parts of modern EWS courses. It's a really good bike for people who are either actually racing, or just want to push hard and go fast on their everyday rides and for whom the Firebird's combination of somewhat firm, lively suspension and blend of handling traits sounds appealing.