2023 Santa Cruz Nomad
Wheel Size: 29'' front / 27.5'' rear
Travel: 170 mm rear / 170 mm front
Material: Carbon Fiber
Price: Complete bikes $5,649 to $11,199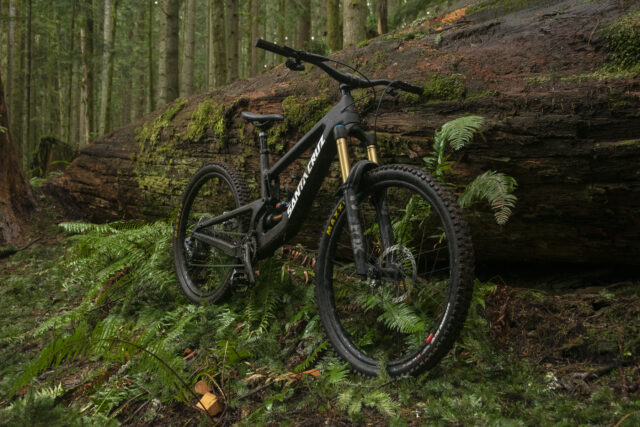 Intro
Since the original Megatower launched a few years ago, Santa Cruz has had two long-travel Enduro bikes in their lineup, with the Megatower positioned as the more game-on, race-oriented model and the Nomad as the more versatile, playful, freeride-focused option. To that end, the last few generations of the Nomad have had 27.5'' wheels (and 26'' before that), but the new sixth-generation Nomad now rocks a mullet, with a 29'' front wheel the lone option across the size range.
Santa Cruz still talks about the new Nomad in similar terms, saying "the Nomad's forte is being ready and willing to go wherever, whenever. The only thing it needs is a rider willing to press send." We really liked the outgoing Nomad 5 and found it to be notably versatile for a 170mm-travel bike, so it doesn't sound like Santa Cruz has changed the intentions for the new bike a whole lot. But what kind of difference will the big front wheel make, and what else has Santa Cruz tweaked while they were at it?
The Frame
As you'd expect, the Nomad still uses Santa Cruz's typical VPP suspension layout with a lower-link driven shock to produce its 170 mm of rear wheel travel. As with the prior-generation Nomad, there's no aluminum version on offer, but Santa Cruz's typical C and CC carbon options are here, with the former being a less-expensive option used on the more affordable builds, and the fancier CC frame trimming a bit of weight, allegedly at no cost to strength or stiffness. The rest of the details are in line with everything Santa Cruz has been doing of late — you get internal cable routing, a threaded bottom bracket, a flip chip to toggle between two geometry settings, room for a water bottle inside the front triangle, and so on.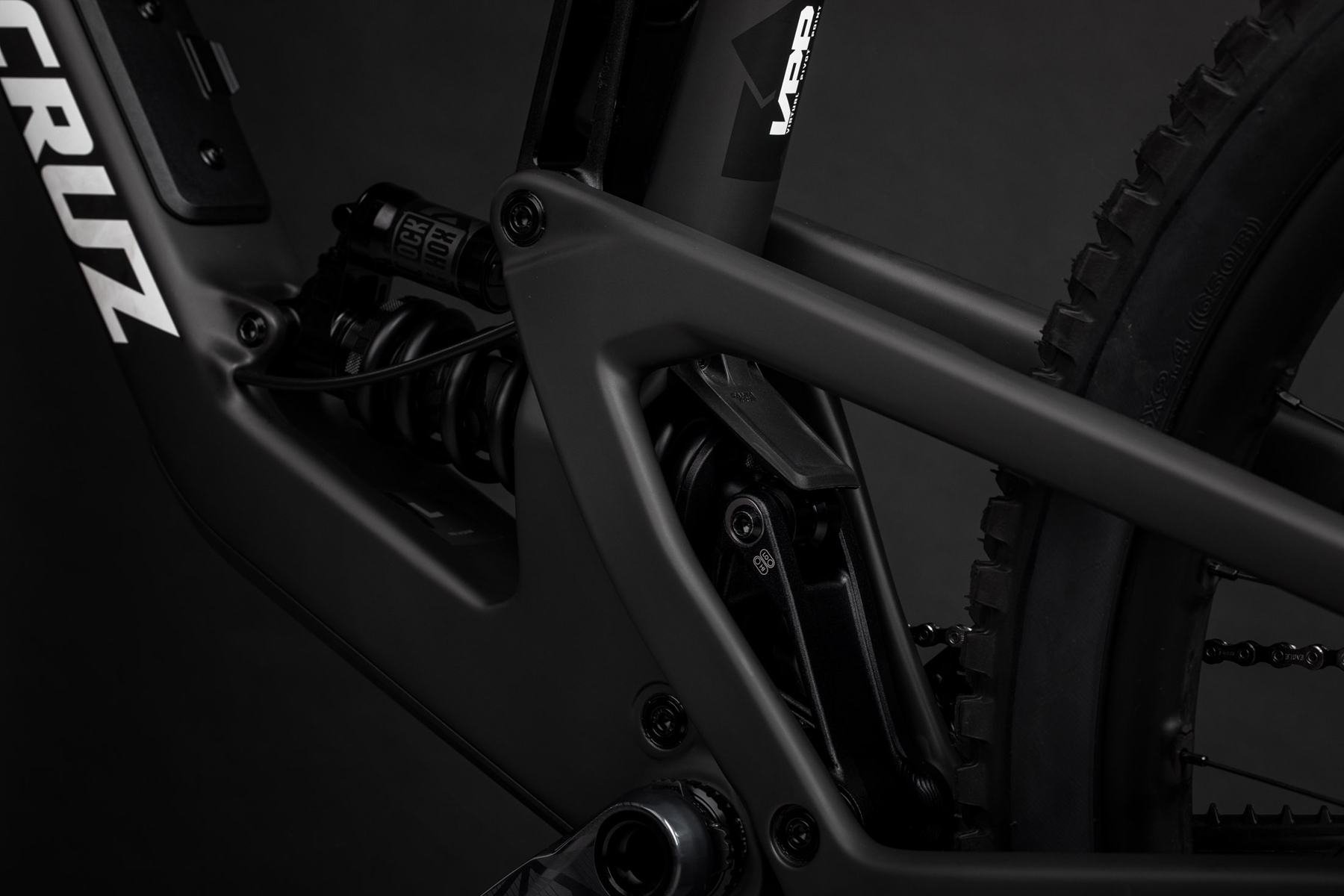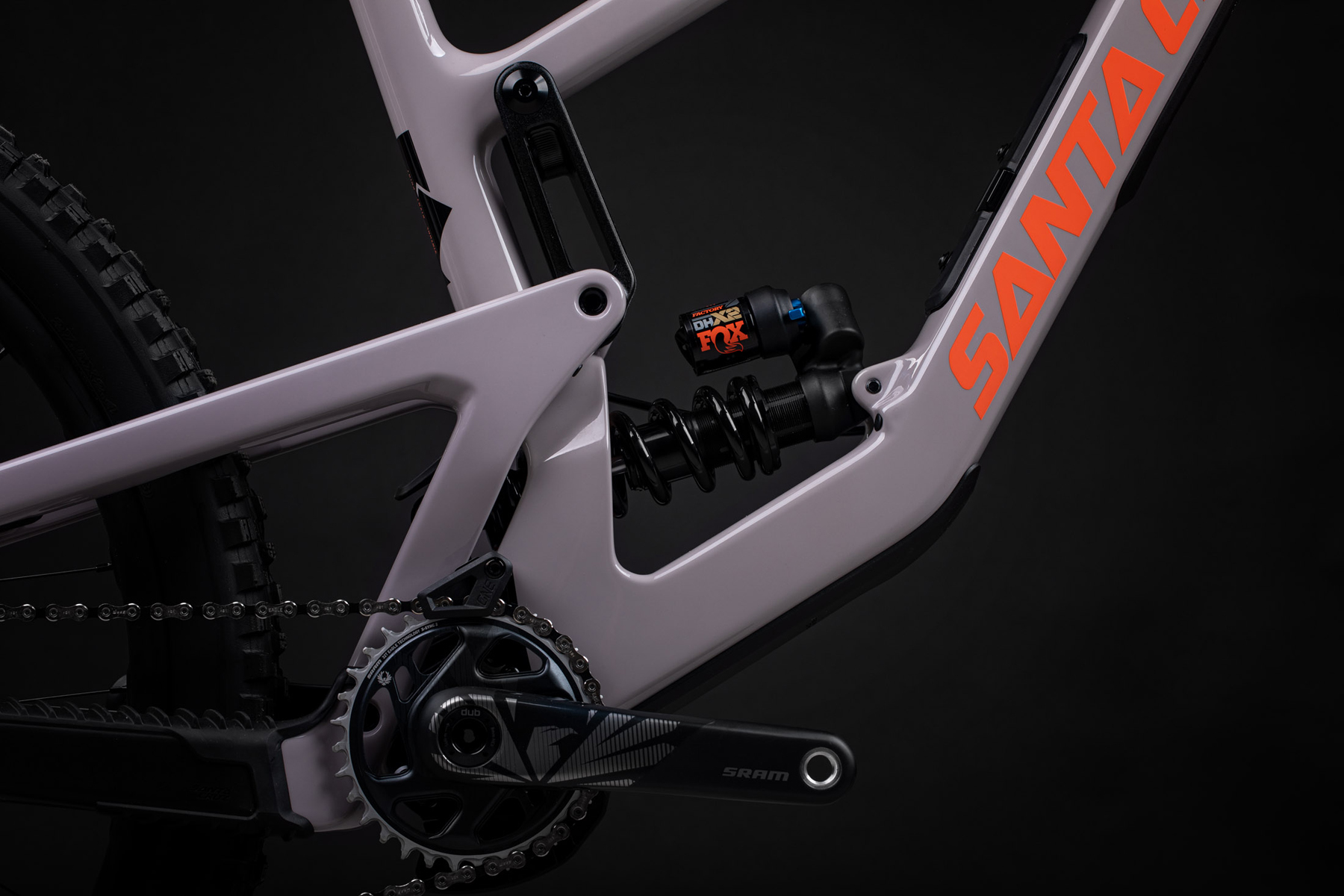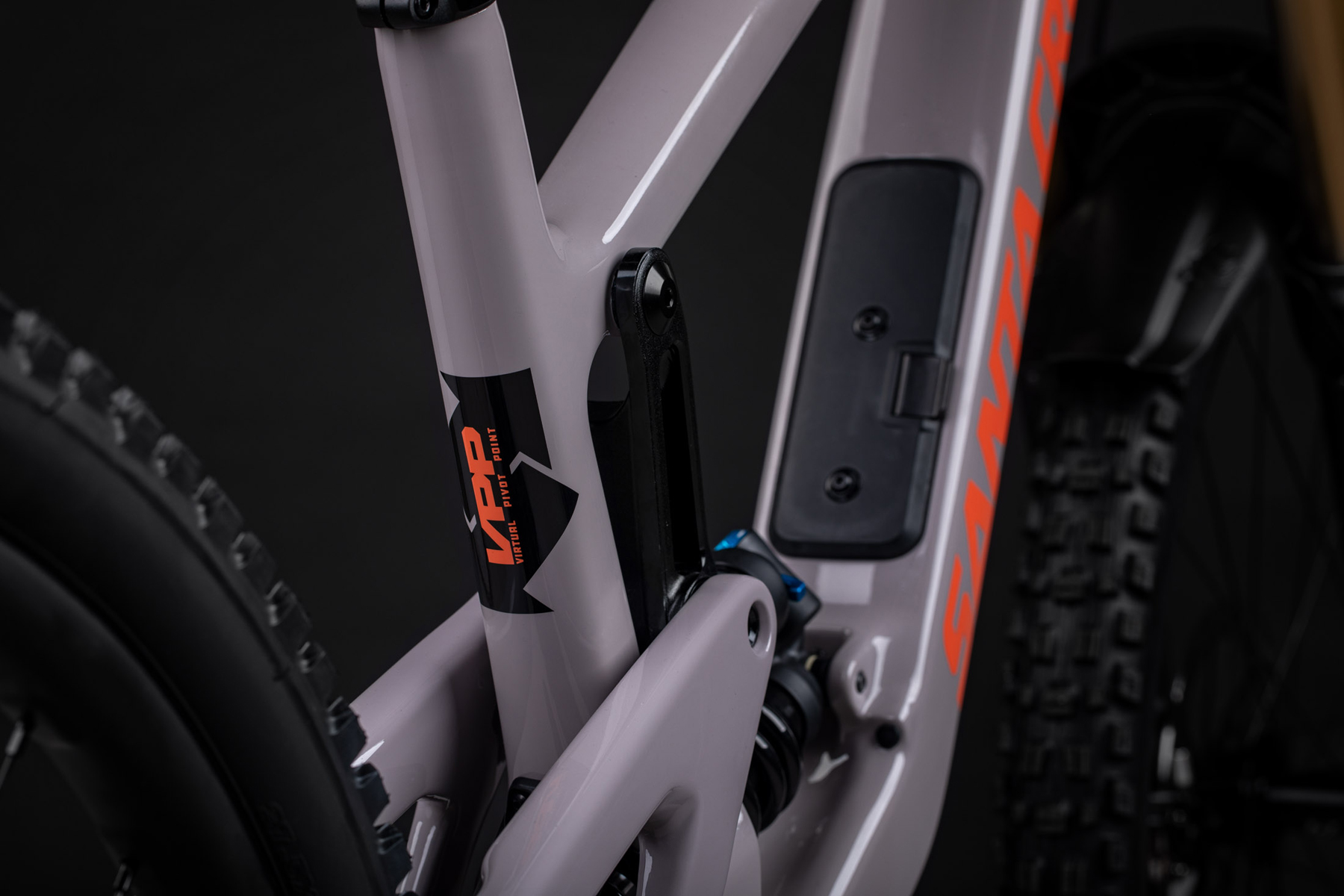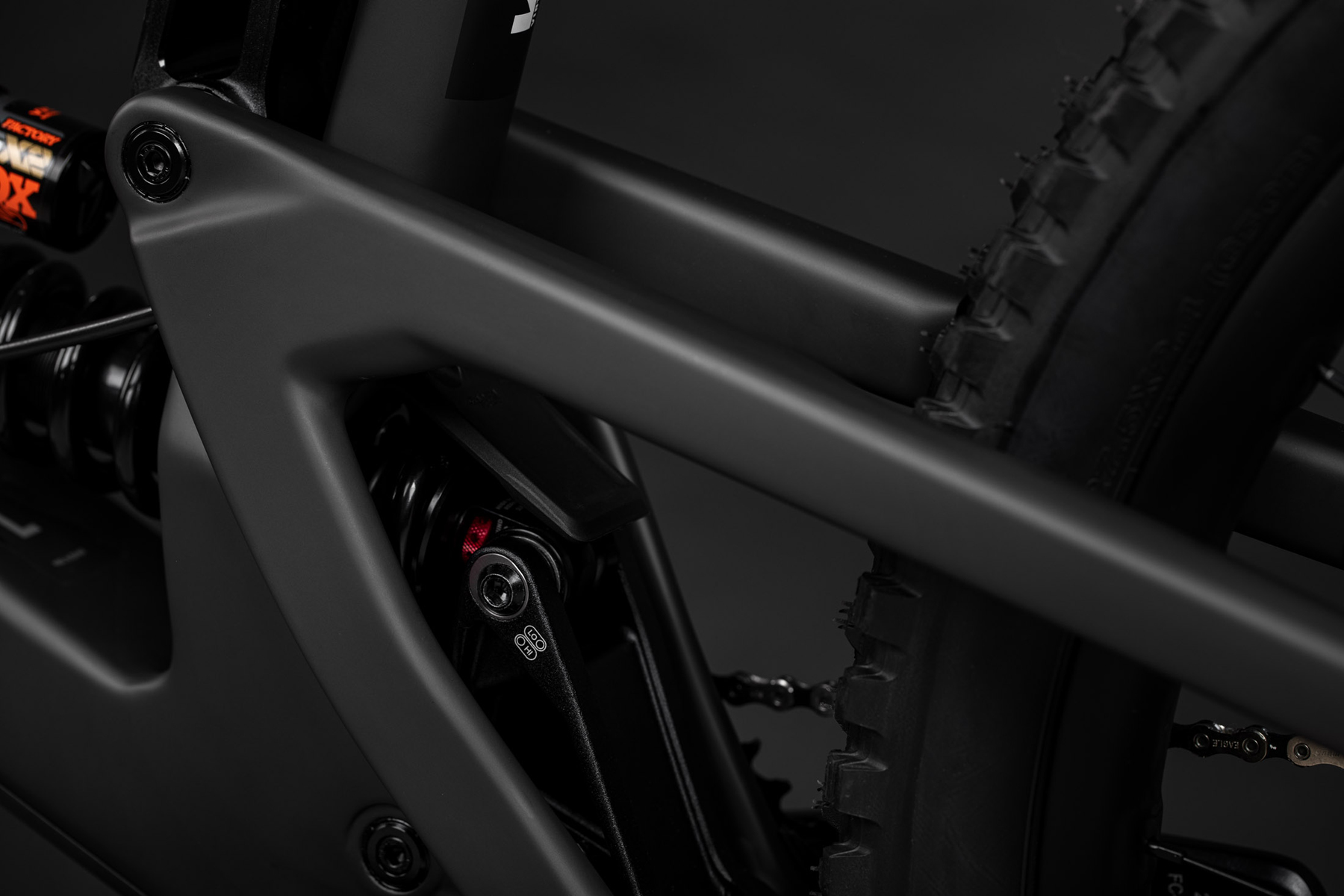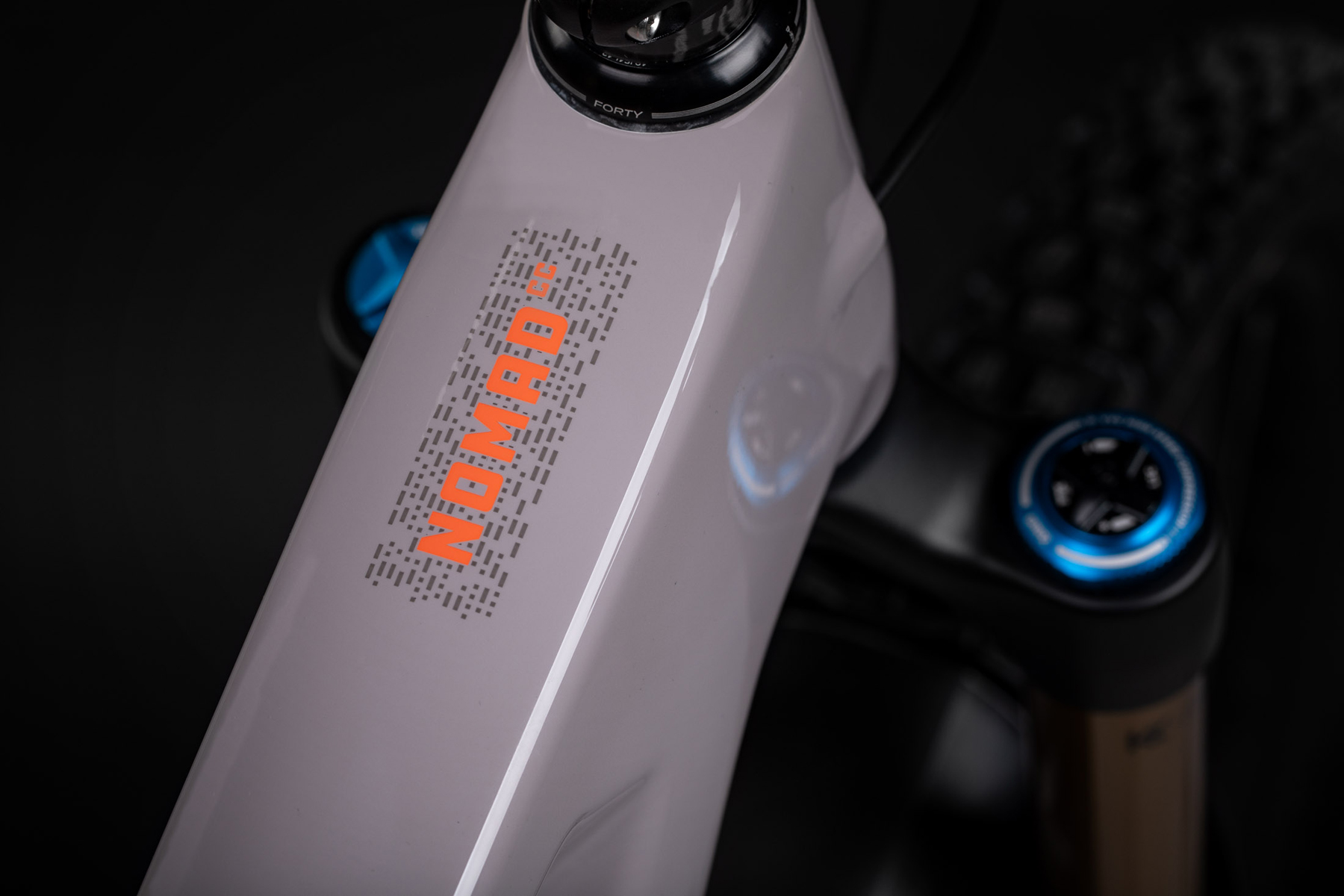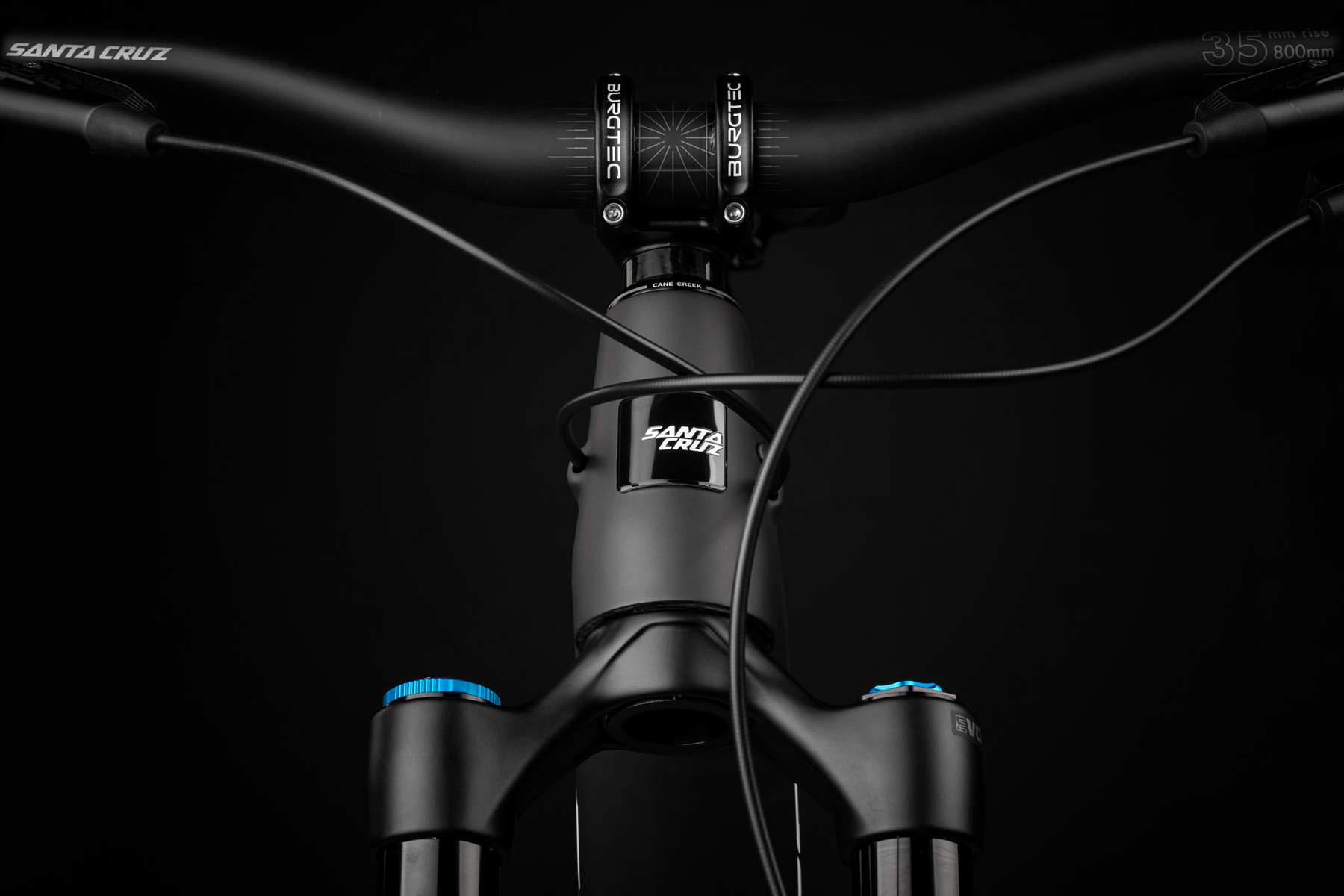 But Santa Cruz hasn't just slapped a big front wheel on the Nomad and called it a day. The frame now features their "Glovebox" internal downtube storage that we've seen on the latest Hightower and Megatower, accessed through a hatch underneath the water bottle mount. That storage compartment comes with a couple of neoprene organization sleeves to keep things tidy and quiet. There are some notable updates to the suspension kinematics, too. Anti-squat has been lowered slightly, which Santa Cruz says helps with small bump sensitivity and suspension harshness, and the overall leverage ratio has been lowered slightly and the curve made slightly less progressive. With those changes, Santa Cruz sought to keep the new bike more stable under body weight shifts and keep the bike tracking a little more smoothly throughout its stroke. The new Nomad is still quite progressive overall (about 3.1:1 to 2.25:1, in a nearly straight line) and anti-squat sits at about 130% near sag (with 32/24 gearing).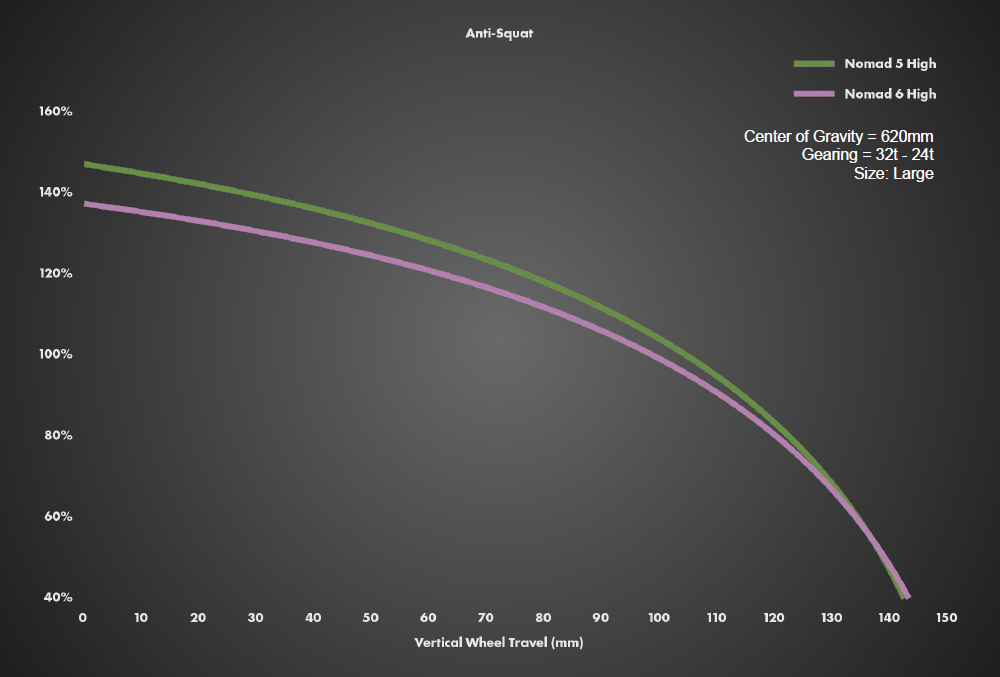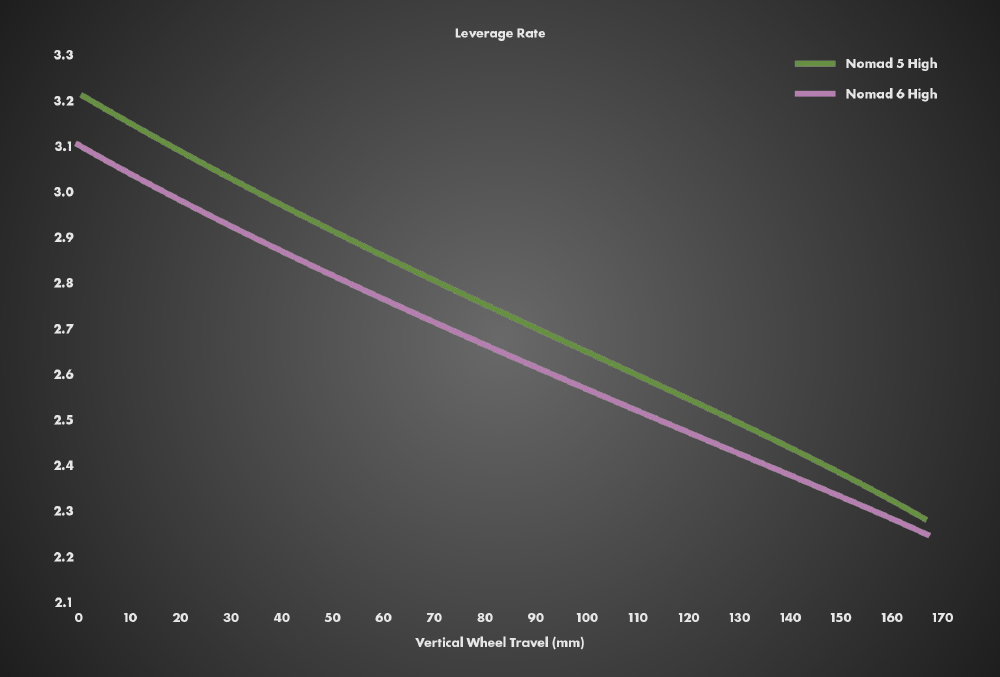 Fit & Geometry
In most respects, the geometry of the new Nomad hasn't changed a whole lot compared to the outgoing model (though Santa Cruz has added a new XXL size that wasn't offered previously). The headtube angle is only a couple of tenths of a degree slacker, reach stays roughly the same (give or take a few millimeters, depending on the size in question), the bottom bracket is a couple of millimeters lower, and the seat tube angle is about the same, too (actually getting fractionally slacker in the smaller sizes, and marginally steeper in the big ones). It's not like the old bike was looking out of date, though — Santa Cruz has proven that they're willing to give their bikes a major overhaul when that makes sense (the new Megatower) and keep the tweaks more subtle when appropriate (the new Hightower)
The one area where things have changed a bunch is chainstay length — the new Nomad has gotten substantially longer there. Santa Cruz's take (which I 100% agree with) is that proportionally longer chainstays help with handling balance on a mixed-wheel bike. Both the earlier Nomad V5 and the new 6th-generation bike feature variable length chainstays based on frame size, but the new bike's stays are longer overall (especially in the smaller sizes), ranging between 440 mm (Small) and 451 mm (XXL); interestingly, that's longer than the just-updated Megatower, in any given size, despite the fact that the Nomad is supposed to be the more playful, easy-going option. But as we've consistently found on mixed-wheel bikes, that wheel size combination tends to make for a relatively short-feeling back end (more so than the number on the geometry chart would suggest) so we think Santa Cruz is very likely onto something here — and are quite excited to see how it pans out on the trail.
The Builds
Santa Cruz offers the Nomad in what are essentially five different builds, with air and coil shock options and Reserve carbon wheel upgrades expanding it out to ten versions. The X01 builds get the top-shelf Carbon CC frame; the GX ones on down feature the Carbon C option.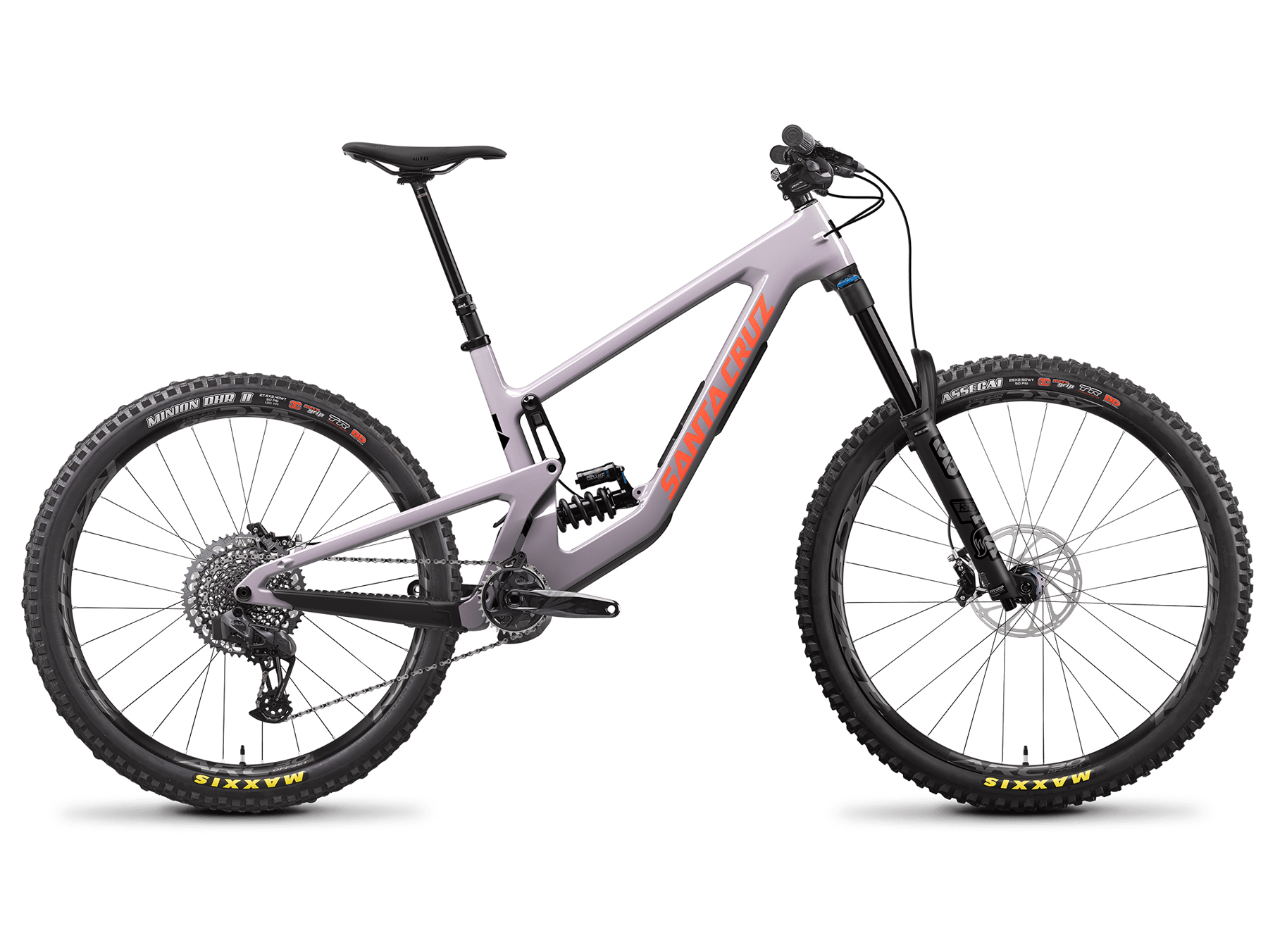 As per usual for Santa Cruz, the "Coil" builds are spec'd with DoubleDown casing tires while the "Air" versions get Exo+ ones. In either case, you get a 2.5'' MaxxGrip Assegai up front and a 2.4'' DHRII in back, in MaxxTerra rubber (air builds) or MaxxGrip (coils).
Some Questions / Things We're Curious About
(1) The prior generation Nomad was a notably playful, easy-going 170mm-travel bike. Has the switch to a mixed-wheel setup (and the now notably-long chainstays) changed that?
(2) And how does the Nomad compare to the just-updated Megatower, which has largely similar geometry and suspension travel, but matching 29'' wheels? Santa Cruz talks about the two bikes pretty differently, so it'll be very interesting to see how they compare.
Flash Review
Blister Members can read our Flash Review of the new Nomad for our initial on-trail impressions. Become a Blister Member now to check out this and all of our Flash Reviews, plus get exclusive deals and discounts on gear, and personalized gear recommendations from us.
Bottom Line (For Now)
We really liked the previous Nomad V5 and thought that it made a great case for why 27.5'' wheels are still the right choice for some riders. The new Nomad V6 has gone for the now-trendy mixed-wheel setup, so we're pretty curious to see how it compares to the old bike, and if the changes Santa Cruz has made make for a very different ride experience, or if it's preserved a lot of the character that made the old bike great. We should be swinging a leg over the new Nomad soon, so stay tuned for a full review to come.
Intro
I really liked the fifth-generation Nomad that I reviewed a few years ago, but it definitely felt like a bit of a throwback in some ways. It was an especially nimble, lively-feeling 170mm-travel bike that felt more like an updated take on a freeride bike than most of the Enduro race-focused bikes that occupy that travel bracket these days. That was a blast on the right trails, but a definite outlier in the market at that point.
The new Nomad V6 is pretty different from the bike that it replaced but it's still a notably nimble bike for its travel range while also being a lot more stable and confidence-inspiring when pushing hard and going fast, and that combination of traits is pretty special.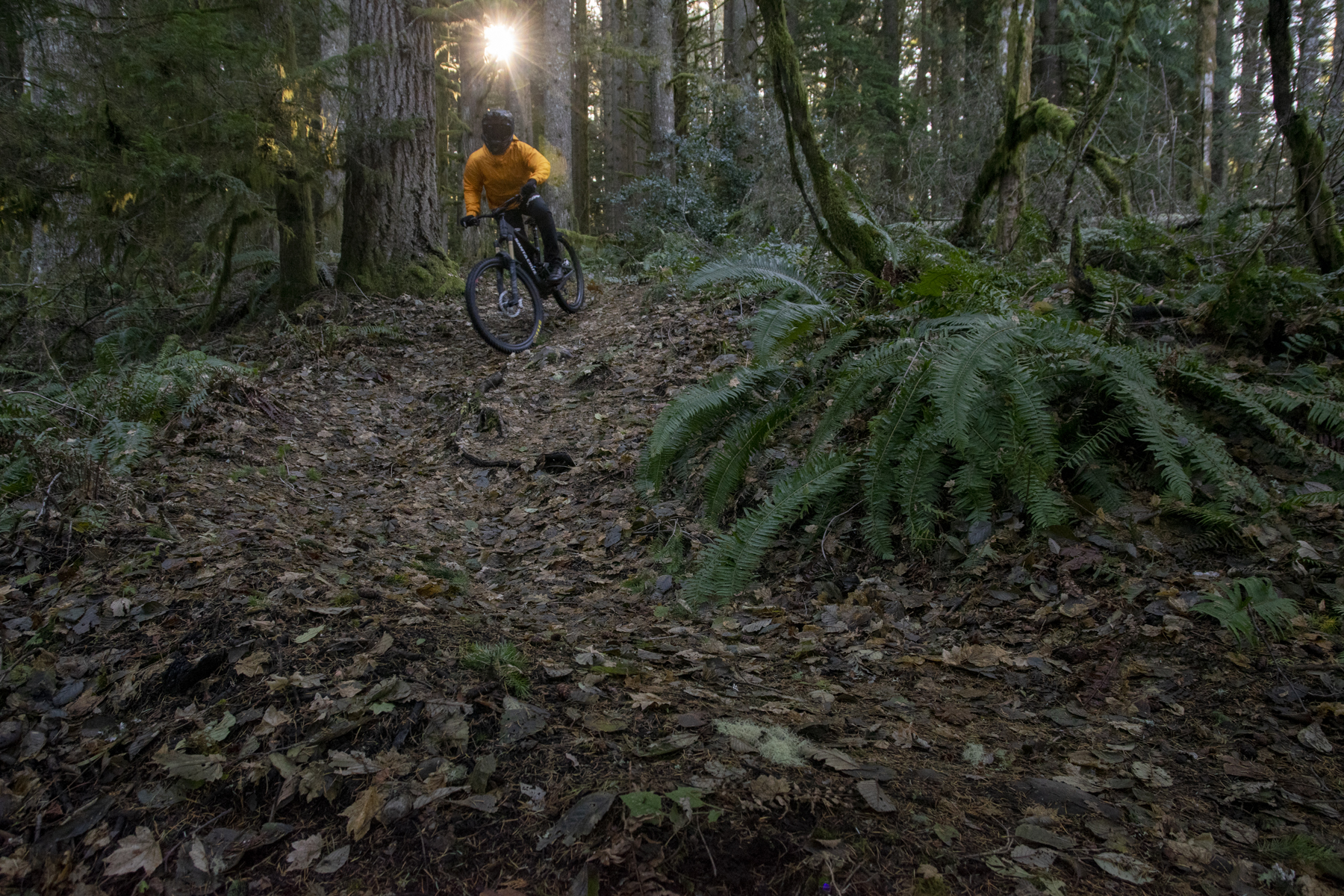 Fit & Sizing
Given that the V6 Nomad shares its front triangle with the V2 Megatower and positions it identically in space (same headtube angle, reach, stack, etc.), I figured that the Nomad was going to fit pretty much identically to the Megatower, and it does. Sort of.
Unsurprisingly, the seated cockpit position feels pretty much the same between the two bikes, because it is. The seat tube is steep-ish without being totally over the top, and with a 472 mm reach (size Large, low flip chip setting), the Nomad is not wildly long in that department. At 6' (183 cm) tall, I'm nearing the top of Santa Cruz's recommended height range for the Large frame that I rode, but a little short of the start of their sizing band for the XL — as tends to be the case with most of their bikes. My time on the Large Megatower had me at least wondering if I'd be better off with the XL for that bike, particularly when it came to descending at speed, and I sometimes found myself wanting just a bit more room to move around on the bike.
When climbing, both bikes feel on the smaller side of my ideal range, but not by so much that they feel cramped or uncomfortable. In short, Santa Cruz's recommended sizing feels pretty spot on — the Large is good, but I certainly wouldn't want it to be smaller — and that's exactly what their chart suggests.
But things got a little more complicated when I dropped the seat and start descending, because while the contact points on the two bikes are positioned similarly, the change in rear wheel size and the longer rear end on the Nomad changes the bike's handling and how it distributes weight between the wheels, with the Nomad favoring a slightly more centered, upright stance and a higher bar position for me (i.e., less aggressive weighting of the front end to maintain front wheel grip). Between running the bars higher than I did on the Megatower (and thus increasing the distance between the cranks and the bars) and riding the Nomad with my hips a little farther back and my chest more upright, the Nomad feels like it fits a little bigger than the Megatower. The Large Megatower left me at least XL-curious; the Nomad didn't.
The differences in their character probably factor in too — as we'll discuss in more detail below, despite its longer chainstays and wheelbase, the Nomad is the more nimble, more playful, less flat-out stable of the two bikes, and that tends to favor a slightly more compact bike fit, too.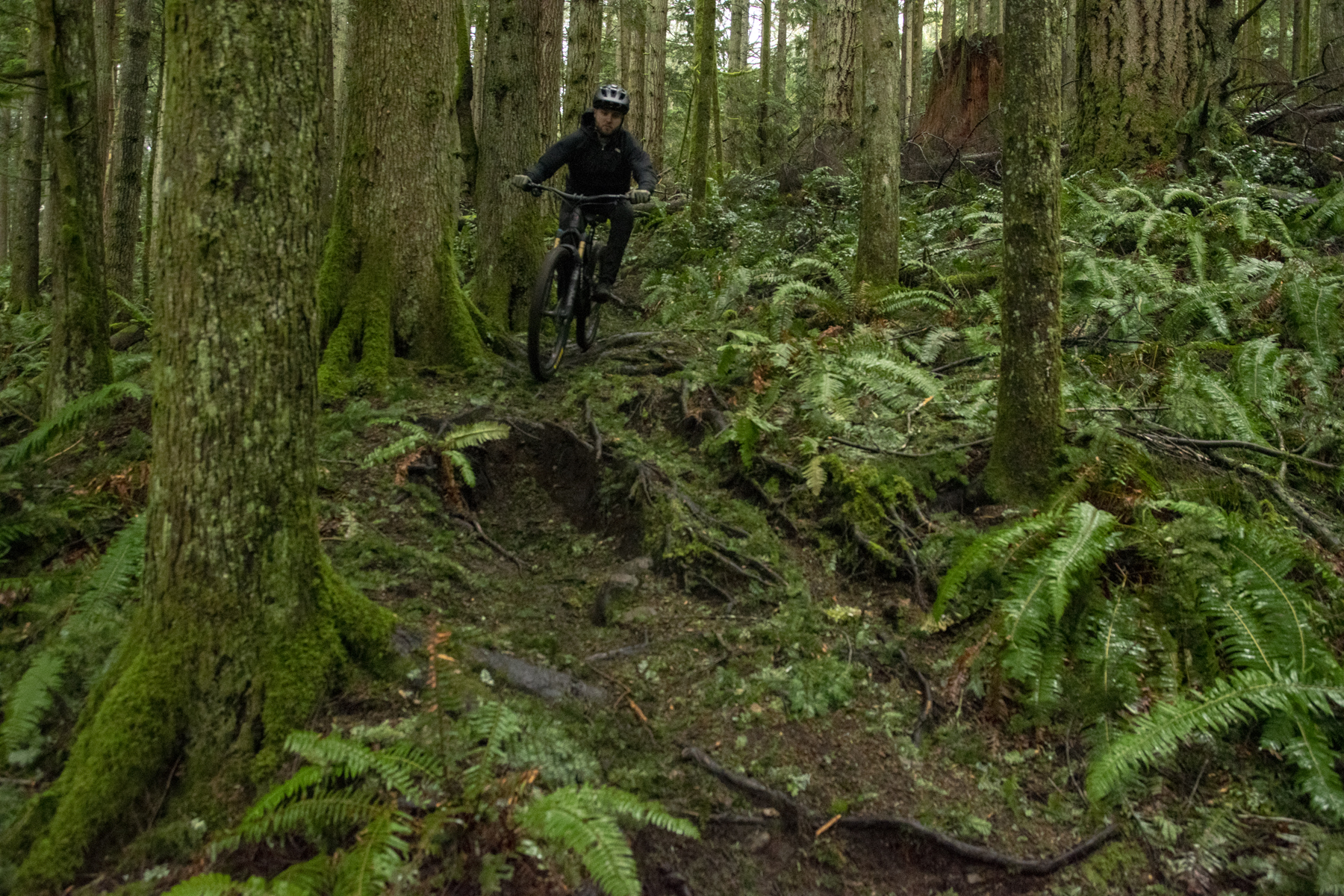 Climbing
The Nomad's climbing performance is pretty typical of a modern 170mm-travel Enduro bike, which is to say that it'll get you to the top just fine if you sit and spin, rather than trying to hammer super hard and really try to climb quickly. As per usual for the Fox Float X2, which our review bike was spec'd with, the climb mode isn't very firm, but the Nomad still feels reasonably efficient if you keep your pedal stroke relatively smooth; if you're really hammering and your pedal stroke gets more choppy, it does definitely start to bob a bit. Efficiency-wise, the Nomad feels pretty middle-of-the-road for a 170mm-travel bike — totally reasonable, but not exceptional.
In trade, there's generally solid rear-wheel traction available under power, and the relatively long chainstays feel like they do a fair bit to help keep the front wheel planted on steeper sections. As tends to be the case with longer, slacker bikes, the Nomad does feel more cumbersome in tight switchbacks and really technical bits of climbing than a lot of generally shorter, more compact Trail bikes, but that just comes with the territory. For what it is, the Nomad is a generally well-rounded, solid climber.
Descending
I'm definitely on the record as having had a somewhat rocky track record with the handling behavior of mullet bikes in general, so I'll cut right to the chase: at least for my preferences, the Nomad is easily the best handling mullet bike I've ridden to date. And it's one of the best-handling Enduro bikes I've ridden in a while, irrespective of wheel size.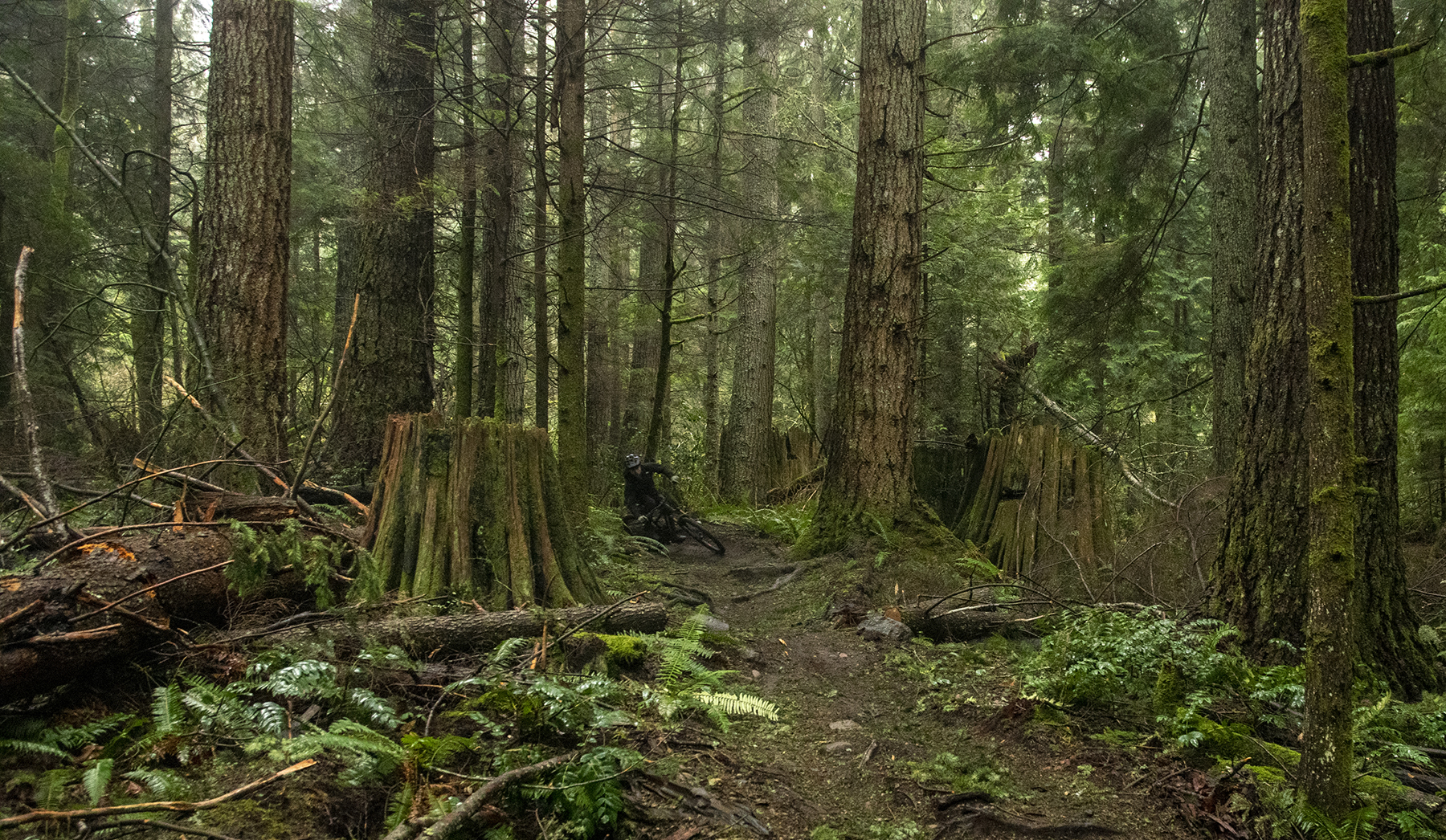 I think Santa Cruz's decision to go quite long on the chainstays of the Nomad is a sensible call and a big part of what has made it click so well for me. As I've written a whole lot on here, mullet setups tend to make for a bike with quicker turn initiation than you might expect from an otherwise similar bike with matched wheel sizes, but that added quickness can also make the front wheel feel twitchy and require a lot of extra steering input at speed.
So I was a bit surprised — but very pleased — to find that the Nomad doesn't really display any of that twitchiness that I've found on other mulleted bikes, including the Bronson, but still manages to be appreciably quicker handling and more nimble than the Megatower that it shares so much in common with. It's quite a trick, and especially for folks who want a long-travel bike that's pretty damn stable in a straight line while being a little easier to change direction and a bit quicker handling than most similarly stable bikes, the Nomad is awfully impressive. It doesn't exactly feel ultra-sharp, in terms of how easily it can be placed on the desired line with millimetric precision, to the same degree as a few of the more game-on Enduro bikes that I'd also describe as being comparatively quick handling (see the Comparisons section, below, for more on that), but the Nomad also doesn't feel like it has to be ridden as precisely as those sorts of bikes to work well. I think the combination of mixed wheel sizes and comparatively long chainstays goes a long way toward delivering the magic balance.
Santa Cruz's Kiran MacKinnon and I had a lengthy chat about that exact topic at the launch of the Hightower V3 last year — at which point the Bronson was the only mulleted non-DH bike in their lineup — in which we both talked about having found longer chainstays to be beneficial on mullet bikes, even ones that are meant to be a bit more playful / nimble. I haven't entirely convinced myself of why I think that's true just yet, but I've tried enough mullet bikes — including some that can be converted to run 29'' rear wheels, and some with adjustable chainstay lengths — that I am pretty sold that it is true. At 6' (183 cm) tall and with moderately long legs, the extra clearance of the smaller rear wheel isn't all that big a deal in my book, but it will make a real difference for some folks, and the handling differences are significant, too.
The Nomad isn't the absolute most flat-out stable Enduro bike out there, but it's still quite composed at speed while being just a bit quicker to lean in and initiate turns than most similarly-stable bikes I've been on in recent memory. It's still definitely a big, burly bike first and foremost, and doesn't strike me as being all that much more versatile as an all-arounder Trail bike than most other 170mm-travel big bikes; rather, it's a long-travel bike for folks whose riding legitimately justifies that kind of travel, but who want a twist on the genre that's not as demanding of being ridden flat out all the time as a lot of the more game-on Enduro race bikes out there.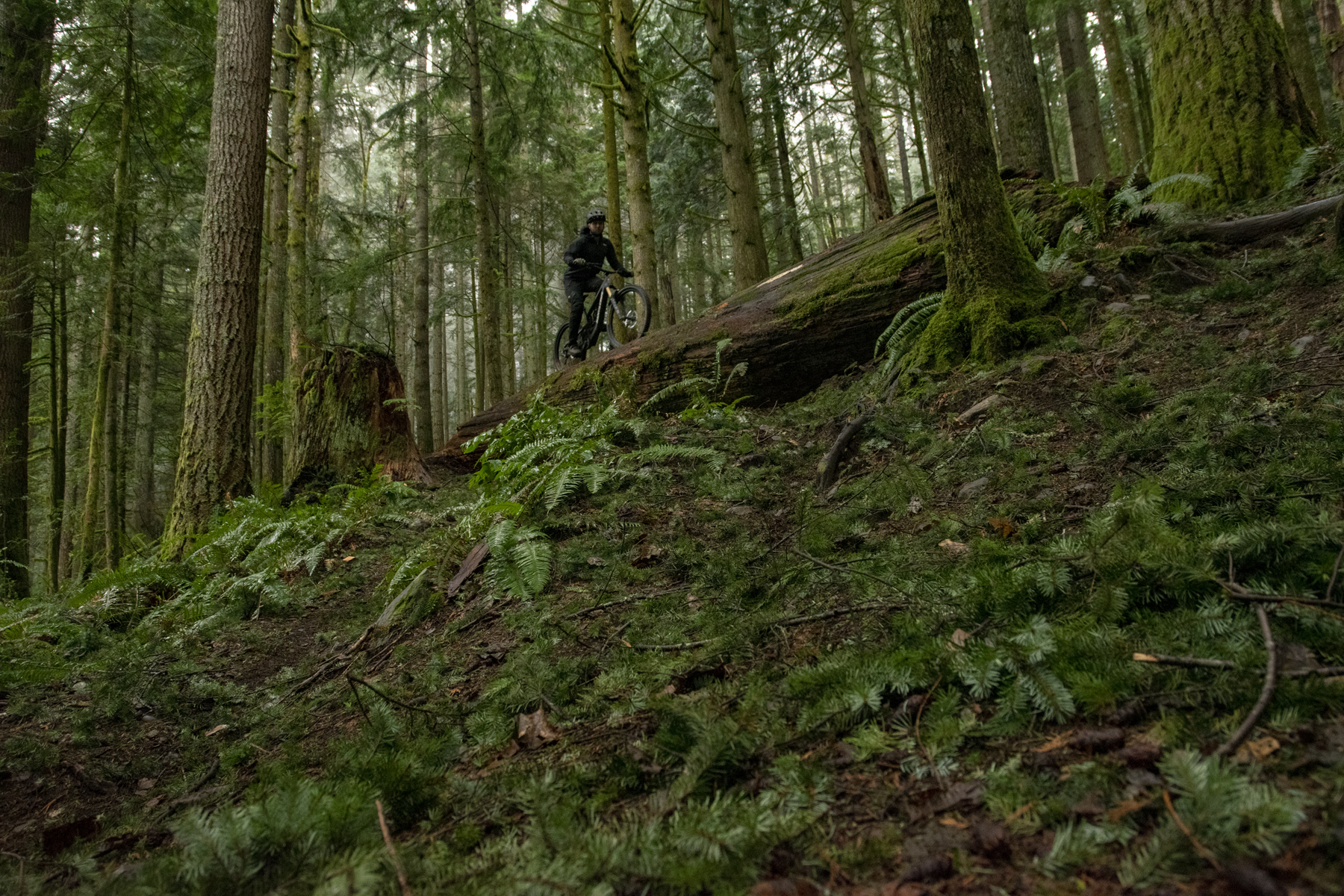 Another interesting aspect of the Nomad's handling, for me, is the body positioning that it encourages. I touched on this a little bit in the Fit & Sizing section, above, but I found the Nomad to feel the most balanced when ridden with a comparatively upright stance, with my hips a little farther back and chest more upright than a lot of theoretically-similar bikes, the Megatower included. Or put differently, the Nomad feels much less demanding than many generally long, slack Enduro bikes when it comes to needing to stay over the front end to keep it planted and gripping well. If you want to get forward on the Nomad, take weight off the rear, and slide the back end around, it'll also do that very, very well, but you certainly don't need to. The Nomad has some preference for being ridden more upright and centered, but its sweet spot is huge and it does an especially good job of being forgiving and easygoing while still being up for being pushed quite hard, too.
That said, I did find myself wanting a little more support out of the rear suspension at times, and while it didn't take me long to arrive at settings that felt decent, the last little bit of refinement gave me more trouble. With the Fox Float X2 that I tested it with, the Nomad's small-bump sensitivity was solid, but I found it settling deeper into the rear travel through higher-speed chatter than I wanted, and offering less support than I might have liked when really loading the suspension up through the pedals in well-supported corners. My initial instinct was to run a bit higher air pressure and remove volume spacers to compensate, but that made the initial stroke firmer and less sensitive than I wanted; ultimately, running the high-speed rebound a little faster than I'd normally be inclined to plus fairly firm high-speed compression helped more.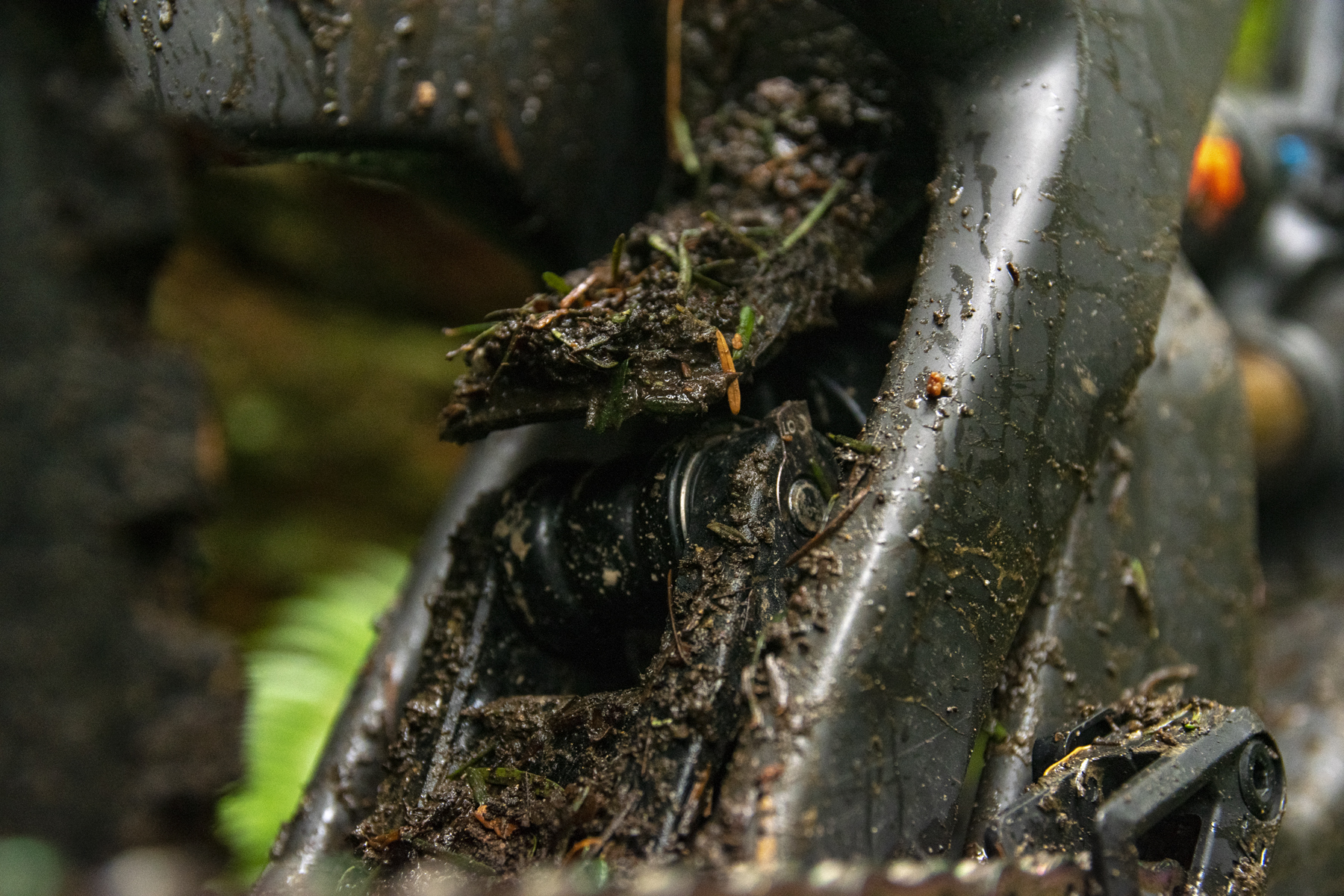 My hunch, which I haven't been able to confirm, is that the extra midstroke support from a coil rear shock would go a long way toward better suiting my preferences in that regard. And again, it's not like the Nomad / Float X2 combo was dramatically lacking by any stretch; it just felt a little more biased toward a plush, cushy midstroke than I wanted, especially when trying to ride really fast, rough sections of trail at speed.
The Build
We tested the top-tier X01 AXS RSV build on the Nomad, and it is, unsurprisingly, very nice. The X01 AXS drivetrain works great, I've continued to be a fan of the Reserve 30|HD wheels, the Fox 38 / Float X2 Factory suspension package is excellent, and so on.
My two gripes, though, are the tire and seatpost specs. The Maxxis Assegai MaxxGrip front / DHRII MaxxTerra rear combo is plenty sensible, but a 170mm-travel bike deserves burlier casings than Exo+. I put a big hole in the rear tire on literally my first descent on the Nomad and swapped in DH casing Minion DHF (front) and DHRII (rear) tires shortly thereafter before the front met a similar fate. Not everybody needs tires quite that burly, but the Nomad deserves DoubleDowns. (The coil builds do come with those, but I'm pretty firmly of the opinion that they should be standard across the board, weight be dammed.)
I also wanted a longer drop seatpost than the 175mm-travel RockShox Reverb that came standard; I swapped in a 200 mm PNW Components Rainier that I had on hand. Granted, I'm at the tall end of the sizing range for the Large frame, but particularly given the Nomad's preference for a more centered body position, I found the seat to be more in the way and consequently wanted to really maximize seatpost drop on the Nomad more than I often do on other bikes. The 200 mm post was fine, but I'd have loved to get even more drop. Unfortunately, due to the reduced seat tube length imposed by the shock tunnel, I couldn't quite get a 240 mm OneUp post to fit, even shimmed down to 220 mm drop, despite the fact that I had plenty of exposed seatpost for it even at full travel.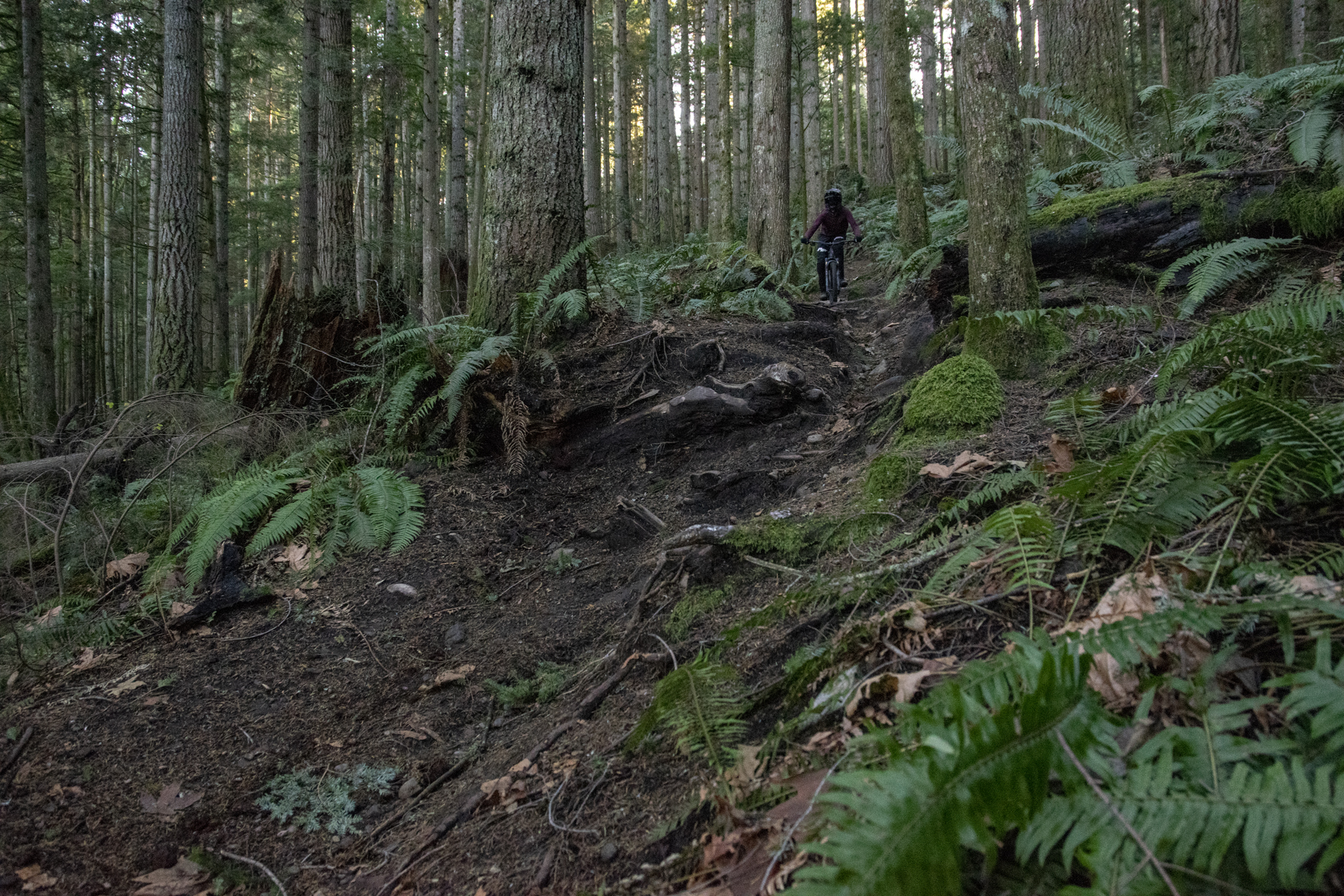 I, unfortunately, wasn't able to try it with one, but my hunch is that I'd like the suspension performance of the Nomad a little better with a coil shock, and so between that and the tire spec, I'd personally go that direction if I were buying a Nomad. (See what I wrote about the suspension in the "Descending" section for more on that.) And for what it's worth, Dylan Wood found moving to a Fox DHX2 coil shock to be a worthy upgrade on the V2 Megatower (and talked about it a bit in Ep.132 of Bikes & Big Ideas).
Comparisons
The new Megatower with which the Nomad shares its front triangle is an obvious comparison, and the two are similar in a lot of respects, with a few key differences. Their suspension performance is broadly similar, but the Nomad feels a little more plush and cushy, with the Megatower feeling slightly firmer and more supportive. (That said, we've reviewed the two with different rear shocks, which undoubtedly has some role here, too.)
The bigger difference, though, is that the Megatower feels more stable and game-on when being pushed really hard on steeper, faster descents, while the Nomad is substantially more nimble and maneuverable the rest of the time. The Megatower also needs a more aggressive, forward body position to keep the front wheel weighted and gripping, whereas the Nomad is more forgiving of being ridden more centered and upright.
The new Nomad is significantly more bike than the prior-generation Nomad V5 that it replaced. The Nomad V6 is more stable and planted but not as quick and nimble as the old bike, and its suspension feels more composed and forgiving, but less lively and eager to pop off everything.
The old Nomad was exceptionally nimble and lively for a 170mm-travel bike, and the new one feels more like a hybrid of that and a more typical modern Enduro bike (e.g. the Megatower).
Pretty different, honestly. The Bronson is quite a bit quicker handling than the Nomad, but correspondingly less stable and doesn't have as big a sweet spot in terms of the body positioning and riding approach that it'll accept. Both bikes are notably quick handling for what they are, but the Nomad is better thought of as a relatively long, stable bike first and foremost, and the Bronson feels much more like a true all-rounder Trail bike.
The 4060 LT sort of reminds me of a longer-travel, more stable Bronson in some ways. It's a quick, playful long-travel bike, but isn't as stable or composed as the Nomad when you start pushing it harder on steeper, faster trails, and the SCOR requires much more care to keep the front end weighted, giving it an overall smaller sweet spot than the Nomad. The 4060 LT is a little closer to being a true all-rounder Trail bike than the Nomad, which is more bike overall.
This one's interesting. The 29er Capra has quite a few similarities with the Nomad, in that they're both notably quick-handling, relatively easygoing long-travel bikes that can still be pushed quite hard when called upon. The Capra is a little bit more of a handful in tight spots and probably pedals a touch less efficiently, but they're overall good comparisons for each other.
We haven't ridden the mulleted Capra MX, but YT has taken the opposite approach as Santa Cruz has, and gone shorter with the chainstays to pair with the smaller rear wheel. My hunch is that it'll make for a bike more in line with the Bronson or 4060 LT, giving up a significant amount of stability and requiring more careful weighting of the front wheel, in exchange for being a good bit quicker handling. But again, I'm speculating here.
Way different. The Range is ultra-planted and stable, not the least bit playful or quick-handling, and pedals substantially less efficiently than the Nomad. It's remarkably good at going really fast when pushed hard, but the Nomad is much more versatile and easygoing, while still having a solid top end.
Like the Nomad, the Firebird is comparatively quick-handling for a long-travel Enduro bike, but that's about it — they go about things rather differently. The Firebird pedals more efficiently and generally favors a firmer, more lively and supportive suspension setup, whereas the Nomad is somewhat more planted and cushy. And in keeping with that, the Firebird feels more focused and game-on as a dedicated Enduro race bike, but isn't as forgiving of being ridden with a mellower, less aggressive approach.
Similar story to the Firebird, though the Jekyll is a notch more stable / less nimble than the Firebird, and pedals a little more efficiently. The Nomad is more maneuverable and doesn't need as much speed or aggression to come alive. Its suspension performance is also a little more plush and planted feeling, whereas the Jekyll is firmer and more lively feeling, at the expense of some compliance, especially on smaller chatter.
Super different. The Rallon is also an excellent cornering Enduro bike, but it's one of the main bikes I had in mind when I mentioned certain ultra-sharp-handling bikes that need to be ridden fairly precisely and dynamically to really charge hard, but that also facilitate that sort of approach extremely well. The Rallon is even quicker and much sharper handling than the Nomad, its suspension is much firmer and more lively at the expense of small-bump sensitivity, and it pedals much more efficiently at the expense of some traction under power. The Nomad is more forgiving of sloppy line choices and doesn't feel as emphatically game-on.
These two are kind of similar in some ways, but it's really a case where a lot of small differences add up to a fairly different whole. Both are a little more maneuverable than average for a long-travel Enduro bike, but the Nomad does that while being more stable at speed than the Altitude, and the Nomad's suspension feels more supportive than that of the Altitude, at the expense of some small-bump sensitivity. The Nomad also pedals a little more efficiently, though I'd describe both bikes as more just "fine" in that regard than being particular standouts.
Not at all similar. The Dreadnought is more stable at speed and more composed plowing into rough sections of trail than the Nomad, but is also a lot more of a handful in tight to mid-radius corners in particular, and far more demanding in terms of its body positioning and timing to corner well. The Nomad is much more easygoing and versatile, while still being quite capable as speeds pick up and trails get faster and rougher.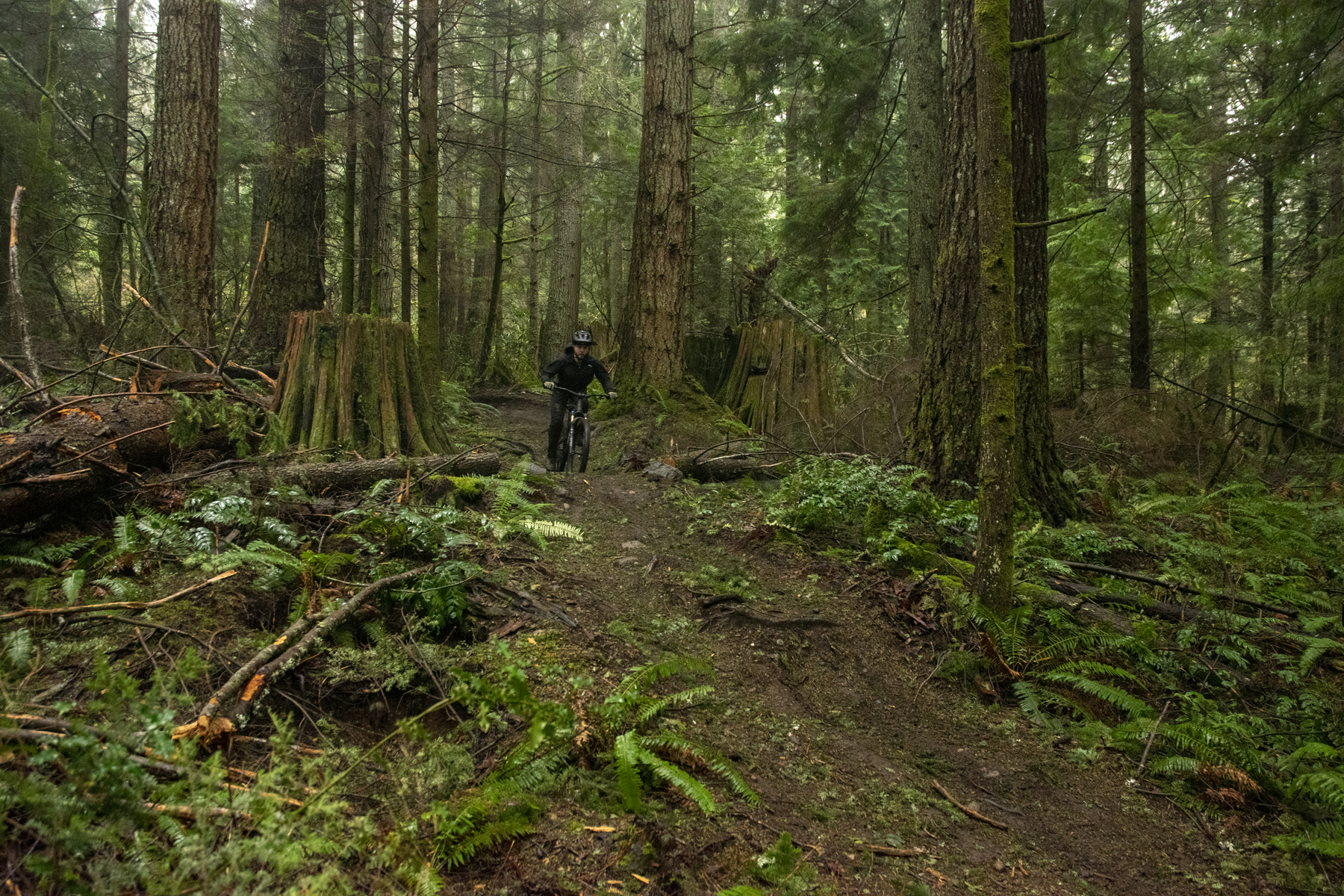 Who's it For?
The latest iteration of the Nomad is for riders who want a big, burly Enduro bike that isn't as fully committed to being a game-on Enduro race bike as many of the other options in that travel range. It's still a proper big bike but is a notch quicker handling and just a bit more forgiving of being ridden at less than full throttle than a lot of the modern crop of big Enduro sleds, and that's a compelling blend for folks with some big terrain, but who want to do more than just go flat-out down it.
Bottom Line
I liked the prior-generation Santa Cruz Nomad V5 a lot, and while the new Nomad V6 doesn't feel like a perfect 1:1 replacement for its predecessor, it's also excellent — just for a slightly different rider. The old Nomad felt like a nimble, playful bike first and foremost, but one that had been given some extra suspension travel, and the new one flips that around. It's a burly, modern Enduro bike that's just a bit quicker handling and easier to manage at lower speeds than a lot of its competitors, and that's a compelling recipe for the right folks.