Altra King MT 2
Test locations: Gunnison Valley & Palmer Lake, CO; Moab UT
Test Duration: ~200 miles
Stated Heel-to-Toe Drop: 0 mm
Stated Stack Height: 19 mm (Heel) / 19 mm (Forefoot)
Stated Features:
New tailored upper for increased flexibility and comfort
New Vibram® MegaGrip™ Litebase for a 40% reduction in the thickness of the outsole and a 25% reduction in weight
Better grip, durability, and drainage vs. King MT 1.5
GaiterTrap for gaiter attachment
FootShape toe box
MSRP: $140
Size Tested: US Men's 11
Stated Weight (US Men's size 9): 246.6 grams / 8.7 oz
Blister's Measured Weight (US Men's size 11): 318.1 grams / 11.22 oz
Reviewer (See Runner Profile): 6'1" 143 lbs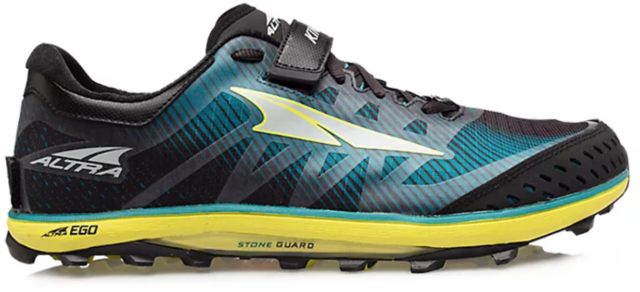 Share on facebook
Share on twitter
Share on pinterest
Share on reddit
Share on email
Review Navigation:
Specs //
Intro //
Fit //
Drop //
Weight //
Upper //
Midsole & Cushioning //
Outsole //
Performance //
Bottom Line
Intro
The Original Altra King MT entered Altra's lineup 3 years ago as a rugged, low-to-the-ground, mountain running shoe. With 6 mm Vibram rubber lugs and a velcro strap across the midfoot for stability, it was an instant hit with the Obstacle Course Racing (OCR) crowd and quickly became a common sight at Spartan Races. However, the relatively thin, firm midsole lead to an unforgiving ride, and durability issues in the upper made this shoe a harder sell for those looking for a longer-distance racing shoe or a minimal trail running shoe.
Having now run in both the King MT 1.5 and the new King MT 2, I can safely say that the King MT 2 is a substantial upgrade. A softer midsole, more aggressive outsole, better fit, and more durable upper all contribute to a shoe that performs far better than its predecessors while still remaining true to its rugged lineage.
Fit
As with any shoe, we recommend that you try it on for yourself to assess the fit for your specific foot. With that said, I can talk about how the King MT 2 fits my feet. For reference, I have a pretty low-volume foot with a moderately high arch.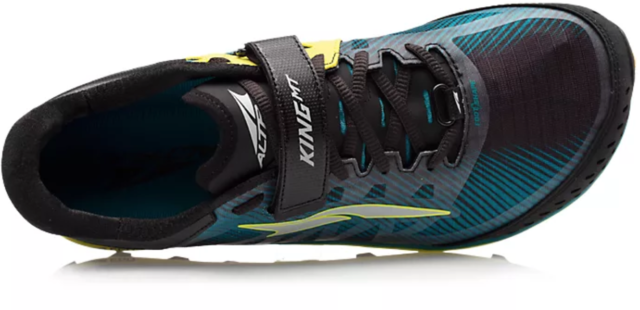 The fit of the King MT 2 has evolved a bit from the previous model and felt more secure on my foot, particularly around my low-volume heel and midfoot. It has the most locked-down fit of any of Altra's current trail shoes (I've tried on all of their current trail shoes) due to an upper that feels like it has less space than other shoes from Altra. That lower-volume upper is aided by the King MT 2's midfoot velcro strap. The midfoot strap has migrated further up the shoe vs. the King MT 1.5, providing a more secure heel fit for me. Whereas the previous version allowed for heel slippage on my feet, the King MT 2 locks down my foot and inspires confidence on off-camber, technical terrain.
As with all of Altra's shoes and their "FootShape" toe boxes, the King MT 2 provides a wider-forefoot alternative for mountain runners and those looking to tackle more off-trail terrain. When compared to other shoes in this category (e.g., Inov-8 Trail Talon series, Salomon Speedcross, & Salomon Sense SG), the King MT 2 provides a bit more room in the toe box, without creating a sloppy fit in the midfoot (at least for me). This makes the shoe more accommodating to wider foot types without sacrificing the shoe's ability to move quickly and confidently in technical terrain
Heel-to-Toe Drop
It's worth quickly noting that, as with all Altra shoes, the King MT 2 is a zero-drop shoe, meaning that the forefoot and the heel are the same height from the ground. This encourages more of a forefoot foot strike (rather than a heel-to-toe transition), but can take time to adapt to from conventional shoes with higher heel-to-toe drops. We recommend checking out Altra's transition plan to avoid potential injuries if you're coming from higher-drop shoes.
Weight
At a stated weight of 246 grams per shoe (US Men's 9), the King MT 2 is a very lightweight shoe compared to others in the mud / technical terrain category. It reportedly gained about 6 grams / 0.2 ounces over the previous version, but given that tiny difference and what you get back in overall performance, I think this is a very worthwhile tradeoff. FWIW, my pair of the US Men's size 11 King MT 2 came in at a measured weight of 318 grams per shoe; with a 72 g difference between that and the stated weight for a US Men's size 9, that discrepancy is a bit higher than what we normally see in our measured weights of size 11 shoes vs. stated weights for a size 9, though not wildly out of the ordinary, given the size differences.
The King MT 2 is slightly lighter than most other shoes in its class due to its minimal construction and lower profile, and I did not find that the lighter construction of this shoe affected its ability to perform on technical terrain. The thick rock plate allows you to get away with a low stack height without sacrificing protection.
For reference, here's how the stated weight of the King MT 2 compares to some other similar shoes in this category:
210 g / 7.4 oz — Inov8 X-Talon 210
246 g / 8.7 oz — Altra King MT 2
252 g / 8.9 oz — Scarpa Spin
260 g / 9.2 oz — La Sportiva Kaptiva
265 g / 9.3 oz — Salomon S/Lab Speed 2
310 g / 10.9 oz — Salomon Speedcross 5
Upper
As I just noted, the upper of the King MT 2 fits closer to the foot than most Altra shoes, giving the shoe more secure handling on technical terrain. Compared to some other shoes in this category, I found the King Mt 2 to breathe and drain a bit better than the Salomon Speedcross, but it doesn't breathe as well as a shoe like the S/Lab Sense 6 from Salomon. I.e., it's neither excellent nor terrible in terms of breathability.
I have yet to experience any undesired rubbing or friction from this upper. The inside of the heel has a rougher material designed to grip to the fabric of a sock and keep the heel from slipping out of the shoe, and combined with the velcro strap, I think it's done a good job of that.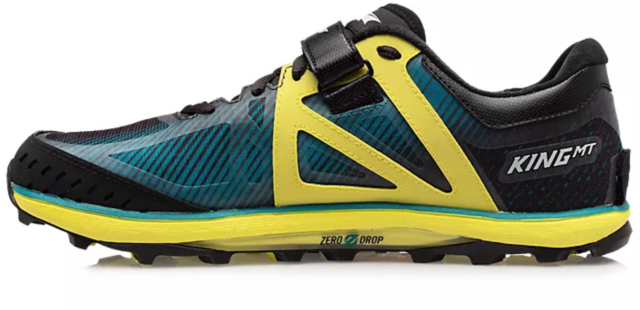 The tongue of the King MT 2 is thin but not so thin that I had any problems with the laces digging into the top of my foot. The tongue is also fully gusseted and I never had problems with it bunching or sliding to one side or the other. The positioning of the velcro strap did not cause any problems for me; even fully tightened for steep downhills, I did not find the strap to create any painful pressure on the top of my foot.
The mesh on the upper is soft and pliable but still feels pretty substantial. There are laminated overlays placed around the high-wear areas of the shoe, reinforcing the lateral and medial sides of the forefoot. The toe features an extra layer of a leather-like material that acts as a toe bumper, protecting the toes from painful encounters with the rocks and roots of the technical trails the shoe was designed for.
Midsole and Cushioning
Compared to the old King MT and King MT 1.5, the King MT 2 feels remarkably more comfortable to me. While the old version of King MT felt very stiff and firm, the King MT 2 has a more energetic and flexible feel that lends well to running fast over rugged trails. The thin (19 mm) midsole of the King MT 2 still gives it a pretty firm and efficient feel underfoot, particularly compared to the many shoes out there with higher stack heights, but the new King MT 2's slightly softer midsole feels better suited to longer runs than the previous versions. The full "Stone Guard" rock plate of the King MT 2 also provides ample protection; despite how responsive / efficient this shoe feels, I have never once felt like I needed more underfoot protection from rocks.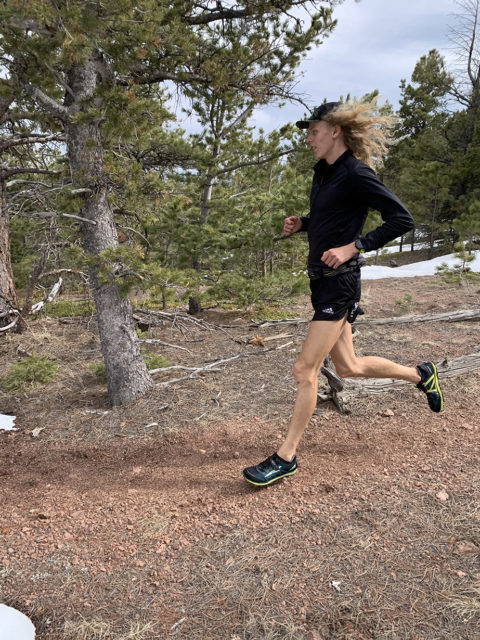 I found that the King MT 2's low-cushion platform works best on steeper runs with lots of climbing and technical terrain. On flatter terrain and smoother surfaces (e.g. pavement or slickrock), the thinner midsole does less to absorb the impacts of running when compared to a higher-cushion shoe, which doesn't come as much of a surprise. Overall, the midsole feel of the King MT 2 reminds me of the Salomon S/Lab Sense 6, which has a pretty similar stack height at 18 mm in the heel and 14 mm in the forefoot.
In general, I've found that the longer the run and the more runnable the terrain (as opposed to climbing / scrambling), the less likely I am to grab the King MT 2 and the more likely I am to grab a higher-cushion shoe. Over the course of my time in the shoe, my favorite runs in it were in big mountains, on runs up to about 20-25 miles. Particularly when a route involves mixed scrambling and running, in my mind, the King MT 2 has no equal in the Altra trail lineup.
Outsole and Traction
The outsole on the King MT 2 is the most visible update from previous versions. The foot-shaped lug pattern is gone and the new lug pattern is quite similar to the outsole of the Salomon Speedcross, featuring 6 mm, multi-directional, chevron-shaped lugs with very wide spacing between each lug.
The King MT 2 is also one of the first trail shoes to use Vibram's MegaGrip™ Litebase rubber, which Vibram claims to offer all the grip of Vibram's regular Megagrip compound at 40% of the thickness and 25% of the weight. In my experience, I think this claim is accurate. The lighter and lower-volume outsole makes for a more flexible and lighter shoe, and I think the new outsole pattern conforms better to the terrain. This flexibility provides substantially more ground feel in the King MT 2 than in similar options such as the Salomon Speedcross series.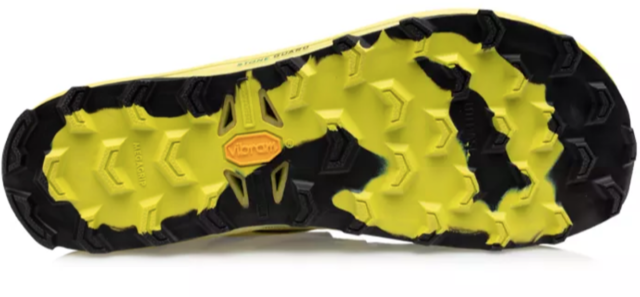 I found the King MT 2's new outsole to be particularly useful on big mountain runs this spring. I took the King MT 2 on a linkup of five peaks outside of Palmer Lake, Colorado, in late March this year. The route is about 15 miles with about 5,500 vertical feet and most of it runs on narrow, off-camber, technical trails and crosses at least one stream. The route demands a lot from a pair of trail shoes — they must be nimble enough to navigate rocky ridges, grippy on dry rocks, loose scree, slick mud, wet logs, and snow-covered downhills. I can report that the Altra King MT 2 is fully up to the task of handling most big mountain runs.
Throughout that run and the various conditions and terrain, the only time I felt under gunned in terms of grip was on steep, tracked-out snow, where my running partner who was wearing the Iov8 X-Talon 235 G (with 8 mm lugs) fared a bit better. But I also went back and did the same run in the Altra Superior 4 in similar conditions and the King MT 2 provided much better grip and let me run faster through the snowier parts of the route.
On the Trail
The majority of my mileage in the King MT 2 has been on a mix of trails. I have found myself reaching for the King MT 2 most often when I'm planning on heading into rugged, mountainous terrain. The shoe feels most at home running over technical terrain and navigating steep climbs and descents, where the aggressive outsole, precise fit, and low-profile cushioning can be fully utilized. I found the shoe to perform well in a myriad of terrain elements from gravel trail to rocky scrambles, muddy downhills, snowy climbs, and scree / talus fields. If I am heading out for a run in the mountains with technical terrain and / or inclement weather, the King MT 2 has become my go-to shoe.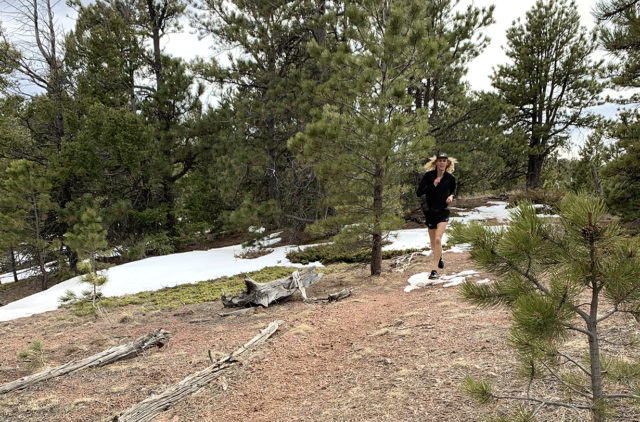 I raced in King MT 2 for the Deadhorse 30k this past November. The shoe performed quite well on the more technical sections of trail and provided good traction in the softer, sandier areas of the course. The long stretches of relatively flat sandstone were a different story, though. The low stack height of the shoe made the long stretches of flat, hard surface fairly unforgiving. I found myself wanting a lot more cushion after a few miles of running up and down the smooth, hard, slickrock. I would love to get out and race a steeper, more technical mountain race in the King MT 2 this summer just given how well they have performed on my normal runs in more off-camber terrain.
Overall, I see the Altra King MT 2 as a great option for those looking to go into a steep technical environment like a Skyrunning Race. I also think the shoe would hold up well in wetter, softer conditions thanks to its secure fit and big, widely spaced lugs. E.g., I think it could be good for a race like the Chuckanut 50k, which involves a lot of technical terrain and takes place in Washington where wet trails are common. On flatter, faster trails / races with a lot of harder surfaces, I would prefer more cushioned trail shoes like the Hoka Speedgoat, Salomon Sense Ride, or Altra Timp 2.
Durability
After my first ~200 miles in it, the King MT 2 is holding up well. The outsole is showing some signs of wear but the lugs are still delivering good traction at this point. The midsole has packed out slightly but still feels perfectly comfortable while running.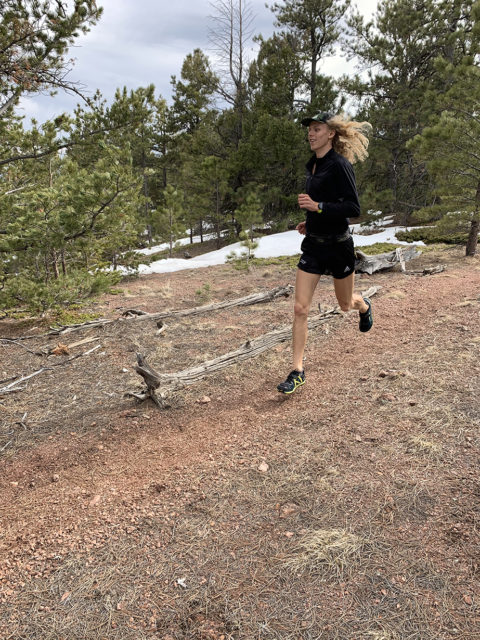 Unfortunately, it is the upper that has begun to show the most wear. On the left shoe, there is some slight fraying of the mesh along the inside of the forefoot. There is also a small hole forming in the upper of the left shoe right near the big toe, just behind the toe bumper. This is disappointing because I feel as though there is a lot of life left in the midsole and outsole of this shoe, while I'd guess that the upper has probably under 100 miles left in it until something gives out. It would be great to see Altra put some more strategically placed overlays around these high wear areas in the next version of this shoe.
Who's It For?
The Altra King MT 2 is for the Altra fan and / or minimalist looking for a shoe designed for technical, off-camber terrain. Given its low stack height, it is not the Altra shoe I would recommend to people as their first zero-drop shoe; something with much more cushioning like the Timp 2.0 is a lot more forgiving. And this is not a trail shoe for running on smooth, hardpacked trails or miles of sandstone, as the lower stack height and aggressive outsole just aren't designed to deliver comfort in those settings. If the trails you typically run on fall into that category, I'd look to more cushioned shoes like the Timp 2 or Superior 4.
That said, this iteration of the King MT will appeal to a wider range of both alpineers and runners who are looking for a wide-toe-box, zero-drop platform that performs in mountainous terrain and conditions. The King MT 2 really shines on loose, steep, and technical terrain, where grip, agility, & security are the main concerns.
Bottom Line
I think Altra has done a very good job of updating the King MT, with the King MT 2 being more comfortable and versatile than prior iterations, without losing out on the security, efficiency, and grip that people loved about the original.
I think that how well the King MT 2 will work for you depends more on terrain than distance. E.g., I think it is a great pick for something like a 50k Skyrunning Race in mountainous terrain, but I would grab a shoe with more cushion and a less aggressive outsole for a 20k run on a smooth, flat trail. That said, the combination of an improved upper, midsole, and outsole all come together to create, in my opinion, the best King MT that Altra has made. It's a shoe that really shines in technical terrain, and for that use, it's a very appealing option.
Share this post:
Share on facebook
Share on twitter
Share on pinterest
Share on reddit
Share on email