Ski: 2020-2021 Alchemist Zelda 106, 171 cm
Available Lengths: 155, 163, 171 cm
Blister's Measured Tip-to-Tail Length: 166.9 cm
Blister's Measured Weight per Ski: 1711 & 1772 grams
Stated Dimensions: 136-106-120 mm
Blister's Measured Dimensions: 134.1-106.3-119.2 mm
Stated Sidecut Radius (all lengths): 19 meters
Measured Tip & Tail Splay (ski decambered): 50 mm / 29 mm
Measured Traditional Camber Underfoot: ~4 mm
Core: Aspen + pre-preg carbon laminate
Base: sintered race base
Factory Recommended Mount Point: -10.05 cm from center; 74.9 cm from tail
Boots / Bindings: Tecnica Mach1 Pro W LV & Head Raptor 110S / Tyrolia AAAttack2 13 AT
Test Locations: Taos Ski Valley & Ski Santa Fe, NM; Telluride, CO
Days Skied: 15+
[Note: Our review was conducted on the 19/20 Zelda A106, which returns unchanged for 20/21.]

Intro
Most ski companies make skis in the ~105 mm waist range and while some are more powder oriented, many companies market those skis as true all-mountain options. The DPS Alchemist Zelda 106 C2 falls into that latter category, and I've spent the past two seasons skiing both the 18/19 and 19/20 version (the 19/20 version returns unchanged for 20/21).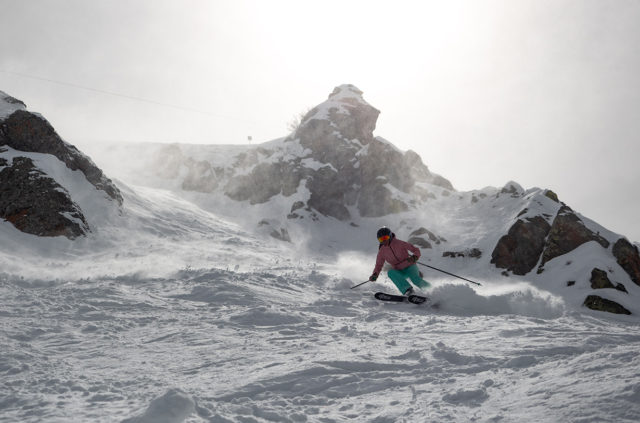 If you're not familiar with DPS and their lineup, the Zelda 106 is available in two constructions — the high-end, carbon Alchemist construction that I've been using and the less-expensive Foundation version. I tested the DPS Uschi 94 in the Alchemist construction and was impressed by how light yet versatile it was, and so I was eager to see how that construction performed in a wider ski.
What DPS says about the Alchemist Zelda 106:
"The all-mountain classic is reborn with a fresh C2 Chassis. We have worked hard in the lab and on mountain to fine-tune optimum geometric ratios for sidecut and flex pattern, and the newly minted 106 reflects the most current blend of smoothness, balance, and power; in an all-mountain, everyday shape designed for mixed snow conditions."
For the 19/20 season, DPS tweaked the shape and rocker profile of the Zelda A106 C2 and its men's counterpart, the Wailer A106 C2. They made the tips slightly more tapered for better performance in powder, and they tweaked the flex pattern for a smoother on-snow feel and more energy return. Having skied both versions, I haven't noticed much of a noticeable difference between the two in terms of on-snow performance, but I've liked both versions of the ski.
Shape / Rocker Profile
The Zelda A106 has a fairly tapered shape, but it's nothing extreme. It's not as tapered as the Rossignol Soul 7 HD, Prior Flute (at least in regard to the tips), or Line Pandora 104, but it is more tapered than more traditionally shaped skis like the Volkl Secret 102, Nordica Santa Ana 110, and Liberty Genesis 106.
In terms of rocker profile, the Zelda A106 is, again, nothing all that out of the ordinary. It has a moderately deep tip rocker line, camber underfoot, and a shallower tail rocker line than the tip. There are skis like the Secret 102 with shallower rocker lines, and others like the Genesis 106 with deeper rocker lines.
Flex Pattern
Here's how we'd characterize the flex pattern of the Zelda A106 C2:
Tips: 9-8.5
Shovels: 8.5
In Front of Toe Piece: 9-9.5
Underfoot: 9.5
Behind the Heel Piece: 9.5-9
Tails: 9-8.5
The Zelda A106 is a very strong ski, and its flex pattern is very similar to the men's Wailer A106's flex pattern. There is no portion of the Zelda A106 that is soft, and its flex pattern is pretty "round" in that the tips and tails feel similar. The Zelda A106 is much stiffer than many skis in this class, apart from the Secret 102 and the women's Head Kore skis.
Mount Point
The Zelda A106 C2's recommended mount point is right around -10 cm from true center, which is pretty traditional. That said, I've gotten along quite well with the ski mounted on the line — it felt balanced and intuitive. It rewards a forward stance, but as I'll get into below, isn't super punishing if you end up more centered or backseat.
Weight
Like all of DPS's Alchemist skis, the Zelda A106 is pretty light for its size. It's much lighter than metal-laminate skis like the Nordica Santa Anas & Volkl Secret 102, but similar in terms of weight compared to some of the other "more playful" skis in this class like the Blizzard Sheeva 10, Moment Sierra, and Line Pandora 104.
For reference, here are a number of our measured weights (per ski in grams) for some notable skis. Keep in mind the length differences to try and keep things apples-to-apples.
1533 & 1537 Armada Trace 98, 172 cm (17/18–19/20)
1556 & 1575 Liberty Genesis 96, 165 cm (18/19–19/20)
1557 & 1607 Fischer My Ranger 98, 172 cm (16/17–18/19)
1626 & 1631 K2 Fulluvit 95Ti, 170 cm (18/19)
1626 & 1645 Line Pandora 104, 165 cm (18/19–20/21)
1635 & 1646 Blizzard Black Pearl 98, 166 cm (17/18–19/20)
1651 & 1669 Moment Sierra, 172 cm (17/18–19/20)
1702 & 1721 K2 Gottaluvit 105Ti, 170 cm (18/19)
1706 & 1784 Liberty Genesis 106, 171 cm (19/20)
1709 & 1710 Blizzard Sheeva 10, 172 cm (17/18–20/21)
1711 & 1772 DPS Zelda A106 C2, 171 cm (19/20)
1735 & 1740 K2 Mindbender 106C Alliance, 175 cm (19/20–20/21)
1747 & 1766 Line Sakana, 174 cm (18/19–20/21)
1750 & 1769 Armada Victa 97 Ti, 171 cm (17/18–19/20)
1762 & 1801 K2 Mindbender 98Ti Alliance, 168 cm (19/20–20/21)
1764 & 1778 Rossignol Soul 7 HD W, 172 cm (17/18–19/20)
1806 & 1821 Blizzard Sheeva 11, 172 cm (17/18–19/20)
1812 & 1813 Head Great Joy, 168 cm (17/18–18/19)
1881 & 1895 Salomon QST Lumen 99, 174 cm (19/20–20/21)
1941 & 1948 Salomon QST Stella 106, 174 cm (19/20–20/21)
1983 & 1999 Nordica Santa Ana 100, 177 cm (17/18–19/20)
2076 & 2078 Nordica Santa Ana 110, 177 cm (17/18–19/20)
2104 & 2115 Volkl Secret 102, 170 cm (19/20–20/21)
FULL REVIEW
One friend recently commented that these skis were "easy" in that you could hop on them and the very first turns were fairly effortless. This is a pretty apt impression as you don't need big, strong, powerful legs to make these skis do what you want. But being described as an "easy" ski in no way detracts from what this ski is capable of. Having spent many days skiing the Zelda A106 across a variety of conditions and terrain, I think it's a versatile ski that many folks would enjoy having in their quiver.
Powder
For a 106mm-wide ski, the Zelda A106 C2 is surfy and playful in powder. Easy to turn in trees and other tight spots, the ski is able to float on top of the snow on small storm days and even some deeper days (I had no trouble on it during a 12+ inch storm day). I'd probably be wishing for a wider ski for the extremely deep days, but I think the Zelda A106 does quite well in powder for its width.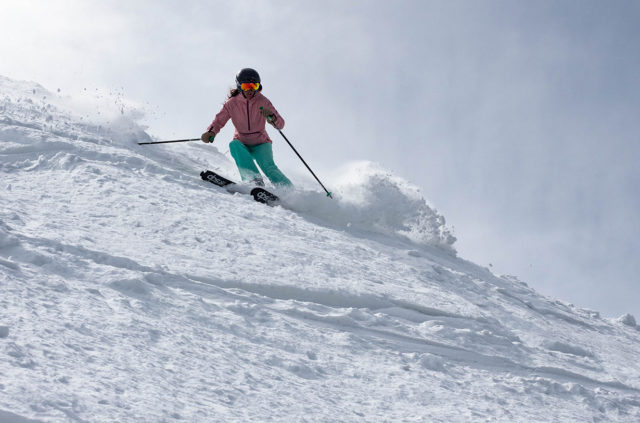 In heavier, denser powder, I have a tendency to find myself in the backseat but thanks to a relatively stiff yet not-super-punishing tail, I was still able to maintain control of the Zelda A106 C2 when I ended up backseat. When I did find myself in the backseat, I struggled a little to get forward, particularly compared to softer skis like the Liberty Genesis 106, though the Zelda was not nearly as punishing as something like the Volkl Secret 102. Unlike the 177 cm Nordica Santa Ana 110, the 171 cm Zelda A106 was very responsive at slow to medium speeds — no need to go full blast on them at all times. This makes them great for weaving through trees and tight terrain on moderate pow days.
Soft Chop
While not nearly as heavy as the Nordica Santa Ana 100 and 110, the Zelda A106 C2 still manages to hold up surprisingly well in soft chop. It doesn't plow through the snow like the Santa Ana 110, but as long as I stayed on top of the skis (limiting backseat skiing) they also didn't get pushed around that much or have much in the way of tip chatter, especially for their weight.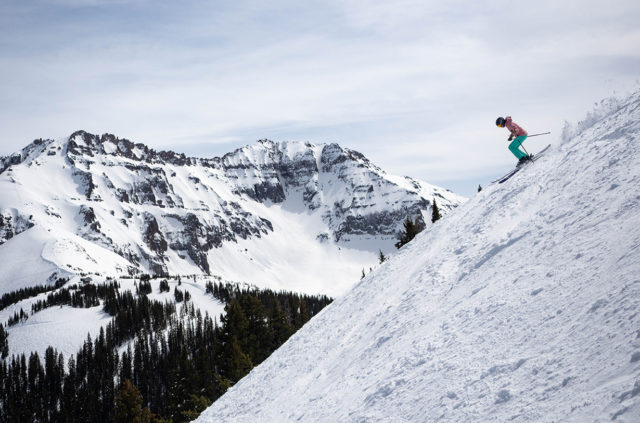 At the end of a recent powder day, I was racing the clock to get as many laps as possible before the lift closed. The top half of the run was smooth and powdery but the lower half was chewed up from all the skiers converging on the groomer. It was low-density powder but it was chopped up and my legs were tired. Even in those conditions, I didn't feel the need to slow down on the Zelda A106 until the very last lap when my legs were fully exhausted. These types of conditions are usually the most taxing on my legs but the lightweight design of the Zelda A106 and the ease with which it can be maneuvered allowed me to make the very most of my day. It's not a charger like the Santa Ana 110 that encourages me to make big, fast GS turns through chop, but it's very predictable and great if you tend to make shorter, quicker turns when the pow gets chopped up.
Groomers
The Zelda A106 is surprisingly great on groomers, especially for a 106mm-wide ski. Carving on the Zelda A106, I haven't felt the need to limit my speed and haven't noticed any chatter on groomers when I'm in an aggressive, forward stance. If I find myself in the back seat, the skis can get away from me a bit and the tips are prone to some flop when the skis are driving the turns, rather than me. Fortunately, it is easy to get back into a forward stance if you find yourself too far back on groomers (a bit easier than in chop or tighter terrain, as is the case for me with most skis).
Compared to other skis with similar waist widths, the Zelda's aren't quite as stable at speed as the Nordica Santa Ana 110, Salomon QST Stella 106, and the Volkl Secret 102. This really shouldn't be a surprise as those three skis are much heavier than the Zelda A106. When skiing uneven or variable conditions on groomers, the Zelda A106 actually felt more predictable to me than the Secret 102, which had a tendency to get bounced around at times. While this may seem counterintuitive as the Secret 102 is a heavier and stiffer ski, at least for me, the Secret didn't absorb the bumps and inconsistencies on groomers as easily — particularly if I was not in an aggressive forward stance. That said, I think stronger, more aggressive (e.g., ex-racers), and / or larger skiers would find the Secret 102 to feel notably more stable on roughed-up groomers.
In those same conditions, the Santa Ana 110 has an easier time handling the bumps and inconsistencies than the Zelda A106 since the Santa Ana 110 just plows through it all, making everything seem flat and smooth along the way.
So, all that is to say that the Zelda A106 C2 performs quite well for its width on clean groomers, and requires a bit more attention than some heavier skis when those groomers get cut up by other skiers. If I was planning to only ski groomers, the Zelda A106 would not be my first choice of skis but as an all-mountain skier that inevitably ends up on groomers here and there throughout the day, the Zelda A106 does just fine.
Moguls
My favorite runs with these skis have been on soft, smaller, chalky bumps. The skis are extremely responsive and playful and it's fun to pop off bumps on them. Unlike the DPS Uschi A94, the Zelda A106 can be skied in a variety of turn styles, from smearing to carving. This helped me ski bumps and uneven terrain more fluidly than on something like the Uschi A94, which has a strong preference for carved, rather than slarved turns.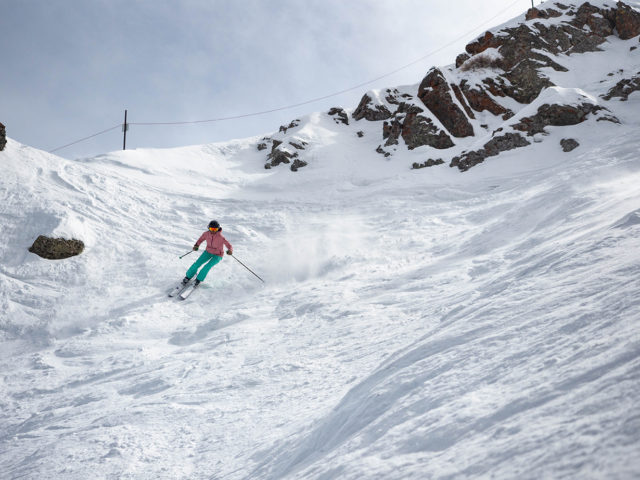 When the moguls became larger and more oddly shaped (think arrowheads with vertical sides), the Zelda A106 was a little too wide for me to easily maneuver it. None of the skis of this waist proved to be easy for me in those giant bumps, but of the skis I tested, the Liberty Genesis 106 was a bit better in the bumps as it's a little softer in the tips and tails, and for me, that makes them more forgiving (though they still have a fairly high swing weight).
Who's It For?
Intermediate to expert skiers looking for a wider all-mountain ski that won't leave your legs burning after 1 run. If you have more than one ski in your quiver, the Zelda A106 could work well as a powder ski on all but the deepest of days but it is also versatile enough that it can be a daily driver for skiers in areas that don't get a ton of brutally firm snow.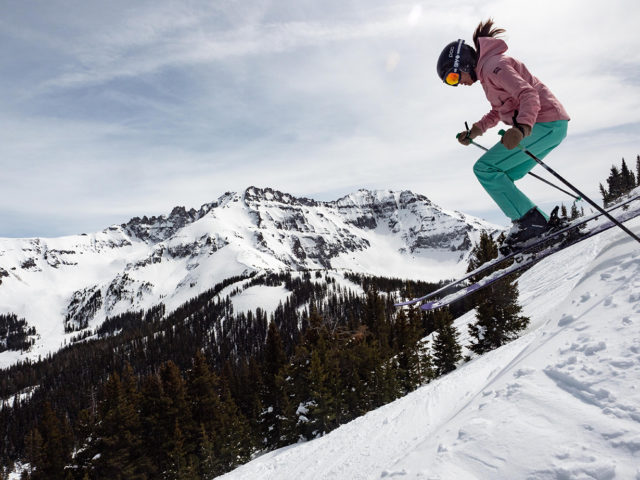 Those looking for a super damp, super stable ski should look to heavier options (see the Women's Skis section of our 19/20 Winter Buyer's Guide). And beginners who often end up backseat in bumps and tight terrain should look to skis with softer flex patterns. But if you prefer quickness over high-speed stability, the Zelda A106 C2 is definitely worth a look. A ski without a learning curve, the Zelda is easy to hop on and feels intuitive from the first turn.
Bottom Line
The DPS Zelda A106 C2 is a versatile, playful, intuitive ski that doesn't require a lot of muscle to get them to do what you want, but is still stable and predictable for its low weight. Slow to fast speeds, small- to large-radius turns, everything from firm groomers to deep snow — the Zelda A106 has done all of that with few issues.
[Note: rocker pics shown are for the DPS Wailer A106 C2, which has an identical rocker profile as the Zelda A106 C2.]