Intro
Over the past couple of seasons, we have been testing *a lot* of ski / snowboard outerwear. And while we'll still be posting individual reviews for many pieces, we thought it'd be useful to compare all of these pieces head-to-head in one huge, "mega roundup."
All of the garments here are meant to serve as the protective outer layer for a day in the mountains, but they all accomplish that in different ways. Some are super burly and ideal for resort skiers / boarders who are hard on their gear, while others are quite light, breathable, and better suited to those who spend a bit of their time (or all of it) skinning / hiking for their turns. And while most are uninsulated shells, there are a few insulated shells here, too.
There are several pieces here that we reviewed as a jacket + pant kit, as well as jackets, pants, and bibs that we've tested on their own.
Most of these garments are available in both men's and women's versions with nearly identical fabrics and feature sets, but here we're discussing those that our male reviewers tested, while our female reviewers will be posting a similar roundup in the very near future, with the pieces they've been testing.
So, if you're in the market for some new outerwear this year, take a look and see which of these pieces might work best for you. And stay tuned later this winter, when we'll be updating this post with a few new pieces that we're testing this season.
Note:
Measured weights are based on a size Medium, unless noted otherwise
For reference when looking at our photos, here are our reviewers' specs:

Luke Koppa: 5'8", 155 lbs / 173 cm, 70 kg
Dylan Wood: 5'11", 155 lbs / 180 cm, 70 kg
Jonathan Ellsworth: 5'10", ~175 lbs / 178 cm, 79 kg
Sam Shaheen: 5'10", 145lbs / 178 cm, 65.7 kg
Norrona Lofoten Gore-Tex Pro Jacket & Gore-Tex Pro Plus Pant
Price: $699 (jacket) $759 (pant)
Fabric: 70D 3L Gore-Tex Pro Most Breathable (jacket) 200D 3L Gore-Tex Pro Most Rugged (pant)
Sizes Tested: Men's Medium for both
Measured Weight: 681 g (jacket) 935 g (pant)
Reviewer: 5'8", 155 Ibs / 173 cm, 70 kg
Luke Koppa: For decades, Norrona's Lofoten collection has served as their "big mountain freeride" series. Last year we spent a whole bunch of time in the standard Lofoten Gore-Tex Pro Jacket and the Lofoten Gore-Tex Pro Plus pants.
The "Plus" iterations of Norrona's Lofoten Gore-Tex Pro pieces feature the "Most Rugged" version of Gore-Tex Pro (listen to our GEAR:30 podcast with Gore-Tex for more on that). In this pant, Norrona paired that with a very substantial 200-denier face fabric, and the result is a very burly pant that also feels quite refined, for lack of a better word. Its pocket layout is excellent, with just the pockets I want, right where I want them. The removable bib portion is made of a breathable softshell fabric and, combined with the main fabric's decent breathability, that means this pant can still work fine in the backcountry (particularly if you value durability and weather protection over low weight).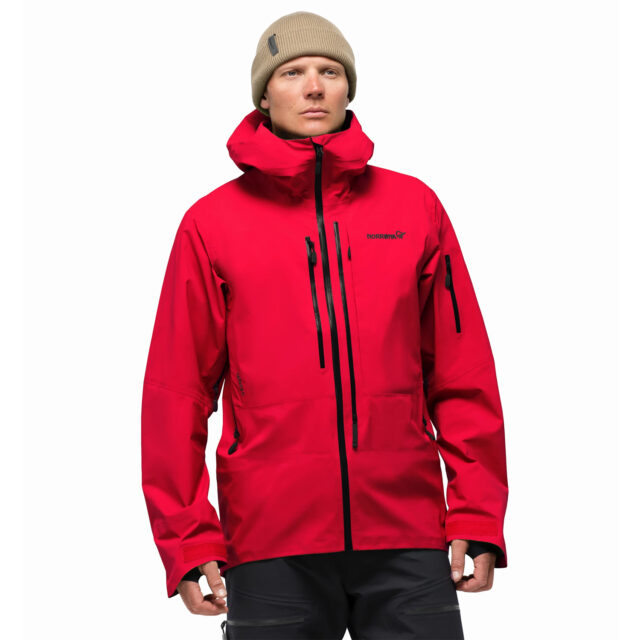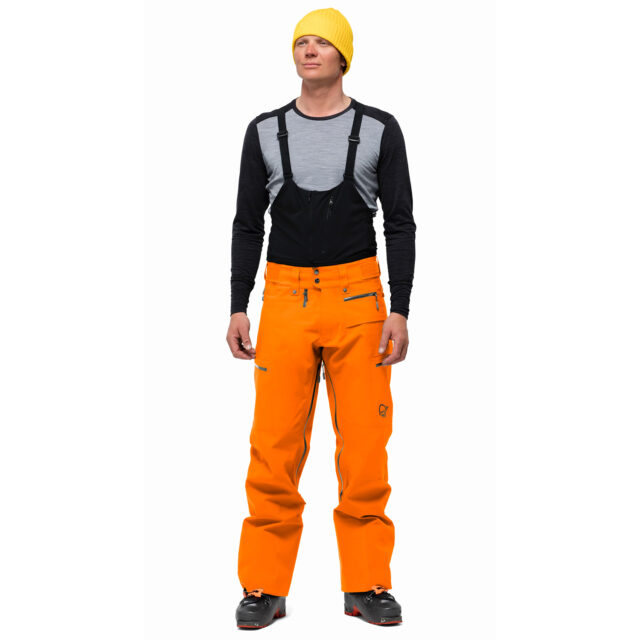 Personally, I'm a big fan of this sort of removable softshell bib design since it's more breathable than a waterproof fabric, removable if you don't want the bib, and it still does a very good job of keeping most snow from penetrating your midlayers. My main worry was the durability of the small zippers used to attach it to the pant, but after more than 100 days in this pant, they're still functioning just fine.
The Lofoten Gore-Tex Pro Plus Pant doesn't look or feel particularly baggy, but I've never felt restricted by it. There's no getting around this piece's price tag, but it's a garment that I'd view as an investment, and its overall build quality and the obvious attention to detail seem in line with this pant's price. For a much less expensive, similarly burly, and much more relaxed-fit alternative, check out the Flylow Baker bib.
As for the standard Lofoten Gore-Tex Pro Jacket, it uses the "Most Breathable" version of Gore-Tex Pro, which is actually just what Gore-Tex Pro used to be when there was only one version of it. That said, the fabric on the standard Lofoten Gore-Tex Pro Jacket is still on the burlier end of the spectrum, though it also has that more traditional, somewhat crinkly feel of a hardshell. The fit of the Lofoten Gore-Tex Pro Jacket is on the slimmer side, most notably through the neck and hem (there's still plenty of room in the torso and arms for layering underneath). However, if you've got a thick neck or typically wear bulky, fleece neck gaiters / hoods, the Lofoten Gore-Tex Pro Jacket may feel constricting. The flipside of this is that the Lofoten Gore-Tex Pro Jacket just looks really clean and flattering (at least in my opinion).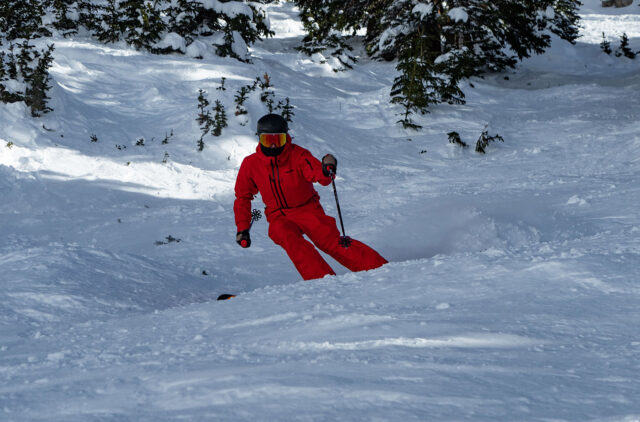 As for features on the Lofoten Gore-Tex Pro Jacket, it's got plenty of useful pockets to satisfy just about anyone. The second zipper parallel to the main zipper is a mesh-backed vent that adds a bit more ventilation (it also has both pit zips and tricep vents), and that front vent also serves to open up the circumference of the neck a bit.
I'm also a massive fan of the cuffs on all the Norrona shells I've used. They're cut longer over the top of the hand to offer more coverage without getting in the way, and they work great whether you're wearing bulky gloves or not.
Like pretty much all pieces that use Gore-Tex Pro Most Breathable, the Lofoten Gore-Tex Pro Jacket breathes just a touch better than most 20K/20K fabrics in my experience, though I'd opt for an air-permeable membrane if maximum breathability is what you're after. If, instead, you encounter a lot of wet snow, this piece is excellent, and I've actually been using it as my rain jacket for most of the summer. Jonathan also brought it to Austria last week and skied in the rain with no issues.
Overall, these two Norrona pieces are very high-end garments, with thoughtful features and excellent overall quality. The "Plus" versions should be on your radar if you want a very burly shell that's still fairly breathable and with lots of useful features, while the standard Gore-Tex Pro versions are excellent all-rounders and better if you want something a bit lighter and more packable.
Candide Collection C1 3L Jacket & Bib
Price: $650 (jacket) $531 (pant)
Fabric: 3L waterproof/breathable laminate (57% organic biobased polyester / 43% recycled polyester)
Size Tested: Men's Medium for both
Measured Weight: 828 (jacket) 838 g (pant)
Reviewer: 5'8", 155 Ibs / 173 cm, 70 kg
Luke Koppa: Candide Thovex recently launched his own clothing company, and last season and this season we have put a good bit of time in Candide Co's top-of-the-line 3-layer C1 kit.
The C1 3L kit stands out because of its rugged build quality and simplicity. The 3L fabric (reportedly 20K/20K) has proven plenty resistant to both snow and rain, and it breathes well enough to work as an occasional touring kit. It's also pretty stout, and after about half a season, the C1 3L kit looks basically like it did when we first got it. The main downside to that is that the fabric does fall on the stiffer, more crinkly end of the spectrum.
This C1 3L kit is notably roomy, making it a good choice if you prefer a more relaxed fit and/or like to add a lot of layers underneath. The C1 3L Jacket's fit is a bit longer than average, but most of its roominess comes down to the voluminous fit through the torso and arms.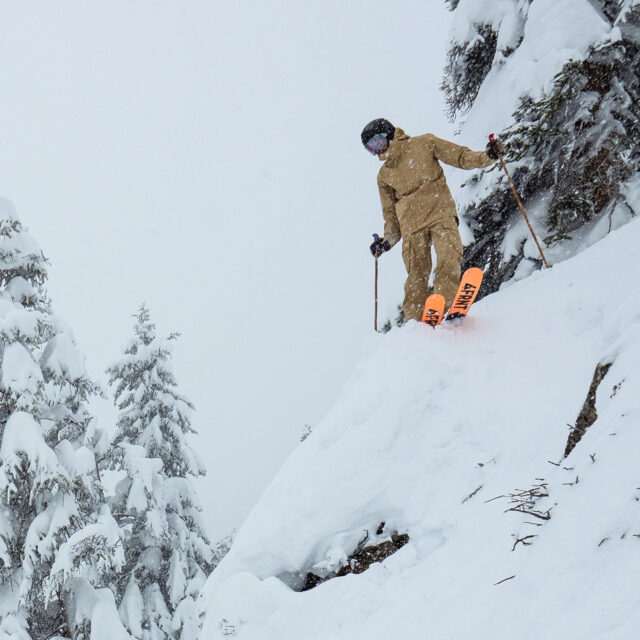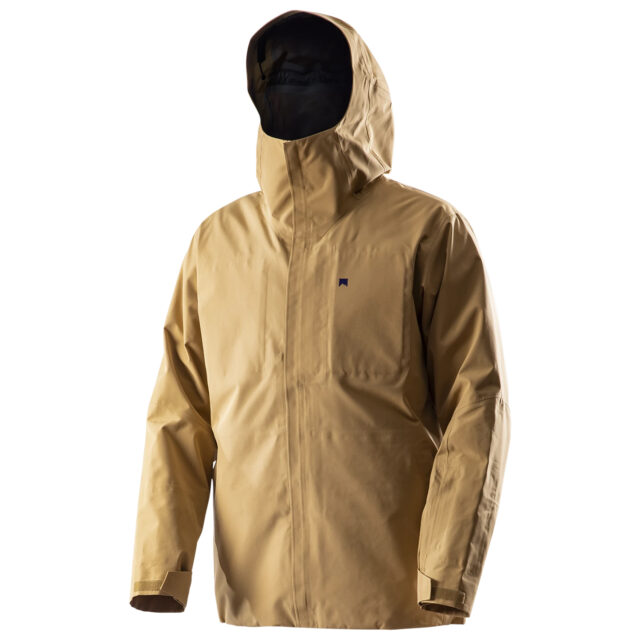 The C1 3L Bib is similarly roomy in terms of overall volume, and features waterproof fabric all the way up to the front of the chest (the back of the bib is cut notably lower). The bib portion is also fully removable, and the pant comes with a belt with a magnetic latch that is pretty cool, though the belt's band is also highly elastic, to the point that you really need to cinch it down if you're in a size too big. In my case, I think I could've sized down on both the jacket and pant, but even with the bib removed, the belt managed to keep me from flashing anyone during my frequent crashes.
The C1 3L kit has tons of pockets, most notable of which is the jacket's Primaloft-insulated chest pocket, which did seem to keep our phones' batteries alive a bit longer on cold days. My one complaint with this kit is the C1 3L Bib's clean-looking, but easily scuff-able cuffs. They are reinforced on the inside, but the face fabric is exposed to ski edges and therefore shows scuffs and cuts more than pants with a burlier fabric laminated to the exterior. Of course, the C1 3L's cuff construction does lend to a cleaner look, so if you like that and you don't tend to rapidly cut up your ski pants, it could be a positive. (No matter the fabric, I've managed to put a lot of tears in the cuffs of every pant I've ever used for more than ~15 days, due to how often I click my skis together while flailing around in the air.)
Overall, the C1 3L kit is a solid choice if you're looking for a burly, roomy, and very understated shell.
Patagonia Untracked Jacket & Pants
Price: $649 (jacket) $499 (pant)
Fabric: 70D 3L Gore-Tex (92% recycled polyester face fabric) w/ flannel backer
Size Tested: Men's Medium for both
Measured Weight: 752 g (jacket) 666 g (pant)
Reviewer: 5'8", 155 Ibs / 173 cm, 70 kg
Luke Koppa: The Untracked collection has now been in Patagonia's line for many years. With its fairly burly face fabric, flannel backer, and standard Gore-Tex laminate, it's designed as the more resort-oriented alternative to their PowSlayer kit, and overall, it's a solid choice for those who prioritize weather protection and durability.
The Untracked has a pretty middle-of-the-road fit that should work for a lot of people — neither super slim nor super baggy. It's got just about all the pockets anyone could need, functional velcro cuffs, and a nicely refined helmet-compatible hood.
The standard Gore-Tex laminate is a reliable performer — I've never had issues with it letting moisture all the way through the fabric, and it breathes well enough for the occasional inbounds hike.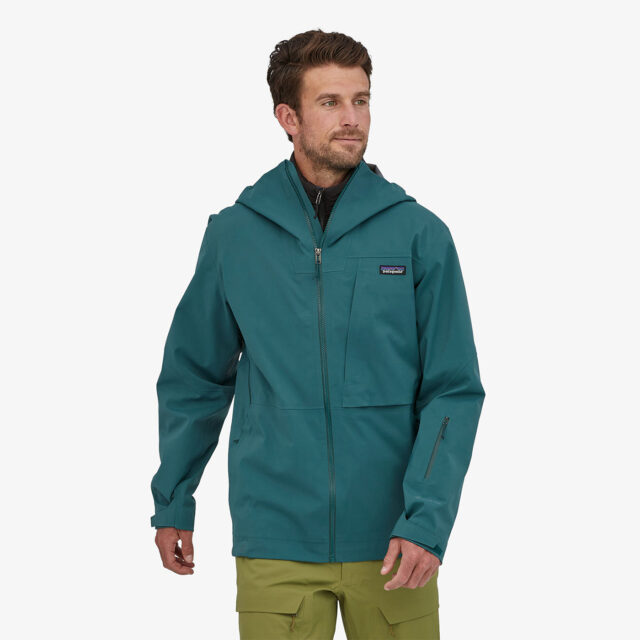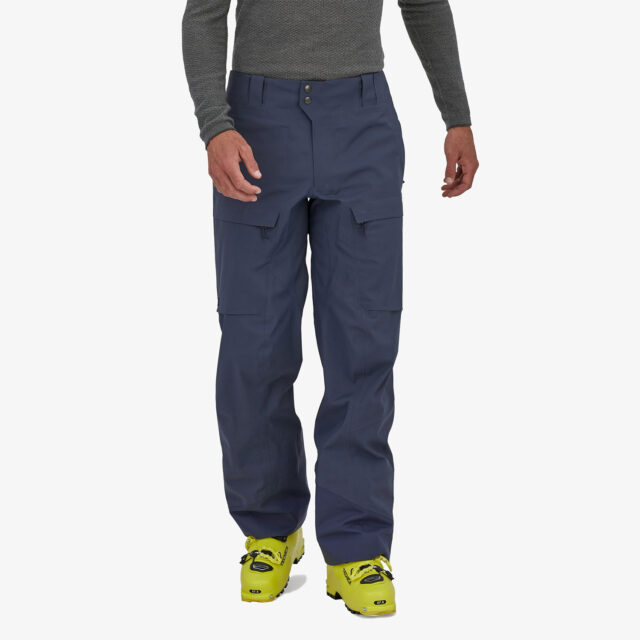 The Untracked wouldn't be our top pick if you'll be doing a lot of skinning in it, but Dylan and I have had basically zero complaints using it as a daily resort shell. If you prefer a softer, more supple feel and want something better for occasional or frequent backcountry touring, check out the Patagonia SnowDrifter.
Price: $479 (jacket) $479 (pant)
Fabric:
Hood, Shoulders, & Pant main fabric: 3-layer Dermizax EV w/ 150-denier nylon face fabric
Rest of Jacket: 3-layer Dermizax EV w/ 50-denier nylon face fabric
Upper Bib: stretch-woven nylon
Size Tested: Men's Medium for both
Measured Weight: 571 g (jacket) 824 g (pant)
Reviewer: 5'8", 155 Ibs / 173 cm, 70 kg
Luke Koppa: We've already posted a full review of the Capow Kit, but I want to again include it here since it's one that I think could work for a lot of people.
This is primarily cause of the Capow's Dermizax EV fabric, which is a bit more breathable than average, fully waterproof in our experience, and still quite burly overall. While the Capow's fabric is fairly thick (particularly in the bib) and has held up well over two seasons, it's also super stretchy, supple, and comfortable.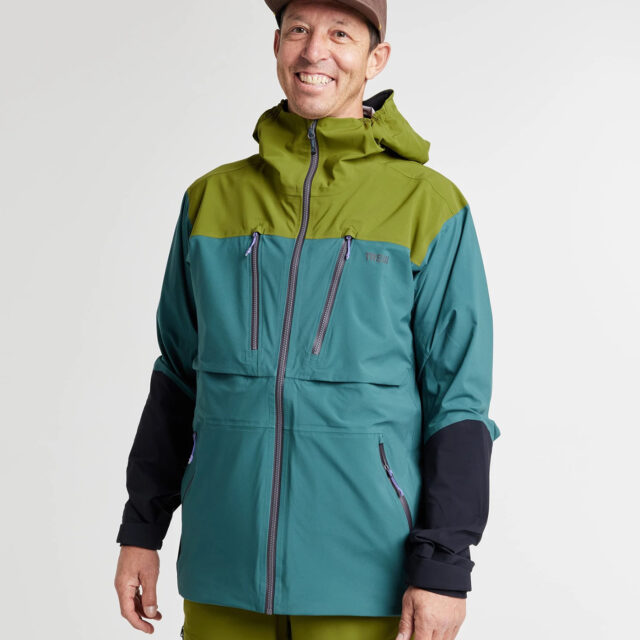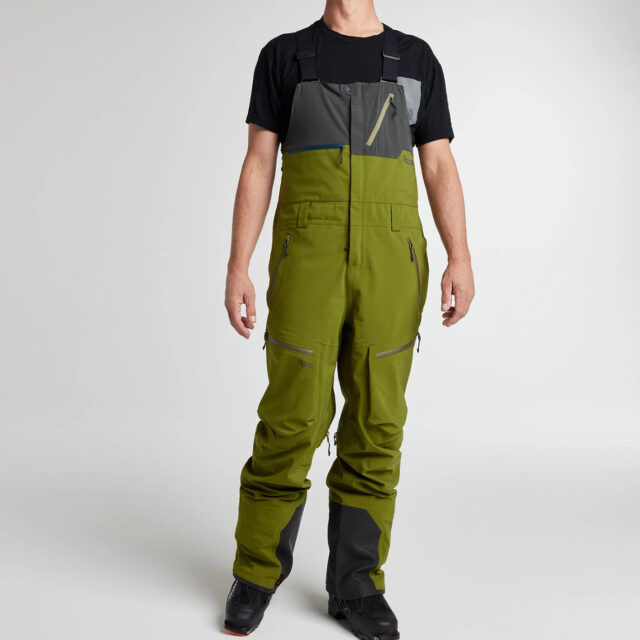 Combined with the Capow's generous and useful feature set, that makes it an excellent option if you'll be using it for both lift-accessed and human-powered skiing.
The deciding factor for some people might be the Capow's fit — it's on the slimmer side of the spectrum. I have no problem fitting a midlayer like the Patagonia Nano-Air or Micro Puff underneath and don't feel restricted by the fit, but if you prefer a more relaxed, roomy fit through the torso and thighs, I'd check out the Patagonia SnowDrifter kit or Trew's other offerings.
Overall though, if you want a super comfy shell that can handle heavy precipitation and abrasion at the resort as well as time spent skinning and hiking uphill, the Capow Kit warrants a close look — particularly if you prefer a slightly slimmer overall fit. If you want a roomier fit and don't mind a more traditional hardshell feel, see the Trew Cosmic Jacket.
Patagonia SnowDrifter Jacket & Bibs
Price: $399 (jacket) $349 (pant)
Fabric: 75D 3L H2No laminate w/ 70% recycled face fabric & knit backer
Size Tested: Men's Medium for both
Measured Weight: 615 g (jacket) 608 g (pant)
Reviewer: 5'8", 155 Ibs / 173 cm, 70 kg
Luke Koppa: This is another very versatile kit that's great for those who prioritize comfort and want something that's breathable enough for touring without feeling fragile or short on features in the resort.
You can check out our full reviews of the men's & women's SnowDrifter pieces for more info, but here we'll discuss the main points. First is the fabric — it hits a nice middle ground of being light enough that the SnowDrifter isn't super bulky in a pack, while still holding up pretty well for frequent days in the resort. Its middle-of-the-road water resistance and breathability also make it work pretty well in a wide range of scenarios. Air-permeable options like the pieces here from Strafe, Flylow, and Bonfire all offer slightly better breathability, but we've still been content using the SnowDrifter for lots of backcountry days.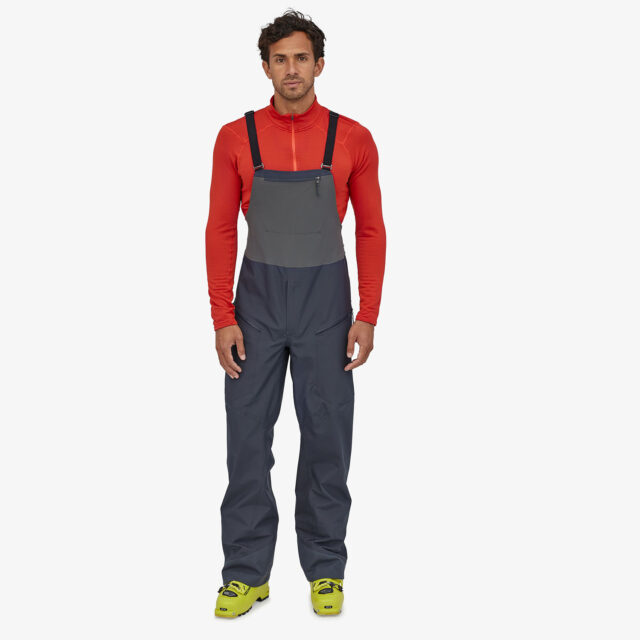 In terms of fit, the SnowDrifter sits slightly on the roomier and longer end of the spectrum, offering plenty of room for movement and layers. Given that, it's a great alternative to the Trew Capow if you prefer a slightly more relaxed fit.
The SnowDrifter has a lot of pockets, though, like many of the jackets here, it lacks large-enough pockets to stash skins for wider, longer touring skis.
Overall, this is a kit that could keep many skiers and snowboarders quite happy. If you want a much lighter, more touring-oriented alternative, consider the Patagonia StormStride or Patagonia Ascensionist.
Bonfire Apex Jacket & Ranger Pant
Price: $579 (jacket) $399 (pant)
Fabric: 3L Polartec NeoShell Laminate
Size Tested: Men's Large (jacket) Men's Medium (pant)
Measured Weight: 1084 g (size L jacket) 753 g (size M pant)
Reviewer: 5'8", 155 Ibs / 173 cm, 70 kg
Luke Koppa: We spent a ton of time in Bonfire's Apex Jacket and Ranger Pant last season, and they stand out primarily because they use Polartec's excellent NeoShell laminate. But unlike many NeoShell pieces, this Bonfire kit uses a pretty burly (yet super supple) face fabric, making it totally viable in the resort. Yet it also breathes better than almost every shell here.
This Bonfire kit is definitely not the most packable or lightweight, but given how breathable it is, I was able to keep it on during most tours in mid-winter Colorado temperatures. Plus, the Apex Jacket has integrated (and removable) backpack-style straps you can use to hang the jacket on your back during the ascent, which I became a big fan of when doing quick uphill laps at Mt. Crested Butte after the resort had closed in the spring.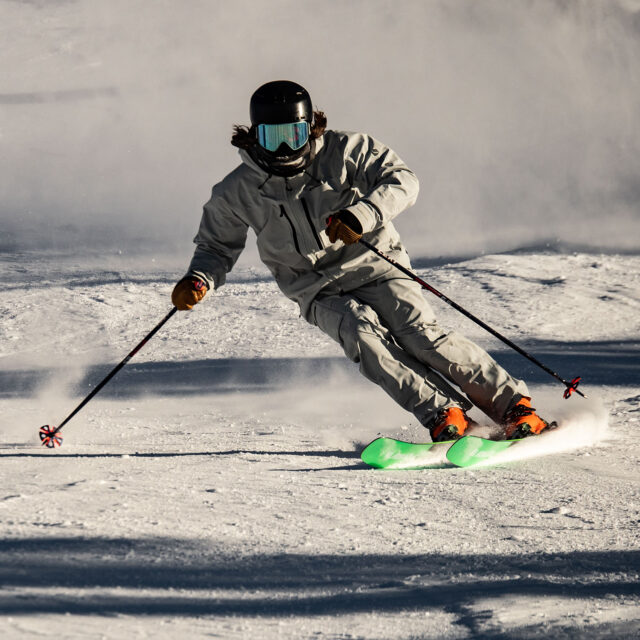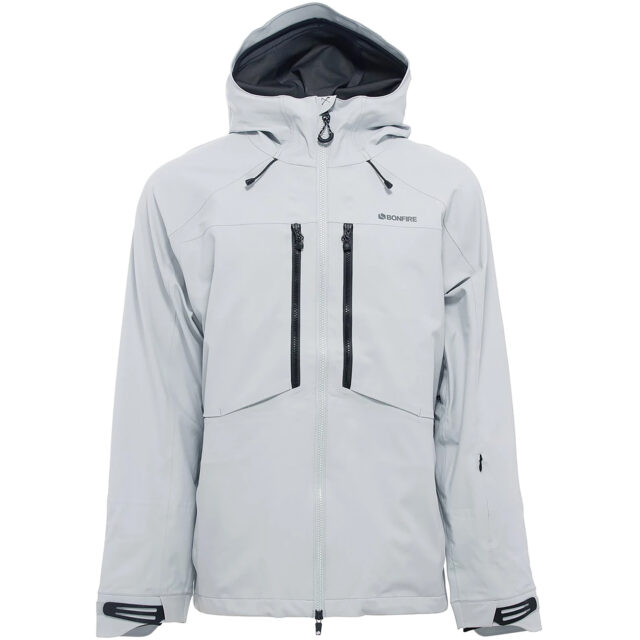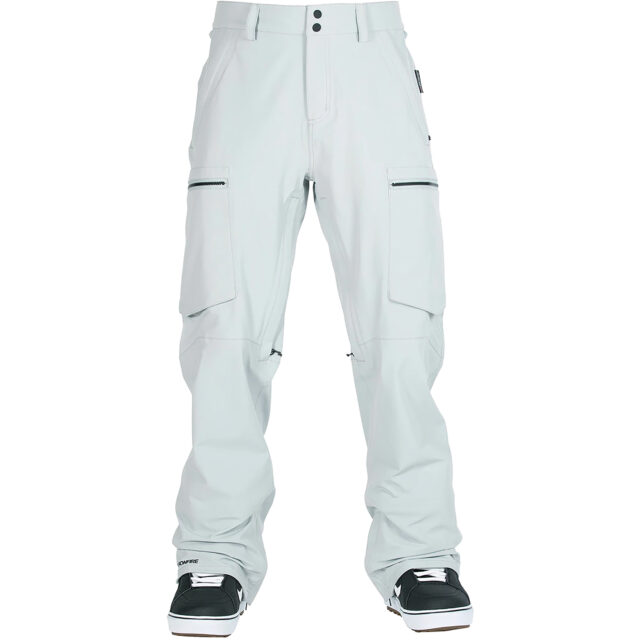 The Ranger Pant is quite slim, so those seeking a baggier fit with similar breathability should check out the Strafe Cham Pant. The Apex Jacket is not as slim overall as the Ranger Pant, though the Apex Jacket is notably shorter than many of the other jackets here. I tried it in the size Large, and while it does feel pretty roomy through the torso, I'm happy I sized up since the Large still only hits a few inches below my waist.
In terms of features, this kit has all that I'd personally want. I've been able to fit most skins (for skis up to about 110 mm x 186 cm) in its dual exterior chest pockets, and I really like the Apex Jacket's cuffs.
The big thing to note for skiers is that the Ranger Pant lacks reinforcement on the inside of its cuffs to protect from ski edges. As someone who accidentally bangs their skis together all the time, this was a bit of a bummer, and the Range's cuffs are very torn up after ~40 days in them. That said, I'm planning on just finding some Cordura and sewing it to the cuffs, which should extend the life of these pants.
That aside, the Apex Jacket and Ranger Pant are excellent options for those who prioritize breathability and comfort, but who don't want some super fragile, lightweight kit.
Houdini Rollercoaster Jacket & Pant
MSRP: $600 (jacket) $550 (pants)
Fabric: 3L Atmos laminate w/ 70% recycled face fabric
Size Tested: Men's Medium for both
Measured Weight: 665 g (jacket) 717 g (pants)
Reviewer: 5'8", 155 Ibs / 173 cm, 70 kg
Luke Koppa: This is a very versatile, comfortable, and stylish kit that can function well in both the resort and the backcountry.
Similar to the previous three pieces, the Rollercoaster's fabric is notably supple and lacks the traditional, crinkly "hardshell feel." The Rollercoaster uses Houdini's proprietary 3-layer Atmos laminate, which is reportedly rated at 20K/20K and in our experience offers pretty middle-of-the-road weather resistance and breathability compared to other high-end shells (it feels pretty close to the Patagonia SnowDrifter in terms of overall performance).
Aside from how comfortable it is, the big highlight with the Rollercoaster's Atmos fabric is that Houdini will recycle it if you send it to them after it is beyond repair. That's because all three layers of its laminate are made of polyester (the face fabric being 70% recycled).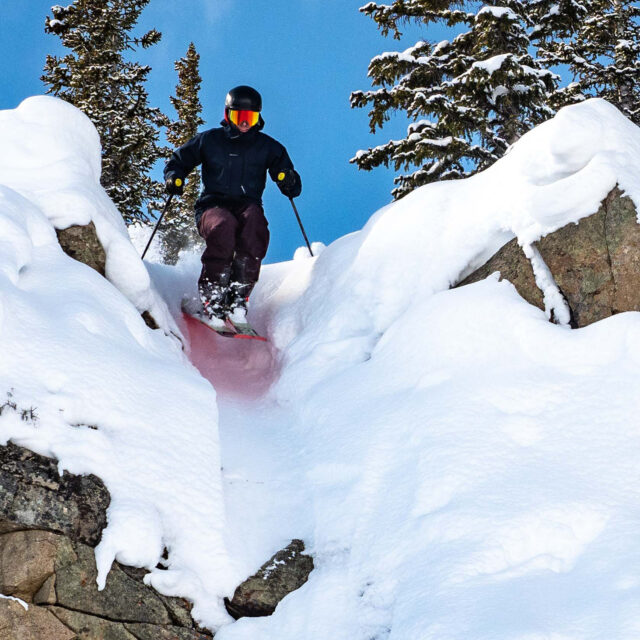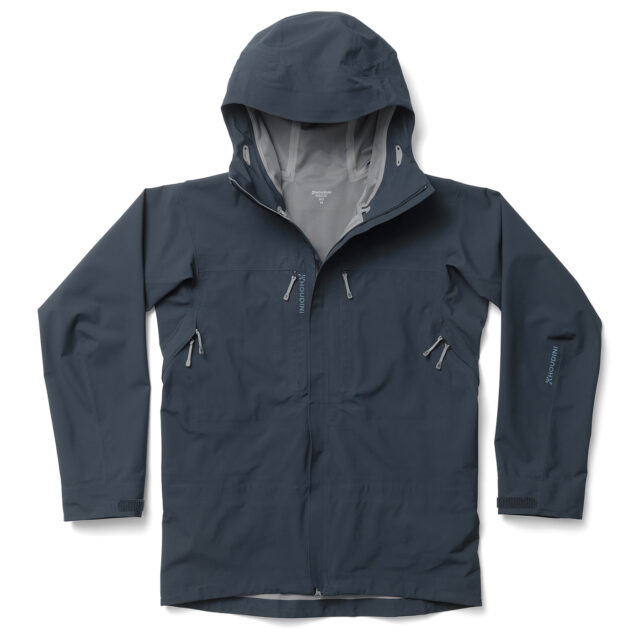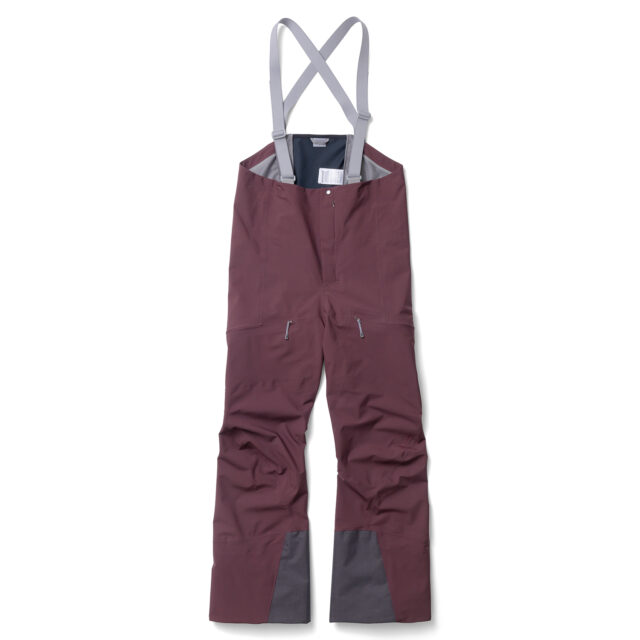 Houdini's goal is that, by 2030, they will no longer take in any virgin raw materials to make their garments — that's a pretty lofty goal, but by making their current pieces more easily recyclable, they are actually putting in the work to meet it.
In terms of fit, the Rollercoaster Jacket is pretty average, if not slightly on the slimmer side (particularly through the sleeves), and it's a bit shorter than many jackets here (except for the Bonfire Apex). I've still found it roomy enough for a typical midlayer underneath, and the stretch of the fabric — combined with Houdini's excellent patterning — makes for nice range of motion. The Rollercoaster Bib is not as slim, with lots of room through the torso and thighs.
The Rollercoaster kit has plenty of pockets, though it lacks an interior drop-in pocket and it can be difficult to fit skins for long, wide skis in its zippered pockets. The Rollercoaster Bib features a full drop-seat, which is nice for bathroom breaks, and those two double-sided zippers double as huge leg vents.
So, in sum, the Rollercoaster is another good "50/50" kit for people who ski / ride a bit of everything, particularly if you prefer something on the slightly slimmer side of the spectrum and/or like the idea of garments that you could recycle and keep out of a landfill once you're totally done with them.
For a more minimal, lightweight alternative, see the excellent Houdini Shelter Anorak.
Strafe Cham Jacket & Pants
MSRP: $549 (jacket); $469 (pants)
Fabric: 40Dx20D 3L Schoeller Aerobrane laminate
Size Tested: Men's Medium for both
Measured Weight: 459 g (jacket); 461 g (pants)
Reviewer: 5'8", 155 Ibs / 173 cm, 70 kg
Luke Koppa: After another year, the Strafe Cham is still the most breathable 3L "hardshell" I've used. (See my full review for the whole story.)
The Cham's fabric is an air-permeable, 3-layer Schoeller Aerobrane laminate with a membrane (a construction that's similar to many hardshells), but it's so supple, comfortable, and breathable that it feels more similar to most softshells. The Cham is one of the only 3L shells I've been comfortable leaving on during an entire high-output day — even in temperatures slightly above freezing. As I wrote in my full review, I kept it on for the entirety of the day when I tried (and failed) to summit and ski Mt. Sneffels in May, when the morning started at about 25°F and climbed to about 45°F by midday (-4°C to 7°C). I can't imagine doing that in any other 3L shell apart from maybe a very lightweight Polartec NeoShell piece.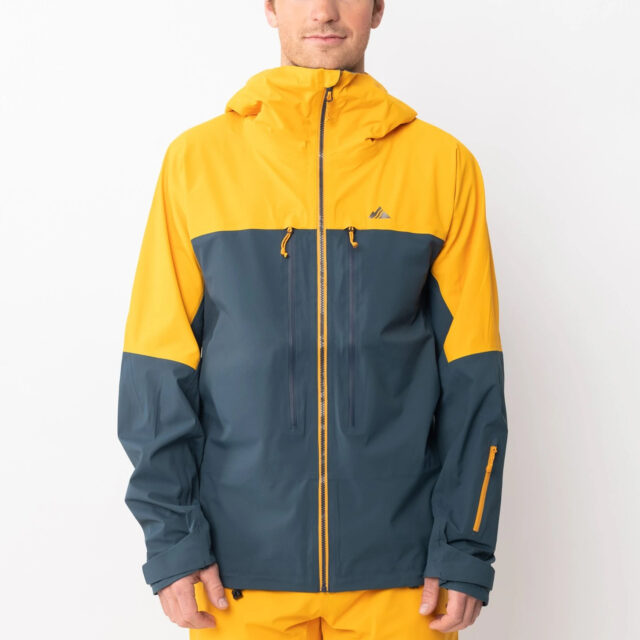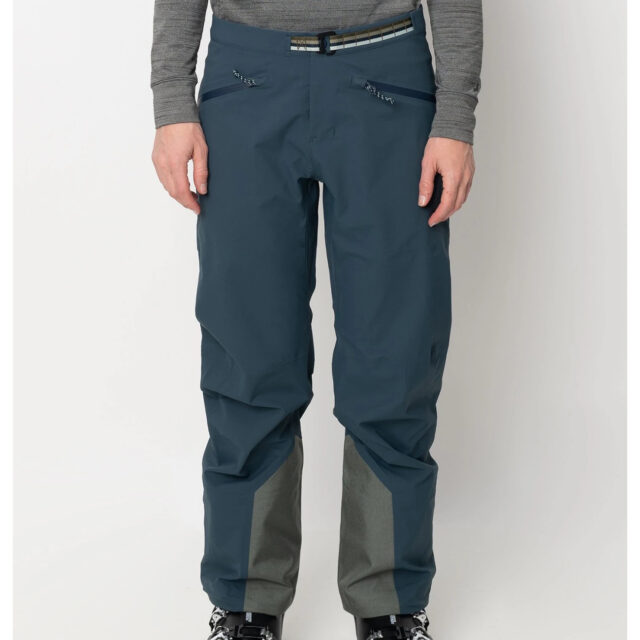 At the same time, the Cham provides an impressive level of weather resistance, given how well it breathes. I would not pick it if I was looking for a 4-season rain shell or needed a kit for doing 100 days of lift-accessed skiing at a very wet resort like Alyeska. However, for a place like Colorado, it has always kept me dry — even in wet early season snowstorms (and when I used it as a rain jacket for a few days back home in Wisconsin).
As for features, the Cham has just what I want out of a touring kit: two massive chest pockets for skins, interior zippered and drop-in pockets, and two hand pockets on the pants with a sleeve to potentially hold your beacon. Strafe also didn't skimp on the pant's cuff reinforcements, and they feature snaps to snug them around your legs when using crampons.
On that note, the fit of the Cham may either be a limiting factor for some, or a huge bonus. That's because, unlike most touring-oriented kits, the Cham (especially the jacket) fits on the baggier side of the spectrum. Personally, I love the fit, but if you prefer a very slim fit, you won't feel the same way. I'd also recommend sizing down if you're often between sizes — I like the fit of the size Medium Cham Jacket, but the size Medium Pants are a bit too roomy around the waist (while the integrated belt is excellent, I've maxed out its notches). For reference, the Cham kit is unisex, and I'd say its sizes fall in line with Strafe's men's sizes, which are generally on the bigger side of average for men's outerwear.
I wouldn't recommend using the Cham inbounds if you're hard on your outerwear, and it's not our top pick for long days of rain or really wet snow. But it's definitely more water resistant than membrane-less softshells I've used, and given how well the Cham breathes, that makes it really appealing for touring in not-super-wet climates like the Rocky Mountains.
Picture Organic Folder Xpore Jacket & Pants
Price: $550 (jacket); $350 (pant)
Fabric: 3L Xpore laminate
Size Tested: Men's Medium for both
Measured Weight: 805 g (jacket); 653 g (pant)
Reviewer: 5'8", 155 Ibs / 173 cm, 70 kg
Luke Koppa: Like many of Picture Organic's products, the Folder kit stands out primarily because of its less environmentally harmful construction.
This kit uses an Xpore membrane, which does not contain PTFE or PFC, does not require solvents during production, and can be recycled with other textiles. The Folder kit also uses 53% biobased polyester face fabric that's reportedly made from sugarcane waste (the leftover cane stalk fibers).
I'm all for the advancement of potentially less harmful technical fabrics and laminates, but in the grand scheme, it's Picture's level of transparency surrounding their own carbon footprint that I think sets them apart from many other brands. You can view their breakdown of the emissions created by their whole supply chain, and the goals they've made to reduce their overall impact. Of course, time will tell how effectively they're able to execute on those goals, but I'm a big fan of their comprehensive approach.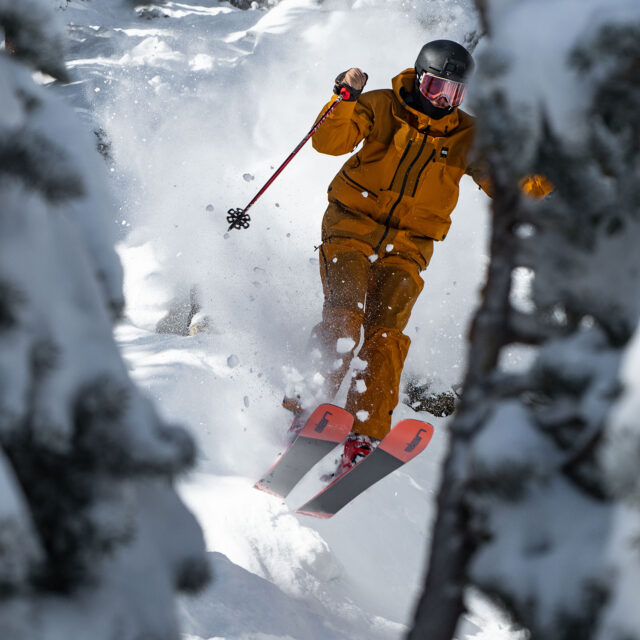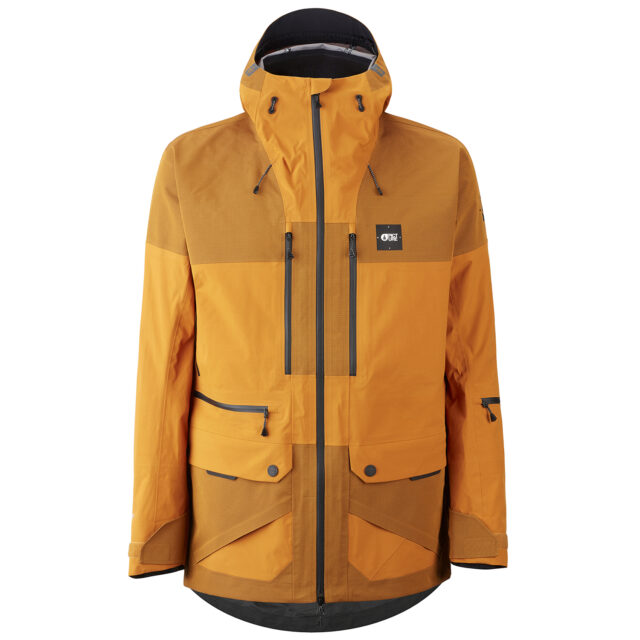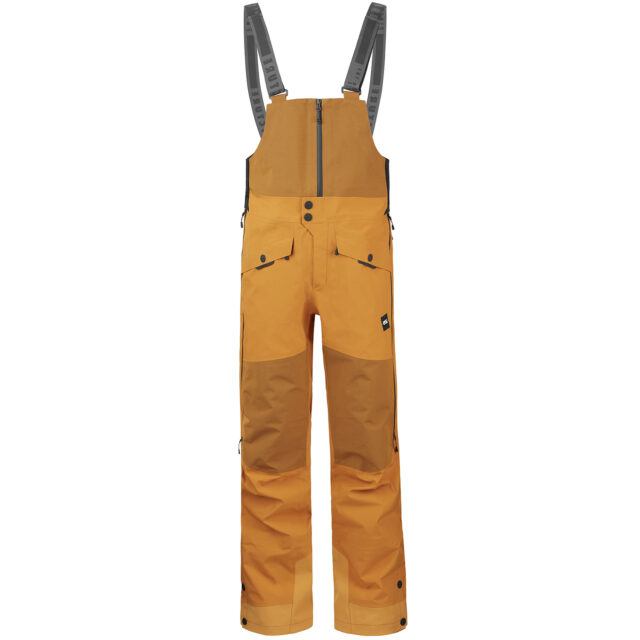 In terms of performance, the Folder's Xpore fabric falls in line with most high-end waterproof / breathable fabrics; we haven't had any water get through it, and it breathes fairly well. Xpore would not be my top pick if breathability is your top priority; I'd say it breathes just a touch worse than Gore-Tex Pro Most Breathable, and air-permeable alternatives like Polartec NeoShell and those from Strafe & Flylow are notably better in this regard. But as a resort shell that sees the occasional boot pack or skin track, the Folder kit does just fine.
The Folder kit fits on the longer end of the spectrum, so if you're sometimes between sizes, we'd recommend sizing down (particularly the bibs).
The Folder's fabric sits around the middle of the spectrum in terms of weight and durability, though it is reinforced in high-wear areas. It's not the absolute burliest option here, but it held up well after a full season of use and basically looks new (plus Picture has a lifetime repair warranty for many common repairs).
As for features, the Folder kit has just about all (if not more) than we could want.
Overall, the Folder's generally solid overall performance, generous feature set, and decent packability make it a pretty versatile kit, particularly for those who prefer a longer fit.
Black Crows Freebird Xpore Jacket & Pants
Price: $719 (jacket); $599 (pant)
Fabric: 3L Xpore laminate
Size Tested: Men's Medium for both
Measured Weight: 581g (jacket); 682 g (pant)
Reviewer: 5'8", 155 Ibs / 173 cm, 70 kg
Luke Koppa: The new Black Crows Freebird Xpore kit uses the same Xpore membrane as the Picture Organic Folder kit (and a 58% recycled face fabric), though the Freebird is significantly slimmer, lighter, and more oriented toward touring.
The Freebird's fabric is a bit burlier than super minimalist pieces like the Houdini Shelter Anorak, but the Freebird Jacket still packs down quite small. Like the Picture Folder kit, the Freebird Xpore kit's fabric isn't the most supple, but it's not quite as crinkly as most Gore Pro fabrics. Same as the Folder, the Freebird Xpore's laminate has done a great job of keeping out snow and rain, but those looking to get as much breathability as possible out of their waterproof shells should look to air-permeable options like the next two.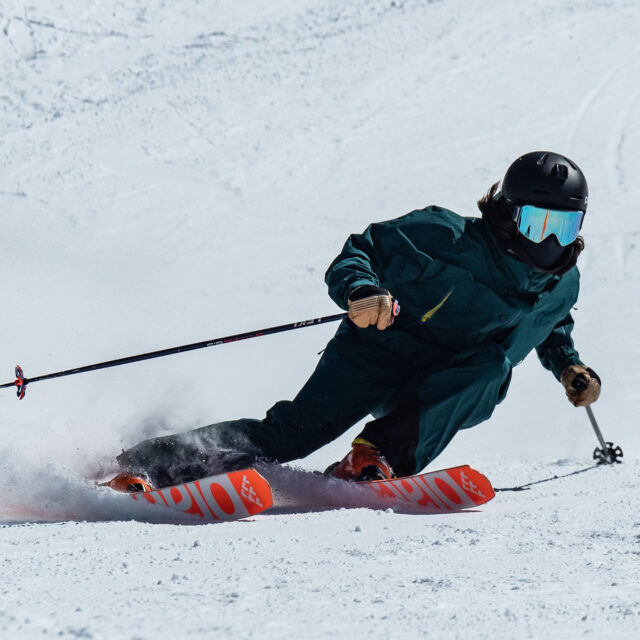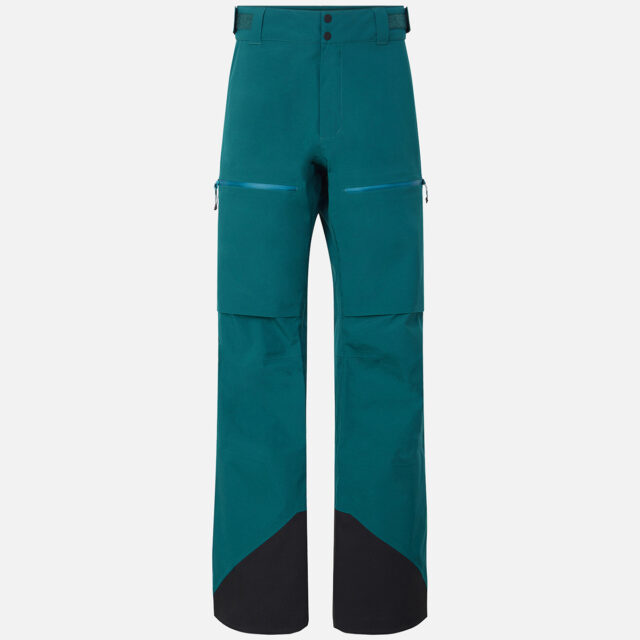 Despite being oriented toward touring, the Freebird Xpore kit manages to pack in lots of useful pockets (including those for big skins!), and I'm a huge fan of its really simple, yet very functional elastic cuffs.
The fit is on the slimmer side and the jacket is maybe a bit shorter than average, but I also think it looks quite flattering and it's definitely still roomy enough to fit a puffy midlayer underneath.
The Freebird Xpore kit is undeniably expensive, but if you want a fairly light, slimmer-fitting touring kit with a less environmentally harmful fabric, it's a very good choice. And despite being fairly light and packable, the fabric feels rugged enough that I wouldn't hesitate to use it pretty frequently in the resort (I have been this season).
Flylow Kane Jacket & Compound Bib
Price: $450 (jacket); $500 (pant)
Fabric: 3L Intuitive The Perm (jacket); 3L eVent DV (bib)
Size Tested: Men's Large for both
Measured Weight: 517 g (jacket); 799 g (pant)
Reviewer: 5'10", ~175 lbs / 178 cm, 79 kg
Jonathan Ellsworth: Now, these two pieces aren't technically designed as a pair, but despite having different fabrics, the Kane Jacket and Compound Bib are both great for touring or a mix of inbounds and backcountry use. They just go about accomplishing that in slightly different ways.
Both use air-permeable waterproof membranes, with the Kane having Flylow's supple Perm fabric and the Compound featuring the burlier eVent DV laminate. In the backcountry, these pieces offer better breathability and comfort than non-air-permeable shells, but they're both a bit more rugged than the Strafe Cham. We'd lean toward the Compound (and its matching top, the Lab Coat) if you'll be spending a lot of time in the resort and/or are harder on your gear, while the Kane (and matching Smythe Bib) is better for those who prioritize a softer, more supple fabric and/or better packability.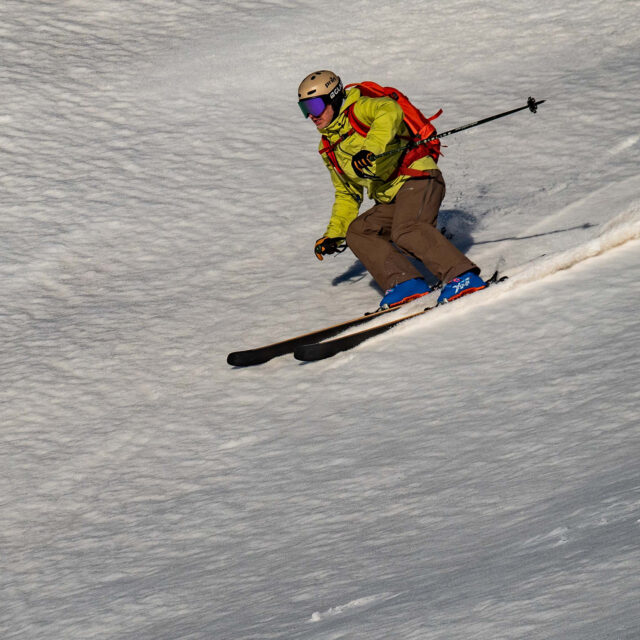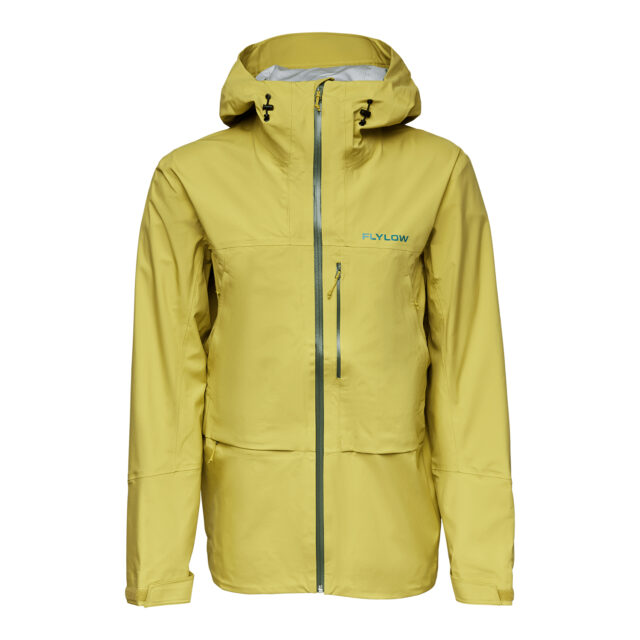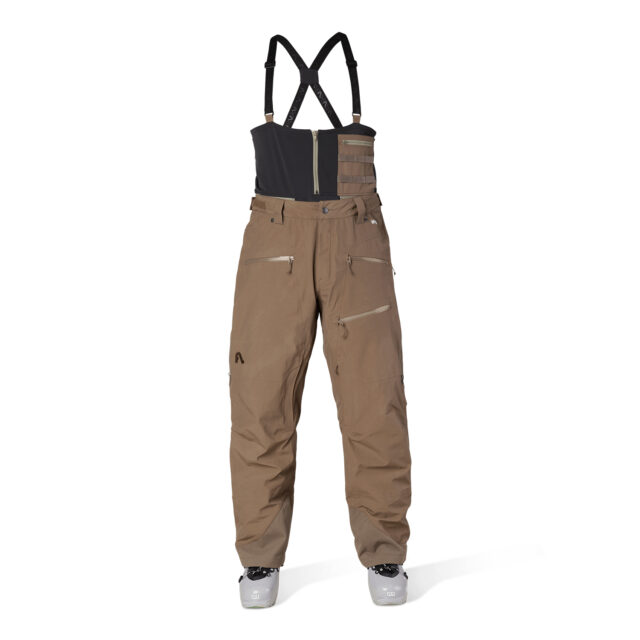 The Kane & Compound also have lots of pockets and useful features, and we particularly like that the Compound's bib section is both removable and made of a more breathable softshell fabric.
They're not the lightest options in the more breathable category, but the Kane Jacket and Compound Bib are still very good all-round touring pieces that also work quite well as resort shells. And they should be particularly appealing to those who want a slightly roomier fit and/or slightly better breathability than pieces like the Patagonia SnowDrifter, Houdini Rollercoaster, and Trew Capow.
Trew Cosmic Jacket & Trewth Bib
MSRP: $399 (jacket); $439 (bib)
Fabric: 3L PNW waterproof / breathable
Size Tested: Men's Medium
Measured Weight: 723 g (jacket); 850 g (bib)
Reviewer: 5'8", 155 Ibs / 173 cm, 70 kg
Luke Koppa: I skied a lot in the Trewth Bib and have now been using the Cosmic Jacket for most of this season, and I'm a fan of both — particularly because of their versatility and price-to-performance ratios.
Both of them use Trew's 3L "PNW" laminate, which is reportedly rated at 20K/20K and has fended off plenty of wet and dry snow, and breathes as well as most non-air-permeable, high-end shells. The fabric is also pretty burly; this definitely is not a kit where I'm frequently worrying about brushing up against trees and rocks. It is a more traditional hardshell construction with a fairly crinkly feel, but nothing out of the ordinary.
Both pieces have a ton of pockets and large vents, though I do wish the Cosmic Jacket had an internal zippered chest pocket (it has two drop-in internal pockets).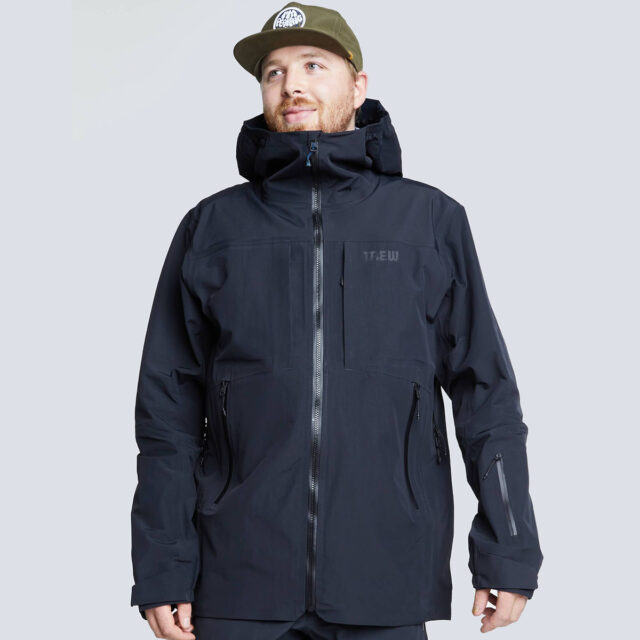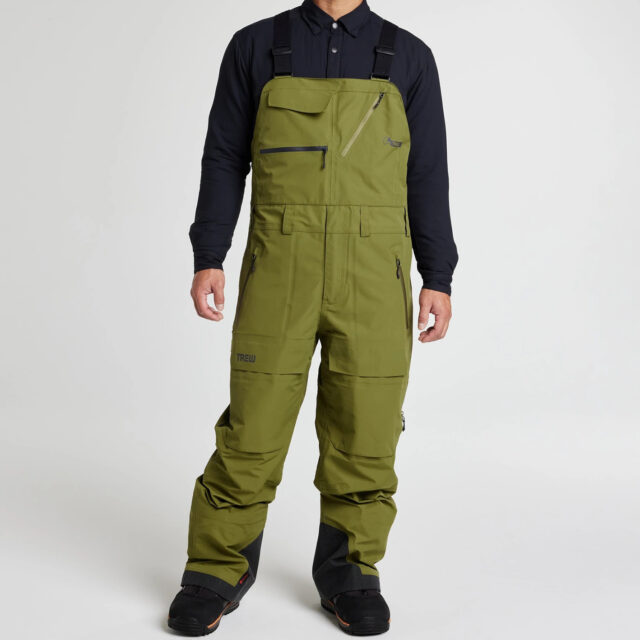 Fortunately, the Trewth Bib has several chest pockets on its bib, so they work well together.
The Trewth Bib is a more traditonal full bib, with waterproof fabric extending all the way up the front and back. That means plenty of coverage, but also poorer breathability than bibs that are shorter or use a softshell material up top.
The fit of both the Cosmic Jacket and Trewth Bib is what I'd call roughly "average" — they're neither super baggy, nor super slim (and notably roomier than the Trew Capow Kit). It's a fit that I think many people could like, and the big thing to note with the Trewth Bib is that Trew now offers it in "short," "regular," and "tall" lengths, which is awesome for people who have trouble finding bibs that fit with the more traditional sizing scheme.
In sum, the Cosmic Jacket and Trewth Bib's solid overall performance, versatile fabric, middle-of-the-road fit (plus length options), and generous feature set make them easy to recommend to a wide range of people. Plus, for how much you get, they come in at a pretty great price when compared to similar alternatives from other brands.
Price: $460
Fabric: 3L Atmos laminate w/ 70% recycled face fabric
Size Tested: Medium
Measured Weight: 464 g
Reviewer: 5'8", 155 Ibs / 173 cm, 70 kg
Luke Koppa: If you're a frequent listener of our GEAR:30 podcast, you're probably aware of the ongoing war between me and Jonathan when it comes to anoraks. He thinks they're creations of satan himself, while I'm of the opinion that a well-executed anorak can be the epitome of good design.
With that in mind, I'm borderline in love with Houdini's Shelter anorak. I'm not saying it'll win over anorak haters, but if you have joined or are interested in joining the Cult of Full-Zip Abandonment (we're always taking applications), you should check out the Shelter.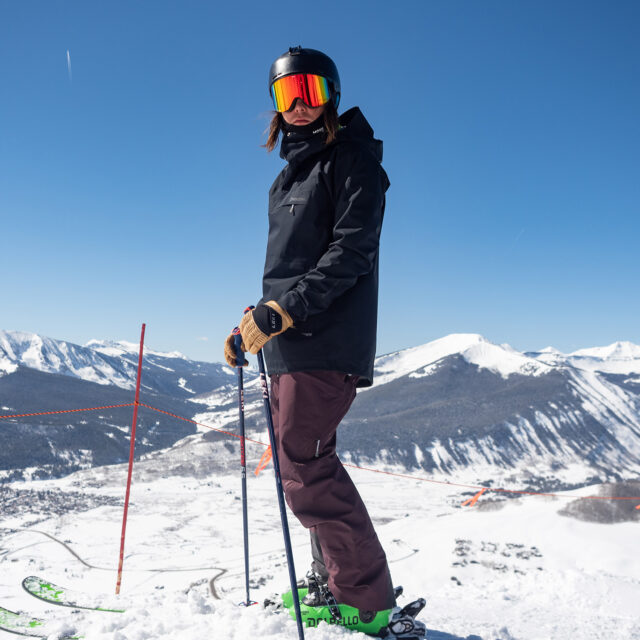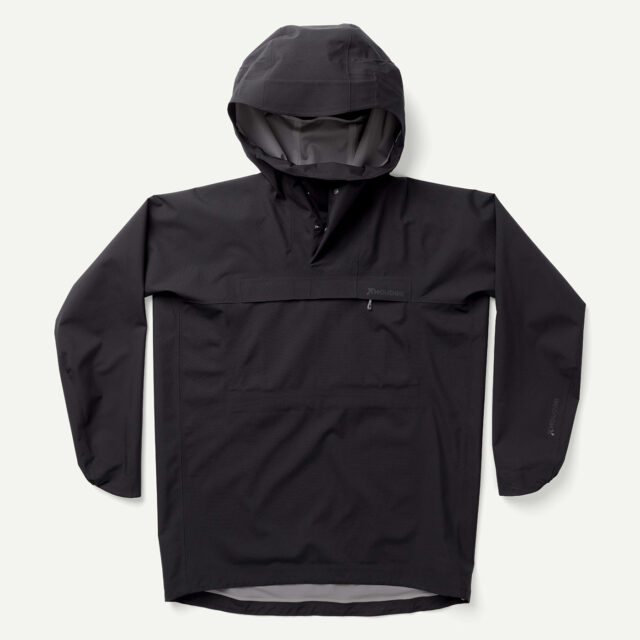 In all seriousness, the Shelter Anorak's patterning is truly excellent. I go into more of this apparel nerdery in my full review of the Shelter, but the designers at Houdini really nailed the fit of this shell. It has room where I want it (around the elbows, shoulders, and enough in the torso for puffy midlayers), but overall, it still looks pretty trim and drapes exceptionally nicely.
On that note, the Shelter uses a similar fabric as the Houdini Rollercoaster, which is really supple, comfy, has been waterproof in my experience, and breathes about as well as most 20K/20K fabrics I've used.
If you like a lot of features and pockets, this piece is not for you. The Shelter has a single exterior pocket on the lower chest with an internal zipped mesh pocket for small items. Its cuffs are just elastic and quite slim, and require a good bit of finagling to get them over bulky winter gloves. It also doesn't have pit zips, though it does have hood adjustments.
This piece certainly isn't one that I'd recommend to a lot of skiers / snowboarders who are looking for a snow-specific shell. But I'm not afraid to say that aesthetics are extremely important to me when it comes to apparel (whereas I don't really care when it comes to skis), and the Shelter brings a uniquely refined, clean look to a jacket that also has a high-performance fabric. In the end, you'll probably know if you're someone who should get this jacket.
Price: $325
Fabric: 2L Specter waterproof / breathable laminate
Insulation: fleece & flannel
Size Tested: Men's Large
Measured Weight: 888 g
Reviewer: 5'10", ~175 lbs / 178 cm, 79 kg
Jonathan Ellsworth: The Dante became a favorite of mine this season because it combines a lightweight, waterproof / breathable fabric with subtle fleece and flannel insulation just where you need it. (You can hear more about it in my GEAR:30 conversation with Flylow founder, Dan Abrams.)
The Dante's 20k/20k 2-layer outer fabric has fended off all sorts of snow and sleet, while its fleece lining means that I could ditch a midlayer on moderately cold days. But unlike many insulated shells, the Dante is actually quite versatile. It features mesh under the arms and, combined with its underarm vents, that made me totally content skiing it through the whole season. Toss a light midlayer under it for frigid days, or just wear a thin baselayer underneath for warmer spring days — it's surprisingly adaptable for an insulated piece of outerwear.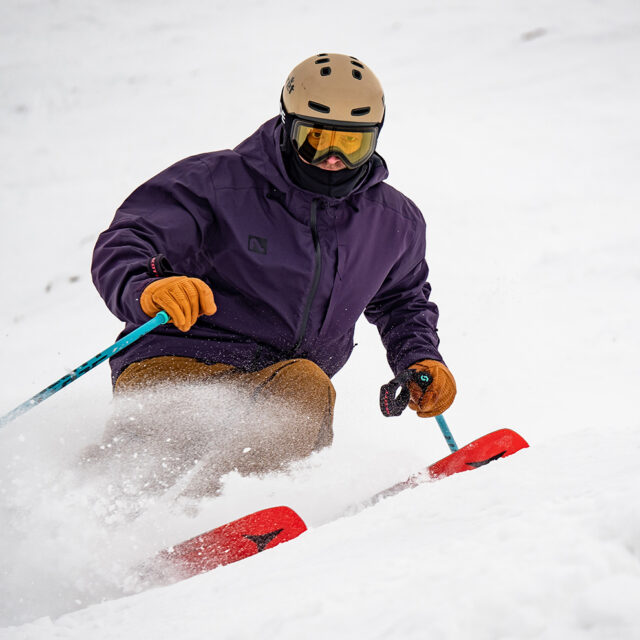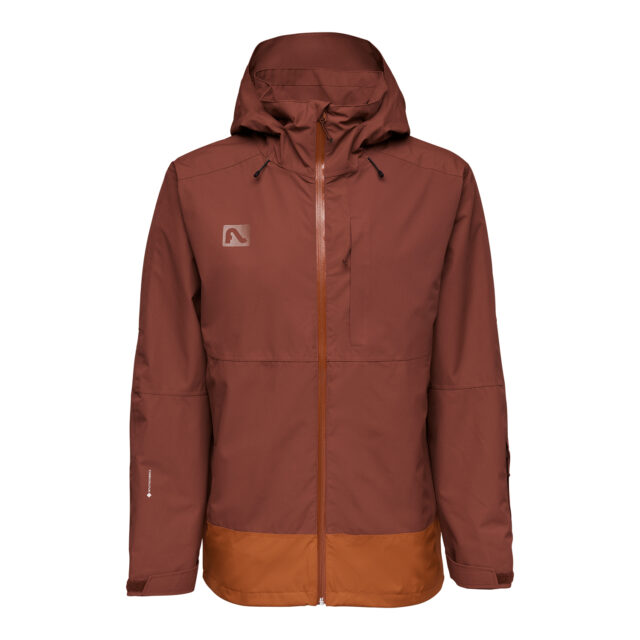 Plus, the Dante comes in at a very reasonable price, and it's a particularly good choice as a resort shell if you tend to run cold or want to forgo a midlayer on some days. Like most Flylow pieces, the Dante's fit is on the roomier end of the spectrum, and it held up well to a lot of use last year. It's more versatile than a lot of insulated shells — particularly those that feature down or a traditional synthetic puffy insulation — and offers a very good price to performance ratio.
Price: $420
Fabric: 150D 3L Intuitive laminate w/ Cordura reinforcements
Size Tested: Men's Small
Measured Weight: 896 g
Reviewer: 5'8", 155 Ibs / 173 cm, 70 kg
Luke Koppa: In one word, the Baker Bib is burly. In two words, it's burly and big.
Its 150-denier main fabric is the same weight as the fabrics that many other brands only use to reinforce small portions of their pants. Add on the Baker's 1000-denier Cordura knee and cuff reinforcements, and the Baker Bib is still the most rugged pant we've ever used.
It's got one of the roomiest fits and is one of the heaviest pants here, so it is a great option for the resort, but there are much better options here for a dedicated touring pant (like Flylow's Smythe Bib & Compound Pant). The Baker Bib does have big vents on the outer legs and plenty of pockets throughout — basically all the features we want from an inbounds pant.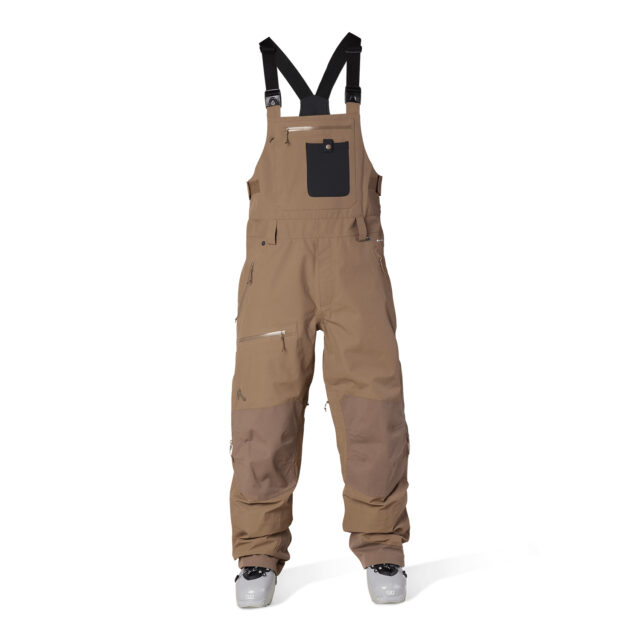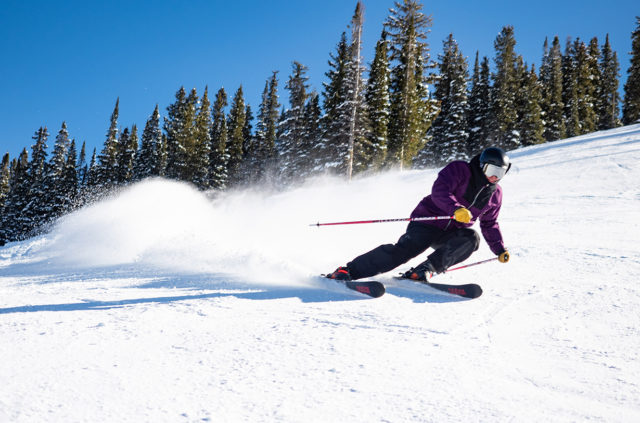 Snow can stick to its Cordura patches and those who want a slim fit should look elsewhere. We'd also recommend sizing down in many cases; we have the Baker Bib in a size Small and both me and Sam Shaheen (5'10") are definitely happy in the Small, whereas we both often wear size Medium for bottoms.
Overall, if you're really hard on your gear, the Baker Bib is for you — plus it's not wildly expensive, given how long it lasts. You can check out our full review for more.
Price: $220
Fabric: 2L PNW laminate
Size Tested: Men's Medium
Measured Weight: 876 g
Reviewer: 5'8", 155 Ibs / 173 cm, 70 kg
Luke Koppa: Trew's new unisex Popover (sizes are based on men's) gets you a very nice, rugged 2-layer fabric at a very reasonable price.
The 2L 20K/15K fabric on the Popover has easily shed both rain and snow so far, and it breathes just fine for resort skiing / riding. It is a bit warmer than most of the 3L pieces here, which is a plus on frigid days but that, combined with the Popover's hefty weight, makes it notably less ideal for lots of human-powered turns.
However, I love how burly the fabric is for resort riding. The face fabric feels like a heavy canvas, and I have high hopes for how long it will last in the long run. It's also got pretty big pit zips for the occasional boot pack, as well as plenty of pockets (in contrast to the other Anorak here, the Houdini Shelter).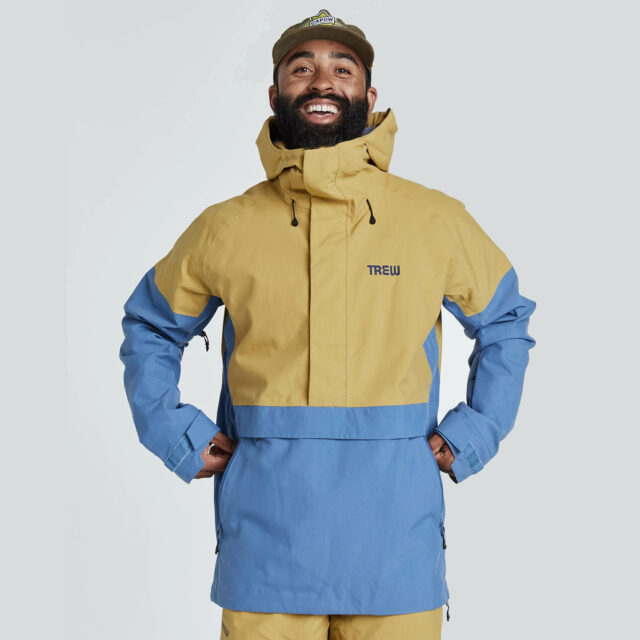 The Popover's half-zip closure and side zipper make it very easy to get on and off (in my experience), but you still get that classic anorak style. In terms of fit, similar to the Trew Cosmic, the Popover feels pretty middle of the road. Plenty of room for midlayers, but not excessively baggy.
This wouldn't be my top pick for those who hike or skin for their turns super often, but if you want solid water resistance, useful features, a burly fabric, and get all of that at a price that's significantly lower than most 3L shells, the Popover is excellent.
MSRP: $250
Fabric: 2L Stark waterproof / breathable
Insulation: 40-g Spaceloft synthetic insulation
Size Tested: Men's Large
Measured Weight: 670 g
Reviewer: 5'10", ~175 lbs / 178 cm, 79 kg
Jonathan Ellsworth: The Snowman is one of Flylow's insulated 2L pant options, and it's really nice for colder days of resort riding.
Similar to most of Flylow's pieces, the Snowman is built with a pretty relaxed fit and a pretty burly fabric. It's definitely not the flashiest in terms of fabric or features, but what it does have works really well. Its fabric has held up just fine to plenty of snow and abrasion last season, and it has pretty much all the pockets we could want in a resort pant.
The other Flylow bottoms here are better options if you plan to do a lot of hiking uphill, but the Snowman Pant does have large vents if you do end up on a bootpack or things just warm up throughout the day.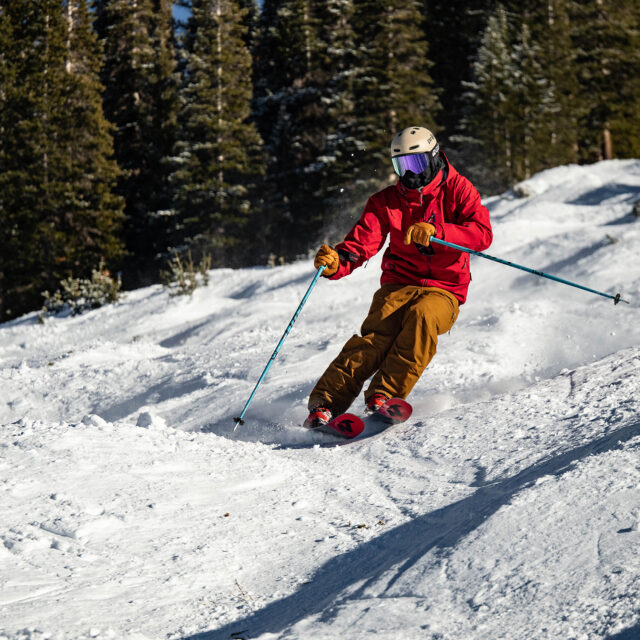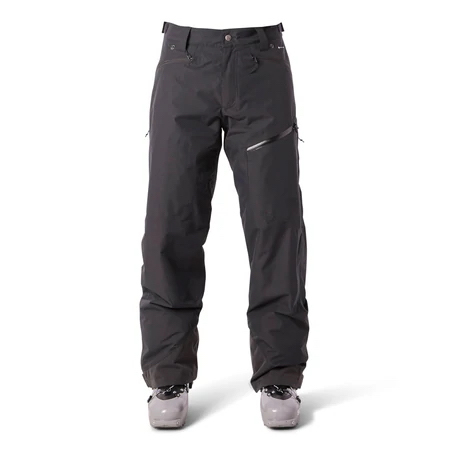 On that note, I like the subtle insulation on this pant. The 40-g synthetic insulation adds a noticeable amount of warmth on frigid days, but it's not so much that those are the only days I use this insulated pant (I used it for basically half my ski days last year).
So if you appreciate a pant with a bit of extra insulation for cold chairlift rides and you prefer a baggier fit, the Snowman Pant gets you that at a pretty great price. There's also a bib version if that's what you prefer.