Intro
Over the past couple of seasons, we have been testing *a lot* of ski / snowboard outerwear. And while we'll still be posting individual reviews for many pieces, we thought it'd be useful to compare all of these pieces head-to-head in one huge, "mega roundup."
All of the garments here are meant to serve as the protective outer layer for a day in the mountains, but they all accomplish that in different ways. Some are super burly and ideal for resort skiers / boarders who are hard on their gear, while others are quite light, breathable, and better suited to those who spend a bit of their time (or all of it) skinning / hiking for their turns. And while most are uninsulated shells, there are several insulated shells here, too.
There are several pieces here that we reviewed as a jacket + pant kit, as well as jackets, pants, and bibs that we've tested on their own.
So, if you're in the market for some new outerwear this year, take a look and see which of these pieces might work best for you. And stay tuned later this winter, when we'll be updating this post with a few new pieces that we're testing this season.
Looking for men's options? See our men's outerwear roundup
Flylow Billie Coat and Foxy Bib
MSRP: $420 (jacket), $420 (bib)
Fabric: Surface 3-layer fabric
Size Tested: Large (jacket) Medium Tall and Large (bib)
Measured Weight: 593 g (bib – Large), 757.5 g (jacket)
Reviewer: 5'9", 167 lbs / 175 cm, 75.7 kg
Kara Williard: This is one of my go-to kits and it's proven particularly durable.
The Billie Coat and Foxy Bib combo have both held up well through several seasons, and are some of the most robust and durable options I've used for someone who spends a ton of time on the mountain. The Billie Coat is a pretty heavy, burly shell with a reliably waterproof 3-layer fabric, and as such, it is one of the better options for wet, cold, and/or windy days. The Billie stands out when you need a lot of protection from the elements, and the option for a lot of layers beneath (it's a pretty roomy fit). The shell is built from Flylow's Surface 3-layer hardshell fabric, which is a hefty material and is great in terms of durability, but it isn't the most flexible or packable fabric.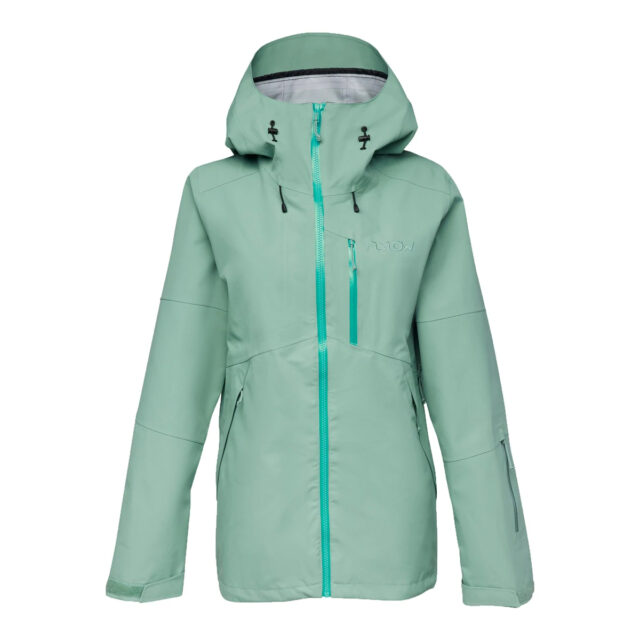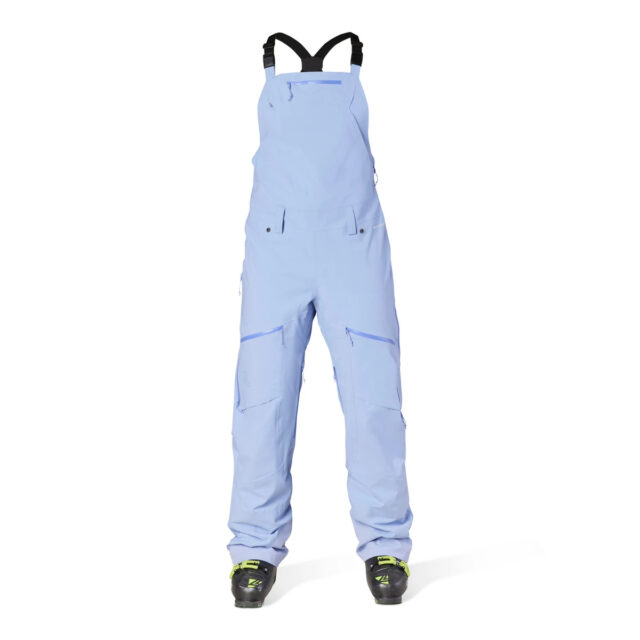 While this is one of the better options for a daily resort jacket, it can be a bit much for touring in warmer weather. When touring in some freezing conditions or during a lot of weather exposure, the extra heft of the Billie Coat can be worth it, but there are better alternatives if you'll be doing a lot of touring.
After testing the Billie Coat for several seasons, it has withstood tree snags, lots of days, and provides very reliable waterproofing and respectable breathability. The Billie Coat is built with plenty of pockets, a removable powder skirt, and burly zippers. I tend to choose a Large in the Billie Coat, because it is a great storm jacket and it feels really cozy to have several layers beneath a Large and still have optimum mobility.
Performance-wise, the Foxy Bib has remained durable and protective against the elements. In a Medium-Tall, the fit is one of the better ones I have tried for my tall frame. It is one of the few bibs I can get in a Medium-Tall, which is nice because it gives me the length I need without being baggy. I have tested both the Medium-Tall and Large, and the Medium-Tall is a little more tailored and flattering (less-boxy), and a little more snug and contoured around the waist and hips.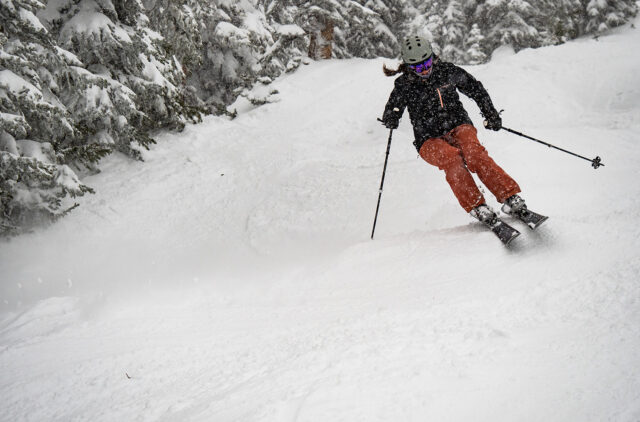 The Foxy Bib is a great long-term investment bib if you are looking for something versatile and robust.
I have tested the Foxy in most settings, from a long mountaineering objective to countless resort days, and it maintains its functionality and overall appearance over time, with my first pair having lasted over 200 ski days. The Foxy Bib is built with two chest pockets, including a large inner pocket and a smaller pocket layered on top. I utilize these pockets for a beacon, snacks, and small essentials, and it's easily accessed even when reaching in under a jacket. The Foxy is a little wide around the boot cuff, which is great for pulling over the boot without a struggle, but Flylow's Moxie Bib looks to be more of a slimmer boot-cut design, so it might be a good alternative if you prefer a more tailored look.
Flylow Domino Jacket and Siren Bib
MSRP: $550 (jacket), $500 (bib)
Fabric: 100% nylon
Size Tested: Medium
Measured Weight: 520 g (jacket), 503 g (bib)
Reviewer: 5'9", 167 lbs / 175 cm, 75.7 kg
Kara Williard: The first women-specific touring kit from Flylow, the Domino and Siren have proven to be all that I want from a touring kit — pretty lightweight, breathable, durable, and functional during sustained time outside. The Domino Jacket is quite minimal, while still providing all the features I would want for some bigger missions, especially in inclement weather. This includes several pockets, a removable powder skirt, 12" pit zippers, and a helmet-compatible hood.
The Domino Jacket and Siren Bib are built from eVent fabric with Direct Venting™ Expedition Technology, a nylon 30k waterproofing material that is exceptionally lightweight, in addition to being highly breathable (it's an air-permeable fabric, unlike many here).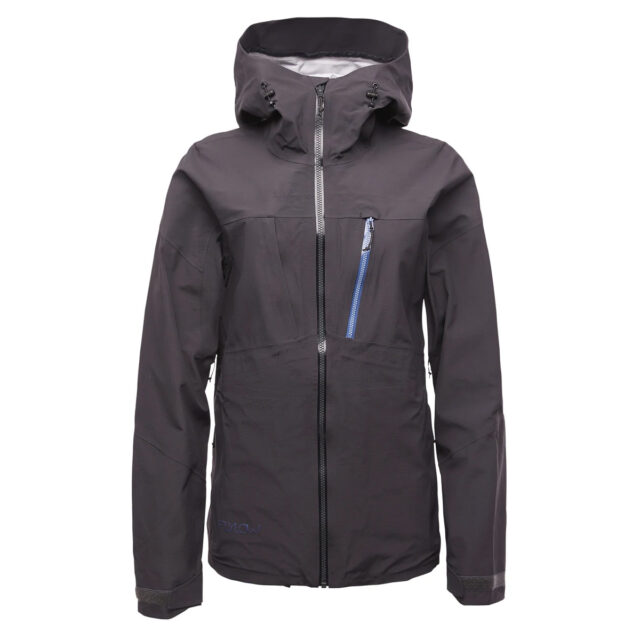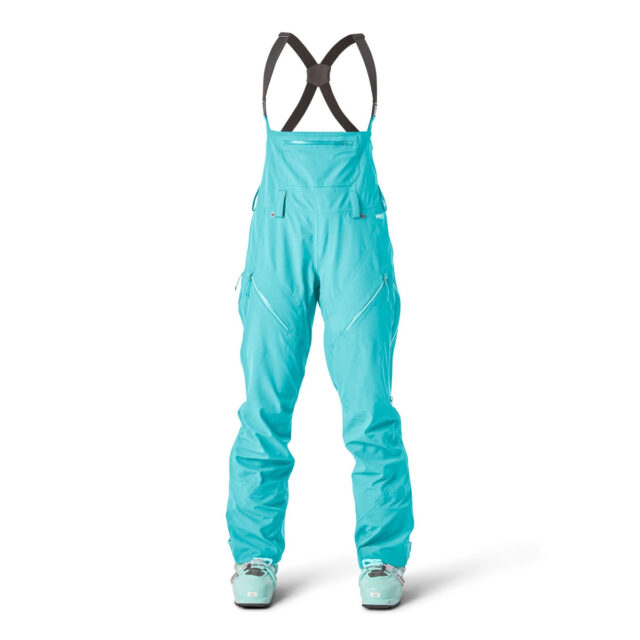 The Siren Bib is the most touring-specific bib I have ventured out in, and it was a nice change, especially when it comes to venting and being able to regulate body heat on the ascent, but still feel protected when standing atop a windy ridge or skiing in some colder temperatures. Both the Siren Bib and Domino Jacket provide lots of ventilation via 12-inch pit zippers and venting along the outer thighs, while also being built from a breathable material that has yet to feel clammy or stifling, even when I'm working hard.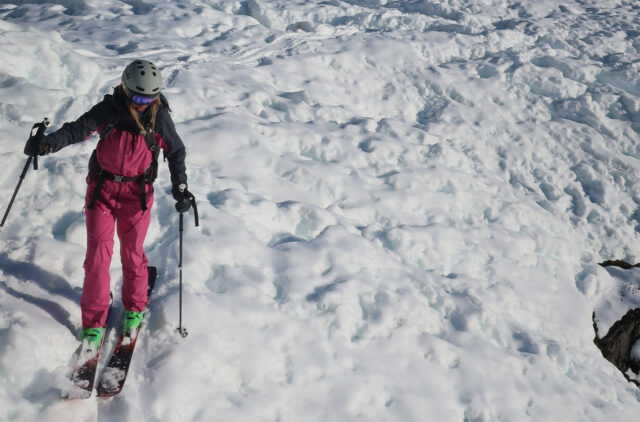 Initially, I tested this kit in Japan, and then made my way to spring in Alaska. This meant I went from some freezing days in deep, cold snow to some really warm days in AK, and despite this wide range of conditions, this kit was an excellent choice to bring along. I also find myself wearing the Domino Jacket on resort, particularly warmer, spring days, due to its better-than-average breathability.
As a significantly lighter kit than most others here, the Domino and Siren combination is excellent as a touring-specific kit, or for someone looking for a single kit that is more preferential to uphill features and performance. Both the Domino and Siren are reasonable choices for some limited resort-skiing (likely not quite as durable as the other Flylow pieces here), and they stand out in the backcountry for people who don't need the absolute most minimal kit out there, but still want something fairly light and quite breathable.
MSRP: $400
Fabric: 3L Tactical Fabric, 100% Polyester
Size Tested: Medium
Measured Weight: 616 g
Reviewer: 5'9", 167 lbs / 175 cm, 75.7 kg
Kara Williard: The Lucy Jacket is a jacket as waterproof and breathable as the Billie Coat, but the Lucy is built with the 3L Tactic fabric from Flylow, which has a much smoother and softer feel. For this reason, the fabric is more comfortable during sustained movement, a more viable option for touring, and a better 50/50 option for someone looking for something well-situated for both uphill skiing and resort days. The Lucy is also a lighter option than the Billie Coat, but still offers the same stated levels of waterproofing and breathability (20K/20K). In a size Medium, the Lucy is a more tailored, and less roomy fit than the Billie Coat in a Large (as expected), but the Medium Lucy still provides me ample room across shoulders, bust, and around my hips, but is a little less ideal when putting thick layers underneath, such as a puffy down jacket.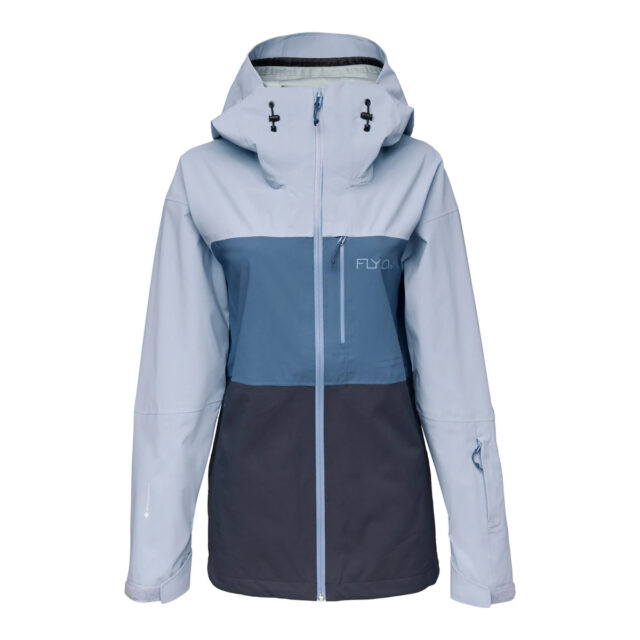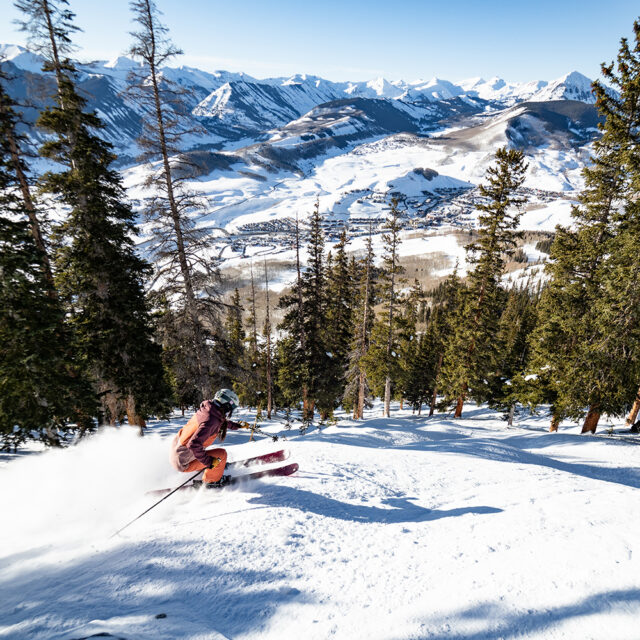 If you're looking for maximum versatility between touring and resort skiing, the Lucy is a great choice. If you're looking for the most durable and burly option, the Billie Coat might be a better call; I have yet to have any durability issues with the Lucy Jacket, I just haven't tested it for as long as the Billie, so only time will tell.

Overall, I have a hard time favoring either the Lucy or the Billie, but when it comes to comfort, weight, and versatility, the Lucy has the upper hand, just because the Billie Coat is so burly and can feel like a bit much while touring. I am now favoring the Lucy as my go-to touring jacket, especially for long days in the mountains.
The Lucy Jacket provides many of the same features as the Billie, including fully taped seams, a removable powder skirt, waterproof zippers, and ample pocket space, though it has one less exterior pocket than the Billie Coat.
Patagonia Snowdrifter Jacket
MSRP: $399 (jacket)
Fabric: H2No® Performance Standard shell: 3-layer, 5-oz 75-denier 100% polyester (70% recycled) solid stretch ripstop with a polyester knit backer and a DWR (durable water repellent) finish
Size Tested: Medium
Measured Weight: 538 g
Reviewer: 5'8", 125 lbs / 173 cm, 56.7 g
Kristin Sinnott: The SnowDrifter Jacket has remained unchanged, for good reason, since it was first introduced to Patagonia's lineup in 2019. I published a full review in December of 2019 and since then, I have worn this jacket on countless warm spring resort days and for most of my uphill travel.
The SnowDrifter Jacket is designed for backcountry travel but the relaxed fit makes it equally at home on-resort. I tend to only wear the SnowDrifter Jacket on warm days on-resort because it is much thinner than more resort-oriented jackets. The fabric is treated with DWR and Patagonia's 3-layer H2No shell will keep out water, but it isn't designed for withstanding long periods of time in cold, wet, and/or windy weather.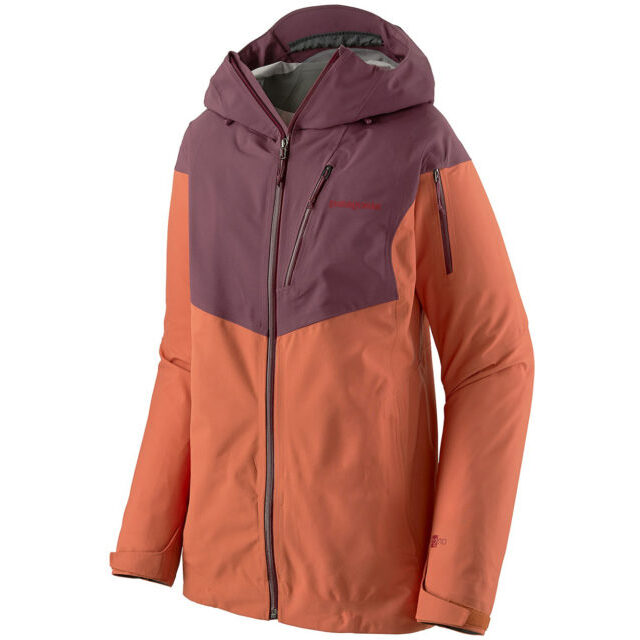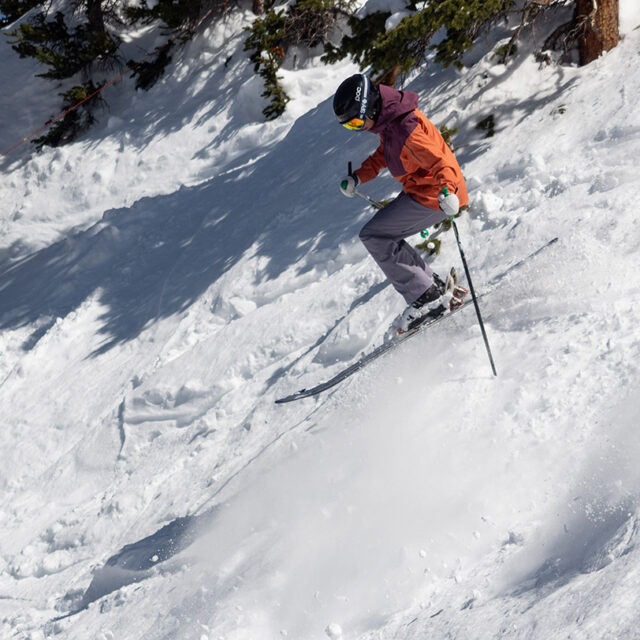 The SnowDrifter is the lightest jacket we've tested on the women's side and despite the weight, it has a plethora of pockets. From a double chest pocket that can be accessed internally or externally to hand pockets, a drop-in pocket, and a lower sleeve pocket, I've never found myself searching for a spot to store something when wearing the SnowDrifter.
The fabric is supple which makes it easy to pack down and comfortable to wear. The size Small is my preferred size and its fit allows for plenty of layers while also not looking baggy. If you're looking for a quality backcountry jacket, the SnowDrifter is a good option.
Patagonia SnowDrifter Bibs
MSRP: $349
Fabric:
H2No® Performance Standard shell: 3-layer, 5-oz 75-denier 100% polyester (70% recycled) solid stretch ripstop with a DWR (durable water repellent) finish and a soft polyester knit backer.

Bib upper: 6.5-oz 63% recycled nylon/26% polyester/11% spandex double weave with four-way stretch and a DWR finish
Size Tested: Medium
Measured Weight: 548 g
Reviewer: 5'8", 125 lbs / 173 cm, 56.7 g
Kristin Sinnott: Patagonia introduced the SnowDrifter Bibs during the 2019/2020 season and they have remained unchanged since then. Designed for backcountry travel, I've found the bibs to be great for uphill travel as well as warm days spinning lifts.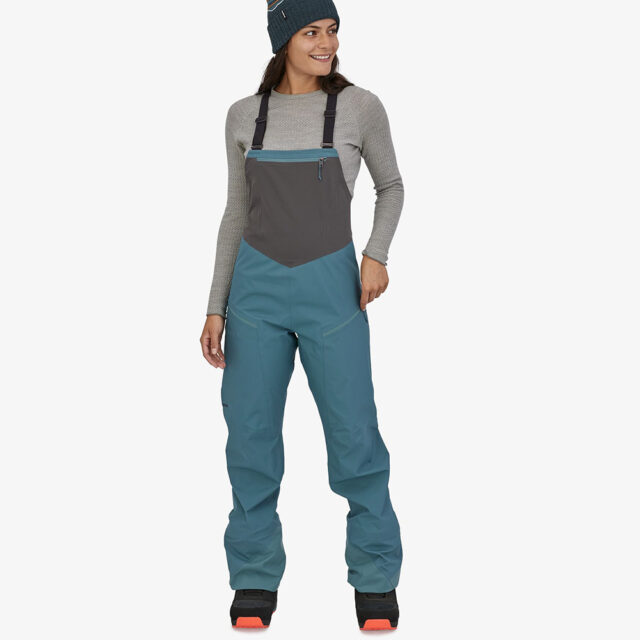 The pant legs on the size Small are long enough (actually borderline too long with a 32.5-inch inseam) to accommodate my height but the wide legs and the roomy rear initially had me second-guessing the size. I have a fairly lean frame and as fellow reviewer Sam Shaheen pointed out in his full review, "there's a lot of room in the seat." There is enough fabric that initially I was a bit self-conscious wearing them without a jacket long enough to cover my rear. With that said, the extra fabric in the back isn't noticeable when wearing the SnowDrifter Jacket or any other jacket that extends below my hips. And the extra fabric doesn't impact my skiing or touring. I did encounter a more athletically built friend wearing the same size and she filled the bibs out much better than me. So the bibs easily accommodate a variety of shapes.
When compared to the Strafe Scarlett Bibs, the SnowDrifter Bibs have a much wider fit overall. The legs and rear of the Scarlett Bibs have very little extra room for me but the stretchy fabric and spandex back allow them to accommodate women of various shapes and sizes too — they just start with a more trim fit.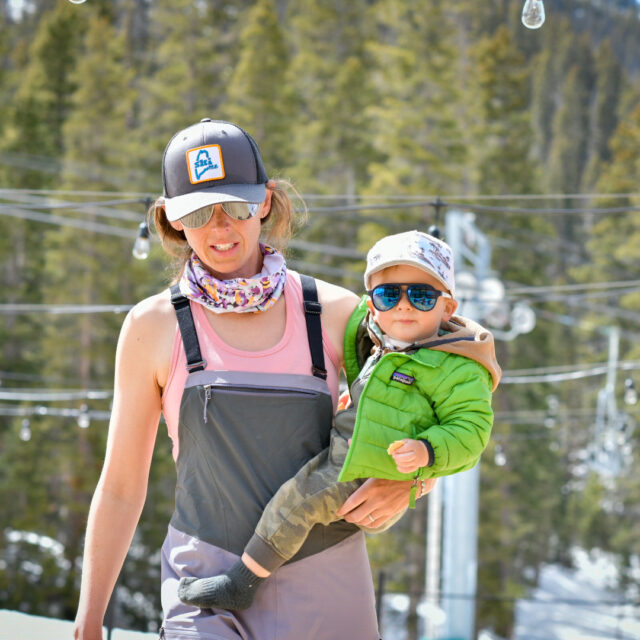 The bib portion of the SnowDrifter Bibs is designed with a stretchy softshell fabric that is soft and breathable. The x-style suspenders cross in the back and are secured with a piece that allows the cross to be adjusted. With this setup you can have them cross high or low depending on shoulder width or how you want the bibs to fit. As mentioned above, I found the bibs to be a bit roomy in some areas but when I kept the piece low, the bibs felt more fitted in my torso.
The propriety H2No Performance Standard fabric that makes up the non-bib part of the SnowDrifter Bibs is soft and supple but it's also highly technical with the 3L laminate being waterproof and breathable. The lining is incredibly soft and is comfortable to wear without base layers — even more so than the Strafe Scarlett Bibs and Belle Pant.
Skiers looking for warm weather ski apparel or backcountry skiers looking for a lightweight shell with a freeride fit, should check out the SnowDrifter Bibs or the SnowDrifter kit.
Trew Stella Jacket and Capow Bib
MSRP: $399 (jacket), $479 (bib)
Fabric: PNW 3L Fabric, Jacket: 100% Nylon Polyurethane Laminate, Back: Polyester Tricot
Bib:
Hood, Shoulders, & Pant main fabric: 3-layer Dermizax EV w/ 150-denier nylon face fabric

Rest of Jacket: 3-layer Dermizax EV w/ 50-denier nylon face fabric

Upper Bib: stretch-woven nylon
Size Tested: Large
Measured Weight: 717 g (jacket), 799.5 g (bib)
Reviewer: 5'9", 167 lbs / 175 cm, 75.7 kg
Kara Williard: With 20K/20K waterproofing and breathability and a robust and durable material, the Stella is a functional, technical jacket that offers those features at a lower price than most. It's also a material that feels potentially suitable for both resort and backcountry skiing.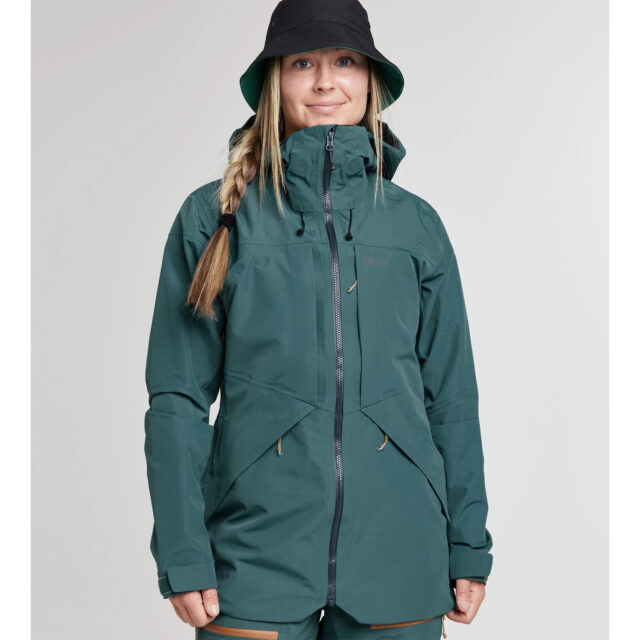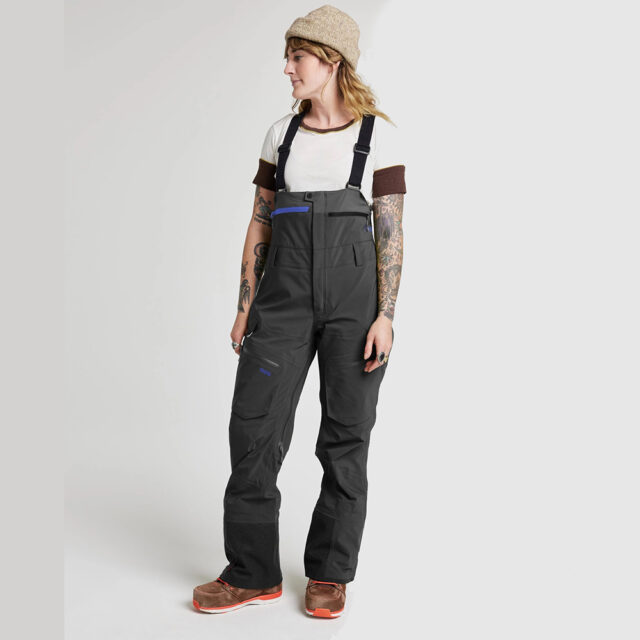 The material of the Stella strikes a nice balance between being durable but also fairly flexible and soft, and it feels really comfortable when being worn over extended periods, while also being protective and robust enough to hold up against most conditions.
The perfect length and fit, a size Large was the right choice to accommodate my tall frame and provide nice coverage in the back, while also being plenty long in the sleeves and roomy enough for several layers beneath. The Stella jacket feels slightly slimmer than the Flylow Billie Coat and has a more tailored cut, which feels a bit more feminine and cute. A simple detail, but one that I find useful is the angled exterior pockets which are really easy to open and close. The sleeves are a great length, though a little tight with a unique cinch and velcro design, which I find a little difficult to pull over my thicker gloves, but flexible enough to easily fit over my lower-profile gloves.
The Stella Jacket is a very versatile shell that is both functional and flattering, as well as durable, yet relatively affordable. I have yet to test this jacket over an entire season, but so far, I have been pleasantly surprised with the Stella Jacket and find myself wanting to wear it on everything from a warm, sunny day to a storm day. The Stella is also a reasonable option for touring, given that it is around the middle of the pack from what we have tested in terms of weight and packability. With four exterior pockets, there is plenty of storage in the Stella, but I also find myself picking this jacket for quick uphill resort laps, since the interior mesh pockets are great for storing skins when I don't want to carry a backpack.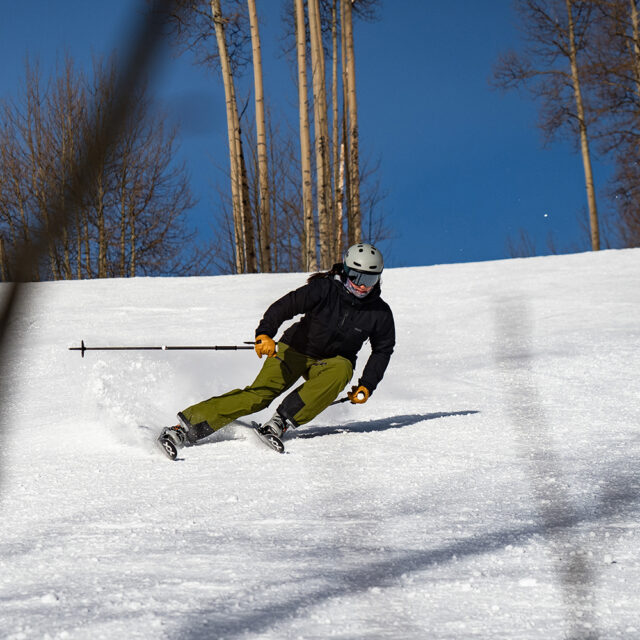 The Trew Capow Bib is a well-rounded, technical, and comfortable bib that I have found to work for a variety of applications. While it's a bit heavier than the average bib I would choose for touring, a lot of the features make it a great option for uphill skinning, including several pockets, a zippered drop-seat design for backcountry bathroom stops, and overall durability, water resistance, and slightly above-average breathability. Trew built a transceiver-specific pocket into the Capow Bibs that has a D-Ring to affix your beacon to, which is a small, but highly practical detail for those who prefer to keep their beacon in their pants / bibs. The material of the Capow Bib feels both soft and durable. The reinforced SuperFabric cuff offers great protection for clumsy kick turns, and I appreciated that the shoulder straps were grippy and stayed in place on my shoulders over extended periods on the ascent.
Similar to the Trew Stella Jacket, the Capow Bib is built with a 3L fabric that is rated at 20K/20K for water resistance / breathability, and while I have yet to test it in really wet, Pacific Northwest-type conditions, I know our male reviewers were happy with the weather resistance of the men's Capow kit.
I chose the Capow Bib in a size Large-Tall. Trew designs this bib in a short, regular, and tall inseam, which interestingly have the same inseam across all sizes for each length. I love when I find a brand that makes a tall inseam, so I felt inclined to try it. Overall, the Large-Tall fits me really well, though it is slightly on the baggier/ roomier side throughout the hips and waist. Lengthwise it is similar to the Large and Medium-Tall Foxy Bib, but a little roomier in the torso and hips, which is comfortable but feels a little less flattering. This makes it a great option for the really cold days when I am choosing my heaviest base layers, but it might be worth sizing down (e.g., from Large to Medium) if you want a slimmer fit. The Capow Bib is also incredibly comfortable, and offers really good fabric flexibility and mobility when compared with the Flylow Foxy Bib.
Strafe Scarlett 3L Bib Pant
MSRP: $489
Fabric: eVent DV Flex®, 100% polyester face, 100% polyester tricot backer, DWR treatment
Size Tested: Small
Measured Weight: 626 g
Reviewer: 5'8", 125 lbs / 173 cm, 56.7 kg
Kristin Sinnott: I was, and still am, a huge fan of the original Scarlett Bib, so when I saw that Strafe redesigned it, I was a little disappointed. I understand that the previous version's halter top design wasn't comfortable for everyone, and I tended to remove the strap whenever I got into a vehicle, but the design made bathroom breaks and nursing my child extremely easy. I also loved the look of the bibs even though having waterproof face fabric underneath my coat didn't always make sense.
While I still prefer the look of the original Scarlett Bib when worn without a jacket, I find the new design to be more comfortable for longer wear and bathroom breaks are just as easy, if not easier.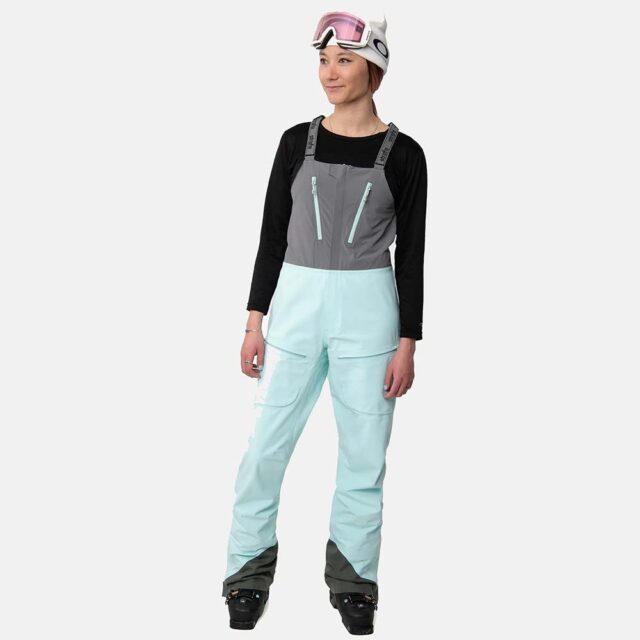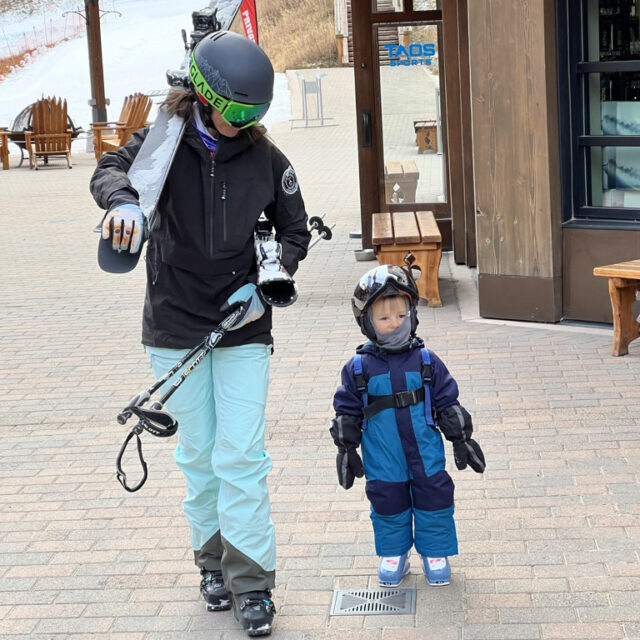 Unlike the Black Crows Ferus Mechanical Pants, the x-back suspenders stay in place and never need adjusting. The upper front of the bib is made of breathable, 4-way stretch fabric that zips down the center for easy entry. There are two pockets, each with an internal mesh media pocket and I tend to store my phone in one of these pockets, especially on cold days. There are also pockets on each leg and when paired with the Strafe Lynx 3L Pullover, there are tons of options for storing items.
One thing that remains unchanged in the Scarlett Bib is the 4-way stretch fabric on the lower back of the bibs. Strafe uses the same fabric it did in the previous version and the fabric is fairly loose fitting. This allows a wider range of shapes and sizes (I wore the old version in the early stages of pregnancy thanks to this feature) to fit comfortably into the bibs and it also makes it easy to pull the bibs aside when taking a bathroom break.
Another big change to the updated Scarlett Bib is the scuff guard. Strafe always hid their more durable scuff guard fabric underneath their face fabric, making for a very streamlined, monochrome look. I don't tend to beat up my cuffs so this was never an issue for me, but I suspect people that are more prone to had issues with that design (it could be fairly easy to cut the exterior face fabric). Regardless, the scuff guard is now on the outside and provides a bit of contrast to the pants.
In general, the redesign of the Scarlett Bib is an improvement despite my initial skepticism. Much of what I loved about the original Scarlett Bib remains the same. The overall fit of the bibs is still extremely flattering, there are plenty of vents for cooling down on hike-to terrain or warm days, and the fabric is soft, waterproof, and breathable. But I think this new design is more comfortable and the upper part of the bibs is now much more breathable.
Strafe Lynx 3L Shell Pullover
MSRP: $499
Fabric: Recon ELITE 3L 4-way stretch | 100% nylon face, 100% polyester jersey backer, DWR treatment
Size Tested: Small
Measured Weight: 562 g
Reviewer: 5'8", 125 lbs / 173 cm, 56.7 g
Kristin Sinnott: If you've ever listened to any reviewer reports on GEAR:30, you're likely familiar with Jonathan's distaste for anoraks (and Luke Koppa, Blister's managing editor's, love of them). And while Strafe opted to name the Lynx a pullover instead of an anorak, it is very much the same. All this is to say that, when Jonathan saw this jacket for the first time, and complimented it, I was quite delighted. Of course, once I pointed out it was an anorak, he tried to backtrack. To his credit, the jacket looks great, and the round logo patch on the arm provides a nice design element on the otherwise monochrome pullover, which is a big reason the jacket caught his eye. On the same chairlift ride, Luke also informed me that the Lynx doesn't have a male counterpart in the Strafe lineup, much to his disappointment.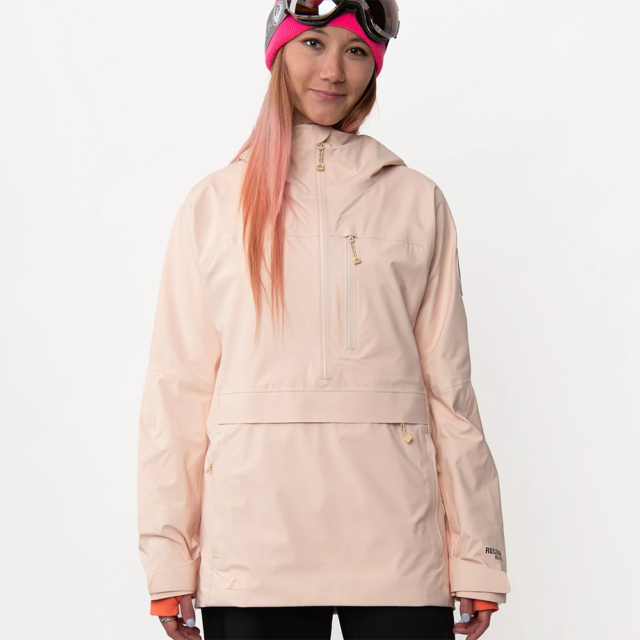 For those who are like Jonathan and are anorak averse, the Lynx is a good gateway pullover. Designed with easy side entry, the two-way zipper on the left side is so long (28 in / 71 cm) that when it's fully unzipped I'm occasionally confused as to where both arms go. But the long zipper makes it extremely easy to get in and out of because it unzips almost to my left elbow and the 4-way stretch fabric provides some give. The side entry also doubles as a very large underarm vent thanks to the double zipper. The right side has an underarm vent with a double zipper that is about half the size (14 in / 35.5 cm) but still plenty long enough to allow for good air circulation.
The Lynx utilizes the anorak design to full advantage by including a kangaroo drop pocket with two interior mesh sleeves and through hand pockets. The kangaroo drop pocket is handy for storing my collapsible water bottle and snacks. I appreciate that my bulkier items don't have to be stored on one side or the other and while they can shift slightly in the kangaroo pocket, they don't pull the jacket to one side. There's also an external chest pocket and pass pocket on the lower sleeve.
The Lynx 3L Pullover is a lightweight jacket and for me it falls into the realm of 50/50 jackets. The Lynx is almost exactly the same weight as the Arc'teryx Sentinel LT Jacket, but the Lynx is more breathable, has better ventilation, and the jersey backer is more comfortable against the body. The Sentinel feels a bit burlier because the fabric is stiffer and despite it feeling cooler to the touch (due to the lack of a jersey backing), the Sentinel does have a powder skirt to cut drafts and keep snow out, something the Lynx is lacking. All three jackets have a cinch at the bottom, but the Lynx is the only one without a powder skirt. I haven't missed the powder skirt in the Lynx mostly because I am always wearing the Strafe Scarlett Bib and because the Lynx is a little narrower at the bottom than the other two.
The only other jacket we've tested here that is lighter weight is the Patagonia SnowDrifter Jacket, which is about 20 g lighter and designed more for the backcountry. The SnowDrifter and Lynx are both fairly breathable, but the Lynx provides better protection from the weather. None of these jackets would be my first choice for a bitter cold day, but of the three, the Sentinel provides the most protection from the elements, with the Lynx coming in a close second. For warm days in the resort or in the backcountry, the SnowDrifter would be my first choice followed by the Lynx. In general, I would say the Lynx works well in the broadest range of temperatures for a lightweight jacket.
The Lynx 3L Pullover is a good option if you're looking for a jacket that performs well in the backcountry and on-resort, especially if there's hike-to terrain. This jacket could serve as a 1-jacket quiver if you run warm or like to layer.
Picture Mt Xpore Jacket and Mt Xpore Bib
MSRP: $635 (jacket), $404 (bib)
Fabric: 3-layer Xpore 58% Biosourced Polyester 42% Polyester Plain (jacket and bib)
Size Tested: Medium
Measured Weight: 807 g (jacket), 582 g (bib)
Reviewer: 5'9", 167 lbs / 175 cm, 75.7 kg
Kara Williard: Like the Aeron kit, the Mt Xpore kit's face fabric is built from 58% bio-sourced polyester, but it features the Xpore 25K/20K membrane and a more generous feature set. Each detail of the Mt Xpore kit makes for a durable and stylish jacket, and as a result, it quickly became a favorite resort shell last season. The Mt Xpore shell is designed for most conditions, with ample venting and solid weather resistance, in addition to high durability, with a burlier face fabric around shoulders, waist, and cuffs, and a more flexible shell material in between, to make for a more comfortable fit. As a bonus, the Mt Xpore jacket provides more pocket space than any other women's shell I have ever worn, with five large pockets on the front, almost all big enough to hold my phone and much more.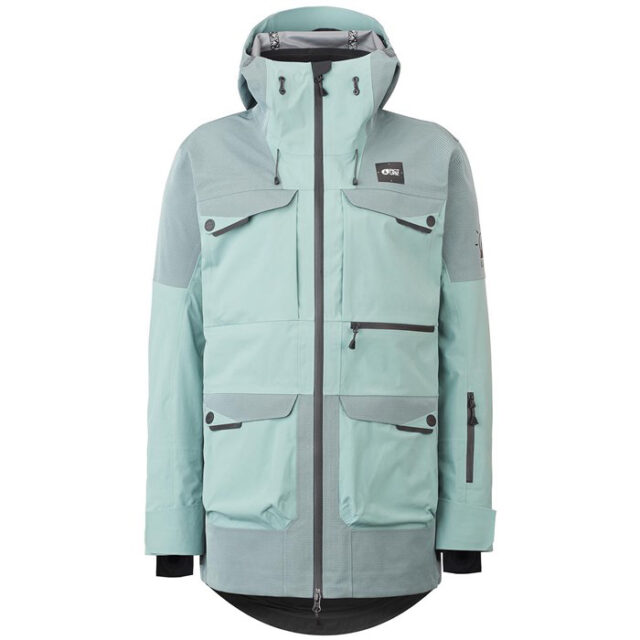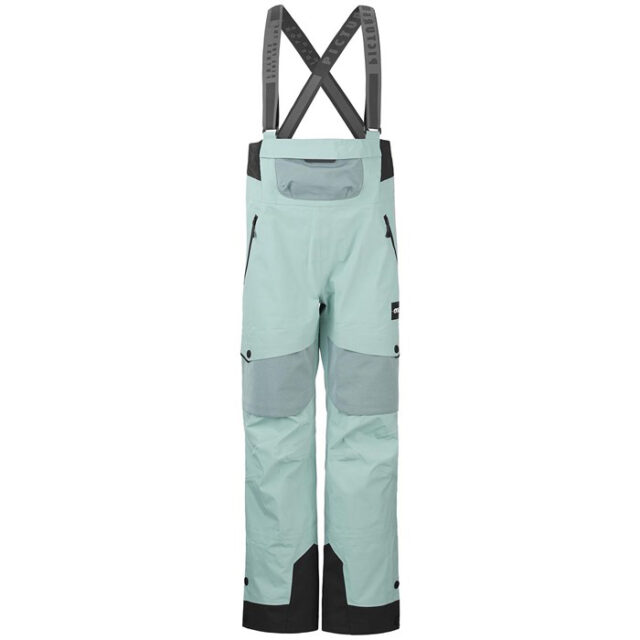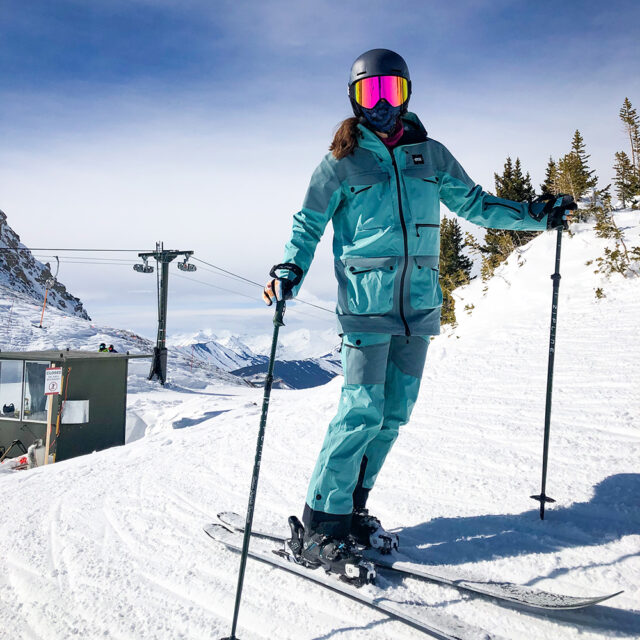 The Mt Xpore has a very different fit than the Aeron jacket. In a size Medium, it is the longest shell I have, which is a preferable resort style for me. When it comes to any backcountry or technical application, the Mt Xpore might not have the most practical design since it's kind of a bulky shell with lots of material, features, and pockets. From a weather resistance and breathability standpoint, this jacket could do almost anything; it's been plenty protective on storm days while also being breathable enough for a bit of uphill travel. But it isn't packable or lightweight enough for me to justify bringing it into the backcountry.
The Mt Xpore Bib is built with the same materials as the jacket, with a more durable hardshell material at the cuffs and around the knees, and I think it provides a fashionable take on a technical kit. Overall, the cut of the Xpore jacket and bib is noticeably longer and larger, in all aspects, than the Aeron kit, and this contributes to what I feel is a much more flattering and stylish cut for someone who is tall and prefers longer pants and jacket. One small note — the suspenders / bib straps need to be criss-crossed. It took both Kristin and me a moment to figure this out.
Arcteryx Incedia One Piece Women's
MSRP: $999
Fabric:
NP100d 3L GORE-TEX fabric with tricot technology

100D Cordura® PowderCuffs™

Keprotec™ insteps
Size Tested: Small
Measured Weight: 896 g
Reviewer: 5'8", 125 lbs / 173 cm, 56.7 kg
Kristin Sinnott: If you're looking for a new ski kit, the Arc'teryx Incendia one-piece is worth a look. It has everything I look for in quality technical, outerwear but it is also streamlined and fashionable.
Retro-inspired one-pieces have become much more commonplace on the ski hill over the past 5 years thanks mostly to a few companies that saw a market for fun, fast fashion on the slopes. Strafe Outerwear has been making their Sickbird Suit for several years but when they first introduced it, it was one of the only technical onesies on the market. Arc'teryx entered the one-piece market in 20/21 and they went all-in with their technical and attractive design.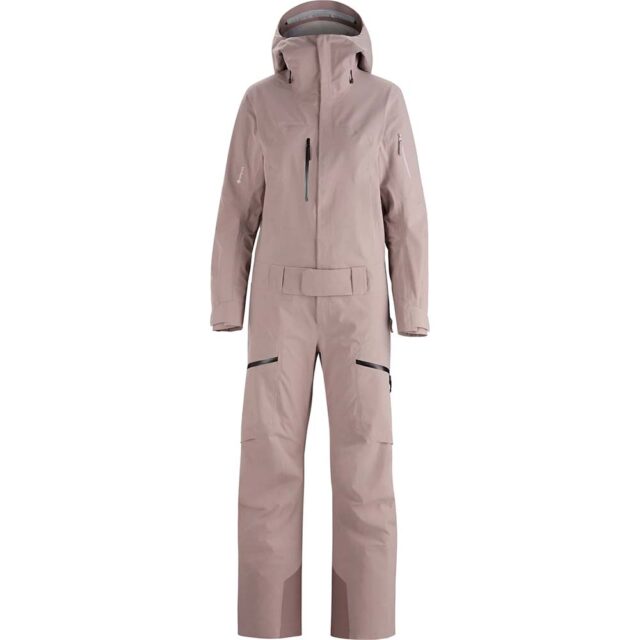 In the Arc'teryx Sentinel jacket and Sentinel pants, I've had good luck with Arc'teryx in a size Small so I wasn't too surprised when the size chart recommended a size Small for the Incendia. In general, the Small is a good fit but I wish the torso and/or legs were about an inch longer. Specifically when I'm shouldering my skis or hopping on the lift. I think I am on the taller side for a size Small, and a size Medium may have been a slightly better fit for me.
The Incendia fabric is 3L Gore-Tex which provides plenty of protection from the elements, making the one-piece perfect for storm days. But, unlike my old Sentinel pants, there is no flannel backing to the fabric and to me, it makes the Incendia feel colder. I definitely get colder wearing this one-piece than I do with other uninsulated shells and pants, which means I find myself wearing more layers. When deciding on a size, keep in mind that you may want to add extra layers and that can add some bulk.
The Incendia has an extremely streamlined and polished look, thanks in part to the matte finish of the fabric, but also due to the design of the drop waist, pseudo belt, and the design of the pockets. In general, the pockets are small and fairly narrow. I'm able to fit my phone into the chest pocket but there are no large drop pockets for storing bigger items. The leg pockets have bellows and will expand to fit a beacon (there's an internal sleeve for one) or snacks, but I tend to feel larger items when they are placed in these pockets. There have been a few occasions that I opted out of wearing the Incendia due to its lack of pockets. But on the flip side, the Incendia is backpack friendly, so it is comfortable and easy to throw a small pack on if and when I need to carry more gear.
One of the best features of the Incendia is the vents. The left side has fairly long underarm and leg vents, but the right side has one zipper (44 in / 111.5 cm) that extends from approximately the elbow down to the knee. There are actually 4 zippers so you can vent your upper and lower body simultaneously or just one at a time. And of course, the zipper allows for easy bathroom breaks, something that the Strafe Sickbird didn't.
If you're looking to simplify your ski kit and would rather grab one item than two when hitting the slopes, the Incendia might be just what you're looking for. The fashionable and technical design is a great combination and when looking to purchase a full ski kit, the price tag is similar to a jacket and bibs/pant combo of similar quality.
Picture Organic Clothing Aeron Jacket and Aeron Bib
MSRP: $400 (jacket) $241 (bib)
Fabric: 3-layer DryPlay 58% Bio-sourced Polyester / 42% Polyester (jacket and bib)
Size Tested: Large
Measured Weight: 643 g (jacket), 647 g (bib)
Reviewer: 5'9", 167 lbs / 175 cm, 75.7 kg
Kara Williard: Picture is notable for their dedication to utilizing more sustainable materials in their clothing, and particularly for providing lots of info on how they manufacture their apparel and the environmental impacts that result from that. For the Aeron jacket, they utilize repurposed sugarcane waste to use for about half of the fabric, a PFOA/PFOS-free durable water repellent, and a 20K/20K membrane.
The Aeron jacket was the first Picture shell I tried, and the durability and feel of the shell make for a versatile and practical resort-oriented piece.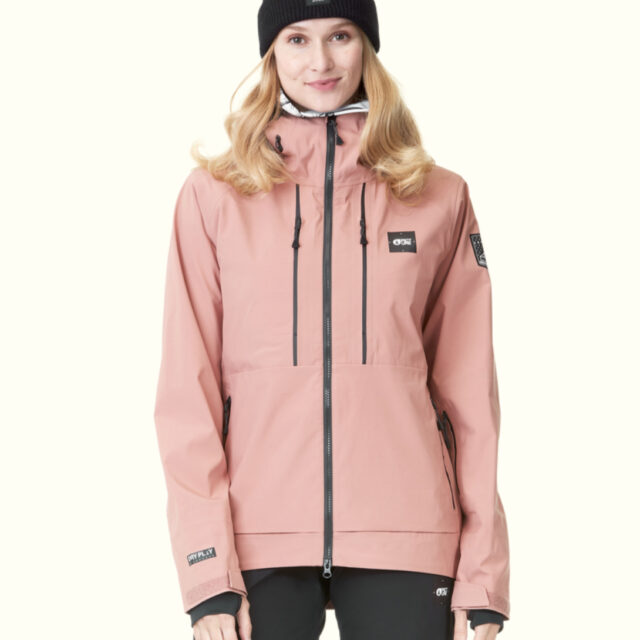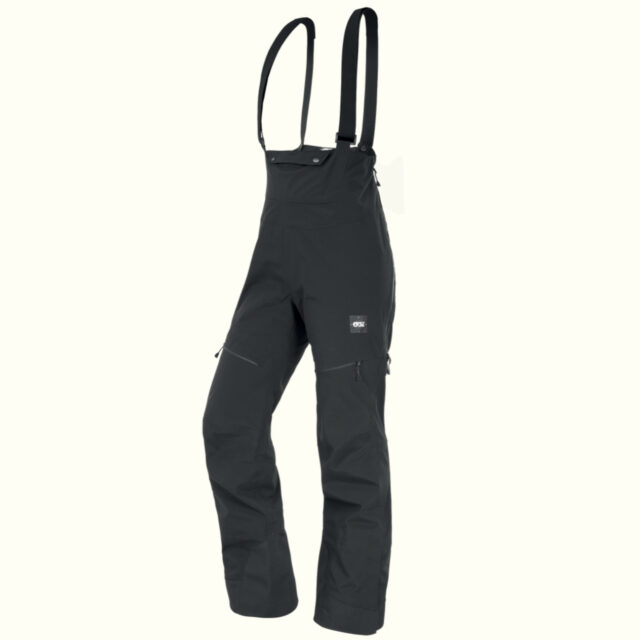 As a high-end 20K/20K jacket, it made many appearances on sunny days last season, but it also fended off most conditions when tested in the wind or snow. Feature-wise, it is a pretty basic shell that is practical for resort laps and a few backcountry days, and it does offer just enough zippered ventilation and decent breathability relative to its level of waterproofing and price point.
After debating back and forth, I chose a size Large Aeron jacket and bib, which was a good call. The Aeron jacket has a short cut compared to most other shells I wear, especially compared to the fit of Flylow's jackets. I was aware of how short and boxy it felt, while also being a bit snug around the bust. To compare, the Picture Mt Xpore jacket in a size Medium is a much longer cut and fits several inches longer in the torso and sleeves, despite being a size smaller. Stylistically, the Aeron and Mt Xpore are different fits, but overall I feel the Xpore offers a much preferable fit for someone who is tall, or prefers a "tall" fit. The Aeron Bib served as my classic go-to black bib for much of last season. As with the Aeron jacket, they are pretty simple bibs with minimal pockets and features. This makes for a stylish pant, with a simple design. The bib straps are comfortable, but offer very basic adjustability through velcro, so those on the edges of the size spectrum may have a tougher time getting an ideal fit (trying on is always recommended, when possible). Overall, the Aeron kit is a stylish and simplistic kit with solid overall performance.
Norrøna lofoten Gore-Tex thermo100 jacket and lofoten Gore-Tex Pro Pant
MSRP: $599 (jacket), $599 (pant)
Fabric: GORE-TEX® 2-layer 70D recycled nylon on exposed areas and insulated with 100% recycled Primaloft Silver Insulation Bio (jacket), 40D-200D 3-layer GORE-TEX® fabric (pant)
Size Tested: Large (jacket and pant)
Measured Weight: 984 g (jacket)
Reviewer: 5'9", 167 lbs / 175 cm, 75.7 kg
Kara Williard: It's hard to imagine a warmer, cozier, and softer shell than the Norrøna Lofoten Gore-Tex Thermo100. As a brutal cold front swept through Crested Butte, I was thankful to be testing this jacket because it is both very warm and very functional in frigid temps. When it comes to insulation and waterproofing, the Lofoten Gore-Tex Thermo100 is an impressive piece, and for freezing days on resort, this jacket is a top choice.
A highly windproof, water resistant, and insulated layer, this is the most protective jacket I have ever worn. For that reason, it is also not the most versatile, and is best utilized for generally cold climates or the coldest of days.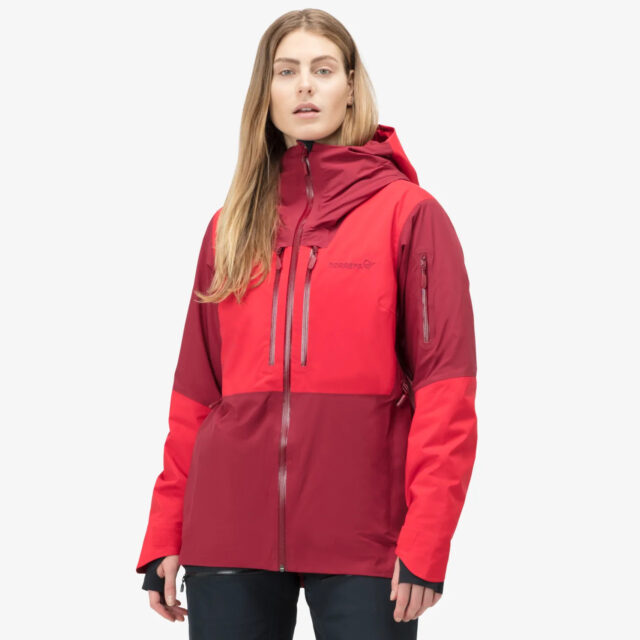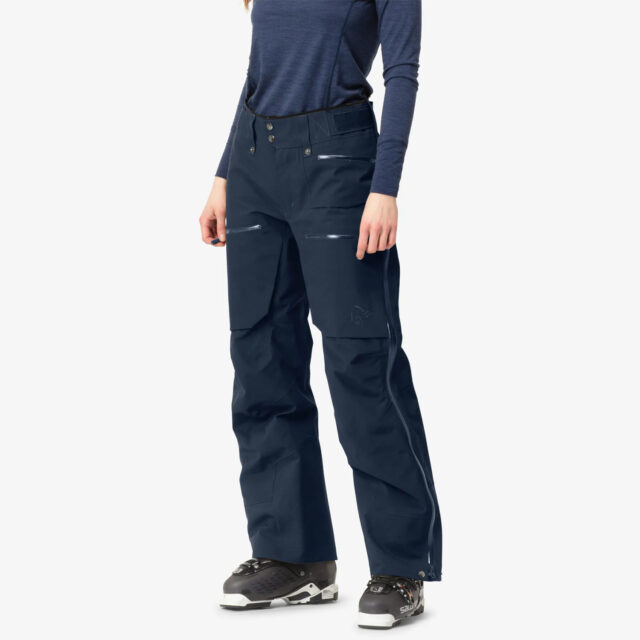 Though, for as insulated as it is, it is still a relatively breathable layer with great ventilation, so even as I wore it on a sunny day with temperature swings, I was impressed to not find myself overheating, and still able to regulate temperature once the vents were open.
In a size Large, I found myself pleased with the length of the Lofoten Thermo100, but it felt a little roomy around the bust and waist. A Medium would be a totally reasonable fit for me in the jacket, especially because it is so warm and insulating, to the point that I don't find myself layering as much underneath. (For reference, I prefer a size Large for Norrøna's shells, but I think I'd prefer a Medium for this piece.)
Not limited on features or details, the Lofoten Gore-Tex Thermo100 is impressive in terms of attention to detail, including a removable powder skirt, five exterior pockets, easy-to-pull zipper tabs, and my favorite features being the cuff, which is the easiest sleeve cuff I have used when it comes to pulling over a bulky mitten.
For optimal day-to-day versatility, the Lofoten Gore-Tex Pro Pant is definitely near the top of my list. With really durable fabric, Kevlar reinforcement around the boot cuff, gaiters, roomy front pockets ideal for larger items like a phone or beacon, and the option for a zip-in bib addition, the Gore-Tex Pro Pant is burly, versatile, and comfortable. When it comes to ski pants, I especially appreciate the wide, comfortable waistband with built-in adjustment, the option for snap-in to Norrøna jackets at the powder skirt, plus all the pockets. With substantial venting in the outer thigh (the pant can be unzipped from the pocket all the way to bottom of the cuff), these are pants that I would happily choose for backcountry days, and that's coming from someone who almost always prefers touring in bibs (plus, there's the option to convert these pants to a bib, which I think is really convenient; Luke Koppa reviewed the bib version in our men's outerwear roundup and is a huge fan).
The Lofoten Gore-Tex Pro Pants in a size Large fit great — they're comfortable around the waist, butt, and thighs, and didn't create a gap in the back when bending over. They are roomy without being baggy, and still feel flattering while being a practical fit for carrying items and maintaining a lot of mobility. The thigh pockets are one of the few pant pockets that can carry my bulky phone, or a beacon. Overall, I think Norrøna's pieces fit a tall frame well, and I was pleased with the comfort and mobility around the waistband, as I am typically someone who prefers the comfort and feel of a bib to that of a pant.
MSRP: $300
Fabric: 80-gram Spaceloft™ micropuff in the body, 2-layer hardshell fabric
Size Tested: Medium
Reviewer: 5'9", 167 lbs / 175 cm, 75.7 kg
Kara Williard: The Flylow Sarah Jacket is a great option for someone who wants a lightweight insulated jacket that won't feel like overkill on somewhat warmer days or feel too bulky, even with layers underneath. For an insulated jacket, the Sarah breathes really well and offers significant venting. On really cold days, the Sarah Jacket is a great option for that extra layer of warmth and insulation. For wetter storm days, the Sarah Jacket is not as water resistant as any of the Flylow shells mentioned above, with a 10k/10k waterproofing and breathability rating, but the Sarah has still fended off snowstorms just fine and is a warmer option for someone who doesn't want to have to think as much about layering options, or lives in a drier, colder climate. It is also a jacket that provides a lot of features and durability for the price.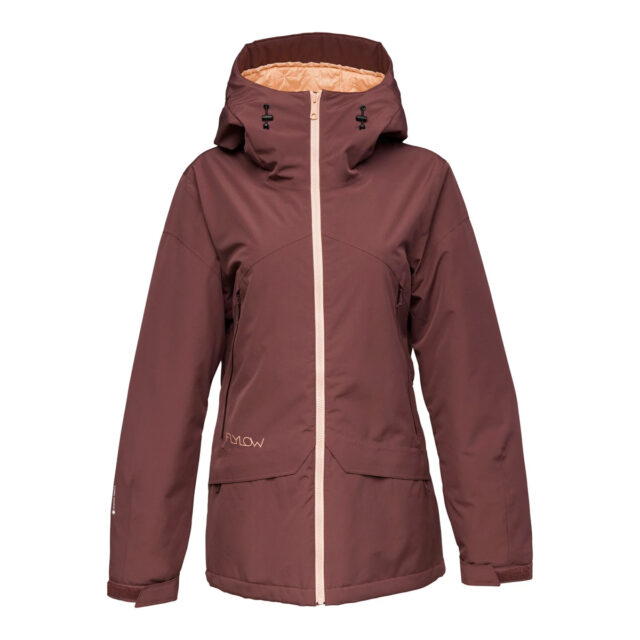 While I am typically not someone to gravitate toward an insulated jacket, the Sarah is just right for my preferences, since it feels extra cozy and warm on freezing days, but it has yet to feel stifling even as I am doing a bootpack in the resort or temperatures are rising throughout the day. One of the best features of the Sarah Jacket is its large exterior pockets that run along the ribs, which are exceptionally roomy and a great place for storage of bulky items. While this is positioned as a resort-specific jacket, it is also a great option to wear off the mountain, since it is (in my opinion) a fashionable jacket that looks less like a technical jacket than some of the other shells here. The size Medium Sarah Jacket is a roomier, slightly more relaxed fit than the Medium Flylow Lucy Jacket, so even as I ventured out on the town for some après with a thick sweater beneath, the Sarah felt comfortable and flattering without being tight or bulky.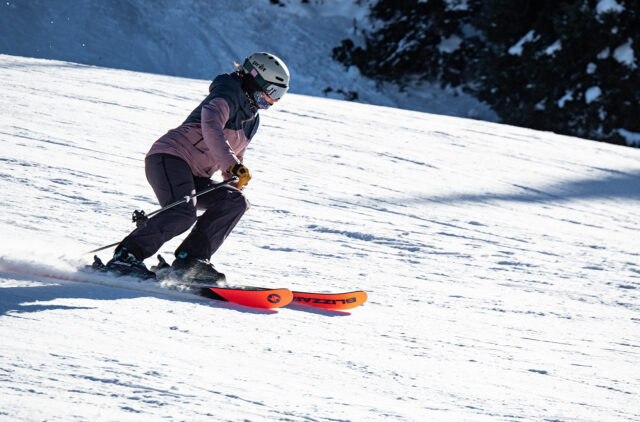 Kristin Sinnott: The current and previous versions of the Sarah Jacket have been a staple of my winter wardrobe for the past three seasons. As Kara mentioned, this jacket provides just the right amount of warmth for me on cold days. But on numerous occasions, I also found myself wearing the jacket when the temps were warmer (~32℉ / 0℃) than I anticipated. The pit zips allowed me to let the jacket breathe fairly well on some hike-to-terrain, and once I headed downhill, the airflow was good enough to cool me off. At 5'8", 125 lbs / 173 cm, 56.7 g, the size Medium is a roomy fit for me, but also my preferred size.
MSRP: $300
Fabric:
Body: 100% Polyester with DWR

Shoulders: Intuitive™ 2-layer
Materials:
100% Polyamide Pertex® Quantum

10k/10k waterproof breathable membrane in the shoulders

800-fill goose down

Taffeta: 100% polyester w/ DWR
Size Tested: Medium
Measured Weight: 667 g
Reviewer: 5'8", 125 lbs / 173 cm, 56.7 kg
Kristin Sinnott: The Kenzie Jacket stands out among other insulated parkas and technical ski jackets in my closet because I am just as likely to wear it to run errands on a cold day as I am to wear it skiing in the resort. It could easily be my 1-jacket quiver for cold days and I even included it in the Women's Insulated Parka & Jacket Roundup last year due to its versatility on and off the mountain.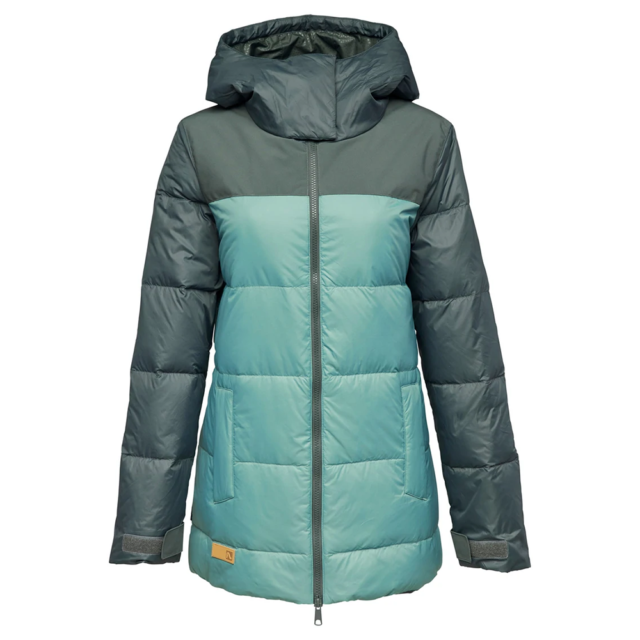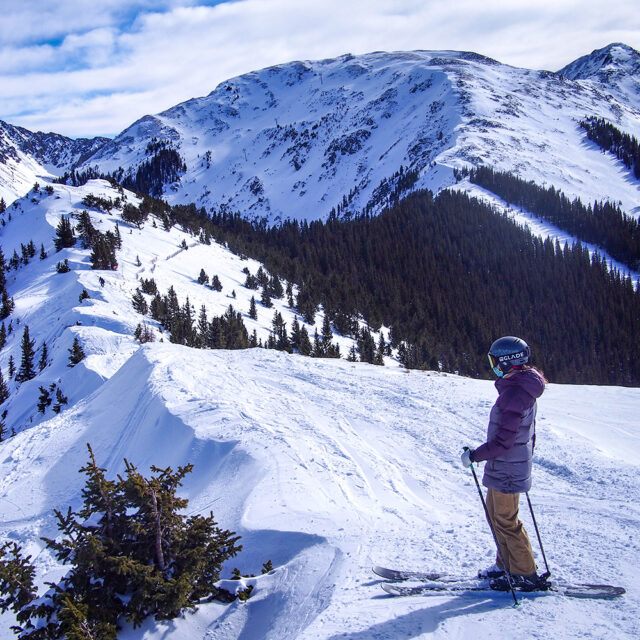 The Kenzie jacket is a bit longer (back length 31.25 in / 79 cm) than an average ski jacket, and between the extra length, supple face fabric, 800-fill-power goose down, and tall wrap collar (with a magnet cuff closure), you can really snuggle into this jacket. Add to that the removable powder skirt, durable and waterproof fabric on the shoulders, and underarm vents, and you have a jacket perfect for cold days spinning laps on the mountain.
I tested a size Medium and found it to be a great size — the cuffs hit at the top of my hands and the jacket extends well past my hips. I tended to not wear bulky layers underneath since (1) I didn't need them to stay warm and (2) the arms felt a little tight when the layers were really bulky. The Kenzie jacket has a very slight princess cut design to it. It doesn't balloon out at the bottom but it also isn't too narrow around the waist. The side snaps (3 snaps on each side) and a two-way zipper can also be opened up to allow for full mobility. I tend to keep the jacket fully zipped but I unsnap the sides when skiing. I find it creates a nice silhouette but still provides enough range of motion for boot packing, lift riding, and skiing.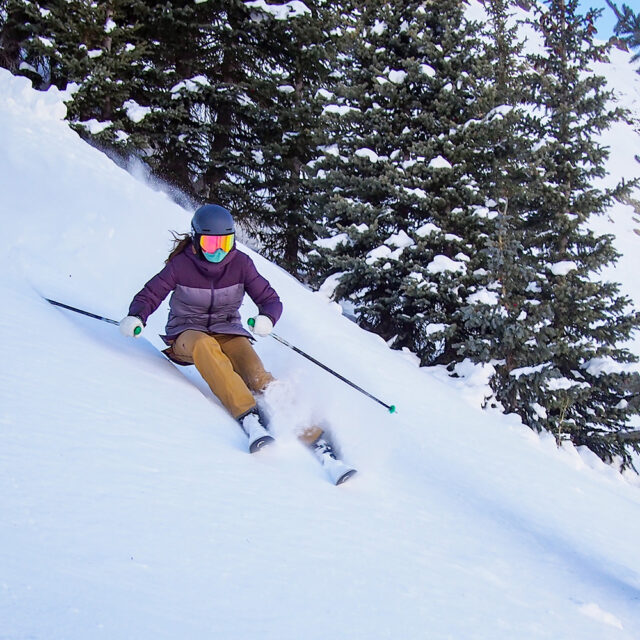 While there are so many features that Flylow got right with the Kenzie Jacket, there are a few that I don't love (but none of them are deal-breakers). The main zipper tends to get caught on the inside flap of the jacket near the top, the pockets are designed more for casual wear than for a day of skiing or riding, and the hood isn't the most helmet compatible. With only 3 pockets (2 handwarmer pockets and 1 interior chest pocket), I found myself looking to ditch some items in my pants pockets because there weren't enough options in the jacket. The hood just barely fit over my Glade Tenmile ski helmet, and in general, I found it fairly uncomfortable to wear. The hood made the collar tight against my mouth and it was almost impossible to ski with the hood up. The hood works well when paired with a ski beanie but when skiing, I leave the hood down.
With all that said, if you are looking for a warm winter coat that can double as a ski jacket for cold days, the Kenzie Jacket is a great option. I find I reach for mine more often than I do my other dedicated long, insulated parkas. I like that I don't have to keep shuffling jackets based on what I plan to do each day, plus, for what it offers, the Kenzie comes in at a pretty great price.
Strafe Belle 3L Insulated Pant
MSRP: $469
Fabric:
FACE FABRIC: Recon Elite 3L 4-way stretch | 100% nylon face, 100% polyester jersey backer, DWR treatment
INSULATION: 40g PrimaLoft® Gold with Cross Core | 100% polyester, 35% PCR (post-consumer recycled) content, bluesign® approved
LINING: Double rip-stop | 100% nylon
Size Tested: Medium
Measured Weight: 586 g
Reviewer: 5'8", 125 lbs / 173 cm, 56.7 kg
Kristin Sinnott: The Strafe Belle 3L Insulated Pant has PrimaLoft® Gold Insulation with Cross-Core™ (like the Strafe 2L Castle Jacket), giving it a great warmth to weight ratio. But unlike the Castle Jacket, the Belle Pant has considerably less insulation (40g vs 133 & 80g) which cuts down on added bulk while still providing plenty of warmth for the legs. And the light insulation makes them look more similar to uninsulated pants.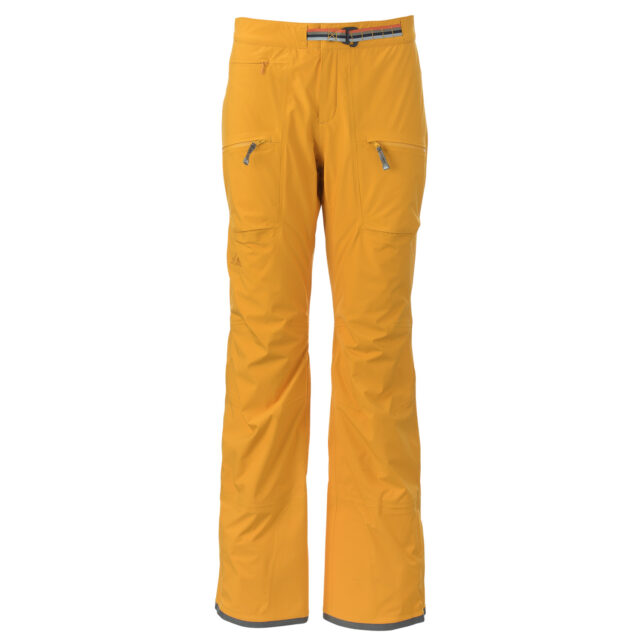 The outer fabric is Strafe's Recon Elite 3L 4-way stretch with a DWR finish. The fabric is waterproof, durable, supple, and has a soft hand feel. The soft chamois-lined waistband and breathable rip-stop lining make the pants enjoyable to wear even if you decide to leave your baselayer at home. Unlike the Black Crows Ferus Mechanical Pant, the lining doesn't have the cool-to-the-touch feel, making them comfortable and warm against bare skin (in case you opt-out of a baselayer).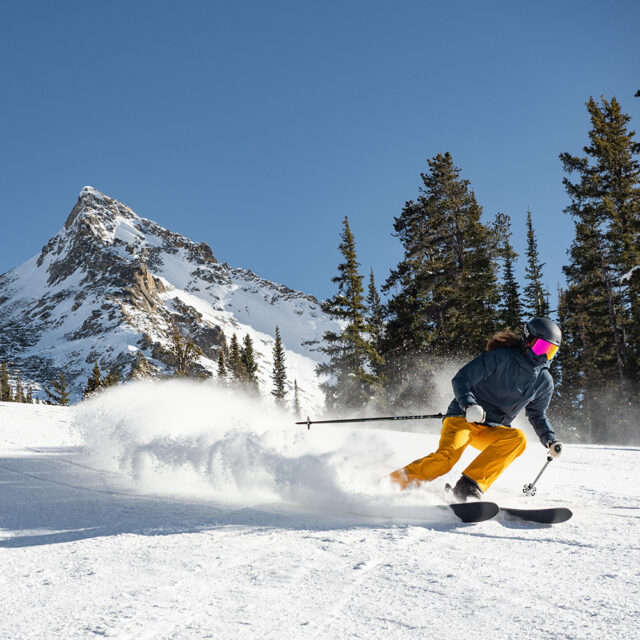 The 4-way stretch face fabric, articulated knees, and expandable pant cuffs allow for a comfortable fit that doesn't restrict mobility. The DWR finish, large leg vents, and low-profile PrimaLoft Gold insulation keep me warm and dry and vented (when needed) while spinning lifts. And of course, Strafe wouldn't be satisfied unless the pants looked good, too. The tailored fit of the pants allows them to move with you without any added bulk or material, and the monochrome look with matching zippers and internal scuff guards all work together to create a nice-looking pair of pants. If you're looking for a pair of insulated pants that won't cause you to immediately overheat on hike-to terrain, and that look more similar to a shell, the Belle Pants should be on your radar.
Strafe Castle 2L Insulated Jacket
MSRP: $499
Fabric:
Face Fabric

: Recon 2-layer 4-way stretch

Insulation

: Body: 133-g

PrimaLoft® Gold Insulation with Cross-Core,

Sleeves/Hood

: 80-g PrimaLoft® Gold Insulation with Cross-Core, 100% polyester, 35% PCR (post-consumer recycled) content, bluesign® approved

Lining

: Double ripstop, 100% nylon
Size Tested: Small
Measured Weight (size Small): 948 g
Reviewer: 5'8", 125 lbs / 173 cm, 56.7 kg
Kristin Sinnott: I've been wearing the Castle Jacket for over a year now and I published a full review on it back in March 2021. The jacket remains unchanged for the 21/22 season.
Strafe describes the Castle's fit as "tailored," which I'd agree with, particularly when comparing it to other insulated jackets.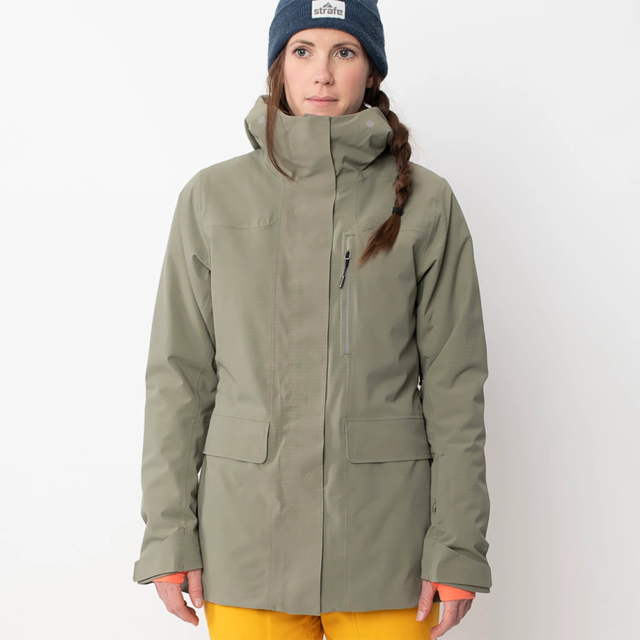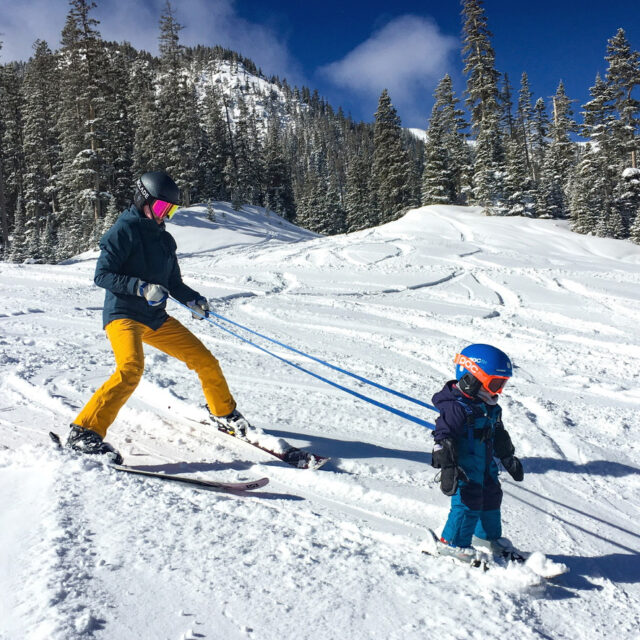 It's on the longer side, with the back measuring 30.5" / 77.5 cm from collar seam to hem and when skiing / standing, the jacket covers the upper half of my rear. The jacket has a pretty straight cut but I've found it offers plenty of room for my hips. I've always preferred straight cuts to flared women's cuts since my hips generally don't require extra room. If you're the opposite, the Castle Jacket does have a two-way zipper, and on occasion (such as skiing with my son and snowplowing / pizza-ing), I find I prefer to keep the bottom slightly unzipped.
Strafe is known for making outerwear that is attractive, durable, breathable, and weatherproof, and all these design elements were incorporated into the Castle Jacket. The jacket has a full length placket with magnetic closure that serves to hide the front zipper. Plackets also cover the drop-in style hand pockets and overall, I'd say the jacket looks more polished than other ski jackets with exposed zippers.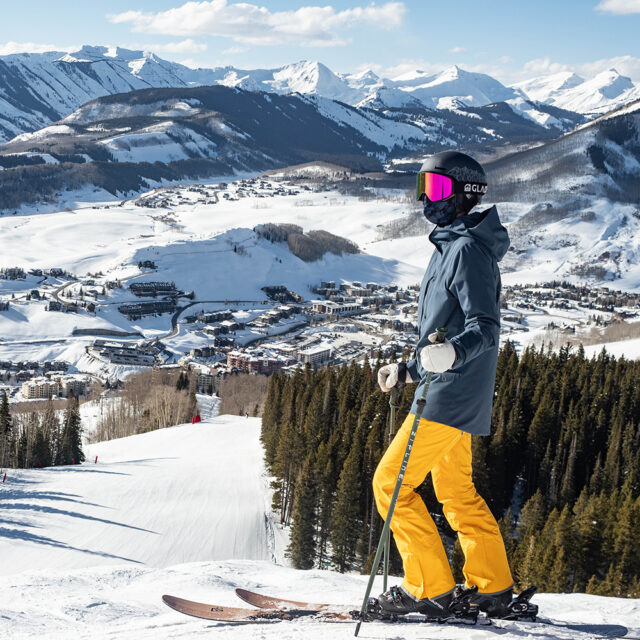 The RECON 2L 4-way stretch outer fabric has a matte finish, is soft to the touch, supple, and has a subtle square grid texture. The insulation is all PrimaLoft® Gold with Cross-Core, but the body is more insulated (133g) than the sleeves and the hood (80g). Primaloft® Gold insulation with Cross-Core is designed to be lightweight, warm, and it offers some stretch. It also contains 90% post-consumer recycled material. The double ripstop liner is more soft than slick and feels warm against the skin unlike a more typical nylon lining.
Compared to other insulated jackets, the Castle Jacket is warmer than the Black Crows Ferus Mechanical Jacket and the Flylow Sarah Jacket, slightly warmer than the Norrøna Lofoten Gore-Tex thermo100 jacket but not quite as insulated as the Flylow Kenzie Jacket. It is about the same weight as the Ferus Mechanical Jacket, lighter than the Lofoten, but heavier than the Sarah and Kenzie Jackets. For a warmth-to-weight ratio, it's pretty good. The Kenzie is a bit better in terms of warmth-to-weight ratio but only because it lacks the same level of durable, and waterproof face fabric. The Kenzie is also the only insulated jacket in this roundup that is not synthetic.
The Castle Jacket may look streamlined, but with plenty of pocket space, a removable powder skirt, and underarm vents, it's actually pretty heavy on features and functions well on the mountain and around town.
Black Crows W Ferus Mechanical Jacket
MSRP: $539.95
Fabric: 2L mechanical stretch, 100% recycled lining, Primaloft black eco insulation, 45% Repreve polyester / 55% polyester
Size Tested: Medium
Measured Weight:
Reviewer: 5'9", 167 lbs / 175 cm, 75.7 kg and 5'8", 125 lbs / 173 cm, 56.7 kg
Kara Williard: The Black Crows Ferus Mechanical Jacket is a lightly insulated jacket that provides substantial protection on a storm day or in colder temperatures, with plenty of options for venting and breathability. My first day in the jacket was a warm spring day, and I was able to layer the Ferus with a really lightweight base layer and felt really comfortable throughout the day, with the option to unzip the vents when things got a little warm. It's more insulated than the Flylow Sarah and less insulated than the Norrøna Lofoten Thermo100, making the Ferus a good option for people who tend to run a little colder and desire an insulated resort jacket. In a Medium, the Ferus was a relatively tailored fit on me.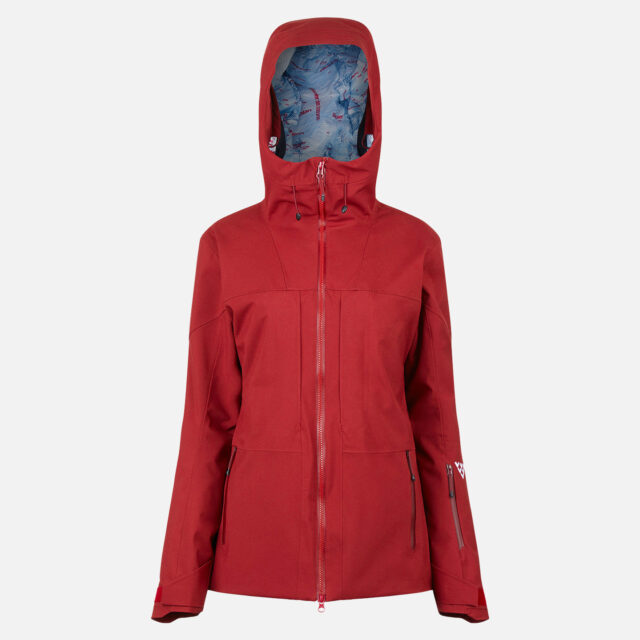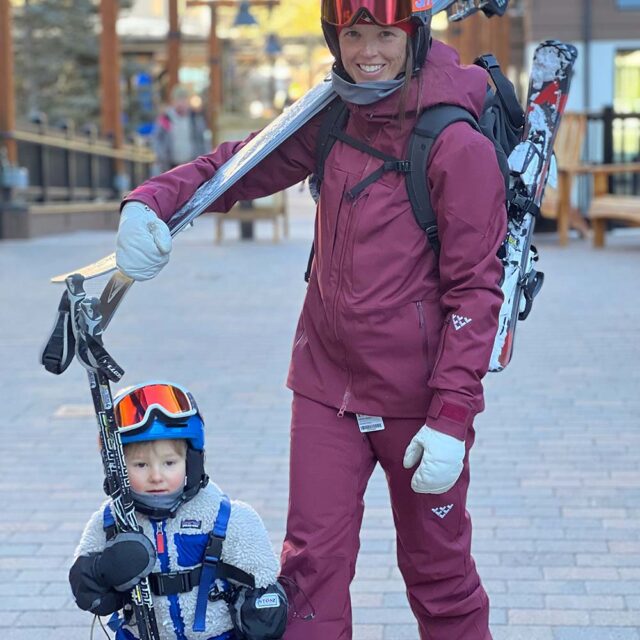 For an insulated jacket, this worked out okay because I don't desire to wear as much underneath, but overall this is a pretty close-fitting jacket, so someone who desires a longer or more roomy fit should look to size up, particularly when compared to the fit of a Flylow jacket.
Kristin Sinnott: The Primaloft black eco 100% recycled inner lining of the Ferus Mechanical Jacket is the least insulating (for its weight) of the Primaloft line and it doesn't provide quite as much warmth as the Strafe Castle 2L Insulated Jacket. Despite this, I've found the jacket and pants provide enough insulation to keep me warm. I have spent hours skiing, digging snow caves and rolling around in the snow with my toddler in this jacket in below zero temperatures and it kept me warm and dry.
I'd call the fit of this piece slightly relaxed — at least for me, since I found the size Medium to be an ideal fit. Loose enough to add multiple layers underneath, but it also didn't feel baggy when I only wore a base layer. The sizing runs smaller than the Flylow Sarah Jacket (and pretty much all Flylow jackets), so you might want to consider sizing up for the Ferus Mechanical Jacket, especially if you're often between sizes. The helmet-compatible hood fits fairly comfortably over my helmet. It's not as big as the hood on the Flylow Sarah Jacket, but that also means it never acts like a parachute when skiing with the hood down.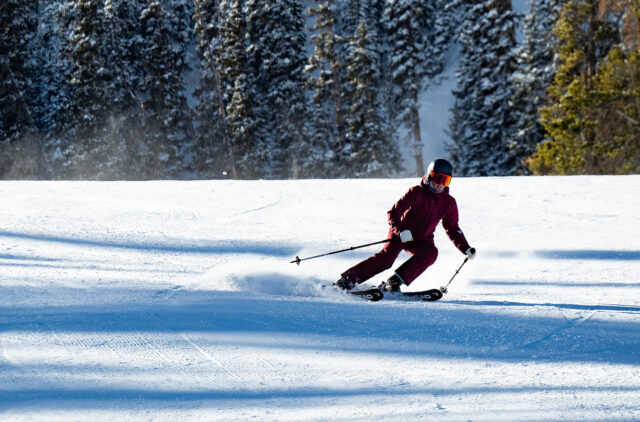 The monochrome look of the coat hides a more playful interior and several external pockets. I appreciate and regularly use the chest pockets, both of which are large enough to store my phone. The inner left side pocket is quite deep and it is where I tend to keep my phone on particularly cold days in an attempt to keep the cold from draining my battery. The jacket also features a pass pocket on the lower left arm and a removable powder skirt with double snaps. The underarm zips are large, lined with mesh, and can be used to help regulate your temperature. The insulation isn't as breathable as the Strafe Castle Jacket and because of that, I found I overheated more easily when hiking in the Ferus on warm days. (Yes, I understand that one doesn't typically wear insulated gear on 'warm' days, but it occasionally happens.)
If you're looking for a flattering, lightly insulated technical jacket, the Ferus Mechanical Jacket is a good option.
Black Crows W Ferus Mechanical Pants
MSRP: $419.95
Fabric: 2L mechanical stretch, 100% recycled lining, Primaloft black eco insulation, 45% Repreve polyester / 55% polyester
Size Tested: Medium
Measured Weight:
Reviewer: 5'8", 125 lbs / 173 cm, 56.7 kg
Kristin Sinnott: Designed with the same fabric and insulation as the Ferus Mechanical Jacket, the pants and jacket combination make for a nice-looking and warm kit. I used to feel that monochrome kits were reserved for pro skiers and riders but it seems like more and more companies are coming out with their own options for the rest of us. I'm into this trend and I think the Ferus Mechanical Jacket and Pants make for a nice-looking outfit.
The pants are high-waisted and somewhat tight-fitting through the torso with a zipper and a two-snap closure. There is stretchy fabric on the side and back panels, which make the pants comfortable despite them being snug, and the panels also make it easy to fold down the upper bib.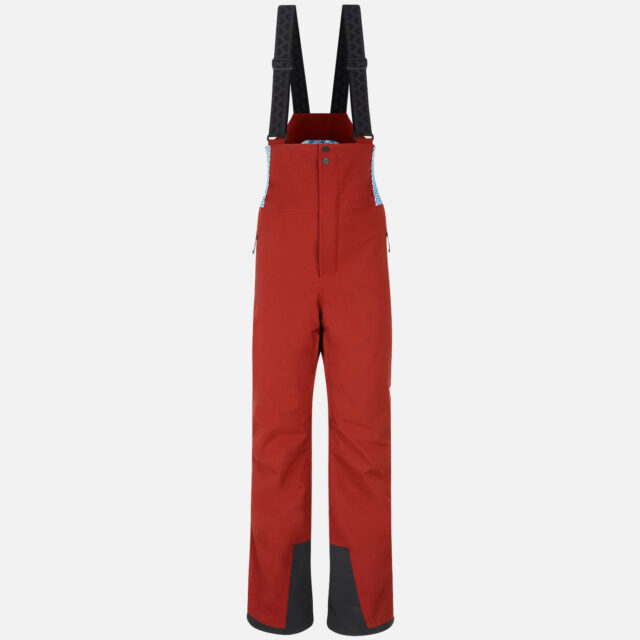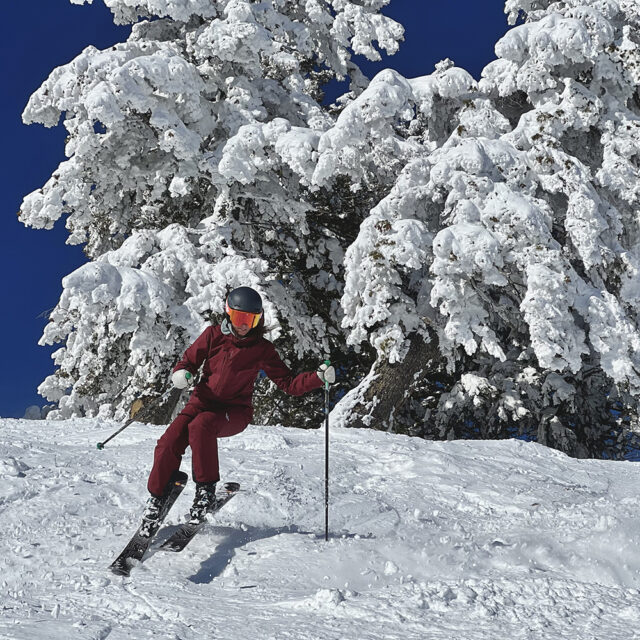 I definitely prefer to fold down the upper part of the bib whenever I'm not skiing. Both because the pants are less flattering on me than other bibs like the Strafe Scarlett Bib and because they are a bit snug and less comfortable when sitting for periods of time (like driving to / from the ski area). I do appreciate that the bib portion of the Ferus Mechanical Pants is uninsulated.
For sizing, the Medium was a good fit on me but they were too short / small for Kara. The suspenders seem to be designed for wider shoulders and I found that no matter how they were adjusted, they tended to creep down my shoulders and required fairly frequent adjustments to keep them in place. My workaround for the suspender creep is to cross the straps in the front and that works well to keep them in place. The pants have fairly small (9 in / 23 cm), mesh lined, inner leg vents that provide some relief on warm days.
The gaiters on the Ferus Mechanical Pants are the widest ones I've ever worn on ski pants. They are loose when worn over my ski boots, but not so loose that snow would creep in. But when I wear them with my snow boots, there's nothing to stop the snow from coming in when I go in deep.
The Ferus Mechanical Pants are a good option if you're looking for a lightly insulated pair of bibs and when paired with the Ferus Mechanical Jacket, it makes for a sharp and warm kit.
MSRP: $225
Fabric: Patrol 2-layer hardshell fabric, 15k/10k waterproof breathable membrane
Size Tested: Small
Measured Weight: 700 g
Reviewer: 5'4", 130 lbs / 162 cm, 59 kg
Kristie Robson: I tested the Veronica Jacket in a variety of Colorado late-winter and spring conditions, including high winds and storm days. It is an ideal jacket for someone who skis in a variety of weather conditions and wants the flexibility to select their own layers. There is ample room in the Veronica jacket for multiple layers, and the jacket hangs and moves nicely with a single base layer or added warmth. While I did test this jacket in the backcountry, including a multi-day hut trip, I wouldn't recommend it for someone planning for more than the occasional back- or slack-country ski, due to the jacket's weight.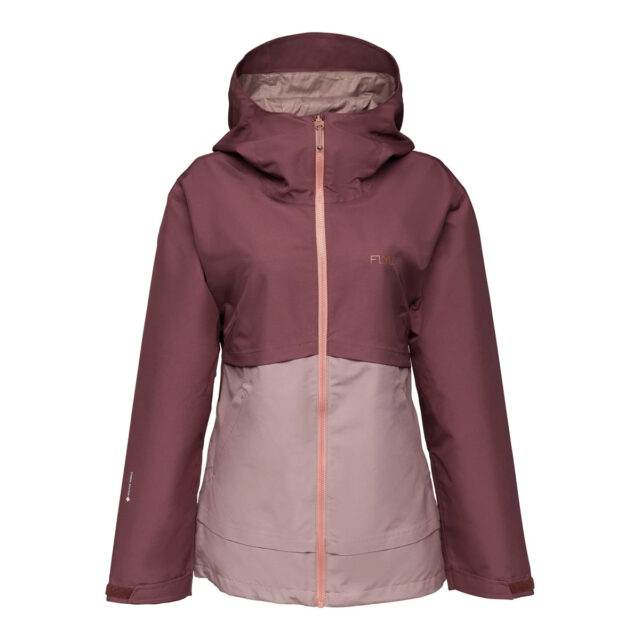 The fit of the Veronica Jacket is roomy to easily accommodate layering without compromising the fit or look of the jacket. The jacket falls below my hips, providing full bum coverage, which is ideal for me for a resort jacket. Surprisingly, I found the jacket to be tight across my back and the sleeves to be short, which is not something I typically encounter with clothing or outerwear.
The handwarmer pockets are a panel design with an angled zipper, so they are easy to slide your hands into and very spacious. The hood easily accommodates a helmet and cinches in place without much fuss. I appreciate this simplicity, given that the conditions in which I want a hood up and tight are the same conditions where I really don't want to take my gloves off! Once secure, the hood moves well; skiing with the hood up, I felt I had good lateral movement and visibility. The chin is cut high on the Veronica jacket and lined with micro fleece, so whether the hood is up or down, I can zip up and tuck my chin and nose in, if the conditions warrant. Overall, the Veronica Jacket is ideal for someone looking for a resort shell that is affordable, versatile, and durable.
MSRP: $300
Fabric: Stark 3-layer hardshell fabric, 10k/10k waterproof breathable membrane
Size Tested: Small
Measured Weight: 500 g
Reviewer: 5'4", 130 lbs / 162 cm, 59 kg
Kristie Robson: The Kimberly Bib is built with Flylow's 3-layer Stark fabric, which is soft and pliable, though a bit warmer than I expected, given how soft the material feels. I was able to test the Kimberly Bib in a variety of Colorado late-winter and spring conditions, including high winds and storm days. The material feels robust without actually being all that heavy, and in some wet, spring storms, this bib impressed me with its ability to keep out the elements.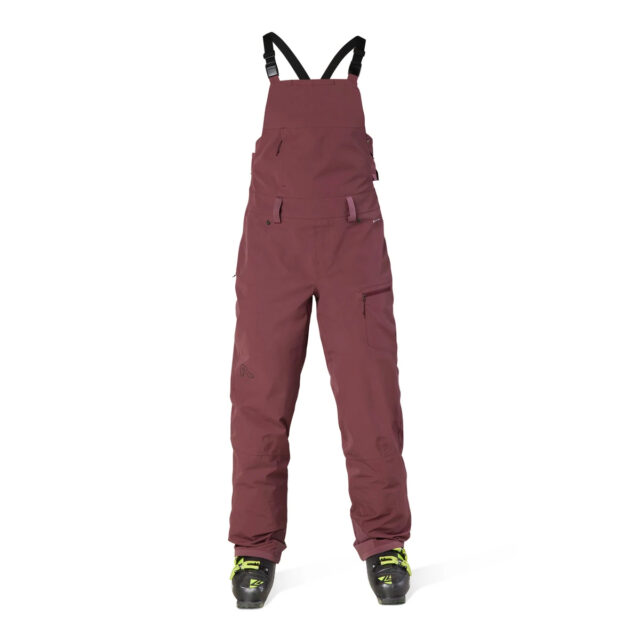 The Kimberly Bib is sufficiently roomy to allow for layering, and the cut through the legs and hips is straight, offering unrestricted movement without looking baggy or boxy. The full bib provides excellent coverage for deep storm days, though it's also likely what makes this bib a bit warmer than lower-cut bibs or those that use a non-waterproof fabric around the bib portion. The waist of the Kimberly Bib felt loose, so I played around with a couple belts and ended up liking the fit better when the waist was a bit snugger. I use the chest pocket most often; it's large, easy to access, and great for keeping things warm and accessible (e.g., my phone and a small snack). The thigh pocket is pretty easy to access and is sized so it can't be so overloaded that it restricts movement. The rainbow rear seat zipper creates easy access, allowing for quick stops; I'd be hard-pressed to highly rate a bib without a drop-seat feature, and the Kimberly checks that box.
The Kimberly Bib doesn't use as high-end of a fabric as the Foxy and Moxie, but for the price, the Kimberly Bib is a really capable, comfortable, and functional bib that is a solid option for a resort skier.