2023 Santa Cruz Tallboy
Wheel Size: 29''
Travel: 120 mm rear / 130 mm front
Material: Carbon Fiber
Sizes Offered: XS–XXL
Price: Complete bikes $5,299 to $10,399
Blister's Measured Weight: 29.2 lb / 13.2 kg (Tallboy X01 AXS RSV, size Large)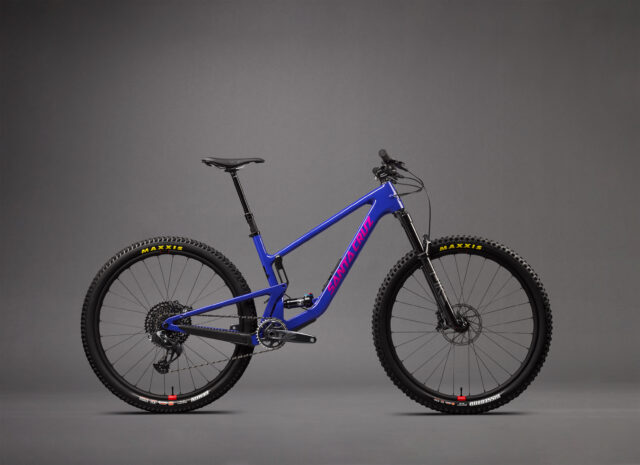 Intro
Santa Cruz has had quite a year, launching new versions of the Megatower, Hightower, Nomad, 5010, and now the Tallboy. And while the shortest-travel bike of the bunch hasn't seen any wheelsize changes or a dramatic overhaul of its geometry, Santa Cruz has found some details to refine. Let's dig in:
The Frame
The prior-generation Tallboy V4 was offered in both aluminum and carbon fiber versions, but the new Tallboy V5 comes in carbon fiber, only. The Tallboy still uses Santa Cruz's familiar lower-link-driven VPP suspension layout to get its 120 mm of rear wheel travel and uses a threaded bottom bracket shell, fully internal cable routing, ample rubber guards on the chainstay, seatstay, and downtube, and so on.
As with Santa Cruz's other recently-updated models, the Tallboy gets the new "Glovebox" downtube storage underneath the water bottle mount. A "tube purse" and "tool wallet" are included to keep items stored within organized and stop them from rattling around in the frame. The Tallboy also gets a UDH derailleur hanger, Santa Cruz's typical geometry adjusting flip chip, and ISCG-05 tabs for a chainguide.
And while all the stock builds come with 130mm-travel forks, Santa Cruz condones running the Tallboy with a 140mm-travel one if you're so inclined. As per usual for Santa Cruz, the Tallboy comes with a lifetime warranty for the original owner, which includes coverage for the pivot bearings.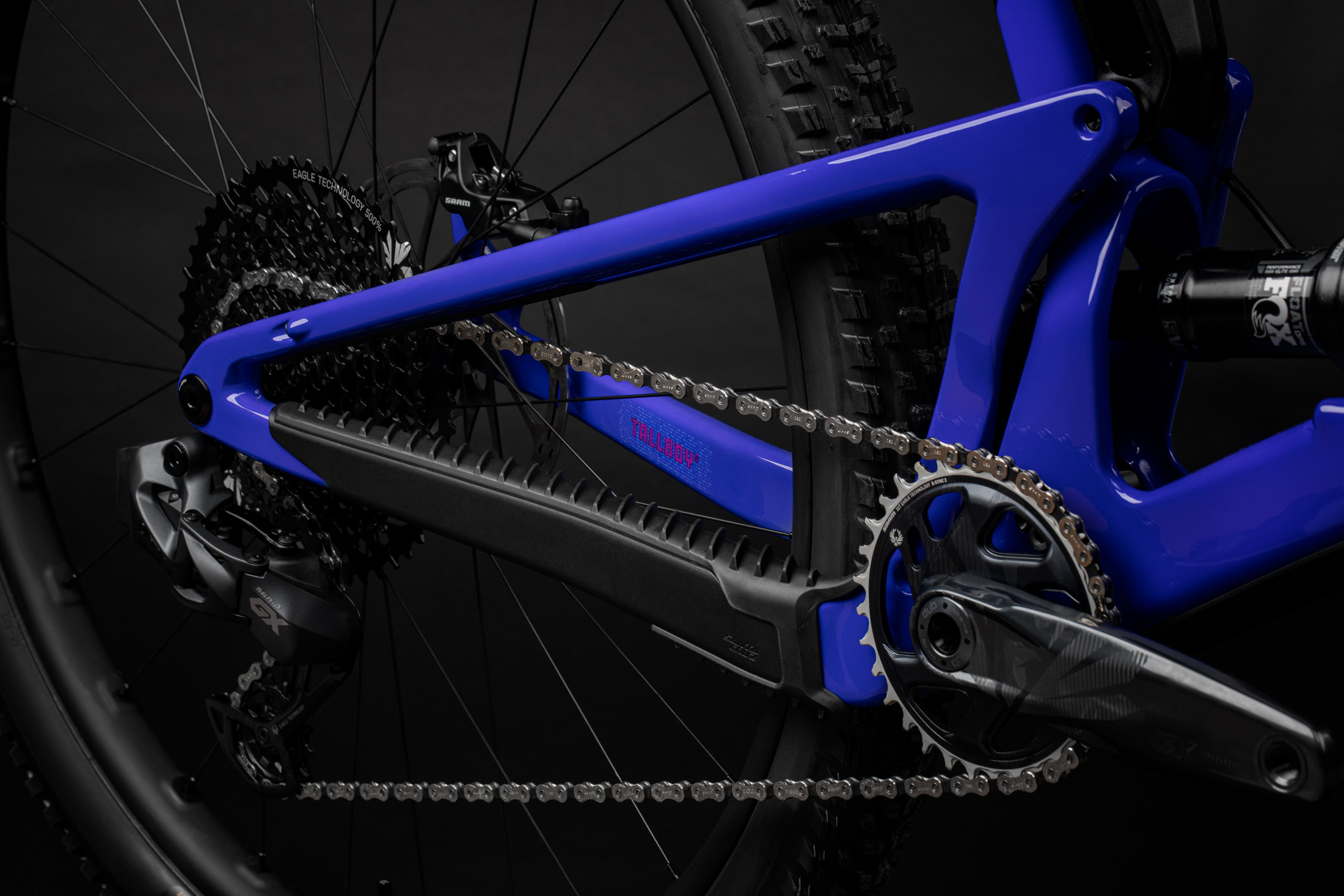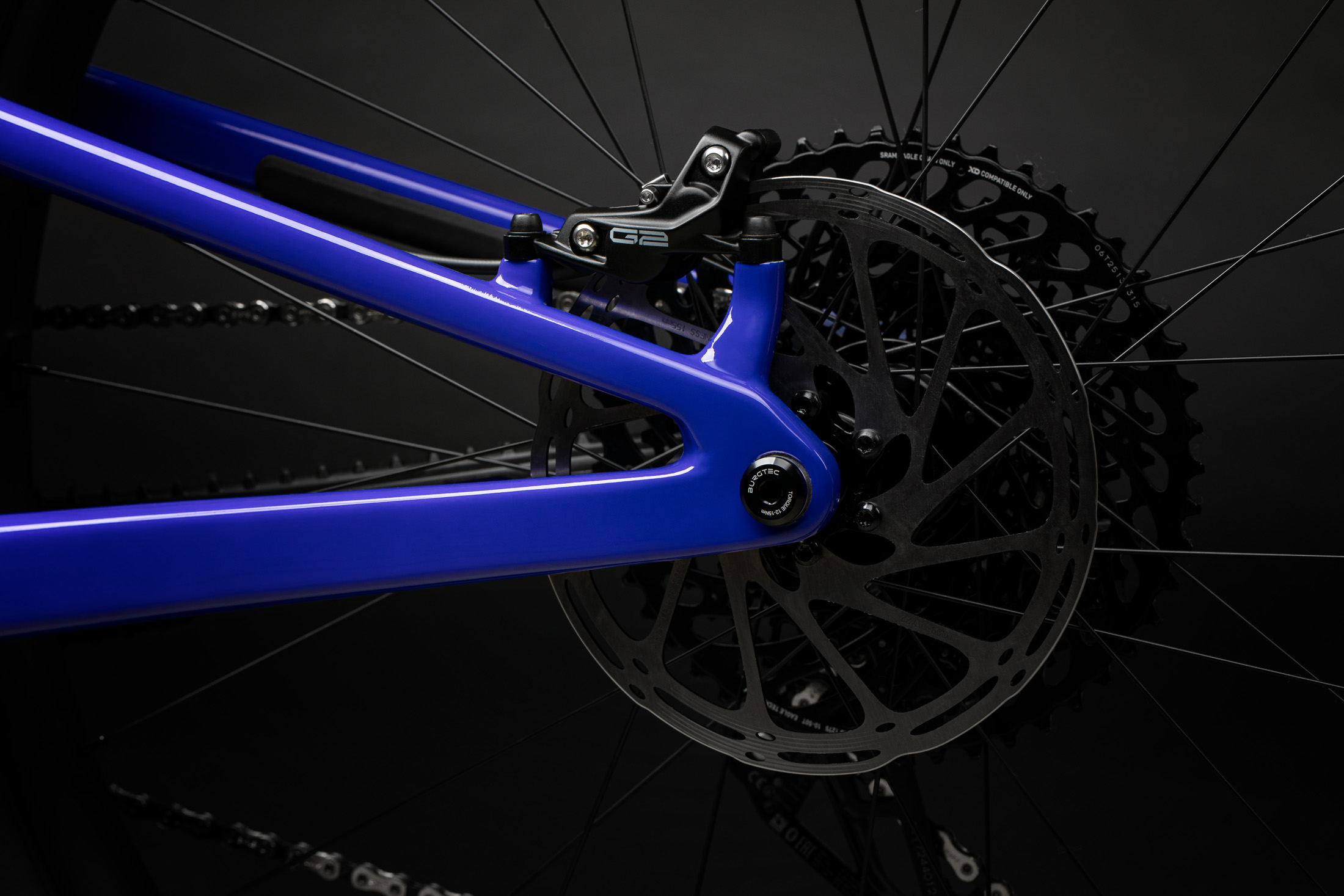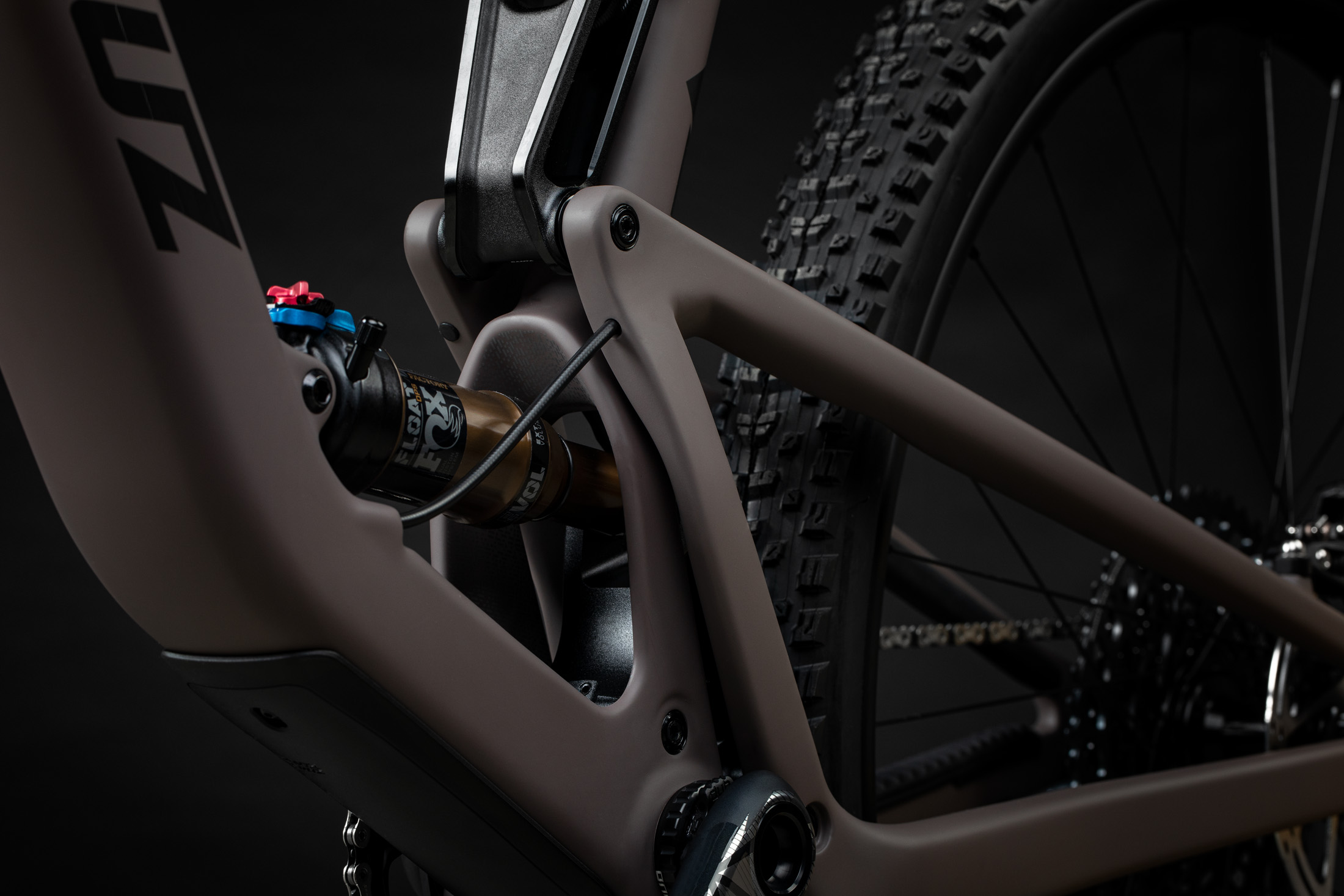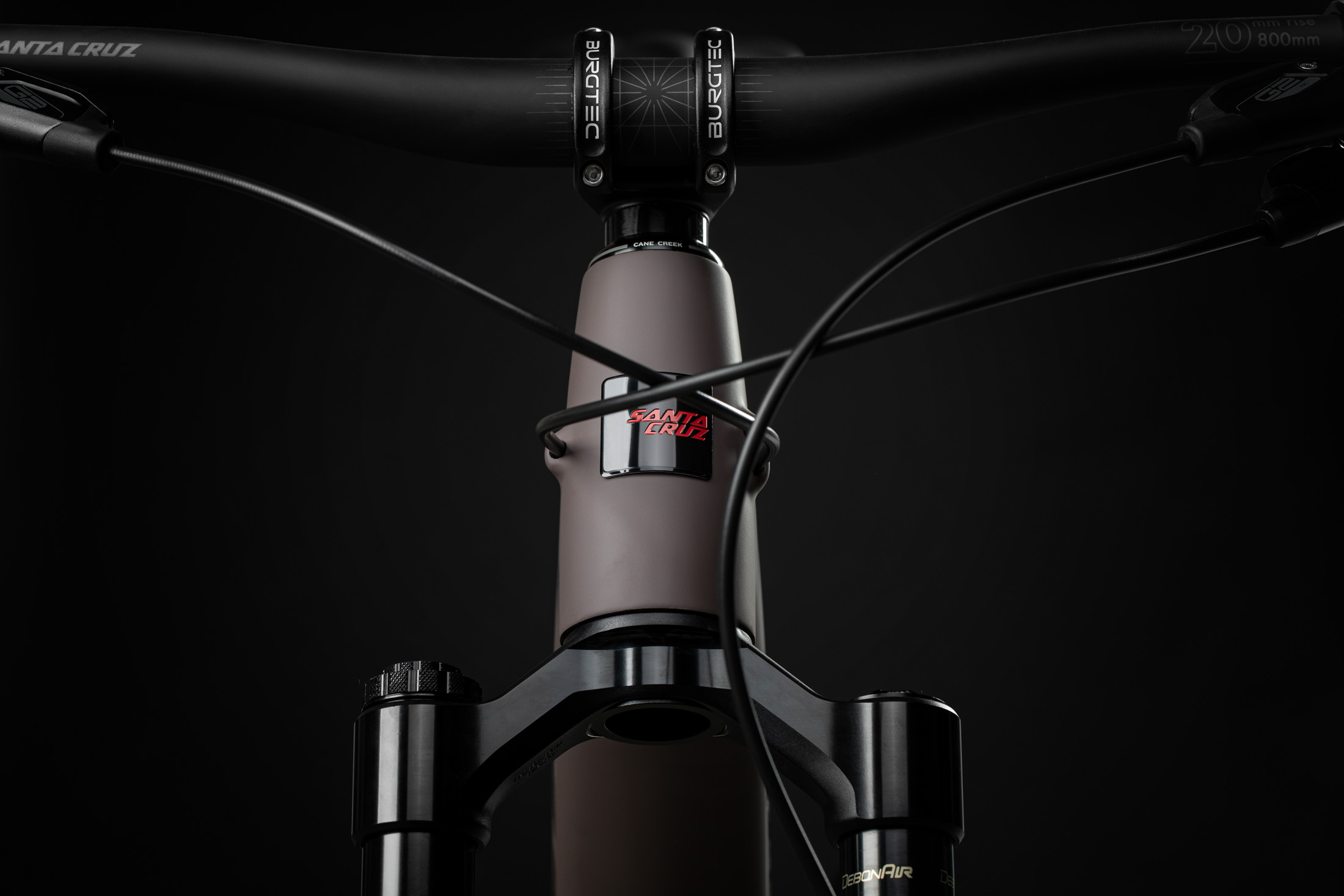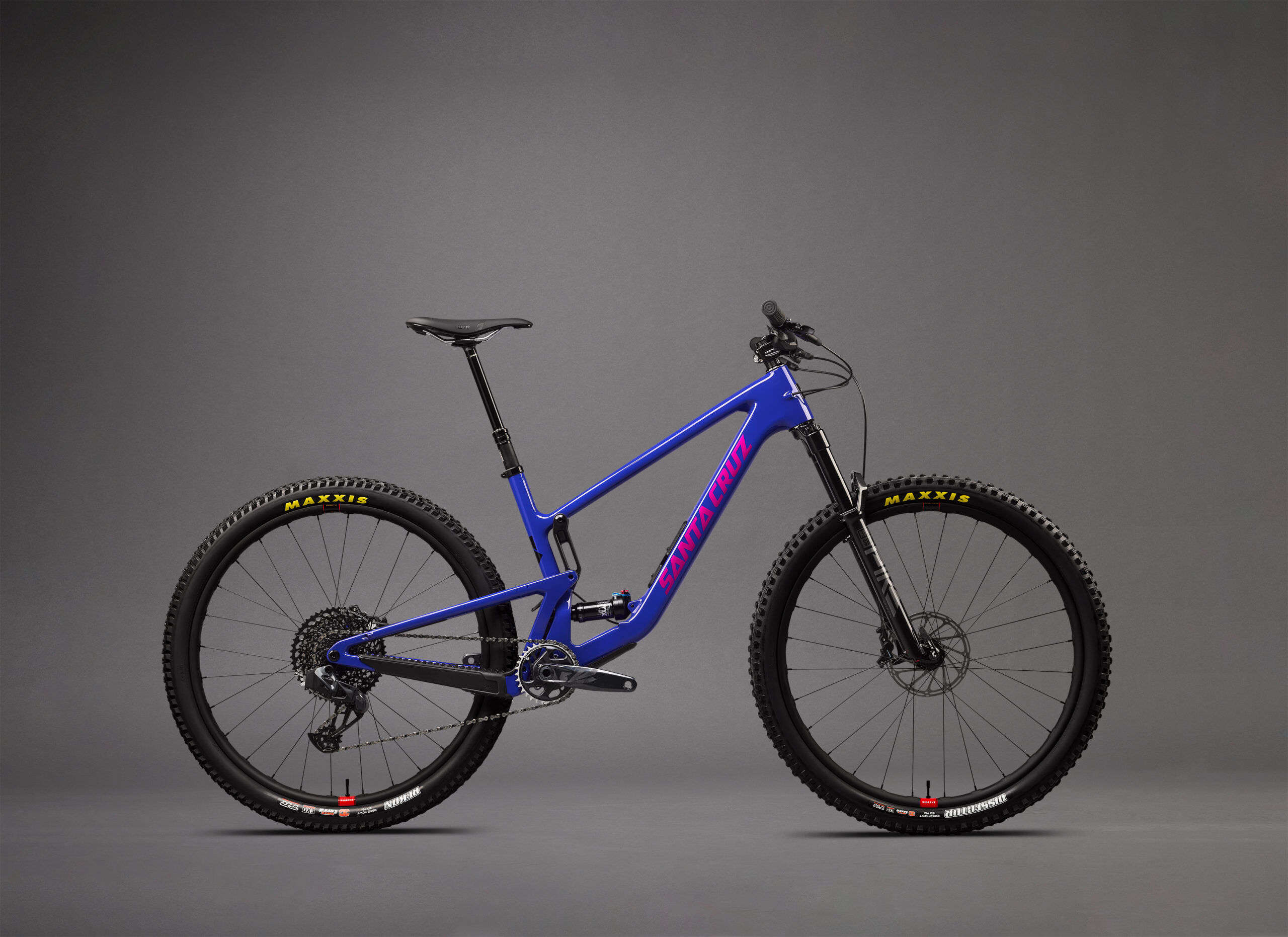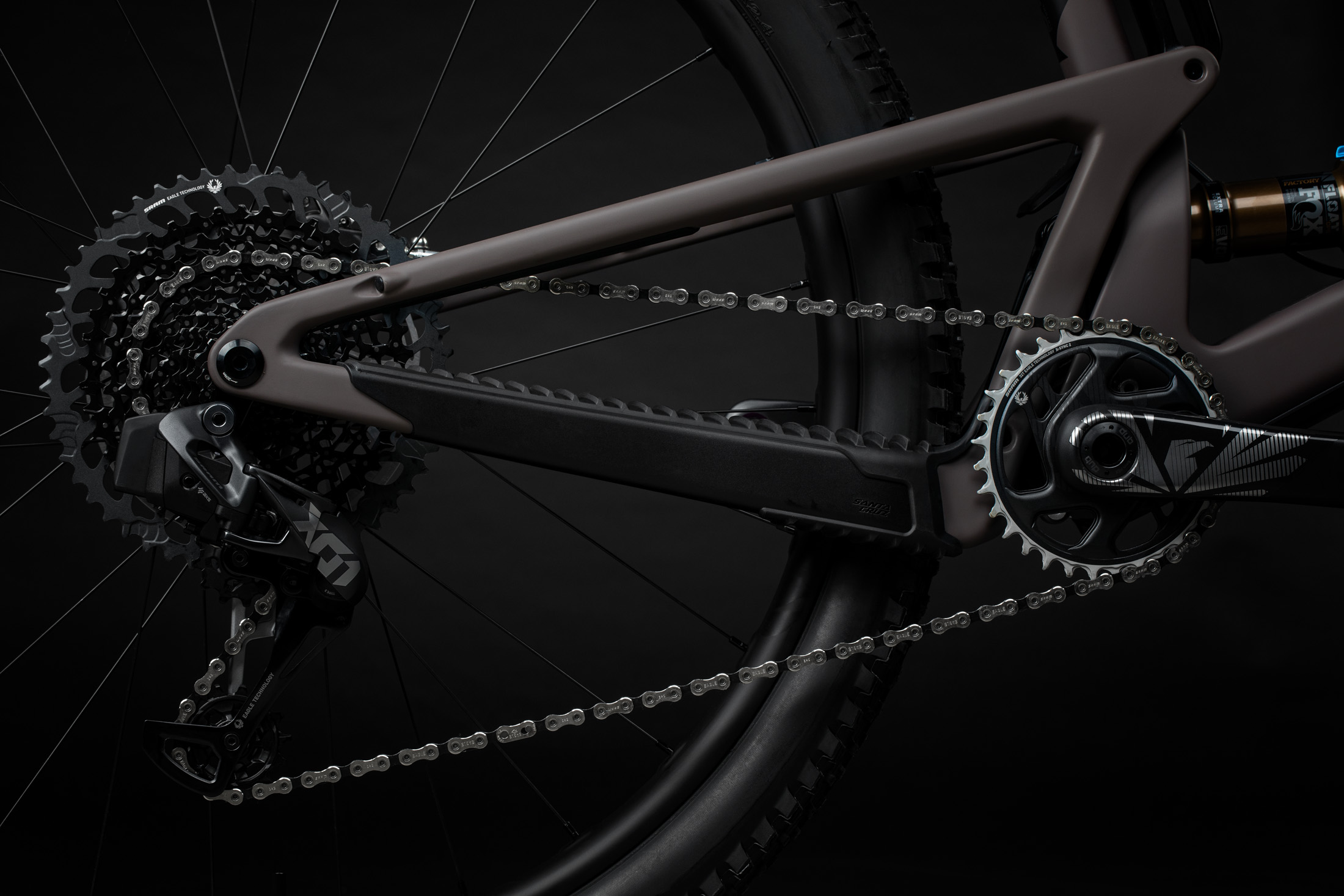 Santa Cruz has also made some tweaks to the suspension kinematics of the Tallboy, but, interestingly, they've gone in the opposite direction from the changes they've been making to their longer-travel bikes of late by slightly decreasing the amount of overall progression. Santa Cruz's take is that doing so has resulted in greater sensitivity in the middle of the stroke, by helping the bike ride higher in its travel. With just 120 mm of travel on tap, that makes some sense; keeping suspension riding higher, with more remaining travel left to deal with a given impact, you can wind up with a more sensitive setup without needing to rely on a ton of progression to stop from bottoming out all the time. The Tallboy is still fairly progressive, overall, going from about 3.0:1 to 2.5:1 in a fairly straight line (the curve does flatten out slightly near bottom out) but that's significantly less progression, overall, than the outgoing Tallboy V4.
The changes to the anti-squat curve, on the other hand, are in keeping with what we've been seeing on Santa Cruz's recent releases, namely a bit less anti-squat early in the travel, but with the curve staying somewhat flatter and not falling off as quickly deeper in the travel. The Tallboy still sits at over 110% anti-squat around sag, which should be penty to keep it fairly efficient, especially on a shorter-travel bike that'll be set up with overall firmer suspension and therefore not rely on anti-squat as significantly as longer-travel bikes might.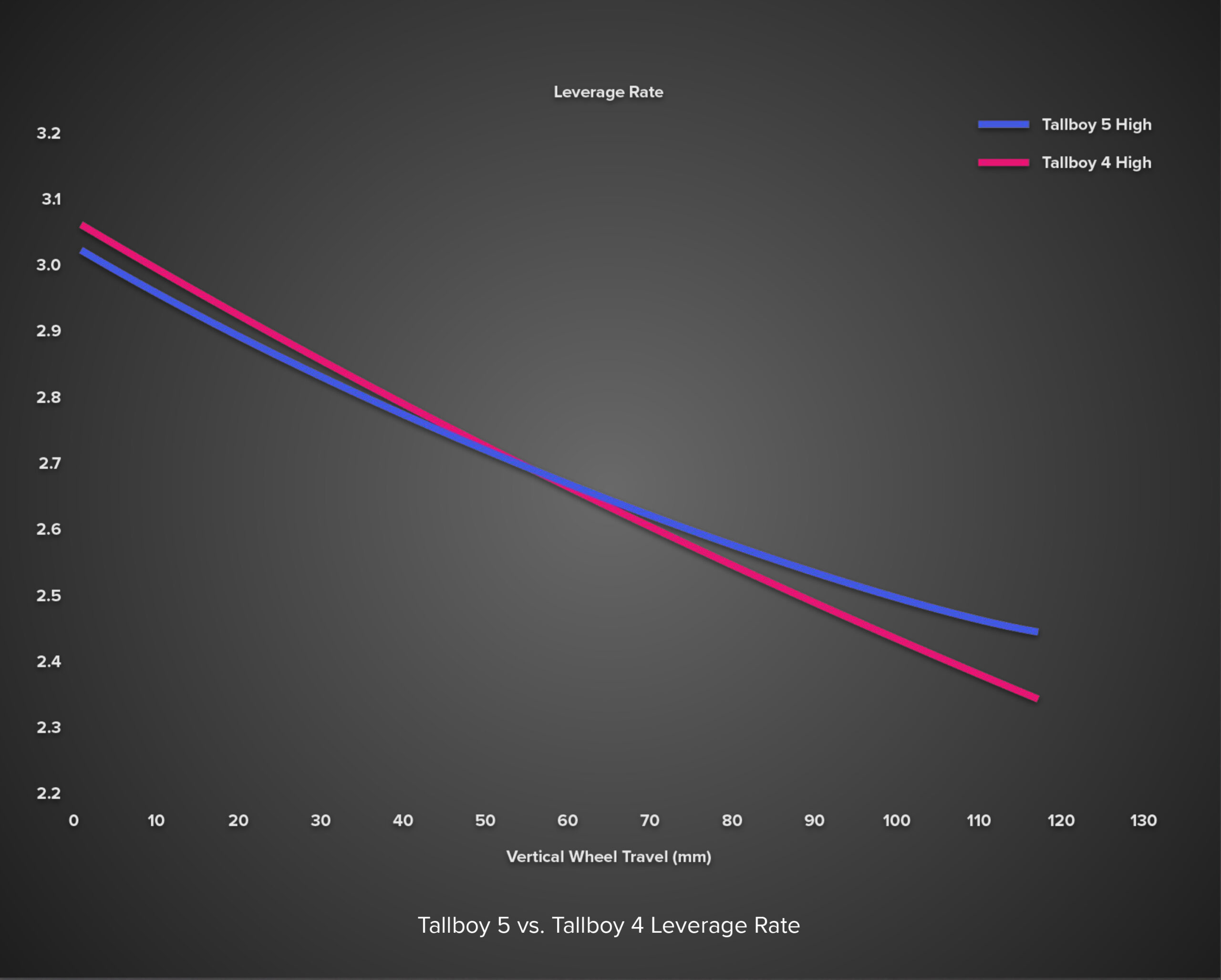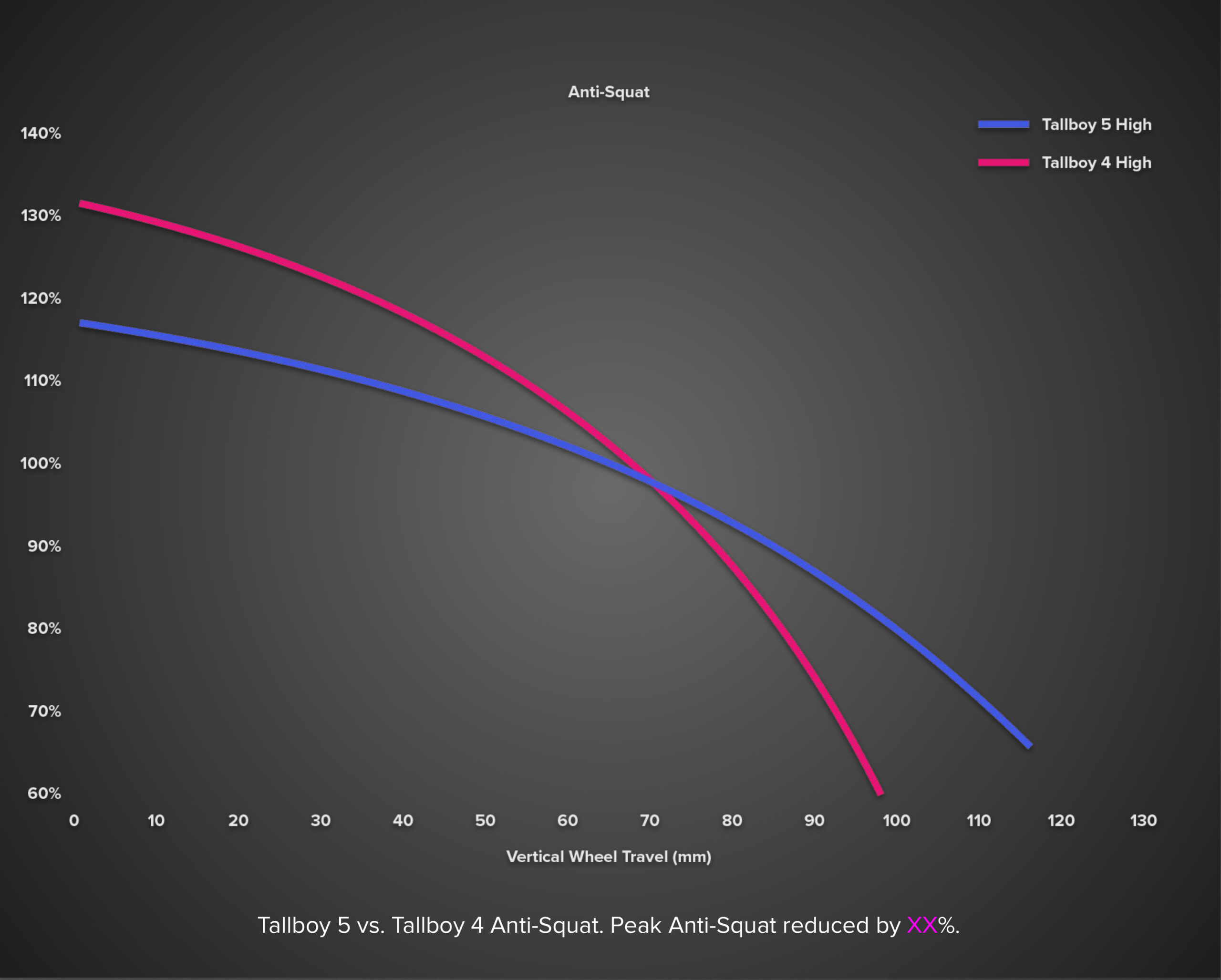 [And if all of that suspension talk didn't make much sense, check out the Suspension Kinematics section of our Mountain Bike Buyer's Guide.]
Fit & Geometry
The new Tallboy V5 is offered in the same six sizes as the outgoing bike, XS through XXL, and the geometry hasn't changed too dramatically, either. The reach has grown by just 5 mm per size (473 mm on our size Large test bike), the headtube angle is still 65.5°, and the seat tube has been steepened by just a few tenths of a degree (around 76.5°, getting slightly steeper in the larger sizes). The most substantial update is the change to size-specific chainstays, which now range from 431 to 444 mm based on size; the prior-generation bike got 436 mm stays across the board. Those numbers are all stated in the low geometry position; switching to the high one steepens the headtube to 65.7°, adds a few millimeters to the reach, and reduces the bottom bracket drop from 41 mm to 38 mm.
That's still on the progressive side of things for a 120mm-travel Trail bike, which is maybe more of a testament to just how ahead of the curve the V4 Tallboy was when it launched back in 2019 than anything else. But Santa Cruz hasn't made major changes because they didn't need to — the Tallboy still looks like "a downhiller's XC bike", as Santa Cruz puts it.
The Builds
Santa Cruz offers the Tallboy in six builds that closely mirror those offered on the new 5010 (albeit without the aluminum frame option). As per usual, the X01 builds get the higher-spec CC frame, while the rest feature the more basic C frame.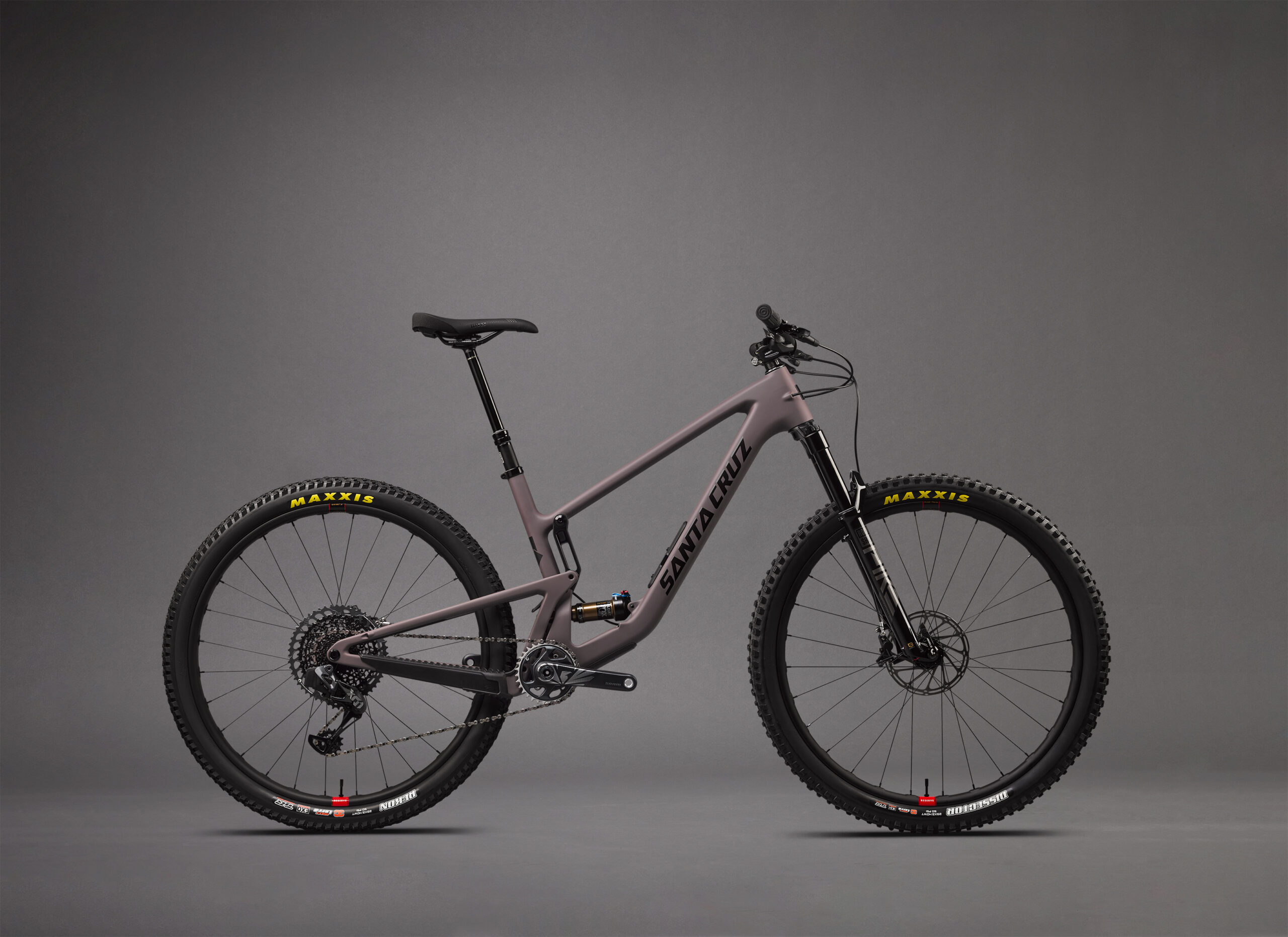 All the builds get Maxxis Dissector front / Rekon rear tires in MaxxTerra / Exo guise, which is a nice combo for a very fast rolling setup that's still got enough grip up front to ride hard in a lot of conditions.
Bottom Line (For Now)
The new Tallboy doesn't look like a wild departure from the prior-generation bike, but it's got some nice new features including in-frame storage and new size-specific chainstay lengths, and despite not getting major geometry updates, still looks entirely up-to-date as an aggressive short-travel Trail bike that'll appeal to folks looking for something efficient and lively first and foremost, but that can still be pushed pretty hard when called upon. We've got a Tallboy in for review and will be spending a lot of time on it this fall, so stay tuned for a full review.