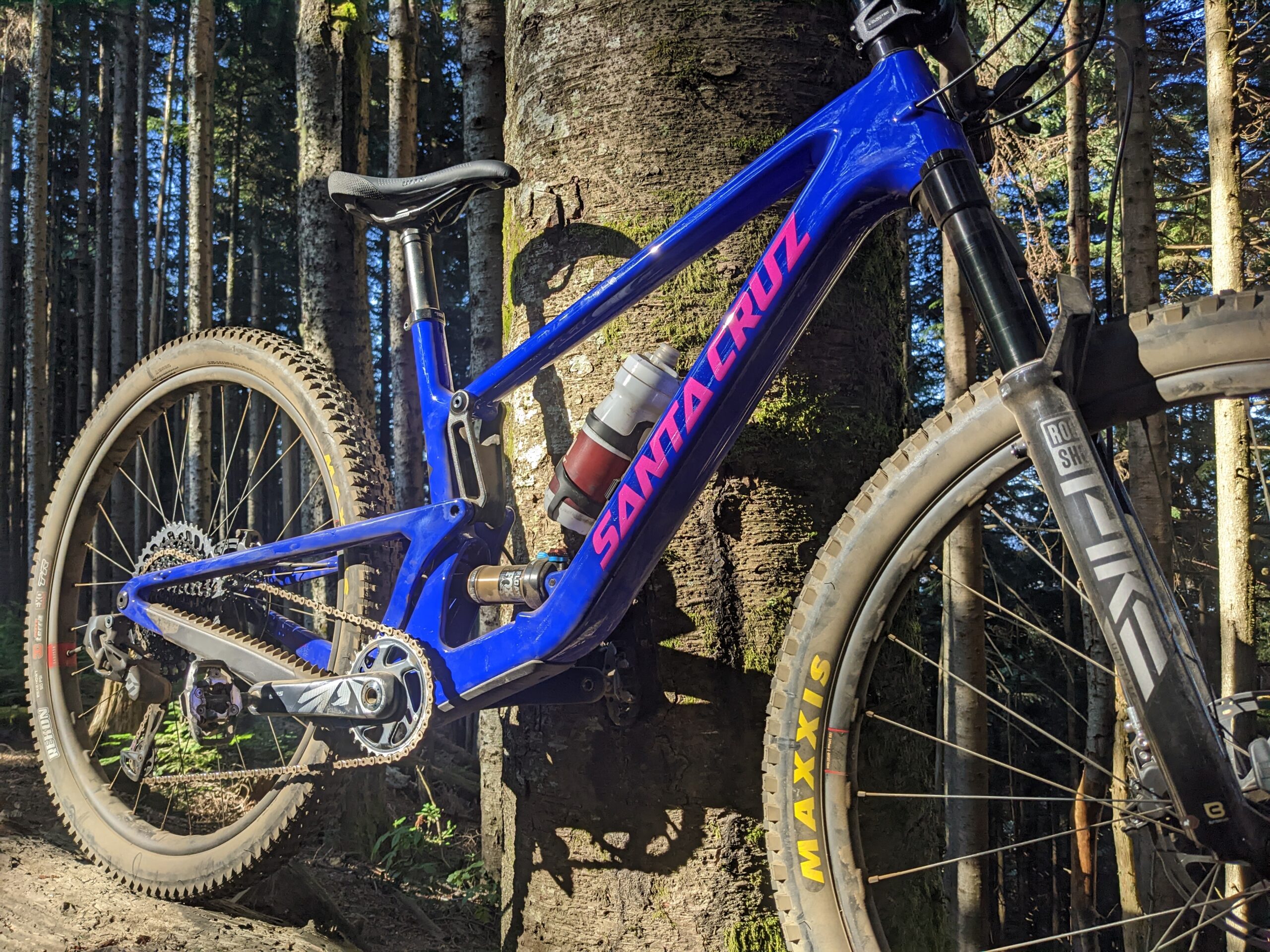 Blister's Flash Reviews are our early impressions of new products that we've just started spending time on, and are reserved for Blister Members so they can get our preliminary takes on gear before we publish our full reviews — which are and will remain available to everyone. We've unlocked this sample to give you an idea of what our Flash Reviews are all about, and encourage you to check out our Blister Membership to get access to all of our Flash Reviews and Deep Dive comparisons, discounts on a ton of great gear (including 15% off We Are One carbon wheels), one-on-one gear advice from our reviewers, and much more.
David Golay (6', 170 lb / 183cm, 77.1 kg): Santa Cruz sent over a Tallboy shortly before its launch today, and while I need to get a lot more time on the bike before the full review is ready to go, my early impressions are really positive.
My time on the outgoing Tallboy V4 is fairly limited, but the new bike doesn't feel like a big departure from the prior one. It's still on the more stable, descending-focused end of the spectrum for a 120mm-travel Trail bike, but still manages to be fairly nimble and snappy under power, and the result is a bike that encourages you to go fast everywhere — and it's a lot of fun.
In particular, I'm very impressed with the suspension performance of the Tallboy. The new RockShox Pike Ultimate gets a bunch of the credit there — after really getting along with the new ZEB, I'm very pleased to say that the Pike feels a whole lot like a scaled-down version. The choice to spec a Pike does come with about a 200 g weight penalty over a Fox 34 or Ohlins RXF 34, my early take is that it's worth it on a bike that's meant to put a strong emphasis on downhill performance, like the Tallboy. The Pike's chassis is substantially stiffer and more precise feeling, and the suspension performance is also a significant step up.
But the rear suspension can hold its own too — and particularly compared to the Rocky Mountain Element that I just reviewed, the Tallboy's rear suspension feels more composed and better supported through the midstroke. That's especially important on short-travel bikes such as the Tallboy and Element, where making every millimeter of travel count is important. Especially given that the Tallboy comes with a Fox DPS shock (which is a good shock, but a very light, XC-oriented one that definitely gives up some damper performance compared to bigger, heavier options) the amount of support and composure from the Tallboy's suspension is impressive. My early take is that Santa Cruz's decision to mellow out the amount of progression from the linkage was a shrewd one for this sort of bike, helping keep it up higher in its travel with more of its limited total travel left to deal with whatever you're running into. Small bump sensitivity is, unsurprisingly, not anything to write home about, particularly compared to longer-travel options, but I think that's a more than fair tradeoff.
And so the Tallboy feels like a bike that's very eager to push hard on the descent for something that's also very efficient and quick under power, and lively and energetic on flat and rolling trails. It's not quite as stable as the Element, for example, but in a lot of ways it's still easier to push hard on — both bikes require a good deal of precision to really ride hard, but the Tallboy's suspension feels significantly more forgiving of the mistakes that I inevitably make when trying to go hard, and at least for me, that more than makes up for the extra bit of stability that the Element offers.
That's a lot of talk about descending performance for what is, at its core, still a very XC-oriented bike, but it's on the way back down that the Tallboy really stands out to me. It's still an efficient, snappy bike for sure — but it feels more in line with a lot of other 120mm-travel Trail bikes in that regard, rather than any kind of standout. Of course, that's comparing it to a class of bikes that is, overall, very efficient and climbing-focused, and the Tallboy is definitely quick on the way up. But Santa Cruz has the right idea in calling it a "downhiller's XC bike" and as someone who spends a whole lot of time on big Enduro and DH bikes, it's really clicking for me. I'll be spending a lot more time on the Tallboy in the next few months, so stay tuned for a full review later this year.