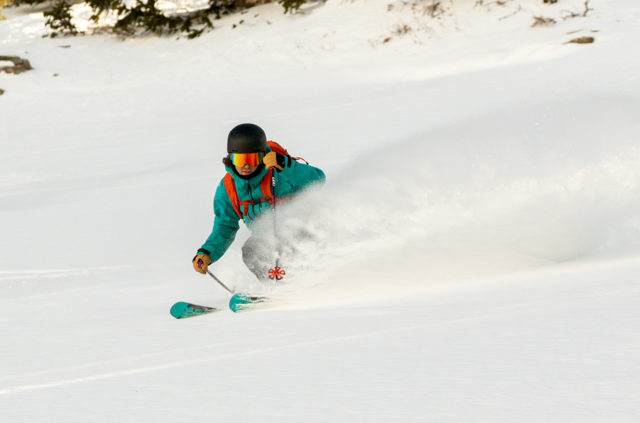 If you've been paying attention, you've heard us talking multiple times about an outfit called Eleven Experience.
Jonathan Ellsworth went to Iceland last spring and stayed at Eleven's Deplar Farm, where he went heli-skiing around the Fjords of the North Atlantic ocean.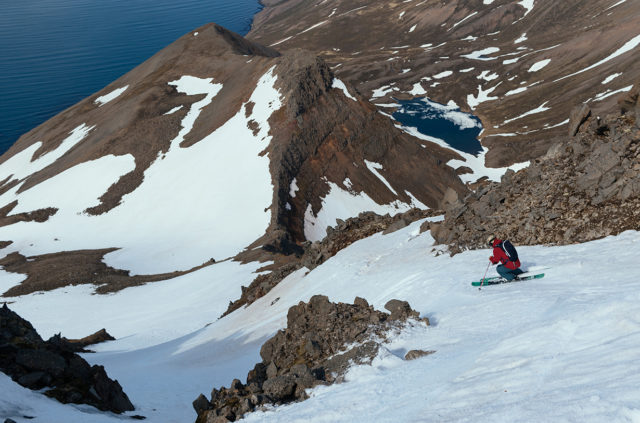 He talked about the trip on this GEAR:30 episode, and we included some photos from Deplar Farm in our 19/20 Winter Buyer's Guide, and in our review of the ON3P Woodsman 108.
Eleven operates trips and lodges throughout the world, including everything from fishing to skiing to cycling to running. And as you might have guessed from their name, Eleven's mission is to take everything to the next level, and Eleven literally took its name from This is Spinal Tap — and for your own sake, we hope you get the reference.
Eleven also happen to be headquartered just down the road from us in CB, and so a couple weeks ago, Jonathan and I headed out to their cat skiing operation in Irwin, Colorado, about 13 miles outside Crested Butte.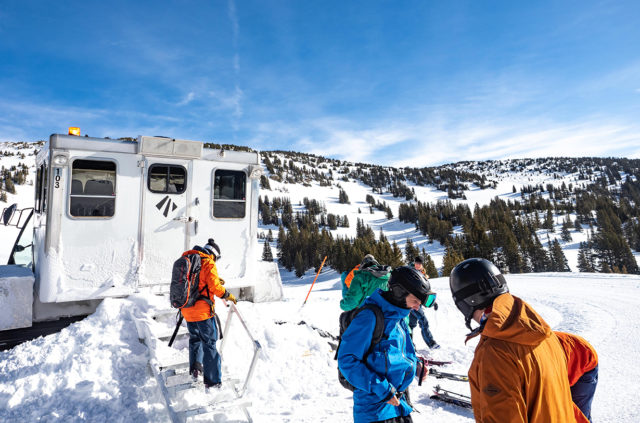 So since we get asked a lot about Eleven, we figured we'd to do a little trip report from that day, and you're going to be hearing about more Blister x Eleven collaborations in the near future.
But first, a bit of background.
Eleven operates Scarp Ridge Lodge in the town of Crested Butte which, as with everything Eleven does, offers pretty much everything you could possibly want — a gorgeous and incredibly comfortable interior, saltwater pool, hot tubs, sauna, steam room, gym, in-house bar, and more.
And if you stay at Scarp Ridge Lodge, Eleven's snowcat picks you up at the door and takes you directly to the expansive terrain of Irwin.
It is also an option to book day trips for cat skiing, which is what Jonathan and I did. The day started bright and early in town, and we loaded up gear in the cat and made our way up to Irwin.
The whole day was pretty amazing, but here are the highlights:
The Terrain
Irwin has its own microclimate, and receives a lot more snowfall than most places in Colorado — they average nearly 450 inches of snow per year (which is pretty crazy for Colorado). And most of the time, that snow comes down in the form of dry, blower pow.
Eleven takes care of avalanche mitigation throughout the year so you can safely ski some wide-open terrain, even when it's deep.
On the day we went, Irwin had received around a foot of fresh over the past 48 hours, and then the sky went full bluebird. So we skied plenty of untracked, cold smoke.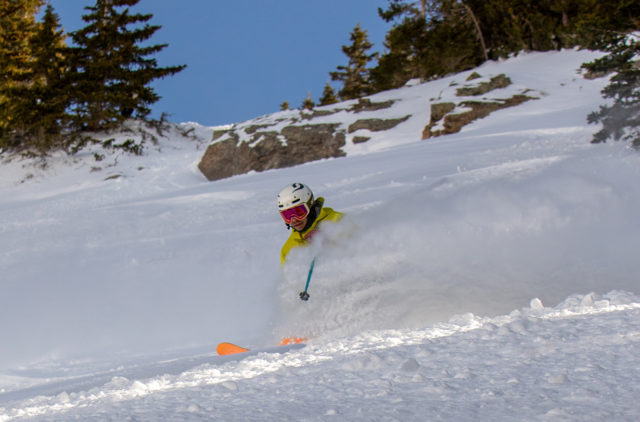 Eleven's cat skiing terrain is quite diverse, and throughout the day, we skied everything from very mellow glades to some steep pitches that had plenty of opportunities to huck yourself off some drops — but only if you wanted to.
In short, there's terrain for just about everyone. And if the conditions align, you can even hit some very sizeable cliff bands and pretend you're Julian Carr. (Our guides kept pointing out all the cliffs that Julian himself has hit there).
On this day, Jonathan was skiing the 191 cm 4FRNT Renegade and I was on the new 184 cm K2 Reckoner 122. While Eleven has plenty of skis that you can use (included with the trip), our ski choices were quite ideal for the conditions. We skied 9 cat laps over the course of the day, and I can count on one hand the number of times I skied over someone else's tracks. I kept thinking to myself, "This is the most untracked snow I've ever skied in a single day."
Our Guides
In short, every single Eleven guide we've met — whether here in CB or in Iceland — has been exceptional. They're not only highly experienced, they're also really great people you'll love. We were out with Lani Bruntz (who's written some Blister reviews for us in the past), Tiffan Wannamaker, Ian Havlick, and Dom DiGregorio, all of which were awesome. They know the terrain better than anyone, they helped me find some things to jump off …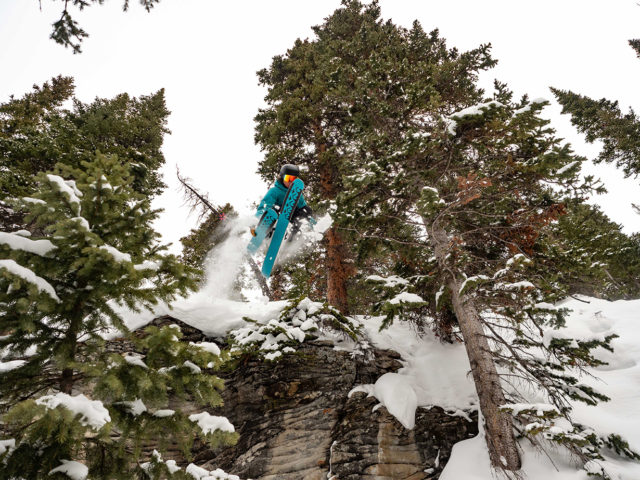 … and we guarantee that you will be psyched to be out in the backcountry with them.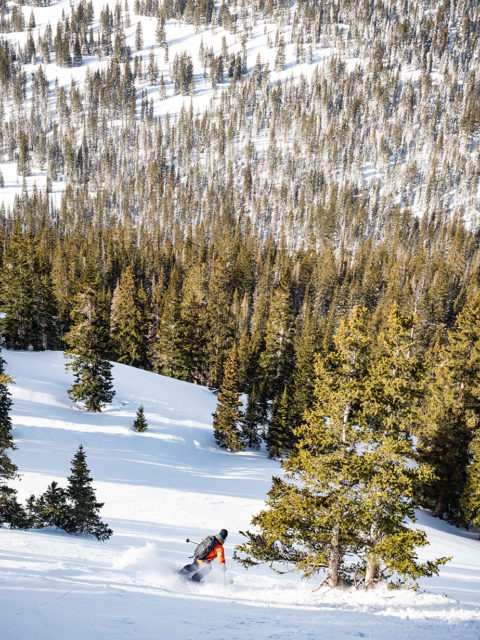 The Rest
In addition to skiing acres and acres of untracked snow with great people, we also got to enjoy a fantastic lunch and après at the "Movie Cabin" at Irwin. It got its name because Walt Disney apparently built it to shoot a movie back in the day, but Eleven has since renovated it into a cozy, beautiful hut. There's also a much larger lodge at Irwin for larger groups and even more amenities.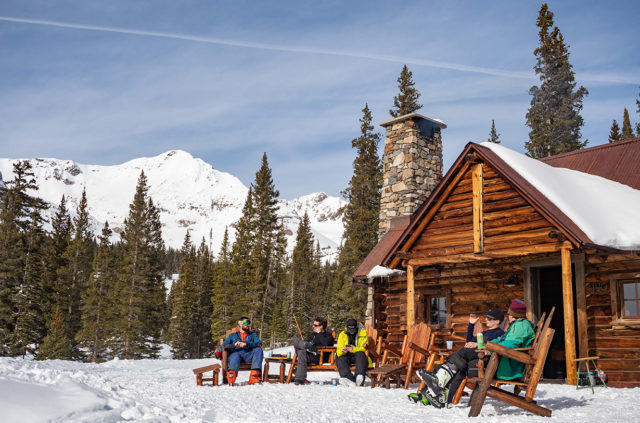 Bottom Line
If you're into gorgeous, 360-degree vistas and accessing a sea of untracked snow with experienced guides who are also incredibly likable people, you ought to check out Eleven's cat skiing operation. It's a perfect place to go on your first cat trip, but if the conditions and snowpack allow it, there are plenty of opportunities to ski some spicy lines, too.
As for us, we got to ski a lot of perfect snow in excellent terrain, and Eleven had every little detail figured out. I couldn't recommend it enough, and we're looking forward to doing more with Eleven in the future, and would love to get some of you out there with us.