Ski: 2021-2022 4FRNT Renegade, 191 cm
Test Locations: Mt. Crested Butte, Crested Butte Backcountry, & Eleven Catskiing @ Scarp's Ridge, Colorado
Days Skied (total): ~30
Available Lengths: 184, 191 cm
Blister's Measured Tip-to-Tail Length: 188.9 cm
Stated Weight per Ski: 2166 grams
Blister's Measured Weight per Ski: 2173 & 2204 grams
Stated Dimensions: 138-122-131 mm
Blister's Measured Dimensions: 136.7-121.2-130.4 mm
Stated Sidecut Radius (all lengths): 30 meters
Measured Tip & Tail Splay (ski decambered): 89 mm / 35.5 mm
Measured Traditional Camber Underfoot: 0 mm
Core: aspen/maple + carbon stringers + fiberglass laminate
Base: sintered 1.3 mm
Factory Recommended Mount Point: -5.35 cm from center; 89.1 cm from tail
Ski: 2021-2022 4FRNT Renegade, 184 cm
Blister's Measured Tip-to-Tail Length: 182.0 cm
Stated Weight per Ski: 2050 grams
Blister's Measured Weight per Ski: 1970 & 1973 grams
Stated Dimensions: 137-122-130 mm
Blister's Measured Dimensions: 136.3-121.5-129.5 mm
Stated Sidecut Radius (all lengths): 30 meters
Measured Tip & Tail Splay (ski decambered): 83 mm / 34 mm
Measured Traditional Camber Underfoot: 0 mm
Factory Recommended Mount Point: -5.6 cm from center; 85.4 cm from tail
Boots / Bindings / Wax: Salomon S/Max 130 Carbon, Tecnica Mach1 MV 130, Head Raptor 140 RS / Tyrolia Attack2 13 / MountainFLOW All-Temp
[Note: Our review was conducted on the 19/20 Renegade, which was not changed for 20/21 or 21/22, apart from graphics.]

Intro
The 4FRNT Renegade is one of the longest-standing ski models currently in production, and it has many loyal fans. This is the ski that Eric Hjorleifson has been skiing for years, which is reason enough to get many people interested. If you're not familiar with Hoji or what he's been up to recently, we'd recommend listening to our conversations with him on episode #75 of the Blister Podcast, and episodes #1 and #29 of our GEAR:30 podcast.
The Renegade has undergone some changes over the years, including some tweaks for 19/20, which carried over to the 20/21 and 21/22 models.
We've now had several reviewers on the current Renegade, and after testing the 184 cm length last season at the Blister Summit and getting back on it this season, we've updated this post below with our Full Review. But first, in case you need a refresher, here's our original First Look with all the details on the design of this pow ski:
What 4FRNT says about the Renegade
"Over a decade ago Eric Hjorleifson clicked into the Renegade for the first time and launched his legendary ski career. Pioneering human powered big mountain ascents and iconic high-speed descents, Eric has reinvented how we look at big mountain lines. It's a ski you can trust for charging hard with no speed limit and stomping high-impact landings. In the words of Hoji, 'I just want powder skiing to be easy for everyone.'
Hoji's signature hard charging pow weapon has returned this year with a vengeance and is more dialed than ever before. It's innovative shape, paired with the hard charging flex you all have grown to love, and a new and improved rocker profile will have you shredding lines just like Eric Hjorleifson intended!"
There's a bit of seemingly contradictory language here, in that the Renegade is supposed to let you charge hard with no speed limit and stomp big landings, while also making it easier to ski powder — even if you're not Hoji.
While that may sound odd when describing one ski (not many skis cater really well to both hard-charging and more conservative styles), it does make sense if you watch Hoji ski. Yes, he skis crazy fast and drops massive cliffs. But Hoji also makes a ton of minute adjustments mid-line and quickly sheds speed when needed, so it makes sense that his go-to ski is designed to do both of those things well.
Now, it's worth quickly touching on the past few iterations of the Renegade, since there have been a few changes over the past few years.
4FRNT Renegade: 16/17 vs. 17/18 vs. 18/19 vs. 19/20
For the 16/17 season, the main change made to the Renegade was in its core, switching from a heavy, primarily maple core to a lighter, more touring-friendly maple / aspen core with carbon stringers.
That design carried over for 17/18, and then for 18/19, 4FRNT made several changes to the ski. First, they switched from its quite-long 35-meter sidecut radius to a slightly-less-long 30-meter radius. Second, they changed the length options from 186 cm and 196 cm to 184 cm and 191 cm. They also tweaked the flex pattern, which many found to be notably softer than the previous iterations of the ski (many of which were very stiff).
For 19/20, 4FRNT reportedly reverted the Renegade back to its older forms in some ways. Or to be more accurate, they made it as similar as possible to Hoji's favorite pair of Renegades that he had reportedly been skiing for the past several years. What this translates to, compared to the 18/19 version, is a stiffer flex pattern and more rocker, but the 19/20–21/22 version maintains the 30-meter sidecut radius and length options of the 18/19 version.
To accomplish their goal of really dialing in the current Renegade, 4FRNT had Hoji's favorite pair of Renegades tested to measure its flex pattern and rocker profile, with the goal of making the current version identical to the pair that Hoji himself preferred. Since then, the construction of the Renegade has not changed from 19/20 to 21/22, just its graphics.
Shape / Rocker Profile
The Renegade's shape is one thing that has not changed much over the years. When it was first released, the Renegade stood out due to its pretty straight and highly tapered shape. It's not quite a true "reverse-sidecut" ski, but its combination of a long sidecut radius and deep tip and tail taper lines make for a ski that nearly looks like it has a reverse-sidecut design. Today, the Renegade's shape still looks pretty different from most pow skis on the market.
The current (19/20–21/22) Renegade's rocker profile also looks pretty wild compared to the other skis in its class. It's a fully rockered ski with no camber, a lot of tip splay, and a moderately splayed out tail.
At 89 mm, the Renegade's tip splay is very high. Combined with its very deep tip and tail rocker lines and girthy waist of ~122 mm, that high tip should equate to plenty of float. Its tail rocker line is similarly deep (i.e., very deep), but has much lower splay at around 35 mm.
So, in conclusion, the Renegade has very deep rocker lines, tons of tip splay, and a very tapered, fairly straight shape. All of that seems like it'd help the Renegade accomplish its goal of being capable of long, high-speed turns while also being easy to pivot and slash in deep snow.
Flex Pattern
Here's how we'd characterize the flex pattern of the 191 cm Renegade:
Tips: 6.5
Shovels: 7-8.5
In Front of Toe Piece: 8.5-9.5
Underfoot: 10
Behind the Heel Piece: 10-9.5
Tails: 8-7.5
And here's how we'd characterize the flex pattern of the 184 cm Renegade:
Tips: 6.5
Shovels: 7-8
In Front of Toe Piece: 8.5-9.5
Underfoot: 10
Behind the Heel Piece: 10-9
Tails: 8-7
The Renegade has a fairly round (i.e., fairly symmetrical) flex pattern with somewhat soft extremities and a strong midsection. Its tips are pretty easy to bend, but they quickly and smoothly ramp up in stiffness as you move toward the middle of the ski. The Renegade is very strong around the bindings, and it stays a bit stiffer a bit longer in the back vs. the front of the ski, which should help on big landings. Its tail finishes slightly stiffer than the tip, but its tail is not crazy stiff.
Compared to the very-good 4FRNT Raven, the Renegade's flex pattern is extremely similar. If anything, the Renegade feels a touch stiffer at the very ends of the ski, but the two skis' flex patterns are very reminiscent of one another.
Mount Point
Despite its directional shape, rocker profile, and flex pattern, the Renegade has a very progressive mount point of around -5.3 cm from true center. That puts it in line with some freestyle-oriented skis like the J Skis Friend, 4FRNT Inthayne, and Moment Wildcat. But unlike those skis, the Renegade does not have a very high, twinned-up tail and 4FRNT isn't emphasizing its ability to spin and flip (though Hoji has certainly demonstrated that those things are possible on this ski…).
The Renegade's mount point isn't quite as far forward as some more "pure freestyle" skis like the Prior CBC, and based on the past iterations of the Renegade and Hoji's skiing style, we suspect that you'll be able to ski it centered or with a forward, driving-the-shovels stance.
Weight
The Renegade's weight is fairly middle-of-the-road for a 122mm-wide ski, if not slightly on the lighter end.
There are definitely skis that are heavier (e.g., Nordica Enforcer 115 Free, Moment Chipotle Banana), and there are skis that are lighter (e.g., Line Pescado, Faction La Machine).
Hoji is well known for his passion for human-powered skiing, so it makes sense that his signature ski is not super heavy. But he's also known for his incredible high-speed descents, so it also makes sense that his signature ski is not some absurdly light ski that'll get tossed around a bunch at speed.
For reference, here are a number of our measured weights (per ski in grams) for some notable skis. Keep in mind the length differences to try to keep things apples-to-apples.
1710 & 1744 Atomic Bent Chetler 120, 184 cm (18/19–21/22)
1808 & 1809 Line Pescado, 180 cm (16/17–21/22)
1873 & 1878 Line Vision 118, 183 cm (20/21–21/22)
1870 & 1895 Faction La Machine, 186 cm (20/21–21/22)
1895 & 1906 Folsom Trophy Carbon, 188 cm (18/19–21/22)
1970 & 1973 4FRNT Renegade, 184 cm (19/20–21/22)
2006 & 2063 Elan Ripstick 116, 193 cm (20/21–21/22)
2019 & 2051 K2 Mindbender 116C, 186 cm (19/20–21/22)
2024 & 2031 Line Outline, 186 cm (19/20–21/22)
2034 & 2052 Blizzard Rustler 11, 188 cm (17/18–21/22)
2043 & 2046 4FRNT Inthayne, 188 cm (18/19–21/22)
2062 & 2080 Whitedot Ragnarok ASYM, 190 cm (19/20–21/22)
2104 & 2108 Hinterland Maul 121, 186 cm (19/20–21/22)
2136 & 2174 K2 Reckoner 122, 184 cm (20/21–21/22)
2149 & 2158 DPS Alchemist Lotus 124, 191 cm (17/18–20/21)
2173 & 2204 4FRNT Renegade, 191 cm (19/20–21/22)
2212 & 2215 Armada ARV 116 JJ, 185 cm (17/18–21/22)
2222 & 2278 Prior CBC, 184 cm (17/18–21/22)
2240 & 2250 Volkl Revolt 121, 184 cm (19/20–21/22)
2250 & 2280 Movement Fly Two 115, 184 cm (19/20–21/22)
2259 & 2279 Black Crows Anima, 189.2 cm (20/21–21/22)
2280 & 2286 Icelantic Nomad 115, 191 cm (19/20–21/22)
2288 & 2301 Folsom Rapture (Custom), 192 cm
2323 & 2352 Moment Chipotle Banana, 193 cm (14/15; 19/20–21/22)
2341 & 2357 Dynastar M-Free 118, 189 cm (18/19–21/22)
2343 & 2360 J Skis Friend, 189 cm (19/20–21/22)
2346 & 2351 Nordica Enforcer 115 Free, 191 cm (17/18–21/22)
2416 & 2468 Liberty Genome, 187 cm (17/18–20/21)
2438 & 2480 DPS Foundation Koala 119, 189 cm (19/20–20/21)
2438 & 2492 Rossignol BLACKOPS Gamer, 186 cm (16/17–21/22)
2561 & 2585 Kye Shapes Numinous, 189 cm (19/20–21/22)
2700 & 2703 Armada ARG II, 187 cm (19/20–21/22)
Some Questions / Things We're Curious About
(1) 4FRNT claims that the current Renegade is capable of high-speed descents and big drops, but Hoji also says that he wants his skis to make skiing easier for everyone. So just how stable will the Renegade be, and just how easy will it be?
(2) How versatile is this big, wide, and fairly straight pow ski? Does it need ultra-deep conditions to be fun? What about shallower soft snow like corn and slush?
(3) Will directional skiers who love to drive the front of their skis get along with the Renegade and its forward mount point?
(4) Conversely, how will more playful skiers who ski with more centered stances like the Renegade?
Bottom Line (For Now)
Several of us at Blister are really excited to get on the new 4FRNT Renegade. Given our experience with its narrower sibling, the 4FRNT Raven, and some of our reviewers' time on the past generations of the Renegade, we have high hopes for this big pow ski. As always, let us know in the comments about any questions or potential comparisons you'd like us to make, and we'll do our best to do so. Stay tuned for updates as we get it on snow this season.
Flash Review
Blister Members can now check out our Flash Review of the Renegade for our initial impressions. Become a Blister member now to check out this and all of our Flash Reviews, plus get exclusive deals and discounts on skis, personalized gear recommendations from us, and much more.
FULL REVIEW
Soft Snow & Deep Snow
Eric Freson (5'10", ~175 lbs / 178 cm, 79 kg): The Renegade has been in production for such a long time in part because it's an overall design that works well for its intended purpose — being a performance tool in soft snow. Whether or not it's a ski that will be a great fit for you depends on a few things.
The Renegade is large and stiff underfoot, has a round flex pattern with a tip and tail that manage to be stable without being harsh in soft snow conditions, minimal sidecut, maximum tip splay, lots of taper, and a healthy amount of rocker. All of that means that the Renegade is a ski focused on skiing soft snow with a high level of intuition baked in.
And in this regard, I personally believe it has few peers (of the skis I've tried). The Renegade is a ski that allows me to ski soft snow with a high degree of intuition, rather than intention. Subjective, but this is the aptest descriptor I can think of. If the conditions are soft, I do not find myself thinking about what I want this ski to "do" underneath me, only where I want it to be.
Having now skied both the 191 and 184 versions of the Renegade, there are many similarities and a few differences between the two. Both become more alive, maneuverable, and playful the more speed you carry. In soft snow, both are highly composed, bordering on "calm" (you are the x-factor in that regard, not the ski). Both allow you to ski with a centered, neutral stance. They both pivot, smear, and rotate easily — even as large, long-radius skis. Both skis are still happiest at high speeds and making larger-radius turns.
That said, the 184 is certainly the quicker and more playful of the two (no big surprise there). The 191 has more length, more surface area, and a larger penchant for directional skiing. The 191 allows me to load and drive its shovels more aggressively in soft snow, and its centered mount point gives me ample stability when I find myself being knocked forward or back by the terrain (i.e., I've got plenty of support in both the front and back).
The 184 is easier and quicker to change direction, adjust mid-air, and make tighter-radius turns. I cannot drive its shovels quite as hard, and I do need to be more intentional in maintaining my centered stance when the speed or roughness of the terrain increases, since there's just simply less ski in front of or behind my bindings to take up the slack for me being out of sorts.
But I think what makes the Renegade such a special ski, in the hallows of many special powder skis, is its ability to adapt. I notice myself skiing very "eyes ahead" aboard the Renegade, and it's because I'm devoting less mental energy to managing the ski beneath me. It's that intuitiveness I mentioned earlier. Inputs only need to be lightly initiated to change the pitch or direction of the ski, and it won't fight me to follow through with what I want it to do. It manages to be both very powerful and very easy to ski, which in my experience is a rather rare combination of character traits.
Jonathan Ellsworth (5'10", ~175 lbs / 178 cm, 79 kg): I agree with Eric on pretty much everything when it comes to how the 184 cm and 191 cm Renegade perform on soft snow and in deep snow. The 184 cm Renegade is quick and easy, and fun skiing fast in tight trees, down open faces, and through big powder moguls. And as I wrote in my Flash Review, one of the biggest differences (in my opinion) is that the 191 cm Renegade really wants a bit more pitch to come alive. So if you're primarily skiing low-angle pow and you're on the fence between lengths, I might advise sticking with the 184.
Luke Koppa (5'8", 155 lbs / 173 cm, 70 kg): I've mostly skied the 184 cm Renegade and, despite being a less directional skier than Jonathan and Eric, I found it similarly intuitive and fun. In soft snow, it's super easy to throw sideways, yet supportive enough for me to lean into the front in steep terrain. Provided that it's snowed more than ~6" of fresh snow, it really feels like a pretty ideal ski for a pow day at Mt. Crested Butte, where I'm skiing mostly steep, technical lines that involve lots of slashes, hop turns, etc., but also a few high-speed runouts.
I know reviewer Paul Forward is a bit less high on the 18/19 191 cm Renegade for Alaskan pow skiing (we're hoping to get him a pair of current Renegades to get his updated take), but overall, the 184 cm Renegade was one of my favorite pow skis for Colorado pow days (typically involving more trees and fewer wide-open faces). The 184 offered all the flotation I could personally want, and again, I think the intuitive ride that Eric highlighted was the standout feature for me.
Chop / Crud
Eric: The Renegade is easy to drive through chopped-up snow, in both lengths. As with soft untracked snow, the 191 will afford you a higher speed limit and more leeway in terms of fore-aft balance, but both skis do an admirable job here (especially given that neither is super heavy). I notice both the Renegade's taper and its round and supportive flex pattern more in chop than in untouched snow. I did not find the Renegade to often get hooked up or pulled offline by changes in snow texture or density, and this was very confidence-inspiring in those situations.
Jonathan: I totally agree with this.
Eric: The 184's tail was easier for me to weight and unweight than the 191, and this helped to make it something of a transition sniper. The ability to load and pop the ski into the air, and also to throw it sideways to shed speed or change direction afterward, afforded me a high level of confidence to put the skis in the fall line in an effort to find gaps, doubles, and transitions in chopped-up snow. In those instances where I needed to make quick changes afterward, it was easy to do so, and I never felt locked into a turn, direction, or orientation.
The Renegade "deals" with firmer crud well in the sense that if you expend the energy to keep it on-line, it will hold the line you want to keep it on. But this is a wide ski, one that feels quite torsionally stiff to me, and also very longitudinally stiff underfoot. It's powerful, but you really do need to be more intentional in driving the ski in these situations, since it's more prone to being deflected by conditions and terrain due to its surface area and stiffness. It's predictable, but it can feel a bit harsher and more easily deflected by firm chop crud since there's simply a lot of a rather stiff ski directly underfoot to be affected by crud conditions. The Renegade does not have the weight or the suspension to be a crud aficionado as a heavier, softer, and/or narrower ski might (at least not for my body weight and strength).
Luke: Yep, I agree for the most part. The Renegade is predictable in chop, and I really enjoy the sort of active skiing style the 184 cm length encourages in soft chop where you have basically unlimited takeoffs and landings.
The firmer and more consolidated the chop and crud, the more I either need to dial back more speed or dial up my reaction time and forethought. For its size, the Renegade is a pretty light ski, so it doesn't just carry speed and momentum right through more set-up piles of chop like a much heavier ski can. In an ideal world, I'd take out the Renegade for the first several laps of a resort pow day, then switch to something heavier and narrower for when there's little untracked snow to be found and all the snow has been packed down quite a bit. I.e., if you want a bell-to-bell resort chop crusher, this wouldn't be my top pick.
Moguls, Trees, & Tight Terrain
Eric: The Renegade does an exceptional job in moguls, trees, and general tight terrain for being such a wide ski with a long turning radius. This is with the caveat that we are talking about soft snow in this terrain.
The Renegade is intuitive to throw sideways, and it does not penalize you with an excessive loss of speed if you do wind up putting your ski tips across the fall line. The 184 is absolutely more maneuverable and more enjoyable at lower speeds and in tighter spaces than the 191, but both have the ability to shed speed and change direction easily and without much forethought or drama (especially when comparing each to similarly long skis, respectively). Having a more progressive / centered mount point in these situations is part of the magic, since the neutral stance the ski allows you to utilize means you don't need to load the shovel or drive the ski as aggressively to get its tails to release.
As with crud, in moguls or trees with heavy compressions, the Renegade can be a bit of a handful if the snow is firm. This is a relatively stiff ski throughout, and especially around the bindings. So if you are someone who gets back over the tails of a ski in these types of situations to help control your speed or direction, there is a lot of tail here, and it is likely to push you back forward. Similarly, if you're someone who butters/presses your shovels to shed speed, there is less in front of your binding than you may be used to, thanks to the more centered mount point. In these instances, keeping your body and weight centered and compact is very helpful to flexing the ski and maintaining control.
Luke: Yep, agreed. As I alluded to above, I thinkt he 184 cm Renegade feels really maneuverable in tight terrain — provided that there's some soft snow covering that terrain. And while the 191 feels like a pretty big ski to me in tight spots, I wouldn't say the 184 cm is particularly punishing of the ocassional backseat turn (in soft snow).
But if you're skiing firm conditions, the Renegade feels like more of a handful. And you can't really blame it — this is a powder ski. But if you end up in some very tight, firm bumps, the Renegade can start to feel a bit punishing and make you wish for a ski that's better suited to those conditions (i.e., at the very least, a narrower one).
Groomers
Eric: I mean, it's a progressively mounted, wide, reverse-cambered, long-radius, powder ski. The steeper the groomer and the higher the speeds, the happier the Renegade will be on groomers. Put it on edge in these situations and it makes for fun, big-radius turns with a supportive platform to push off. In edgeable snow, this can be really satisfying.
On mellower pitches or at slower speeds, the Renegade's long sidecut radius and general lack of tip / tail shape do mean that if you ski bases flat on the snow, you need to pay attention. In several instances, I have the outside edge of the ski hook up and dive underneath me in an undesirable way. In this type of terrain I typically just make sure to keep the ski on edge to avoid this altogether.
In sum: the Renegade doesn't have the shape or sidecut to have manners as refined on-piste of more traditionally shaped skis.
Luke: Yeah, this isn't a groomer ski. It'll get you back to the lift with little fuss, but as Eric mentioned, you'll want to at least keep it slightly on edge to avoid the "wandering" nature that I've experienced with most reverse-camber skis.
Mount Point
Eric: The Renegade's recommended mount point is -5.35 cm / 89.1 cm from the true center of the ski. And that makes it interesting because it feels like a very directional ski, but it has a more progressive / centered mount point than many other directional powder tools.
Watching Hoji ski, you can see this ski's stance in action, with the man/myth/legend typically being in a very compact and centered ball atop his skis. It affords him a ton of for/aft leverage and mobility, and helps any skier maintain balance in the type of extremely textured and vertically stacked terrain his skiing is known for, and this ski originated in (pillows!!).
The Renegade's shovel can be driven, but its pivot point originates closer to the front of your boot than the end of the tip, and it requires speed and pitch to do so. On flatter terrain, there isn't enough shovel here to really get over the front of the ski without unweighting and unsettling the tails. This all makes for a ski that in soft snow (its intended use) can be weighted and loaded from underfoot all the way out to the shovel. It pivots underfoot easily, and you can also steer from your heel if need be. Really, the only stance the ski doesn't respond well to is with someone who wants to stand over their tails in soft snow, because the Renegade has a lot of junk in the trunk, relative to powder skis with a more traditional mount point.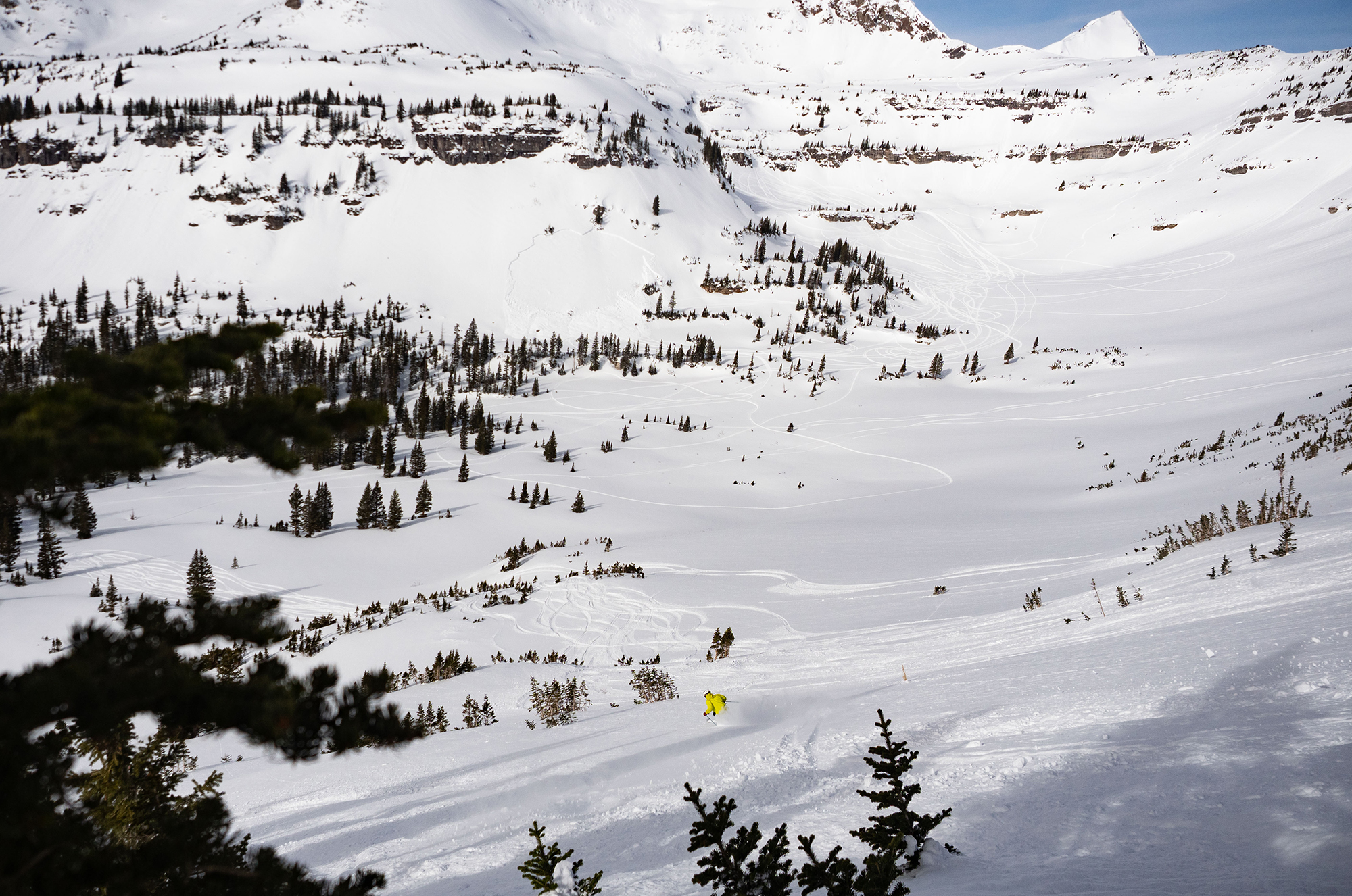 Luke: As someone who tends to prefer skis with similarly mount points to the Renegade, I felt right at home on it. I think Eric summed up its preferred stances very nicely, and I'd just add that, if you're someone who skis pow like you're trying to bend a GS ski (i.e., a lot of pressure on the shovels), you'll likely require a bit of an adjustment period on the Renegade. But for most people, I think they'll be able to adapt, given the ski's big sweet spot.
Playfulness
Eric: The Renegade is not what I would consider overly playful by nature, but it is intuitive. This is a ski that at its core wants to go fast, play things loose, and be driven. Its stiff flex underfoot (and likely, lack of camber) does make it harder to load and unload to pop the ski, but the centered stance and supportive tip and tail encourage experimentation.
But… especially in the 184 length (for my size and weight), its penchant and ability to be thrown sideways, its calm and predictable manner, and round flex pattern mean that you can load and unload it with deliberate and powerful moves without overskiing and unsettling it. It will produce good pop, has a progressive mount, isn't overly heavy, and this all combines to make a ski that is comfortable and willing to be "out of sorts" in the air or coming back down to earth, and not punish you for it. The Renegade has a very wide window of operation, and this encouraged me to mess around with terrain and features much more so than a powder ski with a more traditional mount point that engages more deliberately (and/or singularly) from the shovel.
Luke: Yep, the Renegade isn't a flippy spinny ski switch-y ski. But I would say it's pretty playful in some regards. Its mount point feels intuitive, coming from freestyle-oriented skis, and it does feel balanced in the air. It's also very easy to throw sideways in soft snow, and I love the support that its tail provides on landings. If freestyle performance is a priority, well, that's why 4FRNT and Thayne Rich made the Inthayne. But if you're not trying to land / ski switch all the time, there's not much about the Renegade that is going to really hold you back in the playfulness department. And to clarify, I'm referring to the 184 cm length here. For someone my size, the 191 cm Renegade felt like a far less playful ski overall, but I think that's just because it's significantly bigger, rather than feeling like some totally different ski vs. the 184 cm length.
Length
Eric: I enjoyed my time on both the 184 and 191 lengths of the Renegade. I found the 191 to be a better fit for me personally, with a higher ceiling for use at high speeds and in more open terrain. I enjoyed the longer running length, effective edge, and fore-aft stability the 191 afforded me when compared to the 184. But in the tighter and slower terrain of Mt. Crested Butte, the 184 was a very fun and quick ski to play around on during and in the days following an epic storm cycle this December.
The 184, with its ample rocker and short overall and effective length, did ski short for me, and as the snow conditions became more tracked up, the speeds higher, and the snow firmer, it became too short for me, personally. But I do think for people who are not always looking to have their ski tips pointed down the fall-line at the highest possible speed, it could be an incredibly fun ski at the resort for soft days. I found the 184 offered plenty of float and stability for my height and weight, but the 191 better fit my personal skiing style.
Choosing between the two lengths will ultimately come down to knowing yourself. The classic maneuverability vs stability matrix. Both lengths offer an above-average abundance of both, but, ultimately you will need to choose which of those two characteristics is more important to you. Size and weight will play a role here as well, obviously. Generally, I would postulate that the 4FRNT Renegade is a ski to size up on, not down, if you feel caught between lengths.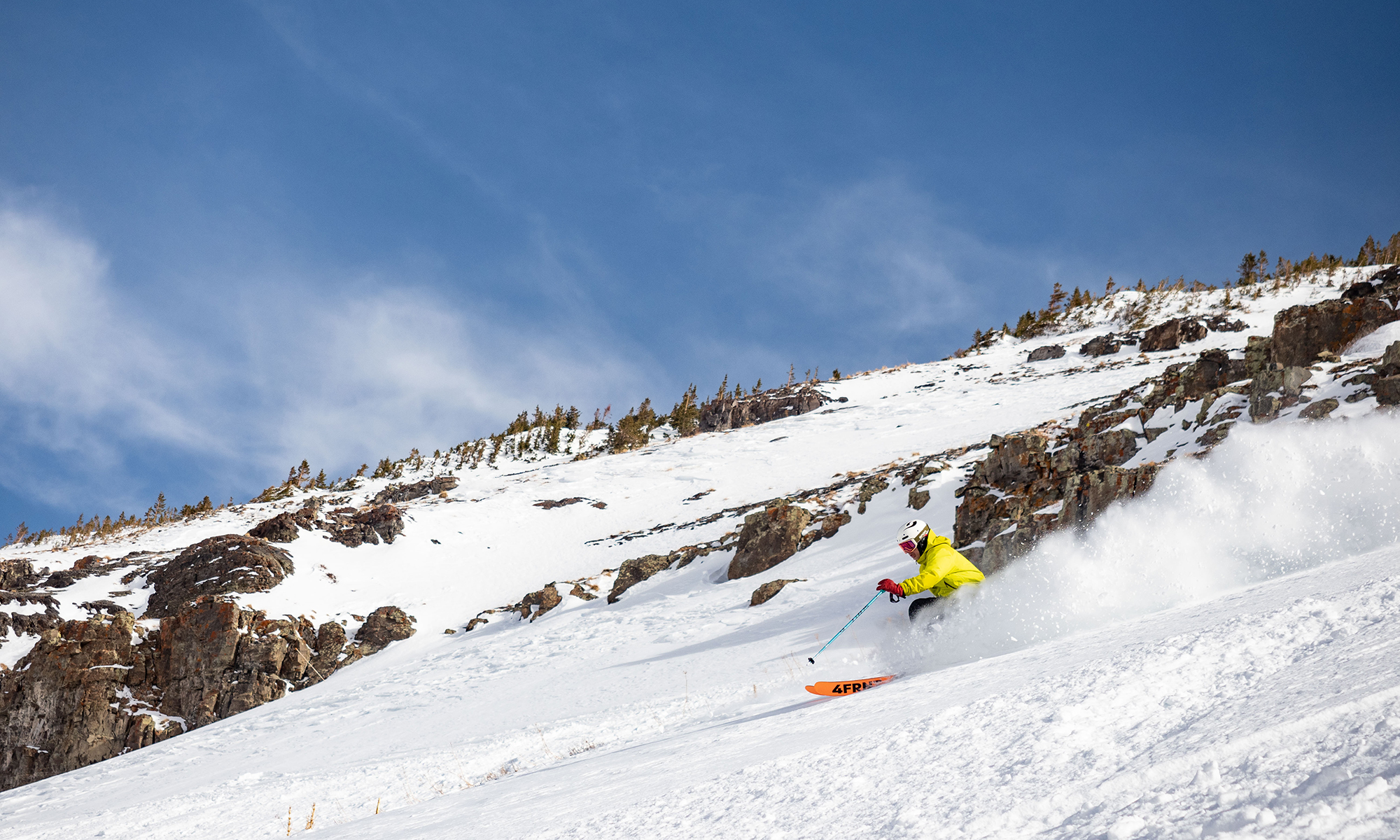 Luke: I think this is one area where Eric and I disagree a bit, but I think it comes down to skiing style and personal preferences. I have enjoyed various pow skis ranging from 183 cm all the way up to 192 cm, but for the Renegade, I think I'd prefer the 184 cm just about anywhere. It offers plenty of flotation and stability in soft conditions for me and my preferences, but it feels significantly more playful and fun at moderate speeds, which better suits my style. I think those who ski mostly open terrain have plenty of reasons to size up if they feel caught between lengths. But if you ski a lot of tight, techy terrain and/or just prioritize maneuverability over high-speed stability, there's definitely a case to be made for sizing down.
Overall, I don't know if I'd say the Renegade is particularly unusual when it comes to sizing. I.e., if someone was caught between lengths on this ski, my advice would be the same as with most skis — size up for more stability, flotation, and support, or size down for a more maneuverable, easy, and playful ride.
Who's It For?
Eric: The Renegade is for people who like to ski soft snow. More helpfully, it's for folks who like to ski soft snow directionally, quickly, in all 3 axes, and from a fairly centered stance. If you want your pow-skiing equipment to be adaptable, intuitive, and to have a very high ceiling of performance, the Renegade should be near the top of your list.
It's not a ski that needs to be pushed to the limit to have a good time on, but it can be. It's not a ski that requires only one approach to feel as though you have mastered it, but you could. It would be a great choice for someone with solid technical fundamentals who understands how to control a ski in more than one way, and who isn't expecting a powder ski to perform universally in both soft and firm conditions.
I think that it could be an excellent wide ski for a 3-ski quiver, and I would ski it at any resort in North America (including the east coast, where I grew up). The openness of the terrain would heavily impact my choice between the 184 and 191 lengths, but the Renegades' performance in soft snow (not just untracked) ensures that its large 122mm underfoot dimensions wouldn't have me overlooking it in locations that aren't always epic-ly deep.
Luke: Yep, I think Eric summed it up nicely in his first paragraph. The Renegade does a good job of performing well in both open and tight terrain, and it's ideal for those who, for lack of a better way to put it, want to ski like Hoji. Mixing it up between big, powerful turns and quick slashes, with bonus points for a throwing in a few airs.
The Renegade's weight makes it a good potential option for both backcountry touring and resort skiing, or a mix of both. It is certainly not the ski I'd pick if you want a really damp, stable resort chop charger, nor is it nearly as light as many touring-specific pow skis. But it handles soft resort conditions quite well for its weight (and width), and is a very good tool for skiing soft snow in a wide variety of terrain.
Bottom Line
Eric: I think the 4FRNT Renegade is an incredibly refined and proficient soft-snow weapon. There's a reason it's been being pressed for so long, and that's because it has a huge sweet spot of performance and a very high ceiling of the same. It's intuitive to use and manages to be both benign and powerful in tandem.
For someone who enjoys skiing with a centered stance in pow, having the ability to drive the shovels when needed, as well as a great mix of high-speed stability and loose maneuverability, the Renegades is my benchmark for this type of ski. The Renegade is a ski I own personally, and I don't see that changing after the updates to the 19/20–21/22 ski — it retains pretty much everything I liked about the older versions.
Luke: I think the Renegade's blend of high-speed stability (in soft snow) and easy maneuverability are what really make it stand out to me. As a powder ski, it is impressive in terms of how comfortable it feels arcing big turns one lap and quickly bashing through tight trees the next. It is a soft-snow tool that isn't trying to be a 1-ski quiver, and using it as such, it can be a whole lot of fun in a wide variety of terrain.
Deep Dive Comparisons
Become a Blister Member or Deep Dive subscriber to check out our Deep Dive comparisons of the Renegade to see how it compares to the 4FRNT Inthayne, Moment Chipotle Banana, Folsom Rapture, Dynastar M-Free 118, DPS Foundation Koala 118, Volkl Revolt 121, K2 Reckoner 122, Atomic Bent Chetler 120, Kye Shapes Numinous, Line Pescado, Rossignol Blackops Gamer, and Line Outline.