Ski: 2022-2023 Faction La Machine Max, 186 cm
Test Locations: Chugach Powder Guides Heli Skiing, Chugach Backcountry, & Alyeska Resort, Alaska
Days Skied: ~30+
Available Lengths: 178, 186 cm
Blister's Measured Tip-to-Tail Length: 184.2 cm
Stated Weight per Ski: 1950 grams
Blister's Measured Weight per Ski: 1870 & 1895 grams
Stated Dimensions: 148-126-139 mm
Blister's Measured Dimensions: 147.3-125.5-138.7 mm
Stated Sidecut Radius (186 cm): 26 meters
Measured Tip & Tail Splay (ski decambered): 64 mm / 31 mm
Measured Traditional Camber Underfoot: 0 mm
Core: Paulownia/Poplar + Carbon & Fiberglass Laminate
Base: Sintered
Factory Recommended Mount Point: -13.1 cm from center; 79.0 cm from tail (see full review notes)
Blister's Recommended Mount Point: about -8 cm from center; 84.1 cm from tail
Boots / Bindings: Scarpa F1 LT, Lange RX 130, Tecnica Zero G Tour Pro / G3 ZED, Marker Griffon
[Note: Our review was conducted on the 20/21 La Machine, which returned unchanged for 21/22 and 22/23, apart from new graphics and a name change to "La Machine Max."]

Intro
In addition to Faction's more "traditional" ski lines (like the Prodigy, Dancer, Agent, & Mana), they offer their "Outcast" collection — skis that aren't really related to each other, apart from being unique skis that are designed for very specific end goals. During the 20/21 and 21/22 seasons, that included the mogul-specific Le Mogul, the self-explanatory Le Mono, and the ski we're discussing here, La Machine Max.
La Machine Max is a very big, powder-specific ski that Faction says they designed with the help of guides and athletes who spend a lot of time skiing very deep snow. We're seeing fewer and fewer unapologetic, pow-specific skis on the market these days, so we were pretty psyched about La Machine when it first came out.
Since then, we sent it up to Alaska so our reviewer, Paul Forward, could get it in some deep snow. He's now done that for nearly two seasons, and he's a big fan.
Apparently, other folks were, too — for 22/23, Faction is creating a whole collection around the original La Machine. The original 126mm-wide ski is now dubbed La Machine Max, but there will now be four additional, narrower models, too.
So it's now time to not only post our full review of the biggest La Machine ski, but also provide some info about the whole new collection.
What Faction says about La Machine Max
"We went deep, very literally, with this project. We interviewed the foremost experts on powder skiing; we filmed athletes ripping the dreamiest snow; we skied lots and lots of the fluffy white stuff ourselves; we analyzed, toiled, and tinkered; and after lots of heavy breathing, La Machine was born. La Machine is made to ski the deepest powder, whether it be in the breathtaking Japanese valleys or the remote mountains of western Canada. This ski allows for effortless flotation and intuitive handling, allowing you to go up for another run even when your legs are screaming mercy."
Pretty straightforward — La Machine Max is supposed to make skiing deep pow easier and more fun. It's also supposed to do that in a variety of terrain. While this description is about what we'd expect of a big pow ski, the way Faction went about achieving their goals is very interesting.
2022-2023 Faction La Machine Collection
As we mentioned up top, Faction is expanding La Machine into a full collection, ranging from 126 mm wide all the way down to 91 mm wide. While that's a huge range, all of them feature the lightweight paulownia core and carbon laminate of the original, as well as deep rocker lines, zero camber underfoot, and softer flex patterns (relative to Faction's Agent line of touring skis). While the Agent skis are based on the Faction Dancer (formerly called the Dictator) and designed with edge hold and stiffness in mind, the La Machine series is designed more for softer / deeper snow, maneuverability, and flotation.
La Machine Max (126 mm underfoot)
La Machine Mega (109 mm underfoot)
La Machine Mini (99 mm underfoot)
La Machine Micro (91 mm underfoot)
La Machine Grom (91 mm underfoot, 138–156 cm long)
Another thing to note with Faction's 22/23 line of skis is the brand's focus on using less environmentally harmful materials and production methods. They're using recycled scraps in their base, sidewall, and topsheet materials, a 35% bio-based resin, sustainably and European-sourced poplar, beech, and ash wood cores, and the Austrian ski factory where the skis are made runs on electrical power that is 100% renewable.
Faction will also be selling custom-cut Kohla mohair / nylon mix skins for the La Machine Mega, Mini, and Micro / Grom skis.
Alright, now here's our original First Look that we published back when we first got La Machine Max:
Shape / Rocker Profile
Overall, La Machine Max looks a bit like a really wide version of the Faction Agent 4.0. Unlike some super-fat skis like DPS Lotus 138 and Armada ARG II, La Machine Max is not that drastically tapered in its tips and tails. It definitely has a shorter effective edge than Faction's narrower Dancer and Agent skis, but we suspect that La Machine Max's fairly long (relative to similarly wide skis) effective edge will make for a more predictable ride if / when you encounter some firmer conditions.
La Machine Max's rocker profile is less traditional. It is a full reverse-camber ski, with no camber underfoot and a fairly short "flat" section around the middle of the ski.
Its tip and tail rocker lines are both quite deep, though they don't rise up as abruptly / quickly as skis like 4FRNT Renegade. And on that note, the Renegade does seem like a pretty good comparison to La Machine Max in terms of shape and rocker profile.
So, this is a pretty tapered ski with very deep rocker lines. But given its girthy dimensions, it doesn't have as radical a shape or rocker profile as some might expect, and we're really curious to see how that plays out both in terms of maneuverability in deep pow and versatility in less ideal conditions.
Flex Pattern
Here's how we'd characterize the flex pattern of La Machine Max:
Tips: 6.5
Shovels: 7-8
In Front of Toe Piece: 8.5-9.5
Underfoot: 10
Behind the Heel Piece: 10-9.5
Tails: 9-8
La Machine Max is not a super burly ski, though it does have a pretty directional flex pattern — the front half of the ski is notably softer than the back half of the ski.
Softer shovels + stiff tails tend to help skis plane up in deep snow, since the softer front will bend and help the ski rise up through the snow, while the stiffer tail is more prone to sinking a bit lower. With that in mind — and this ski's mount point (see below) — we're very curious about what sort of skier stances La Machine Max will cater to.
Overall, La Machine Max's flex pattern isn't super far off from the 4FRNT Renegade, though La Machine Max is notably stiffer behind the bindings and stays a bit stiffer through the tail. However, La Machine Max is definitely softer than Faction's Dancer and Agent skis.
Dimensions
Our pair of the 186 cm La Machine Max is about 125.5 mm wide at the waist, with a big ~147 mm shovel and 139 mm tail. It also has a fairly long stated sidecut radius, at 26 meters.
While it's very wide underfoot, La Machine Max's tips and tails are pretty narrow compared to skis with much less tapered tips and tails and / or shorter sidecut radii, like the Liberty Genome, Line Outline, and Faction Candide 5.0.
Mount Point
At -13 cm from true center, the 20/21 La Machine Max's recommended mount point is set back quite far. That's much farther back from center than skis like the Renegade, ARG II, Kye Shapes Numinous, and Candide 5.0.
However, we've got some important notes about mount points in our full review below, so make sure you keep reading.
Weight
This was a big surprise when we weighed La Machine Max. Despite looking quite hefty due to its size, La Machine is not a heavy ski. Our pair of the 186 cm length came in around 1882 g per ski — that's extremely light for its size.
So while we initially suspected that La Machine Max would be ideal for things like cat skiing and heli skiing (and still think it will be), we're now super curious about using it as a human-powered, powder-touring ski. And while Faction is clear in that La Machine Max is designed for deep snow, we're also curious to see how its low weight impacts its performance when you inevitably need to ski over some cut-up or variable snow conditions.
For reference, here are our measured weights for some notable skis. Keep in mind the length differences to try to keep things apples to apples.
1625 g Moonlight Cruiser 50/50, 186 cm (21/22–22/23) – stated weight
1710 & 1744 Atomic Bent Chetler 120, 184 cm (18/19–22/23)
1808 & 1809 Line Pescado, 180 cm (16/17–22/23)
1873 & 1878 Line Vision 118, 183 cm (20/21–22/23)
1870 & 1895 Faction La Machine Max, 186 cm (20/21–22/23)
1895 & 1906 Folsom Trophy Carbon, 188 cm (18/19–22/23)
1897 & 1913 Majesty Vanguard, 188 cm (20/21)
1910 & 1941 Scott Scrapper 115, 189 cm (17/18–20/21)
2006 & 2063 Elan Ripstick 116, 193 cm (20/21–22/23)
2013 & 2099 Moment Wildcat, 184 cm (18/19–19/20)
2019 & 2051 K2 Mindbender 116C, 186 cm (19/20–22/23)
2024 & 2031 Line Outline, 186 cm (19/20–22/23)
2034 & 2052 Blizzard Rustler 11, 188 cm (17/18–21/22)
2043 & 2046 4FRNT Inthayne, 188 cm (18/19–22/23)
2062 & 2080 Whitedot Ragnarok ASYM, 190 cm (19/20–21/22)
2081 & 2115 Faction Candide 5.0, 183 cm (18/19–21/22)
2105 & 2185 Head Kore 117, 189 cm (19/20–20/21)
2125 & 2134 Kye Shapes Metamorph, 185 cm (19/20–21/22)
2136 & 2174 K2 Reckoner 122, 184 cm (20/21–22/23)
2149 & 2158 DPS Alchemist Lotus 124, 191 cm (17/18–20/21)
2173 & 2204 4FRNT Renegade, 191 cm (19/20–22/23)
2174 & 2187 Moment Wildcat, 190 cm (18/19–19/20)
2212 & 2215 Armada ARV 116 JJ, 185 cm (17/18–22/23)
2222 & 2278 Prior CBC, 184 cm (17/18–22/23)
2237 & 2315 Salomon QST 118, 192 cm (19/20–20/21)
2240 & 2250 Volkl Revolt 121, 184 cm (19/20–22/23)
2250 & 2280 Movement Fly Two 115, 184 cm (19/20–21/22)
2259 & 2279 Black Crows Anima, 189.2 cm (20/21–22/23)
2280 & 2286 Icelantic Nomad 115, 191 cm (19/20–22/23)
2329 & 2344 Blizzard Spur, 189 cm (20/21–21/22)
2341 & 2357 Dynastar M-Free 118, 189 cm (18/19–22/23)
2343 & 2360 J Skis Friend, 189 cm (19/20–21/22)
2346 & 2351 Nordica Enforcer 115 Free, 191 cm (17/18–22/23)
2416 & 2468 Liberty Genome, 187 cm (17/18–20/21)
2438 & 2480 DPS Foundation Koala 119, 189 cm (19/20–20/21)
2438 & 2492 Rossignol BLACKOPS 118, 186 cm (16/17–22/23)
2561 & 2585 Kye Shapes Numinous, 189 cm (19/20–21/22)
2700 & 2703 Armada ARG II, 187 cm (19/20–21/22)
Some Questions / Things We Were Curious About
(1) There are a lot of very good pow skis out there that are also designed to handle more challenging conditions like chop, crud, and even some firm snow. So, with its more specific focus on pure powder, how different will La Machine Max feel vs. narrower options?
(2) On the other hand, many folks' pow days still include skiing at least some cut-up snow, and often some firmer conditions. So how will La Machine Max perform when outside of its intended ideal conditions?
(3) With a very rearward -13 cm mount point and a very directional overall design, we suspect that La Machine Max will prefer a pretty traditional, forward stance. Will that always be true, or will skiers also be able to ski it more centered / neutral?
(4) La Machine Max is extremely light for its size, so what sort of people should be considering this ski as an option to skin uphill for backcountry pow laps? And will it feel equally capable and sensible when using lifts, cats, helicopters, etc. to get to the top of each run?
Bottom Line (For Now)
In reality, most of us do not spend that much time skiing perfect powder. But regardless of that, we still get really excited about really fat, purpose-built skis that are designed to make the turns we dream of even more fun.
Faction's La Machine Max is one of the few new skis we've seen that was made with that goal in mind, and we were really excited to hear what reviewer Paul Forward would think of it when we first got our hands on a pair.
FULL REVIEW
Paul Forward (6', 200 lbs / 183 cm, 90.7 kg): I've now skied La Machine Max quite a bit over the past two seasons, with a combination of touring, heli ski guiding, and even some inbounds days at Alyeska. Most of my initial impressions have continued to be true but I'll break it all down below.
Mount Point
As mentioned in my Flash Review, I didn't like the look or idea of the -13 mount point on these and started with my first mount (G3 ZED bindings) at -11 cm from true center. At -11, I still felt like I had a lot of tip and it didn't feel like I would have any issues at all with floatation if I moved the bindings forward. I subsequently mounted La Machine Max with demo alpine bindings that allowed me to move the bindings quite a bit to experiment with different positions. I ultimately settled on -8 cm from true center as the best balance of having excellent tip flotation while still feeling very balanced. In the very deepest, low-density snow, the tips don't plane up quite as easily at -8 cm compared to -11 cm. But even at -8 cm, they still stay up at least as well as any other ski in similar width. When it comes to ease of turning and throwing La Machine Max sideways into drifted turns, it still works pretty well at -11 cm. But the ski drifts more easily and overall feels more balanced at -8 cm in every snow condition I encountered. Unless specifically mentioned, all of the below experiences are based on the -8 cm mount point.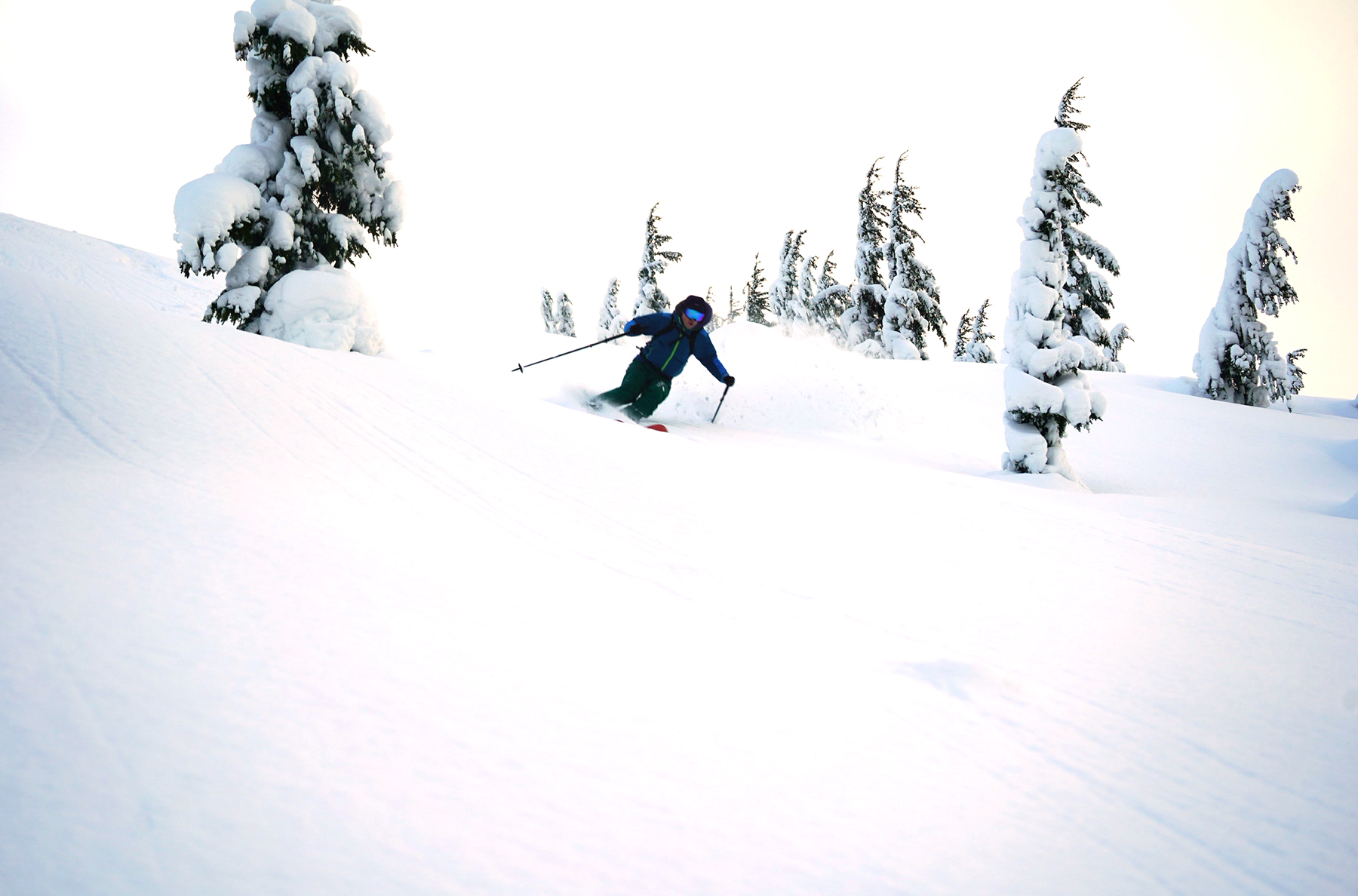 And here's an important note: for 22/23, all Faction skis will come with three recommended possible mount points: "Classic" (most rearward), "Progressive" (middle), and "Newschool" (most forward). On our pair of the new La Machine Mega (109 mm underfoot) that we just got, those three mount points range from -11.5 to -8.5 cm from true center, so it seems as though I wasn't the only one who thought this ski design performed best with the bindings at least a few centimeters forward of the original recommended line.
Groomers & Firm, Smooth Snow
We usually start with where a ski performs best but I'm gonna do the opposite here and just get this part over with. Obviously, no one reading this is too concerned with the groomer performance of this 126mm-wide ski but even on the best inbounds pow days, there's often still some groomer skiing involved. In short, La Machine Max is perfectly average on groomers when compared to other skis of this width. It doesn't carve as well as my Folsom Rapture and a wide array of skinnier pow skis but it holds an edge pretty well on soft groomers and doesn't do anything weird, especially when up on edge. As with most pow skis, I find myself having to remember to really get on the downhill ski on the groomers, but once I do that, these can carve relatively clean arcs. In this regard, I'd put them on similar ground as the 4FRNT Renegade. Like many other fully rockered skis, La Machine Max can get a bit skittish and unpredictable when going really fast bases flat but a little edge will bring you back under control.
Crud and Firm Chop
In my opinion, these are still conditions well outside of the intended design of La Machine Max but the ski remains predictable in them, albeit with a notable speed limit. There's no getting around that these are relatively light and very fat skis so they definitely get knocked around in firm chop and crud. The ski's very predictable shape and consistent flex counteract this to a significant degree and allow for controlled skis, but it is definitely not going to knife through that stuff like a much heavier, stiffer ski of similar dimensions (e.g., the Moment Chipotle Banana does remarkably well in this stuff).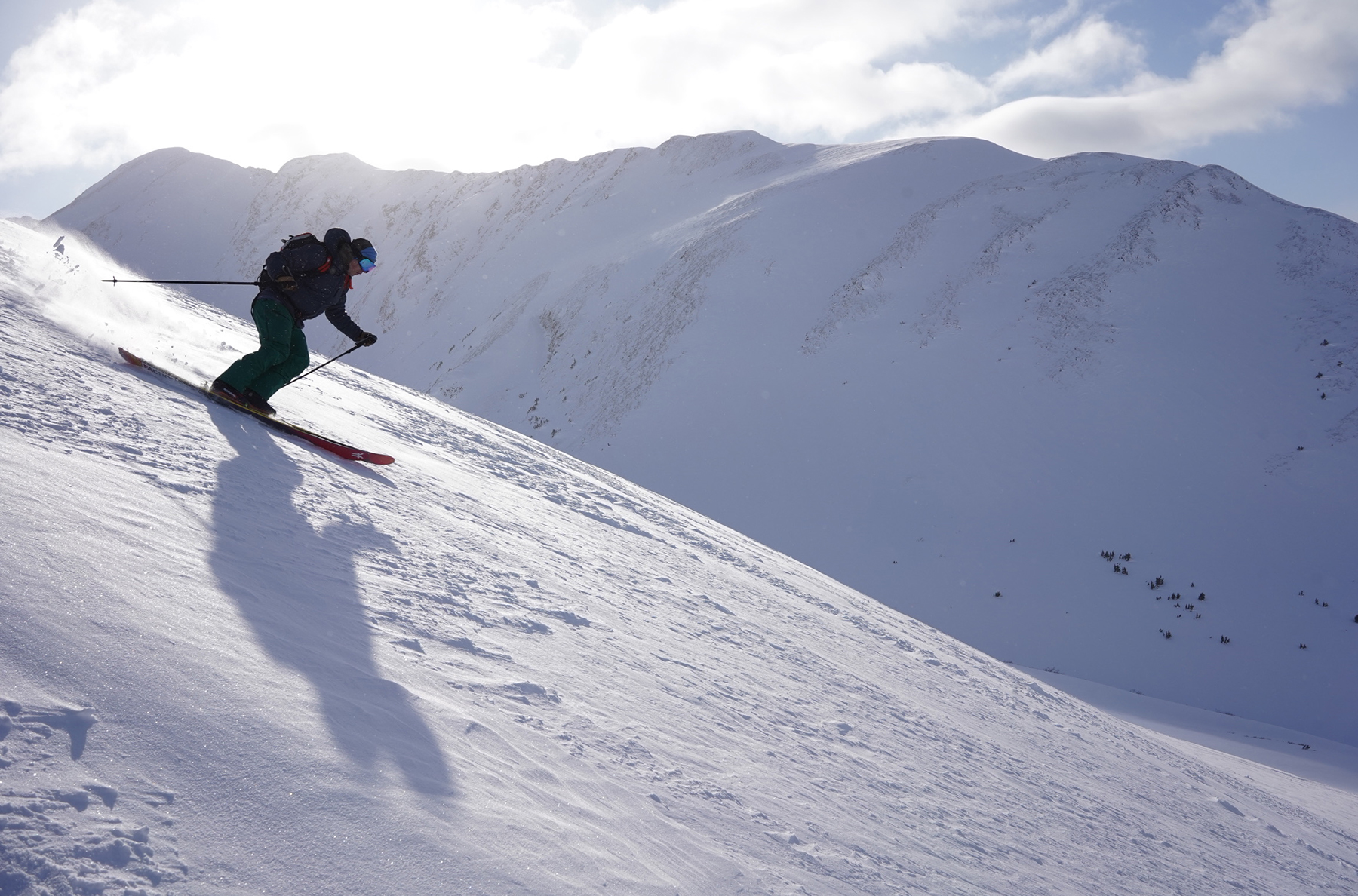 In these kinds of conditions, I still have to ski quite a bit slower on La Machine Max than I would on heavier, more damp, and/or skinnier skis. But with a little lighter touch and slower speeds, La Machine Max is still fun enough that I don't feel the need to run to the car to grab other skis unless I'm really in the mood to go super fast when the snow is firm and/or cut-up.
Deep Chop
The softer the snow gets, the more La Machine Max comes into its own. On a recent powder day at Alyeska, I started my day with La Machine Max. After a few runs of creamy boot-top pow, the usually tracked-up, deep chop became more pervasive throughout the mountain, culminating in a few laps down the 2000-vertical-foot North Face, which offers a pretty consistently steep pitch top to bottom. I found myself aiming for the untracked pockets to sink my turns but La Machine Max did a good job smoothing out the hits from trenched-out tracks.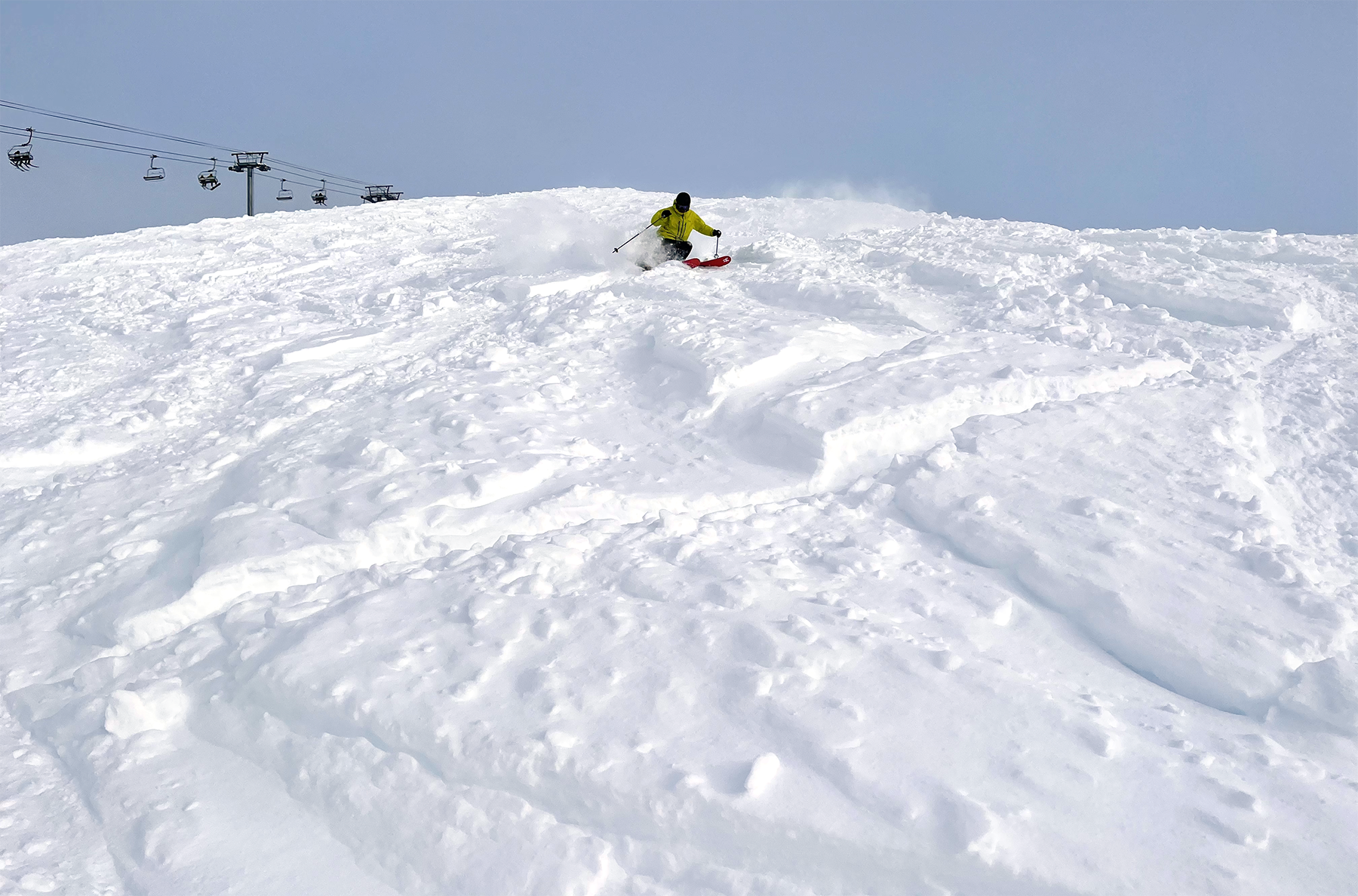 As mentioned above, this ski is very light for its size, which makes it more prone to getting knocked around than a heavier alternative. However, La Machine Max's shape and flex pattern are very well executed, allowing for good tracking through chop and essentially zero tendencies for the tips to fold up and push back. Similarly, the alignment of the sidecut and rocker profile make this ski equally adept at pivot- and smear-style turns as it is for carved turns. As above, compared to the Moment Chipotle Banana, La Machine Max gets knocked around a lot more but it feels at least as good in this stuff (and the conditions listed above) as the also much heavier 4FRNT Renegade.
Shallow Pow
In shallower pow in which you can feel and push off the underlying firm base, La Machine Max provides a super surfy and fun ride. It doesn't have the bite and carving capabilities of some heavier and less rockered skis but La Machine Max strikes a really nice balance between stability on edge when carving with an easy ability to be released into drifted and skidded turns.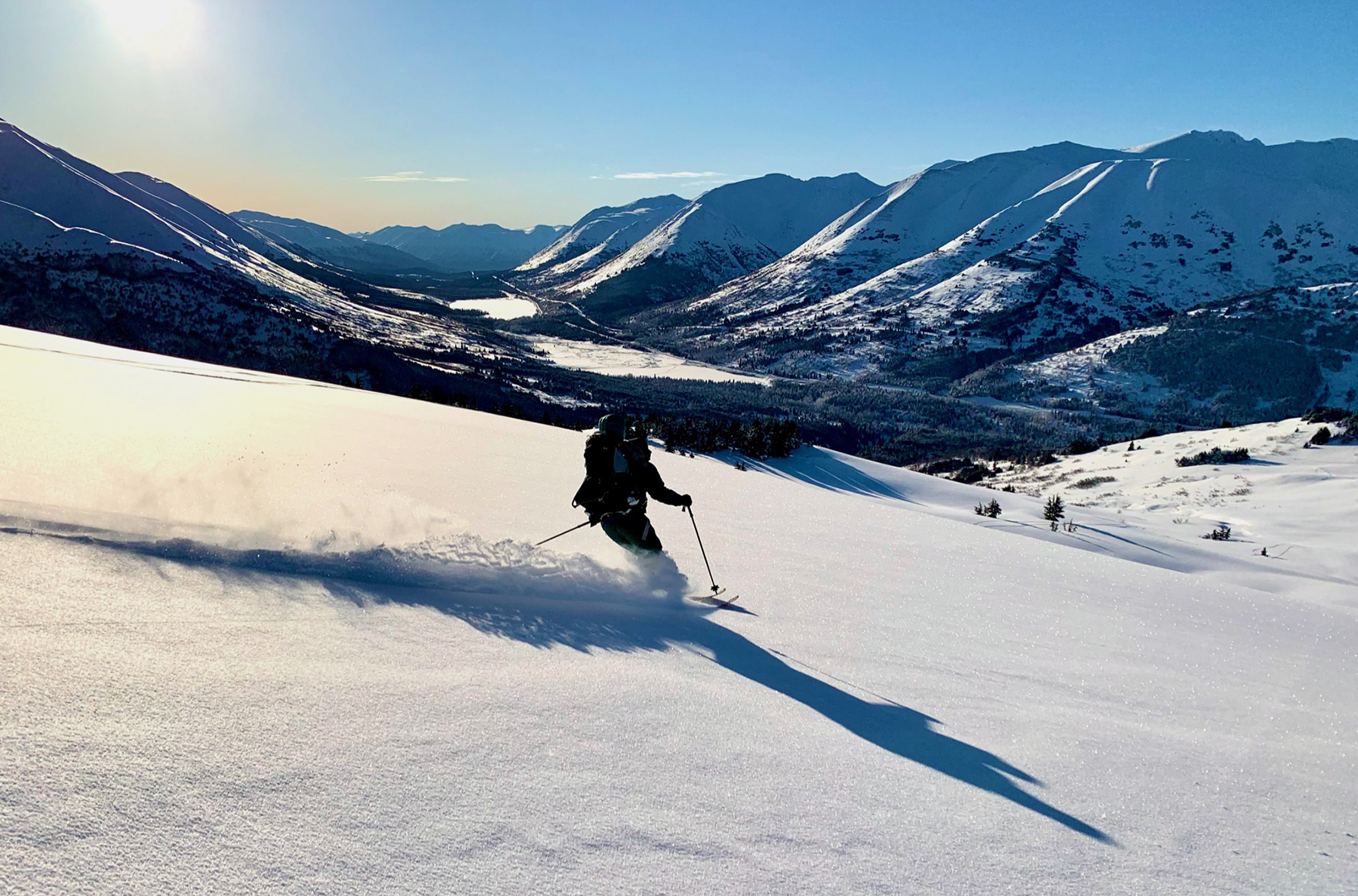 In these conditions, La Machine Max strikes a particularly nice balance between skis that love to lock into the firm base and carve (making for a less "powdery" experience) and skis that float so much that when up on edge in this stuff they kind of skip and skitter across the firmer base. On La Machine Max, I can basically decide if I want to lay it into the base and carve or decrease the edge angle and surf around on top. It's hard to put into words but some skis make these kinds of conditions more fun than others and these big black Factions do very nicely here.
Deep Pow
Despite the fact that it holds up remarkably well in all of the above conditions (relative to its weight and width anyway) Faction makes no claims about this ski being versatile, instead marketing it as "made to ski the deepest powder" and making no apologies about it being a dedicated powder tool. Overall, I think they have succeeded in making an excellent all-round powder ski that is surprisingly light in weight for how well it performs. In bottomless snow, La Machine Max provides as good of flotation as any ski in this width class that I've ever used. In addition, La Machine Max is very accommodating to just about any stance, from driving the shovels to centered and even to leaning back on the tails. It doesn't provide the uber float of 130+ mm skis but I've never been in snow with La Machine Max where I felt like it was too deep and found the ski's tips diving.
I should again touch on mount point here because most of the skiing I did on these skis was in pow and I played with the mount point a lot, as discussed above. With the -11 cm mount where I started, I definitely felt like I was on the tails, with essentially unsinkable shovels. But even at that mount point I could still break the ski free into drifted turns relatively easily. I moved the bindings forward because I thought I could probably get a little better drift and pivot capability without losing too much support in the shovel — and I was right. Even on deep days of heli skiing on everything from deep blower on mellower aspects to steep, sluffy pow runs, I never felt like I was overdriving the tips even at the -8 cm (5 cm forward of the original recommended mark) that I settled on as my ideal position, as discussed above.
I get into detailed comparisons in the Deep Dive but La Machine Max is one of the better overall powder skis I've recently used in all powder conditions. I've skied everything from wide-open mellow powder slopes to steep and technical lines on this ski and have never felt like the ski was significantly holding me back. It is definitely among the lighter skis I've used heli skiing in recent memory, and occasionally when powder runs start or finish in more variable conditions, I'll notice that La Machine Max doesn't offer the stability of my heavier skis. But overall, I find La Machine Max's light actual weight and low perceived swing weight to be more boon than detriment.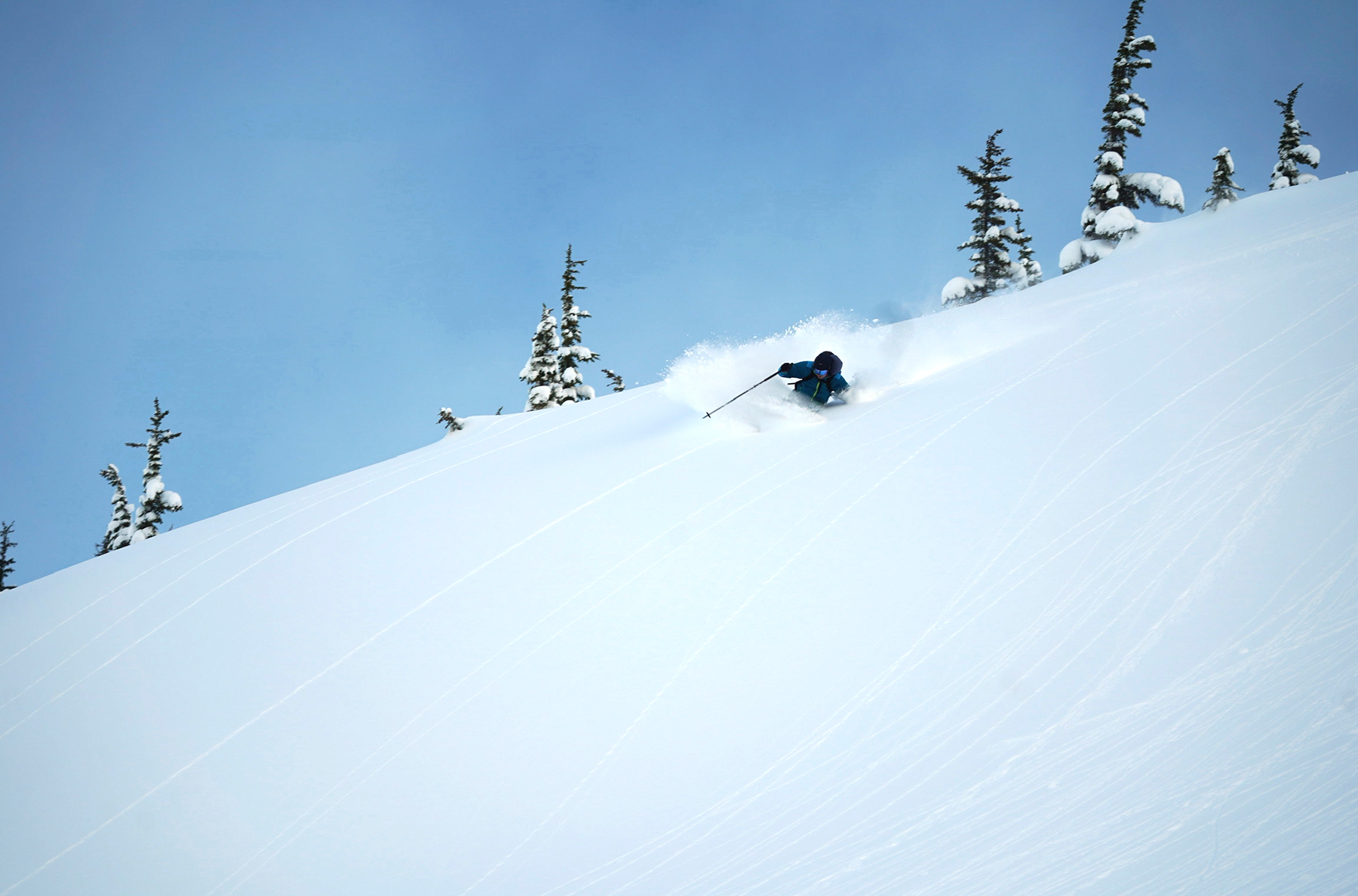 Overall, La Machine Max is very intuitive in powder. Like all excellent pow skis, it is easily bent into strong carved turns but has the balance and float to be easily broken into a drift at any point in the turn. These are light, fun, and versatile powder skis.
Who's It For?
The marketing copy for La Machine Max suggests that Faction intends for it to be used both by expert skiers and less experienced powder seekers, like those who might show up to a heli or cat operation. To that end, I think they've done an excellent job. Expert powder skiers will enjoy carves and drifts on a relatively light ski that holds up well at speed in any soft snow conditions and can still handle more variable snow with a very predictable shape and rocker profile. Intermediate and less experienced powder skiers will find a supportive and confidence-inspiring platform that remains fairly forgiving. On that note, I'd love to see Faction introduce some shorter lengths of La Machine Max because I think they'd actually make a pretty good rental ski for cat and heli ops (something I've been searching for over the course of many years guiding).
I also think La Machine Max is among the very best "50/50" or even full-on touring powder skis I've ever used. Those who live in snowy areas and like to skin for their (hopefully deep) turns will be very pleased with how much powder performance they get out of these 1850-g, 126mm-wide skis. "Spoiler alert" for the Deep Dive but this ski is basically what I had always hoped the 191 cm 4FRNT Renegade would be — a versatile full-rocker powder tool that is light enough to tour on. La Machine is one of the few powder skis I've used where I feel like they'd be equally well suited to deep days in both the resort and backcountry.
Bottom Line
I've skied a ton of powder skis and the Faction La Machine Max has been a standout new powder ski for me. I think a wide range of skiers should take a look at these if they're on the hunt for a versatile, relatively lightweight, fat powder ski.
Deep Dive Comparisons
Become a Blister Member or Deep Dive subscriber to check out our Deep Dive comparisons of La Machine Max to see how it compares to several other wide powder skis, including the 4FRNT Renegade, Folsom Rapture, Moment Chipotle Banana, Moment Wildcat Tour, Head Kore 117, DPS Lotus 124, and Moonlight Cruiser.