Ski: 2021-2022 Moment Chipotle Banana, 193 cm
Test Location: Chugach Mountains, Alaska
Days Skied: 15+
Available Lengths: 186, 193 cm
Blister's Measured Tip-to-Tail Length (straight-tape pull): 190 cm
Stated Weight per Ski: 2345 grams
Blister's Measured Weight per Ski: 2323 & 2352 grams
Stated Dimensions: 139-122-134 mm
Blister's Measured Dimensions: 140-122-134 mm
Stated Sidecut Radius (193 cm): 35.5 meters
Measured Tip & Tail Splay (ski decambered): 71 mm / 71 mm
Measured Traditional Camber Underfoot: 0 mm
Core: Aspen/Ash + Carbon Stringers + Fiberglass Laminate
Base: Sintered 4001 Durasurf
Factory Recommended Mount Point: -5.8 cm from center; 89.2 cm from tail
[Note: our review was conducted on the 20/21 Chipotle Banana, which was not changed for 21/22.]

Intro
The Chipotle Banana debuted in the Moment line back around 2014 as Carston Oliver's pro model and was marketed as a stiffer, more stable alternative to many of the soft, heavily rockered skis at the time. It was available only in a 186 cm length and was the predecessor to other, more versatile fully rockered skis like the Moment Meridian 107 and Meridian 117.
The Chipotle Banana subsequently disappeared from the lineup until a few years ago when it started to be available again as a limited production "Reserve" model. Last year Moment also started offering it in the 193 cm length for the bigger folks out there.
I've been spending some time on the 193 cm Chipotle Banana this season up in Alaska, and Blister Members can check out my Flash Review for my initial thoughts. In the meantime, we figured we should get a First Look up of this ski, particularly since its design might stand out even more today than it did when it was first released.
What Moment Says about the Chipotle Banana
"The special recipe for the Chipotle Banana is equal parts surfy fun and high-octane insanity, and it has enough spice to leave your mouth burning for days on end. Built by Carston Oliver for Carston Oliver, the Banana features Radius Rocker and an oversized 122mm waist that gives it freakish float and pivot-on-a-dime handling in powder. And in fact, it's an easy ski for anyone to ski when the conditions are good. But if you're thinking, "big soft pow noodle," think again — the grandfather of the Meridian is as tough as a coffin nail and twice as stiff, and it was made for getting loose, fast, and loud. So, while you can take the Chipotle Banana as slow and easy as you please, you won't find out what it can really do until you push it to the limit. And we're willing to bet you'll find your own before that."
Like most fat skis, the Chipotle Banana is supposed to be surfy and maneuverable in deep snow, but unlike many fully rockered 120mm+ skis, it's also supposed to be stiff and capable at high speeds.
Shape / Rocker Profile
The most interesting design feature of the Chipotle Banana is the use of what Moment calls "Radius Rocker," wherein the sidecut radius is perfectly matched to the rocker profile. This is most easily demonstrated by taking one ski and placing the edge perpendicular to the base of the other ski forming a longitudinal "T". On a ski with "Radius Rocker" you'll notice that there is perfect contact along the entire length of the effective edge to the point of maximum width at the tail and tip. This is the same concept that 4FRNT calls "Reflect Tech" and uses on many of their skis. We've also seen this concept at work in the Icelantic Saba Pro and Nia Pro, among others.
The idea of "Radius Rocker" is that the ski will have consistent and predictable edge engagement regardless of edge angle. If the ski is relatively flat on the snow, there is minimal contact with either the base or edge, and, in theory, the ski should be able to pivot easily. As you lean the ski over and edge angles get higher, there is a consistent increase in edge engagement until the entire ski (from widest point of tip to widest point of tail) is in contact with the snow, in theory providing a strong and stable platform.
Just looking at the Chipotle Banana's rocker profile, its rocker lines are notably more subtle / less dramatic than something like the Armada ARG II, and aren't super far off from the 4FRNT Inthayne.
The shape of the Chipotle Banana is mostly notable for its lack of dramatic tip taper. The widest parts of the ski are fairly close to the tip and tail and are not dissimilar in shape to the Moment Wildcat. Particularly compared to similarly wide skis (and especially those built with freestyle intentions), the Chipotle Banana has a pretty long effective edge.
Flex Pattern
Here's how we'd characterize the flex pattern of the Chipotle Banana:
Tips: 7
Shovels: 8
In Front of Toe Piece: 9
Underfoot: 10
Behind the Heel Piece: 9
Tails: 8
If you're reading this and thinking that the Chipotle Banana is pretty stiff for a powder ski, you're right!
In the past, I've found that stiff powder skis work best for me if the ski is full rockered, like the Chipotle Banana. I think this is simply because most skis tend to float better when bent into a rockered shape. If the ski is rockered (i.e., bent) to begin with, the stiff flex is not as much of a liability when it comes to the ski's ability to plane up quickly instead of diving under the snow surface.
The 193 cm Chipotle Banana isn't some completely unbendable 2×4, but it's certainly a pretty stout ski when compared to other playful, wide options.
Sidecut Radius
At 35.5 meters, the 193 cm Chipotle Banana has one of the longer turn sidecut radii we've seen in recent years.
In the past, I've often preferred a longer radius like this in pow skis because it seems to make the skis less prone to hooking, especially in drifted turns in mixed snow conditions.
The downside to a radius like this is that it can make the ski a little tougher to initiate turns and carved turns, in general, can become scary big and fast if you're just riding the natural arc of the ski. It will be interesting to see how the Chipotle Banana feels in both mixed backcountry conditions and on smoother surfaces like inbounds groomers.
Mount Point
At about -5.8 cm from the true center of the ski (via a straight-tape pull), the Chipotle Banana is definitely on the more forward / progressive end of the spectrum for fat powder skis. When you consider how stiff this ski is, the intended mount point almost puts this ski in a class of its own since the vast majority of other powder skis with mounts this far forward have much softer flex patterns and are more heavily rockered.
I've already had a handful of days on these (see my Flash Review) and have started experimenting with moving the bindings back a little to get a little more tip float. Stay tuned for more information on that in the full review.
Weight
Our pair of the 193 cm Chipotle Banana weighs about 2338 grams per ski. This puts it on the heavier end of the spectrum for powder skis but still well within the range of a normal weight for a ski this wide. We suspect this weight will add to the suspension and stability of the Chipotle Banana in variable conditions (our initial impressions are quite positive in those regards), but wonder what the swing weight will feel like during further testing.
For reference, here are our measured weights for some notable skis. Keep in mind the length differences to try to keep things apples to apples.
1710 & 1744 Atomic Bent Chetler 120, 184 cm (18/19–20/21)
1808 & 1809 Line Pescado, 180 cm (16/17–20/21)
1873 & 1878 Line Vision 118, 183 cm (20/21)
1870 & 1895 Faction La Machine, 186 cm (20/21)
1895 & 1906 Folsom Trophy Carbon, 188 cm (18/19–20/21)
1897 & 1913 Majesty Vanguard, 188 cm (20/21)
1910 & 1941 Scott Scrapper 115, 189 cm (17/18–20/21)
2006 & 2063 Elan Ripstick 116, 193 cm (20/21)
2013 & 2099 Moment Wildcat, 184 cm (18/19–19/20)
2019 & 2051 K2 Mindbender 116C, 186 cm (19/20–20/21)
2024 & 2031 Line Outline, 186 cm (19/20–20/21)
2027 & 2052 K2 Reckoner 112, 184 cm (20/21)
2034 & 2052 Blizzard Rustler 11, 188 cm (17/18–20/21)
2043 & 2046 4FRNT Inthayne, 188 cm (18/19–20/21)
2062 & 2080 Whitedot Ragnarok ASYM, 190 cm (19/20–20/21)
2081 & 2115 Faction Candide 5.0, 183 cm (18/19–20/21)
2104 & 2108 Hinterland Maul 121, 186 cm (19/20–20/21)
2105 & 2185 Head Kore 117, 189 cm (19/20–20/21)
2125 & 2134 Kye Shapes Metamorph, 185 cm (19/20–20/21)
2136 & 2174 K2 Reckoner 122, 184 cm (20/21)
2149 & 2158 DPS Alchemist Lotus 124, 191 cm (17/18–20/21)
2173 & 2204 4FRNT Renegade, 191 cm (19/20–20/21)
2174 & 2187 Moment Wildcat, 190 cm (18/19–19/20)
2181 & 2190 Parlor McFellon Pro, 185 cm (19/20–20/21)
2212 & 2215 Armada ARV 116 JJ, 185 cm (17/18–20/21)
2222 & 2278 Prior CBC, 184 cm (17/18–20/21)
2237 & 2315 Salomon QST 118, 192 cm (19/20–20/21)
2240 & 2250 Volkl Revolt 121, 184 cm (19/20–20/21)
2250 & 2280 Movement Fly Two 115, 184 cm (19/20–20/21)
2259 & 2279 Black Crows Anima, 189.2 cm (20/21)
2280 & 2286 Icelantic Nomad 115, 191 cm (19/20–20/21)
2323 & 2352 Moment Chipotle Banana, 193 cm (14/15; 19/20–20/21)
2341 & 2357 Dynastar M-Free 118, 189 cm (18/19–20/21)
2343 & 2360 J Skis Friend, 189 cm (19/20–20/21)
2346 & 2351 Nordica Enforcer 115 Free, 191 cm (17/18–20/21)
2416 & 2468 Liberty Genome, 187 cm (17/18–20/21)
2438 & 2480 DPS Foundation Koala 119, 189 cm (19/20–20/21)
2438 & 2492 Rossignol BLACKOPS Gamer, 186 cm (16/17–20/21)
2561 & 2585 Kye Shapes Numinous, 189 cm (19/20–20/21)
2700 & 2703 Armada ARG II, 187 cm (19/20–20/21)
Bottom Line (For Now)
The Moment Chipotle Banana is a big, strong ski with a rocker profile and mount point that make it seem like a solid choice for playful skiers who like to ski fast in soft snow. I'll be putting more days on the ski both in the resort at Alyeska and out of the heli while guiding, so stay tuned for a full review down the line.
Flash Review
Blister Members can read our Flash Review of the Chipotle Banana for our initial on-snow impressions. Become a Blister member now to check out this and all of our Flash Reviews, plus get exclusive deals and discounts on skis, and personalized gear recommendations from us.
FULL REVIEW
Alaska continues to have a wonderful winter and I've been putting in a lot of time on the Chipotle Banana and a number of other powder skis, mostly via heli skiing at Chugach Powder Guides but also at Alyeska Resort. It's been a great year to test powder skis and the Chipotle Banana has a been a fun one to try out.
Powder
If you're looking at buying a ski that is 122 mm underfoot, you're obviously looking for a ski that will excel in powder. I have spent most of my time on these skis in various depths and consistencies of backcountry powder conditions, and while they are certainly very fun, I'm going to argue that this is the place where they are the least "remarkable" in comparison to other skis that are this fat. It's not that the Chipotle Banana doesn't float, surf, slarve and drift across the fall line (it definitely does!). It just takes a little more input and technique to get the best out of them.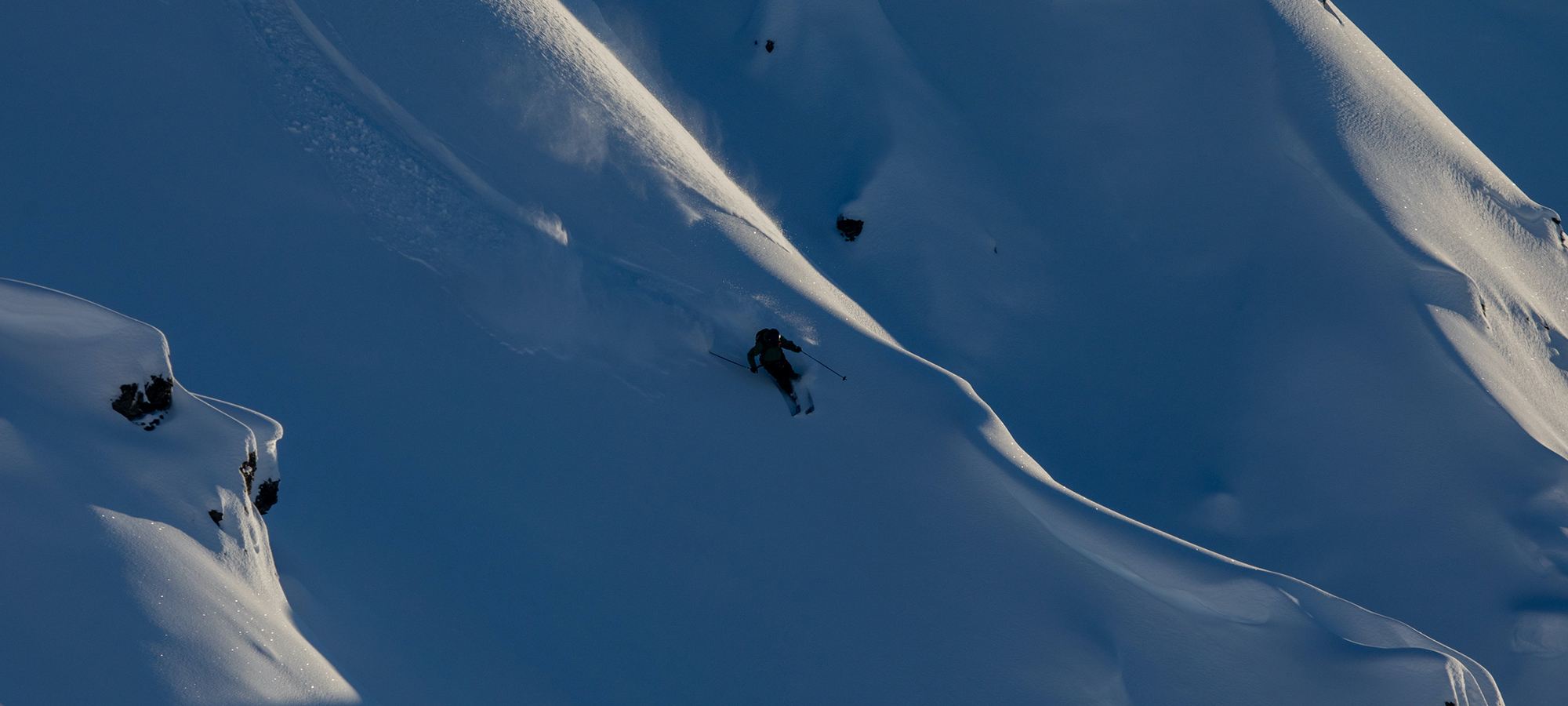 I'm not a ski designer but I'm going to speculate that the fairly stiff flex pattern and relatively small shovel relative to waist width (due to its long sidecut radius), coupled with its low rocker profile, yields a ski that does not want to quickly plane up (at least compared to similarly fat skis). In deep, dry powder, even a neutral, centered stance will mostly find these skis with the tips driving under the snow unless I push into my heels / tails a little. At very high speeds, they will plane up a little better but you still can't drive them from a more aggressive forward position like you can on other skis in this waist width. This was especially true with the bindings mounted at recommended, but still present at -1 cm from recommended. At -2 cm from recommended, the tips start to come up more easily but you start to lose some of the wonderful characteristics of this ski in other conditions that I'll discuss more below (spoiler alert: this is by no means a pow-specific tool).
In more maritime, dense pow, the Chipotle Banana stays on top without difficulty, especially at -1 cm (my overall preferred position). The tips rarely dive in this heavier snow unless I'm really pushing into the front of my downhill ski, and the Chipotle Banana generally just comes alive in these conditions as a very fun powder tool. It still doesn't get up and surf as easily as other 120mm+ skis, but is still very fun in these conditions.
Those who read our First Look and Flash Review may have noticed that several readers chimed in with comments about having similar experiences with tip dive in deep snow and then there were even a couple of comments from the ski's primary designer, Carston Oliver (thank you all for reading and contributing!) who stated that he felt that the skis required more speed and steeper terrain to avoid the tip dive issue. As a very much non-pro skier, and based on my experience with the Chipotle Banana in a lot of different powder conditions, I'd agree with Carston to a point. Going really fast on these skis will keep the tips up in most powder conditions, even with a neutral stance. However, in my experience, pushing into the shovels, even on very high-speed runouts of big Alaskan runs (I'm talking about straight-lining out of 40°+ runs across the apron) I can still push the tips under in low-density pow and I found myself being more careful than usual to stay centered or slightly on my heels in these situations, especially compared to other similarly sized or fatter skis.
In very steep terrain, the tip dive is less of an issue, mostly, I suspect because I'm cheating the tops of my turns and pushing the ski across the fall line and relying on more drifting turns, controlling speed by feathering the edge angle. In these conditions, the Chipotle Banana works great, although they are not quite as easy to break free as other fat powder skis in deep, steep snow.
While I'll be offering several more comparisons in the Deep Dive of this ski, I want to mention one now because it's quite poignant. The other day I was skiing deep powder from the helicopter in a combination of moderate and steep terrain. I started my day on the Chipotle Banana and was obviously having a great time, but about halfway through my day, I swapped out to a pair of 4FRNT Renegades to compare the two seemingly similar skis on the same terrain and snow. From my first turn on the Renegades (which was a steep and sluffy turn right off the ridge!) I noticed an immediate and very obvious contrast between the two skis. The Renegade felt looser, faster, surfier, and pretty much better and easier to ski in every way. The faster I skied, the more I preferred the Renegade, which allowed me to lean into the shovels and pushed into big carved or slarved out turns. On the Chipotle Banana on the run prior, I was constantly feeling the need to lean back a little to avoid driving the shovels deep into the snowpack, no matter how fast I skied. I just couldn't escape the more centered / backseat stance on the Chipotle Banana, but could immediately get in the middle and front of the Renegade in the same conditions. When I got to choke at the bottom of the run that was becoming tracked out, the Chipotle Banana crushed through the chop with more ease and stability, as expected.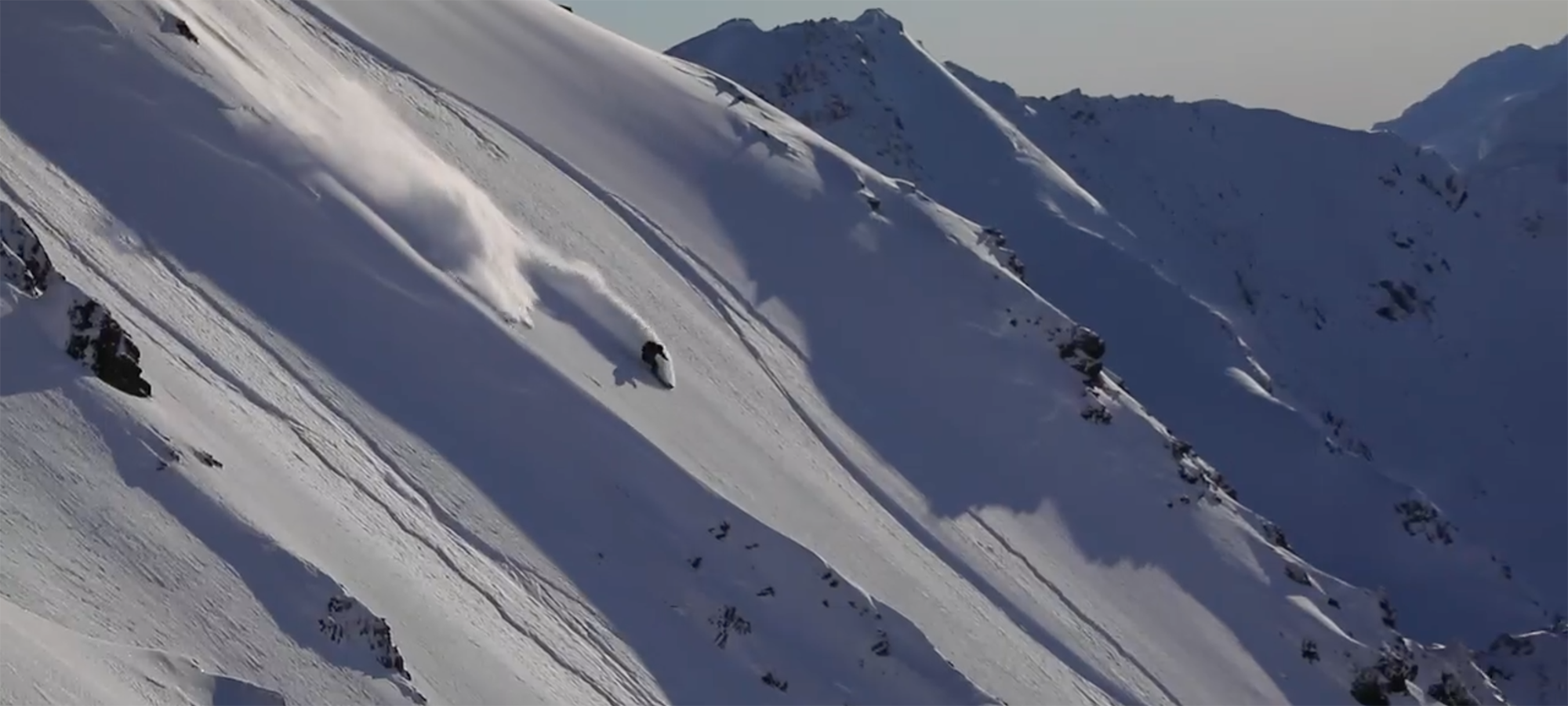 Is the Chipotle Banana an excellent powder ski? The answer to that depends on what you want out of a powder ski. Are you using them primarily for snowcat or heli skiing in a place where the snow is deep, low density, and not every run is super steep? If so, I'd point you toward something else (see our Deep Dive or Winter Buyer's Guide). If you ski primarily shallow or denser pow and value stability and versatility in your 120mm ski outside of pure powder, read on!
Wind-Affected Snow & Crust
The Chugach has had a few big wind events this season and, as a result, I've spent more than a few runs skiing lots of wind-affected and wind-crusted snow while trying to find the pow. In these conditions, the Chipotle Banana is a bit of a mixed bag.
On one hand, the stiff, relatively low-rise tips do sometimes submarine under the crust in certain circumstances, especially in low-angle runouts. On the other hand, the Chipotle Banana is very strong and stable, especially for a powder ski, and smashes through breakable or crusted snow better than just about any ski in this width class.
Similarly, the long sidecut radius can be either boon or detriment, depending on what you're trying to do. In some kinds of crust conditions, my preferred technique is to just engage the sidecut of the ski and carve full-radius turns through the crust, avoiding the need to release and push the tails around. With a radius of 35 meters, the Chipotle Banana is going to do this kind of skiing with very big turns and may result in higher speeds than you want in those kinds of conditions. The upside of the long sidecut radius is that, when you do want to break the skis free into skidded or drifted turns in breakable snow, the Chipotle Banana is not at all hooky or unpredictable and inspires confidence when crushing through crust at high speeds.
Soft Chop
Soft chop is where the Chipotle Banana really starts to differentiate itself from just about any other ski in the >120mm class. I experienced that on my 3rd run ever on these skis, which was on a deep early season powder day at Alyeska Resort. After 2 untracked runs, on the third run, I started to cross 12-20" deep tracks across the bottoms of my favorite runs at high speeds and the Chipotle Banana crushed through them with the muted thuds I typically associate with skinnier, heavier, metal-laminate-construction skis. Through the rest of the day, I continued to smash through deep tracks at high speeds and kept thinking that these were handling these conditions far better than any other >120mm ski I've used.
Similarly, sometimes areas in the backcountry become funnels to get back to heli pickups where lots of people have to channel through a narrow area and you're forced to ski in and around tracked-out, deep snow. I don't think I've used another heli ski that does so well in these conditions.
Firm Chop / Crud
The firmer and weirder the snow gets, the more the Chipotle Banana stands out from other fat powder skis. As I mentioned in my Flash Review, I found myself late on a powdery day skiing hot laps down Alyeska's North Face earlier this winter. For those not familiar, it's 2000-2500' of consistently steep and terrain that, to me, has few rivals in North America for inbounds terrain. On that particular day, the top had become soft bumps and crud, the mid-elevations heavy, tracked-out crud, and the lowers were very wet, heavy, tracked, deep chop before transitioning back to a crudded-out feeder back to the tram. I'm not sure I've ever skied those runs any faster in those conditions and was literally laughing out loud because of how much fun I was having skiing as many laps as possible before the tram closed for the day. I'm confident that I've never skied a 120mm+ ski (and I've skied dozens of them) that would have let me enjoy those conditions nearly as much.
The Chipotle Banana felt much skinnier than it is and was surprisingly quick edge-to-edge when negotiating chutes, trees, and rocks. The full rocker allowed for super quick pivots but the long effective edge provided an extremely solid platform when just laying them over at high edge angles. To me, this ski, in these conditions, represents the best execution of the "Radius Rocker / Reflect Tech / matching sidecut to reverse-camber profile / whatever you want to call it…" that I've tried, and I've used most skis on the market that incorporate this design. If you want a fat ski that can handle high-speed variable and firm snow, the Chipotle Banana is an excellent option.
Moguls, Trees, & Tight Terrain
As discussed above, for a 193cm-long, nearly 2400-g ski that is 122mm underfoot, the Chipotle Banana is remarkably quick and nimble in tight and technical terrain. While I would not call it "forgiving" in the huge spectrum of skis on the market, it does have a large sweet spot and can be skied both from a more neutral stance (this works better when mounted at recommended) or in a more traditional, driving-the=shovels stance (this works better at -1 cm and -2 cm). When I get bucked onto the tails, they provide nice support that allows me to get back forward, but are not so stiff as to feel punishing to me.
There are plenty of rocker / camber / rocker skis that are quick and nimble in tight terrain and trees, but fully rockered skis do really well in this environment. I think the Chipotle Banana has one of the better full-rocker designs I've used in these conditions for the same reason I like it in the conditions mentioned above: they pivot well but are remarkably stable and strong when put up on edge.
Playfulness
No one who has ever skied with me would call anything about my style "playful." I haven't done a 360 since last season and my best "trick" is currently a nerdy dad-style shifty that might not even merit that label. That said, especially when mounted at recommended, the Chipotle Banana does feel fairly well balanced in the air. The full rocker makes my attempts at nose butters a little easier than some skis, but they are too stiff for me to successfully pull one off with my limited skill. There is just no getting around the fact that these are stiff, heavy, and long and the swing weight is quite high. I've seen videos of Carston doing amazing tricks on these skis which, to me, is a testament to his skill and not to how easy these skis are to spin and trick.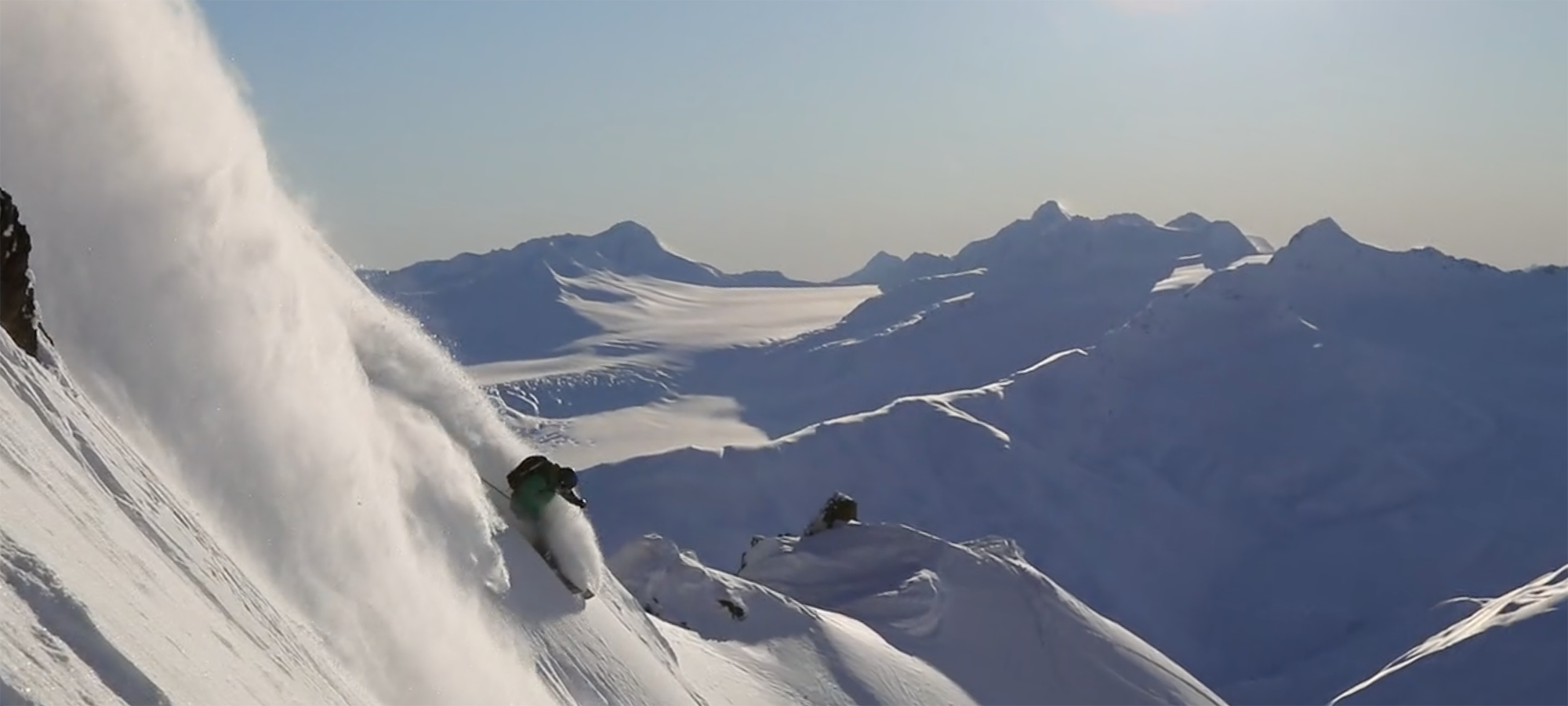 Length
A good friend of mine, who is an excellent skier with a racing background and is about 5'9" and 160 lbs, has had a pair of these in the 186 cm length for the past two seasons. When I told him I was hoping to get a pair for review he was emphatic that I get the 193 cm version. He felt like the 186 cm skied really short and he wished he'd gone for the longer version himself. He frequently skis and loves the old 190 cm Moment Bibby and also skis in Alaska, so he has a bias for longer skis, but after talking with him I felt confident that the 193 cm version was the way to go.
Now having skied the 193 cm Chipotle Banana for a few months, I can't imagine having gone any shorter. Despite its weight and long sidecut radius, the Chipotle Banana skis shorter than its stated length. I think this is related to the big upturned tails and the full rocker. If you're a strong skier and are on the fence on which size to get, consider the 193 cm version, especially if you live in an area with bigger, more open terrain and are more interested in going fast in mixed conditions than you are in backcountry freestyle or maneuvering through super tight trees.
The Chipotle Banana is still a very fat, quite stiff, and fairly heavy ski and I don't want to mislead anyone into getting a ski that is too big. But strong skiers who like to ski fast don't need to size down on these. Based on my experience with the 193 cm version, I wouldn't hesitate to recommend the 186 cm Chipotle Banana to much smaller, but high-intermediate / advanced skiers who typically prefer skis shorter than 186 cm and who are intimidated by the length of these. The more you plan to use them as a powder-specific tool, the more I'd recommend sizing up.
Mount Point
At the recommended mount point, the Chipotle Banana was still very fun and stable in a wide variety of conditions for me, and definitely felt that much more pivoty, turny, and short for stated length. But I did need to concentrate on maintaining a more neutral stance and even had to push on the tails a bit in soft snow to keep from driving the tips under, even at high speeds. If you're used to skiing more forward-mounted skis (the factory recommended mount points on the Rossignol Blackops Gamer and Volkl Revolt 121 come readily to mind), you'll get on fine with this mount point on the Chipotle Banana.
As a more directional skier, at -1 cm from recommended, the Chipotle Banana really came alive for me and felt like it had a huge sweet spot and could be skied from the backseat, centered, and up front driving the shovels. As discussed above, at -1 cm from recommended, I still got more tip dive in deep, low-density snow than I have on other skis of this width, but it generally did well across a wide spectrum of snow conditions. -1.5 cm feels pretty similar to me and I could happily leave it there as well.
At -2 cm and farther back from recommended, the tip dive issue decreased significantly but the ski started to feel pretty directional and the tails, while still supportive, lost some of the confidence-building feel I'd experienced when mounted farther forward. I skied them at -2 cm for a day of quite deep heli skiing in the trees and enjoyed them, but missed the more balanced feel when slashing around in tight spaces. Pushing the binding back much further than -2 cm strikes me as deviating from the basic essence of this ski and that huge sweet spot around -1 cm to -1.5 cm starts to feel smaller and more forward on the ski.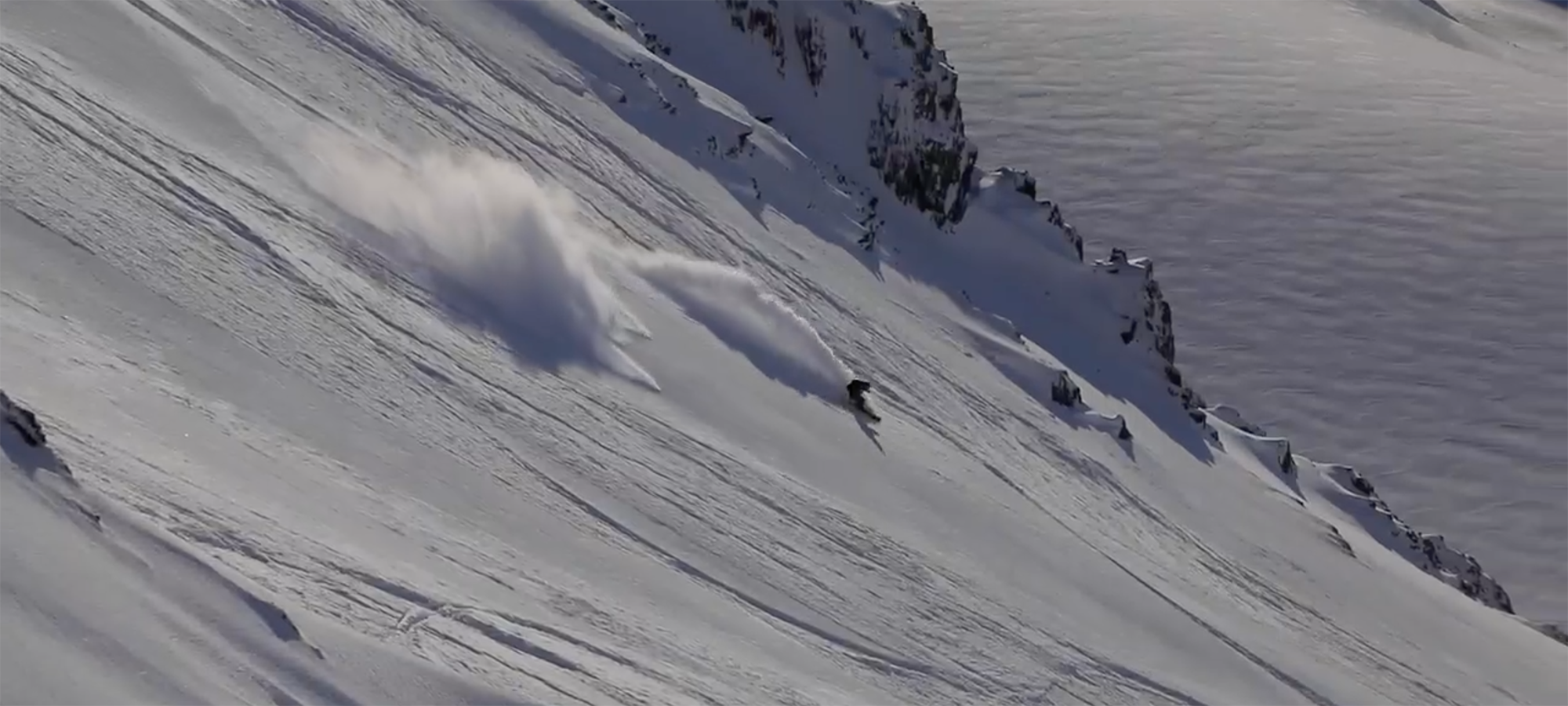 Who's It For?
The Chipotle Banana is a unique ski that is far more capable across a wide spectrum of conditions than its dimensions and specs would suggest, and I think it should appeal to a variety of different skiers.
The first group are those who like a more progressive mount point and fully rockered skis but are looking for something stiffer, stronger, and more stable than the vast majority of powder skis out there. Based on Moment's ad copy, it seems that these types of skiers are the target market and I think they've nailed the design for those kinds of skiers. Mount at recommended and go hit some huge jumps and cliffs.
The second type of skier, however, who should definitely check out the Chipotle Banana is the more directional skier who is looking for a powder ski with good suspension that can charge at very high speeds in almost all conditions, but still feel fairly loose and pivotable in the tight spots. For these skiers, I'd suggest mounting at around -1 to -1.5 cm.
Bottom Line
While it isn't the best for long days of pure, untracked powder (it's still very good, but lots of other skis in this width class are better), the Moment Chipotle Banana is one of the most fun skis out there for those who like to ski hard and fast bell-to-bell on an inbounds powder day, and will still be surprisingly fun when the powder is gone.
Deep Dive Comparisons
Become a Blister Member or Deep Dive subscriber to check out our Deep Dive comparisons of the Chipotle Banana to see how it compares to the Folsom Rapture, DPS Alchemist Lotus 124, DPS Foundation Koala 119, Volkl Revolt 121, 4FRNT Renegade, Blizzard Spur, Blizzard Rustler 11, Praxis Protest, Moment Bibby / Blister Pro, Faction La Machine, Kingswood SMB, Whitedot Ragnarok ASYM, Rossignol Blackops Gamer, & Kye Shapes Numinous.