Ski: 2020-2021 Hinterland Maul 121, 186 cm
Test Location: Grand Targhee & Jackson Hole, WY
Days Skied: 11
Available Lengths: 176, 186 cm
Blister's Measured Tip-to-Tail Length: 184.1 cm
Blister's Measured Weight per Ski: 2104 & 2108 grams
Stated Dimensions: 143-121-137 mm
Blister's Measured Dimensions: 142-120.5-137 mm
Stated Sidecut Radius (186 cm): 27 meters
Measured Tip & Tail Splay (ski decambered): 70 mm / 65 mm
Measured Traditional Camber Underfoot: 3 mm
Core: Ash/Poplar + Carbon Stringers + Fiberglass Laminate
Base: Sintered Durasurf 4001K
Factory Recommended Mount Point: -5.0 cm from center; 87.05 cm from tail
Reviewer: 6', 180 lbs / 183 cm, 81.6 kg

Intro
The name "Hinterland skis" might not immediately ring any bells — they're a relatively new, small-batch ski manufacturer based out of Salt Lake City, Utah. The brand originated as WSD skis back in 2009, and started out making fully custom skis. More recently, though, they decided to make a few standard models available to the public as well. They make and sell a full range of skis, from an 83mm-underfoot carver to the 121mm-wide Maul 121 that I've been skiing.
Hinterland emphasizes their focus on craftsmanship and sustainability. Every ski is built by hand in SLC, and they plant two trees through TreeUtah for every pair purchased. Beyond their standard lineup, Hinterland is also happy to customize any of their stock skis with custom lengths, top sheets, and flex patterns, as well as make you a fully custom pair of skis.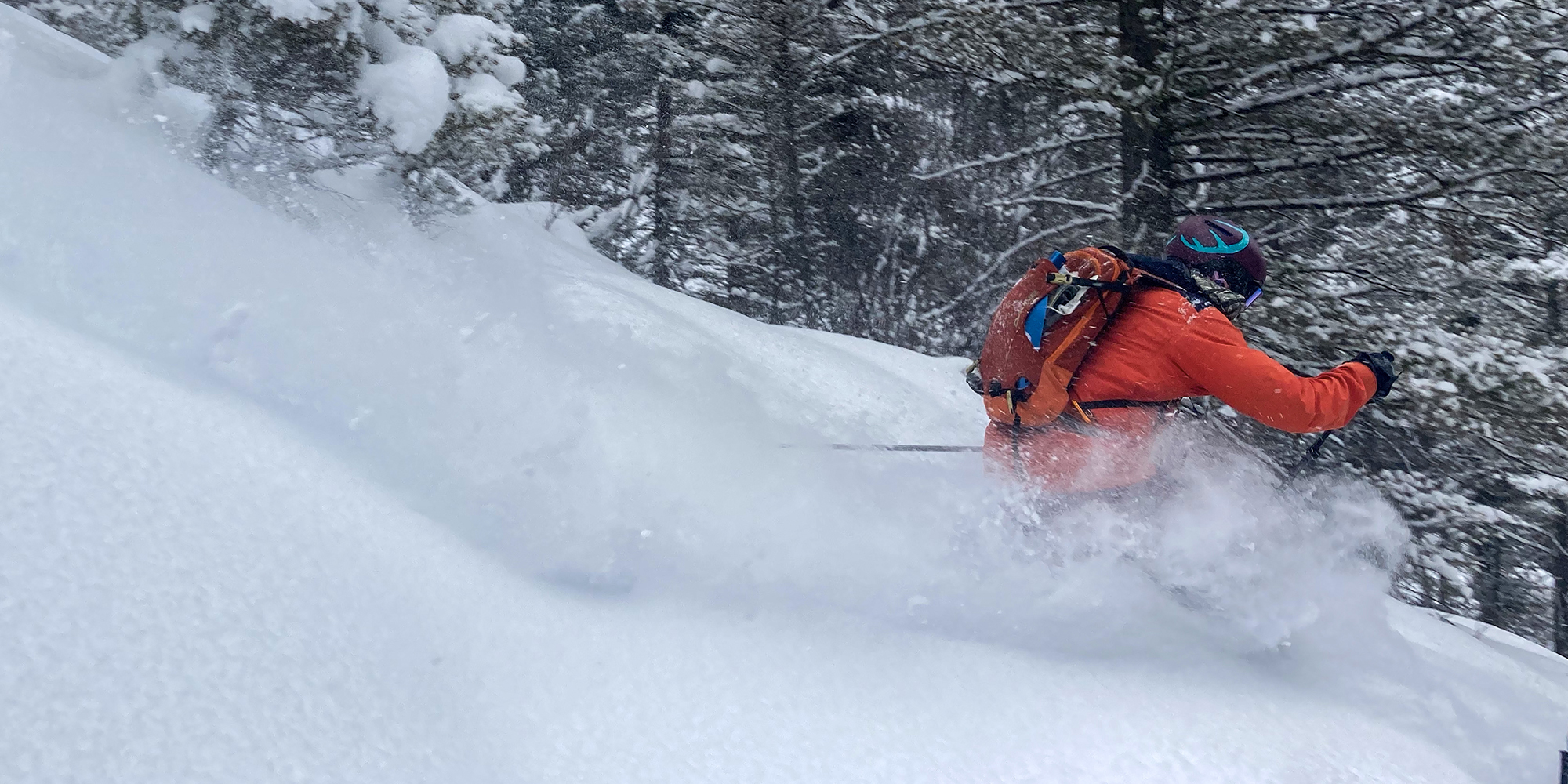 I got the Maul 121 right as COVID was shutting down all the lifts across the U.S., but I've since been able to spend more time on this playful pow ski and can now offer my take.
What Hinterland says about the Maul
The Maul is the widest ski in Hinterland's standard lineup, and as such, it's their dedicated deep-pow ski. Here's how they describe it:
"It just snowed 2 feet at your home mountain, the stoke level is at an all time high. What skis do you take? Easy. You're going to want to be on the 121mm wide Maul. This ultra wide ski is surfy, playful ski will drift through the powder like a dream. Let's face it, this ski is big but we don't want it to bog you down so we've given it a softer flex and added carbon fiber to reduce weight. This ski is much more of a freestyle ski than a stiff charger. The Maul is included in our line because we wanted a ski for those storm days where you visit the white room every turn. The days we all yearn for. On the Maul, the options are endless when the snow is bottomless. The wolf artwork on this ski is absolutely stellar as well and we hope will inspire you to slash just a little bit harder."
Shape / Rocker Profile
If you told me to "draw a playful pow ski," the shape I'd come up with is basically identical to the Maul. Standing on the ski, with the (beautiful) graphics blacked out, I'd be hard-pressed to tell it apart from five or six other pow skis on the market. And to be clear, that's a very good thing. We're at a place where most brands have figured out the general recipe for what ski shapes are fun in deep snow, and the Maul fits that bill.
The Maul has a similar amount of tip and tail taper compared to the Atomic Bent Chetler 120 and K2 Reckoner 122. The Maul's tips and tails don't taper dramatically — instead, it's a pretty gradual curve through the tips and tails. The silhouette of the ski is similar overall to the Bent Chetler 120, Reckoner 122, ON3P Jeffrey 116, and J Skis Friend. I.e., it looks like a playful pow ski.
Rocker profile wise, you could almost copy and paste the above two paragraphs and swap a few words and call it good. The Maul 121 has a similar amount of camber, and similarly gradual, but deep rocker profile lines as pretty much all of the aforementioned skis. There's nothing really weird or out-of-the-ordinary going on here. And that's really, really exciting to me.
[We'll be posting our rocker pictures shortly, but in the meantime, here are the stated specs of the Maul 121's rocker profile from Hinterland's site. Our pair had slightly lower tip and tail splay, which you can see in our measured specs above.]

When it comes to reviewing smaller-batch, indie skis, I always come into my first day on the ski with a little trepidation. The big ski brands test and sell skis at such a large volume that it's often harder for a real lemon of a ski to make it to market (though in our experience, certainly still possible). But in general, the weird design decisions tend to get weeded out.
For smaller brands like Hinterland, there's arguably more risk of tailoring skis too specifically to things like the builder's home mountain and preferred ski style. So you can end up with really specific skis that just don't work for the majority of people.
Those kinds of skis are often more challenging to review and appeal to pretty small groups of people. But the Maul 121 has none of that baggage. It looks like a playful pow ski. It has a playful pow ski's rocker profile, and as I'm about to explain, it has a fairly typical mount point and flex pattern for this category. It's consistent with other, very good skis on the market, and that means a lot of people will get along with it. But I'm getting ahead of myself…
Flex Pattern
Here's how we'd characterize the flex pattern of the Maul 121:
Tips 6-6.5
Shovels: 7
In Front of Toe Piece: 9-9.5
Underfoot: 9
Behind Heel Piece: 8
Tails: 7
Do those numbers look familiar? If we took the average flex pattern of every playful pow ski we've ever reviewed, I bet we'd come up with similar numbers. There are no weird hinges in the Maul 121's flex pattern, either. It ramps up smoothly underfoot, but isn't so stiff in the tips and tails that it's hard to smear and press. Overall, this is a moderately strong flex pattern with softer tips and tails and a pretty symmetrical overall feel to it.
Mount Point
The Maul 121's top sheets are marked at -5 cm from true center, and that's primarily where I skied them. That's also right in line with this category of playful pow skis — closer to center than most directional skis, but not super close to dead-center.
Some playful pow skis include two lines, one around -5 to -7 cm like the Maul 121, and then a "Team" or "Freestyle" line closer to -2 cm from true center. I skied the Maul closer to center for a few days and didn't feel like it made a big difference. With the bindings closer to center, it's slightly more balanced, and maybe plows through chop with a touch more stability when mounted further back, but neither mount felt radically different. I ended up splitting the difference at -3.5 cm from true center during most of my time, because why not?
Weight
Sensing a pattern yet? At almost exactly 2100 g per ski for the 186 cm length, the Maul falls around the middle of the playful pow ski spectrum in terms of weight, with the Maul 121 being on the lighter side of average. Its weight is very similar to the 16/17 (pre-Weight-Watchers) Bent Chetler, and right in line with the K2 Reckoner 122, 19/20 Moment Wildcat, and 4FRNT Inthayne.
For reference, here are our measured weights for some notable skis. Keep in mind the length differences to try to keep things apples to apples.
1710 & 1744 Atomic Bent Chetler 120, 184 cm (18/19–20/21)
1808 & 1809 Line Pescado, 180 cm (16/17–20/21)
1873 & 1878 Line Vision 118, 183 cm (20/21)
1870 & 1895 Faction La Machine, 186 cm (20/21)
1895 & 1906 Folsom Trophy Carbon, 188 cm (18/19–20/21)
1897 & 1913 Majesty Vanguard, 188 cm (20/21)
1910 & 1941 Scott Scrapper 115, 189 cm (17/18–20/21)
2006 & 2063 Elan Ripstick 116, 193 cm (20/21)
2013 & 2099 Moment Wildcat, 184 cm (18/19–19/20)
2019 & 2051 K2 Mindbender 116C, 186 cm (19/20–20/21)
2024 & 2031 Line Outline, 186 cm (19/20–20/21)
2027 & 2052 K2 Reckoner 112, 184 cm (20/21)
2034 & 2052 Blizzard Rustler 11, 188 cm (17/18–20/21)
2043 & 2046 4FRNT Inthayne, 188 cm (18/19–20/21)
2062 & 2080 Whitedot Ragnarok ASYM, 190 cm (19/20–20/21)
2081 & 2115 Faction Candide 5.0, 183 cm (18/19–20/21)
2104 & 2108 Hinterland Maul 121, 186 cm (19/20–20/21)
2105 & 2185 Head Kore 117, 189 cm (19/20–20/21)
2125 & 2134 Kye Shapes Metamorph, 185 cm (19/20–20/21)
2136 & 2174 K2 Reckoner 122, 184 cm (20/21)
2149 & 2158 DPS Alchemist Lotus 124, 191 cm (17/18–20/21)
2173 & 2204 4FRNT Renegade, 191 cm (19/20–20/21)
2174 & 2187 Moment Wildcat, 190 cm (18/19–19/20)
2181 & 2190 Parlor McFellon Pro, 185 cm (19/20–20/21)
2212 & 2215 Armada ARV 116 JJ, 185 cm (17/18–20/21)
2222 & 2278 Prior CBC, 184 cm (17/18–20/21)
2237 & 2315 Salomon QST 118, 192 cm (19/20–20/21)
2240 & 2250 Volkl Revolt 121, 184 cm (19/20–20/21)
2250 & 2280 Movement Fly Two 115, 184 cm (19/20–20/21)
2259 & 2279 Black Crows Anima, 189.2 cm (20/21)
2280 & 2286 Icelantic Nomad 115, 191 cm (19/20–20/21)
2341 & 2357 Dynastar M-Free 118, 189 cm (18/19–20/21)
2343 & 2360 J Skis Friend, 189 cm (19/20–20/21)
2346 & 2351 Nordica Enforcer 115 Free, 191 cm (17/18–20/21)
2416 & 2468 Liberty Genome, 187 cm (17/18–20/21)
2438 & 2480 DPS Foundation Koala 119, 189 cm (19/20–20/21)
2438 & 2492 Rossignol BLACKOPS Gamer, 186 cm (16/17–20/21)
2561 & 2585 Kye Shapes Numinous, 189 cm (19/20–20/21)
2700 & 2703 Armada ARG II, 187 cm (19/20–20/21)
FULL REVIEW
Cy Whitling (6', 180 lbs / 183 cm, 81.6 kg): The Maul 121 showed up partway through a classic Teton Trickle. In fact, the UPS man dropped it on my porch on an 8" morning, which followed a succession of other 5-10" mornings. So I brought it in, did the measured specs, and mounted it up before I went to the hill.
Usually, I wouldn't take a brand-new review ski, especially one from a smaller brand like Hinterland, up to hill for the first time on a guaranteed pow day. I've had too many mediocre experiences with skis that were just too weird and not any fun.
But, as the stats above make clear, the Maul 121 checks all the on-paper boxes for fun, deep-day ski. So I rolled the dice, double-checked my DINs, and carried the Maul 121 to the bus stop. And I was not disappointed at all.
Powder
This is what the Maul 121 was made for, and where it shines brightest. This ski is a hoot when the snow is deep and soft. As someone who spends time on a lot of similar skis (i.e., twin tips with fairly forward mount points) I felt immediately at home on the Maul. It's maneuverable in tight trees, but when the terrain opens up, it planes easily and provides a very stable platform. I skied a pretty wide range of powder conditions on the Maul, from some of my deepest storm-skiing days of the year, to day-after-the-storm stash raids. And through it all, it excelled.
The Maul isn't quite as easy to ski slowly in tight terrain as a super-surfy ski like the K2 Catamaran or a really light one like the current Bent Chetler 120. The Maul 121 doesn't pivot quite as effortlessly. But it's still pretty dang easy to work your way through tight trees, popping every mini-pillow and making the most of every slash.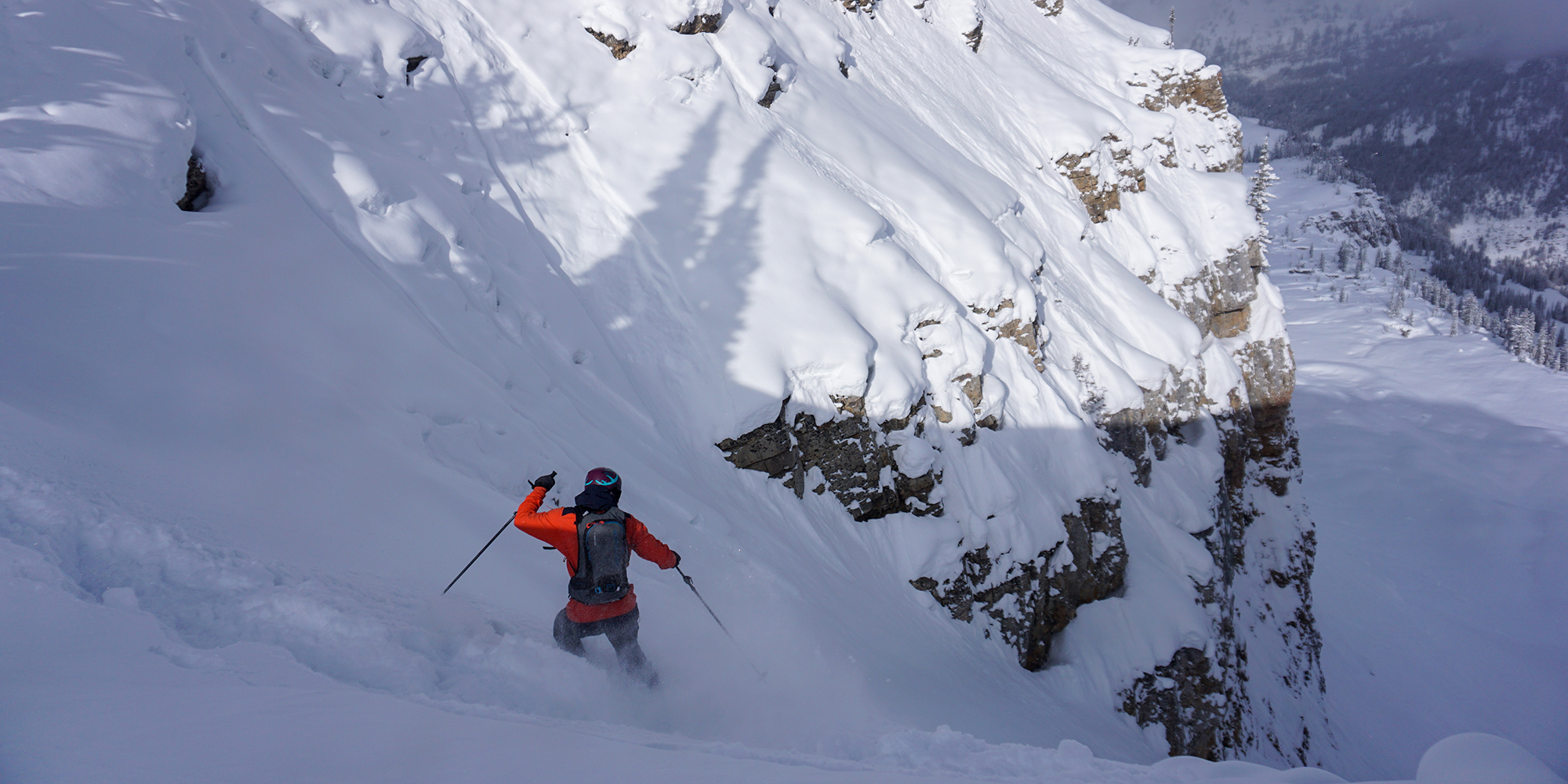 And when things open up and there's better visibility, the Maul 121 doesn't have quite the top-end stability of a ski like the Wildcat or Inthayne, but the Maul 121 is also pretty dang close on this front as well. If the snow is fresh, the Maul caters about as well to a wide range of terrain and skiing styles as any ski I've been on. It's not ideal for those who ski pow with a super aggressive, forward stance, but for someone like me who skis more centered when the snow is deep, it's been excellent.
Soft Chop
The Maul 121 is great for tracking out fresh snow, but what about the day after the storm? Well, here again, the Maul 121 is an absolute blast. For me, it strikes a really nice balance between being quick and maneuverable enough that I'm comfortable hunting for the last pow stashes in tight terrain, while also being damp and stable enough that it's hard for me to find its speed limit in soft, chopped-up snow. And it encourages a really playful skiing style.
I've found that really light skis like the Bent Chetler 120 force me to ski more playfully because they'd rather I jumped over inconsistent snow than try to plow through it. They're really easy to pop and spin, but they temper that with a desire for more consistent landings and slightly lower speeds. The Maul 121 is a nice alternative to that. It's not quite as easy to loft off the smallest bumps, but instead, it offers enough stability that you can stay composed at higher speeds, on more chewed-up inruns and landings. When I'm on the Bent Chetler 120, I feel like I ought to be listening to something in the vein of Calvin Harris — lots of energy, but not very substantial. Skiing the Maul 121 in soft chop, I just wanted to Rage (against gravity).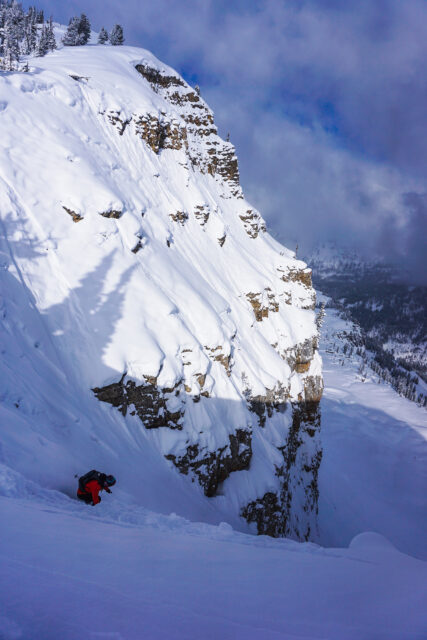 The whole time I was skiing the Maul 121 I felt like I was on the average / mix of the old (17/18) Bent Chetler and the new (18/19–20/21) Bent Chetler 120. The Maul 121 feels lighter and easier to throw around than the old version, but is similarly stable in chopped up snow. It's not quite as wafer-y as the new version, but it is easier to spin than the older, heavier version.
Firm Snow
The Maul was not made for firm snow. That said, it did just as well as any other ski in this class that I've been on. If you mess up and find yourself on a wind-scoured aspect, the Maul will get you back down just fine. The same goes for groomers and cat tracks. The Maul does just fine on firm snow, but that's not the point. It's very intuitive and predictable through the whole range of snow conditions I experienced, so while it's certainly the most fun in soft conditions, it's nice to know that it's not going to be scary if / when you encounter some firmer snow.
Price
Usually, we don't talk too much about ski price because it's often a pretty fluid thing. Deals and discounts abound in the ski industry, and MSRP often isn't the most accurate number in terms of what you actually pay. That said, it's worth addressing here because Hinterland doesn't make cheap skis. Right now, they're 3 weeks out on orders, and the Maul 121 retails at $1,199. That's significantly more than similar skis, which mostly retail in the $600-800 range. So, is the Maul 121 worth that price?
If all you care about is performance, probably not. Put the Maul 121 in a rack with four other playful pow skis currently on the market, all spray-painted black, and I could likely have a great day on any of them. That's not to say there aren't noticeable differences that could make one better for you than another, but there are a lot of good skis in this class, and many cost notably less than the Maul 121.
But talking about a ski purely in terms of performance can be a bit reductive to a point. Those other skis are more affordable because they are being made in bigger batches, for wider markets, more quickly. With Hinterland, you're buying a ski from a few passionate people running a small operation where they have an intimate knowledge of every ski that goes out the door. You're paying for that personal touch. And they still manage to be more affordable than skis from some bigger brands.
You're also paying for a beautiful ski. Marinna Elinsky's art never fails to impress, and Hinterland's wood-veneer top sheet complements it perfectly on the Maul 121. The digital top sheet mockup above definitely does not do it justice. I'm pretty used to strangers on the lift asking about skis I'm reviewing, but I've never gotten so many compliments as when I've been riding these. They're striking, and the construction is top-notch with no gaps or epoxy filling. This is an expensive ski that looks and feels like an expensive ski, in a good way. Whether or not it's worth it for you will just come to your own priorities.
Who's It For?
This one's easy. Do you get enough snow to justify a 121mm-underfoot ski? Do you like to jump off stuff and play around, as opposed to trying to set records for the least number of turns in a run? If that sounds like you, at all, the Maul 121 is a great option.
This ski hits all the marks for a versatile, playful pow ski. If you're worried about it being too center-mounted, I see no reason why you should worry about mounting this ski a couple centimeters back from recommended. It's not going to turn it into a directional charger, but the Maul 121 has a big sweet spot and can cater to a fairly forward stance. Do you instead like skiing switch and spinning a lot? Bump it a few cm forward of the recommended line. Either way, this ski is very easy to get along with.
And if you're looking for a 50/50 pow ski for the resort and backcountry, I wouldn't hesitate to put a Shift or CAST binding on these skis. The Maul 121 is a little heavier than some other alternatives, but for the kind of shorter, out-of-bounds laps that a lot of people take, with 1500-2000 or so feet of climbing, those extra grams won't hurt too much and you'll be rewarded with a really capable ski with a higher speed limit than other, lighter options.
Bottom Line
Reviewing skis from smaller boutique or custom brands can be a real crapshoot. Not everybody nails it on their first (or second or third) try. But with the Maul 121, Hinterland knocked it out of the park. This ski sets a consistent baseline for how an inbounds-oriented, very playful pow ski should look and perform. It's a whole bunch of fun in anything fresh and manages to be versatile without feeling mediocre in any category.