Ski: 2020-2021 K2 Reckoner 122, 184 cm
Test Location: Eleven Catskiing, Irwin, CO
Days Skied (so far): 1
Available Lengths: 177, 184, 190 cm
Blister's Measured Tip-to-Tail Length: 184.2 cm
Blister's Measured Weight per Ski: 2136 & 2174 grams
Stated Dimensions: 144-122-136 mm
Blister's Measured Dimensions: 143.9-121.6-135.3 mm
Stated Sidecut Radius (184 cm): 23.7 meters
Measured Tip & Tail Splay (ski decambered): 73 mm / 57 mm
Measured Traditional Camber Underfoot: 4-5 mm
Core: aspen/fir + carbon stringers & "Spectral Braid" + fiberglass laminate
Base: sintered
Factory Recommended Mount Point:
"Midsole": -4.6 cm from center; 87.5 cm from tail
"Team": -2.6 cm from center; 89.5 cm from tail

Intro
In what seems to be a theme for the 20/21 season, K2 has decided to discontinue some long-standing skis in their lineup and replace them with entirely new options.
For 20/21, K2 is ditching the 106mm-wide Marksman and 120mm-wide Catamaran and adding three skis in their place: the Reckoner 102, Reckoner 112, and Reckoner 122.
K2 has a long history of making playful freestyle-oriented skis, and the Reckoners have a lot to live up to, given that they follow not only the Marksman and Catamaran, but also the popular Shreditors, and before that, classic skis like the Kung Fujas.
I spent a day in some pretty amazing testing conditions on the new Reckoner 122 up at Eleven Catskiing in Irwin, Colorado, and Blister Members can check out our Flash Review for my initial impressions. Here, we'll cover the new Reckoner lineup and go over the design of the Reckoner 122.
2020-2021 K2 Reckoner Lineup
As we just noted, the Reckoner lineup will consist of the Reckoner 102, 112, and 122. All of these skis are pretty different than the Marksman and Catamaran they replace — the Reckoners do not have asymmetrical shapes, and they also use a very different construction. The Reckoner's use a construction that's very similar to the K2 Mindbender 116C, with a hybrid fir / aspen core, carbon stringers, a fiberglass laminate, and K2's "Spectral Braid," which is essentially a carbon-fiber braid that varies the orientation of the braid throughout the length of the ski.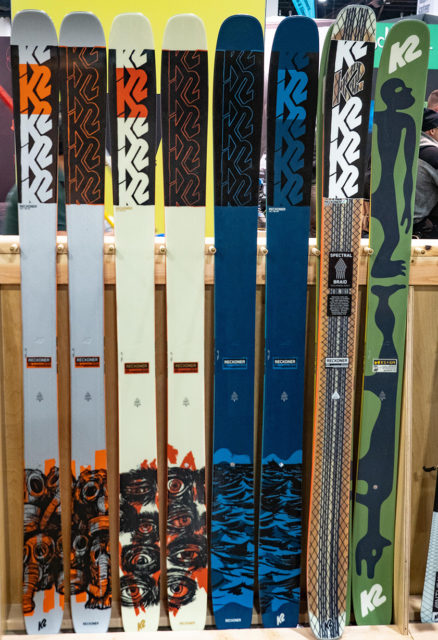 In the Reckoner skis, the braid starts with a fairly open, low-density weave at the tips, that weave gets tighter in the middle of the ski, and then again opens up as you move to the tail. In short, this is designed to give you more compliance and less torsional rigidity at the ends of the skis, but with more torsional rigidity and power underfoot. The Spectral Braid in the Reckoners is more symmetrical than that in the Mindbenders, which consisted of a tight weave at the tips and underfoot, and only opened up at the tail.
Now, let's dive into the Reckoner 122:
What K2 says about the Reckoner 122
"We needed a big-mountain slayer that can bounce switch and crush pillows. A ski that charges through pow but still can play. So we built the K2 Reckoner 122. With a directional twin shape reinforced by Spectral Braiding, this ski bucks all convention. Creatures in the deep are lurking out there; take the plunge."
I think the highlights here are that the Reckoner 122 is supposed to both charge and play. K2 doesn't seem like they're targeting the Reckoner 122 at either end of that spectrum, but rather somewhere in the middle. And this ski is 122 mm wide, after all, so it's no surprise that K2 is emphasizing deep-snow performance in their description.
Shape / Rocker Profile
As I just mentioned, the Reckoner 122 is not an asymmetrical ski like the Catamaran, and the Reckoner 122 also has a less tapered shape compared to the Catamaran. The Cat was a very tapered ski, which was probably why it was so surfy, but the Reckoner 122's shape is a bit more traditional. It's still more tapered than most of the directional skis in this category, but its shape doesn't look nearly as radical as the Catamaran.
In terms of shape and taper, the Reckoner 122 looks fairly similar to the Atomic Bent Chetler 120, ON3P Jeffrey 116, and J Skis Friend.
The Reckoner 122's rocker profile looks pretty similar vs. the Catamaran's, but the Reckoner 122 has slightly shallower rocker lines and a much lower tail (57 mm of tail splay on the Reckoner 122 vs. 84 mm of tail splay on the Catamaran).
The Reckoner 122's rocker profile looks very similar to the Volkl Revolt 121's, though the Revolt 121 has a slightly deeper tip rocker line with more tip splay. Like the Catamaran, the Reckoner 122 still has a notable amount of camber underfoot (around 4-5 mm).
All in all, the Reckoner 122's rocker profile looks pretty normal for a playful, 122mm-wide ski, though its tail is a bit lower than some other options in this class. Talking to K2 ski designer, Jed Yeiser, at Outdoor Retailer, he mentioned that the decision behind this mostly came down to athlete feedback, with most of their athletes finding that they needed to put a lot of their weight on the shovels of their skis anyway when skiing switch in pow (even skis with true twinned tails), so they went with a slightly lower tail for improved stability and power.
Flex Pattern
Here's how we'd characterize the flex pattern of the Reckoner 122:
Tips: 6
Shovels: 6.5-7
In Front of Toe Piece: 8-10
Underfoot: 10
Behind the Heel Piece: 10-8.5
Tails: 7.5-6
The Reckoner 122's flex pattern seems very sensible for a ski in this category. It's fairly soft at the tips and tails, and then there's a fairly slow and very smooth ramp up as you move to the middle. The area around the bindings is pretty solid, and the flex pattern is nearly symmetrical overall, with the ski staying slightly stiffer behind the bindings vs. in front of the bindings. This is definitely not a super burly ski, but its flex pattern isn't far off from the Catamaran, Revolt 121, Friend, or Bent Chetler 120.
Mount Point
Our pair of the Reckoner 122 came with two mount points: the "midsole" line that's -4.6 cm from true center, and the "team" line that's -2.6 cm from true center. Both of those mount points are pretty close to center, and are a bit farther forward than the Catamaran's -6 cm mount point. Both mount points definitely seem oriented toward centered, freestyle-oriented skiing, and we're curious to see how the Reckoner 122 responds to different skiing stances.
Weight
This is another big change vs. the old K2 freestyle skis. The Catamaran and Marksman were very heavy for their respective sizes (as were the old Shreditors), while the new Reckoners are pretty light.
At an average weight of 2155 grams per ski, the Reckoner 122 isn't as light as some touring-oriented skis, but it's pretty light compared to skis like the Liberty Origin Pro, Volkl Revolt 121, J Skis Friend, ON3P Jeffrey 116, Kye Shapes Numinous, and Rossignol Black Ops 118 / BLACKOPS Gamer.
For reference, here are a number of our measured weights (per ski in grams) for some notable skis. Keep in mind the length differences to try to keep things apples-to-apples.
1654 & 1682 Black Diamond Helio 116, 186 cm (17/18–19/20)
1710 & 1744 Atomic Bent Chetler 120, 184 cm (18/19–20/21)
1808 & 1809 Line Pescado, 180 cm (17/18–20/21)
1854 & 1903 Whitedot Ragnarok Carbonlite, 190 cm (17/18–19/20)
1896 & 1942 K2 Reckoner 102, 184 cm (20/21)
1910 & 1941 Scott Scrapper 115, 189 cm (17/18–18/19)
1931 & 1959 Volkl BMT 122, 186 cm (17/18–18/19)
2013 & 2099 Moment Wildcat / Blister Pro, 184 cm (18/19–19/20)
2019 & 2051 K2 Mindbender 116C, 186 cm (19/20–20/21)
2024 & 2031 Line Outline, 186 cm (19/20–20/21)
2027 & 2052 K2 Reckoner 112, 184 cm (20/21)
2034 & 2052 Blizzard Rustler 11, 188 cm (17/18–20/21)
2043 & 2046 4FRNT Inthayne, 188 cm (18/19–20/21)
2062 & 2080 Whitedot Ragnarok ASYM, 190 cm (18/19–19/20)
2081 & 2115 Faction Candide 5.0, 183 cm (19/20–20/21)
2102 & 2137 Line Sick Day 114, 190 cm (17/18–19/20)
2105 & 2185 Head Kore 117 (19/20–20/21)
2126 & 2173 Rossignol Super 7 RD, 190 cm (17/18–19/20)
2136 & 2174 K2 Reckoner 122, 184 cm (20/21)
2173 & 2204 4FRNT Renegade, 191 cm (19/20)
2174 & 2187 Moment Wildcat / Blister Pro, 190 cm (18/19–19/20)
2130 & 2213 Faction Candide 4.0, 188 cm (19/20)
2183 & 2190 Black Crows Anima, 188.4 cm (17/18–19/20)
2196 & 2199 Icelantic Nomad 115, 191 cm (17/18–18/19)
2220 & 2252 Faction Prodigy 4.0, 186 cm (17/18–19/20)
2212 & 2215 Armada ARV 116 JJ, 185 cm (17/18–20/21)
2222 & 2278 Prior CBC, 184 cm (17/18–20/21)
2228 & 2231 Blizzard Spur, 192 cm (17/18–19/20)
2237 & 2315 Salomon QST 118, 192 cm (19/20–20/21)
2240 & 2250 Volkl Revolt 121, 184 cm (19/20–20/21)
2290 & 2293 Moment Commander 118, 188 cm (19/20)
2296 & 2309 Liberty Origin Pro, 192 cm (17/18–19/20)
2297 & 2317 K2 Catamaran, 184 cm (17/18–19/20)
2341 & 2357 Dynastar M-Free 118, 189 cm (18/19–20/21)
2343 & 2360 J Skis Friend, 189 cm (18/19–19/20)
2346 & 2351 Nordica Enforcer 115 Free, 191 cm (17/18–20/21)
2370 & 2382 Volkl Confession, 193 cm (17/18–19/20)
2382 & 2395 ON3P Billy Goat, 184 cm (17/18–19/20)
2408 & 2421 ON3P Jeffrey 116, 186 cm (17/18–19/20)
2438 & 2480 DPS Foundation Koala 119, 189 cm (19/20–20/21)
2438 & 2492 Rossignol BLACKOPS Gamer, 186 cm (16/17–20/21)
2490 & 2529 K2 Catamaran, 191 cm (17/18–19/20)
2561 & 2585 Kye Shapes Numinous, 189 cm (19/20)
2700 & 2703 Armada ARG II, 187 cm (19/20–20/21)
Some Questions / Things We're Curious About
(1) The Reckoner 122 looks pretty different on paper compared to the Catamaran it replaces, but how different or similar will they feel on snow?
(2) K2 says the Reckoner 122 can "charge through pow" but what about more variable conditions? How will this ski feel when blasting through chop and crud?
(3) The Reckoner 122 has a pretty forward mount point but K2 calls it a "directional twin," so what sort of skiing stance (centered vs. forward) will this ski prefer?
Bottom Line (For Now)
With the new Reckoner 122, K2 seems to be looking to their past freestyle pow skis in terms of shape, but then they've added a new, lightweight construction. Blister Members can check out our initial on-snow impressions in our Flash Review, then stay tuned for the full review.
Flash Review
Blister Members can now check out our Flash Review of the Reckoner 122 for our initial impressions. Become a Blister member now to check out this and all of our Flash Reviews, plus get exclusive deals and discounts on skis, and personalized gear recommendations from us.