Ski: 2021-2022 K2 Reckoner 122, 184 cm
Test Location: Eleven Catskiing & Crested Butte, Colorado
Days Skied (so far): 5
Available Lengths: 177, 184, 191 cm
Blister's Measured Tip-to-Tail Length: 184.2 cm
Blister's Measured Weight per Ski: 2136 & 2174 grams
Stated Dimensions: 144-122-136 mm
Blister's Measured Dimensions: 143.9-121.6-135.3 mm
Stated Sidecut Radius (184 cm): 23.7 meters
Measured Tip & Tail Splay (ski decambered): 73 mm / 57 mm
Measured Traditional Camber Underfoot: 4-5 mm
Core: aspen/fir + carbon stringers & "Spectral Braid" + fiberglass laminate
Base: sintered
Factory Recommended Mount Point:
"Midsole": -4.6 cm from center; 87.5 cm from tail
"Team": -2.6 cm from center; 89.5 cm from tail
Boots / Bindings: Nordica Strider 120 / Tyrolia AAAttack2 13 AT
[Note: our review was conducted on the 20/21 Reckoner 122, which was not changed for 21/22, apart from graphics.]

Intro
In what seems to be a theme for the 20/21 season, K2 decided to discontinue some long-standing skis in their lineup and replace them with entirely new options.
For 20/21, K2 ditched the 106mm-wide Marksman and 120mm-wide Catamaran and added three skis in their place: the Reckoner 102, Reckoner 112, and Reckoner 122.
K2 has a long history of making playful freestyle-oriented skis, and the Reckoners have a lot to live up to, given that they follow not only the Marksman and Catamaran, but also the popular Shreditors, and before that, classic skis like the Kung Fujas.
I spent a pretty stellar day up at Eleven Catskiing in Irwin, Colorado on the Reckoner 122 and then spent a few days skiing it in the resort at Crested Butte. You can read my full review below, but first, we'll go into the new Reckoner lineup and the design of the 122.
2020-2021 K2 Reckoner Lineup
As we just noted, the Reckoner lineup will consist of the Reckoner 102, 112, and 122. All of these skis are pretty different than the Marksman and Catamaran they replace — the Reckoners do not have asymmetrical shapes, and they also use a very different construction. The Reckoner's use a construction that's very similar to the K2 Mindbender 116C, with a hybrid fir / aspen core, carbon stringers, a fiberglass laminate, and K2's "Spectral Braid," which is essentially a carbon-fiber braid that varies the orientation of the braid throughout the length of the ski.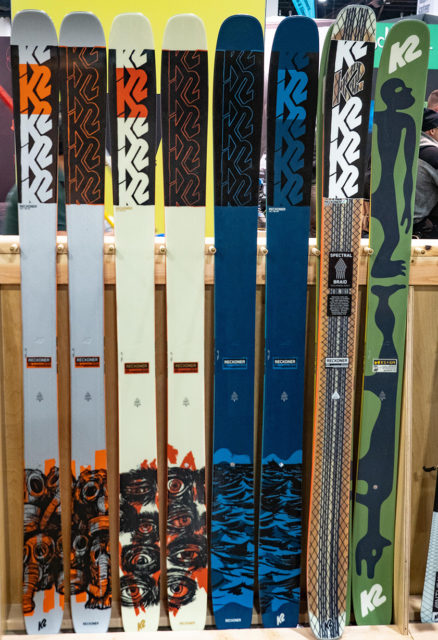 In the Reckoner skis, the braid starts with a fairly open, low-density weave at the tips, that weave gets tighter in the middle of the ski, and then again opens up as you move to the tail. In short, this is designed to give you more compliance and less torsional rigidity at the ends of the skis, but with more torsional rigidity and power underfoot. The Spectral Braid in the Reckoners is more symmetrical than that in the Mindbenders, which consisted of a tight weave at the tips and underfoot, and only opened up at the tail.
Now, let's dive into the Reckoner 122:
What K2 says about the Reckoner 122
"We needed a big-mountain slayer that can bounce switch and crush pillows. A ski that charges through pow but still can play. So we built the K2 Reckoner 122. With a directional twin shape reinforced by Spectral Braiding, this ski bucks all convention. Creatures in the deep are lurking out there; take the plunge."
I think the highlights here are that the Reckoner 122 is supposed to both charge and play. K2 doesn't seem like they're targeting the Reckoner 122 at either end of that spectrum, but rather somewhere in the middle. And this ski is 122 mm wide, after all, so it's no surprise that K2 is emphasizing deep-snow performance in their description.
Shape / Rocker Profile
As I just mentioned, the Reckoner 122 is not an asymmetrical ski like the Catamaran, and the Reckoner 122 also has a less tapered shape compared to the Catamaran. The Cat was a very tapered ski, which was probably why it was so surfy, but the Reckoner 122's shape is a bit more traditional. It's still more tapered than most of the directional skis in this category, but its shape doesn't look nearly as radical as the Catamaran.
In terms of shape and taper, the Reckoner 122 looks fairly similar to the Atomic Bent Chetler 120, ON3P Jeffrey 116, and J Skis Friend.
The Reckoner 122's rocker profile looks pretty similar vs. the Catamaran's, but the Reckoner 122 has slightly shallower rocker lines and a much lower tail (57 mm of tail splay on the Reckoner 122 vs. 84 mm of tail splay on the Catamaran).
The Reckoner 122's rocker profile looks very similar to the Volkl Revolt 121's, though the Revolt 121 has a slightly deeper tip rocker line with more tip splay. Like the Catamaran, the Reckoner 122 still has a notable amount of camber underfoot (around 4-5 mm).
All in all, the Reckoner 122's rocker profile looks pretty normal for a playful, 122mm-wide ski, though its tail is a bit lower than some other options in this class. Talking to K2 ski designer, Jed Yeiser, at Outdoor Retailer, he mentioned that the decision behind this mostly came down to athlete feedback, with most of their athletes finding that they needed to put a lot of their weight on the shovels of their skis anyway when skiing switch in pow (even skis with true twinned tails), so they went with a slightly lower tail for improved stability and power.
Flex Pattern
Here's how we'd characterize the flex pattern of the Reckoner 122:
Tips: 6
Shovels: 6.5-7
In Front of Toe Piece: 8-10
Underfoot: 10
Behind the Heel Piece: 10-8.5
Tails: 7.5-6
The Reckoner 122's flex pattern seems very sensible for a ski in this category. It's fairly soft at the tips and tails, and then there's a fairly slow and very smooth ramp up as you move to the middle. The area around the bindings is pretty solid, and the flex pattern is nearly symmetrical overall, with the ski staying slightly stiffer behind the bindings vs. in front of the bindings. This is definitely not a super burly ski, but its flex pattern isn't far off from the Catamaran, Revolt 121, Friend, or Bent Chetler 120.
Mount Point
Our pair of the Reckoner 122 came with two mount points: the "midsole" line that's -4.6 cm from true center, and the "team" line that's -2.6 cm from true center. Both of those mount points are pretty close to center, and are a bit farther forward than the Catamaran's -6 cm mount point. Both mount points definitely seem oriented toward centered, freestyle-oriented skiing, and we're curious to see how the Reckoner 122 responds to different skiing stances.
Weight
This is another big change vs. the old K2 freestyle skis. The Catamaran and Marksman were very heavy for their respective sizes (as were the old Shreditors), while the new Reckoners are pretty light.
At an average weight of 2155 grams per ski, the Reckoner 122 isn't as light as some touring-oriented skis, but it's pretty light compared to skis like the Liberty Origin Pro, Volkl Revolt 121, J Skis Friend, ON3P Jeffrey 116, Kye Shapes Numinous, and Rossignol Black Ops 118 / BLACKOPS Gamer.
For reference, here are a number of our measured weights (per ski in grams) for some notable skis. Keep in mind the length differences to try to keep things apples-to-apples.
1654 & 1682 Black Diamond Helio 116, 186 cm (17/18–19/20)
1710 & 1744 Atomic Bent Chetler 120, 184 cm (18/19–20/21)
1808 & 1809 Line Pescado, 180 cm (17/18–20/21)
1854 & 1903 Whitedot Ragnarok Carbonlite, 190 cm (17/18–19/20)
1896 & 1942 K2 Reckoner 102, 184 cm (20/21)
1910 & 1941 Scott Scrapper 115, 189 cm (17/18–18/19)
1931 & 1959 Volkl BMT 122, 186 cm (17/18–18/19)
2013 & 2099 Moment Wildcat / Blister Pro, 184 cm (18/19–19/20)
2019 & 2051 K2 Mindbender 116C, 186 cm (19/20–20/21)
2024 & 2031 Line Outline, 186 cm (19/20–20/21)
2027 & 2052 K2 Reckoner 112, 184 cm (20/21)
2034 & 2052 Blizzard Rustler 11, 188 cm (17/18–20/21)
2043 & 2046 4FRNT Inthayne, 188 cm (18/19–20/21)
2062 & 2080 Whitedot Ragnarok ASYM, 190 cm (18/19–19/20)
2081 & 2115 Faction Candide 5.0, 183 cm (19/20–20/21)
2102 & 2137 Line Sick Day 114, 190 cm (17/18–19/20)
2105 & 2185 Head Kore 117 (19/20–20/21)
2126 & 2173 Rossignol Super 7 RD, 190 cm (17/18–19/20)
2136 & 2174 K2 Reckoner 122, 184 cm (20/21)
2173 & 2204 4FRNT Renegade, 191 cm (19/20)
2174 & 2187 Moment Wildcat / Blister Pro, 190 cm (18/19–19/20)
2130 & 2213 Faction Candide 4.0, 188 cm (19/20)
2183 & 2190 Black Crows Anima, 188.4 cm (17/18–19/20)
2196 & 2199 Icelantic Nomad 115, 191 cm (17/18–18/19)
2220 & 2252 Faction Prodigy 4.0, 186 cm (17/18–19/20)
2212 & 2215 Armada ARV 116 JJ, 185 cm (17/18–20/21)
2222 & 2278 Prior CBC, 184 cm (17/18–20/21)
2228 & 2231 Blizzard Spur, 192 cm (17/18–19/20)
2237 & 2315 Salomon QST 118, 192 cm (19/20–20/21)
2240 & 2250 Volkl Revolt 121, 184 cm (19/20–20/21)
2290 & 2293 Moment Commander 118, 188 cm (19/20)
2296 & 2309 Liberty Origin Pro, 192 cm (17/18–19/20)
2297 & 2317 K2 Catamaran, 184 cm (17/18–19/20)
2341 & 2357 Dynastar M-Free 118, 189 cm (18/19–20/21)
2343 & 2360 J Skis Friend, 189 cm (18/19–19/20)
2346 & 2351 Nordica Enforcer 115 Free, 191 cm (17/18–20/21)
2370 & 2382 Volkl Confession, 193 cm (17/18–19/20)
2382 & 2395 ON3P Billy Goat, 184 cm (17/18–19/20)
2408 & 2421 ON3P Jeffrey 116, 186 cm (17/18–19/20)
2438 & 2480 DPS Foundation Koala 119, 189 cm (19/20–20/21)
2438 & 2492 Rossignol BLACKOPS Gamer, 186 cm (16/17–20/21)
2490 & 2529 K2 Catamaran, 191 cm (17/18–19/20)
2561 & 2585 Kye Shapes Numinous, 189 cm (19/20)
2700 & 2703 Armada ARG II, 187 cm (19/20–20/21)
Some Questions / Things We're Curious About
(1) The Reckoner 122 looks pretty different on paper compared to the Catamaran it replaces, but how different or similar will they feel on snow?
(2) K2 says the Reckoner 122 can "charge through pow" but what about more variable conditions? How will this ski feel when blasting through chop and crud?
(3) The Reckoner 122 has a pretty forward mount point but K2 calls it a "directional twin," so what sort of skiing stance (centered vs. forward) will this ski prefer?
Bottom Line (For Now)
With the new Reckoner 122, K2 seems to be looking to their past freestyle pow skis in terms of shape, but then they've added a new, lightweight construction. Blister Members can check out our initial on-snow impressions in our Flash Review, then stay tuned for the full review.
Flash Review
Blister Members can now check out our Flash Review of the Reckoner 122 for our initial impressions. Become a Blister member now to check out this and all of our Flash Reviews, plus get exclusive deals and discounts on skis, and personalized gear recommendations from us.
FULL REVIEW
Way back when the lifts were spinning, the pow was deep, and none of us had heard of COVID-19, I was spending time on the widest ski in K2's brand-new Reckoner series, the Reckoner 122.
We've already posted our reviews of the Reckoner 102 and Reckoner 112, but skiing a sliver of dirty snow last week got me dreaming of skiing deep pow, so I figured now is as good a time as any to chime in on the biggest, most powder-oriented ski of the group.
Powder
Jonathan and I were fortunate enough to be able to spend a day skiing with Eleven Cat Skiing up in Irwin, which is just a few miles up from Crested Butte. You can read more about our trip in our writeup, but the short story is that the folks at Eleven and Irwin Guides are fantastic, and their catskiing made for an excellent opportunity to test the deep-powder performance of the Reckoner 122.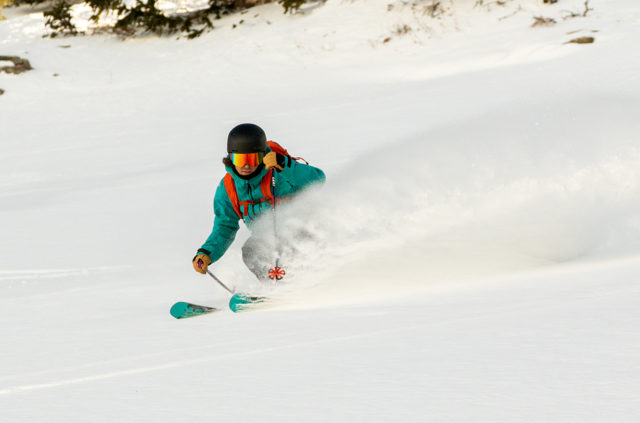 This also happened to be my very first day on the big Reckoner, so I was a bit worried that I'd chosen the wrong ski — no one wants to waste a day of catskiing on a pair of planks that they don't get along with.
The good news is that the Reckoner 122 and I got along just fine from the very first turns. I spend about half of my time on more freestyle-oriented skis with fairly centered mount points, so the Reckoner 122 was very intuitive. And in all conditions, it feels very similar to the two narrower Reckoners in terms of stance and how I generally find myself skiing them.
In deep powder, the Reckoner 122 encourages a fairly neutral, centered stance, particularly on lower-angle slopes. At 5'8", 155 lbs, I found that I could put a notable amount of pressure on the 184 cm Reckoner 122's shovels when needed, particularly when the terrain got steep, but this feels like a ski designed for those who want to be able to use their pow skis similarly to how they use their narrower park and all-mountain-freestyle skis.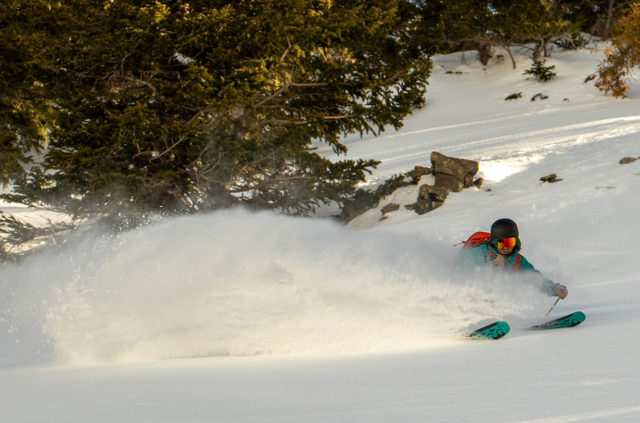 With that in mind, I found the Reckoner 122 to be extremely easy to roll over into an extended drift / slarve. Of the wide skis I've been on, the Reckoner 122 definitely sits on the surfier / more maneuverable end of the spectrum. I'm not sure it completely matches the ultra-surfy feel of the Catamaran it effectively replaces (reviewer Cy Whitling will be able to confirm / deny that next season), but I foresee very few people complaining about the Reckoner 122 not being loose enough in pow.
At the same time, and unlike some ultra-surfy skis, the Reckoner 122 also felt totally comfortable when just arcing very long carves through deep snow. It never forced me into one particular type of turn / style in powder, which is always nice.
I didn't have any issues with the Reckoner 122's tips diving on me, even in close to two feet of fresh snow. I wouldn't be surprised if someone much heavier than me and who skis with a very forward, aggressive stance was left wishing for more tip support, but I highly doubt skiers accustomed to more center-mounted, playful skis will have those issues.
Alternating between skiing forward and switch on the Reckoner 122 was very easy in deep snow, with very minimal "catching" during the transition. The Reckoner 122 doesn't have a super high, splayed out tail, but I didn't have any issues with it submerging while skiing switch in deep snow. Similar to the Volkl Revolt 121 (which also has a somewhat lower tail), I think I'd want to put just a bit more pressure on the shovels for bigger switch landings when it's deep, but the Reckoner 122's tail has been just fine for all of my deep-snow switch skiing.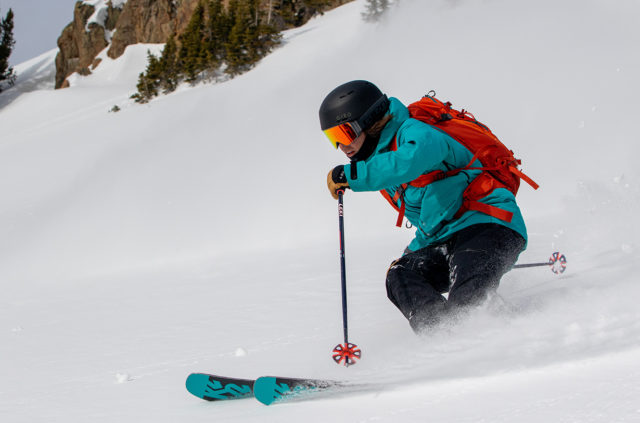 The one other interesting thing I noticed was that the Reckoner 122 seemed "fast" in deep snow. This was mostly when making our way back to the cat, where I found myself maintaining more speed on the Reckoner 122 than the others in our group (including Jonathan, who was on the 122mm-wide 4FRNT Renegade). This is more of an interesting observation, rather than an important performance characteristic, but the Reckoner 122 seemed to very quickly plane up and coast along the top of the snow without having one part of the ski sinking more into the snow, consequently allowing it to maintain speed. While some skis (mostly directional ones) tend to ride nose-high / tail-low, the Reckoner 122 required little speed for it to flatten out. To use a bad boat analogy, skiing pow on the Reckoner 122 was like driving a bass boat at full speed, whereas some skis can feel like driving a big yacht where the skis / boat never fully plane up and level out.
Soft Chop
After that excellent day with Eleven Cat Skiing, I also skied the Reckoner 122 for a few days at the resort in Crested Butte. One was a ~12" pow day, while the others were the days after similar storms.
My main takeaway was that, while the Reckoner 122 is excellent in untouched pow, I think most people will be better off on the Reckoner 112 for more typical resort "pow days," which usually turn into "chop days" within the first couple of hours.
The reason for this is that the Reckoner 122's very loose, surfy feel in deep snow also translates to rougher chop. When trying to ski fast and make big turns through chop on the Reckoner 122, it felt much more inclined to go sideways, rather than cut straight through the patches of higher-density snow. This didn't come out of nowhere, but rather, as I picked up speed in choppy snow on the Reckoner 122, it just felt like it was nudging me to throw it sideways and shed some speed.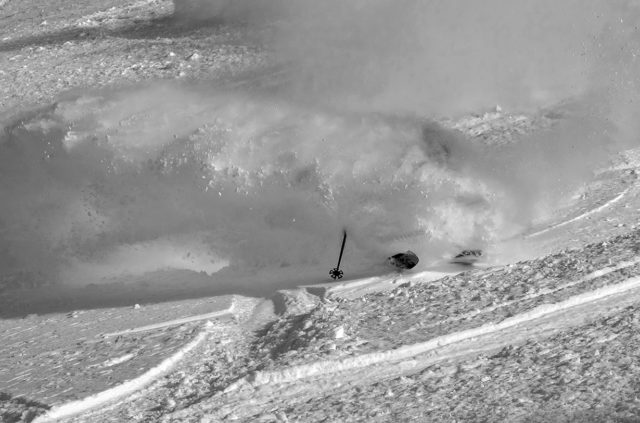 This style of skiing — lots of slashes and airs, but at consistently lower speeds — can be lots of fun and it may make the Reckoner 122 more appealing for certain people. It's very easy to ski the Reckoner 122 at a more leisurely pace in chop, and it also makes it great for picking your way through tight spots.
But for those like me who view chop as an opportunity to ski really fast and take chances, with less of a risk of firm, punishing landings, you have several better options in this class that will stay more composed at high speeds.
While the Reckoner 112 is far from some super stable chop-charger, I found that it got knocked around a bit less and was just generally easier to control vs. the Reckoner 122, given the 112's narrower width and slightly less tapered shape.
So, long story short, the Reckoner 122 will best suit those who ski soft chop at slower speeds, looking for pockets to slash and small clumps to jump off, but not those who like to make big, fast turns through it.
Firm Chop / Crud
The Reckoner 122's preferences for slower speeds and lots of slashes in soft chop are more exaggerated in firmer, denser, rougher chop and crud.
Unlike some of the very heavy, minimally tapered skis in this class like the Rossignol BLACKOPS Gamer, the Reckoner 122 feels very powder-oriented. For its fairly low weight, I'd say the Reckoner 122's suspension is good; it never felt particularly "harsh" to me. But its shape and rocker profile seem to be the bigger factor here, encouraging a much more conservative, precise approach to skiing rough conditions, rather than a "blow up everything in your path" approach. Look for a smooth line, find places to shed speed, and work your way toward the more forgiving snow — that was my preferred way of skiing the Reckoner 122 in nasty conditions.
If you live in a place where the conditions on a pow day will vary from deep, untouched snow to full-on crud on other aspects / elevations, I'd look to a ski that's heavier and more stable, like the Volkl Revolt 121. If crud and truly awful conditions are not things you typically ski on your 122mm-wide skis, I wouldn't worry too much about it — particularly if you're ok with skiing them pretty slowly on the Reckoner 122.
Trees, Moguls, & Tight Terrain
I love the Reckoner 122 in tight spots, even though it's perfectly capable of arcing big turns in wide-open pow fields.
All my talk of the Reckoner 122's surfy feel is a huge plus in trees, slush-bumps, and other terrain that requires quick changes of direction. In soft or firm snow, the Reckoner 122 is extremely easy to pivot.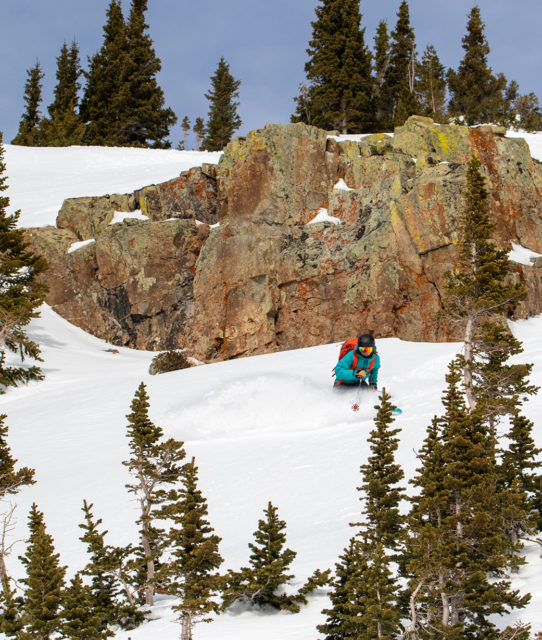 This very wide ski obviously isn't ideal for super firm bumps and trees (it mostly just feels cumbersome there, due to the width), but on anything soft and fairly consistent, it's really fun to slip and slide my way through tight chokes, narrow chutes, and the like on the Reckoner 122.
Provided you don't need a pow ski that you can drive super hard through the shovels, the Reckoner 122 is a great option for skiing deep snow in tight spaces. For what it's worth, it'd be one of my top picks for bringing to the pow-filled forests of Japan.
Groomers & Firm, Smooth Snow
I don't care very much about how a 122mm-wide ski rips up corduroy, but it's worth noting that the Reckoner 122 is very predictable on firm, smooth snow. It holds an edge well for its width, and while it certainly doesn't initiate turns with the precision and eagerness of a much less tapered ski, it'll carve clean GS and Super G turns once you get some speed going. So, if your pow days involve some groomer time to get back to the deep snow, you don't need to worry about the Reckoner 122 spontaneously combusting as soon as it touches firm snow.
Playfulness & Mount Point
The Reckoner 122 is a very playful ski overall, and really stands out for that reason in particular.
As I've mentioned, the Reckoner 122 is extremely easy to throw sideways and creates very little resistance when slarving. No, it's not the same as skiing a full reverse-sidecut ski like the Armada ARG II and it won't hold an extended power-slide for as long. But of the skis we've used in this class, the Reckoner 122 is definitely on the looser / surfier end.
The Reckoner 122 is also very balanced in the air and generally feels like a ski designed to be skied with a very playful style. Whether mounted on the "Team" line (-2.6 cm) or "Midsole" line (-4.6 cm), I never felt like the Reckoner 122 was throwing me off in the air.
When it came time to come back down to earth, the Reckoner 122 provided a huge landing platform that felt awesome in deep snow. It is a fairly soft ski, so I could see larger skiers wanting more support on big landings than the 184 cm version provides, but this was never an issue for me.
The Reckoner 122 also produces a nice amount of rebound when flexed, which was nice on packed-down takeoffs where I misjudged my speed and needed to get a bit more pop to clear a gap.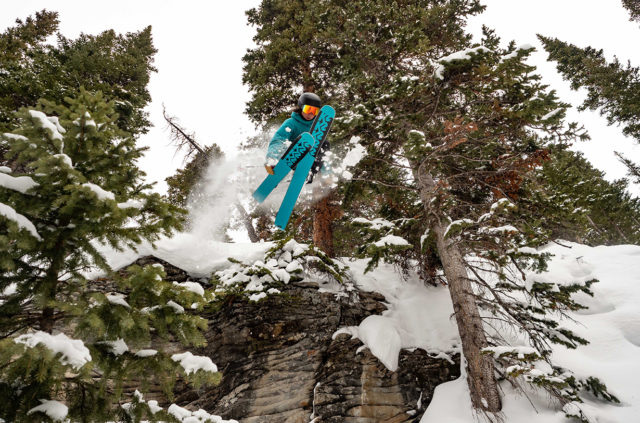 For the butter aficionados out there, well, I'm not one of you, but the Reckoner 122's non-catchy and fairly soft tips and tails do seem like they'd be conducive to dragging and bending them through the snow. There's nothing about the Reckoner 122 that makes me think it'd be worse than average for butters. If anything, I'd guess it's better than average.
So, all in all, the Reckoner 122 is a very playful ski. And for some people, I think that's what's going to make up for its lack of high-speed stability in rougher snow.
As for mount point, I tried this ski on both lines (-2.6 and -4.6 cm from true center). The results were what I expected and nothing out of the ordinary — I could drive its shovels a little bit more with the bindings on the more rearward "Midsole" line, while the ski felt a bit more balanced in the air and more supportive on backseat landings with the bindings on the more forward "Team" line. I don't suspect that moving the bindings a cm or two behind the -4.6 Midsole line is going to let you drive the Reckoner 122 super hard like you would a directional ski, but I also don't think it'd ruin the ski since its sweet spot feels really big.
Who's It For?
Playful skiers who want a very playful powder ski.
Those who like to break out their wide skis on a nearly daily basis, for everything from deep snow to firm crud, should probably look to some of the heavier, more stable options in this class. And if you're a directional skier who skis with a forward stance and who doesn't care much about things like easy slarving and skiing switch, you've got many better options.
But for those who see a pow day as an opportunity to throw their skis sideways as much as possible, spin off that cliff they're too scared to hit in shallow snow, or practice their switch pow turns, the Reckoner 122 warrants consideration.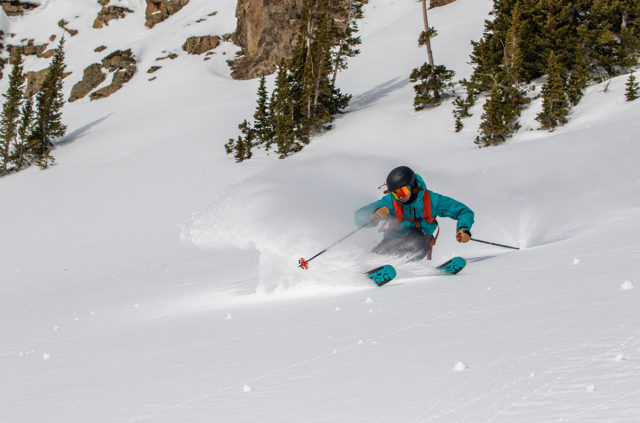 In particular, I think the Reckoner 122 could make for a fun 50/50 or touring ski for those people. There are definitely lighter options if you'll always be hauling this ski uphill under your own power, but the Reckoner 122 isn't extremely heavy and it definitely excels in the deep, untouched powder you often find outside the ski resort. For that same reason, I think it'd make a great catskiing / heli-skiing option.
Finally, even if you don't spend your time spinning and skiing switch, the Reckoner 122 could be a good pow ski for those who are learning how to ski deeper snow and who therefore just want something that's easy to maneuver and that won't punish backseat skiing.
Bottom Line
Now having spent time on all three skis, the new K2 Reckoner lineup seems very sensible. The Reckoner 102 is an ultra-playful option that's equally suited to park laps as it is throwing tricks and carving turns around the rest of the mountain. The Reckoner 112 is a versatile ski that can handle very deep snow, but also the choppy conditions that follow. And then the widest of the bunch, the Reckoner 122, is a very surfy, maneuverable ski that is an absolute blast in deep, clean powder.
The Reckoner 122 is definitely not the most stable or versatile ski once the pow is cut up and gone, but it still warrants consideration from those who are looking for a pow ski and who prioritize playfulness and maneuverability over chop-destruction capabilities.
Deep Dive Comparisons
Become a Blister Member or Deep Dive subscriber to check out our Deep Dive comparisons of the Reckoner 122 to see how it compares to the Reckoner 112, Volkl Revolt 121, K2 Catamaran, Salomon QST 118, Moment Wildcat, Dynastar M-Free 118, Faction Candide 5.0, 4FRNT Inthayne, J Skis Friend, Line Outline, Atomic Bent Chetler 120, Icelantic Nomad 115, Parlor McFellon Pro, Rossignol BLACKOPS Gamer, Blizzard Rustler 11, K2 Mindbender 116C, ON3P Jeffrey 116, Prior CBC, & Kye Shapes Metamorph.