Ski: 2021-2022 Folsom Rapture (custom), 192 cm
Test Locations: Chugach Mountains & Alyeska, Alaska
Days Skied: ~25
Available Lengths: 176, 178, 180, 182, 186, 192, 196 cm
Blister's Measured Tip-to-Tail Length: 190.5 cm
Blister's Measured Weight per Ski: 2288 & 2301 grams
Stated Dimensions: 148-122-138 mm
Blister's Measured Dimensions: 149.4-120.9-138.4 mm
Stated Sidecut Radius (192 cm): 28 meters
Measured Tip & Tail Splay: 74 mm / 34.5 mm
Measured Traditional Camber Underfoot: none
Core: poplar/bamboo + 70% fiberglass / 30% carbon laminate (custom options available)
Base: Sintered 4001 Durasurf
Factory Recommended Mount Point: -7.75 cm from center; 87.5 cm from tail

Intro
Early last season (19/20), I started chatting with the folks at Folsom Skis about having them build what we all hoped would be an ideal ski for the 12+ weeks I spend each year guiding heli skiing here in Alaska.
In my mind, a full season in the heli here is just about the ultimate test of a powder ski. It requires a ski that can handle high speeds in big, open terrain; nimble turns in steep, technical zones; ample float for very deep snow; and stability to handle all manner of crusts, debris, ice, corn, hot pow, and fast runouts across the bottom of the run that might include all of the above.
My biggest personal priority is finding the balance between stability at speed and power on edge with the ability to easily break the tails free to shed speed or redirect. I've written a lot on Blister over the years about the vast majority of >120mm-wide skis that have been on the market and have developed a sense of what works best for me, so I was excited to connect with Folsom to see what we could come up with.
The result of all this was a custom version of their 122mm-wide Rapture shape. I got a little bit of time on the ski last season but then Covid promptly shut everything down. This season I've been able to get much more time on the custom Rapture, and Blister Members can check out my Flash Review for some initial thoughts. I've now added my full review below, but first, we'll discuss Folsom's custom process the resulting design of the ski we came up with:
What Folsom Says about the Rapture shape:
Your Weapon For The Apocalypse
Aggressive and fast big-mountain powder tool
Made for ripping the steep and deep with pop and agility
Early tapered tips and tails designed for effortless smearability in soft snow
Rockered tips and tails with variety of camber options provide endless versatility in a powder ski
Shape
When I connected with Folsom over the phone early in the process, we quickly settled on the Rapture as the shape of choice. At 122 mm underfoot, it is Folsom's fattest ski and has a design intent (outlined above) that seemed close to what I look for in a heli ski.
It has relatively minimally tapered tips and tails (relative to similarly wide skis). In the past, I've associated that sort of shape with skis that have a long effective edge and are able to carve strong turns, but tend to be a little less loose and drifty across the fall line. That said, Mike McCabe at Folsom assured me that, with the right rocker profile, flex, and construction I would get a great combination of power / stability and looseness with the Rapture shape.
Rocker Profile
Folsom can build your skis with a variety of different rocker profiles and you can find details on the options on their site. For me, this choice was also pretty easy. While it's true that one of the best all-around heli skis I've ever used, the DPS Alchemist Lotus 124, does have camber underfoot, I've always liked pow skis with a low, long, almost flat reverse-camber profile. Mike McCabe at Folsom strongly recommended their "Shallow Reverse Camber" profile for my purposes and commented that it would provide the best combination of powerful carving and stability with ease of breaking the tails free into drifted turns. Sounds perfect!
Looking at this Rapture, its rocker profile is quite similar to the Folsom Primary we had tested with their Subtle Reverse Camber profile, though the Rapture has a slightly lower, flatter tail. The Rapture's rocker profile is a bit more, well, "subtle" than the reverse-camber profiles of the 4FRNT Renegade and Moment Chipotle Banana, with the Rapture having a profile that stays a bit more flat through more of the ski.
Construction — Composite
Folsom offers three standard composite options. The heaviest and most damp is the "90/10" which is 90% fiberglass and 10% carbon. The "70/30" with 30% carbon is a little lighter and not quite as damp, while the 100% carbon construction results in the lightest possible Folsom ski, but sacrifices damping. For my pair, we went with the 70/30 composite as I wasn't planning on doing a ton of lift-served skiing with them but still want them reasonably damp for smashing through debris and crust while out heli skiing. At the same time, there are some benefits to lighter skis, particularly less swing weight when trying to be quick on my feet. It's also nice to have a light pair of skis to lift out of the heli basket 10-15 times per day along with 4 other pairs for the guests!
Construction — Wood Core
In addition to composite options, you can also choose from 3 standard wood core options. Again, I wanted my skis reasonably damp but also responsive and light enough to be quick and nimble in tight and technical terrain. We settled on poplar & bamboo which Folsom says is "light and lively, our go-to for playful all-mountain skis." The other two options include maple / poplar / bamboo, which is primarily intended for skinnier, damp, heavy inbounds skis, and then aspen / bamboo, which is the lightest and most touring-oriented core option.
Graphics
I think this is the first time I've ever written about graphics in a ski review because I generally don't care about them, but Folsom gave me the option to do a custom graphic with these, and I'm pretty psyched on the result.

My good friend, Charlie Renfro, is an amazing photographer who has taken many shots for Blister over the years and has done some incredible landscape shots of some of Alaska's most dramatic mountains. Charlie was excited to work with a local graphic designer to come up with something special for these skis and I think he did an amazing job.
He decided to work with some black and white photos he took of a local zone that Chugach Powder Guides, where I work, heli skis. Folsom provided basic guidelines for the design and made the process of going from computer file to a beautiful top sheet pretty easy.
If you're making a ski with Folsom, they have plenty of graphics too choose from, or you can go with your own custom one.
Flex Pattern
Here's how we'd characterize the flex pattern of this Folsom Rapture
Tips: 6-6.5
Shovels: 7-8
In Front of Toe Piece: 8.5-10
Underfoot: 10
Behind the Heel Piece: 10-9
Tails: 8.5-7
I had the option of Folsom's three general flex profiles, which include "Soft," "Standard," and "Stiff." I've skied dozens of powder skis with flexes ranging from extremely soft to very, very stiff and have learned that all flexes can work if the shape and rocker profile matches up well.
For these skis, I wanted both stability / power but also excellent floatation in the deepest snow. I was a little worried that combining Shallow Reverse Camber with a stiff flex might create a ski that didn't float quite as well and also one that might require more work to ski for repeated 20-30k vert days of heli skiing. Folsom assured me that the "Standard" flex would be plenty supportive for my size and skiing style and would match my desires for the performance of the ski, so we went that route.
Hand-flexing this ski, I think "standard" is a pretty good way to describe its flex pattern. The tips and tails are relatively easy to bend, but there's a smooth and relatively quick ramp-up in stiffness as you move to the middle of the ski, with a strong platform around the bindings. The tail is also not drastically stiffer than the tips.
Length
Folsom's site lists the length options for the Rapture as 182, 186, 192, and 196 cm, though after talking to Mike, he said this ski can also be pressed in 176, 180, and 182 cm lengths. I spend most of my time on skis in the 188-195 cm range so it was pretty easy to settle on the 192 cm Rapture as the right length for me. I'll go more into this in my full review, but I think it would be cool to see some shorter length options since there are plenty of smaller skiers who might enjoy this shape, in my opinion. That said, Folsom does make other models of powder-oriented skis in shorter lengths, and the currently available length options for the Rapture are certainly not out of the ordinary for a 120mm+ wide ski (i.e., this is more of a general note on the category of fat skis, rather than the Rapture in particular).
Sidecut Radius
The 192 cm Rapture has a stated sidecut radius of 28 meters, which puts it slightly on the longer end of the spectrum when compared to skis with similar design intents, like the 191 cm DPS Lotus A124 (23 m) and the 4FRNT Renegade (30 m).
That 28 meters seemed about perfect to me on paper; short enough to make reasonable-sized turns through crust but big enough to allow for big fast, down-the-fall-line skiing and not be too hooky or grabby in weird snow. I was also curious to see how this longer sidecut radius would work in combination with the relatively minimally tapered, more traditional tip and tail shape (I most often see longer sidecut radii on skis with pretty tapered tips and tails).
Mount Point
At a recommended -7.75 cm from the true center of the ski (with length measured via straight-tape pull), the Rapture is, again, right in line with many of the skis I've really liked in the past, and identical to the DPS Lotus A124. I've typically found that this sort of "not super centered, not super rearward" mount point results in a ski that feels balanced for quick turns and drifts / slarves but still has enough tip out front to push into, even in deep snow. I'll talk about this a lot more in the full review.
Weight
With the poplar / bamboo core and 70/30 fiberglass / carbon build, these 192 cm Raptures came out to around 2295 grams per ski. This is pretty average for a ski with these dimensions and intended use.
This Rapture is notably heavier than the 191 cm DPS Lotus A124 and 191 cm 4FRNT Renegade, about the same as the 193 cm Moment Chipotle Banana, and notably lighter than some other options like the 189 cm Kye Shapes Numinous. I'm pretty happy where the Rapture came out in this regard and suspected this weight would result in a ski that has enough stability and dampness while not being overly cumbersome. I do suspect that the more traditional tip shape yields a slightly higher swing weight than more tapered skis of a similar width, but so far that hasn't been a significant issue.
For reference, here are our measured weights for some notable skis. Keep in mind the length differences to try to keep things apples to apples.
1710 & 1744 Atomic Bent Chetler 120, 184 cm (18/19–20/21)
1808 & 1809 Line Pescado, 180 cm (16/17–20/21)
1873 & 1878 Line Vision 118, 183 cm (20/21)
1870 & 1895 Faction La Machine, 186 cm (20/21)
1895 & 1906 Folsom Trophy Carbon, 188 cm (18/19–20/21)
1897 & 1913 Majesty Vanguard, 188 cm (20/21)
1910 & 1941 Scott Scrapper 115, 189 cm (17/18–20/21)
2006 & 2063 Elan Ripstick 116, 193 cm (20/21)
2013 & 2099 Moment Wildcat, 184 cm (18/19–19/20)
2019 & 2051 K2 Mindbender 116C, 186 cm (19/20–20/21)
2024 & 2031 Line Outline, 186 cm (19/20–20/21)
2027 & 2052 K2 Reckoner 112, 184 cm (20/21)
2034 & 2052 Blizzard Rustler 11, 188 cm (17/18–20/21)
2043 & 2046 4FRNT Inthayne, 188 cm (18/19–20/21)
2062 & 2080 Whitedot Ragnarok ASYM, 190 cm (19/20–20/21)
2081 & 2115 Faction Candide 5.0, 183 cm (18/19–20/21)
2104 & 2108 Hinterland Maul 121, 186 cm (19/20–20/21)
2105 & 2185 Head Kore 117, 189 cm (19/20–20/21)
2125 & 2134 Kye Shapes Metamorph, 185 cm (19/20–20/21)
2136 & 2174 K2 Reckoner 122, 184 cm (20/21)
2149 & 2158 DPS Alchemist Lotus 124, 191 cm (17/18–20/21)
2173 & 2204 4FRNT Renegade, 191 cm (19/20–20/21)
2174 & 2187 Moment Wildcat, 190 cm (18/19–19/20)
2181 & 2190 Parlor McFellon Pro, 185 cm (19/20–20/21)
2212 & 2215 Armada ARV 116 JJ, 185 cm (17/18–20/21)
2222 & 2278 Prior CBC, 184 cm (17/18–20/21)
2237 & 2315 Salomon QST 118, 192 cm (19/20–20/21)
2240 & 2250 Volkl Revolt 121, 184 cm (19/20–20/21)
2250 & 2280 Movement Fly Two 115, 184 cm (19/20–20/21)
2259 & 2279 Black Crows Anima, 189.2 cm (20/21)
2280 & 2286 Icelantic Nomad 115, 191 cm (19/20–20/21)
2288 & 2301 Folsom Rapture (Custom), 192 cm
2323 & 2352 Moment Chipotle Banana, 193 cm (14/15; 19/20–20/21)
2341 & 2357 Dynastar M-Free 118, 189 cm (18/19–20/21)
2343 & 2360 J Skis Friend, 189 cm (19/20–20/21)
2346 & 2351 Nordica Enforcer 115 Free, 191 cm (17/18–20/21)
2416 & 2468 Liberty Genome, 187 cm (17/18–20/21)
2438 & 2480 DPS Foundation Koala 119, 189 cm (19/20–20/21)
2438 & 2492 Rossignol BLACKOPS Gamer, 186 cm (16/17–20/21)
2561 & 2585 Kye Shapes Numinous, 189 cm (19/20–20/21)
2700 & 2703 Armada ARG II, 187 cm (19/20–20/21)
Bottom Line (For Now)
This custom Folsom Rapture is an intriguing ski that we had purpose-built to serve my needs as a full-time heli-ski guide in Alaska. While the shape was predetermined, we had a lot of flexibility when it came to flex and construction to dial it in to my precise needs and desires. I've now had them out in the heli for over 20 days of Alaskan skiing and an additional few days of riding them around Alyeska Resort. Blister Members can check out my Flash Review linked below, and then stay tuned for the full review on these beautiful custom powder skis.
Flash Review
Blister Members can read our Flash Review of the Rapture for our initial on-snow impressions. Become a Blister member now to check out this and all of our Flash Reviews, plus get exclusive deals and discounts on skis, and personalized gear recommendations from us.
FULL REVIEW
Mount Point
Based on my experience with these skis, I think I should start here. As discussed in my Flash Review and on episode 144 of our GEAR:30 podcast, I started with my pair of Raptures at the recommended mount point, which is -7.75 from true center. I've skied dozens of powder skis and, in general, a lot of the skis I've really liked have had a mount point around -7 cm to -8 cm (though, as we discussed on the podcast, I've also liked several mounted slightly closer to center; I'd say I'm pickier than most people when it comes to mount point). Anyway, I felt pretty good about the recommended line, despite just looking kind of far back after I first put bindings on them.
After mounting, I took the Rapture to Alyeska for a few runs on a powder(ish) day and was immediately impressed by how well they hooked up and carved a turn for a ski this wide, but felt like I had a lot of shovel in front of me, proportional to the overall size of these skis. The next morning I tossed them in the heli basket for my first day of work guiding on them, and even partway down my first run, I felt pretty committed to a carved turn. As I worked into bigger and steeper terrain that day, I found myself having to really exaggerate getting up on the front to break the tails free. As long as I was willing to commit to bending the ski into a turn, they were amazing, but the tips felt long and super supportive and I wondered if moving the bindings forward a little might free up the tails when needed, without compromising the float and stability in a carved turn.
Unfortunately, the pandemic soon shut down heli skiing and I didn't get to try out the more forward mount point (ended up being about 1.2 cm forward of recommended) until this season. But I got to do that this season, along with doing some slight work to the tune. And after just two turns with the bindings moved to about -6.5 cm, I knew that I would be sticking with this more forward mount point. There was no perceptible loss of float from the tips, even in deep, dry powder, and no loss in stability, but there was a surprisingly dramatic improvement in how easy I could drift around and break the tails free into slarves and skidded turns. After that first day with the new mount point and tune, the Rapture has become my go-to work ski for heli guiding this year and I've left them at the more forward position.
Unless specifically noted, assume that all comments below are in regard to the Rapture at the +1.2 cm mount position.
Powder
I've skied around 20 heli days on these skis and have had them in just about every kind of powder, from deep and dry to shallow and creamy, and have generally been impressed every time I've had them out.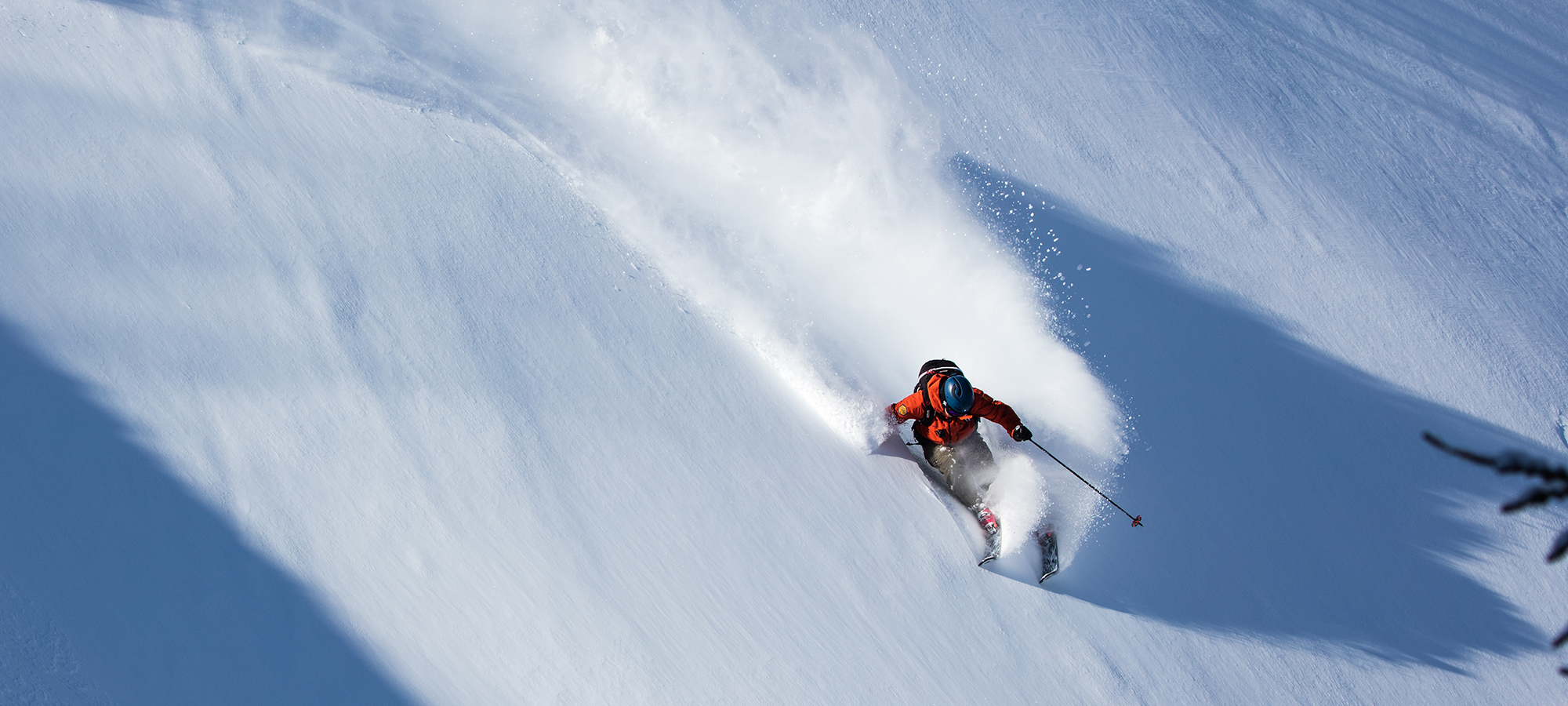 In the deepest, lowest-density powder the Rapture feels balanced and floats well, though it's not going to plane up quite as easily as superfat (130+ mm) skis like the Liberty Genome, DPS Spoon, or K2 Powabunga. But, unlike some other ~120mm-underfoot skis I've been on recently, the Rapture still feels both loose and supportive in even the deepest snow. I suspect that the Rapture's combination of relatively minimal tip taper for a fat ski (the widest part of the ski is pretty close to the end), combined with Folsom's "Shallow Reverse Camber" rocker profile, allow the Rapture to plane up better than most skis in this width class.
In shallow, creamy, or just wetter, more maritime snow, the Rapture feels almost like a nice all-mountain ski on a soft groomer. The Rapture can be tipped over into surprisingly powerful carved turns and the shovels will take all the pressure I can give them. Given the need, however, it can be quickly broken free into smoothly skidded / drifted turns with minimal effort.
In big, steep Alaskan terrain, the theme here continues. The Rapture provides plenty of float to stay on top of the snow and make quick adjustments in technical terrain, but also offers excellent stability when needed across the more variable runouts of big runs.
The Rapture is not the absolute easiest ski when it comes to skidding around and slarving out turns, and I confirmed that by skiing it a few times on back-to-back pow runs with wider, more tapered, more dramatically rockered skis like the old K2 Powabunga and the DPS Lotus 138, both of which are far easier to basically go sideways at high speeds. But the Rapture still does fine when I need to slide across the fall line in big terrain. Compared to those superfat powder specialists, my Rapture's are markedly less able to break free into a drifted turn, but especially considering how good they are in other conditions, the Raptures still feel very balanced and overall still as good or better than the vast majority of skis in this width class when it comes to breaking free into drifted turns.
One of the things the Rapture does better than any similarly wide ski I can think of is actually carve through pow. I've not yet tried the Line Pescado or similar tight-radius swallowtail shapes, but it's hard to imagine a ski that can make a more powerful high-speed carve through soft snow. I've always loved a big, banked turn, but I can't recall having more fun on any ski when just laying into the snow at high edge angles and banking big, fast, carved turns through just about any kind of powder. The Rapture's 28-meter radius feels just about perfect and the ski just seems to love when I put more energy into it and push into a turn like that.
After a conversation with Max Hammer at "Ski More Good," I've started thinking more about ski turns in regard to rotation of the ski vs bending the ski. "Rotation" being the kind of turn where you essentially swing the ski around your core vs bending the ski into a turn. This is a concept I'll try to explore when I write more about my time with Max, but for now, let's just leave it at that and say that some skis (and skiers!) do really well with rotation (i.e., skidded or drifted-out turns) and some skis seem to work best when always bent into a turn. I bring this up here only to mention that I think my Rapture's have a small preference for "bending the ski" turns, but overall, exhibit one of the best executions of a design that really excels at both bent ski turns (carves) and rotational turns (skids and drifts) that I've used. For an all-round pow ski, that's a really nice combination to have.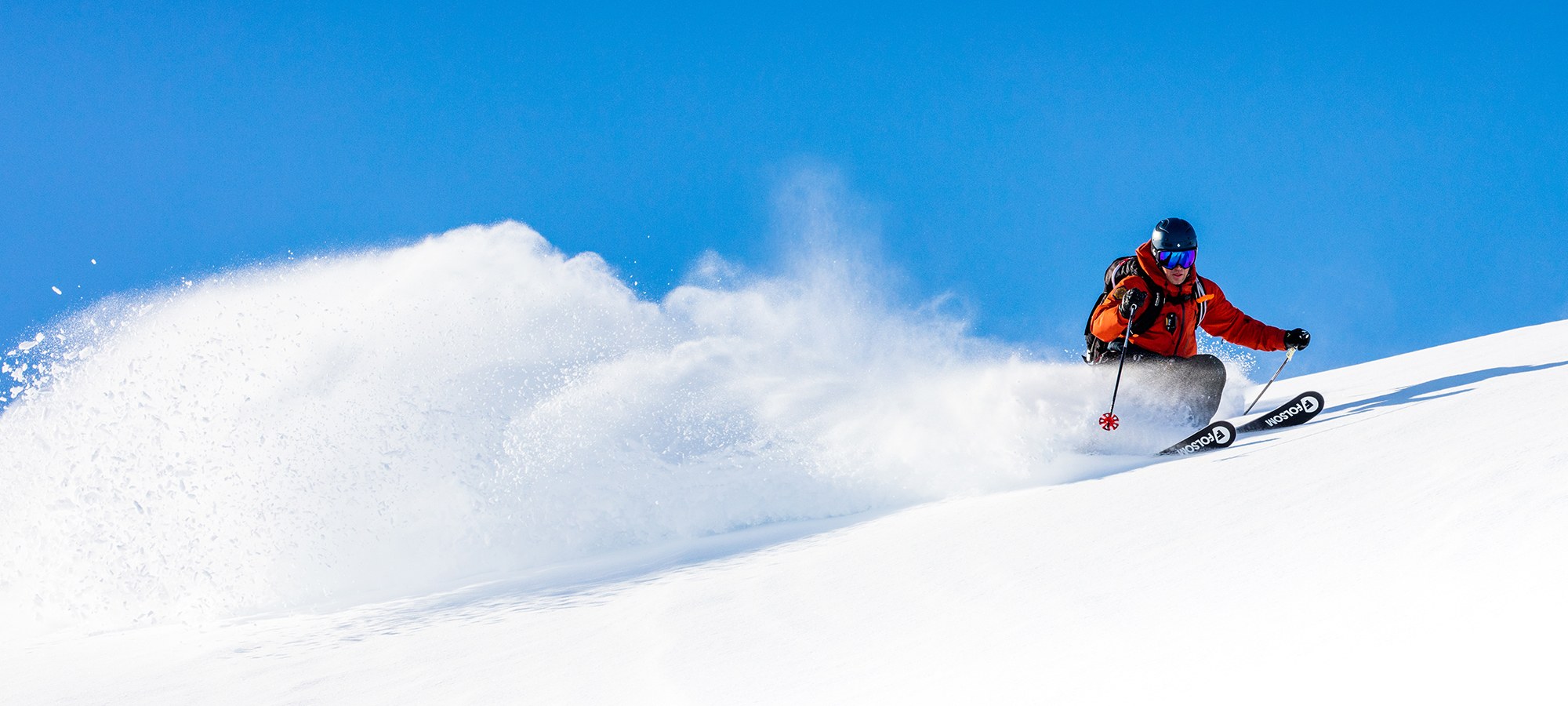 Wind-Affected Snow / Crust
It's been a windy year in Alaska and many of the days I've been out heli skiing have involved negotiating some wind-affected snow. It's usually the "grandma skin" variety that looks wrinkled and dappled but ends up skiing like powder, but sometimes I've had to deal with some legitimate wind crust. In really deep, light snow with a firm windcrust on top, the Rapture struggles as much as anything else. But in anything where I can keep the tips up (and with the Rapture, that's most conditions) I can make fairly controlled and fast carved turns. When skied like this, the Rapture is about as good of a ski as I've found, thanks to its combination of flotation and stability.
Where the Rapture doesn't do quite as well as much wider, more rockered, or more tapered skis is when the ski needs to be broken free into more skidded turns to slow down or negotiate tighter spaces in breakable crust. In these situations, the Rapture still does pretty well, but it takes a little more effort than pow-specific, superfat skis like the K2 Powabunga to get the tails loose and slide them sideways.
Soft Chop
If you read my recent review of the Moment Chipotle Banana, you know that I've mostly been heli skiing but have also been sneaking in some fun storm-day skiing at Alyeska, which typically offers a heavier, more maritime snowpack. It's rare that I like the same skis for riding Alyeska that I do for heli skiing, but for how excellent the Rapture is as a heli ski / pure powder ski, it's surprisingly good for smashing around Alyeska — even after the fresh snow starts to get tracked up.
One of the most consistent scenarios where I can get a sense of a ski's suspension is usually around my 3rd lap of the day on Alyeska's South Face, where I often find myself still skiing really fast but also starting to hit some deep, soft chop across the runout. Some skis get kicked around quite a bit in this stuff, but the Rapture mutes out the bumps / tracks very well. It's not quite as unflappable as the Chipotle Banana or a couple of other narrower and heavier pow skis I use a lot, but I never felt like I needed to slow down in this stuff on the Rapture.
Just like in the conditions discussed above, the Rapture's tip shape, combined with the rocker and splay, keep the ski quite high in the snow and allow it to skip over deep chop while still having the stability to maintain composure when it gets even choppier or funkier. All things considered, it's very impressive how good the Rapture is as a pure powder ski while also being a lot of fun in more typical, resort-chop conditions.
Firm Chop / Crud
In true crud, my Rapture's definitely reminded me that they are >120mm-wide powder skis, despite their fairly damp construction and excellent execution of the long, low rocker profile.
In these conditions, I definitely find myself either slowing down, skidding out my turns, and just relaxing a little bit on the way down, or really committing to a high edge angle and relying on carving the ski to cut through the snow and smooth things out a little. The latter approach works okay, but the firmer things get, the more I want to just slow down and acknowledge that I'd be happier on a skinnier ski. When skiing more slowly and skidding around, the Rapture's Shallow Reverse Camber again shines because it's quite easy to vary turn shape and size, even at slow speeds, by just skiing a little more bases flat.
Moguls
While I usually group moguls, trees, and technical terrain together, I'm going to break them down a little bit here.
In true moguls the Rapture does fine for being such a big ski, and as mentioned many times above, its rocker profile allows it to be pushed around with relatively little effort. The ski's rounded-off tails are supportive but not punishing, though I find it pretty hard to get back onto my edges as quickly as I might on a lighter, softer, or narrower ski. No surprise there.
Trees
We actually have a fair amount of tree skiing where I heli ski and I got to do a lot of it this year. As discussed above, the Rapture isn't a super-light, slashy, freestyle powder ski, but considering that it is one of the best skis I've used for high speeds in big, open terrain, it's very, very good when zipping through tighter tree runs — even in heavier maritime snow. The above-average-for-width flotation, coupled with that rocker profile, allows for quick turns when you need them.
Would the Rapture be my top choice for a trip to Japan? I'm pretty addicted to superfat powder shapes like the DPS Spoon for that kind of trip (i.e., lots of lower-angle trees). But if I brought two pairs of skis or knew that I'd be riding lifts in Japan more than touring, the Rapture would make it into my ski bag.
Tight and Technical Terrain
Some of the steepest, most technical terrain I ever get to ski is when I'm heli guiding in the Chugach, and these kinds of runs usually involve either tight chutes, rocky entries, or staying on top of ridges and ribs or even "spines" (the most overused term in Alaskan skiing…).
On these kinds of runs, you often can't expect to have perfect pow from top to bottom and it's nice to have a ski that pivots easily, slides sideways across the fall line with minimal effort, but that also has stability and support for ripping across a big face partway down or blasting across the runout at the bottom. This season, whenever I thought I might be getting into that kind of stuff, I tossed the Rapture in the basket because I knew I could rely on its blend of stability and fairly easy pivoting in big, high-consequence terrain no matter what conditions I encountered.
Playfulness
I'm not a particularly "playful" skier and I don't think I'd define the Rapture as a particularly playful ski. As I've discussed ad nauseam above, the Rapture (at least with the Shallow Reverse Camber and my preferred more forward mount point) can pivot and slash down the mountain, but it's still a big, fairly stiff ski that seems best suited for a more directional skier. If you want something more freestyle-friendly, check out our review of the Folsom Trophy, or give Folsom a call about some tweaks you could make to the Rapture's design.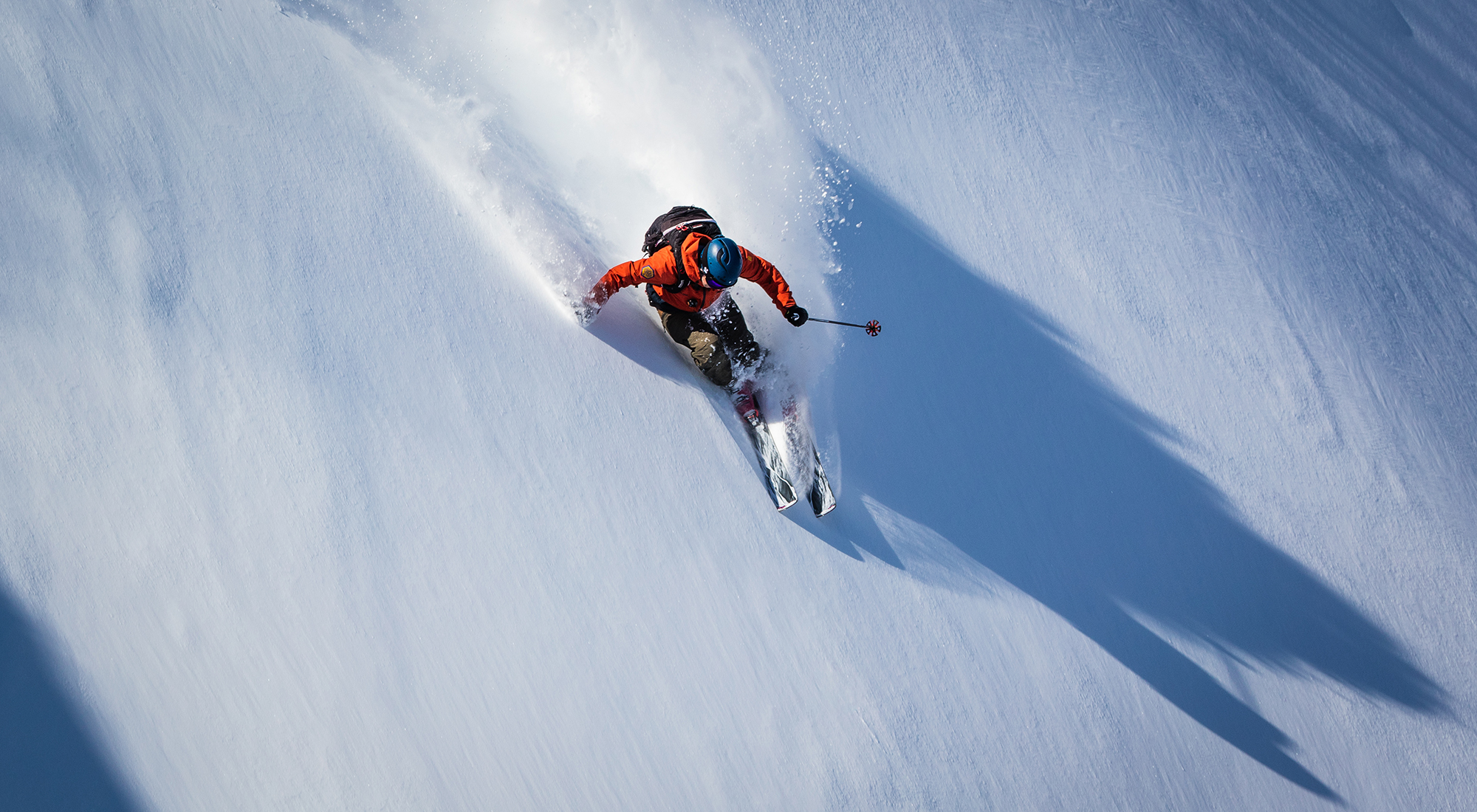 Length
At 6' and ~200 lbs, the 192 cm Rapture feels perfect and true to its length. Compared to other similarly wide skis I've recently used (e.g., the 191 cm 4FRNT Renegade) of similar stated length, the Rapture does ski a little longer than the skis' stated lengths would suggest. Some of this is reduced by moving the Rapture's binding slightly forward, as I've done, but this is not a super rockered, tapered pow ski that feels really short for its length.
Durability
I've hit plenty of rocks with my Raptures and have had zero issues with the edges or bases, beyond the unavoidable scratches. I don't even think I ended up with any core shots on these this season, but that's likely more from luck than anything to do with the ski construction or materials. Making blanket statements about durability is always tricky since so much of it comes down to chance.
The only issue I had is with some screws spinning while mounting the Rapture. I'm certainly not an expert ski tech and fully accept that this could be user error, but I typically end up mounting a couple of dozen skis per year and, this season, I only had one other pair of skis where I had a screw spin while mounting. On the Rapture, I ended up having four screws spin and I'm really not sure why. I ended up getting them heli-coiled and have had no issues, but I'd be remiss not to mention it. For what it's worth, the other Folsom skis we've mounted have not had any spinners.
Who's It For?
This is especially tricky because Folsom can tailor the flex pattern, rocker profile, and construction of the Rapture to each individual skier.
But in general, I would say that the Rapture is an excellent choice for a more directional skier looking a ski with excellent flotation without having to go wildly wide in terms of waist width. In the build that I have, the 192 cm Rapture is one of the most versatile powder skis I have ever used and excels in almost any powder situation. I haven't tried it with any other rocker profile, but it would be hard to convince me to choose this ski with anything other than the Shallow Reverse Camber profile I tested. That, to me, is one of the best executions of full rocker I've ever used.
While I did find the flex and tail profile of my Raptures to be quite forgiving of backseat skiing and mistakes in general, I don't think I'd recommend the Rapture (at least my version) to less experienced skiers. Fully rocker skis can take a little while to get used to in general, and based on many years of observation while guiding, most inexperienced powder skiers tend to do best on softer, more heavily rockered skis. Given that, I wouldn't be surprised if a softer and / or more heavily rockered version of the Rapture worked well for less experienced powder skiers. Lastly, skiers who prefer a shorter sidecut radius may struggle with the Rapture in any configuration, and those folks might want to check out the Folsom Trophy.
For a little more context, I'll briefly mention the responses of two of my fellow ski guides who spent some time heli skiing on my pair of Raptures. Both are similar to me in terms of height and weight, and both are excellent skiers, but we all ski pretty differently and tend to like different skis. One of them said "these are awesome for going fast!" and the other texted me the evening after he heli-skied them for a day in the Chugach saying, "It's definitely the best all-around heli ski I've been on. How can I buy a pair of those?"
The cool thing about this is that, when I started talking with Folsom about this ski, the goal was to create an ideal heli ski for Alaska. It seems that they accomplished that goal very, very well, so I can say with confidence that, if you're looking for the combination of stability, pow carving, and looseness that skiing in the Chugach demands, I'd strongly recommend getting a pair just like mine.
Bottom Line
At the start, Folsom set out to build a pair of their Rapture skis to suit my needs as a heli ski guide in Alaska, throughout an entire season of guiding and all the different kinds of snow and terrain that come with that. And once I figured out the mount point and tune, they pretty much nailed it. For a custom ski, that's about all I could hope for, and the resulting ski has proven to be one of the most well-rounded heli skis I've used, ever.
Deep Dive Comparisons
Become a Blister Member or Deep Dive subscriber to check out our Deep Dive comparisons of the Rapture to see how it compares to the Volkl Shiro, DPS Alchemist Lotus 124, 4FRNT Renegade, Kye Shapes Numinous, Praxis Protest, Moment Chipotle Banana, DPS Foundation Koala 119, Volkl Revolt 121, Faction La Machine, Blizzard Spur, Blizzard Rustler 11, & Whitedot Ragnarok ASYM.