Leatt 5.0 Clipless Shoes
Size Tested: 10
Blister's Measured Weight: 535 and 542 grams (per shoe)
Pedals Used: Time Speciale 8
MSRP: $129.99
Reviewer: 5'9'', 155 lbs / 175 cm, 70.3 kg
Test Duration: About 2 months
Test Locations: Whitefish, Montana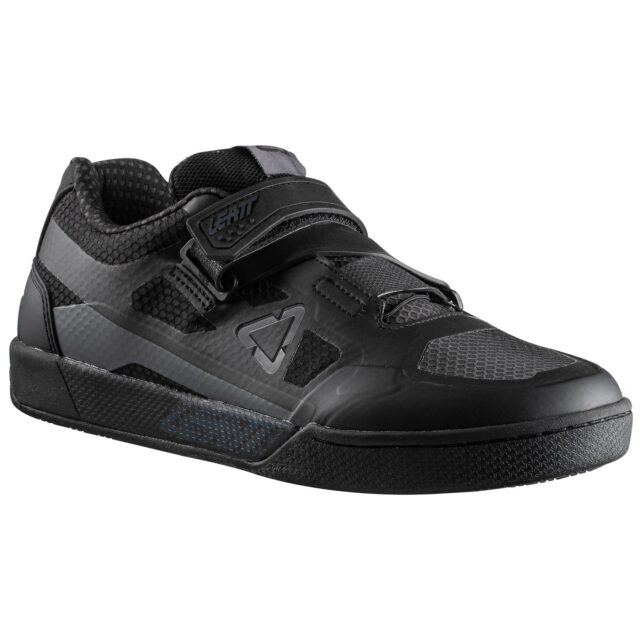 Intro
Leatt offers several different shoe options, and the 5.0 Clip is their highest-end offering for clipless pedals. And as with the rest of Leatt's lineup, the "5.0" series tends towards general "trail" and gravity-assisted riding that might also include some less than optimal weather. That is evident in the 5.0 Clip shoes, which are advertised as being water resistant and are built with a few features that are geared towards descending.
Features & Construction
The most noticeable feature of the 5.0 shoe is its closure system. It uses a drawstring speedlace system to cinch the shoe snug, and then has a crisscrossing velcro strap that further anchors your foot in place.
The upper portion of the shoe is synthetic and water resistant, with a fair amount of real estate dedicated to venting panels that also have a water resistant coating on them. The sole of the shoe uses what Leatt calls "RideGrip," which is a moderately soft rubber compound. It doesn't appear to be quite as soft as some super sticky rubbers found on some flat pedal shoes, so that means a bit less grip, but a bit more durability and longevity.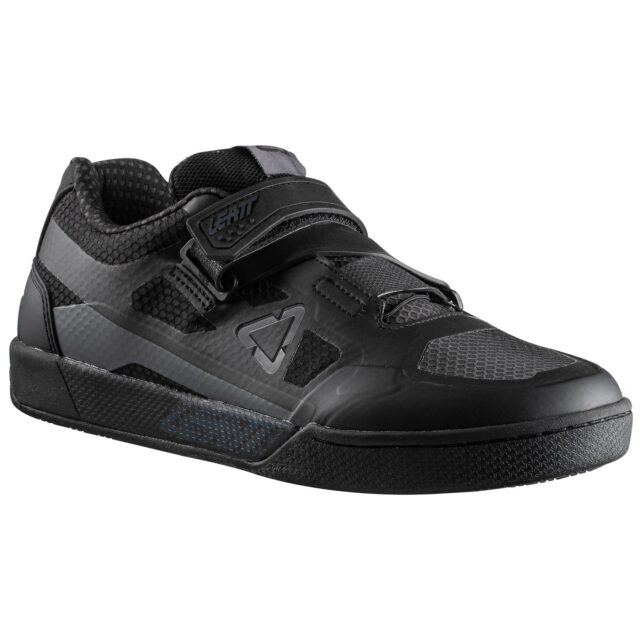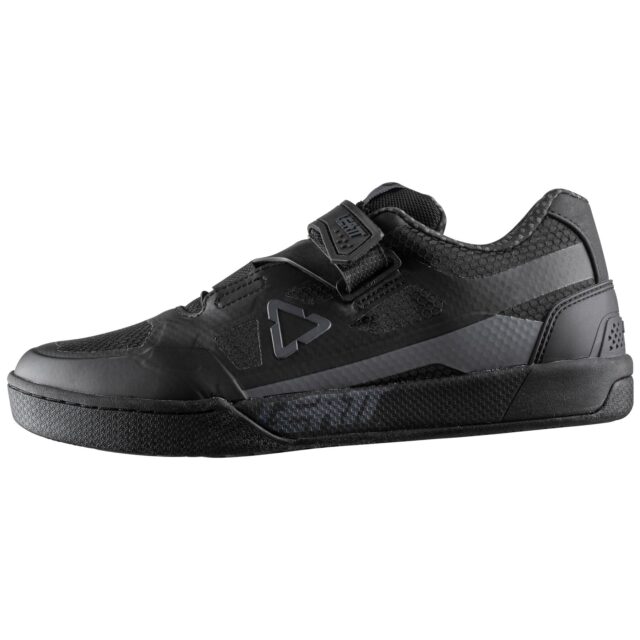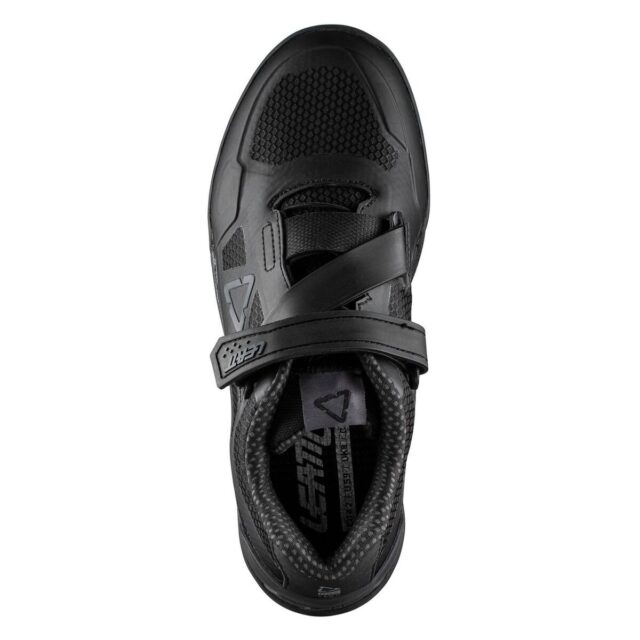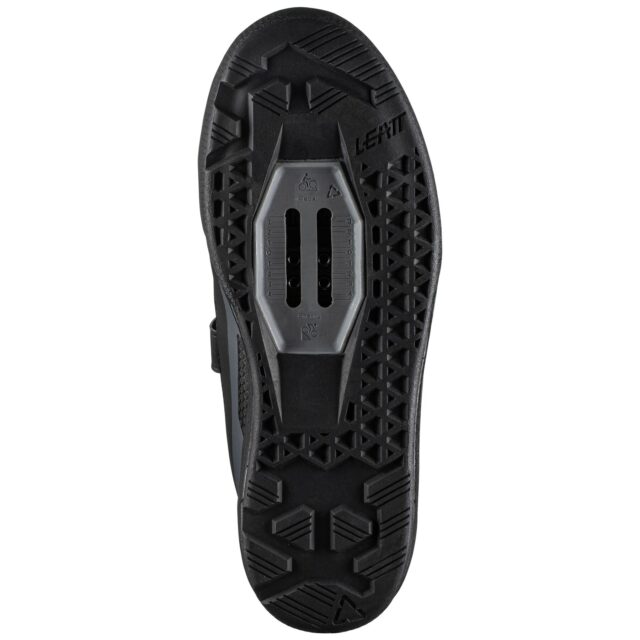 One noteworthy feature of the 5.0 is the cleat slots — they're 47 mm long by my measurement, which I believe gives them the distinction of being the longest cleat slots of any shoe on the market (or at least the longest I've come across). For those who like their cleats reaaally far back, the 5.0 will accommodate. Luke Koppa, take note.
Weight
At ~540 g per shoe, the Leatt 5.0 is a bit on the heavier side compared to other all-purpose trail shoes, but it's by no means an outlier for this sort of shoe, either. Our measured weights for a selection of competitors are below, for reference:
The Fit
I usually wear either a 9.5 or 10 in my bike shoes (which is roughly a 43.5 or 44 in Euro sizing), and I was comfortable in the size 10 Leatt 5.0. So I'd say go with your normal size, and if you're in between sizes, opt for the larger one.
Width wise, I'd say the 5.0 is perhaps slightly on the narrow side of average for this type of shoe. Generally speaking, I find these sorts of All Mountain / Enduro / DH-oriented shoes to run a bit on the wide side. And so I'd say the 5.0 is slightly narrower than average (e.g., a smidge narrower than a 5.10 Hellcat), but I would not describe it as a narrow shoe, at least compared to something like a Sidi Dominator.
On the Trail
The 5.0 took a bit more breaking in than most shoes I've used in this category. Plenty of these heavier, lace-up, semi-burly shoes have enough padding that my foot kind of floats in them. That's pretty comfortable, although not necessarily that efficient for pedaling. The 5.0's padding is a little thinner and a little firmer, and the combination of the speed laces and crisscrossing velcro strap meant that it took a little experimentation to get the pressure on my foot just right.
The upside of this is that the Leatt 5.0 feels more secure on my foot, and feels a bit more efficient while pedalling. The downside is that it takes some fiddling to get everything tightened, cinched, and ready to go. The speed laces are quick, but then there isn't a great place to store the fairly long bit of speed lace that's dangling from the shoe. And while the crisscrossing velcro is capable of applying nice, even pressure across the top of the foot, it's a bit fussy to get it all situated so each segment is snug. And then when I inevitably make everything a little too tight and my foot starts to fall asleep, it's similarly fussy to reset everything.
All that said, once the shoe broke in a bit and I became a little more adept at navigating the lacing system, there's no denying that the shoe does a nice job of holding my foot in place. The Leatt 5.0 Clipless feels more efficient on the pedals than most other shoes in this class that I've tried. Part of that is the 5.0's moderately stiff sole, but most of it comes down to the construction of the uppers and the lacing system.
The 5.0 isn't a particularly light shoe — it's more or less in line with shoes like the 5.10 Hellcat and the Ride Concepts Transition. And like those other shoes, the 5.0 has a respectably stiff toe box that shrugs off impacts nicely. Purely in terms of protection, I'd rate the Leatt 5.0 a smidge lower than both the aforementioned Hellcat and Transition, but I still wouldn't hesitate to use the 5.0 for DH racing. I do, however, think the 5.0 feels a little more svelte and pedals better than either the Hellcat or Transition, so I'd be more inclined to use it as an everyday riding shoe.
My time with the 5.0 was spent on my usual Time Speciale 8 pedals, and I didn't have any issues with clipping in and out. The sole cleared nicely, and the cleat recess did a good job of guiding the shoe into the pedal.
Walking in the Leatt 5.0 is pretty comfortable — while the sole is fairly stiff, it's softer at the toes to allow the shoe to flex. I did get a bit of heel lift on steep hike-a-bikes, but it wasn't horrible, and it wasn't out of line with most other shoes I've worn.
Despite the Leatt 5.0's claims of weather resistance, I didn't have any particularly wet rides to really put the shoes to the test in that regard. The 5.0's shrugged off the occasional splash through a stream without issue, and in the name of science, I held them under the sink for a bit. As expected, they're decently water resistant, but certainly not waterproof. If you're really looking for a wet weather shoe, you'll probably need something with less venting and a gasket around your ankle.
Bottom Line
The Leatt 5.0 Clipless shoe walks a fine line between a burlier, DH-oriented shoe and a trail-oriented shoe designed for all-day pedalling. It has the protection to tackle rowdy descents, but it pedals well enough that it's feasible for a long day in the saddle. The shoe certainly takes some breaking in, and it's hampered a bit by a fussy lacing and closure system, but it's that very system that makes the shoe pedal so well and fit so precisely. If you're looking for a lightweight XC shoe, this obviously isn't it, and if you're looking for a shoe that'll only be used on chairlifts, I think there are better, more protective options. But if you want a shoe that's not out of place on a DH race course, but is also respectably capable of pedalling all day, the Leatt 5.0 Clipless presents a compelling argument.