When considering a new running shoe, there are so many similar-looking shoes on the market being made by so many different companies, it is virtually impossible to (1) know where to begin; (2) quickly figure out which one or two products from a given brand might work well for you; and (3) determine what products from other brands might be the most similar and also worth considering.
So in our new "Blister Brand Guide" series, we provide an overview of the entire product lineup of a brand; highlight how each product stands out from the rest of that brand's lineup; and help you figure out quickly and easily which shoe might work best for you.
In our individual product reviews, we go very deep into the details of particular products. With these Brand Guides, the goal is not Depth, but Breadth. Our Brand Guides and full reviews are designed to complement each other — provide a broad overview of entire company lineups, and then also very detailed reviews of individual products.
See our other running shoe Brand Guides
La Sportiva: Brand Background
La Sportiva is known by many for their climbing and mountaineering shoes, but their "mountain running" shoes have now garnered a similar level of popularity — and with good reason. La Sportiva offers a wide range of trail and mountain running shoes with the unifying characteristics of traction and durability. As a general rule, La Sportiva's shoes have narrower, lower-volume fits than other brands. This might cause problems for people with wide / high-volume feet, but if Sportivas do fit your foot, they often provide a precise fit. Many of their newer models also seek to address this issue with wider toe boxes and higher-volume fits. La Sportiva's shoes tend to have higher heel-to-toe drops, but they do offer a few options with drops around 4-6 mm.
Sportiva's shoes are also often on the stiffer side compared to most shoes from other brands, and many of them are catered toward very rough, off-camber, and challenging terrain. If you generally prioritize precision over high cushion and prefer to run on very technical terrain, many of La Sportiva's mountain running shoes deserve strong consideration.
Several of La Sportiva's shoes are also made in a GTX (aka, "Gore-Tex") version. The GTX versions feature a waterproof Gore-Tex lining, which increases water resistance and decreases breathability.
This breakdown will give a quick overview of each model's features and intended purpose. It's organized from most- to least-cushioned.
A note on rubber compounds: La Sportiva uses three different "FriXion" rubber compounds throughout their running lineup. On their European website, they call these three compounds "white," "red," & "blue." Confusingly, on their U.S. website, they list them as "XF 2.0," "XT 2.0," & "AT 2.0," respectively. For clarity's sake, here's a brief breakdown of the rubber compounds:
FriXion White / FriXion XF 2.0: most grippy, least durable
FriXion Red / FriXion XT 2.0: middle ground in terms of grip & durability
FriXion Blue / FriXion AT 2.0: least grippy, most durable
Finally, a note on sizing: all of Sportiva's sizing is in European units. In our experience, La Sportiva trail shoes tend to run a bit small (often a half or full US size), so as always, we advise trying them on before buying.
(Most Cushioned to Least Cushioned)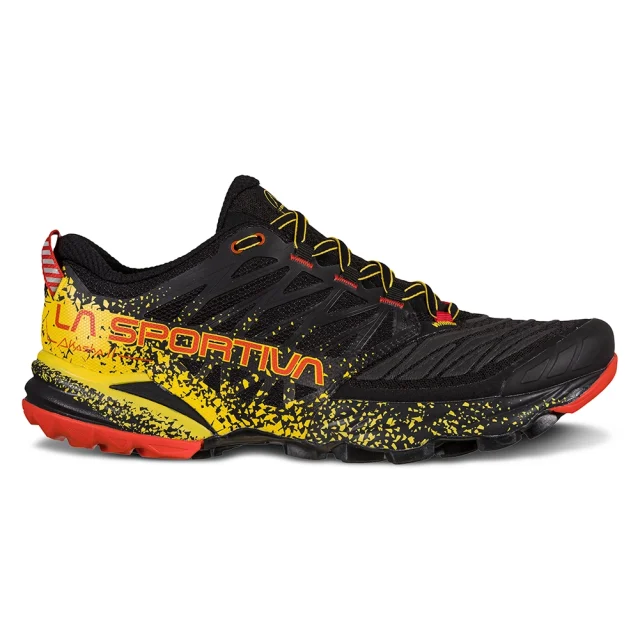 When the original Akasha came out back in the 2010s, it was one of La Sportiva's first shots at a high-cushioned, long-distance trail shoe. The Akasha II retains all of the DNA that made its predecessor so popular. While definitely a "maximal" shoe, what sets the Akasha II apart from other high cushioned models is the protection it offers. The shoe's midsole is made from firm dual-injection "MEMlex" EVA with "TPU STB" inserts, which protect the foot while maintaining stability and rebound. The Akasha II's upper is also reinforced with "Dynamic ProTechTion" overlays to guard against debris. For runners with medium-to-low volume feet who need maximum protection, stability, and a lot of cushion, the Akasha II is a top contender. Check out our review for more info.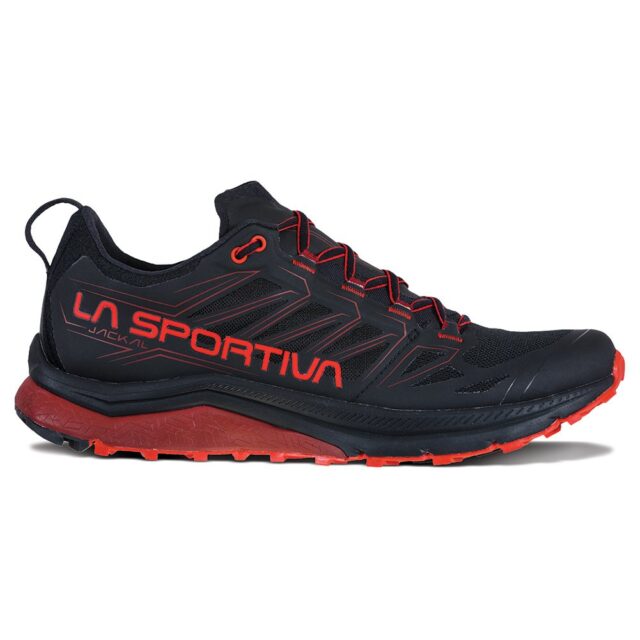 The Jackal is a compelling option for runners looking for a medium-to-long distance shoe for runs on moderate to more technical terrain. As compared to many of La Sportiva's trail running models, the Jackal is on average higher volume, softer, and more flexible. The shoe's EVA midsole has two "Infinitoo PU" inserts in the heel and forefoot, which improve energy return and add some extra impact absorption. A full-length rock plate is sandwiched between the Jackal's midsole and its moderately sticky "FriXion Red" outsole. Compared to the Lycan II, the Jackal should provide more protection on especially rocky runs because of its rock plate. If you're looking for a moderately protective, medium-to-long distance oriented shoe, but want something with a lower stack height than the Akasha II, the Jackal is worth checking out. Check out our review for more info.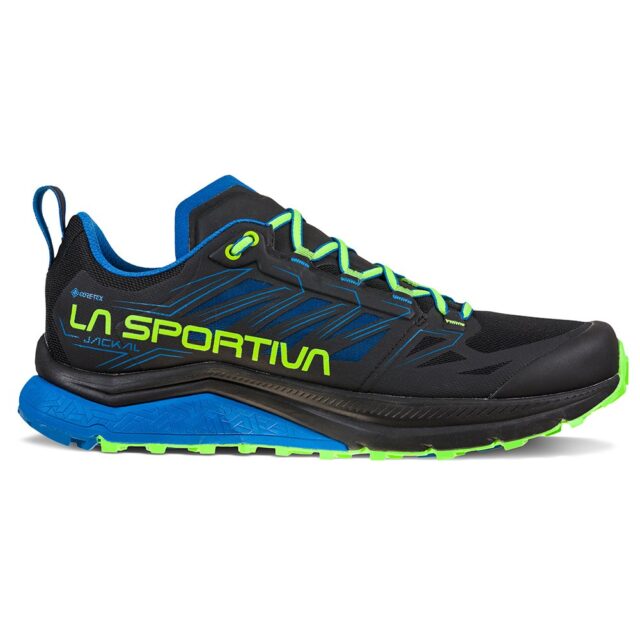 The Jackal GTX has all the same features of the Jackal with the addition of a waterproof Gore-Tex upper. It's still a shoe designed for comfort on all-day outings, but with wet weather in mind. La Sportiva uses the same "FriXion Red" outsole that appears on the standard version of the Jackal and reinforces the eye-stays integrated into the upper to allow the shoe's fit to better accommodate foot swelling. If you often run in cold, rainy conditions, the Jackal GTX may be worth checking out. Check out our review for more info.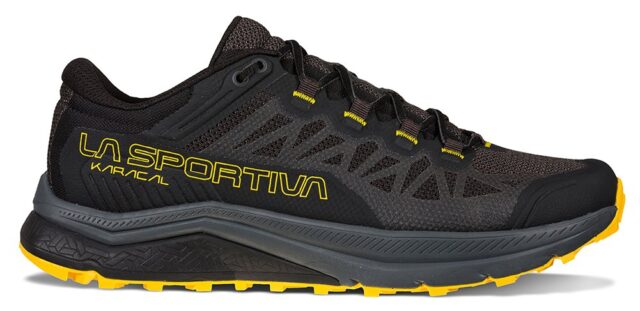 In some ways, the Karacal is an outlier compared to many of La Sportiva's ultra-supportive, rigid, mountain running shoes. It's a lighter model with a higher-volume fit, and focuses more on comfort on moderate terrain. That said, the Karacal does include a full length EVA foam rock guard, which should provide some protection on more technical surfaces. So, if you're looking for a wider fitting trail runner for faster paced efforts over tamer trails, consider the Karacal. And if you like the sound of the Karacal but want just a little more protection, consider the Jackal.
The Lycan II takes the wider fit (compared to other La Sportiva shoes) and softer cushioning of the original Lycan and adds a much more aggressive outsole to improve performance on technical terrain. It uses an updated, reportedly grippier version of La Sportiva's "Frixion Blue" rubber, which is designed to provide a nice balance of durability and traction. The main change from the original Lycan seems to be the Lycan II's much larger, more widely spaced lugs. The upper has a similar combination of breathable mesh and ripstop nylon as the first version of the shoe. As with the original Lycan, the Lycan II has a much wider fit and softer cushioning than the Bushido II and the Mutant, so it is better suited for longer runs on less technical / uneven trails, or folks with wider feet. The Lycan II does have a more moderate stack height than the Akasha II, so it should be slightly more stable on uneven terrain than either of those two shoes. If you've run in the original Lycan and like the fit but want more traction, the Lycan II should be a solid option.
Check out our review for more info.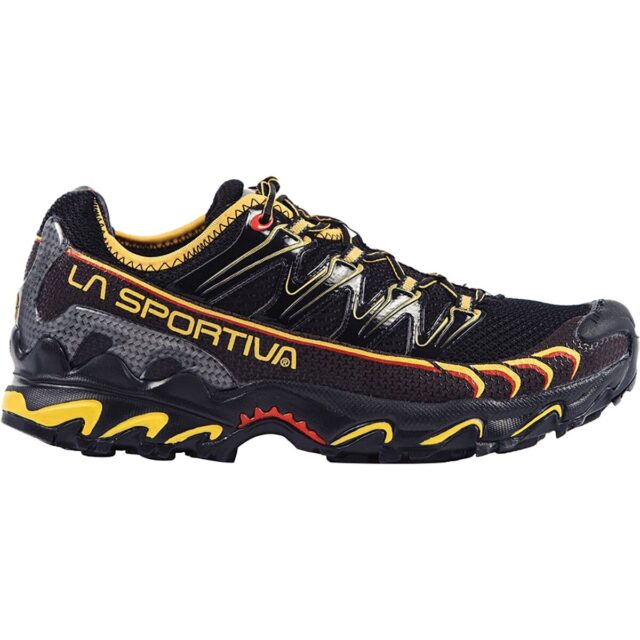 At its heavier weight, and with burly "TPU Transkinetic EVO Heel Stabilizer," sticky "FriXion White" outsole rubber, and a full length rock guard, the Ultra Raptor II fills the role of a shoe designed for technical scrambling, backpacking, hiking, and running. This year's iteration appears to be quite similar to past versions, with the addition of a seemingly more breathable upper. For longer distances at slow speeds on technical terrain, where maximum stability, protection, and grip are desired, the Ultra Raptor II could be a good option.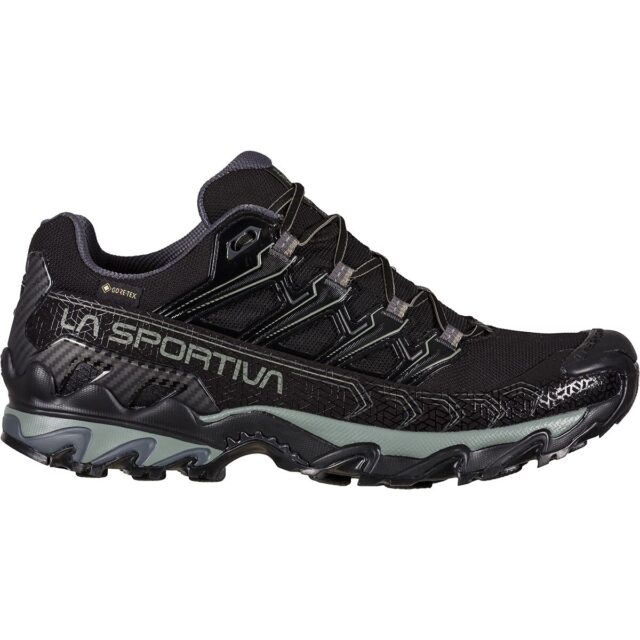 The Gore-Tex version of the Ultra Raptor II has all of the same features as the standard version, including "FriXion White" outsole rubber and a full length rock guard. However, a waterproof lining has been added to the "AirMesh" mesh upper to repel moisture. The GTX version of the shoe also gains 3 mm of heel-to-toe drop, which will likely make it feel closer to a hiking boot than a fast trail running shoe. And while the Ultra Raptor II GTX likely won't breathe as well as the standard Ultra Raptor II, it's a better option for wet conditions and winter runs that involve quite a bit of hiking.
The Mutant has numerous features that make it ideal for runs on wet and / or loose terrain, particularly if you prefer a quicker-drying shoe as opposed to a waterproof one. The Mutant uses La Sportiva's stickiest "FriXion White" rubber for its outsole, which is composed of large, widely spaced lugs. The Mutant's asymmetric lacing system is meant to provide a tight locked-down fit that's reminiscent of a climbing shoe. The TPU stabilizer in the Mutant's midsole provides additional support and a little pronation control. If you run on moderately technical terrain (especially in wetter conditions) and prefer a tight-fitting high-drop shoe, the Mutant is an option to consider.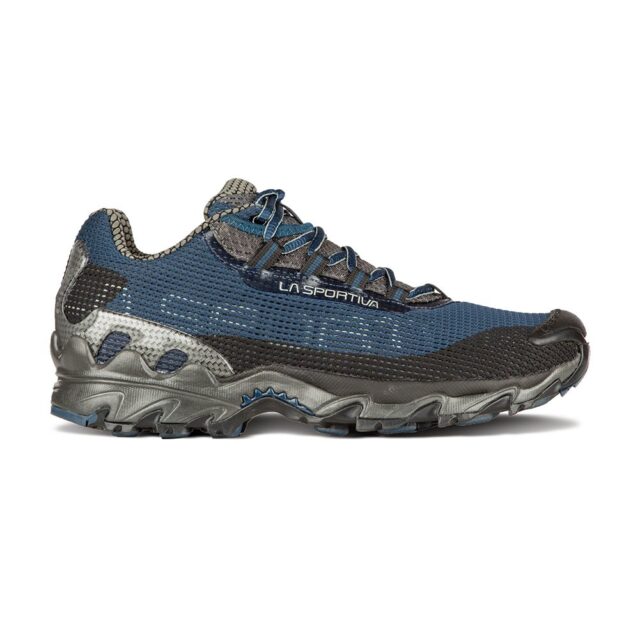 The Wildcat is one of La Sportiva's more cushioned, higher-drop shoes, and it's a good alternative to the Ultra Raptor if you want something that's a bit more breathable, has a higher drop, and a more medium-volume fit. Its upper is primarily mesh with a few reinforcements, making it likely one of the most breathable and quickest-drying options out of La Sportiva's higher-cushioned shoes. The Wildcat's moderately high cushioning, partial nylon shank, durable "FriXion Blue" rubber outsole, and average-sized lugs make it well suited for moderate to rough trail. Compared to the Akasha II, the Wildcat is more structured and supportive, but not as plush or flexible. If you prefer a high heel-to-toe drop, pretty firm cushioning, and like the sound of a breathable and supportive hiking or running trail option, check out the Wildcat.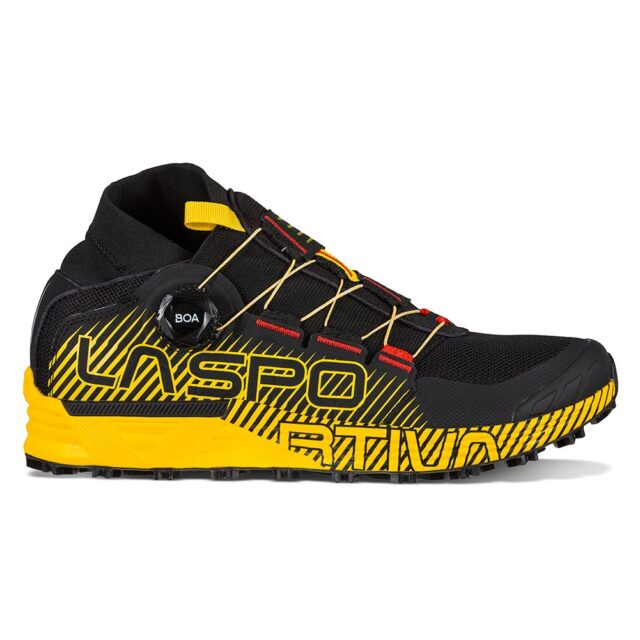 La Sportiva states right away that the Cyklon is intended for short and medium distance efforts on technical terrain, whether that be bushwhacking, sky running, or scrambling. This description is more specific than what we often see, and confirms that the Cyklon is not meant to be a utility shoe for all of your runs. Given its very grippy "FriXion White" outsole rubber, the high surface area of its lugs, numerous protective and stabilizing TPU overlays on the upper, and medial / lateral stabilizing inserts, this shoe belongs on rock, where a slower pace is unavoidable and maximum precision, grip, and feel are required. Note that there is no rock plate in the Cyklon, which we think translates to better feel on high consequence climbing moves, but also results in less protection while running. Perhaps the standout feature of this shoe is its impressive "Dynamic Cage" BOA lacing system, which is intended to allow for quick tension adjustments as your foot changes shape over distance and terrain. The BOA lacing system also allows for a tighter, more precise fit, akin to a rock climbing slipper. So if you're looking for a super technical trail shoe for short-to-medium runs to and from those Flatiron-esque scrambling style missions, consider the Cyklon. Check out our review for more info.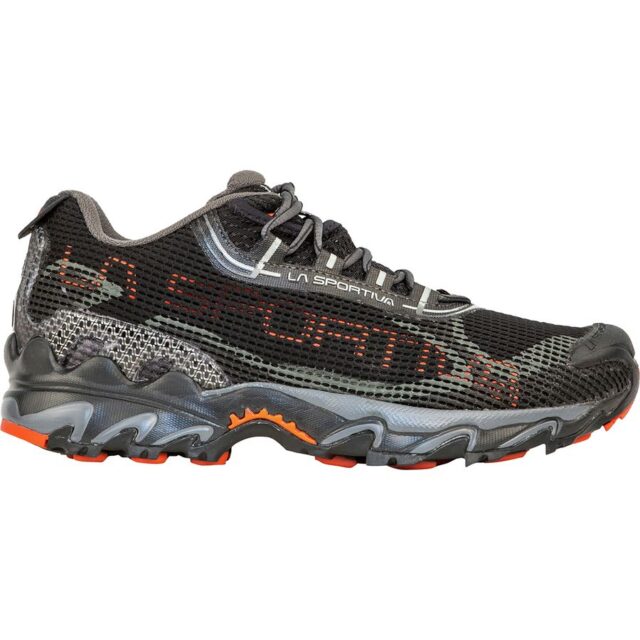 This updated version of the Wildcat offers a waterproof / breathable Gore-Tex upper and slightly lower stack height. It features a nearly identical midsole and outsole compared to the standard Wildcat, but the GTX version provides much better weather resistance. If you like the looks of the Wildcat but often run in cold, wet conditions, the Wildcat 2.0 GTX could be a good fit.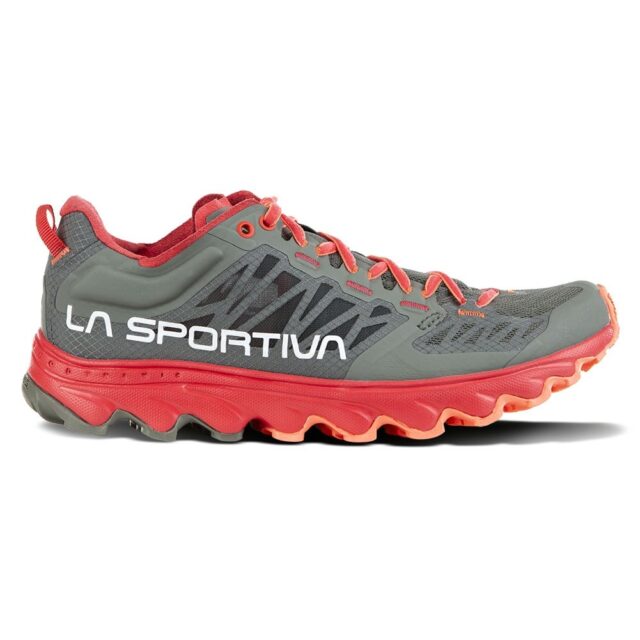 The Helios III is designed to be an ultralight, flexible, fairly minimally cushioned shoe that excels on moderate to non-technical terrain. The Helios III has an ultralight mesh and ripstop nylon upper, added padding in the heel cup, and a low-profile "Frixion Blue" rubber outsole. The Helios III is the most "minimal" shoe that La Sportiva makes. While it's still got a moderate amount of cushioning, the Helios III doesn't have a rock plate or an aggressive outsole. As a result, it's much lighter and more flexible than the Lycan II, the Kaptiva, or the Jackal, but it doesn't offer nearly as much protection as any of these shoes. The Helios III performs best for shorter, faster runs on less technical terrain, while the Lycan II or Kaptiva remain better options for longer runs on rockier trails.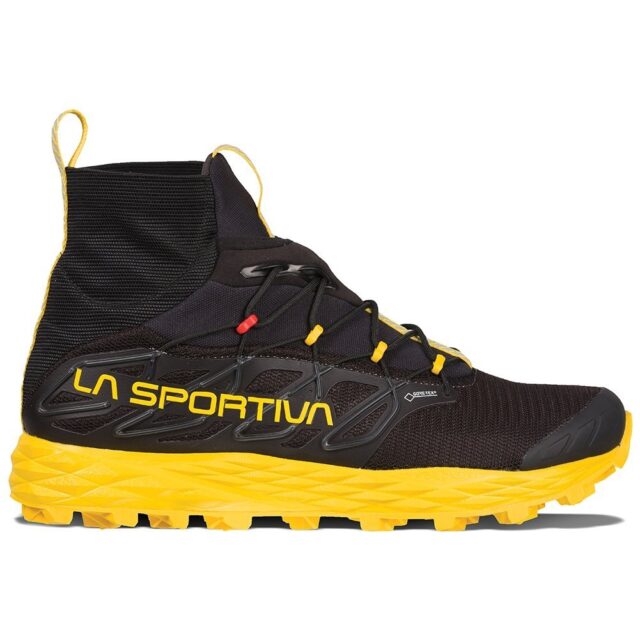 The Blizzard GTX is La Sportiva's winter running shoe. It has a very high, water-resistant gaiter and interior waterproof lining that help keep feet dry and warm in deeper snow. Its outsole uses La Sportiva's durable "FriXion Blue" rubber compound, and features some of the largest and most widely spaced lugs of any La Sportiva running shoe. The Blizzard GTX also comes stock with tungsten alloy spikes on its outsole, which provide lots of grip on icy surfaces. If you're a year-round runner living in an area with harsh winters, consider the Blizzard GTX.
The current version of the Bushido takes the support, protection, and traction of the original Bushido and adds slightly more forgiving cushioning. The Bushido II's upper is composed of breathable mesh with more minimal overlays than something like the Ultra Raptor II, though the Bushido II still has a large TPU toe cap to protect against rocks. Its outsole uses "FriXion Red" rubber — La Sportiva's medium-grip and medium-durability compound — and features moderately sized lugs to provide balanced durability and traction on most surfaces. The Bushido II is built on a slightly narrower last than most of La Sportiva's other shoes, so it's a good option if you want a very secure fit. The Bushido II's flatter, lower-drop profile, lower-volume fit, and versatile outsole all make for a shoe that excels on technical terrain where agility and stability are higher priorities than cushioning. Check out our review for more info.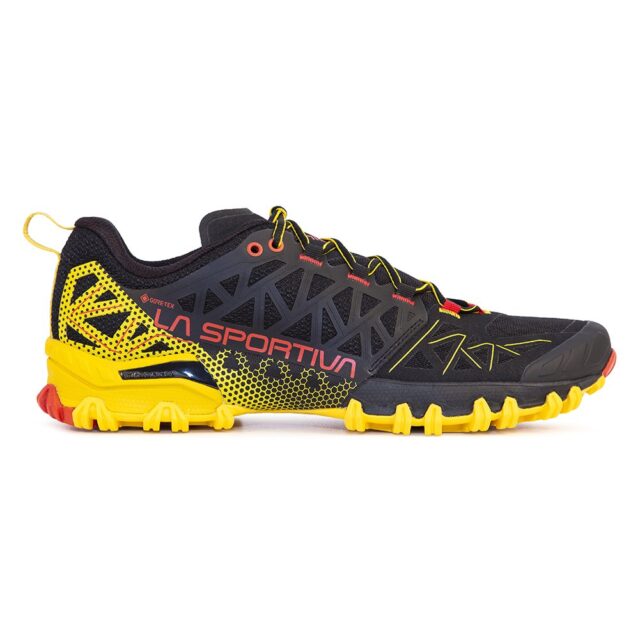 The waterproof version of the Bushido II has all of the same features as the standard shoe with the addition of a Gore-Tex "Invisible Fit" membrane lining the upper. La Sportiva uses the same "FriXion Red" rubber compound for the Bushido II GTX's outsole, so the shoe should have no issues handling slippery trails in wet conditions. However, the added Gore-Tex lining will likely make the Bushido II GTX slightly less breathable than the standard version.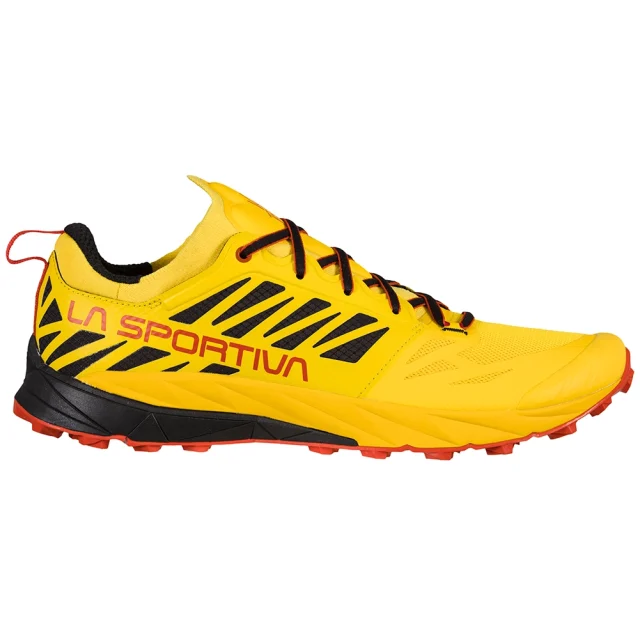 The Kaptiva is a minimal, racing-oriented shoe designed for trail / mountain races on techy terrain. It's lower-profile midsole and lightweight construction make it a great option for trail runners who like a snappy, efficient ride. The Kaptiva features La Sportiva's grippiest "FriXion White" rubber compound with larger lugs for added traction in wet / loose conditions. An EVA foam rock plate similar to what is in the Karacal adds some protection for more technical terrain, though precise foot placement is warranted, given the Kaptiva's overall minimalistic design. Finally, torsion-resistant inserts within the "MEMlex" foam midsole provide some stability. The Kaptiva's race-specific last makes for a narrow, precise fit that feels similar to the Bushido II. While its low weight makes it a good racing shoe, it could still serve as an everyday option for those who prefer less cushioning and a precise, low-volume fit (though its outsole will likely wear faster than most trainer-type shoes). If you like the sound of the Bushido II but want a lower, lighter, faster-feeling model, the Kaptiva deserves a look. Check out our review for more info.