2022 Niner Jet 9 RDO
Wheel Size: 29''
Travel: 120 mm rear / 130 mm front
Material: Carbon fiber
Blister's Measured Weight (size large, no pedals, as tested, see below): 29.85 lbs
Price: $4,599-$10,199 (see below)
Reviewers:
Dylan Wood: 5'10", 155 lbs / 178 cm, 70 kg
Luke Koppa: 5'8", 155 lbs / 173 cm, 70 kg
Test Locations: Gunnison and Crested Butte, Colorado; Moab, Utah
Test Duration: 2 months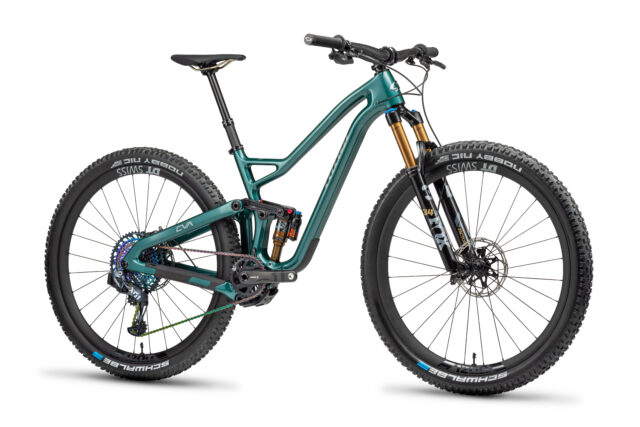 Intro
The Jet 9 has been around since 2007, when full-suspension 29" mountain bikes were very much in their infancy. 14 years later, in the spring of 2021, the 3rd version of the Jet 9 was launched with geometry and features that very much resemble the norm for modern short-travel trail bikes. Niner claims that this is their most popular and most versatile trail bike, so what exactly makes this bike stand out?
The Frame
The Jet 9 has been offered in both aluminum and carbon frames throughout the years, with this most recent version being available with a full carbon frame. RDO stands for "Race Day Optimized," which is basically Niner's approach to making carbon mountain bike frames. The Jet 9 RDO utilizes 120 mm of rear suspension travel, executed by Niner's CVA platform, which stands for "Constantly Varying Arc." This is a dual-link four-bar system that Niner developed, and they are the only bike company to use it. It was originally designed to account for the greater bottom bracket drop of 29ers but has remained on Niner's full-suspension bikes even since they began making bikes with 27.5" wheels.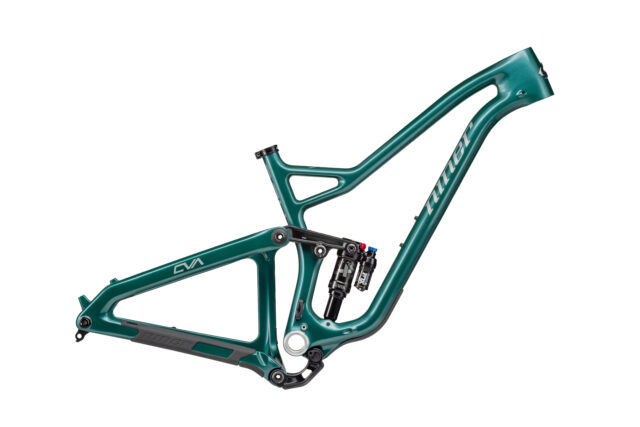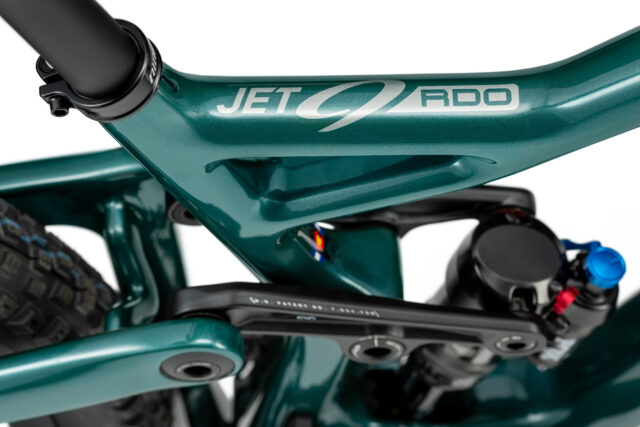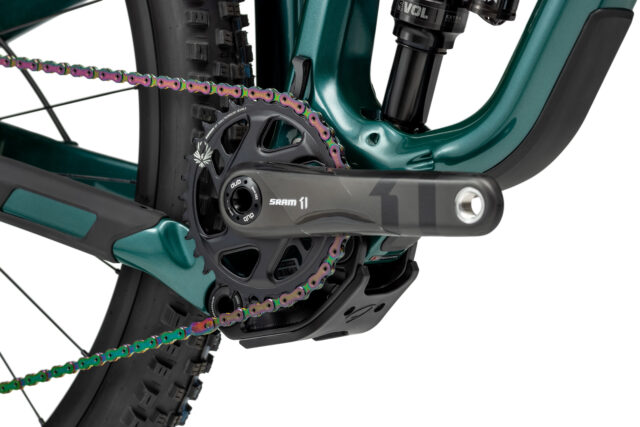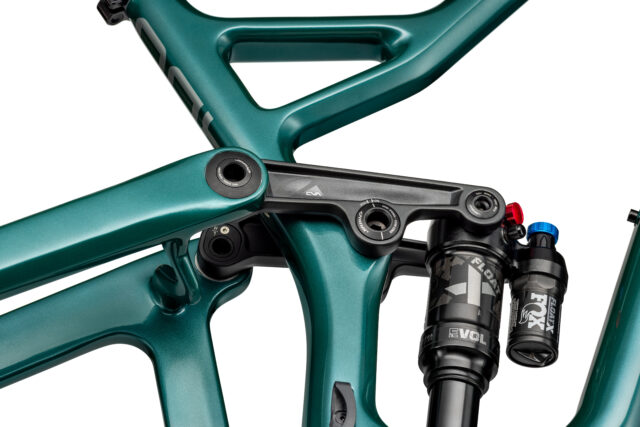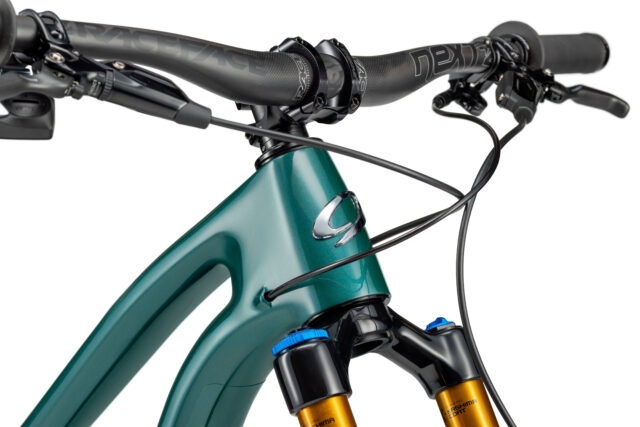 Besides that, the Jet 9 frame is equipped with pretty standard stuff in today's market. It has full sleeve internal cable routing, 148 x 12 mm Boost rear hub spacing, oversized Enduro Max pivot bearings, and is set up to accept a 180 mm rotor out back. The frame comes with downtube protection, can fit a 29" wheel up to around 2.6 inches wide, and is covered by a lifetime warranty. The rear shock is a 165 x 45 mm trunnion version.
Fit & Geometry
The Jet 9 comes in four different frame sizes, Small through XL, with reach numbers starting at 425 mm for the size Small, then growing by 25 mm per size. Our size LG Jet 9 has a 475 mm reach (high setting), which is pretty standard for today's short-travel trail bikes. In the high setting, it has a 66.5º head tube angle, 76º effective seat tube angle, and 430 mm chainstays for all sizes. The bike ships in the "high" geometry setting, but can be adjusted to the "low" setting to slacken the HTA and STA out by half a degree each, shorten the reach by 6 mm, and drop the bottom bracket by 8 mm.
Nothing really pops out from the geometry chart for the Niner Jet 9 — it's pretty standard fare for a short-travel trail bike that's meant to bridge the gap between XC race rigs and longer-travel, more aggressive options. Overall, everything seems to match this bike's intended use and it looks cohesive as a whole.
The Builds
Niner offers the Jet 9 RDO in six different build kits, ranging from the SRAM SX Eagle-specd "2-star" build kit all the way up to a "5-star" build kit complete with carbon wheels, Fox Factory suspension, and a SRAM XO1 AXS drivetrain. There aren't any truly entry-level builds here, and Niner seems to be taking a more well-rounded approach to their build kits, rather than prioritizing one or two components over the others in each of their build kits. However, it is worth mentioning that every build kit except for the cheapest comes with Fox Factory-level suspension.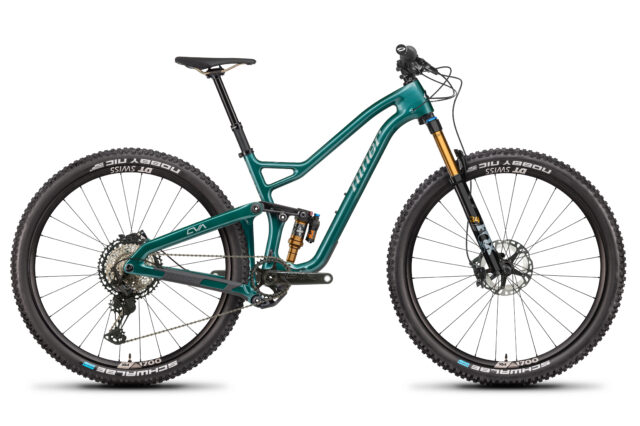 For reference, the complete build options are as follows:
All the builds get Schwalbe Nobby Nic tires with Super Trail TLE Addix Speedgrip rubber compounds. The Jet 9 comes stock with a 2.6-inch tire up front and a 2.35-inch tire in the rear. Our test bike has 2.6-inch Nobby Nics front and rear.
Full Review
Dylan Wood: I spent the majority of my early bike season on the Niner Jet 9 RDO, riding everything from mellow XC trails to sections in which I maybe should've used an Enduro bike. Luke Koppa also spent a few weeks on it, so we'll both be chiming in here.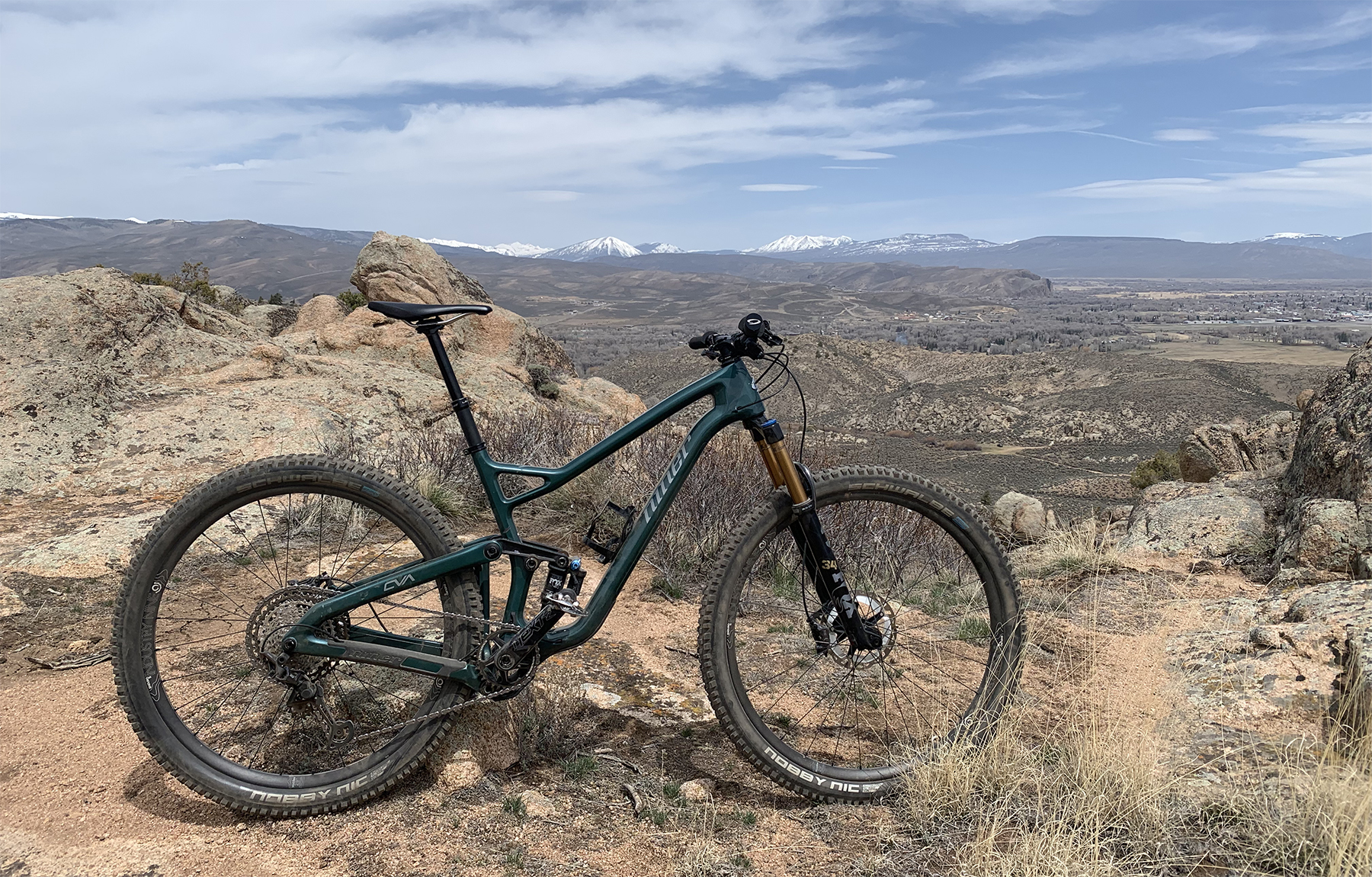 Fit and Geometry
Dylan Wood (5'10", 155 lbs / 178 cm, 70 kg): While there was certainly a time when every new bike I got on was longer, slacker, and had a steeper seat tube angle than the last, bike geometry progression has seemed to mellow out in the last couple of years. As a result, the last few short-travel Trail bikes I've swung a leg over have all felt familiar and intuitive, and the Jet 9 RDO is no different.
In a size Large and in the "low" geometry mode, the Jet 9 has a reach of 469 mm, which is maybe a touch on the short side of average but not a wild outlier or anything like that. Despite Niner recommending the Large Jet 9 for riders 5'11" to 6'3", at 5'10", this bike fit me quite well. Personally, I definitely would not want to go down to a Medium (and certainly not up to an XL), but riders in doubt should swing a leg over this bike before making their sizing decisions.
Looking at the Jet 9's geometry, nothing really stands out as being radical or out-of-place. Subsequently, the Jet 9 feels cohesive, predictable, and intuitive out on the trail. When seated and climbing, I felt like I could aggressively put the power down without needing to ride in an uncomfortable position. In fact, the Jet 9 put me in a slightly more casual position reminiscent of mid-travel Trail bikes. It certainly doesn't fit or feel like an XC race bike, which could be a plus or a con, depending on the rider and terrain available. On the way down, the Jet 9 felt more nimble and agile than planted and stable, and I had plenty of room to move about the bike. More on that below.
Luke Koppa (5'8", 155 lbs / 173 cm, 70 kg): At my height, I'm a less ideal candidate for the size Large Jet 9 than Dylan, but I still enjoyed my time on the bike. Unsurprisingly, given that Niner recommends a size Medium or even Small for my height, the size Large Jet 9 makes me feel a bit stretched out while climbing, and I ended up getting some lower back pain after sustained steep climbs. I'm almost certain this would be a non-issue if I were on a more appropriate size. FWIW, after my time on the size Large, I would definitely go down to the size Medium — not the Small that Niner also recommends for my height — since I actually got along great with the Large Jet 9 on the descent.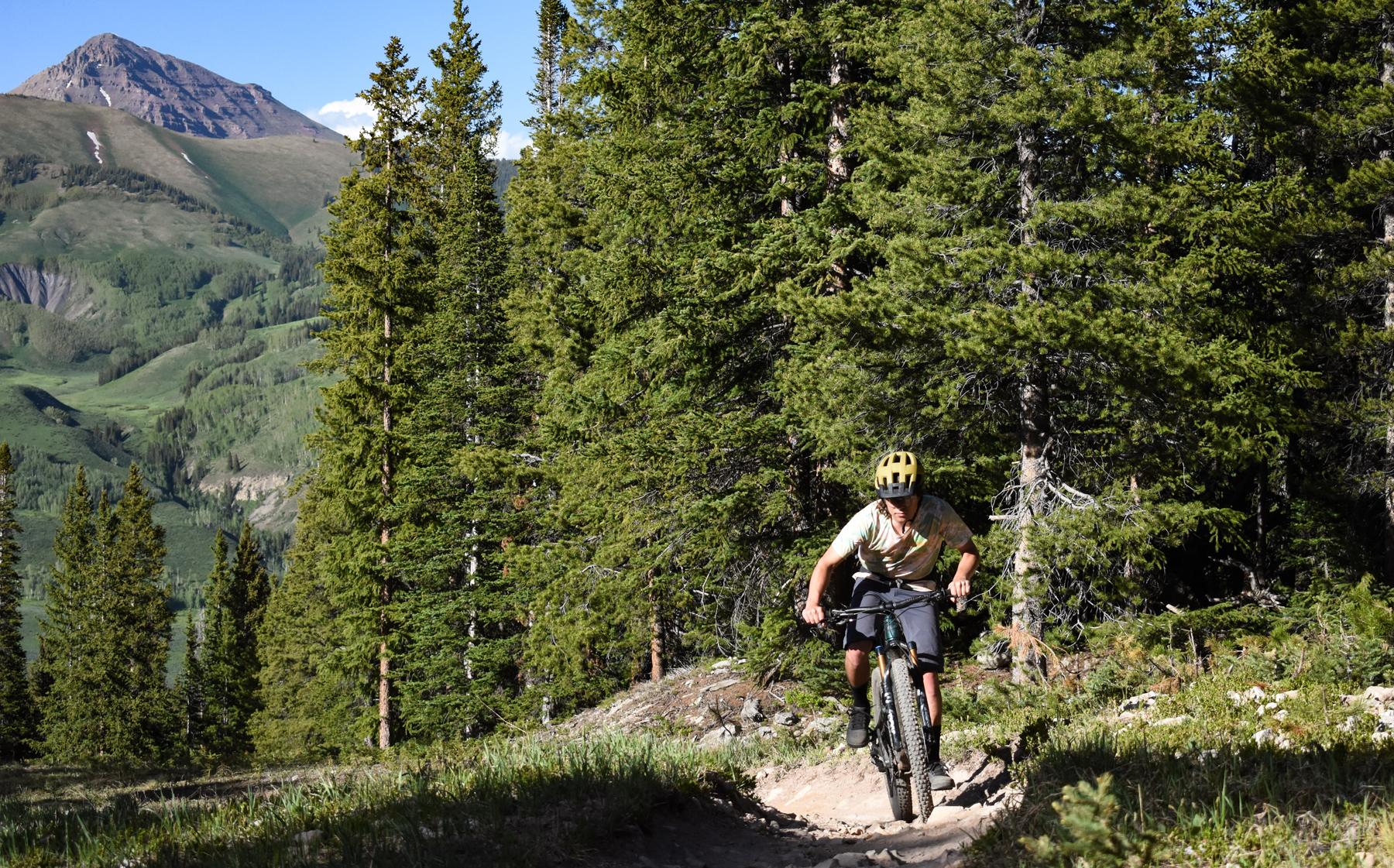 Climbing
Dylan: The Niner Jet 9 is an efficient bike, and it feels eager to attack uphill sections of trail. Putting power into the cranks results in immediate acceleration without much energy lost to the suspension. And while I do think there are even more efficient short-travel Trail bikes out there (the Pivot Trail 429 comes to mind), what the Jet 9 gives up in terms of efficiency, it makes up for with traction. To be clear, this bike still falls on the sportier, firmer end of the spectrum, but it has a really nice balance of traction and efficiency that I think many riders will come to like. Those who mainly just grind up smooth trails and roads might be better off with a stiffer suspension platform, but riders who ride a mix of mellow, flatter climbs and more demanding, technical ones will likely be better suited by the traction that the Jet 9 has to offer.
On the uphills, the Jet 9's suspension is indeed versatile, and its geometry complements it nicely, too. Its middle-of-the-road 75.5º effective seat tube angle (low geometry position) results in a natural and powerful-feeling position on flatter climbs. On steeper climbs, the Jet 9 feels capable unless the trails are very, very steep, in which it feels difficult to keep the front wheel adequately weighted. However, this threshold is quite high, and I've only found it in situations in which I'd just consider walking my bike anyway. Overall, the Jet 9 is an efficient and agile climber, and its suspension platform provides enough efficiency that I never felt the need to touch the climb switch unless I was going up a smooth, gradual road.
Luke: Yep, I love the way the Jet 9 goes uphill. While I agree that the Pivot Trail 429 feels a bit snappier on the pedals, I'd still put the Jet 9's suspension platform on the firmer / more efficient end of the spectrum, while still offering pretty good traction on variable / bumpy / loose terrain. I haven't once flipped the climb switch on the Jet 9's shock and I don't think I ever would unless I was going to be spending an extended period of time on pavement or very smooth gravel.
I agree that the Jet 9's geometry doesn't feel like it was designed for pedaling up the steepest climbs, but rather, it handles a variety of slope angles really well and doesn't suffer from the sometimes awkward feeling of bikes with ultra-steep seat tube angles when you're on flatter / rolling trails. For a short-travel Trail bike — especially one like the Jet 9 that rewards quick bursts of power on mellower terrain — I think that makes a ton of sense.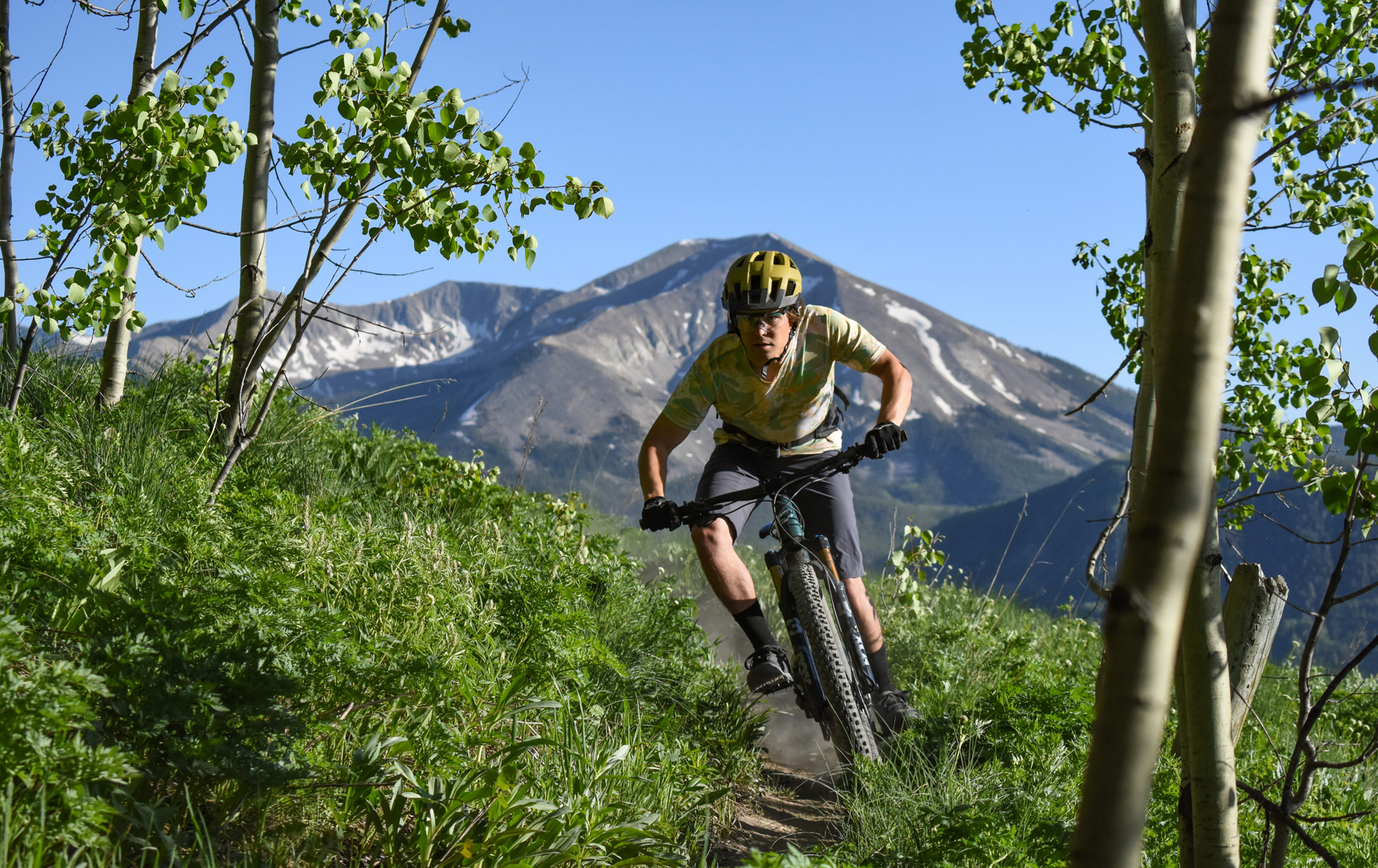 Descending
Dylan: As with climbing, the Niner Jet 9 continues to be versatile and efficient on the way down. This is definitely a sporty, quick, agile Trail bike that doesn't mute out every bump of the trail, and this results in a few characteristics.
The Jet 9 feels firm and supportive in corners, rollers, and g-outs. It keeps its speed very well when pumping through undulating terrain, and can be pushed hard into corners. On the other hand, it isn't super plush or forgiving, and you can definitely feel the bottom of the travel on this bike when riding it hard on rougher trails. Instead of feeling glued to the trail and very planted, the Jet 9 was eager to get into the air. Going fast over smaller and more round rocks and roots wasn't problematic on the Jet 9, but on chunkier, more harsh trails, it definitely encouraged me to carefully choose my line and be strategic about weighting and unweighting the bike, taking advantage of its nimble and light feel. On a similar note, the Jet 9 is easy to get into the air and flick around, giving it a playful feel.
On descents, the Jet 9 struck me as a very versatile bike, above everything. On steep, technical trails, it handled predictably with a precise and sporty feel. On mellower trails, it kept its speed well and encouraged me to remain aggressive and attack the trail. It definitely has its limits on very chunky trails and/or large drops, jumps, and very harsh g-outs, but it felt appropriate and fun on just about everything I threw its way. I definitely rode some trails (such as Captain Ahab in Moab) on this bike that I'd usually ride on a mid- to long-travel Trail or Enduro bike, and while I don't think the Jet 9 would be a very ideal bike for those looking for something very capable and forgiving on rough descents, I think it's totally appropriate to dabble with these kinds of rides on the Jet 9.
When descending, the Jet 9 has good small-bump sensitivity and it's easy to get into its travel. Starting with the suggested spring rate settings, though, I found it a bit too easy to get deep into the suspension, resulting in the bike feeling a little harsher during bottom-outs than I'd like. Because of this, I decided to add a little more air into the shock and fork (more on this below), and I ended up preferring the suspension setup a bit firmer. I felt that I had better mid-stroke support and a slightly smoother feel while still utilizing all the travel the Jet 9 had to offer. The Jet 9 stands out in this sense as its suspension feels a bit more progressive than some other bikes in its class. Its suspension also feels solid under braking and maintains good traction while slowing down, relative to other short-travel Trail bikes (i.e., there are longer-travel bikes such as the Canfield Lithium that do this much better).
Luke: I agree with everything Dylan said — the Jet 9 covers a lot of trail scenarios quite well for its class, while offering a more engaging, efficient ride on mellower terrain than many of the slightly longer-travel Trail bikes I've used.
My personal do-everything bike is a Commencal Meta TR, and I definitely preferred the lighter, less slack Jet 9 on trails that were less consistently steep; the Jet 9 rewards pumping and pedaling much better, encouraging me to attack flatter or more rolling trails without feeling like my efforts are going to waste. On steeper trails with more drops or larger obstacles, the Jet 9 unsurprisingly required me to be a bit more deliberate about my line choices and put in more effort on my end to absorb chatter and keep the bike in control.
I was consistently impressed by how well the Jet 9, with its relatively small amount of travel, handled high-speed sections of trail that had lots of repeated, small rocks and roots. I think its small-bump sensitivity is quite good for its class, and it was only when I encountered bigger obstacles that I felt myself missing my slacker, longer-travel bike.
I also really liked how the Jet 9 cornered, whether that was in a supportive bike-park berm or on a flatter, looser section. I felt like I was "in" the bike while riding the Jet 9, rather than perched high atop it, which always inspires confidence for me when trying to corner faster and harder.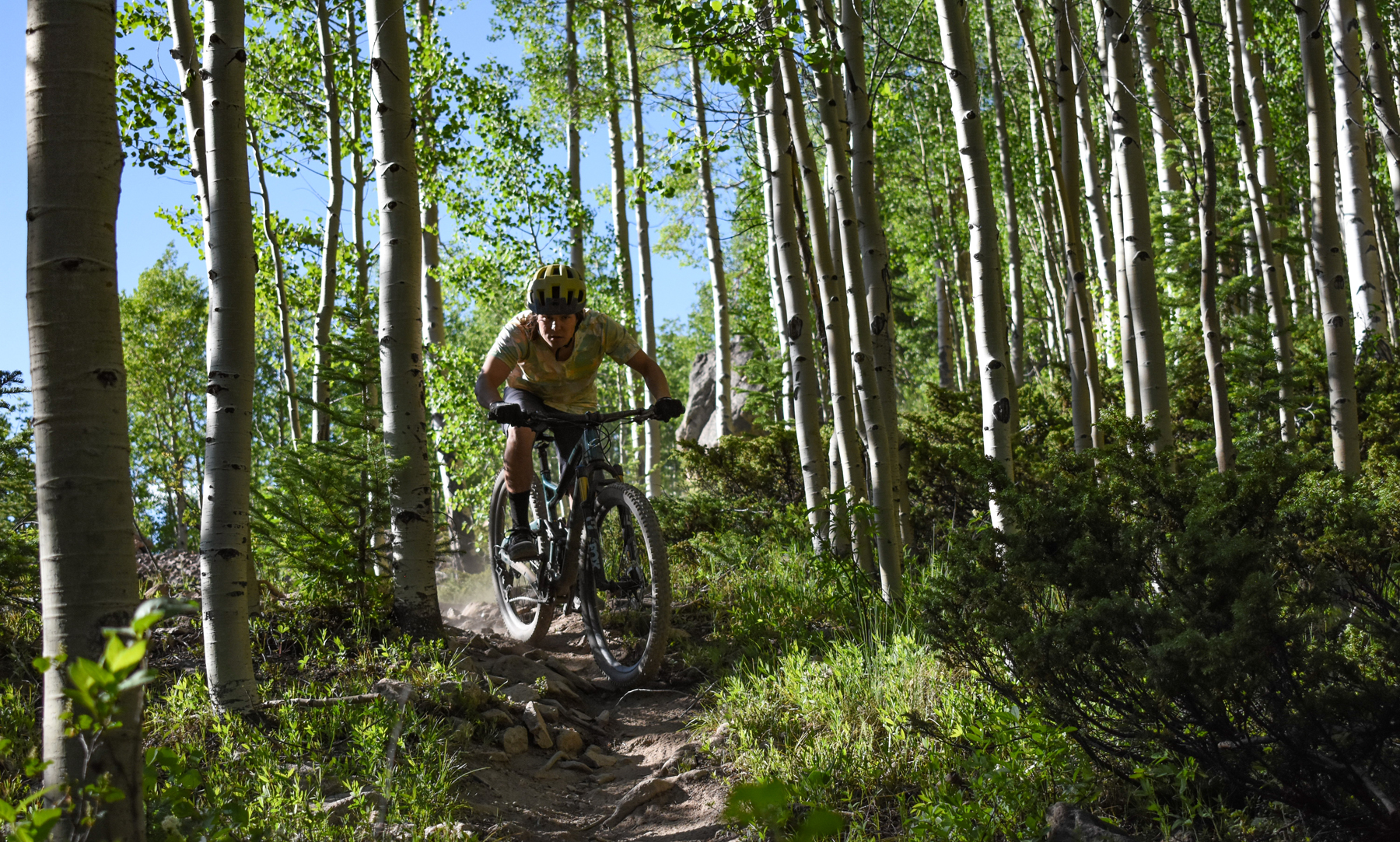 The Build
Dylan: I don't have many notable things to say, other than I think that the 4-Star Shimano XT build kit we tested was nice and cohesive, and Niner's other build kits for this bike make a lot of sense and seem well-rounded. It's good to see the Fox Float X on the Jet 9 now, spec'd at the Factory level on every build kit except the 2-Star (our test bike had a Fox Float DPX2, which I've never been a fan of, specifically on bikes with more travel than the Jet 9). The Shimano XT drivetrain worked as it should've and was drama-free, I continued to enjoy the crisp-feeling 4-piston Shimano XT brakes, and the 180 mm stock rotors were perfect for my size and the trails I rode.
The stem is very short (40 mm) and the bars are pretty high (35 mm rise), and it's common to see a cockpit like this on a more aggressive Enduro bike. This gives the Jet 9 a very Trail-bike-esque cockpit and a more upright feeling, rather than low XC race bike. Subsequently, I decided to slam the stem as low as it could go on the steer tube of the fork, and I thought it was fine. Of course, cockpit setup is very personal and you should figure out what feels best for you and the kind of terrain you ride.
Luke: Agreed — the fairly high-end 4-Star XT build leaves little to be desired on my end. I appreciate that Niner opted for the Fox 34 with the Grip 2 damper, rather than the FIT4, since I never feel the need for a climb switch on my fork and the Jet 9 handles rough terrain well enough to benefit from a more tunable damper.
Like Dylan, I ended up running slightly higher air pressure than recommended in both the fork and shock for added support and bottom-out resistance. This was more noticeable in the DPX2 shock on our test bike than the Fox 34 fork, and I agree with Dylan that the Float X on the current Jet 9 builds should make for an improvement, based on what our bike editor has said about that shock.
The only nit I can pick is that I wish the Jet 9 would come with a front tire with a softer rubber compound. The Addix Speedgrip version of the Schwalbe Nobby Nic worked just fine most of the time, but on a versatile short-travel Trail bike like the Jet 9, I'd personally be happy to trade a bit of rolling resistance and durability for better grip on slippery trails. Overall, though, I really like the Nobby Nic front + rear combo on this bike.
At $7,149, the 4-Star XT build certainly isn't cheap, and Niner doesn't really offer much in the way of budget-friendly builds, but it's not like they're putting low-end parts on expensive bikes.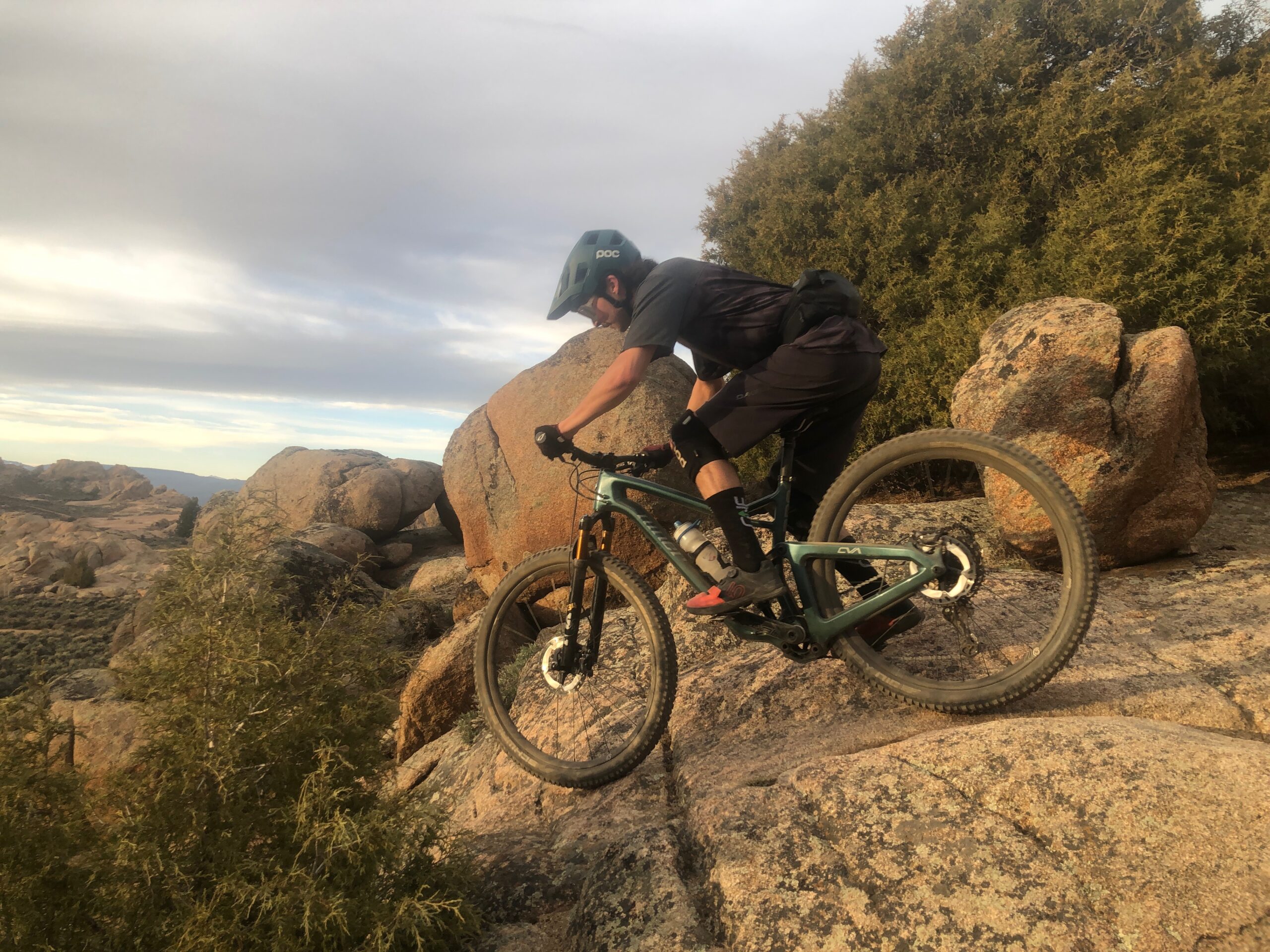 Comparisons
Dylan: The SB130 has more travel than the Jet 9, but it isn't exactly more plush. It feels a bit sportier and more focused on efficiency, while the Jet 9's suspension is a bit more forgiving to ease into. The SB130 can be pushed harder and feels like a more game-on, capable, stable bike, while the Jet 9 is more easygoing, a bit quicker handling, and more playful.
Dylan: We tested the Ripley AF in a Medium, so while this comparison isn't perfect, it's still worth mentioning. Overall, these two bikes felt quite similar, and this is probably the best comparison I can think of. Their suspension is pretty similar, with the Ripley AF being perhaps a bit more plush and forgiving than the Jet 9. The geometry of these two bikes is pretty similar in equivalent sizes, though this speculation is mostly on paper. The Medium Ripley AF and Large Jet 9 felt like they handled very similarly out on the trail, with the Jet 9 feeling a bit more stable and the Ripley AF feeling a bit more nimble, unsurprisingly.
Luke: Yeah, these two feel really, really similar to me. Both are efficient on the pedals, pretty nimble, but also capable of handling some steeper and rougher terrain. They felt so similar to me that, in my mind, the biggest difference by far is the price / builds. The Ripley AF is a much better choice if you prioritize saving some money over minimum weight and high-end components, or vice versa for the Jet 9.
Dylan: Again, this is a great comparison since these two bikes are quite similar. We tested the Enduro build of the Trail 429, which did feel a bit more capable on descents than the Jet 9, though I am guessing the "standard" Trail 429 is very similar to the Jet 9. Overall, the Jet 9 felt like it offered slightly more traction than the Trail 429, while that bike felt slightly more sporty and efficient. Handling, fit, and geo were all very similar (apart from the Jet 9's cockpit), and I think if someone likes one of these bikes, I bet they'd like the other, too.
Dylan: Unfortunately, we haven't had any reviewers on both of these bikes, but I can make some educated guesses based on what David's had to say about the Trail Pistol.
Overall, the Trail Pistol sounds like it has much more of a Trail bike feel than the Jet 9. While the Jet 9 is happy to cruise along undulating terrain, the Trail Pistol seems like the better tool if your rides involve more focus on the descents and less worry about efficiency on the climbs and flats. The Jet 9 is happy to do it all, but it does feel like it has a big focus on efficiency, while the Trail Pistol seems more like a mini-Trail bike.
Luke: Somewhat similar to the Trail Pistol, the Phantom feels like it's designed a bit more for descending than the Jet 9. The Jet 9 is slightly more efficient while pedalling, feels a bit easier to pick up and place in a precise manner, and has a slightly stronger preference for a forward body position. The Phantom offers notably better traction on the up and down, thanks to its longer chainstays and slightly more active rear suspension, and generally feels a bit more planted and composed when riding fast in rougher and/or steeper terrain.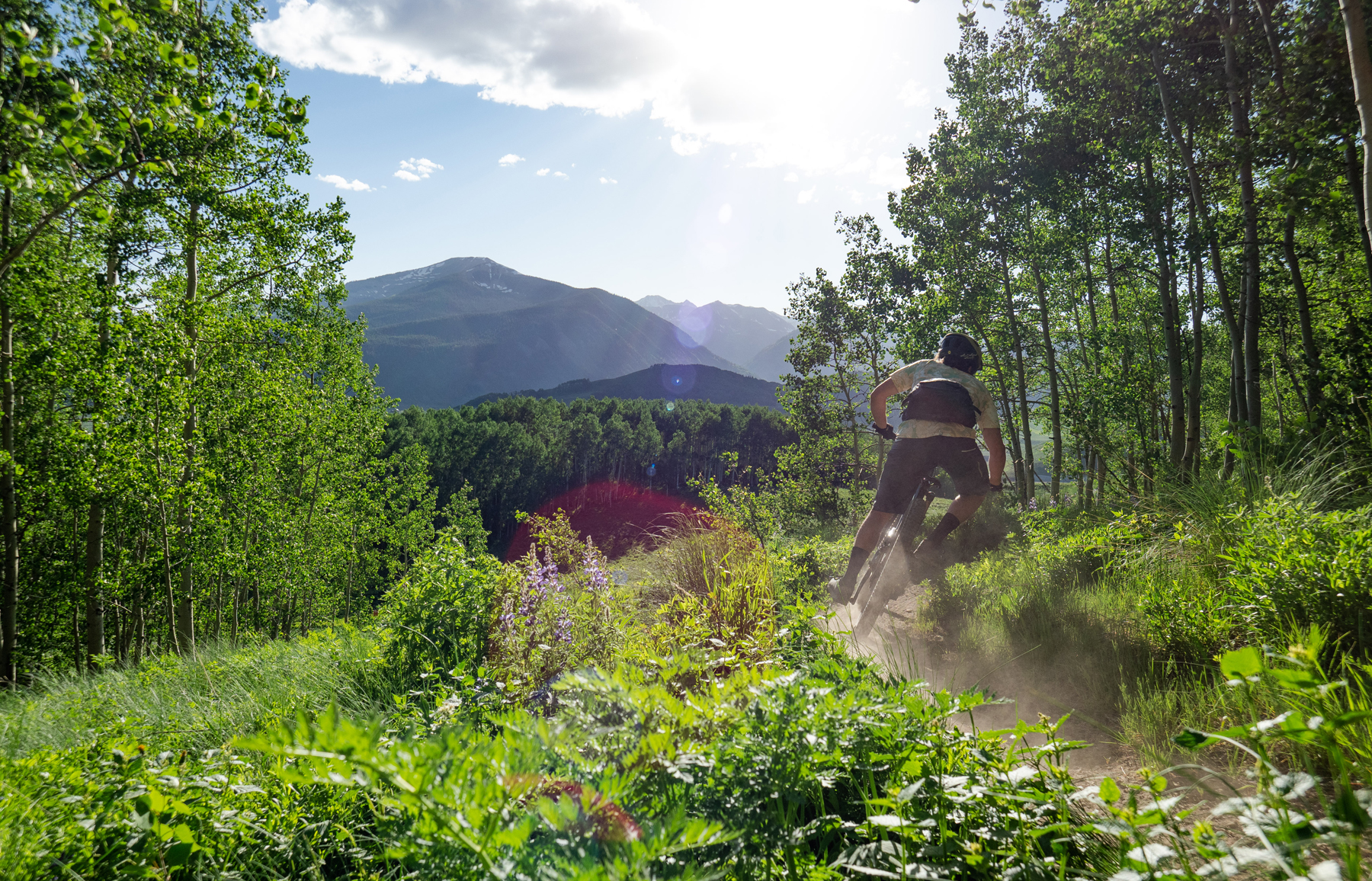 Who's It For?
Dylan: If you appreciate a lightweight, snappy bike that pedals well, you'll appreciate the Jet 9's efficiency, ability to accelerate quickly, and capacity to carry speed on mellow terrain. However, the Jet 9 offers much more stability and traction than a traditional XC race bike, at the cost of some weight and efficiency, of course. While the Jet 9 isn't some true Trail bike in disguise, it has stellar traction and feels capable enough to handle a very wide variety of trails. If you're interested in a bike in the short-travel Trail category, the Jet 9 is very much worth considering as it blends traits from both XC and Trail bikes very well.
Luke: The categories of mountain bikes continue to get blurrier and blurrier, and I think the Jet 9 could be a great do-everything "Trail" bike for certain riders. If you're not frequently riding very steep, very technical trails, the Jet 9 could be a perfect companion — it's more efficient, engaging, and rewarding on mellower trails than many slightly longer-travel alternatives, yet it doesn't go so far in those regards that it feels wildly out of place when you do take it into some more challenging terrain. Alternatively, I think it could also be an ideal complement to a longer-travel rig for folks who routinely ride a wide variety of trails and want to make the most of their longer days on the bike and/or mellower trails, without feeling like they're on a wildly different, solely uphill-oriented bike.
Bottom Line
Dylan: Compared to other short-travel Trail bikes, the Jet 9 stands out for, well, not really standing out at all — and I mean that in a very positive way. While there are bikes in the short-travel Trail category that feel like they are closer than others to being an XC or a longer-travel Trail bike, the Jet 9 fits really well into the middle of this category and executes what it's designed to do. It isn't the most efficient and doesn't exhibit any twitchy or squirrelly characteristics that might make you feel as if you're on an XC bike, and it also doesn't fool you into feeling like you have more travel or you're on a more capable bike than you are. Instead, the Jet 9 feels very true to the short-travel Trail category, making it a very versatile bike that a lot of riders could get along with.