2022 Niner Jet 9 RDO
Wheel Size: 29''
Travel: 120 mm rear / 130 mm front
Material: Carbon fiber
Blister's Measured Weight (size large, no pedals, as tested, see below): 29.85 lbs
Price: $4,599-$10,199 (see below)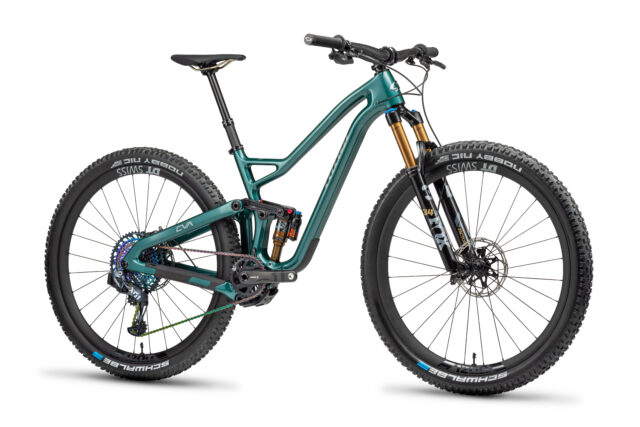 Intro
The Jet 9 has been around since 2007, when full-suspension 29" mountain bikes were very much in their infancy. 14 years later, in the spring of 2021, the 3rd version of the Jet 9 was launched with geometry and features that very much resemble the norm for modern short-travel trail bikes. Niner claims that this is their most popular and most versatile trail bike, so what exactly makes this bike stand out?
The Frame
The Jet 9 has been offered in both aluminum and carbon frames throughout the years, with this most recent version being available with a full carbon frame. RDO stands for "Race Day Optimized," which is basically Niner's approach to making carbon mountain bike frames. The Jet 9 RDO utilizes 120 mm of rear suspension travel, executed by Niner's CVA platform, which stands for "Constantly Varying Arc." This is a dual-link four-bar system that Niner developed, and they are the only bike company to use it. It was originally designed to account for the greater bottom bracket drop of 29ers but has remained on Niner's full-suspension bikes even since they began making bikes with 27.5" wheels.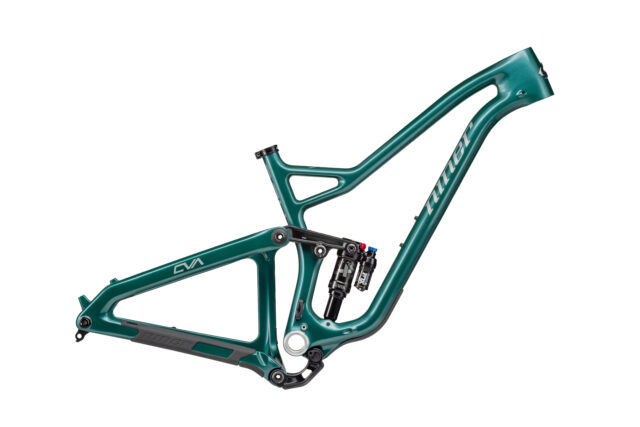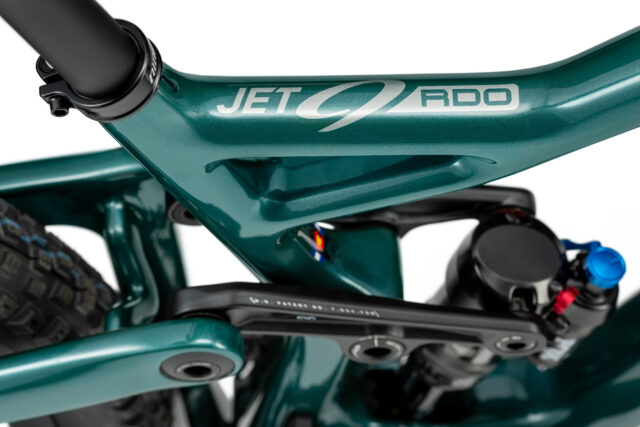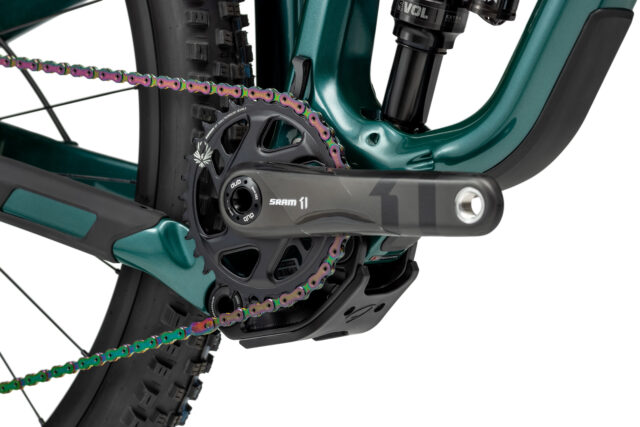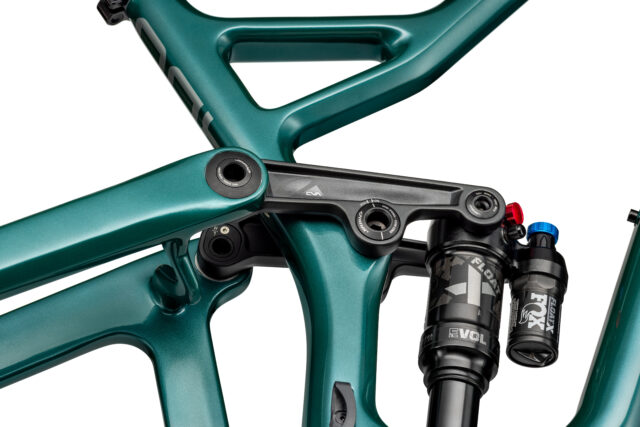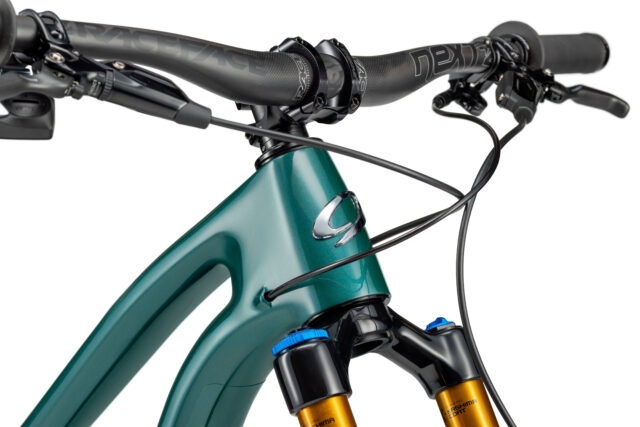 Besides that, the Jet 9 frame is equipped with pretty standard stuff in today's market. It has full sleeve internal cable routing, 148 x 12 mm Boost rear hub spacing, oversized Enduro Max pivot bearings, and is set up to accept a 180 mm rotor out back. The frame comes with downtube protection, can fit a 29" wheel up to around 2.6 inches wide, and is covered by a lifetime warranty. The rear shock is a 165 x 45 mm trunnion version.
Fit & Geometry
The Jet 9 comes in four different frame sizes, Small through XL, with reach numbers starting at 425 mm for the size Small, then growing by 25 mm per size. Our size LG Jet 9 has a 475 mm reach (high setting), which is pretty standard for today's short-travel trail bikes. In the high setting, it has a 66.5º head tube angle, 76º effective seat tube angle, and 430 mm chainstays for all sizes. The bike ships in the "high" geometry setting, but can be adjusted to the "low" setting to slacken the HTA and STA out by half a degree each, shorten the reach by 6 mm, and drop the bottom bracket by 8 mm.
Nothing really pops out from the geometry chart for the Niner Jet 9 — it's pretty standard fare for a short-travel trail bike that's meant to bridge the gap between XC race rigs and longer-travel, more aggressive options. Overall, everything seems to match this bike's intended use and it looks cohesive as a whole.
The Builds
Niner offers the Jet 9 RDO in six different build kits, ranging from the SRAM SX Eagle-specd "2-star" build kit all the way up to a "5-star" build kit complete with carbon wheels, Fox Factory suspension, and a SRAM XO1 AXS drivetrain. There aren't any truly entry-level builds here, and Niner seems to be taking a more well-rounded approach to their build kits, rather than prioritizing one or two components over the others in each of their build kits. However, it is worth mentioning that every build kit except for the cheapest comes with Fox Factory-level suspension.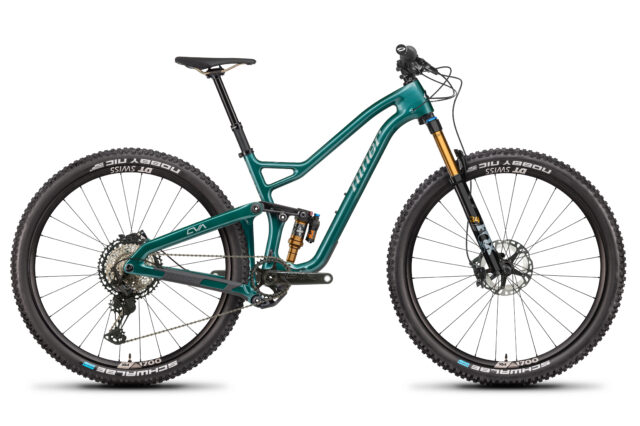 For reference, the complete build options are as follows:
All the builds get Schwalbe Nobby Nic tires with Super Trail TLE Addix Speedgrip rubber compounds. The Jet 9 comes stock with a 2.6-inch tire up front and a 2.35-inch tire in the rear. Our test bike has 2.6-inch Nobby Nics front and rear.
Some Questions / Things We're Curious About
(1) On paper, the Jet 9 looks pretty similar to a bunch of other bikes in its class, but what might stand out on the trail?
(2) We've found other short-travel trail bikes to occupy a very versatile middle ground between XC and aggressive trail riding. Where might the Jet 9 fall on this spectrum?
(3) The Jet 9 looks like a very ideal choice for all-around trail riding, but where might its limit be when it comes to riding steep, fast, and chunky trails?
Flash Review
Blister Members can read our Flash Review of the Jet 9 RDO for our initial on-trail impressions. Become a Blister Member now to check out this and all of our Flash Reviews, plus get exclusive deals and discounts on gear, and personalized gear recommendations from us.
Bottom Line (For Now)
The Niner Jet 9 RDO checks a lot of boxes for a short-travel trail bike, and it looks like a really good tool for taking advantage of the early season riding around the Gunnison Valley. We'll be getting plenty of time on this bike and comparing it to similar options in its class, so stay tuned for updates.