Ski: 2022-2023 Nordica Unleashed 108, 186 cm
Test Location: Mt. Crested Butte, CO
Days Skied: 8
Available Lengths: 174, 180, 186, 191 cm
Blister's Measured Tip-to-Tail Length (straight-tape pull): 183.6 cm
Stated Weight per Ski: 2120 grams
Blister's Measured Weight per Ski: 2077 & 2097 grams
Stated Dimensions: 141-108-130 mm
Blister's Measured Dimensions: 141.5-107.5-130.5 mm
Stated Sidecut Radius (186 cm): 19.7 meters
Measured Tip & Tail Splay (ski decambered): 77 mm / 59.5 mm
Measured Traditional Camber Underfoot: 3 mm
Core Materials: poplar/beech + titanal layer + carbon & fiberglass laminate
Base: sintered
Factory Recommended Mount Point: -7.7 cm from center; 84.1 cm from tail
Boots / Bindings: Tecnica Mach1 MV 130, Atomic Hawx Ultra 130 / Marker Griffon

Intro
Nordica introduced a whole new series of skis for the 22/23 season, with the Unleashed models being marketed as the more playful, maneuverable, and nimble alternatives to the brand's longstanding Enforcer and Santa Ana series.
As the widest ski in the new series, the Unleashed 108 is designed to excel in soft snow but still be versatile when it hasn't snowed in a while, and it accomplishes this in a slightly different manner than many of its main competitors. Let's dive in:
What Nordica says about the Unleashed 108
"High fives and good times come standard with Nordica's Unleashed 108. Built for the modern freeskier, it loves deep days and big terrain. Yet this daily driver is also at home in the trees and bumps thanks to a rocker profile that offers exceptional versatility. To elevate your confidence, the Unleashed 108 pairs a wood core with carbon and a sheet of terrain-specific metal. This enhances edge hold and dampens vibration for an especially smooth ride. Armed with traditional camber underfoot, the Unleashed 108 offers excellent response and plenty of pop. And its early rise tip and tail provide flotation on deep days and give you the freedom to approach any terrain and every turn with creativity. Playful and powerful, Nordica's Unleashed 108 transforms the entire mountain into your canvas."
Shape / Rocker Profile
The Unleashed 108 has a pretty traditional shape with minimal tapering at the tips and tails. It's a similar story with its rocker profile; its rocker lines are fairly shallow for a playful ~108mm-wide ski, though it does have a lot of tip and tail splay. Overall, it kind of makes me think of a very wide park ski (though its dimensions aren't as symmetrical as a pure freestyle ski).
Flex Pattern
Here's how we'd characterize the flex pattern of the Unleashed 108:
Tips: 6.5-7
Shovels: 7-8.5
In Front of Toe Piece: 8.5-9.5
Underfoot: 9.5
Behind the Heel Piece: 9.5-9
Tails: 8.5-7.5
The Unleashed 108's flex pattern is fairly similar to that of the Nordica Enforcer 104 Free, with the Unleashed 108 being a bit softer at the tips and tails. Still, the Unleashed 108 is pretty strong overall, especially compared to some freestyle-oriented skis like the Line Sir Francis Bacon and K2 Reckoner 112.
Sidecut Radius
At a stated 19.7 meters for the 186 cm length, the Unleashed 108's sidecut radius is pretty average for this class.
Mount Point
The Unleashed 108's recommended mount point (-7.7 cm from true center) is just a touch closer to center than the Enforcer skis; it's not as close to center as many freestyle skis, but it's also not super far back.
Weight
The 186 cm Unleashed 108 comes in at a little under 2100 grams, which puts it right around the middle of the pack of similarly wide skis. It's notably lighter than Nordica's Enforcer skis, but not as light as many of the more playful skis in this class.
For reference, here are a number of our measured weights (per ski in grams) for some notable skis. Keep in mind the length differences to try to keep things apples-to-apples.
1800 & 1804 Head Kore 105, 184 cm (21/22)
1820 & 1821 Majesty Havoc Carbon, 186 cm (20/21–22/23)
1836 & 1838 Armada ARW 106 UL, 180 cm (21/22-22/23)
1875 & 1881 Line Sir Francis Bacon, 184 cm (19/20–22/23)
1905 & 1919 J Skis Slacker, 188 cm (20/21–21/22)
1920 & 2006 RMU North Shore YLE 110, 186 cm (21/22–22/23)
1946 & 1962 Black Crows Atris, 184 cm (22/23)
1947 & 2011 4FRNT Devastator, 186 cm (20/21–22/23)
1951 & 1953 Elan Ripstick 106, 188 cm (20/21–22/23)
1951 & 1957 RMU Apostle 3.0 106, 184 cm (21/22–22/23)
1970 & 1993 Moment Deathwish 104, 184 cm (21/22–22/23)
1989 & 2000 Folsom Cash 106, 188 cm (22/23)
1997 & 2001 Zag Slap 104, 188 cm (21/22-22/23)
2008 & 2065 Wagner Summit 106, 186 cm (20/21–22/23)
2009 & 2010 Rossignol Sender 104 Ti, 186 cm (22/23)
2011 & 2028 Moment Wildcat 108, 184 cm (19/20–20/21)
2011 & 2046 Elan Ripstick 106 Black Edition, 188 cm (21/22–22/23)
2022 & 2046 DPS Foundation Koala 103, 184 cm (21/22–22/23)
2046 & 2120 Black Crows Corvus, 188 cm (18/19–22/23)
2057 & 2061 Fischer Ranger 102, 183 cm (22/23)
2073 & 2074 Season Nexus, 183 cm (20/21–22/23)
2077 & 2097 Nordica Unleashed 108, 186 cm (22/23)
2110 & 2117 Fischer Ranger 108, 185 cm (22/23)
2110 & 2119 Moment Wildcat 108, 190 cm (19/20–20/21)
2112 & 2125 4FRNT MSP 107, 187 cm (18/19–22/23)
2068 & 2178 Salomon QST 106, 181 cm (22/23)
2120 & 2134 Blizzard Rustler 10, 188 cm (19/20–22/23)
2138 & 2172 Rossignol Sender 106 Ti+, 187 cm (22/23)
2145 & 2167 Sego Big Horn 106, 187 cm (20/21–21/22)
2165 & 2219 Icelantic Nomad 105, 191 cm (19/20–20/21)
2170 & 2180 Dynastar M-Free 108, 182 cm (20/21–22/23)
2177 & 2178 Moment Commander 108, 182 cm (20/21–22/23)
2182 & 2218 Nordica Enforcer 110 Free, 185 cm (17/18–22/23)
2220 & 2237 K2 Mindbender 108Ti, 186 cm (22/23)
2232 & 2242 Blizzard Cochise 106, 185 cm (20/21–22/23)
2233 & 2255 Nordica Enforcer 104 Free, 186 cm (19/20–22/23)
2230 & 2290 Line Blade Optic 104, 185 cm (22/23)
2295 & 2344 J Skis Hotshot, 183 cm (20/21–22/23)
2302 & 2342 Dynastar M-Free 108, 192 cm (20/21–22/23)
2312 & 2386 Prior Husume, 188 cm (17/18–22/23)
2353 & 2360 Volkl Katana 108, 184 cm (20/21–22/23)
2449 & 2493 J Skis Hotshot, 189 cm (20/21–22/23)
Now, onto how all of this translates on snow:
FULL REVIEW
We began spending time on the 186 cm Unleashed 108 last spring, though the tune felt a bit off at first; after putting on a fresh 1° / 2° base / side bevel, it felt much better, and several of our reviewers continued skiing it into the 22/23 season. Here's what we've found:
Powder & Soft Chop
Luke Koppa (5'8", 155 lbs / 173 cm, 70 kg): I'd expect most ~108mm-wide skis to perform quite well in fresh and fairly deep snow, but likely not be extremely maneuverable and surfy, relative to wider, more powder-specific models. And that's exactly how I'd sum up the Unleashed 108.
This ski floats quite well for its width, likely due to its fat, splayed-out tips, and it feels considerably easier to release, pivot, and slash in soft conditions vs. on firm snow. It's still not as surfy as some more tapered, more rockered options in its class (e.g., Dynastar M-Free 108), but the Unleashed 108 still sits on the more maneuverable end of the spectrum in soft snow.
Once the fresh snow is cut up, the Unleashed 108 is still a lot of fun, though I have to dial back my speed a bit. The lower density the chop, the less conservative I need to ski, but when hitting denser patches at speed, the Unleashed 108's fairly low weight begins to show and it will get knocked around considerably more than heavier alternatives. But in truly soft chop (think the first couple hours on a resort pow day), the ski is stiff and just heavy enough to still be skied quite hard, while also being nimble and just loose enough to be skied with a dynamic, playful style.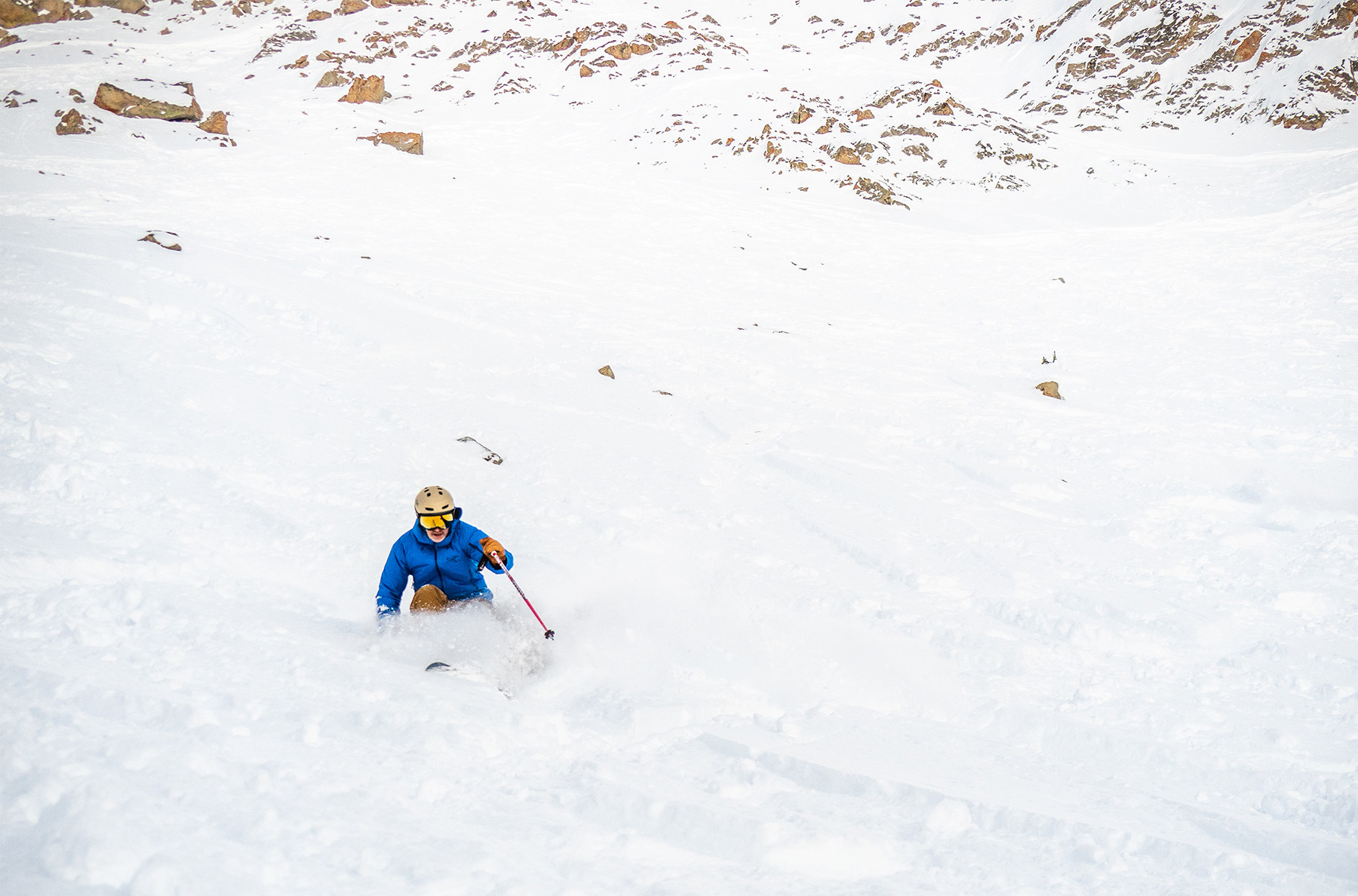 Dylan Wood: (5'10.5", 155 lbs / 179 cm, 70 kg): I agree with everything Luke said, and my biggest takeaway from the Unleashed 108's performance in soft snow is how well its tips planed up in powder when pointed downhill. You don't need to be charging the fall line to get good flotation out of this ski, though; it even floats well at moderate speeds and when making a lot of turns.
Firm Chop & Crud
Luke: The Unleashed skis are more playful than their Enforcer and Santa Ana models, but that comes at the expense of stability and damping, and that's most evident in crud. Compared to the Enforcer 104 Free and Enforcer 110 Free, the Unleashed 108 feels considerably less damp and stable at speed. The Unleashed 108's suspension and high-speed composure are still quite respectable, given its weight, but if those traits are what you value most in a ski, Nordica's Enforcer series is a much better choice.
Compared to other fairly light, playful skis around this width, though, the Unleashed 108 is pretty predictable in cruddy conditions. It performs best when you at least attempt to avoid the bumpiest, most inconsistent patches of snow and do some work yourself to avoid the impacts, rather than expecting the ski to do that for you; following that approach, it can still be skied fairly fast in variable snow. And compared to the heavier Enforcer skis, the Unleashed 108 also feels notably more engaging and easier at slower speeds, so it's happy to take it easy until you can find more consistent and/or softer snow.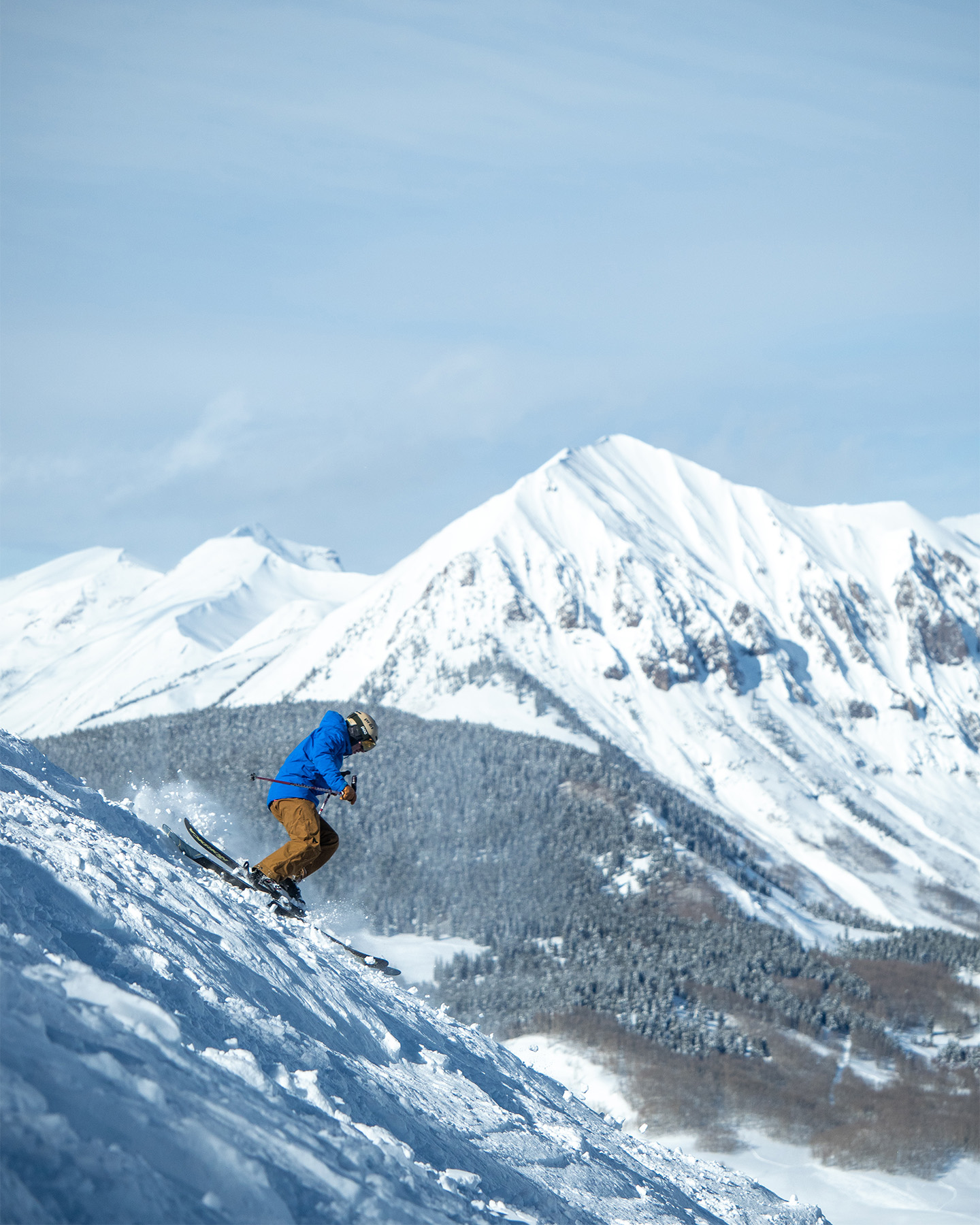 Also, the more you like to lean into the front of a ski and really drive it through each turn when the conditions are nasty, the more I think you'll appreciate the Unleashed 108, compared to more playful, looser, softer alternatives that feel more inclined to skid and slide around in these conditions. While it's not super damp, the Unleashed 108 can be driven pretty hard, which can help keep its tips from getting knocked around as much if you stay on top of it.
Dylan: Yep, like most skis in around the same width and weight, the Unleashed 108 is not ideal for skiing fast and hard through firm crud and harsh, variable snow. But it does have excellent edge hold for its width, and its stiff, less-rockered-than-average tips and shovels do let you lean into them more than some other playful skis in this class, such as the Sego Big Horn 106.
Groomers
Luke: Given how wide it is, the Unleashed 108 is an excellent carver. It initiates turns pretty quickly, provides very good edge hold on firm, smooth snow, and will pop you out of a hard carve with plenty of energy. No, it's not nearly as quick edge-to-edge as a much narrower ski, and there are a handful of ~108mm-wide skis that are even better when it comes to edge hold on icy slopes. But especially among twin-tipped, playful skis, the Unleashed 108 is one of the best in terms of overall on-piste performance.
Dylan: This is where the Unleashed 108 surprised me the most, and I think this is where it most significantly differentiates itself from other all-mountain freestyle skis around the same width. It is an energetic, engaging carver with superb edge hold, and that makes groomers quite fun.
Moguls, Trees, & Tight Terrain
Luke: Depending on how you view it, the Unleashed 108 could be seen as either quite maneuverable or a bit less so. This is mostly because it blurs the line between most other all-mountain-freestyle skis, and the more traditional, directional ones. Compared to the former, the Unleashed 108 is not all that loose or forgiving, but compared to the latter, it's pretty quick and nimble.
On firm snow, the Unleashed 108 feels notably less loose / more precise (compared to how it feels in soft snow), and there were several times when I found its tail hooking up a bit more than I'd like. This was most notable in chalky conditions, which offer a bit more grip / edge purchase than fully firm, smooth, skied-off snow. If you prefer a looser ride and don't mind giving up a bit of on-piste precision, I think detuning the tails might be a good call. The Unleashed 108 also isn't quite as forgiving as some other freestyle-oriented skis when you end up in the backseat in tight off-piste lines. However, compared to something like the Enforcer 104 Free, the Unleashed 108 feels notably quicker, more forgiving, and a bit easier to release and pivot.
So I wouldn't get the Unleashed 108 if you're looking for an extremely loose and forgiving ski; there are more rockered, more tapered, softer skis that will better serve you. However, if you've spent time on heavier, flatter-tailed, more directional skis and want something with a lower swing weight and slightly looser ride, the Unleashed 108 warrants a close look. And the more your style in bumps and trees involves lots of unweighting / weighting of the tips and tails, rather than pivoting the ski flat on the snow, the more maneuverable I think you'll find this ski to feel.
Dylan: I also found the Unleashed 108 pretty interesting in this regard. The firmer the snow, the more precise the Unleashed 108 feels.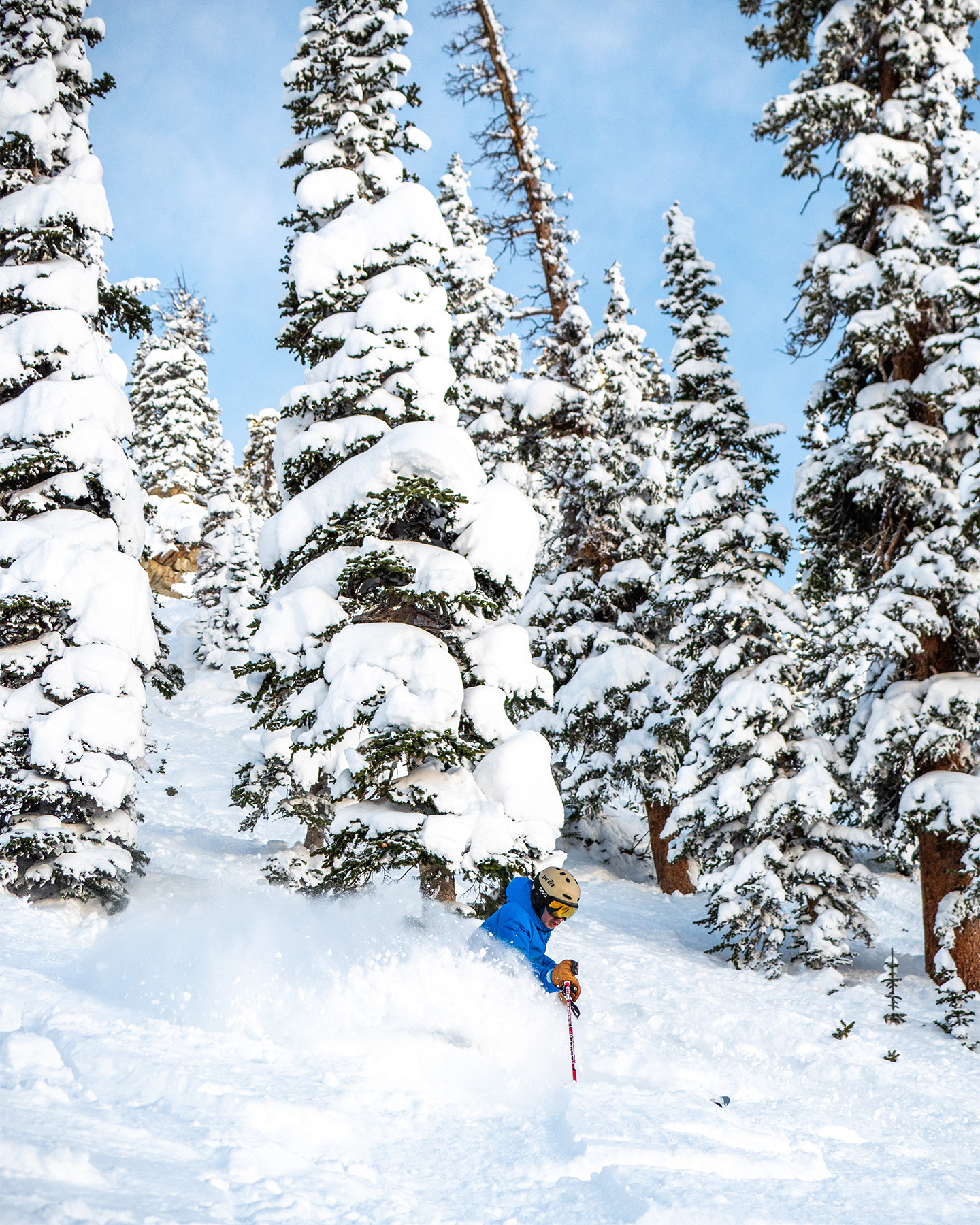 It's still easier to slide around than many more directional skis, such as the Rossignol Sender 106 Ti+, but compared to other skis with at least some freestyle intentions, it is among the least surfy / loose that I've used.
It still works great with a more dynamic style, taking advantage of the ski's energetic flex pattern and relatively light swing weight. And I also think that whatever tune you put on the Unleashed 108 could have a profound effect on how easy it is to release and slide around, though do keep in mind that you are also potentially affecting its groomer performance and edge hold.
Playfulness & Mount Point
Luke: The Unleashed 108 feels like a fairly playful, but still directional ski. It has a fairly low swing weight, is pretty energetic, and skis switch well. But it does not feel super surfy on firm snow, it's not all that easy to bend, and it doesn't have the most symmetrical flex pattern. So it's not what I'd get if you want a ski that's super playful in every interpretation of that word, but it's also a heck of a lot more playful than the heavier, more rearward-mounted, flatter-tailed skis in this class.
As for mount point, I think most people will get along best with this ski mounted on its recommended mount point (-7.7 cm from true center), but if you want a slightly more balanced ride, it also skis great mounted around -6 cm from true center.
Dylan: Luke sums it up nicely. This ski certainly isn't the most playful out there, but it offers some nice pop, skis switch well, and feels pretty balanced in the air. Mount it +1 or +2 cm, and it feels even more freestyle-friendly.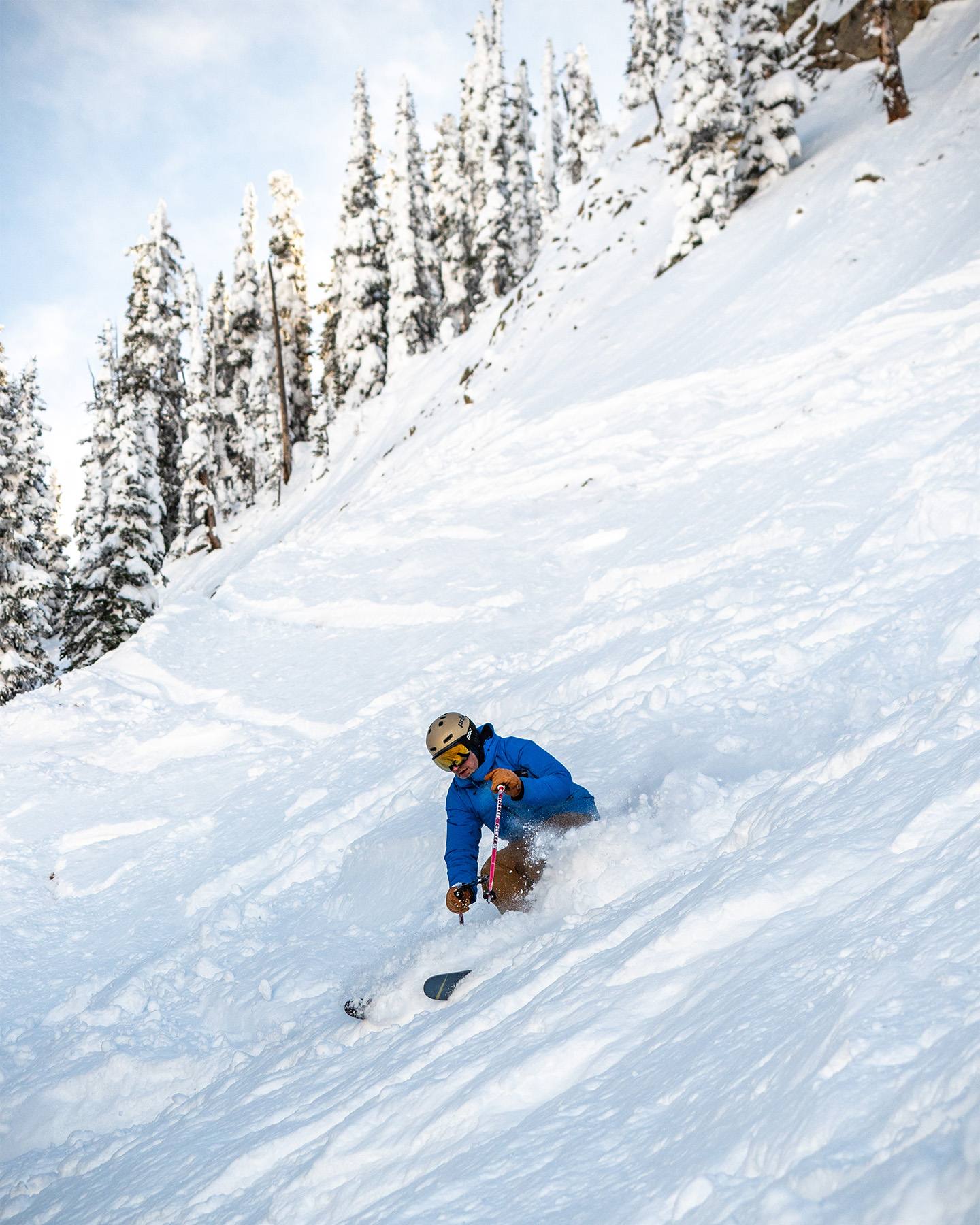 Who's It For?
Luke: The Unleashed 108 is worth a close look if you want a mid-fat all-mountain ski that's pretty nimble, fairly maneuverable, floats quite well, and is still a blast on piste.
Nordica's Enforcer 104 Free and Enforcer 110 Free are better choices if you want a very smooth ride in rough snow and very good high-speed composure (and are willing to deal with a heavier swing weight to get those things). And there are several better choices for the freestyle-oriented skier who wants a really surfy, forgiving ski.
But for those who fall between those ends of the spectrum, the Unleashed 108 is a compelling choice, especially if you prioritize carving performance over a really loose, maneuverable ride in tight off-piste terrain.
Dylan: The Unleashed 108 strikes me as a good option for folks looking for a more maneuverable, playful ski that isn't quite as loose or imprecise as many of its competitors. It sort of blurs the line between directional and freestyle-oriented skis, offering great carving performance, respectable stability, and good maneuverability without being very loose and prone to spending a lot of time sideways.
Bottom Line
The Nordica Unleashed 108 blends a traditional shape and fairly strong flex pattern with a more freestyle-oriented rocker profile, and the end result is a ski that could suit certain types of skiers on both the more directional and more playful sides of the skiing-style continuum. It offers a notably quicker, more lively ride than Nordica's Enforcer skis, and while that comes at the cost of suspension and high-speed stability, the Unleashed 108 definitely isn't some super soft, twitchy ski. So if you feel caught between the more freestyle-oriented and more charging-oriented sides of the ski market — and want a wider ski that carves really well while still being pretty maneuverable in soft snow — put this ski on your list.
Deep Dive Comparisons
Become a Blister Member to check out our Deep Dive comparisons of the Unleashed 108 to see how it compares to the Nordica Enforcer 110 Free, Enforcer 104 Free, Dynastar M-Free 108, Black Crows Atris, Elan Ripstick 106, Salomon QST 106, 4FRNT MSP 107, J Skis Hotshot, Folsom Cash 106, Black Crows Corvus, DPS Pagoda 106 C2, Icelantic Nomad 105, DPS Koala 103, RMU Apostle 106, Moment Deathwish 104, Rossignol Sender 104 Ti, Blizzard Rustler 10, K2 Mindbender 108Ti, Faction Dancer 3, 4FRNT Devastator, Line Blade Optic 104, Shaggy's Ahmeek 105, Sego Big Horn 106, & Whitedot Altum 104.
Rocker Profile - Decambered
Tail Profile - Decambered