Ski: 2022-2023 Moment Commander 108, 182 cm
Test Location: Mt. Crested Butte, Colorado
Days Skied: 13
Available Lengths: 176, 182, 188, 194 cm
Blister's Measured Tip-to-Tail Length (straight-tape pull): 181.0 cm
Stated Weight per Ski: 2150 grams
Blister's Measured Weight per Ski: 2177 & 2178 grams
Stated Dimensions: 140-108-126 mm
Blister's Measured Dimensions: 140.0-107.9-126.1 mm
Stated Sidecut Radius (182 cm): 21.5 meters
Measured Tip & Tail Splay (ski decambered): 61 mm / 20 mm
Measured Traditional Camber Underfoot: 5 mm
Core Materials: aspen/beech + titanal (2 layers) + carbon & fiberglass laminate
Base: sintered 7500 series UHMWPE
Factory Recommended Mount Point: -9.9 cm from center; 80.6 cm from tail
Boots / Bindings / Wax: Tecnica Mach1 MV 130, Atomic Redster 150 STI, Atomic Redster CS 130 / Tyrolia Attack 13 AT / mountainFLOW All-Temp
[Note: Our review was conducted on the 20/21 Commander 108, which returned unchanged for 21/22 and 22/23, apart from graphics.]

Intro
Moment has a long history of making damp, stable, directional skis, going all the way back to what was essentially their very first ski, the M1. From 17/18–19/20, they shifted a bit in that regard, with those Commander 98 and 108 skis featuring two layers of metal but also having shapes and rocker profiles that made them very different from most directional chargers. Those Commanders were surprisingly quick and maneuverable, but weren't the most stable at speed when compared to other skis in this class.
That changed with the introduction of the overhauled 20/21 Commander 98 and 108, which returned unchanged (apart from graphics) for the 21/22 and 22/23 seasons (22/23 graphics yet to be released). The revised skis looked much more like what we'd expect from skis designed with stability and high-speed composure in mind, and when we first got on them at the tail end of last season, that looked like it proved to be true on snow.
We've now had several reviewers on the Commander 108 this season, so it's time to discuss where Moment's latest charger slots into the current market.
What Moment says about the Commander 108
"Damp. Stable. Powerful. Composed.
The Commander 108 is all of these. But what the Commander makes you feel — is unafraid.
A directional mid-fat charger with two sheets of titanal, full-width metal over full-height, race-style sidewall underfoot makes for a connection to the snow like no other and enough horsepower to make even Lewis Hamilton look twice.
Don't worry, we packed a parachute. Dual radius sidecut and a little front rocker mean you can slip, slash, and pivot your way out of whatever sketchiness you've gotten yourself into. And if the only way out is through, there's no better ski to have underfoot when all you can do is punch it and hold on.
We've been told this ski is pretty easy to pilot and while we don't disagree — it's more accurate to say it's an easy ski if you're already pretty capable yourself. But hey, who are we to judge? Come and take a pair for a spin whenever you like. If you don't have a good time, no sweat; the EMTs know where the factory is and they'll drop your demos off on the way to the hospital."
(Shoutout to whoever writes Moment's copy because, as someone who spends more time than just about anyone looking at manufacturer copy, Moment's is always at the very least entertaining.)
Construction
The Commander skis feature Moment's burliest, heaviest core construction, with an aspen / beech wood core, two full-width layers of titanal metal, a carbon / fiberglass laminate, sintered 7500 series base, and 2.2 mm Rockwell 48 edges.
Shape / Rocker Profile
The Commander 108 has pretty minimal tip and tail taper for a 108mm-wide ski, equating to a pretty long effective edge. This is in contrast to the first-gen Commander shapes, which had significantly more tapered tips and tails.
The Commander 108 has a fairly deep tip rocker line, but a notably shallower tail rocker line and plenty of camber through the rest of the ski.
Flex Pattern
Here's how we'd characterize the flex pattern of the Commander 108:
Tips: 7.5-8
Shovels: 8.5-9
In Front of Toe Piece: 9
Underfoot: 9.5
Behind the Heel Piece: 9.5-9
Tails: 8.5-7.5
The Commander 108 (and 98) have pretty consistently stiff flex patterns. Like most skis, their tips and tails are softer than their midsections, but especially compared to many lighter, more playful skis, the Commander's tips and tails are on the stiffer end of the spectrum.
Sidecut Radius
The 182 cm Commander 108 has a stated sidecut radius of 21.5 meters, which is maybe a bit longer than average for a ski of this width, but not wildly out of the ordinary. For reference, the 188 cm Commander 108's stated sidecut radius bumps up to 23 meters.
Mount Point
The recommended mount point of the Commander 108 is -10 cm from the true center of the ski, which puts it firmly in the "traditional" / "directional" category.
Weight
The latest Commander 108 is heavier for its size than the previous generations, with the new ski now sitting more in line with other chargers when it comes to weight. Our pair of the 182 cm Commander 108 is 2177 grams per ski, and the stated weight for the 188 cm length is 2315 grams per ski.
For reference, here are a number of our measured weights (per ski in grams) for some notable skis. Keep in mind the length differences to try to keep things apples-to-apples.
1800 & 1804 Head Kore 105, 184 cm (21/22)
1806 & 1862 Armada Tracer 108, 180 cm (19/20–21/22)
1820 & 1821 Majesty Havoc, 186 cm (20/21–21/22)
1848 & 1903 Line Sick Day 104, 186 cm (16/17–21/22)
1875 & 1881 Line Sir Francis Bacon, 184 cm (19/20–21/22)
1905 & 1919 J Skis Slacker, 188 cm (20/21–21/22)
1920 & 2006 RMU North Shore YLE 110, 186 cm (21/22)
1947 & 2011 4FRNT Devastator, 186 cm (20/21–21/22)
1951 & 1953 Elan Ripstick 106, 188 cm (20/21–21/22)
1951 & 1957 RMU Apostle 3.0 106 Wood, 184 cm (21/22)
1964 & 1972 Moment Deathwish, 184 cm (19/20–20/21)
1970 & 1993 Moment Deathwish 104, 184 cm (21/22)
1993 & 2026 Black Crows Atris, 184.2 cm (19/20–21/22)
1999 & 2020 Rossignol BLACKOPS Sender Ti, 180 cm (20/21–21/22)
2005 & 2035 Liberty Origin 106, 187 cm (19/20–20/21)
2008 & 2065 Wagner Summit 106, 186 cm (20/21–21/22)
2010 & 2023 Moment Commander 98, 182 cm (20/21–22/23)
2011 & 2028 Moment Wildcat 108, 184 cm (19/20–20/21)
2011 & 2046 Elan Ripstick 106 Black Edition, 188 cm (21/22)
2022 & 2046 DPS Foundation Koala 103, 184 cm (21/22)
2046 & 2120 Black Crows Corvus, 188 cm (18/19–21/22)
2073 & 2074 Season Nexus, 183 cm (20/21–21/22)
2079 & 2105 Kastle FX106 HP, 184 cm (19/20–20/21)
2096 & 2100 Salomon QST 106, 181 cm (19/20–21/22)
2097 & 2113 DPS Alchemist Wailer 106 C2, 189 cm (19/20–20/21)
2110 & 2119 Moment Wildcat 108, 190 cm (19/20–20/21)
2113 & 2121 Moment Meridian, 187 cm (16/17–20/21)
2112 & 2125 4FRNT MSP 107, 187 cm (18/19–21/22)
2068 & 2178 Salomon QST 106, 181 cm (22/23)
2116 & 2181 Faction Dictator 3.0, 188 cm (19/20–21/22)
2120 & 2134 Blizzard Rustler 10, 188 cm (19/20–21/22)
2145 & 2167 Sego Big Horn 106, 187 cm (20/21)
2153 & 2184 Rossignol BLACKOPS Sender Ti, 187 cm (20/21–21/22)
2165 & 2211 K2 Mindbender 108Ti, 186 cm (19/20–21/22)
2165 & 2219 Icelantic Nomad 105, 191 cm (19/20–20/21)
2170 & 2180 Dynastar M-Free 108, 182 cm (20/21–21/22)
2177 & 2178 Moment Commander 108, 182 cm (20/21–22/23)
2177 & 2180 Moment Commander 108, 188 cm (19/20)
2232 & 2242 Blizzard Cochise 106, 185 cm (20/21–21/22)
2232 & 2244 ON3P Woodsman 108, 187 cm (19/20)
2295 & 2344 J Skis Hotshot, 183 cm (20/21–21/22)
2302 & 2342 Dynastar M-Free 108, 192 cm (20/21–21/22)
2312 & 2386 Prior Husume, 188 cm (17/18–20/21)
2321 & 2335 Fischer Ranger 107 Ti, 189 cm (19/20–21/22)
2353 & 2360 Volkl Katana 108, 184 cm (20/21–21/22)
2449 & 2493 J Skis Hotshot, 189 cm (20/21–21/22)
Now, onto how all of this translates on snow:
FULL REVIEW
We got the latest Commanders at the end of last season, when we were able to ski them in some spring conditions. Since then, we've skied them in just about every condition we get here at Mt. Crested Butte, from man-made, early-season groomers to deep snow, soft chop, refrozen crap, and more.
Soft Chop & Powder
Luke Koppa (5'8", 155 lbs / 173 cm, 70 kg): Like most strong, substantial skis, the Commander 108 can be a whole lot of fun when blasting through chop. Even in the 182 cm length (a bit shorter than I'd normally go for this sort of ski; more on that later), the Commander 108 offers impressive composure when skiing fast in soft, cut-up snow.
In contrast to a lighter, more playful ski like, say, the Moment Wildcat 108, the Commander 108 feels best to me when I can keep some momentum going, rather than stopping and starting a lot. This ski can feel a bit sluggish and isn't as easy to pivot in soft snow as lighter, more tail rockered skis, but it's also more stable at high speeds than most of those skis. This translated to both cut-up pow and untracked lines — I thought the 182 cm Commander 108 floated quite well for its size when I could make some bigger, faster turns, but it's not a surfy, loose ski in deep snow at low speeds.
In soft chop, I had trouble finding the speed limit of this ski, especially when I was focused on driving it through patches of pushed-around snow. Lay off the shovels, and the stiff flex of the ski will let it get deflected off more set-up piles of snow. But if I lean into it and power it through those piles, the Commander 108 remains very composed. In pretty much all conditions and terrain, the Commander 108 feels best when skied with an aggressive, driving stance, rather than a more centered, laid-back one.
Drew Kelly (5'11", 165 lbs / 180 cm, 75 kg): Usually I would consider a 182-centimeter ski to be too short to have fun in soft chopped-up snow or powder for my preferences, but that was not the case with the Commander 108. As Luke said: a whole lot of fun. The wide shovels made plowing through and over inconsistent snow surfaces easy, and the directional / rearward mount point allowed me to adjust to a stance more centered than I usually ski outside of soft chop. I prefer this in these types of conditions since it lets me more easily manage frequent fore-aft shifts that are often required in chop. Together, these traits made it feel like I was skiing something more akin to a pow ski than a somewhat shorter, 182 cm daily driver (by my Crested Butte standards).
Firm Chop & Crud
Luke: As the snow gets more consolidated and firm, the Commander 108 outshines the numerous lighter, softer alternatives when it comes to suspension and composure.
Now, I wouldn't call the Commander 108 a "plush" ski. It doesn't have that supreme bump-absorbing quality of even heavier, but softer skis (e.g., Rossignol Sender Squad). But as I mentioned above, if you stay on top of the Commander 108, I'd say it still offers a very good level of composure in rough conditions. Heavier, softer skis can let you ski these sort of conditions in a more casual, laid-back manner since they just mute out everything underneath them, whereas the Commander 108 transmits more feedback but offers the support and effective edge to just let me drive it through these conditions without folding up or feeling twitchy.
So, as far as which sort of "charger" is best for you, it depends on what you want. If you're more of a "blast through everything" type of skier, the Commander 108 could be a great fit. If you look to heavier skis because they feel glued to the snow and let you more easily skid and slide around rough conditions in a casual, relaxed manner, you've got better options.
Drew: Here I mostly agree with Luke. I found it easy to trust the Commander 108's edge hold, but also occasionally found it to suffer a little bit from deflection in some of the denser, manky snow and crusts I encountered. I'd say it felt slightly more composed than the 186 cm Wagner Summit 107 in these conditions, but a little less than the 192 cm Dynaster M-Free 108.
So with its combination of good suspension and susceptibility to deflection when hitting denser patches of snow, the Commander 108 felt better to me when making longer, finessed turns, rather than short powerful ones in chop and cruddy snow.
Jonathan Ellsworth (5'10", ~175 lbs / 178 cm / 79 kg): Luke and Drew are off to an extremely good and accurate start to this review, so I hope you've been reading carefully. I want to weigh in here because I think that how much you will or you won't like this ski really does come down to what you'll think of its suspension and damping. And here's my take: if you are typically skiing pretty soft conditions on this ski (slush, soft chop, or pow), or you are typically skiing consistent conditions (chalk), then the easier I think it is to recommend this ski.
But in firm moguls or very rough conditions or terrain, this ski will deflect, so you really do need to be an attentive and dynamic pilot, as Luke said. The Commander 108 is a strong ski — and a really good ski — but it is not an incredibly plush ski. But that won't matter if you're primarily skiing smoother terrain or softer conditions. So if you're trying to figure out how much you might dig this ski, I'd think long and hard about the terrain and conditions you'll be skiing it in. Ok, let's keep going.
Moguls, Trees, & Tight Terrain
Luke: As Moment alluded to in their description of this ski, the Commander 108 is a bit easier than I expected when I need to make some quick, tight turns in off-piste terrain. As long as I kept some pressure on the shovels of this ski, its tail felt pretty easy to release and it was not extremely punishing.
[Jonathan: Agreed.]
That said, if you're someone who frequently ends up backseat or likes to ski tight terrain with a very centered stance, this isn't the ski for you. It does not like tail-gunning, it's not particularly loose when compared to the whole market, and it's got a notable swing weight. For physically and technically strong skiers, though, I think the Commander 108 is admirably maneuverable for how composed it feels at high speeds.
Drew: It took me a little while to adjust to the Commander 108 in moguls and tight terrain, but in my experience, more speed and air-time were the answers. The Commander 108 felt ungainly to me in demanding bumps: the shovels seemed to deflect off every bump, while the tails could feel hooky – similar to the sensations I felt on the Volkl Katana 108 in this type of terrain. But after I began to double up over moguls and stopped micro-managing tight terrain at modest speeds, the Commander 108 felt more at home.
Luke: That's an interesting point. In my experience, I found the Commander 108 to work best in truly tight bumps lines when I was taking it very easy (which is notably slower than Drew's "modest" speeds) — speeds at which I could be more deliberate and less reactionary when it came to shifting my weight forward and back to get the ski up and around big bumps. At the same time, it does feel like a ski that rewards aggressive skiers, so I think it's that sort of middle ground between skiing very casually and very aggressively where this ski can start to feel like a bit of a burden, particularly in terms of its strong shovels deflecting off big, squared-off bumps, as Drew mentioned.
Jonathan: In big, firm, weird mogul lines, this is where I liked the Commander 108 the least. So if you don't ski this type of terrain often, then don't worry about the criticisms in this section. But yeah, the Commander 108 doesn't want you tail gunning your way through moguls. And yet, as Drew has noted (and I fully agree with him here, and this is not something that he and I have talked about), when slamming the shovels into the fronts of large moguls, the Commander's shovels seem to deflect more than bend and absorb the mogul. So I found myself having to be really precise with shovel placement (which can be hard to do when trying to ski fast through moguls that have no clear line or rhythm to them) and try to exactly anticipate when I'd need to pull up on those shovels without ending up in the backseat. Skilled mogul skiers will likely do this just fine, but plenty of skis in this category are more forgiving in this specific type of terrain and conditions — terrain and conditions that you might ski very infrequently?
Groomers
Luke: The Commander 108 is very predictable on firm, smooth snow and can be a lot of fun when the groomers are either somewhat soft and/or have some room to let it run.
This ski requires some speed and aggression to really bend it and get it arcing across the fall line. It's not for people who want to carve super tight turns on mellow slopes. Rather, it inspires confidence when laying down big GS turns at speed.
That said, it's not as one-dimensional as some skis with longer sidecut radii, and strong skiers who know how to bend a ski will likely find the Commander 108 more engaging on piste than some of the other, longer-radius chargers out there. When I was confident enough in the snow's grip to really lay into the Commander 108, it produced a nice amount of energy coming out of a hard carve.
Drew: The Commander 108 is the most satisfying as a carver at speeds I could reach on blue squares and easy black diamonds. It's a ski you can drive hard, given its directional mounting point, and returns a fair amount of energy at the bottom of an arc. If the Commander 108 feels like it offers a plush ride anywhere, it's at these speeds making GS-sized turns on groomed terrain. More speed and higher edge angles tended to produce chatter.
Jonathan: I've gotten along quite well with the Commander 108 on groomers, though the biggest takeaway for me is that, at my weight, I really do have to focus on loading up the ski to bend it. Again, the front half of this ski is not soft (see my comments about moguls). But heavier skiers and / or powerful skiers will be able to arc these skis, and I've been pretty impressed by their edge hold.
Length
Luke (5'8", 155 lbs / 173 cm, 70 kg): When it comes to ~108mm-wide skis, I've enjoyed many ranging from about 180 cm all the way up to 192 cm. For a mountain like Mt. Crested Butte (i.e., lots of tight, steep, technical terrain), I think the 182 cm Commander 108 is the right call for me. The only times I've been wishing for more length were when the snow was more than a foot deep. And I really appreciated that I was not on a longer ski when skiing tight lines with firm snow. If I skied somewhere with fewer big moguls and more open terrain, I'm pretty confident I'd prefer the 188 cm length. But for Mt. Crested Butte, 182 cm was the right length for me.
Drew (5'11", 165 lbs / 180 cm, 75 kg): I was surprised to find that I agreed with Luke on this, after spending some time enjoying floating through 8-12 inches of pow and jumping off cliffs from 5-20 feet on the 182 cm length. Usually, I would want a ski 188 cm or longer in those instances, but with the Commander 108, I didn't feel that was necessary.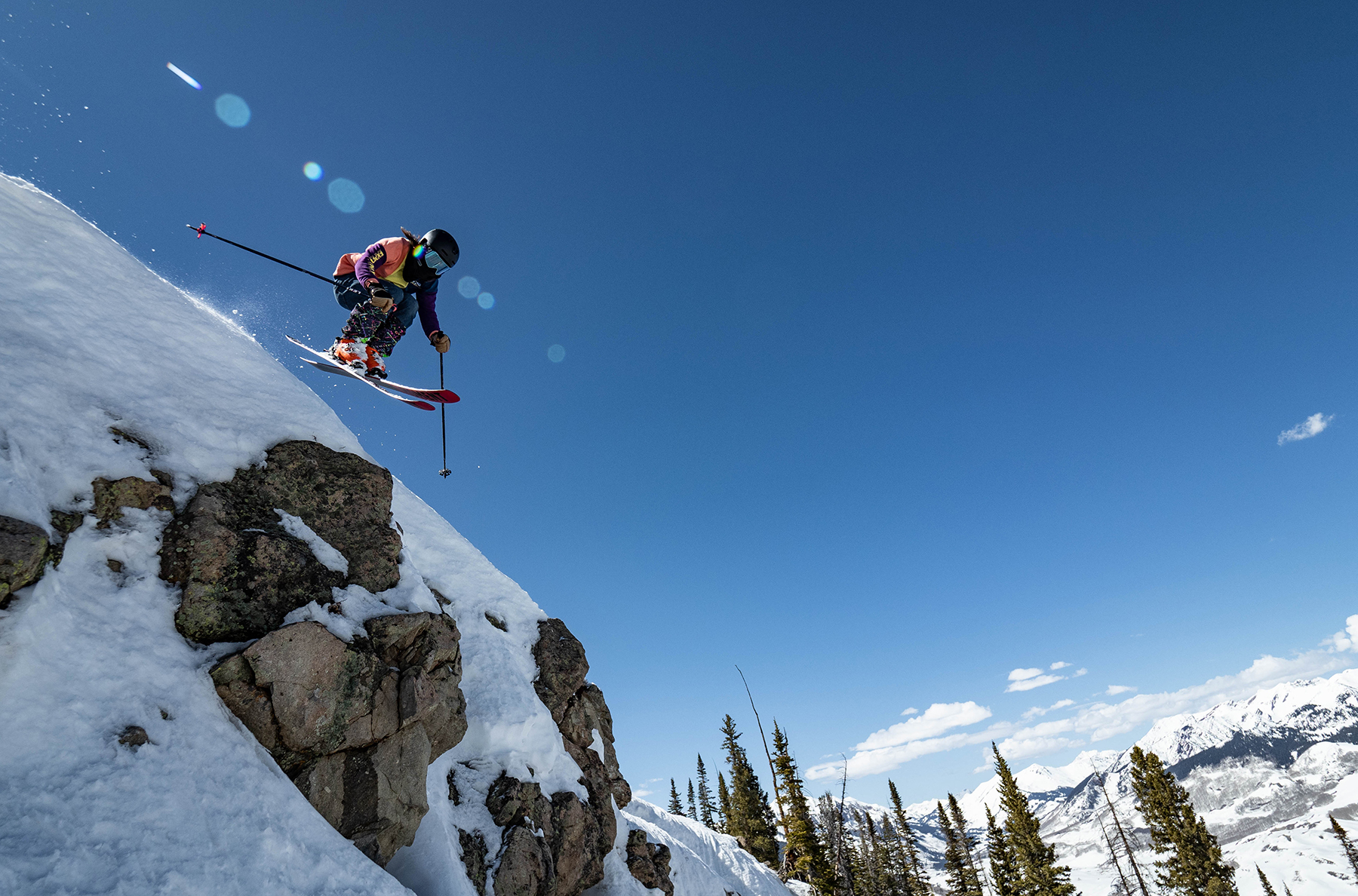 Jonathan (5'10, 175 lbs / 178 cm / 79 kg): Agreed. Given the shape (not a heavily rockered tail) and the stiffness of this ski, for Crested Butte's terrain, I'd stick with the 182s. That said, if I were skiing at a place with more open terrain and fewer big moguls, I suspect that the 188s would be a lot of fun. I'm not sure I'd need the extra length there, but I doubt I'd mind it at all.
Mount Point
Luke: I personally tend to get along best with skis with mount points around -5 to -8 cm from true center, so I was curious to see how the Commander 108 would feel when I moved the bindings forward of its recommended -10 cm mount point.
Talking to Moment's Tyler Curle, he said he'd been skiing the Commander 108 at +2 cm (-8 cm from true center), so I also tried it mounted close to -8 cm and preferred that mount point. I felt like I could ski the Commander 108 a bit more centered and ski it more from the ball of my foot (particularly in tight terrain), which is more intuitive to me than when I feel like I need to always be driving the shovels of a ski. I think I gave up a bit of flotation but didn't feel like I lost much in the way of carving performance or stability, so I stuck with that mount point. But if you typically get along well with skis that have mount points around -10 cm, I don't see any reason for you to stray away from the Commander 108's recommended line.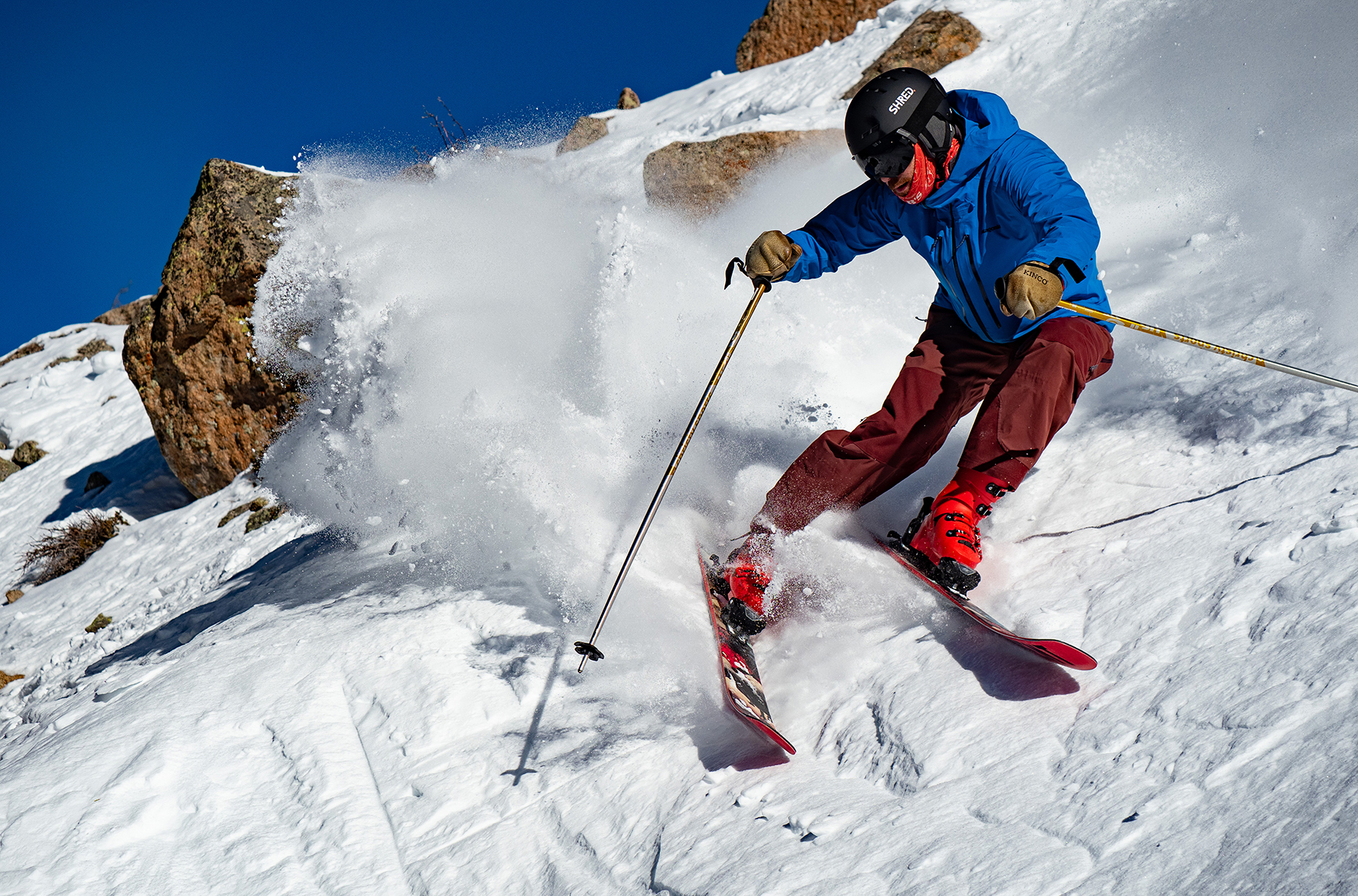 Drew: I usually like skis with a directional mount point, which enables me to drive the ski from a forward-leaning stance and prevents the tips from diving, so the Commander 108's -10 cm mount point put me in a comfortable place. For the 182 cm length, this mounting location notably helped with flotation in pow and made the ski feel longer than a 182 cm typically does.
Jonathan: I agree with Drew here, didn't feel tempted to move forward on these 182cm-long skis.
Who's It For?
Luke: Directional skiers who want a ski that is supportive, composed at speed, and that isn't a massive burden when you need to make some tight turns or shut down speed.
The Commander 108 isn't for folks who want a really loose, quick, or forgiving ski. And if you want the smoothest, plushest suspension out there, I'd look to heavier and softer options (see the other skis in the "All-Mountain Chargers" section of our Winter Buyer's Guide).
But the Commander 108 manages to handle a lot of conditions and terrain quite well, and if you want a ski that you can trust not to fold up or get twitchy when you're making big, fast turns, the Commander 108 warrants a look.
Bottom Line
With their latest Commander 108, Moment has returned to the traditional, directional charger category. This ski is strong, offers good composure when skiing fast (even in variable conditions), and it rarely feels wildly out of place in various conditions and terrain.
Deep Dive Comparisons
Become a Blister Member or Deep Dive subscriber to check out our Deep Dive comparisons of the Commander 108 to see how it compares to the Moment Commander 98, previous Commander 108, Nordica Enforcer 104 Free, K2 Mindbender 108Ti, Volkl Katana 108, Blizzard Cochise 106, Fischer Ranger 102, Moment Wildcat 108, Wagner Summit 107, J Skis Hotshot, Folsom Blister Pro 104, Sego Comp 110, Black Crows Corvus, Prior Husume, 4FRNT MSP 107, Faction Dictator 3.0, & Rossignol Blackops Sender Ti.
Rocker Profile (decambered)
Tail Profile (decambered)