Ski: 2021-2022 Black Crows Atris, 184.2 cm
Test Location: Crested Butte, Colorado
Days Skied: ~10
Available Lengths: 178.3, 184.2, 189.7 cm
Blister's Measured Tip-to-Tail Length: 182.7 cm
Blister's Measured Weight per Ski: 1993 & 2026 grams
Stated Dimensions: 139-108-125 mm
Blister's Measured Dimensions: 138.5-107.5-125.7 mm
Stated Sidecut Radius (184.2 cm): 20 meters
Measured Tip & Tail Splay (ski decambered): 62.5 mm / 38 mm
Measured Traditional Camber Underfoot: 3.5 mm
Core: poplar + fiberglass laminate
Base: sintered
Factory Recommended Mount Point: -7.65 cm from center; 83.7 cm from tail
Boots: Nordica Strider 120, Head Raptor 140 RS
Bindings: Tyrolia AAAttack2 13 AT
[Note: Our review was conducted on the 19/20 Atris, which returns unchanged for 20/21 and 21/22, apart from graphics.]

Intro
Back in 2017, Jonathan Ellsworth reviewed the 16/17 Black Crows Atris and found it to be fun, poppy, and playful ski that excelled in softer conditions. Black Crows changed the Atris for 17/18, and we subsequently received reminders from our readers on a nearly weekly basis that we needed to review the updated version.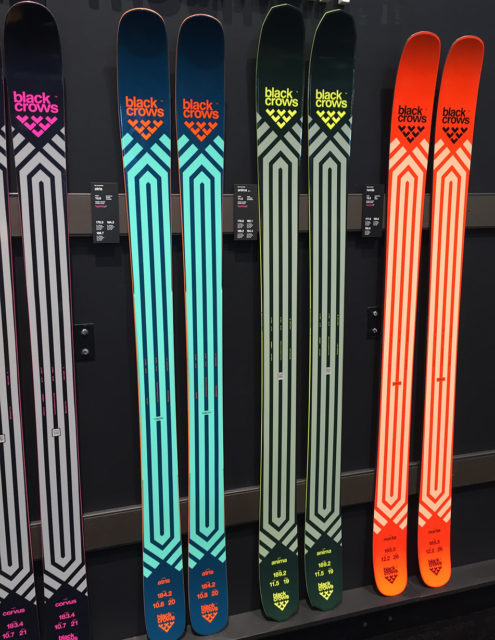 Well, we finally have the current Atris, which is unchanged from 17/18 through 20/21 (apart from graphics). I have a day on the Atris and Blister Members can check out our Flash Review for our initial on-snow impressions, and then here we're diving into the design of the ski.
What Black Crows says about the Atris
"This stable ski is quick when edging, with a progressive tail and a tolerant degree of flex; a powerful performer at high speed without loss of maneuvrability. A really sporty character. The Atris is a big mountain ski for all types of weather and snow conditions, a stylish door-opener to the world of big mountain skiing."
To condense that description even further, I'd single out these words / phrases: quick, sporty, powerful, and "all types of weather and snow conditions." The Atris is supposed to handle everything, and do so while offering a nice mix of stability and maneuverability.
Shape / Rocker Profile
The shape of the Atris didn't change much from the 16/17 version, with the exception of the sidecut radius, which grew from 18 meters to 20 meters.
The Atris still has a pretty tapered tip, though it's not a "pointed" tip — the Atris's tip is pretty straight after the widest point and there's still a lot of surface area at the end of the tip. The Atris's tip is still much more tapered than its tail.
Given that many of Black Crows' athletes are throwing tricks on the Atris, and the fact that it has a nearly twinned tail, I'll be comparing it to some all-mountain-freestyle skis. Compared to skis like the Prior Northwest 110, Moment Wildcat 108, and Faction Prodigy 3.0, the Atris's tip looks pretty similar in terms of taper, but its tail is notably less tapered. Compared to more directional options like the Black Crows Corvus, Fischer Ranger 107 Ti, and ON3P Wrenegade 108, the Atris is a bit more tapered overall.
The Atris's rocker profile is nothing crazy, particularly for a playful, 108mm-wide ski. If anything, it has somewhat shallow rocker lines (particularly compared to freestyle-oriented skis). Our pair of the current Atris has 38 mm of tail splay, which is certainly above average compared to the whole market, but a bit lower than many freestyle skis with what I'd call "true twin tips." Compared to the old 16/17 Atris, the current Atris has a slightly lower tail (38 mm of tail splay on the current Atris vs. 46 mm on the 16/17 version).
Flex Pattern
Here's how we'd characterize the flex pattern of the Atris:
Tips: 6.5
Shovels: 6.5-7
In Front of Toe Piece: 8-9
Underfoot: 10
Behind the Heel Piece: 10-9
Tails: 8-7
The Atris has pretty accessible tips, shovels, and tails, and a strong midsection. The flex in the front half of the ski doesn't ramp up super quickly, with little difference between the end of the tip and most of the shovel. There's a very smooth ramp-up in the middle, and the flex pattern is pretty round overall, though the area behind the bindings feels a bit stronger than the area in front of the bindings.
All in all, the Atris is neither super soft nor super stiff and its flex pattern is pretty round — all things I tend to like in a playful ski.
Mount Point
Similar to the 16/17 version Jonathan reviewed, the current Atris has a mount point around -7.7 cm from true center. That's a bit on the more forward / progressive end of the spectrum, but slightly farther back than most freestyle skis.
I know some people are skiing the Atris mounted much closer to center, while Jonathan preferred the old version about 1.5 cm behind the line (around -9 cm from true center). Jonathan is a much more directional, traditional skier than I, so I'm curious to try the ski mounted a bit in front of its line, but we'll also be trying it behind the line to see if more directional skiers should still be moving their bindings back on this ski (which is what Jonathan recommended with the old version).
Weight
The Atris is a pretty light ski, given its size. Our pair of the 184 cm version is coming in at an average weight of ~2010 grams per ski, which is a bit lighter than the 16/17 Atris we tested, though not super far off. For a 184 cm, 108mm-wide ski, that's quite light and in line with some skis like the Line Sick Day 104 and Elan Ripstick 106 that we recommend for 50/50 use in the resort and in the backcountry.
For reference, here are our measured weights for some notable skis. Keep in mind the length differences to keep things apples to apples.
1787 & 1793 Fauna Pioneer, 184 cm (19/20)
1806 & 1862 Armada Tracer 108, 180 cm (19/20–20/21)
1848 & 1903 Line Sick Day 104, 186 cm (17/18–20/21)
1849 & 1922 Elan Ripstick 106, 188 cm (17/18–19/20)
1896 & 1942 K2 Reckoner 102, 184 cm (20/21)
1903 & 1912 Moment PB&J, 188 cm (19/20)
1993 & 2026 Black Crows Atris, 184.2 cm (17/18–20/21)
2005 & 2035 Liberty Origin 106, 187 cm (19/20–20/21)
2006 & 2065 Head Kore 105, 189 cm (19/20–20/21)
2011 & 2028 Moment Wildcat 108, 184 cm (19/20)
2027 & 2052 K2 Reckoner 112, 184 cm (20/21)
2030 & 2039 Rossignol Soul 7 HD, 188 cm (17/18–19/20)
2049 & 2053 Whitedot Altum 104, 187 cm (19/20–20/21)
2065 & 2074 Black Crows Atris, 184.0 cm (16/17)
2079 & 2105 Kastle FX106 HP, 184 cm (19/20–20/21)
2097 & 2113 DPS Alchemist Wailer 106 C2, 189 cm (19/20–20/21)
2101 & 2104 Fischer Ranger 102 FR, 184 cm (18/19–20/21)
2110 & 2119 Moment Wildcat 108, 190 cm (19/20)
2112 & 2125 4FRNT MSP 107, 187 cm (18/19–19/20)
2120 & 2134 Blizzard Rustler 10, 188 cm (19/20–20/21)
2143 & 2194 ON3P Wrenegade 108, 184 cm (18/19–19/20)
2153 & 2184 Rossignol BLACKOPS Sender Ti, 187 cm (20/21)
2165 & 2211 K2 Mindbender 108Ti, 186 cm (19/20–20/21)
2165 & 2219 Icelantic Nomad 105, 191 cm (19/20–20/21)
2170 & 2180 Dynastar M-Free 108, 182 cm (20/21)
2177 & 2180 Moment Commander 108, 188 cm (19/20)
2182 & 2218 Nordica Enforcer 110 Free, 185 cm (17/18–20/21)
2188 & 2190 Prior Northwest 110, 190 cm (19/20–20/21)
2190 & 2268 Armada ARV 106Ti LTD, 188 cm (18/19–19/20)
2202 & 2209 Shaggy's Ahmeek 105, 186 cm (19/20)
2218 & 2244 Volkl Mantra 102, 184 cm (19/20–20/21)
2232 & 2244 ON3P Woodsman 108, 187 cm (19/20)
2233 & 2255 Nordica Enforcer 104 Free, 186 cm (19/20–20/21)
2250 & 2307 Argent Badger, 184 cm (19/20)
2283 & 2290 ON3P Wrenegade 108, 189 cm (18/19–19/20)
2312 & 2386 Prior Husume, 188 cm (17/18–20/21)
2318 & 2341 J Skis The Metal, 186 cm (16/17–19/20)
2321 & 2335 Fischer Ranger 107 Ti, 189 cm (19/20–20/21)
2325 & 2352 Folsom Blister Pro 104, 186 cm (19/20)
2376 & 2393 Blizzard Cochise, 185 cm (15/16–19/20)
Bottom Line (For Now)
The Black Crows Atris has been a mainstay in their lineup for years now, and we're very excited to spend more time on it this year. It features a moderately tapered and rockered design, combines that with a pretty low weight and middle-of-the-road flex pattern, and tops it off with a fairly progressive mount point. Blister Members can check out our Flash Review linked below for our initial on-snow impressions, and then stay tuned for our full review.
Flash Review
Blister Members can now check out our Flash Review of the Atris for our initial impressions. Become a Blister member now to check out this and all of our Flash Reviews, plus get exclusive deals and discounts on skis and other gear, personalized gear recommendations from us, and more.
FULL REVIEW
Jonathan Ellsworth and I both spent time skiing the 184 cm Atris in Crested Butte this year, getting it into a little bit of everything in terms of conditions and terrain. So we'll each be offering our take here — mine as a more playful, freestyle-oriented skier, and Jonathan's as a much more directional one.
Powder
Luke Koppa (5'8", 155 lbs): I never got to ski the old Atris, so when I was reading Jonathan's review of that version, I got pretty jealous. This was mostly because he talked a lot about skiing it (and really liking) it in "thigh-deep pow" and "two of the deepest days of the season" — just look at the image on page two for reference.
Anyway, I didn't ski the newest Atris in any crazy deep snow, but I did get it into about 10" / 25 cm of fairly dense, windblown pow. I don't have anything bad to say about the Atris in these conditions — it performed about as I expected a ~108mm-wide ski to in this sort of snow. While Jonathan was really impressed by how well the old Atris handled really deep snow, I don't personally see it out-performing some of the class-leaders like the K2 Mindbender 108Ti and ON3P Woodsman 108, primarily due to the Atris's shallower tip rocker line, but I can't say that for certain. On the flip side, I have no complaints to report about the Atris in soft snow.
Two things I do very much like about the Atris in fresh snow are that (1) I felt like I could shift my stance from forward to centered and still remain in control and (2) it felt pretty easy to pivot around, whether by pressuring the shovel or throwing out the tails from a more forward stance.
Jonathan Ellsworth (5'10", 175 lbs): While I'm being extra nice to Luke since it's his birthday this week, I'd like to politely remind him that neither the K2 Mindbender 108 nor the ON3P Woodsman were in existence back when I first got on the Atris. And while I haven't yet had this newer Atris in pow as deep, I would still call this an all-mountain ski that is "good" or "very good" in deep snow, it just might not offer the best-in-class amount of flotation as some other ~108mm-wide skis on the market today.
But in the pow I did have this newer Atris in, it sure reminded me a whole lot of the previous version, where the ski's softer shovel planes up nicely, while at the same time the shape and taper of the tip keep the ski feeling very maneuverable without feeling overly twitchy or prone to excessive deflection.
Soft Chop
Luke: As I've said in so many reviews before, I love soft chop. And I particularly love soft chop when I'm on a moderately wide, playful ski like the Atris.
Why? Cause, for skiers like me, what "soft chop" actually looks like is a bunch of takeoffs and a bunch of soft, forgiving landings. This means plenty of airtime and much less substantial consequences when I inevitably mess up and find out what the snow tastes like in the runout.
Like most playful skis of this width, the Atris does a good enough job of not getting knocked around in soft, low-density chop for me to ski quite hard, while still easily letting me quickly shed speed or switch directions when needed. There are tons of (heavier) options in this class that are far better for purely making huge, fast turns straight through fields of chop. But for those of us who view that approach as a waste of terrain and natural features, the Atris is a lot of fun to ski hard in the forgiving snow and then launch off any lip you can find.
While it doesn't hand-flex super stiff, I didn't personally have any issues with the 184 cm Atris folding up on me when skiing pretty hard in choppier snow (again, I'm 5'8", 155 lbs). It didn't encourage the "lay into the shovels and blow through everything" style that some of the more directional skis in this class due (e.g., Black Crows Corvus), but for a lightweight, playful ski, I could drive the Atris pretty hard through these conditions while also skiing it pretty neutral when needed.
Jonathan: Yep, when skiing hard and fast, the more willing you are to adopt more of a dynamic style and / or ski with more finesse and a lighter touch, the more capable I think you'll say this ski feels. So if you love heavy, stiff skis that blow up everything in their path, well, that is not the Atris, and you should look elsewhere.
So for those reasons, I'm not tempted to try to sell you on the overall stability of this ski. For being a playful ski, I'd say it offers a perfectly acceptable and reasonable level of stability in soft chop, and frankly, I think the vast majority of people (from beginners to advanced skiers) will get along very well with the overall stability-to-maneuverability ratio of this ski in soft, cut-up snow.
Firm Chop / Crud
Luke: I skied some of the worst conditions of the season on the Atris — snow that had thawed the previous day, fully refroze, and then never thawed again. In short, I would've much preferred a different ski.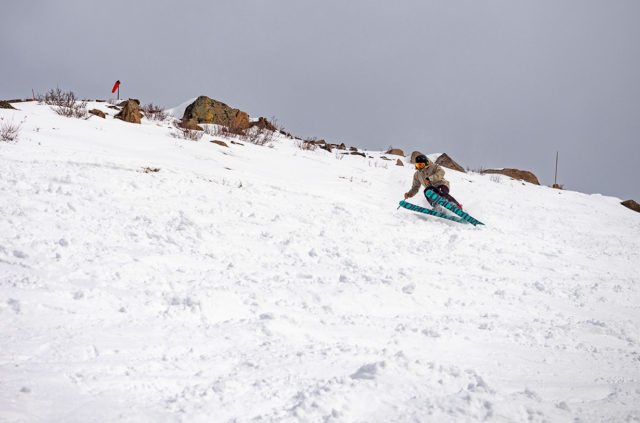 That said, I don't think the Atris performed any worse than I expected, given that the 184 cm version only weighs about 2010 grams per ski. But the point here is just that the Atris is a fairly lightweight ski, and it feels like it. There are a few similarly lightweight skis that offer slightly better suspension, and there are a few others that feel even worse / more harsh than the Atris. But the bottom line is that, if you like skis that smooth out rough snow really well, the Atris isn't your ski.
Another thing I noticed with the Atris is that, despite being a pretty playful ski overall, there are many other freestyle-oriented options in this class that are notably easier to slash and pivot around. I noticed this most in firm, tight terrain (see below) and in really nasty conditions where I'm prone to skiing defensively and a bit backseat.
Now, the Atris is still more forgiving and easy to pivot than many of the more directional options out there. But if you're coming from a freestyle ski with a lot of tail rocker, a very tapered tail, or a very soft tail, I think you'll find that the Atris requires a bit more of a forward stance to get its tails to release. This isn't one of those skis that you can simply lean back on to scrub out its tails, particularly on firm snow. But stay even slightly forward, and the Atris is easy to slide around.
Overall, like most skis this light, the Atris encouraged me to take it easy, make a lot of short, scrubbed turns, and otherwise just "get through" really rough conditions, rather than making them particularly enjoyable. And as long as you aren't trying to tail-gun it through these conditions, the Atris is pretty manageable while you search for the less crappy conditions elsewhere on the mountain.
Jonathan: In today's "Know Thyself" moment, it's good to try to get clear on just how loose and pivot-y you like your all-mountain skis to be. Those of you happily skiing sub-80mm-wide skis with a sub-12-meter sidecut radius would fall on the "not-at-all" loose / pivot-y end of the spectrum, while, as Luke noted, there are definitely looser skis on the market. When it comes to all-mountain skis, I personally probably gravitate near the middle of that spectrum — not too locked in, not so loose that the ski feels "twitchy" — and I've never had a complaint about the Atris in this regard. Mostly, I'd say that it feels easy and very intuitive, so if your preferences don't lie at either end of the spectrum, I think you'll likely get along fine with this aspect of the Atris.
Moguls, Trees, & Tight Terrain
Luke: I got along very well with the Atris in tighter spots. As I just touched on, it's pretty easy to slide around as long as you're not super backseat, but it's also not exceptionally loose to the point that it's difficult to keep it heading down the fall line.
Again, those skiers who've grown accustomed to the ultra-surfy nature of freestyle skis may initially find the Atris to feel more "locked-in" than those other skis, but I think its blend of looseness and precision will be appealing to a pretty wide range of skiers. I found that I could carve it through trees and bumps when I had the space (and confidence), but could almost just as easily slip and slide my way through the troughs when I wanted to take a more casual approach.
I wouldn't recommend the Atris to most beginners, but as long as you're not predominantly in the backseat when the terrain gets tight and techy, I wouldn't worry about the Atris feeling punishing and taking you for a ride. And for those who like a ski that pops them out of a hard turn and launches them into the next one, the Atris offers a lot to like — this is far from a "dead" ski.
Jonathan: This ski is poppy for sure, and worth underscoring, because it's a big part of this ski's personality. When we were saying earlier that in softer, cut-up snow this ski encourages an active and dynamic style, well the energetic (rather than damp or dead) feeling of this ski also encourages that style of skiing. The Atris doesn't require that playful style, but it does really reward it.
Groomers
Luke: Like many skis with similar shapes, the Atris offers a predictable ride on groomed snow. It won't pull you hard across the fall line like skis that have less tip and tail taper, but it also never randomly slid out on me or otherwise caught me off guard on groomers.
One benefit of the Atris's fairly minimally tapered and rockered tail — particularly compared to those freestyle skis I've been alluding to above — is that it finishes a carved turn with a bit more precision, power, and pop. Unlike skis with a ton of tail rocker and / or super tapered tails, I felt like I was engaging and using most of the length of the Atris behind the bindings.
The Atris does require some speed to really lay over (I'd say it starts getting "fun" on groomers once you get onto "blue" or "black" runs). But once I got some momentum going, the Atris was easy and predictable to lay over, happy to crank out GS or larger turns, and I could feel some rebound and energy coming from the ski on the exit of each turn.
Jonathan: Yep.
Mount Point
Luke: I haven't mentioned mount point so far because, after trying the Atris at a few different mount points, I didn't notice a huge difference. While Jonathan preferred the old Atris with it mounted about 1.5 cm behind the recommended line (about -9 cm from true center), I didn't notice a massive difference with the newest Atris when it was mounted on its line (-7.7cm), two cm in front of that line (-5.7 cm), or one cm behind the line (-8.7 cm).
Moving the bindings on the Atris came with all the usual things I'd expect: skiing it at -8.7 cm from true center let me drive the shovels a bit harder, while skiing it at -6.7 cm or -5.7 cm from true center encouraged me to ski it more centered and it felt more balanced in the air. And the recommended line felt very much like the middle ground — I could drive it pretty hard, and I could ski it pretty neutral. As someone who likes to throw some tricks and switches constantly between a forward and centered stance, I think I'd personally mount the Atris about 1 cm in front of the line, or around -6.7 cm from true center.
Jonathan: I only skied this version of the Atris on the line, and the ski felt fine to me there. I think this Atris might have a slightly smoother transition in its flex pattern between the shovels and midsection vs. the previous Atris I tested, because, on that prior version, I did feel like I was folding up its shovels more than I wanted to in steep, moguled-up terrain.
Playfulness
Luke: Compared to the whole market, the Atris is a pretty playful ski. But it's not the most freestyle-oriented-feeling ski out there, either.
Compared to more directional skis in this width, the Atris's slightly more tapered shape, fairly round flex pattern, moderately forward mount point, and notable tip and tail rocker all make it feel pretty playful. It's pretty easy to pivot, it's poppy, and you can ski it fairly centered.
But for those coming from freestyle skis with mount points close to center and more symmetrical shapes / rocker profiles, the Atris doesn't feel quite as balanced — whether in the air, skiing switch, or just in terms of how neutral of a stance you can use. Personally, I don't have any real complaints about how the Atris feels in the air or skiing switch on shallower snow, but those who have become very used to pretty symmetrical skis with very centered mount points may need some time to adjust.
Jonathan: If you are coming from a more directional, heavier skis that perhaps might feel a bit boring or sluggish or a bit difficult to turn, I suspect that you might find yourself talking about just how playful, quick, and maneuverable the Atris feels compared to your previous ski. And see our accompanying Deep Dive article to get more details and nuanced comparisons to other skis to see exactly where the Atris slots in.
Who's It For?
Luke: Intermediate to expert skiers who want a very quick, pretty playful, and maneuverable ski to use in a wide range of conditions.
As we've outlined above, the Atris is not for you if you like very damp skis that do a great job of muting out rough snow. And if you like to throw tricks, spend most of your time on nearly center-mounted skis, and prioritize things like switch skiing in deep snow or want a super loose ski, you've got some options that will be a better fit.
But the Atris fills the (pretty large) middle ground between those two ends of the spectrum, making it a viable option for a lot of different people. It floats pretty well in deep snow, holds an edge well on firm snow, and just doesn't often feel very out of place in many different conditions or terrain. You can push it pretty hard (especially in forgiving snow), but it's also not very demanding or fatiguing to ski.
The Atris will definitely work for resort skiers who prefer a lighter, quicker setup, and it could also work very well as a downhill-oriented "50/50" ski for backcountry and resort use when paired with a similarly downhill-oriented AT binding like the Salomon Shift, CAST Freetour, or Marker Duke PT.
Bottom Line
The Black Crows Atris is a ski that we get asked about a lot, and for good reason — its combination of traits makes it a very intuitive, versatile ski that we think a lot of people could enjoy.
Deep Dive Comparisons
Become a Blister Member or Deep Dive subscriber to check out our Deep Dive comparisons of the Atris to see how it compares to the Black Crows Corvus, Rossignol Soul 7 HD, Kastle FX106 HP, Head Kore 105, DPS Alchemist Wailer 106 C2, ON3P Woodsman 108, ON3P Jeffrey 108, Rossignol BLACKOPS Sender Ti, Fischer Ranger 102 FR, Fischer Ranger 107 Ti, Line Sick Day 104, Dynastar M-Free 108, K2 Reckoner 112, Line Sir Francis Bacon, Moment Wildcat 108, Icelantic Nomad 105, 4FRNT MSP 107, Blizzard Rustler 10, Liberty Origin 106, Nordica Enforcer 104 Free, Salomon QST 106, & K2 Mindbender 108Ti.