Ski: 2022-2023 Salomon QST 106, 181 cm
Test Location: Mt. Crested Butte, Colorado
Days Skied: 14
Available Lengths: 165, 173, 181, 189 cm
Blister's Measured Tip-to-Tail Length (straight-tape pull): 179.9 cm
Blister's Measured Weight per Ski: 2068 & 2178 grams
Stated Dimensions: 139-106-126 mm
Blister's Measured Dimensions: 139.3-106.0-126.0 mm
Stated Sidecut Radius (181 cm): 19 meters
Measured Tip & Tail Splay (ski decambered): 64 mm / 37 mm
Measured Traditional Camber Underfoot: 3 mm
Core Materials: poplar + cork tips & tails + carbon, flax, & fiberglass laminate
Base: sintered
Factory Recommended Mount Point: -9.15 cm from center; 80.8 cm from tail
Boots / Bindings / Wax: Tecnica Mach1 MV & LV 130 / Salomon Strive 14 / mountainFLOW All-Temp

Intro
Back in 2016, Salomon introduced their QST line of freeride skis. The skis have since undergone numerous changes over the years, and they're once again getting tweaked for 2022-2023.
Salomon kicked off this latest round of updates when they introduced the 21/22 QST 98 and QST Blank. These skis featured a few new technologies, as well as a revised approach to the ski shapes and rocker profiles.
For 22/23, Salomon is applying similar updates to the rest of the QST line, including the popular QST 106. We've been skiing the new QST 106 for the past several weeks, so now it's time to take a closer look at this ski, discuss how it compares to the outgoing model, and outline who should have it on their radar.
And if you want to try the new QST 106, several of Salomon's other new 22/23 products, and others from more than 20 other brands, you'll be able to at our Blister Summit next week.
2022-2023 Salomon QST Skis
The 22/23 QST collection includes the QST 98 and QST Blank (unchanged from the 21/22 models), and then several unisex and women's models. Here's a quick rundown of the line:
QST 92
QST Lux 92
QST 98
QST Lumen 98
QST 106
QST Stella 106
QST Blank (112 mm underfoot)
The women's "Lux, Lumen, and Stella" models feature the same construction as the unisex equivalents, with the women's versions having different graphics and available lengths. Aside from the QST 98 and Blank, all the other QST skis feature a new construction and shape for 22/23.
Construction
The construction of the 22/23 QST 106 isn't dramatically different from the 21/22 version. The new ski still features a poplar wood core, Salomon's "C/FX Backbone" (carbon and flax stringers), cork in the tips and tails, the brand's "Double Sidewall" that we first saw on the QST Blank and 98, and a fiberglass laminate. The main changes come down to shape and rocker profile, though the QST 106 does reportedly feature "300% more cork inserted into the tail."
Shape / Rocker Profile
This is where most of the changes happened. In short, the 22/23 QST 106 now has more tapered tips and tails, and deeper rocker lines. This is very similar to what we saw Salomon do when moving from the 20/21 QST 99 to the 21/22 QST 98. The most noticeable differences are the more tapered shape of the tip and the increased depth of the tail rocker line. Salomon aimed to make the QST 106 quicker and more maneuverable, and these changes make sense with that goal in mind.
Overall, the QST 106 has deeper rocker lines than many other ~105mm-wide skis. Its tips are a bit more tapered than average, though they don't look much more tapered than the original QST 106 shape.
Flex Pattern
Here's how we'd characterize the flex pattern of the QST 106:
Tips: 6.5
Shovels: 6.5-7.5
In Front of Toe Piece: 8-10
Underfoot: 10
Behind the Heel Piece: 10-8.5
Tails: 8-7.5
The flex pattern of the 22/23 QST 106 feels very similar to the 21/22 version. The main difference is that the 22/23 ski's tips and shovels are a hair stiffer, and the end of its tail is a touch softer. The 22/23 ski also feels stiffer around the bindings, which I'd chalk up to its "Double Sidewall" construction in that area, which has two layers of ABS plastic stacked above the edges and creates a pretty stiff platform in that area.
Mount Point
Not a whole lot of change here — the 21/22 QST 106's recommended mount point was about -8.7 cm from the true center of the ski, whereas our 22/23 QST 106's recommended mount point is about -9.1 cm from true center. I.e., this is still a directional ski with a pretty traditional mount point, though not as far back as some skis like the Volkl Katana 108 and Blizzard Cochise 106.
Weight
Comparing our pairs of the 19/20–21/22 QST 106 and the 22/23 version, the new ski is a bit heavier on average, but it doesn't seem like there's a big difference in terms of weight. Our pair of the 181 cm 22/23 QST 106 came in at about 2123 grams per ski, whereas the previous version was about 2098 grams per ski. The new QST 106 isn't a super lightweight ski, but it's also not the heaviest in its class.
For reference, here are a number of our measured weights (per ski in grams) for some notable skis. Keep in mind the length differences to try to keep things apples-to-apples.
1800 & 1804 Head Kore 105, 184 cm (21/22)
1806 & 1862 Armada Tracer 108, 180 cm (19/20–21/22)
1820 & 1821 Majesty Havoc, 186 cm (20/21–21/22)
1848 & 1903 Line Sick Day 104, 186 cm (16/17–21/22)
1875 & 1881 Line Sir Francis Bacon, 184 cm (19/20–21/22)
1905 & 1919 J Skis Slacker, 188 cm (20/21–21/22)
1920 & 2006 RMU North Shore YLE 110, 186 cm (21/22)
1947 & 2011 4FRNT Devastator, 186 cm (20/21–21/22)
1951 & 1953 Elan Ripstick 106, 188 cm (20/21–21/22)
1951 & 1957 RMU Apostle 3.0 106 Wood, 184 cm (21/22)
1964 & 1972 Moment Deathwish, 184 cm (19/20–20/21)
1970 & 1993 Moment Deathwish 104, 184 cm (21/22)
1993 & 2026 Black Crows Atris, 184.2 cm (19/20–21/22)
1999 & 2020 Rossignol BLACKOPS Sender Ti, 180 cm (20/21–21/22)
2005 & 2035 Liberty Origin 106, 187 cm (19/20–20/21)
2008 & 2065 Wagner Summit 106, 186 cm (20/21–21/22)
2011 & 2028 Moment Wildcat 108, 184 cm (19/20–20/21)
2011 & 2046 Elan Ripstick 106 Black Edition, 188 cm (21/22)
2022 & 2046 DPS Foundation Koala 103, 184 cm (21/22)
2046 & 2120 Black Crows Corvus, 188 cm (18/19–21/22)
2073 & 2074 Season Nexus, 183 cm (20/21–21/22)
2079 & 2105 Kastle FX106 HP, 184 cm (19/20–20/21)
2096 & 2100 Salomon QST 106, 181 cm (19/20–21/22)
2097 & 2113 DPS Alchemist Wailer 106 C2, 189 cm (19/20–20/21)
2110 & 2119 Moment Wildcat 108, 190 cm (19/20–20/21)
2113 & 2121 Moment Meridian, 187 cm (16/17–20/21)
2112 & 2125 4FRNT MSP 107, 187 cm (18/19–21/22)
2068 & 2178 Salomon QST 106, 181 cm (22/23)
2116 & 2181 Faction Dictator 3.0, 188 cm (19/20–21/22)
2120 & 2134 Blizzard Rustler 10, 188 cm (19/20–21/22)
2145 & 2167 Sego Big Horn 106, 187 cm (20/21)
2153 & 2184 Rossignol BLACKOPS Sender Ti, 187 cm (20/21–21/22)
2165 & 2211 K2 Mindbender 108Ti, 186 cm (19/20–21/22)
2165 & 2219 Icelantic Nomad 105, 191 cm (19/20–20/21)
2170 & 2180 Dynastar M-Free 108, 182 cm (20/21–21/22)
2232 & 2242 Blizzard Cochise 106, 185 cm (20/21–21/22)
2232 & 2244 ON3P Woodsman 108, 187 cm (19/20)
2295 & 2344 J Skis Hotshot, 183 cm (20/21–21/22)
2302 & 2342 Dynastar M-Free 108, 192 cm (20/21–21/22)
2312 & 2386 Prior Husume, 188 cm (17/18–20/21)
2321 & 2335 Fischer Ranger 107 Ti, 189 cm (19/20–21/22)
2353 & 2360 Volkl Katana 108, 184 cm (20/21–21/22)
2449 & 2493 J Skis Hotshot, 189 cm (20/21–21/22)
Now, onto how all of these changes translate on snow:
FULL REVIEW
Back in January, we started skiing the new 181 cm QST 106, mounted with Salomon's new Strive bindings. Over that time, Dylan Wood, Jonathan Ellsworth, and I have been able to get the ski in a bit of everything, from unconsolidated powder when ski patrol was opening new terrain, to plenty of hardpack, perfect chalk, and even some slush. (And FWIW, Dylan took a look at what we wrote and didn't have any additional thoughts to add.)
Moguls, Trees, & Tight Terrain
Luke Koppa (5'8", 155 lbs / 173 cm, 70 kg): I'm gonna start with the area where I think the new QST 106 really shines — especially relative to its predecessor. In short, the new ski feels notably quicker, looser, and generally a bit more playful than the ski it replaces.
Despite what it weighs on a scale, the new QST 106 feels lighter than the previous version, with less physical effort being required to quickly flick it side to side in tight bumps and trees. The new ski is also easier to release, pivot, and slash through tight spots. I also find it just a bit more forgiving when I inevitably end up leaning too far back on the tails.
So the new QST 106 is an overall easier ski in tight off-piste terrain, compared to the previous version. Compared to the whole market of ~105mm-wide all-mountain skis, I'd still say the new QST 106 sits on the more maneuverable end of the spectrum. It's not the absolute quickest or most forgiving — the RMU Apostle 3.0 106, for example, beats it in both regards. But I think most people would be able to get along with this new QST 106 in tight spots, and it outshines lighter alternatives when those bumps and trees are covered in some pretty firm snow; the new ski still maintains pretty good suspension that keeps it from feeling harsh when the snow is.
Jonathan Ellsworth (5'10", ~175 lbs / 178 cm / 79 kg): I very much agree with Luke that this QST 106 feels quick and easy to maneuver, but the ski still offers enough stability to give the ski a pretty big sweet spot and to create a forgiving, fun ride.
In softer, chalky moguls, the QST 106 is very compliant and makes things easy. And my favorite run on the ski so far was down Funnel, a fairly steep line beneath the Butte that, as you might be able to guess from the name, narrows into a tight track of moguls (see below).
Funnel is always a good test of how easy it is to get any ski side to side, and it also quickly reveals whether a ski has any hinge points in its flex pattern, or very stiff, unforgiving tails.
The new QST 106 just made Funnel feel very easy, and very fun. Confidence inspiring in tight spots, and non-fatiguing. Slide the skis and they'll go where you want them. Make airplane turns off big moguls into troughs, and the skis cooperate, without punishing you for getting a bit too far forward or too far back on the ski. But the important thing to note here is that on this day, the moguls down Funnel were pretty big, but pretty soft.
Groomers
Luke: We just talked about what the new QST 106 does better than its predecessor, so I guess it makes sense to now touch on what it compromised when it became a more maneuverable ski. And mostly, I've noticed this on piste.
The new QST 106 is still a predictable carver, and it can be a whole lot of fun on more forgiving groomed conditions — think early morning corduroy, or late-afternoon groomers when the temperatures have gotten above freezing.
On super firm, smooth, scraped-off sections, the QST 106 falls a bit short of its predecessor. In my mind, this mostly comes down to the new ski's more tapered tip shape (and maybe its deeper rocker lines). Basically, the new ski just requires more commitment and aggression to really get its edges to dig in on really firm snow. As I spent more and more time on it, I trusted it more every day — its stiff cambered portion does provide surprisingly strong edge hold when I really focus on driving my downhill ski. But due to its more subdued turn initiation, I wasn't as eager to really try to lay it over on very firm groomers as I could be on the previous QST 106.
Now, the previous QST 106 wasn't the best carver in its class, but if you were borderline dissatisfied with the previous ski's overall performance on piste, the new version isn't for you. But for those who aren't trying to rail hard turns on really firm groomers on their 106mm-wide ski (i.e., most people?), the new QST 106 will probably be just fine. And if the groomers are fairly soft and easily edgeable, I still have a blast making hard GS turns on this new ski.
Jonathan Ellsworth: Maybe it's because my right shoulder still isn't 100% healed from a mountain bike crash last year, but I find myself less willing than Luke to play the game of, "This ski doesn't seem to want to start to hold an edge with some initial pressure, but maybe if I continue to commit to higher edge angles, it will start to."
On soft groomers, yes, this ski is fun to carve. As are many skis. But mostly, I don't actually believe that many people considering this ski are going to be really concerned about the high-angle carving performance of this ski on firm groomers. And if I'm right about this, then as Luke said, everyone else will be "just fine" as you carve or slide your turns back to the chairlift when the snow is very firm.
Soft Chop & Powder
Luke: Before the massive high-pressure system moved over the western United States, I got a few days on the new QST 106 that I spent exploring some newly opened terrain. That meant a mix of unconsolidated, faceted snow, some denser, more consolidated sections, and lots of soft chop and crud.
Similar to the previous version, the new QST 106 floats quite well for its width. And while I thought the previous QST 106 was pretty maneuverable in deep snow, the new one is even more so. For a 106 mm wide ski, the new QST 106 is very easy to pivot and slarve through soft snow, and it takes a lot of heavy snow for it to feel bogged down. If you rarely see foot+ pow days, I doubt you'd have many qualms about the new QST 106 being the widest ski in your quiver.
When that pow gets chopped up, the new QST 106 stays admirably composed. It is a bit less stable than the previous version, but when I did back-to-back laps on each version of this ski, I was surprised by how small the difference in overall stability was between the two. The new QST 106 wouldn't be my top pick for those who prioritize stability at speed above all else; it does require an active and technically skilled pilot to ski super fast in choppy conditions. But compared to the whole market — and especially for how maneuverable it is — the new QST 106 is a pretty stable ski.
Jonathan Ellsworth: I fully agree with Luke here. And mostly, I think this is a 106mm-wide ski that is going to work really well for a ton of people looking for an all-mountain ski to use in softer, more forgiving conditions, or as their widest ski for pow days. This ski balances quite nicely a mix of stability and maneuverability in an undemanding package that won't have you worn out halfway through your ski day.
Firm Chop / Crud
Luke: This is a similar story as soft chop. The new QST 106 offers pretty nice suspension and doesn't get knocked around super easily. But it's also not a ski that inspires me to see how few turns I can make in a field of harsh, firm, rough snow. Rather, it makes it easy to comfortably carve and slarve my way through the crappy snow in a controlled manner.
Again, the new QST 106 isn't quite as stable or composed in rough snow as the previous version. But it's not some massive difference, and if you are looking to ski super fast through these sorts of conditions, you'll be best served by something much heavier, less tapered, and less rockered (see the All-Mountain Chargers section of our Winter Buyer's Guide).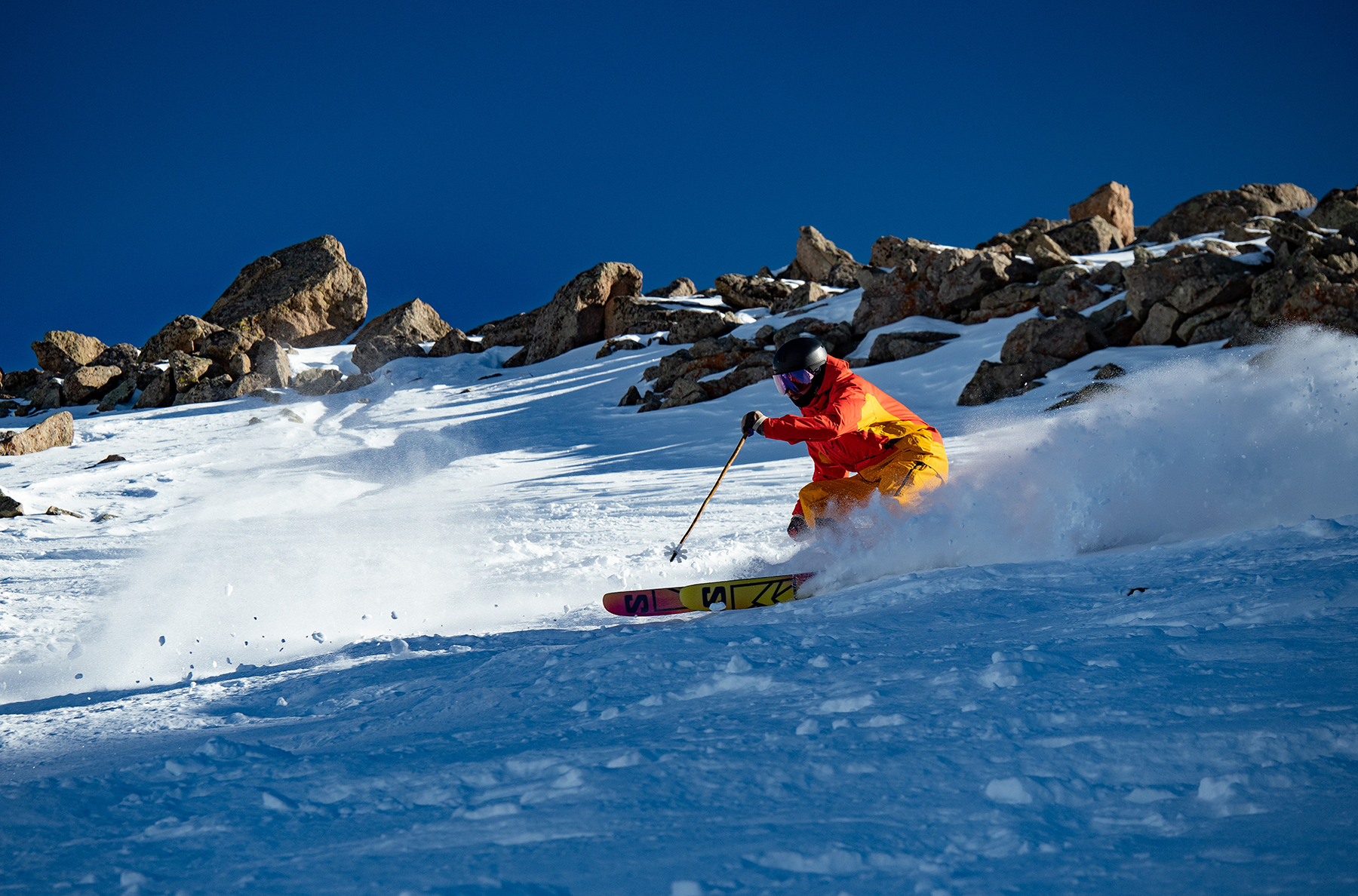 Jonathan: Yep, the more you'd be using the QST 106 in rough, firm snow — and the more you want your ~105mm-wide ski to shine in these conditions — then the more you ought to jump into a different category of ski.
Playfulness
Luke: I'd call the new QST 106 a very playful directional ski. It's loose / surfy, it's fairly forgiving / easy to bend, and it actually feels pretty balanced in the air.
I was actually very surprised when I measured the recommended mount point of the new QST 106, cause on snow and in the air, it does not feel like I'm -9 cm back from the true center of the ski (I would've guessed -7 cm). This ski does perform best with the skier leaning into the front of their boots to drive the ski's shovels, but it lets me ski it pretty centered when I feel like it and doesn't feel super unruly in the air.
The QST 106 also skis switch fine on firm snow (I personally wouldn't want to try landing switch on it in snow deeper than ~6 inches). It's not the most energetic-feeling ski in my experience and it wouldn't be my top pick if freestyle performance is a big priority. But for my skiing style — few spins but lots of airs — it's felt plenty playful overall.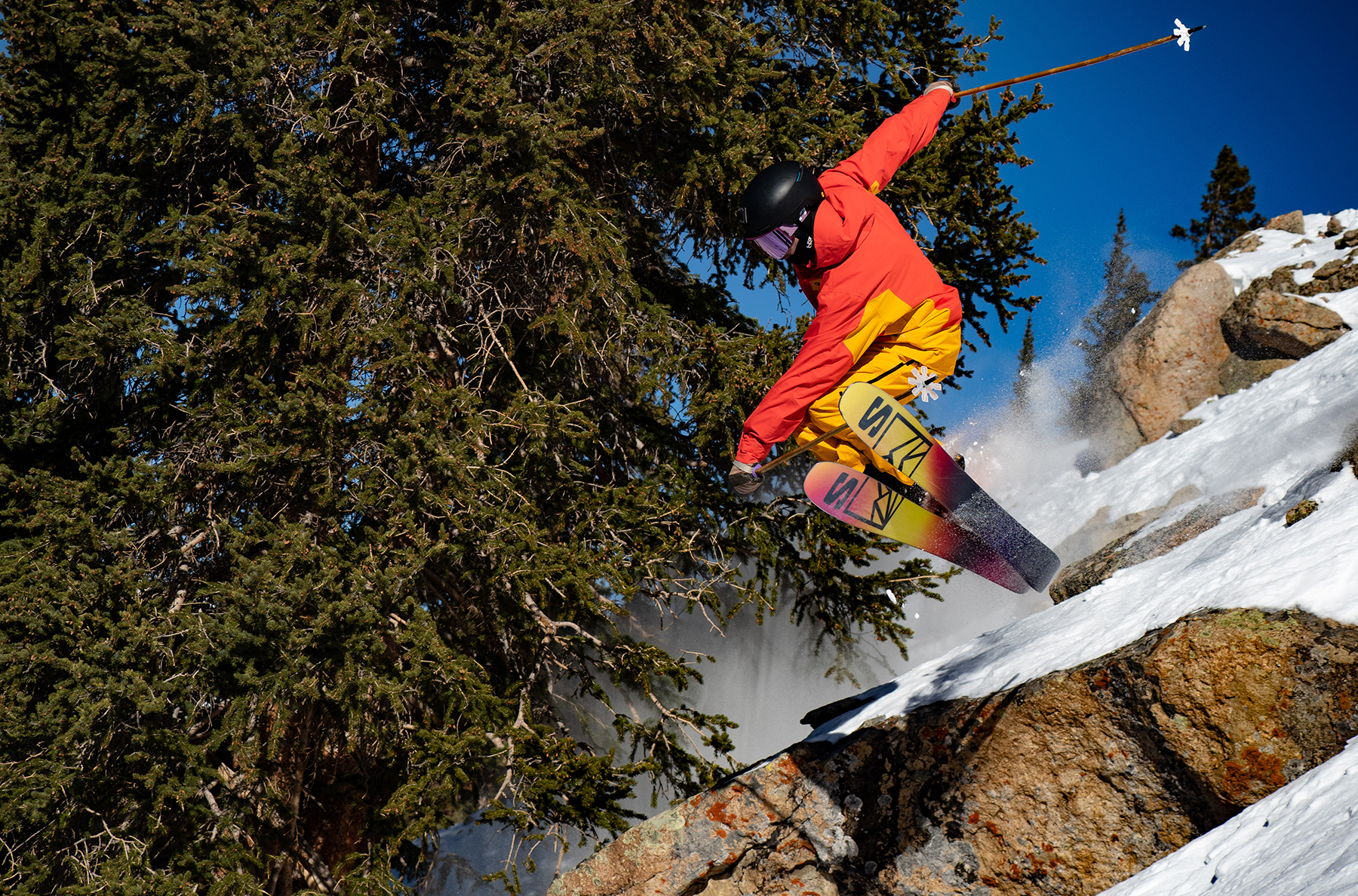 Jonathan: Yep, this ski happily accepts a centered stance. But you certainly can drive the shovels. (And, as we've said, the ski doesn't feel really punishing if and when you do fall into the backseat.) So maybe my takeaway here is that, for traditional / directional skiers who like the sound of adding an easier, more maneuverable ski to their quiver, the QST 106 will permit a more centered stance than some of your favorite skis (that have a -10 or -11 cm mount point), without forcing you into a stance that feels foreign.
Who's It For?
Luke: There are a lot of people who could get along well with the new QST 106 — so many that I think it'd be more useful to outline who this ski is not for.
You shouldn't get the QST 106 if you ski a lot of firm, scraped-off groomers and want to be able to easily lay down hard carves at high edge angles on those conditions. And you shouldn't get it if you know you prioritize high-speed stability in challenging conditions over playfulness and lower-speed maneuverability.
Outside of those groups, though, there are a lot of skiers who could like the QST 106. It's a very maneuverable ski that's pretty easy to ski off piste, but it still offers nice suspension and can be skied hard and fast in most conditions. And while it's not the best carver in its class, it's still lots of fun on more easily edgeable groomers.
Jonathan: If everyone who buys this ski ends up using it primarily in softer conditions — or uses it as their 12-inches-or-less pow ski — then I think there are going to be a lot of people raving about the QST 106. And that said, if you happen to get surprised by conditions that are a bit firmer and harsher than you were expecting, the QST 106 doesn't fall apart, it's just not where the ski shines.
Bottom Line
With the revised QST 106, Salomon managed to take a very good ski and make it better in certain regards (off-piste maneuverability) without dramatically compromising other aspects of performance. The new ski gives up a bit when it comes to on-piste turn initiation and stability, but for how much quicker and easier the new ski feels in tight terrain, it's impressive how small those compromises are.
Deep Dive Comparisons
Become a Blister Member or Deep Dive subscriber to check out our Deep Dive comparisons of the new QST 106 to see how it compares to the the previous QST 106, Nordica Enforcer 104 Free, Blizzard Rustler 10, 4FRNT MSP 107, Moment Deathwish 104, Dynastar M-Free 108, Moment Wildcat 108, Black Crows Atris, DPS Koala 103, Season Nexus, RMU Apostle 106, Head Kore 105, and J Skis Hotshot.
Rocker Profile (decambered)
Tail Profile (decambered)