Boot: 2023-2024 Lange Shadow 130 LV
Stated Flex: 130
Available Sizes: 24–31.5
Stated Last (size 26.5): 97 mm (100 mm available)
Stated Forward Lean: 12° (16° w/ spoiler)
Stated Ramp Angle: 4°
Size Tested: 26.5
Stated Boot Sole Length (26.5): 303 mm
Blister's Measured Weight (size 26.5):
Shells, no Liners: L: 1560 & R: 1560 g
Liners, no Footbeds: L: 415 g & R: 419 g
Shells + Liners = 1975 & 1979 g
Stock Insoles: 23 & 23 g
Buckles: 2 upper cuff, 2 lower shell
Power Strap: 45 mm velcro
Shell Material:
Cuff: Dual-Core Polyurethane
Lower Shell / Shoe: Dual-Core Polyurethane
Soles: GripWalk (Alpine available)
Binding Compatibility: GripWalk, MNC bindings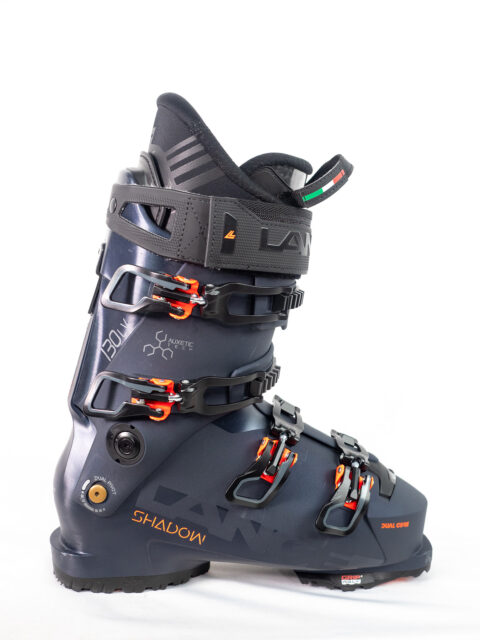 Intro
Today Lange announced a whole new series of ski boots, and there is a lot going on with the Shadow series.
We see new boots released every year, but rarely do we see boots that stray very far from established designs and silhouettes — especially in the fixed-cuff alpine category.
But the Shadow series forgoes convention in a few key areas, and Lange is talking a very big game about these new alpine boots. We've been spending time in the Shadow 130 LV and Blister Members can check out our initial on-snow impressions in our Flash Review. But while we get more time in these boots, let's dive into the details of the new range:
The Lange Shadow lineup of boots
Similar to Lange's other boot collections, nearly all of the Shadow boot models are available in two lasts, a 97 mm "LV" and a 100 mm "MV." The boots will be available for purchase at the start of the 2023-2024 season.
Here's a quick rundown on the 23/24 Shadow lineup:
Shadow Men (size 24–31.5)
Shadow 130 LV & Shadow 130 MV
Shadow 120 LV & Shadow 120 MV
Shadow 110 LV & Shadow 110 MV
Shadow 100 MV
Shadow Women (size 22–27.5)
Shadow 115 W LV & Shadow 115 W MV
Shadow 95 W LV & Shadow 95 W MV
Shadow 85 W LV & Shadow 85 W MV
What Lange says about the Shadow Boots:
"'Give me a long enough lever… and I shall move the world.' At Lange, innovation is in our DNA, and we've never stopped trying to move the world of skiing. We did it in 1962 when we introduced the first ever plastic ski boot, and we're doing it again now, with a boot born from the darkest corners of our deepest workshops. Years in the making, the Shadow uses breakthrough dual-pivot technology for greater leverage, creating a chassis that requires half the energy to drive. Power when you want it, stability when you need it, finesse at its finest. Ski better—the Shadow shines a light.
Powerful, responsive, and easy. No boot has ever offered the confidence and stability of the Shadow, and we don't say that kind of thing lightly at Lange. It's all about leverage. The Shadow's breakthrough dual-pivot technology harnesses extended leverage for unparalleled liveliness and drive. Pair that with a bold, new liner that uses space-aged Auxetic foam for a flawless connection, and performance has never felt so comfortable. Join the revolution—come out of the shadows."
If you're more of a visual person, here's a video by Lange that quickly covers the highlights of the Shadow series:
There's a lot going on here, so let's start with arguably the most radical aspect of the Shadow boots:
Dual Pivot & Suspension Blade
For pretty much all the 2-piece / overlap boots out there, the upper cuff attaches to the lower shell via a single pivot point, and then in the case of most fixed-cuff alpine boots, the upper cuff is riveted to the lower shell on the back / spine of the boot. Despite all the new products every year, that simple layout has been one of the few (relative) constants in the ski boot world. Lange opted to change that with the Shadow boots.
When I first saw the Shadow boots, I immediately thought of mountain bike suspension designs, which often feature lots of different pivots to optimize various characteristics, one of the most notable being leverage / leverage ratios. Lange makes a similar comparison with their Dual Pivot layout, claiming the following benefits:
Enhanced leverage = more power with less effort
Suspension absorption and vibration damping
Increased rebound
Consistent flex
More concisely, they sum up the system as follows: "LESS FORWARD MOVEMENT WITH AMPLIFIED ENERGY & POWER TRANSMISSION"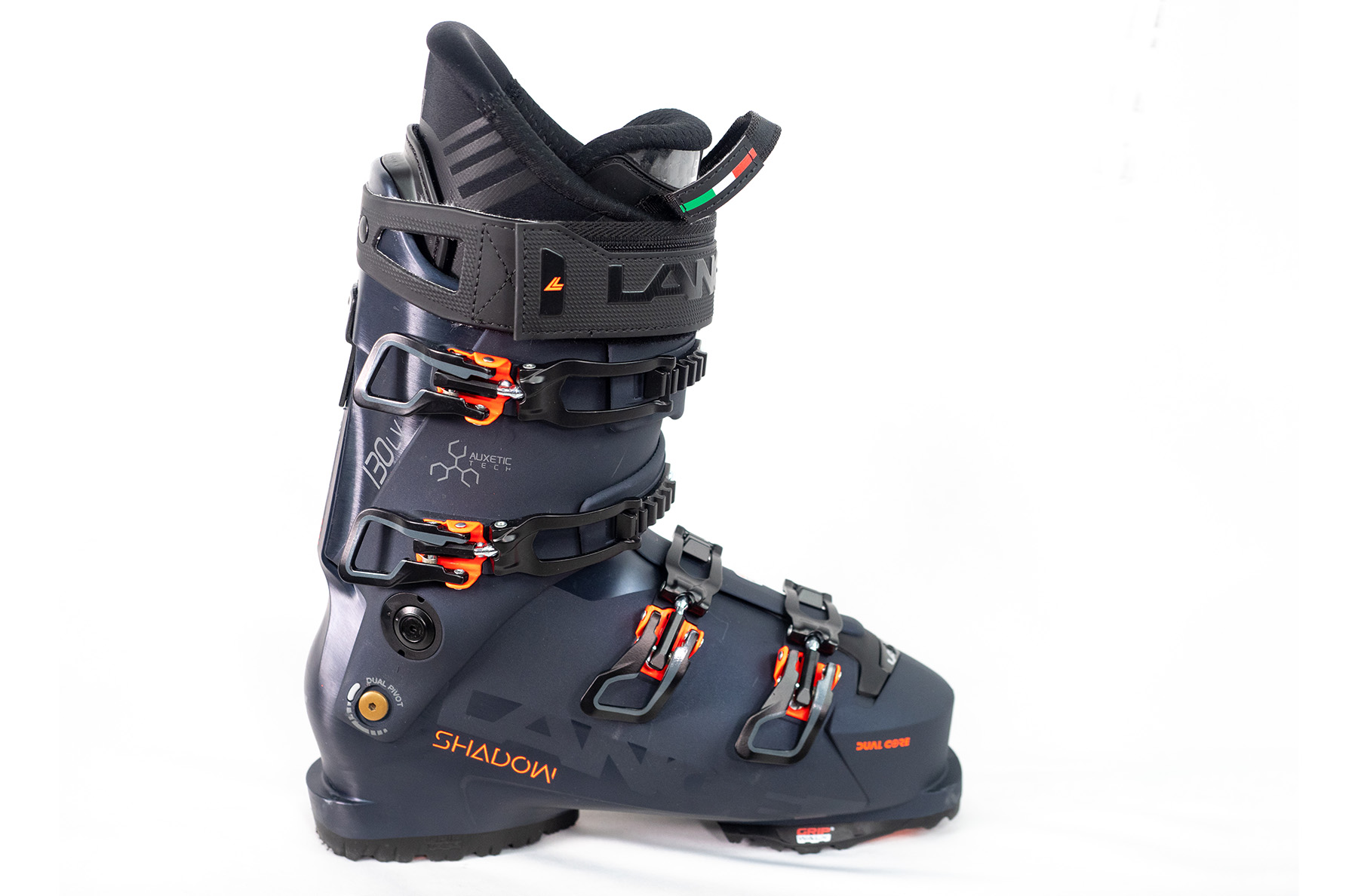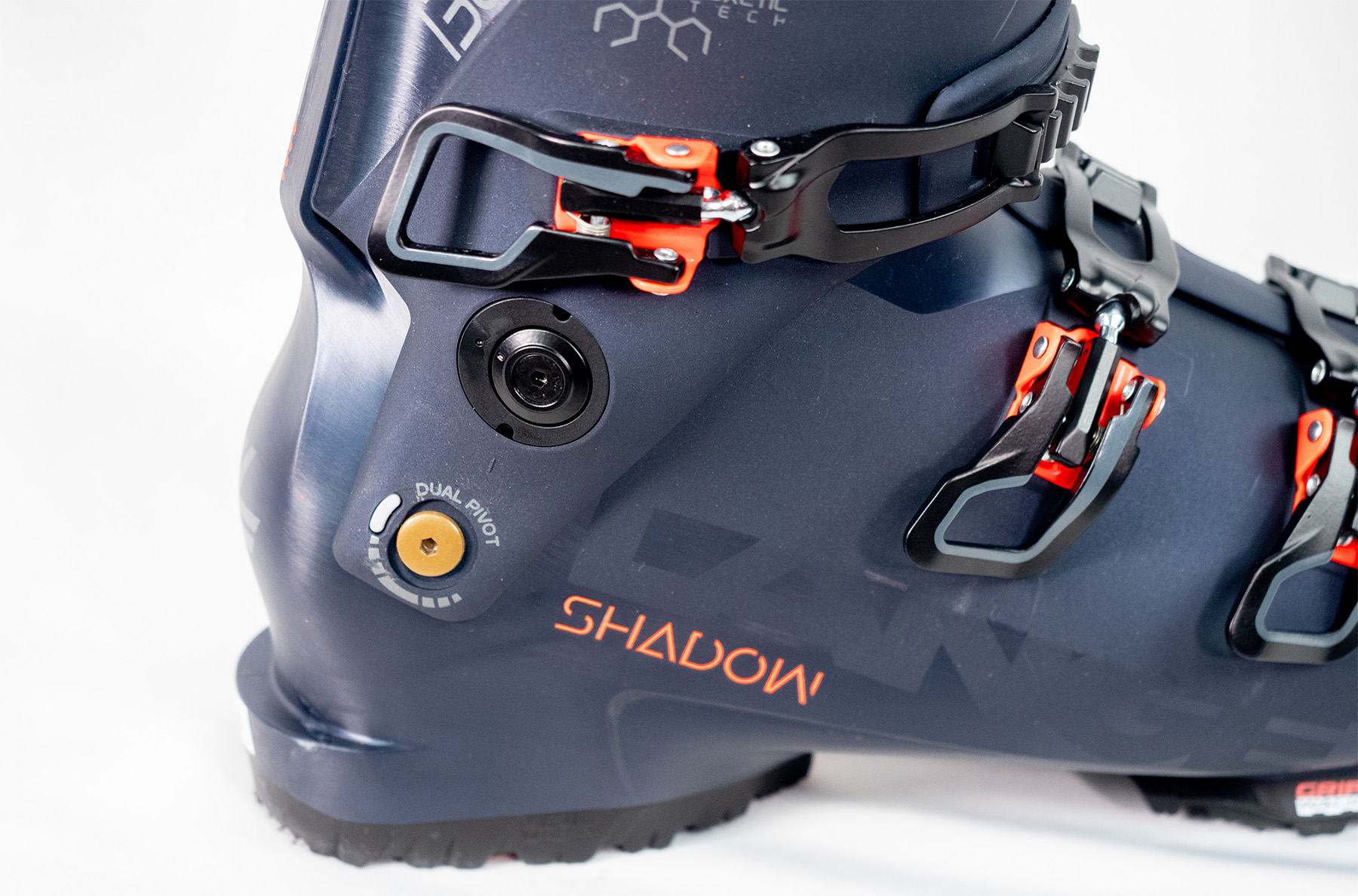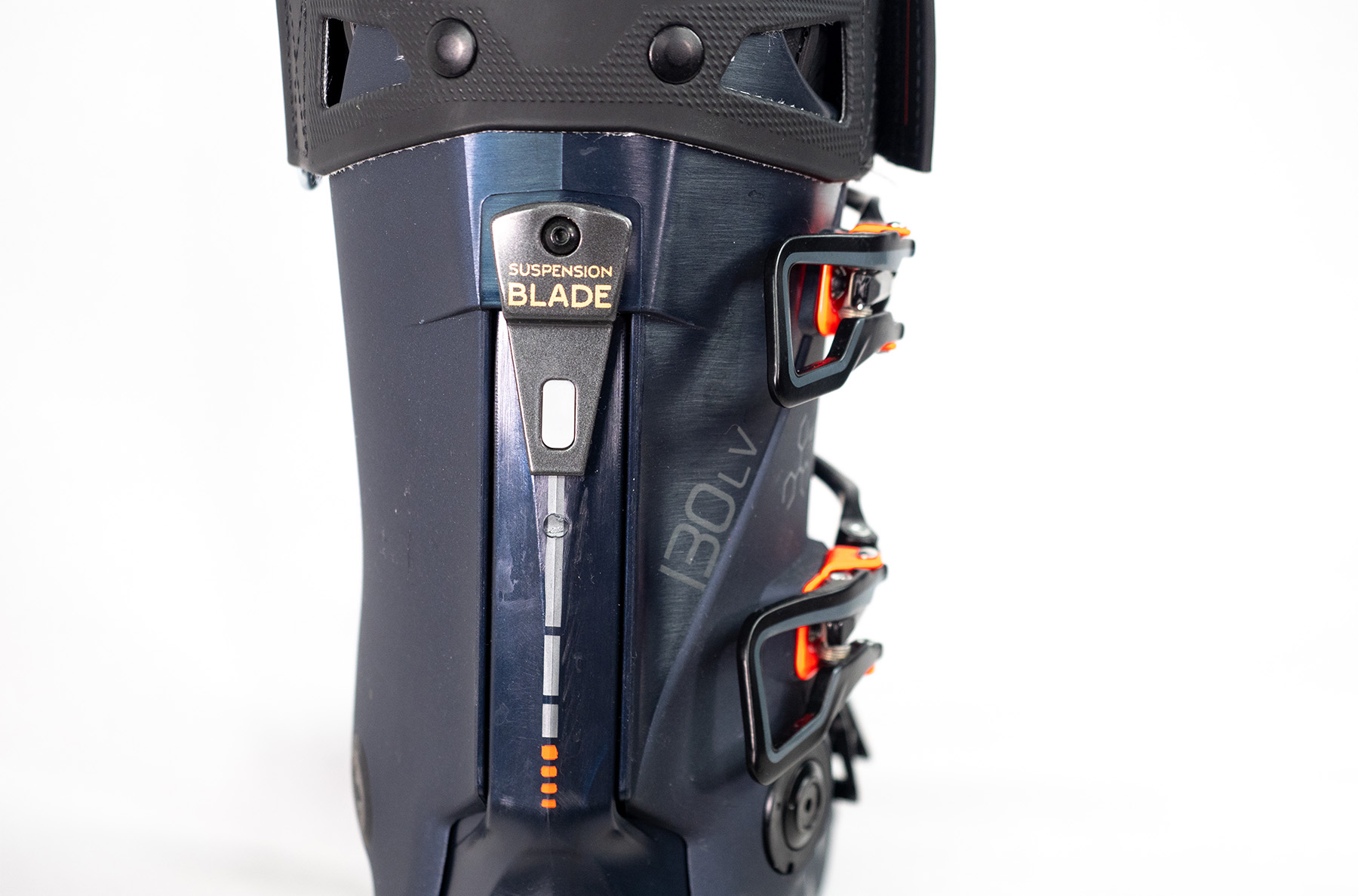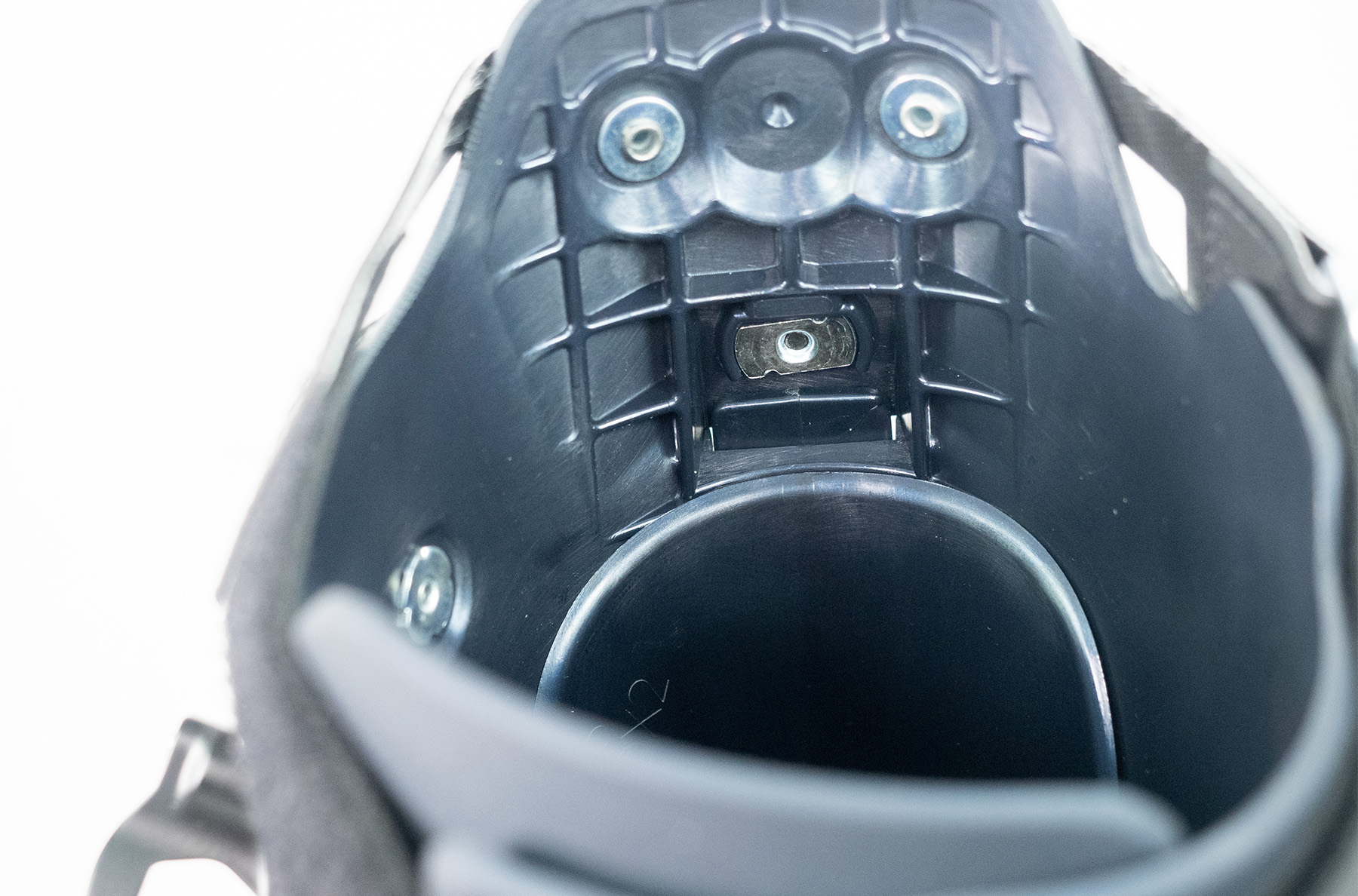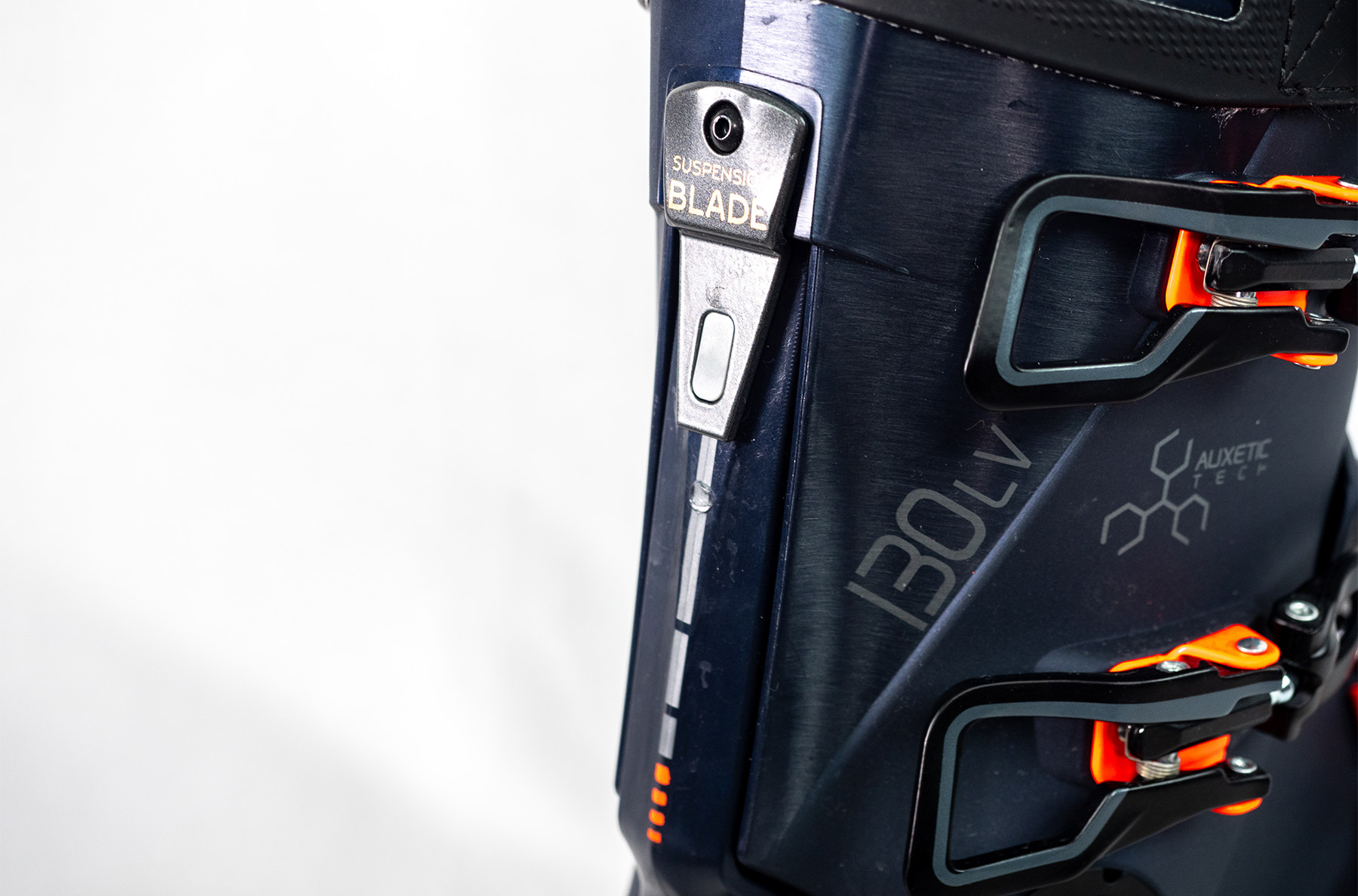 In short, the Shadow boots feature a main pivot point that looks similar to many 2-piece alpine boots, but then add another pivot below and behind the main one, and pair that with what they call a "Suspension Blade" — a flat piece that connects the upper cuff to the lower shell, pretty far up the spine of the boot (notably higher than where most fixed-cuff boots have their cuff / shell rivets).
Update 1.26.23: After discussing more with the folks at Lange, we can provide a bit more info on this system.
First off, one key element of the Dual Pivot + Suspension Blade design is the use of elastomers at both the lower pivot point and where the suspension blade attaches to the upper cuff. These elastomers are designed to help add some damping and rebound to the boot, and are also the way in which you can adjust the flex pattern of the Shadow boots. Different durometer elastomers will be available, which can reportedly soften the flex pattern of a given boot by approximately 10%.
In addition to being part of the "lever" formed in concert with the main and lower pivots, the Suspension Blade is also designed to add damping and rearward support, relative to a more traditional 2-piece shell design.
And to further distill the end result of this system: the Shadow boot design is meant to allow the skier to transfer more power into the ski with less effort. I.e., it doesn't necessarily make the boot easier to flex, but instead makes it easier for the skier to put more power into the ski, bend the ski more easily, etc. It reportedly does this by offering a more linear power delivery, as opposed to traditional 2-piece boots, which have a more progressive / elliptical power delivery, wherein they don't transfer all that much power at first (and are easier to bend at first), but then ramp up significantly the deeper / harder you flex them. Lange also claims that the Shadow design delivers its power to a broader area of the ski.
Shell
In terms of materials, the Shadow 130, Shadow 120, Shadow 115 W, and Shadow 95 W all feature Lange's Dual Core polyurethane for both the upper cuff and lower shell. The Shadow 110, Shadow 100, and Shadow 85 W feature a Lyfran cuff. Lange has now been using their Dual Core construction for several years, but in short, it's a co-injection process that allows them to implement plastics of different hardness where needed to optimize power transmission, rebound, flex pattern, ease of getting in / out, etc.
Liner
The Shadow's unique exterior silhouette is very eye catching, but there's also a lot going on with the Shadow's liner. For one, it features a very substantial tongue that's made with a PU foam that's similar to Adidas' "Boost" foam, with the goal of increasing energy absorption and rebound.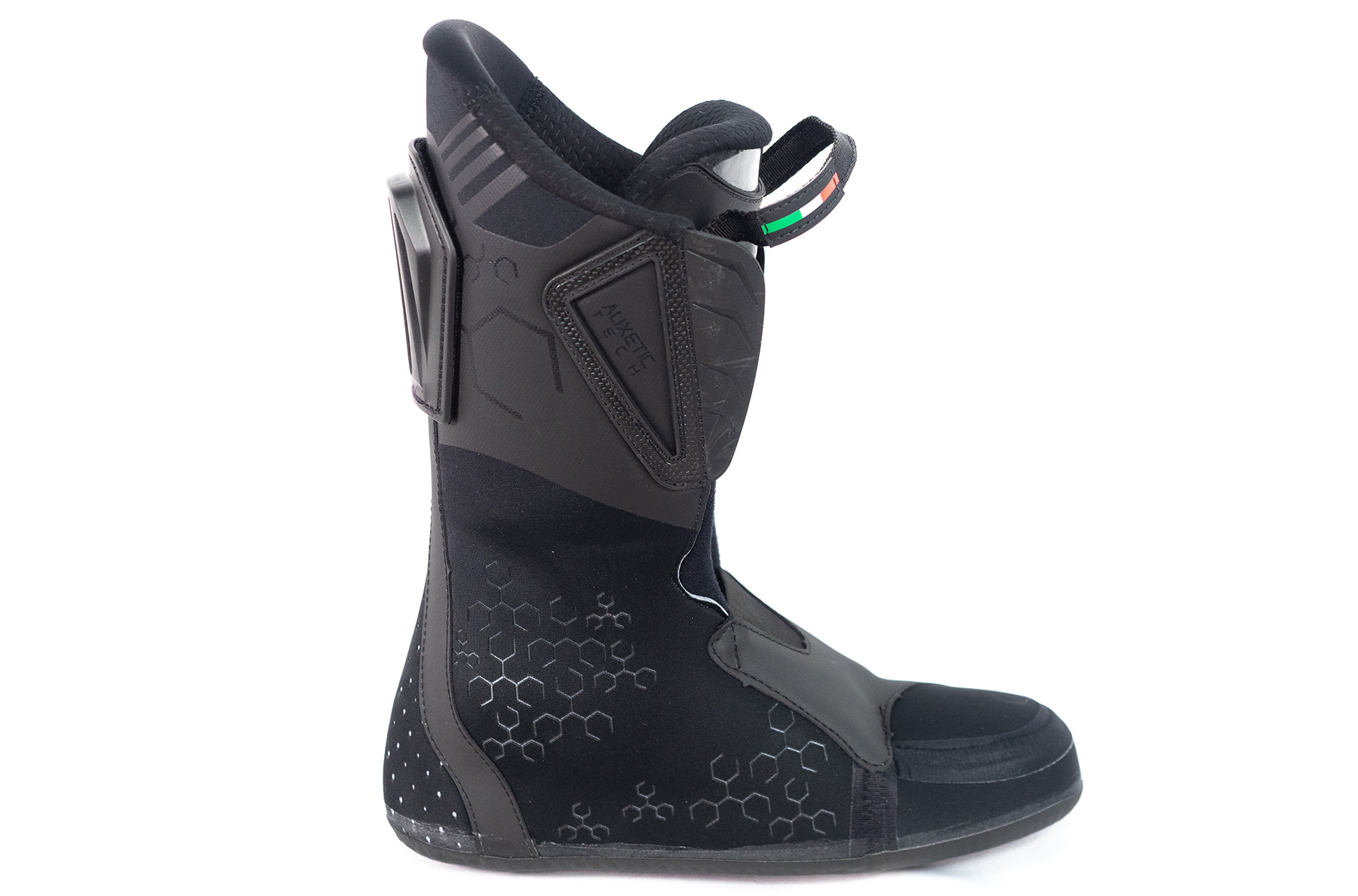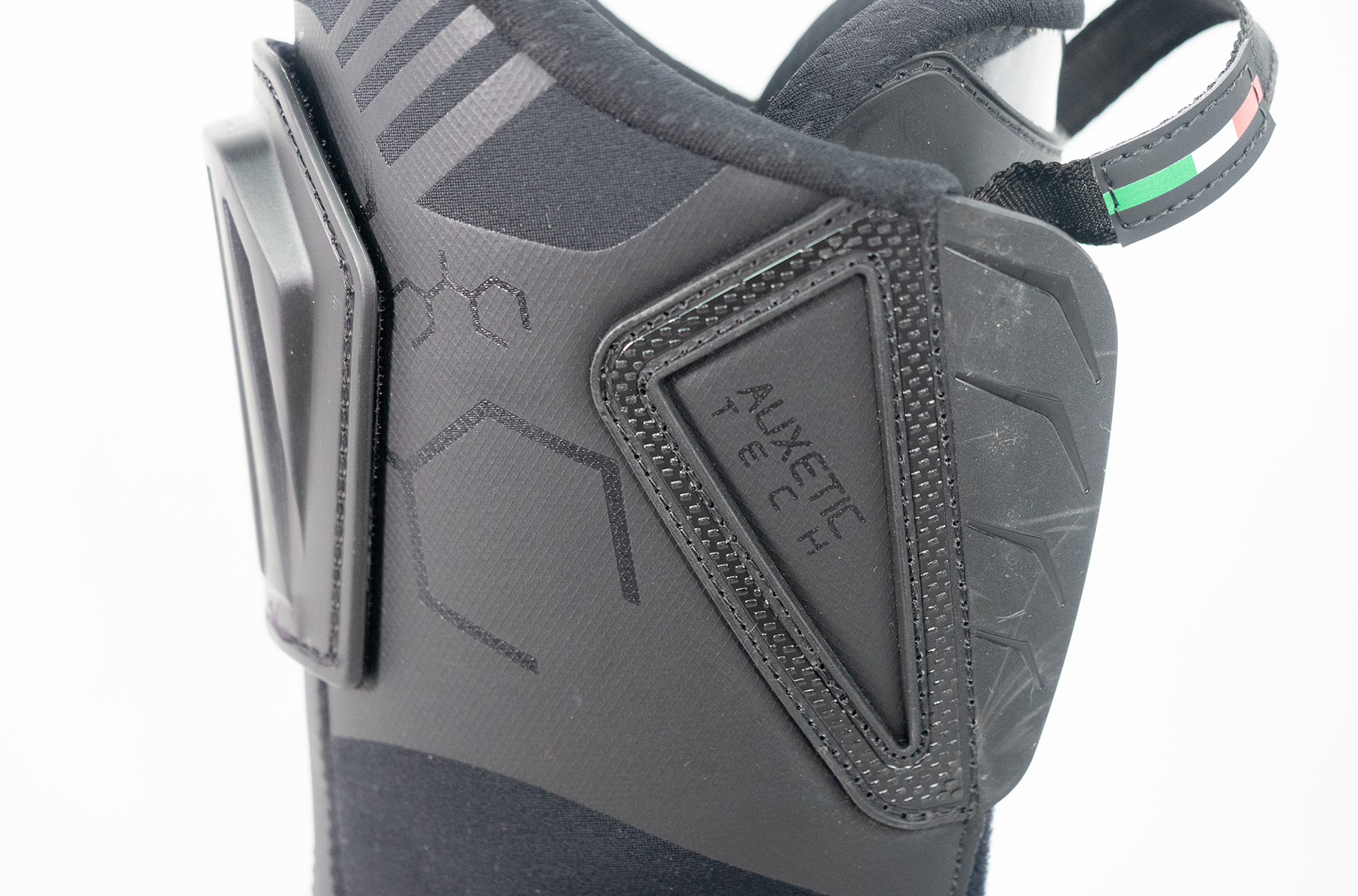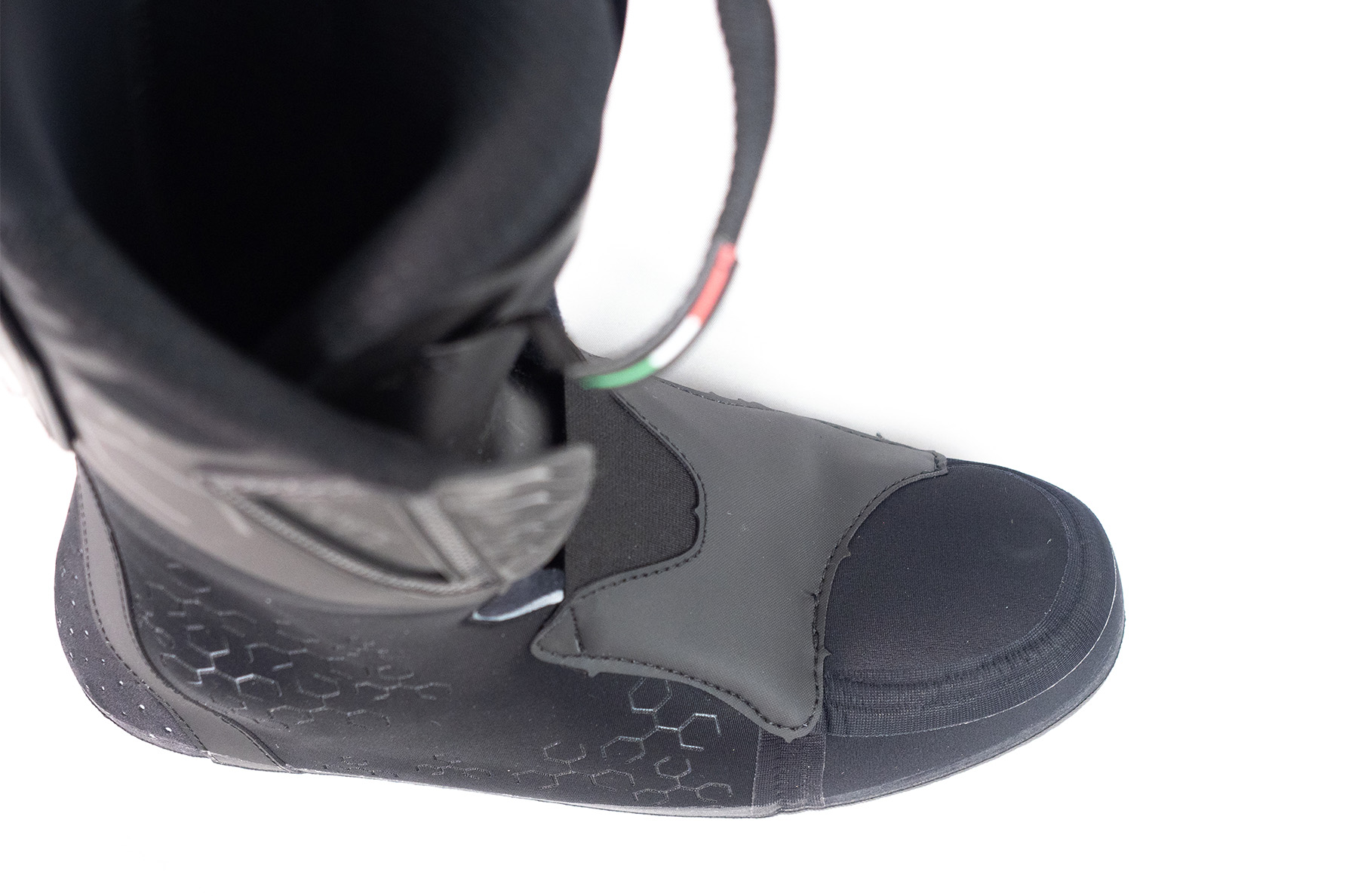 The Shadow liner is also very minimal when it comes to seams; Lange aimed to reduce as many potential pressure points as possible, including the integration of the upper cuff reinforcement into the liner itself, rather than being sewn on the outside like many other liners. They also claim that the liner's "Auxetic Technology" allows the material to expand and contract more easily to follow and conform to natural foot shapes.
Buckles
The Shadow boots are pretty standard in this regard: they stick to pretty traditional, micro-adjustable buckles, with two on the upper cuff and two on the lower shell.
Power Strap
Nothing out of the ordinary here: the Shadow 130 gets a pretty big, 45 mm velcro-closure power strap.
Soles
All the Shadow boots come with GripWalk soles, but you'll be able to order Alpine soles from a Lange dealer.
Cuff Adjustment
The Shadow boots feature cuff alignment tuning via the main pivot point.
Weight & Comparisons
The Shadow 130 is a bit lighter than some of Lange's other fixed-cuff resort boots, such as the RX 130 and RS 130, though it's not super light. I.e., it slots between some of the lightweight alpine boots (e.g., Atomic Hawx Ultra, K2 Recon) and more traditional, heavier models like Lange's RX series and Head's Formula series.
Below is a number of our measured weights of other boots with walk mechanisms. We list the weights of each shell + the weights of each liner, then the total weights of the shells + liners. You can click on the link for each boot to see which model year(s) the weights apply to.
K2 Recon Pro (26.5): 1334 & 1328 + 426 & 434 = 1760 & 1762 g
Atomic Hawx Ultra 130 S GW (26.5): 1375 & 1376 + 410 & 413 = 1785 & 1789 g
Salomon S/Pro Alpha 130 (26.5): 1408 & 1417 + 399 & 400 = 1807 & 1817 g
Nordica Promachine 130 (26.5): 1428 & 1428 + 444 & 445 = 1872 & 1873 g
Tecnica Mach1 LV 130 TD (26.5): 1518 & 1518 + 447 & 450 = 1965 & 1968 g
Lange Shadow 130 LV (26.5): 1560 & 1560 + 415 & 419 = 1975 & 1979 g
Rossignol Hi-Speed Elite 130 Carbon LV (26.5): 1610 & 1607 + 442 & 446 = 2052 & 2053 g
Head Formula RS 130 (26.5): 1587 & 1588 + 466 & 466 = 2052 & 2053 g
Lange RX 130 LV (26.5): 1676 & 1678 + 430 & 430 = 2106 & 2108
Lange RS 130 LV (26.5): 1634 & 1634 + 490 & 481 = 2123 & 2115 g
Atomic Redster CS 130 (26.5): 1773 & 1778 + 434 & 434 = 2208 & 2212 g
Head Raptor WCR 140S (26.5): 1849 & 1852 + 507 & 511 = 2356 & 2363 g
Head Raptor 140 RS (26.5): 1892 & 1899 + 547 & 548 = 2439 & 2447 g
Fit
As always, our "Fit" sections will never replace the usefulness of the advice of an experienced bootfitter, nor are they designed to do so. The fit of any boot is the deciding factor and everyone's feet are different, so we highly, highly recommend visiting a bootfitter before settling on a boot. With that said, here are some of my thoughts on how the Shadow 130 LV fits my feet. For reference, I have a fairly wide midfoot (a little over 100 mm when unsupported), low instep, low-volume ankle, and skinny calves. The Tecnica Mach1 MV and Nordica Strider are the boots with which I've gotten the best out-of-the-box fit.
Update 1.26.23: Lange told us that the fit of the Shadow is quite similar overall to the Lange RX / RS mold, but the Shadow has a slightly lower-volume heel pocket (reportedly similar to the original RX / RS), and the Shadow features 1 mm more room around the navicular area. The internal length is the same as the RS & RX, but the Boot Sole Length (BSL) is about 3 mm shorter on the Shadow, which is part of why it comes in lighter than the RS / RX shells.
A few things stood out with the Shadow 130 LV; these impressions are all based on skiing in the boot with no modifications, apart from swapping the stock footbeds for my custom insoles. First, its instep feels pretty high / roomy; as someone with a fairly low instep, I definitely have too much room there, but as has been the case with some other Lange boots (the RX and XT3 series, in particular), folks with high insteps should take note.
The fit through the midfoot was surprisingly comfortable; I often experience pain there, even with "Medium Volume" boots, but had no such issues in the Shadow 130 LV. The fit through the ankle and heel felt nicely snug, which helped mitigate the extra space I have above my instep. Up top, I think I'm still figuring out my ideal buckle and power strap tightness; I was able to get it very snug, but not without experiencing some pressure points on the lateral side of my leg between my ankle and calf. That's something I've experienced in other boots and think I just need to do some more experimentation.
In sum, the "LV" version of the Shadow is pretty roomy above the instep and feels wider than average through the midfoot, in comparison to other "low volume" boots with similar stated last widths. Overall, its fit feels very similar to the LV versions of the Lange RX, RS, and XT3.
Bottom Line (For Now)
It's always exciting when a brand offers a new take on a fairly established concept, and in the case of their new Shadow boots, Lange is doing so with the classic 2-piece, alpine-boot silhouette.
Blister Members can check out our Flash Review, linked below, for our initial on-snow impressions. In the meantime, stay tuned for updates.
Flash Review
Blister Members can read our Flash Review of the Shadow 130 LV for our initial on-snow impressions. Become a Blister member now to check out this and all of our Flash Reviews, plus get exclusive deals and discounts (including 10-20% off skis from 10+ brands), and personalized gear recommendations from us.