Spyder Turret GTX Shell Pants
Reviewer: 5'8", 155 Ibs
Size Tested: Medium
Blister's Measured Weight (size Medium): 635 grams
Fabric: 3-layer Gore-Tex waterproof / breathable laminate w/ polyester plain weave face fabric & tricot backer
Stated Features:
Recco® avalanche rescue system
Adjustable waist construction, belt loops and gasket waist
Watertight YKK® Aquaguard® hand and cargo pocket zippers
All seams taped
Thigh ventilation system with watertight ykk® aquaguard® zippers
Articulated knee construction
Reinforced scuff cuff around bottom hem
Pockets:
2 exterior hand pockets (zippered)
1 exterior thigh pocket (zippered)
MSRP: $500
Test Locations: Crested Butte, CO
Days Tested: 8

Intro
This year Spyder brought back their "Freeski" collection — a lineup of garments designed for the men & women pushing freeride and freestyle skiing. To match the launch, Spyder has recently sponsored a number of both high-profile and lesser-known athletes like Bobby Brown, Loraine Huber, Connery Lundin, Quinn Wolferman, Maggie Voisin, Giulia Tanno, Ferdinand Dahl, and more.
The Spyder Freeski lineup itself consists of a wide range of shells, midlayers, and baselayers, and features a slightly different style from what Spyder has been putting out over the past decade or so.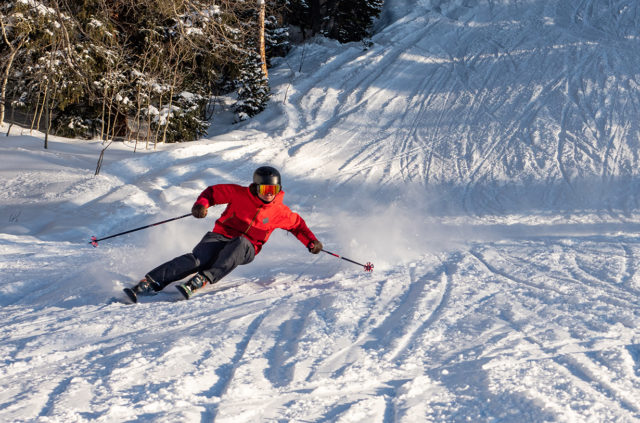 I've been using the new Spyder Turret GTX Shell Pants (and Sanction GTX Jacket — review coming soon). Spyder says about the Turret "If you don't crash are you really progressing? A gasket waist on the Turret pants adds another element of snow and moisture protection during times of 'progression'. An articulated knee construction gives you key movement for you to focus on the task at hand – hard charging."
I don't know about that hard-charging part, but I definitely crash a lot, so I was eager to see how this high-end shell pant from Spyder's new lineup compared to some of my other favorites.
Fit
I got the size Medium Turret GTX Pants (my usual size) and they fit me just about perfectly.
I'd call the overall fit of the Turret pretty average for a resort pant — I've got plenty of room to move and add a puffy pant if needed, but the pant doesn't look excessively baggy. The Turret fits pretty similarly to the Black Diamond Mission Pants and Trew Trewth Trousers (reviews coming soon), but baggier than the Open Wear Open One 3L Pants and some more touring-oriented pants like the Trew Capow Bibs.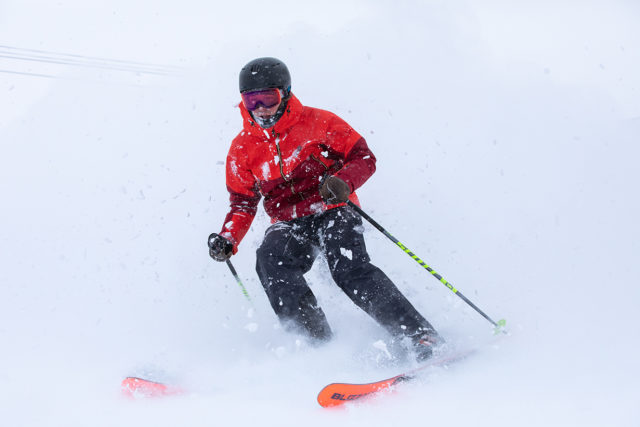 My favorite aspect of the Turret GTX Pants is probably the mini-bib, or "gasket waist" as Spyder calls it. The stretchy material extends above the normal waist of the pant (about 9 cm / 3.5 in) and goes up a bit past my belly button. The fabric is very comfortable, much more breathable than the main Gore-Tex fabric, and, along with the velcro waist adjustments and belt loops, made it super easy to dial in the fit of this pant. Plus, it gives you just a bit more coverage if you get a bunch of snow up your jacket.
Features
The Turret GTX Pants have three pockets, all of which feature YKK Aquaguard water-resistant zippers.
The two hand pockets are quite large and I usually use them for low-profile items like wallets, passes, etc. The right-hand pocket also features a lanyard for your keys or pass.
The Turret GTX's thigh pocket extends to just above my knee, which for me, makes it a more comfortable place to carry bulkier items like gloves or a beacon since those items aren't pressed tightly against my upper thighs as they are in the hand pockets. There's a sewn-in D-ring in the thigh pocket, which you could use to clip a beacon to, if you're someone who opts to carry your beacon in your pants.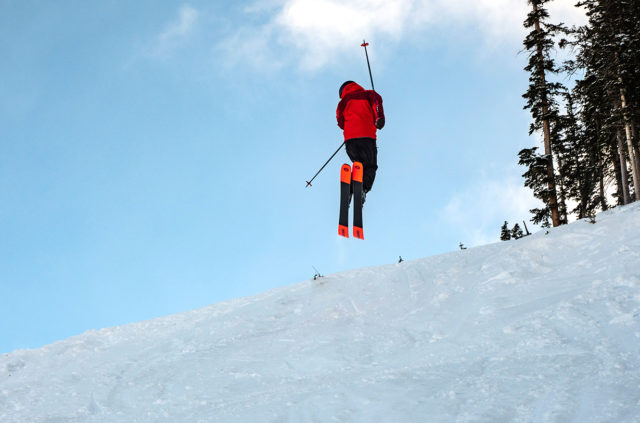 Apart from the pockets, the Turret GTX Shell Pant features 25.5 cm / 10 in inner-thigh vents. The vents are unlined so they open pretty wide and do a fairly good job of dumping heat. They're not the biggest vents and adding vents to the back or outside of the leg would help create more airflow, but for a resort / inbounds pant, I think the Turret GTX's vents are totally adequate.
At the cuffs, the Turret GTX features a pretty standard, reinforced fabric on the inside of the leg. The reinforced section is pretty big at 26×26 cm / 10.25×10.25 in, and I really like that it's pretty tall. I've found that I have a tendency to shred the insides of the legs of my ski pants (particularly above their reinforced sections), but after plenty of crashes and botched spins, I haven't yet torn any of the fabric on the Turret GTX Pants. The cuffs also feature a zipper and snap that let them open wide, but I've never needed to use this since the cuffs are pretty wide to begin with. And then there's the standard internal gaiter with gripper elastic that does a good job of keeping out snow.
As I mentioned above, the Turret GTX Pants feature an extra-tall "mini bib," and then the pants also include velcro waist adjustments, belt loops, a 1-way zippered fly, and a very secure (if not excessive) closure at the top with two Cobrax sliding snaps and a hook-and-eye closure. The Cobrax sliders are kind of like a blend between snaps and buttons — instead of pressing them onto each other like a snap, you slide the two portions horizontally and that creates a reliable closure.
Finally, the Turret GTX Pants also feature a RECCO reflector.
Weight
The Turret GTX Pants are not particularly light at a measured weight of 635 grams for a size Medium. That said, they're not as bulky and heavy as pants & bibs with burlier fabrics, such as the Flylow Baker Bib or Black Diamond Mission Pants.
Rolled up, the Turret GTX Pants are about the same size as a bottle of wine.
441 g Norrona Lyngen Windstopper Hybrid Pants, size Large
485 g Strafe Cham Pants, size Large
494 g Patagonia Descensionist Pants, size Medium
539 g Arc'teryx Rush LT Pant, size Medium
555 g Open Wear Open One 3L Shell Pants, size Medium
603 g Patagonia PowSlayer Bibs, size Large
608 g Patagonia SnowDrifter Bibs, size Medium
618 g Rab Sharp Edge Pants, size Medium
620 g Arc'teryx Sabre Pants, size Large
635 g Spyder Turret GTX Shell Pants, size Medium
723 g Black Diamond Mission Pants, size Medium
775 g FW Manifest 3L Pants, size Large
896 g Flylow Baker Bib, size Small
Materials
The Turret GTX Pants use a 3-layer fabric with Gore-Tex's regular membrane, a polyester plain-weave face fabric, and a standard tricot backer.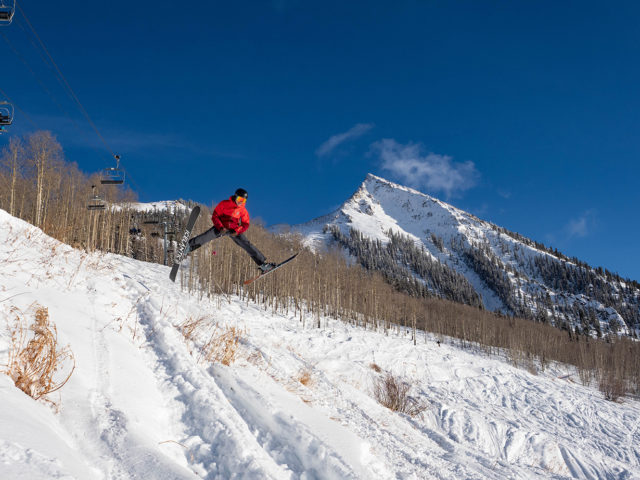 The fabric on the Turret GTX Pants is fairly supple — more so than most Gore-Tex Pro garments, but not quite as soft as Gore-Tex C-Knit pieces. The face fabric is not super burly, which is probably what makes the fabric as comfortable as it is, but may also decrease long-term durability compared to pants with heavier fabrics like the Black Diamond Mission.
All in all, the Turret GTX Pants' fabric is pretty standard for a 3-layer, resort-oriented shell.
Weather Resistance
No complaints here. There's a reason that so many brands keep using Gore-Tex fabrics — they do a really good job of blocking rain, snow, and whatever else may be falling from the sky.
I've used the Turret GTX Pants in some pretty wet early-season storms and the DWR performed very well and I never had any water penetrate the fabric. Having used dozens of products over the years that feature Gore-Tex's standard membrane, I have very little reason to doubt that the Turret GTX Pants will be totally waterproof in the long run.
Breathability
The Turret GTX Pants is pretty average, if not slightly below average in terms of breathability when compared to other high-end shells. Gore-Tex is great for preventing water from getting from the outside in, but it's not class-leading when it comes to moving moisture and body heat from the inside out.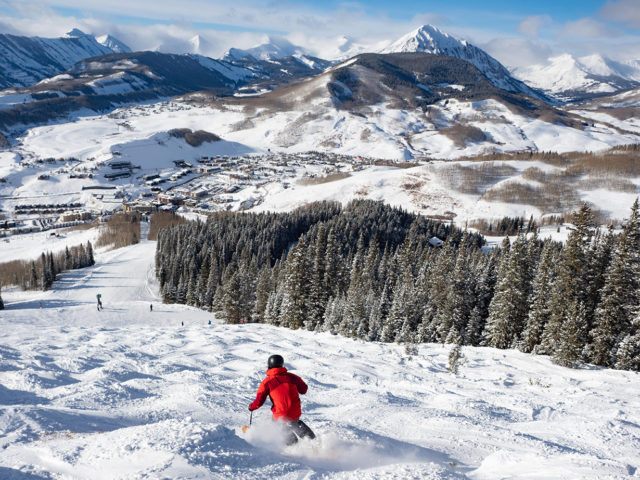 Fortunately, I tend to notice my upper body overheating much more than my lower body, so I can still comfortably skin in the Turret GTX Pants for shorter tours and / or colder temperatures. I wouldn't pick it for a pant that I'd primarily use for earning my turns, but for hiking in the resort or getting out on the skin track a few times a year, the Turret GTX Pants is fine. If you do want a dedicated touring pant and / or prioritize breathability, I'd look to air-permeable options like the Strafe Cham, Flylow Smythe, or Norrona's Lyngen Hybrid.
Warmth
The name of the Turret GTX Shell Pants should give you an idea of how warm they are — they're shells, and have no extra insulation apart from the very thin Gore-Tex fabric. My legs don't tend to get very cold or very hot, so in 90% of inbounds-skiing scenarios, I'm totally fine with just a midweight (150-200 gsm) wool baselayer bottom underneath the Turret GTX Pants. If temps drop below around 5°F / -15°C, I'll add another layer of insulation like the Patagonia Nano-Air Pants. But just know that the Turret GTX Pants does not offer much in the way of insulation.
Durability
I haven't used the Turret GTX Pants enough to say anything conclusive about their long-term durability, but given the weight and construction of the fabric, I expect them to hold up pretty well to a few seasons of use. The Turret GTX Pants' fabric isn't as substantial as heavier options like the Flylow Baker Bib or Black Diamond Mission, but it's far from some super light, thin, fragile touring pant. And as I noted above, the reinforced cuffs on the Turret GTX Pants are pretty large and I haven't yet managed to slice any of the fabric.
As always, I'll update this review if I run into any durability issues with the Turret GTX Pants down the line.
Who's It For?
Skiers and snowboarders looking for a high-quality pant that they'll primarily use for mechanically accessed skiing and who prioritize reliable weather resistance, a moderate fit, and extra coverage without going to a full-on bib.
There are a huge number of inbounds-oriented pants out there, many of which are less expensive than the Turret GTX Pants (MSRP of $500). The build quality, fabric choices, and features of the Turret GTX Pants seem pretty in line with its price, but if you don't need a Gore-Tex fabric or the mini bib of the Turret GTX Pants, you can find something cheaper.
But if you want a comfortable shell pant, live in an area that warrants the proven waterproofing of Gore-Tex, and appreciate the extra coverage (and very comfortable fit) of a mini bib, the Turret GTX Pants warrant consideration.
Bottom Line
The Spyder Turret GTX Shell Pants use a high-end fabric, feature functional pockets and features, and offer just a bit of extra coverage for inevitable crashes without covering your upper body in a clammy, less breathable fabric. They aren't cheap, but the Turret GTX Pants are solid all-round inbounds shell pants and they represent something a bit different from Spyder in terms of style.