Ski: 2021-2022 Sego Comp 110, 187 cm
Test Location: Mt. Crested Butte, Colorado
Days Skied: 15
Available Lengths: 175, 181, 187, 192 cm
Blister's Measured Tip-to-Tail Length: 185.7 cm
Stated Weight per Ski: 2295 grams
Blister's Measured Weight per Ski: 2228 & 2270 grams
Stated Dimensions: 140-110-131 mm
Blister's Measured Dimensions: 138.0-109.5-129.1 mm
Stated Sidecut Radius (187 cm): 19.5 meters
Measured Tip & Tail Splay (ski decambered): 76.5 mm / 51 mm
Measured Traditional Camber Underfoot: 2 mm
Core: poplar + 7cm-wide titanal strip + fiberglass laminate
Base: sintered Durasurf 4001
Factory Recommended Mount Point: -9 cm from center; 83.8 cm from tail
Boots / Bindings: Atomic Hawx Ultra 130 S & Tecnica Mach1 130 MV & LV / Tyrolia Attack2 13 AT
[Note: Our review was conducted on the 20/21 Cleaver Comp, which is the same as the 21/22 Comp 110, just with a different name and graphic.]

Intro
Two seasons ago Isaac Freeland shocked a lot of folks when he not only won Rookie of the Year on the Freeride World Tour, but he also won the overall title.
That said, if you've been watching Isaac for a while, you were probably not that shocked. He's got a big bag of tricks, but as he proved last year and in years past, he is also very capable of putting together very legit, high-speed, technical lines on big faces.
When we chatted with Isaac on our Blister Podcast last year, he talked a bit about the skis he used for the tour, including a new one he worked on with Sego to specifically suit his riding style.
That ski was made publicly available for the 20/21 season as the Cleaver Comp — essentially a big-mountain comp ski, but with some twists that make it better suited to modern comp skiers like Isaac who need both high-speed stability and a platform that lets them feel comfortable in the air and throwing tricks.
The result, as you might expect, is very interesting.
For the 21/22 season, the Cleaver Comp returns constructionally unchanged, though it's been renamed as the Sego Comp 110. Sego also expanded on the concept, adding the Comp 104 and Comp 118.
If a brand makes a new series from a given ski, that usually means they were onto something with the original. And now having spent a full season on the Comp 110, we'd agree. You can now check out our full review below, but we'll kick things off with our First Look we posted last fall:
What Sego says about the Comp Series
"In competition Freeride World Tour Champion Isaac Freeland blends high speed hard charging with a playful, trick first approach to cliffs and hits. The Sego Comp is a Big Mountain Comp ski built to blend freeride and freestyle on the world's biggest faces."
Pretty straightforward — the Comp skis are supposed to be stable in rough snow and at high speeds, while still being intuitive when it comes to throwing tricks of big features.
Construction
The Comp series uses a poplar wood core, a single 7cm-wide titanal strip, two layers of 19-oz fiberglass, one layer of 22-oz fiberglass, pretty beefy 2.2 mm edges, and a sintered Durasurf 4001 base. Here's all that laid out in a useful graphic: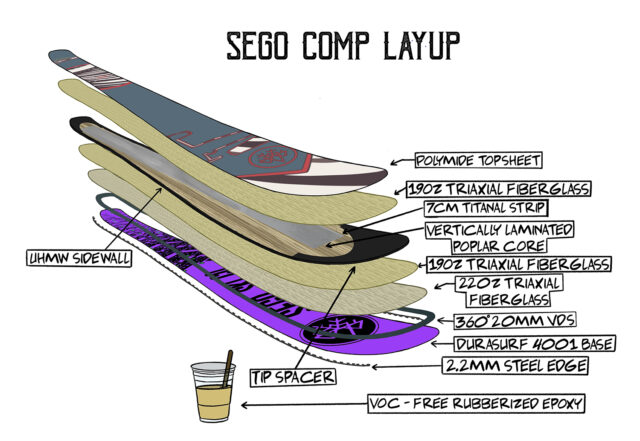 Shape / Rocker Profile
Just looking at its shape, the Comp 110 looks a bit more similar to what I'd call "aggressive freestyle skis" like the Moment Wildcat 108 and Whitedot Altum 104 than it does to what I'd call more traditional "comp skis" like the Blizzard Cochise 106, Volkl Katana 108, and Dynastar M-Pro 105.
Mostly, this comes down to the fact that the Comp 110 has a bit of tip and tail taper. Its taper is less dramatic than the Sego Big Horn 106 (particularly in the tail) and is far from extreme. But the Comp 110's shape makes me think it's designed to let you feather and slarve some turns when needed, rather than requiring you to be carving it on edge 100% of the time. For comp runs where you're frequently making adjustments mid-line, that seems sensible.
The Comp 110's rocker profile is also far from traditional. Its tip rocker line isn't quite as deep as skis like the ON3P Woodsman 108 or Moment Wildcat 108, but the Comp 110 has a deeper tip rocker line and a lot more tip splay than skis like the Cochise 106, M-Pro 105, and Fischer Ranger 107 Ti. And unlike skis like the Katana 108 and Cochise 106, the Comp 110's tip rocker line rises pretty abruptly, rather than staying low until the end of the ski.
And then there's the Comp 110's tail, which doesn't have a super deep rocker line (much shallower than its tip rocker line), but does have enough splay that I'd call it pretty much a "true twin." The Comp 110's tail rocker reminds me of some "directional twin" snowboards — the Comp 110's tail looks high enough for landing and taking off switch in most conditions, but it's still mostly cambered behind the bindings and its twinned tail is paired with an otherwise pretty directional design.
Flex Pattern
Here's how we'd characterize the flex pattern of the Comp 110:
Tips: 6-6.5
Shovels: 7-8.5
In Front of Toe Piece: 9-10
Underfoot: 10
Behind the Heel Piece: 10-9.5
Tails: 9-6
When Jonathan talked with Isaac about this ski, Isaac repeatedly emphasized how stiff it was. And now having hand-flexed it, I'd say he had reason to — but there are portions of the ski that aren't extremely stiff.
Basically, the entire cambered portion of the Comp 110 is very, very stout. But the rockered portions of its tips and tails are far from unbendable. There's a pretty immediate ramp-up in stiffness as you move from the rockered portions to the cambered portions.
While that initially worried me (I figured it could create a "hinge point" in the flex), I then went and flexed the Sego Big Horn 106 again, and found a pretty similar-feeling flex pattern. The Big Horn 106's rockered tips and tails are softer than the Comp 110's, but the two feel similar in that their rockered sections are fairly soft, and their cambered sections are very stiff.
I mention that because none of us noticed any hinge-pointy-ness with the Big Horn 106 when we reviewed it (it mostly just felt pretty solid, particularly for a freestyle ski).
Compared to the rest of the market, the Comp 110's tips and tails are notably softer than skis like the Volkl Katana 108, Prior Husume, and Blizzard Cochise 106, but the Comp 110 is similarly stiff, if not stiffer through the rest of the ski.
Sidecut Radius
One thing that many comp skis share in common is a long sidecut radius, but the Comp 110 bucks that trend, too. The 187 cm Comp 110's stated 19.5-meter sidecut radius is definitely not super short, but it is notably shorter than the Cochise 106, M-Pro 105, and Husume.
Given that, I'm curious to see how reactive and quick the Comp 110 will feel at slower speeds, and how stable it will feel while making big, long arcs.
Mount Point
I was curious to see what mount point that Sego decided to go with for this ski, given that it's designed to blend elements of directional big-mountain skis with more freestyle-oriented alternatives.
Measuring -9 cm from true center, the Comp 110's recommended mount point shares more in common with directional skis like the Katana, Cochise, etc. As is often the case, I also want to try it with the bindings moved a few cm in front of that line, but I think it's safe to assume that the Comp 110 is going to encourage a more traditional, forward stance when mounted on its recommended line.
Weight
Our pair of the 187 cm Comp 110 came in at an average measured weight of 2249 grams per ski.
While that's not quite as hefty as the Katana 108, M-Pro 105, J Skis Hotshot, or Prior Husume, the Comp 110 still has the weight that I'd expect from a ski designed to handle high speeds in rough snow. There's a reason that a lot of the FWT skiers are on heavy skis — heavy skis generally stay more composed when skiing fast in challenging conditions.
For reference, here are a number of our measured weights (per ski in grams) for some notable skis. Keep in mind the length differences to try to keep things apples-to-apples.
1820 & 1821 Majesty Havoc, 186 cm (20/21–21/22)
1850 & 1886 Head Kore 111, 184 cm (21/22)
1910 & 1941 Scott Scrapper 115, 189 cm (17/18–20/21)
1959 & 1975 Volkl V-Werks Katana, 184 cm (16/17–20/21)
1964 & 1972 Moment Deathwish, 184 cm (19/20–20/21)
2034 & 2052 Blizzard Rustler 11, 188 cm (17/18–21/22)
2046 & 2120 Black Crows Corvus, 188 cm (18/19–20/21)
2079 & 2105 Kastle FX106 HP, 184 cm (19/20–20/21)
2096 & 2100 Salomon QST 106, 181 cm (19/20–21/22)
2097 & 2113 DPS Alchemist Wailer 106 C2, 189 cm (19/20–20/21)
2110 & 2119 Moment Wildcat 108, 190 cm (19/20–20/21)
2112 & 2125 4FRNT MSP 107, 187 cm (18/19–20/21)
2116 & 2181 Faction Dictator 3.0, 188 cm (19/20–21/22)
2125 & 2134 Kye Shapes Metamorph, 185 cm (19/20–21/22)
2145 & 2167 Sego Big Horn 106, 187 cm (20/21–21/22)
2153 & 2184 Rossignol BLACKOPS Sender Ti, 187 cm (20/21–21/22)
2165 & 2211 K2 Mindbender 108Ti, 186 cm (19/20–21/22)
2165 & 2219 Icelantic Nomad 105, 191 cm (19/20–20/21)
2182 & 2218 Nordica Enforcer 110 Free, 185 cm (17/18–21/22)
2228 & 2270 Sego Comp 110, 187 cm (20/21–21/22)
2232 & 2242 Blizzard Cochise 106, 185 cm (20/21–21/22)
2232 & 2244 ON3P Woodsman 108, 187 cm (19/20)
2243 & 2287 Salomon QST Blank, 186 cm (21/22)
2295 & 2344 J Skis Hotshot, 183 cm (20/21)
2302 & 2342 Dynastar M-Free 108, 192 cm (20/21–21/22)
2312 & 2386 Prior Husume, 188 cm (17/18–20/21)
2321 & 2335 Fischer Ranger 107 Ti, 189 cm (19/20–21/22)
2325 & 2352 Folsom Blister Pro 104, 186 cm (19/20)
2353 & 2360 Volkl Katana 108, 184 cm (20/21–21/22)
2397 & 2427 Volkl Katana, 191 cm (13/14)
2412 & 2426 Rossignol Blackops Sender Squad, 194 cm (20/21–21/22)
2438 & 2492 Rossignol Blackops Gamer, 186 cm (17/18–21/22)
2449 & 2493 J Skis Hotshot, 189 cm (20/21)
2495 & 2521 Head Monster 108, 184 cm (17/18)
2603 & 2604 Dynastar M-Pro 105, 192 cm (16/17; 20/21)
Some Questions / Things We're Curious About
(1) Whenever we test a ski that's designed with competition skiers in mind, we're always interested to see if it will be a ski that really only makes sense when you're pushing your limits, or if it can be fun in non-competition terrain and at non-competition speeds.
(2) On that note, Isaac has talked about how he reserved the Comp 110 for the venues that were particularly steep and fast (e.g., Fieberbrunn), and then used the more playful Big Horn skis for venues like Hakuba. So will the Comp 110 feel out of place on mellower terrain?
(2) The Comp 110's mount point and flex pattern seem more in line with directional chargers, while its rocker profile has more in common with freestyle skis. So will it fall neatly into one of those categories, or feel like a blend of both?
(3) With a lot of tip rocker, a twinned tail, and a 110mm-wide waist, the Comp 110 seems like it will handle softer and mixed conditions well. But it also doesn't have a ton of tip or tail taper, it's quite stiff, and pretty heavy, so will it feel equally comfortable on firmer snow?
Bottom Line (For Now)
Watching Isaac Freeland ski, the design of the Sego Comp 110 makes good sense. Its fairly hefty weight, stout flex pattern, and moderately tapered shape make us think that it should hold up well to aggressive skiing in consequential terrain, while its rocker profile seems like it'll better suit a playful skiing style compared to more traditional comp skis.
Flash Review
Blister Members can read our Flash Review of the Comp 110 for our initial on-snow impressions. Become a Blister member now to check out this and all of our Flash Reviews, plus get exclusive deals and discounts on skis, and personalized gear recommendations from us.
FULL REVIEW
Dylan Wood and I spent time on the Comp 110 this season, and we were both really intrigued by it from the start. Dylan competed in big-mountain competitions during his time at Western Colorado University on their freeride ski team and also spends a good bit of time in the park. And while I definitely can't match his freestyle skills nor his willingness to huck off sketchy cliffs, I would also describe my style as somewhat of a middle ground between freeride and freestyle.
So, how did we get along with this ski that's supposed to blend elements from those two sides of skiing, and who should have it on their radar?
Powder
Dylan Wood (5'11", 155 lbs / 180 cm, 70 kg): With numerous FWT competitions occurring in some great looking powder, it's no secret that the freeride-competition-oriented Comp 110 was designed with pow performance in mind. Unsurprisingly, this ski does great and feels most at home in fresh snow.
It doesn't provide a surfy ride in powder like the Big Horn series, rather, it feels best making fall-line turns at higher speeds. Though, while it is definitely fun to open it up on the Comp 110 in powder, it isn't necessary to enjoy it — it is still manageable at low to moderate speeds, likely thanks to deeply rockered tips and twinned tail.
Luke Koppa (5'8", 155 lbs / 173 cm, 70 kg): Yep, I'd say the Comp 110 is overall a bit above average when it comes to performance in fresh snow. This isn't some ultra-surfy freestyle ski, and that makes sense — it's designed to hold steady while making big, fast turns in fresh (or terrible) snow, and be supportive on big drops. The Comp 110's on-snow personality definitely reflects Sego and Isaac's design intents for the ski.
Thanks to its deep and substantially rockered tips, the Comp 110 does an admirable job of rising above deep snow. Despite "only" being 110 mm underfoot, I didn't feel like it needed much speed to plane up. That said, the Comp 110 is the most fun in fresh snow when you do have some room to run. Particularly compared to the more freestyle-oriented Sego Big Horn 106, the Comp 110 feels a bit more inclined to make big arcs through pow, rather than slashing sideways down it. Still, the Comp 110 feels more maneuverable in deeper conditions than a lot of similarly heavy, directional skis in this class, and I'd be pretty happy taking it out on days where it's snowed up to around a foot (~30 cm).
Soft Chop
Luke: In my mind, this is where the Comp 110 really shines. And I would hope so, since a lot of freeride venues end up having conditions somewhat resembling soft chop.
The Comp 110 has the mass and strong flex pattern to blast through chop better than a lot of more playful skis, but it's still more maneuverable, poppy, balanced, and generally more playful than a lot of similarly stable skis.
Particularly with the bindings moved +2 cm from recommended (equating to -7 cm from true center), the Comp 110 doesn't feel particularly sluggish or like I'm fighting it when I ski more centered and pop off stuff. (We'll go into more detail on mount point below). At the same time, and no matter the mount point, I can still drive the Comp 110 very hard through the shovels.
This versatility in terms of stance is not only something that would be advantageous in a competition setting, but it's also something that I think a lot of day-to-day skiers will like. I'm someone who appreciates a damp, stable ski but who also finds many directional chargers too planted and one-dimensional, so the Comp 110 offers a lot to like in soft chop. It is definitely not some ultra nimble, surfy ski, but it does fill a void between those sort of skis and the ones that are super stable but that feel like they only want to make big turns down the fall line.
Now, that does come at the cost of some outright suspension and stability, but in soft chop, the Comp 110 does not feel super different in those regards when compared to some of the more traditional alternatives like the Blizzard Cochise 106 and Volkl Katana 108.
Dylan: Yep, skiing fast through deep chop is basically the Freeride World Tour, so it makes a lot of sense that the Comp 110 allows you to ski hard in these conditions, blasting through piles of cut-up snow.
However, as Luke mentioned, this isn't some one-dimensional tank of a ski that is borderline boring in chop, it has a more lively feel than a lot of its more directional competitors. The Comp 110 allows you to ski fast and confidently through chop — all while probably having more fun than your friend who is on a flat-tailed ski with a more traditional mount point (though, of course, "fun" is subjective).
Firm Chop / Crud
Luke: As things get more set up and nasty, the Comp 110 still proves to be a more composed and capable ski than a lot of more freestyle-specific skis, though it does give up some ground compared to the more traditional chargers.
Compared to the whole market, the Comp 110 definitely sits on the more damp and stable end of the spectrum. But compared to the more niche class of "chargers," the Comp 110 isn't quite as smooth and composed as some of the class leaders. Particularly if we're talking about refrozen, rough, truly brutal conditions, something heavier, less tapered, and less rockered like the Volkl Katana 108, Blizzard Cochise 106, and Moment Commander 108 are all going to get knocked around a little bit less. But even compared to some of the more stable freestyle skis out there, such as Sego's Big Horn 106, the Cleaver Comp does offer a noteworthy step up when it comes to how well it mutes out rough snow and holds a line.
I'll also add that, while some fans of more traditional chargers might be scared off by the Comp 110's "moderate" sidecut radius of 19.5 meters for the 187 cm length, I never noticed a hint of hookiness in chop or crud.
Dylan: I was surprised by how well the Comp 110 did for its width when skiing in firm snow several days after a fresh snowfall. Luke said it best — this ski occupies an area somewhere between the ultra-damp (and heavier) options Luke mentioned and surfier all-mountain freestyle skis. Would I be happy skiing the Comp 110 if I regularly encountered icy conditions? Mmm, probably not, there are better tools for the job. However, the Comp 110 will certainly hold you over to the next storm through a resort dry spell. And I agree with Luke — absolutely no hookiness out of the Comp 110 despite its relatively tighter radius, so I'd ignore that 19.5-meter sidecut radius if it's concerning to you on paper.
Moguls, Trees, & Tight Terrain
Luke: Freeride venues don't typically have a ton of tight terrain to navigate but last-minute changes of direction are often needed, so it's good to have a comp ski that allows for that without too much effort. The Comp 110 checks that box.
As I've mentioned above, the Comp 110 feels like it slots between freestyle skis and more traditional chargers, and its performance in tight spots reflects that. You need to be a bit more over the shovels to get the Comp 110's tails to release, relative to something more playful like the Big Horn 106. But the Comp 110 is also more forgiving and doesn't feel as locked in as something like the Volkl Katana 108.
Compared to lighter directional skis like the Faction Dictator 3.0 or Black Crows Corvus, the Comp 110 does require a bit more physical effort to quickly bash through a bump line or flick through the trees. But as long as you keep a bit of speed going or the terrain is steep, the Comp 110 doesn't feel particularly sluggish — which is mostly what I'd hope for from a ski designed with big-mountain venues in mind.
Dylan: I might add to Luke's first sentence that most freeride venues don't have tight terrain to navigate, especially on the Freeride World Tour. However, there are definitely times I've been on a venue and was making multiple 6-foot jump turns (looking at you, Crested Butte and Taos…). In such scenarios, the Comp 110 has both a fairly balanced feel and tails that are forgiving and rockered enough to let you swing them around in tight spots, and maybe even get slightly backseat.
Being "locked in," as Luke mentioned, is never a good feeling when you're pushing your limits of speed and fluidity in tight terrain. The Comp 110 allows you to charge hard yet doesn't completely punish you for getting a little too rowdy, something I've felt on skis like the Katana 108 or Cochise 106. This mix is ideal for those who like to ski fast and take chances in tight terrain – whether you're competing or not.
Groomers
Luke: Sego doesn't mention groomers at all in their description of the Comp line, but hey, most of us ski groomers, so we at least want to touch on that. And overall, I'd say the Comp 110 carves pretty well for a 110mm-wide, off-piste-oriented ski.
The Comp 110 certainly doesn't match the quick turn initiation of something with minimal tip taper like the Volkl Katana 108, but if you lean into the Comp 110's tips, it will slowly pull you across the fall line. And despite its twinned tail, I'd say the Comp 110's edge hold on firm slopes is still very good for a ski of its width. It's not the most exciting carver, but it's also not a ski that makes groomers feel like a waste of time.
Dylan: Yeah, the Comp 110 felt pretty average to me on groomers. It definitely lets you ski it with a forward stance and push it pretty hard on the way back to the lift, but it doesn't exactly inspire you to lap groomers all day — it wants to be off-piste.
Mount Point
Luke: I spent about half my time on the Comp 110 with the bindings mounted on the recommended line (-9 cm from true center) and the other half with the bindings pushed 2.5 cm forward, to about -6.5 cm from true center.
On the recommended line, the Comp 110 feels like a directional ski that wants to be driven through the shovels. It is more forgiving of the occasional backseat turn than many similarly heavy, directional skis, but the best approach is still to ski it with a traditional, forward stance.
At +2.5 cm from that line, the Comp 110 still let me pressure its shovels just about as much as I could muster, but it also felt notably more balanced in the air (and just more balanced in general). This meant I could ski it more centered when needed, particularly in soft snow and tight spots, without giving up much stability or otherwise messing up the ski's overall performance.
If you don't care too much about how a ski feels in the air and you know you like skis with more rearward mount points, the recommended line on the Comp 110 is great. If you're coming from more of a freestyle background and / or just like the option to ski a bit more upright, mounting a few cm forward of that line also works quite well.
Dylan: Totally agree with Luke here, know thyself and mount accordingly.
Playfulness
Luke: Overall, I'd call the Comp 110 a fairly playful directional ski. If a low swing weight, a loose feel, or a really poppy flex are primarily what you're after, you've got better options. But if you want a stable ski that also doesn't feel super awkward in the air or when skiing switch, the Comp 110 makes a lot of sense.
Compared to a more freestyle-oriented ski like the Sego Big Horn 106, the Comp 110 isn't as loose and easy to pivot, it's not as lively, and I wouldn't want to land switch on it in very deep snow. But I feel much more inclined to get in the air, slash sideways, and ski backward on the Comp 110 than I do on the majority of skis that are similar in terms of weight and recommended mount point.
Dylan: The Sego Comp 110 is interesting because, other than a twinned tail, basically everything else about the ski makes it pretty traditional and directional. However, because of this twinned tail, it opens up a lot of trick possibilities that just aren't feasible on a similarly stable and directional ski with a flat tail.
On the Comp 110, you can take off switch in firm snow or powder up to maybe 4-6 inches deep, confidently land switch at any speed on groomers or in the park, and do tweaks/spins/flips while still feeling fairly balanced. Mounted on the line, it felt like a directional ski in the air and I found myself dipping my tips while spinning to keep the ski's center of mass under me, but scooching the bindings forward to about -6.5 cm from true center made it feel more balanced and closer to an all-mountain freestyle ski. This aspect of the Comp 110 makes it an appealing ski for those who want a stable charger, but refuse to give up switch-skiing capability.
Luke: Yep, the one thing I'd add is that I think some of the more balanced feel of the Comp 110 also comes down to its dimensions; many directional skis have tips that are substantially wider than their tails, but the Comp 110's tip is less than 10 mm wider than its tail.
Who's It For?
Luke: The Comp 110 is a ski with a pretty specific type of skier in mind — modern freeride competition skiers who are throwing tricks. I think it makes a ton of sense for those skiers, but I also think there are lots of people who could enjoy it, even if you're never going to put on a bib and go through a start gate.
For those outside the competition scene, I think the Comp 110 would be great for those folks who feel caught between traditional, heavy, directional chargers and more maneuverable, playful, forgiving freestyle skis. The Comp 110 sits on the more damp and stable end of the spectrum of all-mountain skis, yet it's also not super punishing or awkward in the air (especially when mounted slightly closer to center). If you're tired of lightweight skis that feel really harsh and difficult to ski when conditions aren't ideal, yet you also don't want a ski that will only be fun at really high speeds, the Comp 110 should be on your list.
As far as conditions go, the Comp 110 is pretty versatile compared to similarly wide skis. The new Comp 104 might make more sense as a daily driver all-mountain ski, but the 110 holds an edge well on firm snow and is also lots of fun in pretty deep snow (and arguably even more fun when that snow gets chopped up). It could serve as a dedicated pow / chop ski for some folks, or a 1-ski resort quiver for areas that see above-average snowfall.
Dylan: Luke said it best. The Comp 110 would be one of the first skis I'd reach for if I were doing a freeride competition in anything but icy snow, but you don't have to compete to enjoy it.
Bottom Line
Ironically, Sego set out to make a pretty particular ski for a particular end-use when they created the Comp 110, but its blend of directional freeride and playful freestyle traits resulted in a ski that we think a lot of skiers could like. It won't be for people who want a really nimble, easy-going ski, nor is it the choice for those who want the most playful, freestyle-friendly option. But for skiers who value good suspension, good stability, and a bit more playfulness and maneuverability than what's common in skis that offer those things, the Comp 110 offers a lot to like.
Deep Dive Comparisons
Become a Blister Member or Deep Dive subscriber to check out our Deep Dive comparisons of the Comp 110 to see how it compares to the Sego Big Horn 106, Dynastar M-Free 108, J Skis Hotshot, Volkl Katana 108, Moment Commander 108, Blizzard Cochise 106, Nordica Enforcer 110 Free, K2 Mindbender 108Ti, Prior Northwest 110, ON3P Woodsman 108, Folsom Blister Pro 104, Black Crows Corvus, Prior Husume, Icelantic Nomad 105, Black Crows Atris, 4FRNT MSP 107, Moment Wildcat 108, & Faction Dictator 3.0.