Ski: 2020-2021 Sego Cleaver Comp, 187 cm
Available Lengths: 175, 181, 187, 192 cm
Blister's Measured Tip-to-Tail Length: 185.7 cm
Stated Weight per Ski: 2150 grams
Blister's Measured Weight per Ski: 2228 & 2270 grams
Stated Dimensions: 135-110-122 mm
Blister's Measured Dimensions: 138.0-109.5-129.1 mm
Stated Sidecut Radius (187 cm): 19.5 meters
Measured Tip & Tail Splay (ski decambered): 76.5 mm / 51 mm
Measured Traditional Camber Underfoot: 2 mm
Core: poplar + 7cm-wide titanal strip + fiberglass laminate
Base: sintered Durasurf 4001
Factory Recommended Mount Point: -9 cm from center; 83.8 cm from tail

Intro
Last season Isaac Freeland shocked a lot of folks when he not only won Rookie of the Year on the Freeride World Tour, but he also won the overall title.
That said, if you've been watching Isaac for a while, you were probably not that shocked. He's got a big bag of tricks, but as he proved last season and in years past, he is also very capable of putting together very legit, high-speed, technical lines on big faces:
When we chatted with Isaac on our Blister Podcast last spring, he talked a bit about the skis he used for the tour, including a new one he worked on with Sego to specifically suit his riding style.
That ski is now available for us mortals, and we'll be testing it out this season. The Sego Cleaver Comp is essentially a big-mountain comp ski, but with some twists that make it better suited to modern comp skiers like Isaac who need both high-speed stability and a platform that lets them feel comfortable in the air and throwing tricks.
The result, as you might expect, is very interesting.
What Sego says about the Cleaver series
Sego makes three models under the Cleaver moniker, and here's how they describe the three-ski series:
"The ultimate directional all-mountain ski. The two layers of wall to wall titanal, UHMW sidewalls and VDS rubber construction of this ski give it the best energy feedback and vibration dampening on the market. Handmade with care in Teton Valley, Idaho, the Cleaver is available in three widths for three applications. The Cleaver Carve is an 88mm underfoot hardpack specialist, the Cleaver All-MTN is comfortable in any scenario and we added a turned-up tail to the 110 underfoot Cleaver Comp, which was ridden by Isaac Freeland in Andorra and Austria on his way to winning the Freeride World Tour."
All three Cleaver skis feature a poplar wood core, sintered Durasurf 4001 base, and 2.2 mm edges. But in addition to their differences in shape and rocker profile, they also differ a bit in terms of construction.
The 88mm-wide Cleaver Carve and 102mm-wide Cleaver All-MTN both feature two, full-width, full-length sheets of titanal, two full sheets of VDS rubber, and two layers of 19-oz triaxial fiberglass.
The Cleaver Comp gets a different construction, with a single, 7cm-wide strip of titanal, VDS rubber only around the outline of the ski, and it adds an additional sheet of 22-oz triaxial fiberglass to the standard two sheets of 19-oz fiberglass.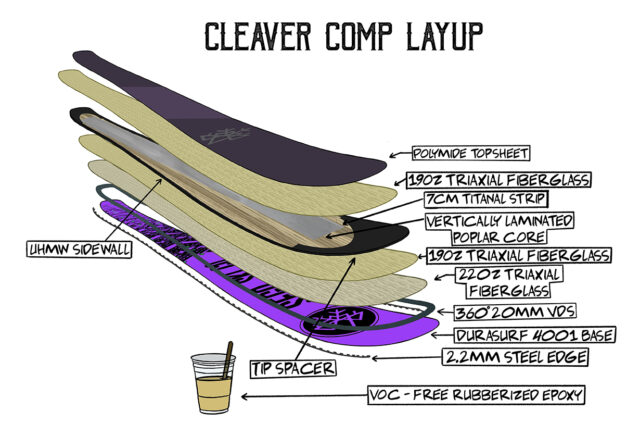 Construction aside, the Cleaver Comp is wider than the other Cleavers and the Comp version gets a twinned tail for switch takeoffs and landings.
And overall, all the Cleaver skis are designed with stability and damping as high priorities, as opposed to Sego's Big Horn series, which are designed with freestyle performance as a higher priority.
Shape / Rocker Profile
Just looking at its shape, the Cleaver Comp looks a bit more similar to what I'd call "aggressive freestyle skis" like the Moment Wildcat 108 and Whitedot Altum 104 than it does to what I'd call more traditional "comp skis" like the Blizzard Cochise 106, Volkl Katana 108, and Dynastar M-Pro 105.
Mostly, this comes down to the fact that the Cleaver Comp has a bit of tip and tail taper. Its taper is less dramatic than the Sego Big Horn 106 (particularly in the tail) and is far from extreme. But the Cleaver Comp's shape makes me think it's designed to let you feather and slarve some turns when needed, rather than requiring you to be carving it on edge 100% of the time. For comp runs where you're frequently making adjustments mid-line, that seems sensible.
The Cleaver Comp's rocker profile is also far from traditional. Its tip rocker line isn't quite as deep as skis like the ON3P Woodsman 108 or Moment Wildcat 108, but the Cleaver Comp has a deeper tip rocker line and a lot more tip splay than skis like the Cochise 106, M-Pro 105, and Fischer Ranger 107 Ti. And unlike skis like the Katana 108 and Cochise 106, the Cleaver Comp's tip rocker line rises pretty abruptly, rather than staying low until the end of the ski.
And then there's the Cleaver Comp's tail, which doesn't have a super deep rocker line (much shallower than its tip rocker line), but does have enough splay that I'd call it pretty much a "true twin." The Cleaver Comp's tail rocker reminds me of some "directional twin" snowboards — the Cleaver Comp's tail looks high enough for landing and taking off switch in most conditions, but it's still mostly cambered behind the bindings and its twinned tail is paired with an otherwise pretty directional design.
Flex Pattern
Here's how we'd characterize the flex pattern of the Cleaver Comp:
Tips: 6-6.5
Shovels: 7-8.5
In Front of Toe Piece: 9-10
Underfoot: 10
Behind the Heel Piece: 10-9.5
Tails: 9-6
When Jonathan talked with Isaac about this ski, Isaac repeatedly emphasized how stiff it was. And now having hand-flexed it, I'd say he had reason to — but there are portions of the ski that aren't extremely stiff.
Basically, the entire cambered portion of the Cleaver Comp is very, very stout. But the rockered portions of its tips and tails are far from unbendable. There's a pretty immediate ramp-up in stiffness as you move from the rockered portions to the cambered portions.
While that initially worried me (I figured it could create a "hinge point" in the flex), I then went and flexed the Sego Big Horn 106 again, and found a pretty similar-feeling flex pattern. The Big Horn 106's rockered tips and tails are softer than the Cleaver Comp's, but the two feel similar in that their rockered sections are fairly soft, and their cambered sections are very stiff.
I mention that because neither Cy Whitling nor I noticed any hinge-pointy-ness with the Big Horn 106 when we reviewed it (it mostly just felt pretty solid, particularly for a freestyle ski).
Compared to the rest of the market, the Cleaver Comp's tips and tails are notably softer than skis like the Volkl Katana 108, Prior Husume, and Blizzard Cochise 106, but the Cleaver Comp is similarly stiff, if not stiffer through the rest of the ski.
Sidecut Radius
One thing that many comp skis share in common is a long sidecut radius, but the Cleaver Comp bucks that trend, too. The 187 cm Cleaver Comp's stated 19.5-meter sidecut radius is definitely not super short, but it is notably shorter than the Cochise 106, M-Pro 105, and Husume.
Given that, I'm curious to see how reactive and quick the Cleaver Comp will feel at slower speeds, and how stable it will feel while making big, long arcs.
Mount Point
I was curious to see what mount point that Sego decided to go with for this ski, given that it's designed to blend elements of directional big-mountain skis with more freestyle-oriented alternatives.
Measuring -9 cm from true center, the Cleaver Comp's recommended mount point shares more in common with directional skis like the Katana, Cochise, etc. As is often the case, I also want to try it with the bindings moved a few cm in front of that line, but I think it's safe to assume that the Cleaver Comp is going to encourage a more traditional, forward stance when mounted on its recommended line.
Weight
Our pair of the 187 cm Cleaver Comp came in at an average measured weight of 2249 grams per ski.
While that's not quite as hefty as the Katana 108, M-Pro 105, J Skis Hotshot, or Prior Husume, the Cleaver Comp still has the weight that I'd expect from a ski designed to handle high speeds in rough snow. There's a reason that a lot of the FWT skiers are on heavy skis — heavy skis generally stay more composed when skiing fast in challenging conditions.
For reference, here are a number of our measured weights (per ski in grams) for some notable skis. Keep in mind the length differences to try to keep things apples-to-apples.
1875 & 1881 Line Sir Francis Bacon, 184 cm (19/20–20/21)
1910 & 1941 Scott Scrapper 115, 189 cm (17/18–20/21)
1947 & 2011 4FRNT Devastator, 186 cm (20/21)
2005 & 2035 Liberty Origin 106, 187 cm (19/20–20/21)
2006 & 2065 Head Kore 105, 189 cm (19/20–20/21)
2011 & 2028 Moment Wildcat 108, 184 cm (19/20)
2027 & 2052 K2 Reckoner 112, 184 cm (20/21)
2034 & 2052 Blizzard Rustler 11, 188 cm (17/18–20/21)
2046 & 2120 Black Crows Corvus, 188 cm (18/19–20/21)
2049 & 2053 Whitedot Altum 104, 187 cm (19/20–20/21)
2079 & 2105 Kastle FX106 HP, 184 cm (19/20–20/21)
2096 & 2100 Salomon QST 106, 181 cm (19/20–20/21)
2097 & 2103 Liberty Origin 112, 184 cm (17/18–20/21)
2097 & 2113 DPS Alchemist Wailer 106 C2, 189 cm (19/20–20/21)
2110 & 2119 Moment Wildcat 108, 190 cm (19/20)
2113 & 2121 Moment Meridian, 187 cm (16/17–20/21)
2112 & 2125 4FRNT MSP 107, 187 cm (18/19–20/21)
2120 & 2134 Blizzard Rustler 10, 188 cm (19/20–20/21)
2125 & 2134 Kye Shapes Metamorph, 185 cm (19/20–20/21)
2143 & 2194 ON3P Wrenegade 108, 184 cm (18/19–19/20)
2145 & 2167 Sego Big Horn 106, 187 cm (20/21)
2153 & 2184 Rossignol BLACKOPS Sender Ti, 187 cm (20/21)
2165 & 2211 K2 Mindbender 108Ti, 186 cm (19/20–20/21)
2165 & 2219 Icelantic Nomad 105, 191 cm (19/20–20/21)
2170 & 2180 Dynastar M-Free 108, 182 cm (20/21)
2182 & 2218 Nordica Enforcer 110 Free, 185 cm (17/18–20/21)
2188 & 2190 Prior Northwest 110, 190 cm (19/20–20/21)
2190 & 2268 Armada ARV 106Ti LTD, 188 cm (18/19–19/20)
2202 & 2209 Shaggy's Ahmeek 105, 186 cm (19/20)
2218 & 2244 Volkl Mantra 102, 184 cm (19/20–20/21)
2228 & 2270 Sego Cleaver Comp, 187 cm (20/21)
2232 & 2242 Blizzard Cochise 106, 185 cm (20/21)
2232 & 2244 ON3P Woodsman 108, 187 cm (19/20)
2233 & 2255 Nordica Enforcer 104 Free, 186 cm (19/20–20/21)
2283 & 2290 ON3P Wrenegade 108, 189 cm (18/19–19/20)
2295 & 2344 J Skis Hotshot, 183 cm (20/21)
2312 & 2386 Prior Husume, 188 cm (17/18–20/21)
2321 & 2335 Fischer Ranger 107 Ti, 189 cm (19/20–20/21)
2325 & 2352 Folsom Blister Pro 104, 186 cm (19/20)
2353 & 2360 Volkl Katana 108, 184 cm (20/21)
2371 & 2374 Folsom Primary — Hammer Edition, 188 cm (18/19–20/21)
2449 & 2493 J Skis Hotshot, 189 cm (20/21)
2603 & 2604 Dynastar M-Pro 105, 192 cm (16/17; 20/21)
Some Questions / Things We're Curious About
(1) Whenever we test a ski that's designed with competition skiers in mind, we're always interested to see if it will be a ski that really only makes sense when you're pushing your limits, or if it can be fun in non-competition terrain and at non-competition speeds.
(2) On that note, Isaac has talked about how he reserved the Cleaver Comp for the venues that were particularly steep and fast (e.g., Fieberbrunn), and then used the more playful Big Horn skis for venues like Hakuba. So will the Cleaver Comp feel out of place on mellower terrain?
(2) The Cleaver Comp's mount point and flex pattern seem more in line with directional chargers, while its rocker profile has more in common with freestyle skis. So will it fall neatly into one of those categories, or feel like a blend of both?
(3) With a lot of tip rocker, a twinned tail, and a 110mm-wide waist, the Cleaver Comp seems like it will handle softer and mixed conditions well. But it also doesn't have a ton of tip or tail taper, it's quite stiff, and pretty heavy, so will it feel equally comfortable on firmer snow?
Bottom Line (For Now)
Watching Isaac Freeland ski, the design of the new Sego Cleaver Comp makes good sense. Its fairly hefty weight, stout flex pattern, and moderately tapered shape make us think that it should hold up well to aggressive skiing in consequential terrain, while its rocker profile seems like it'll better suit a playful skiing style compared to more traditional comp skis.
We'll be getting a few reviewers on the Cleaver Comp this season, so stay tuned for updates.
Flash Review
Blister Members can read our Flash Review of the Cleaver Comp for our initial on-snow impressions. Become a Blister member now to check out this and all of our Flash Reviews, plus get exclusive deals and discounts on skis, and personalized gear recommendations from us.