Ski: 2022-2023 Faction Dancer 3X, 172 cm

Test Location: Mt. Crested Butte, Colorado
Days Skied: 6
Available Lengths: 164, 172, 178 cm
Blister's Measured Tip-to-Tail Length (straight-tape pull): 170.4 cm
Stated Weight Per Ski: 1970 grams
Blister's Measured Weight per Ski: 1958 & 1960 grams
Stated Dimensions: 134-106-124 mm
Blister's Measured Dimensions: 133.7-105.6-123.5 mm
Stated Sidecut Radius (172 cm): 18 meters
Measured Tip & Tail Splay (ski decambered): 66.5 mm / 26.5 mm
Measured Traditional Camber Underfoot: 4 mm
Core Materials: poplar + titanal (two layers) + fiberglass laminate
Base: sintered
Factory Recommended Mount Point:
"Newschool": -7.6 cm from center / 77.6 cm from tail
"Progressive": -9.1 from center / 76.1 cm from tail
"Classic": -10.6 from center / 74.6 cm from tail
Boots / Bindings: Tecnica Cochise Pro W / Tyrolia Attack 13

Intro
For the 22/23 season, Faction tweaked their Dictator series of metal-laminate, directional skis and gave it a new name, "Dancer." The lineup is comprised of four men's models and three women's models, all of which are built with the same construction, and span from the 86mm-wide Dancer 1 to the 114mm-wide Dancer 4. The women's Dancer 3X is the widest in the women-specific lineup, at 106 mm underfoot.
Overall, our impressions of this new series have been largely positive, especially when compared to the previous Dictator skis we had tested, which were defined by their often demanding rides. While the Dictator skis were a little polarizing, after our time on several of the Dancer skis, our reviewers have expressed much more consistently positive feedback.
We received the women-specific Dancer 2X and 3X and men's Dancer 2 and Dancer 3 in the final month of the 21/22 season at Mt. Crested Butte. Thankfully, we had a wide range of conditions in a short amount of time to put these skis to the test, and now it's time for me to chime in on the Dancer 3X. You can also check out our full review of the 182 cm men's Dancer 2.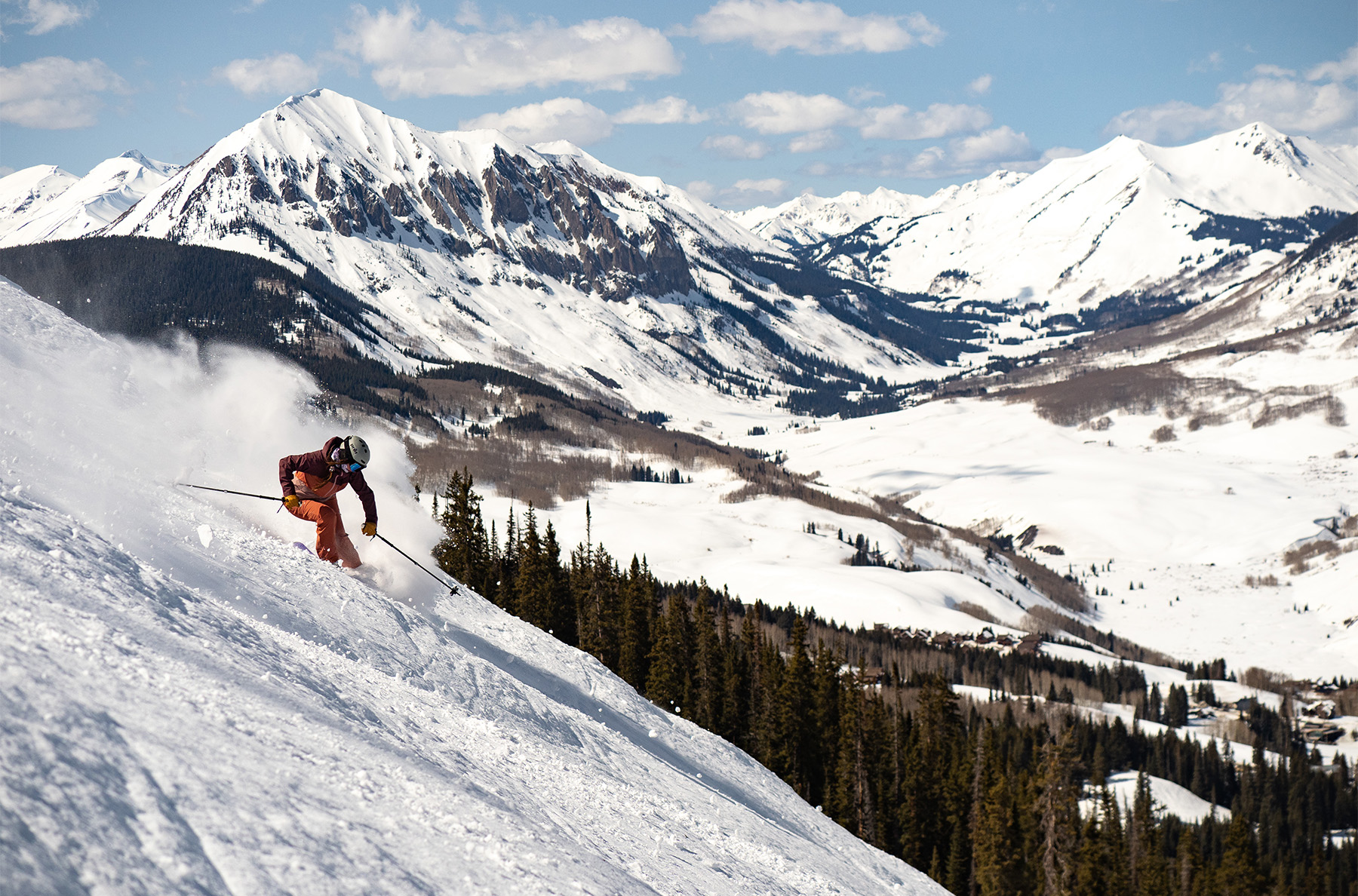 Women-Specific Aspects of the Dancer 3X
The women-specific Dancer series is denoted by the "X" and consists of the Dancer 1X, Dancer 2X, and Dancer 3X. However, these dual-metal-laminate, directional skis share an identical construction to the men's Dancer, but the women's lineup is available in different lengths and graphics.
Construction
The Dancer 3X is built with a poplar core and two sheets of titanal. For the upcoming release of 22/23 skis, Faction is highlighting several aspects of their skis that make them less environmentally harmful than traditional methods. This includes using a 35% bio-based resin, sourcing materials close to the production sites wherever possible (including their wood cores), using recycled base and top sheet materials, and the Austrian factory in which the vast majority of their skis are pressed runs on 100% renewable energy. They're also a member of 1% For the Planet, partner with POW, and reportedly calculate and offset the emissions from their (excellent) film projects.
Shape / Rocker Profile
The Dancer 3X features rocker lines that are similar, if not slightly shallower than many other directional skis in its class, such as the K2 Mindbender 106C. The Dancer 3X's shape is similarly "average" looking, with moderate early taper at the tips and tails.
Flex Pattern
Here's how we'd characterize the flex pattern of the Dancer 3X:
Tips: 7-7.5
Shovels: 7.5-8.5
In Front of Toe Piece: 8.5-10
Underfoot: 10
Behind the Heel Piece: 10-9
Tails: 9-8.5
The Dancer 3X has a pretty stout flex pattern, and is noticeably stiff through the back half of the ski. The 170 cm Dancer 3X's flex pattern is extremely similar to the 182 cm Dancer 3, with the longer Dancer 3 actually feeling just a touch softer through its tips and shovels.
Mount Point
Like all of Faction's 22/23 skis, the Dancer 3X comes with three recommended mount points: "Classic" (most rearward), "Progressive" (middle), and "Newschool" (most forward). From -10.6 to -7.6 cm from true center, the Dancer 3X's recommended mount points span about 3 cm total, but all of them are on the more traditional / rearward end of the spectrum, but not super far back.
Weight
Compared to many of the women-specific skis we have tested in this class, the Dancer 3X is on the heavier end. This isn't too surprising when taking into account that it is one of the few 105+ mm wide dual-metal-laminate skis we've had a chance to weigh. That said, there are still plenty of skis that come in at similar weights as the Dancer 3X.
For reference, here are a number of our measured weights (per ski in grams) for some notable skis. Keep in mind the length differences to try to keep things apples-to-apples.
1676 & 1700 Majesty Vadera Cabon, 176 cm (22/23)
1693 & 1710 Moment Sierra, 172 cm (21/22)
1709 & 1710 Blizzard Sheeva 10, 172 cm (17/18–22/23)
1735 & 1740 K2 Mindbender 106C, 175 cm (21/22-22/23)
1741 & 1747 Nordica Unleashed 98 W, 174 cm (22/23)
1787 & 1798 Faction Dancer 2X, 172 cm (22/23)
1792 & 1792 Nordica Santa Ana 104 Free, 172 cm (20/21–22/23)
1797 & 1839 Rossignol Rallybird 102, 170 cm (20/21–22/23)
1806 & 1821 Blizzard Sheeva 11, 172 cm (17/18–19/20)
1831 & 1852 Rossignol Rallybird 104 Ti, 171 cm (20/21–22/23)
1836 & 1838 Armada ARW 106 UL, 180 cm (21/22-22/23)
1847 & 1854 Wagner Summit 106 W, 172 cm (21/22-22/23)
1860 & 1862 Majesty Vadera Ti, 176 cm, (22/23)
1881 & 1895 Salomon QST Lumen 99, 174 cm (19/20–21/22)
1917 & 1935 Nordica Santa Ana 98, 172 cm (20/21–22/23)
1928 & 1945 K2 Mindbender 99Ti W, 172 cm (22/23)
1933 & 1975 Volkl Secret 96, 170 cm (21/22–22/23)
1955 & 1990 Coalition Snow SOS, 173 cm (19/20–20/21)
1958 & 1960 Faction Dancer 3X, 172 cm (22/23)
1969 & 1988 4FRNT MSP CC, 171 cm (20/21–22/23)
1983 & 1999 Nordica Santa Ana 100, 177 cm (18/19 – 19/20)
2015 & 2024 Blizzard Black Pearl 97, 171 cm (20/21–22/23)
2074 & 2088 Line Blade Optic 104, 178 cm (22/23)
2104 & 2115 Volkl Secret 102, 170 cm (19/20–22/23)
Now, onto on-snow performance:
FULL REVIEW
Powder
Kara Williard (5'9", 167 lbs / 175 cm, 75.7 kg): Rather than being something purely designed for deep snow, the Faction Dancer 3X occupies a versatile place in the powder category, especially for some of the not-so-bottomless powder days we are accustomed to here at Mt. Crested Butte. The Dancer 3X provides good floatation for its width, and with its relatively low swing weight, it's pretty easy to turn and feels fairly loose when maintaining a light-on-the-feet skiing style and keeping the ski more bases-flat than really laying it over on edge. Even when the snow was quite heavy during some warmer spring storm cycles, I found the Dancer 3X to provide good floatation and it felt pretty easy to turn (especially considering how precise it feels on firm snow).
The Dancer 3X is also pretty supportive and predictable, especially when dealing with a firmer base beneath. The Dancer 3X worked well for me as I took on a more smear-y / skidding approach to making turns in powder when in a more upright stance or even slightly backseat, but overall the Dancer 3X feels more energetic the more I worked to arc and bend the ski through the soft snow, as it is pretty stiff throughout.
In terms of it its balance of maneuverability and support in soft-ish snow, the Dancer 3X reminded me a lot of the Line Blade Optic 104, though the Blade Optic feels a bit more damp and consistent throughout its flex pattern (its tails are much softer). For a more playful, lighter, and looser ride through powder, the K2 Mindbender 106C and Armada ARW 106 UL are both more easy-going and require less effort to turn. However, the Dancer 3X provides a pretty impressive mixture of support / stability and liveliness when skiing powder, and if you're more concerned with stability than low-speed maneuverability, it performs very well for its width.
Moguls, Trees, Tight Terrain
Across a range of large moguls and tight chutes, the Dancer 3X was a fairly predictable ski, so long as I worked to maintain a forward position in my boots and was committed to driving the ski on edge. When attempting to smear the ski around in tight terrain and on firmer snow, I found it to feel more demanding, cumbersome, and less playful (in contrast to deeper, soft snow). However, between the pretty low swing weight, relatively easy turn initiation from a forward stance, and fairly damp construction, the Dancer 3X was surprisingly fun and supportive. It allowed me to make a lot of quicker turns, or to tackle a faster, more committed style and open up the ski for larger turns. And the more I committed to a faster and charge-oriented approach, the livelier the Dancer 3X became.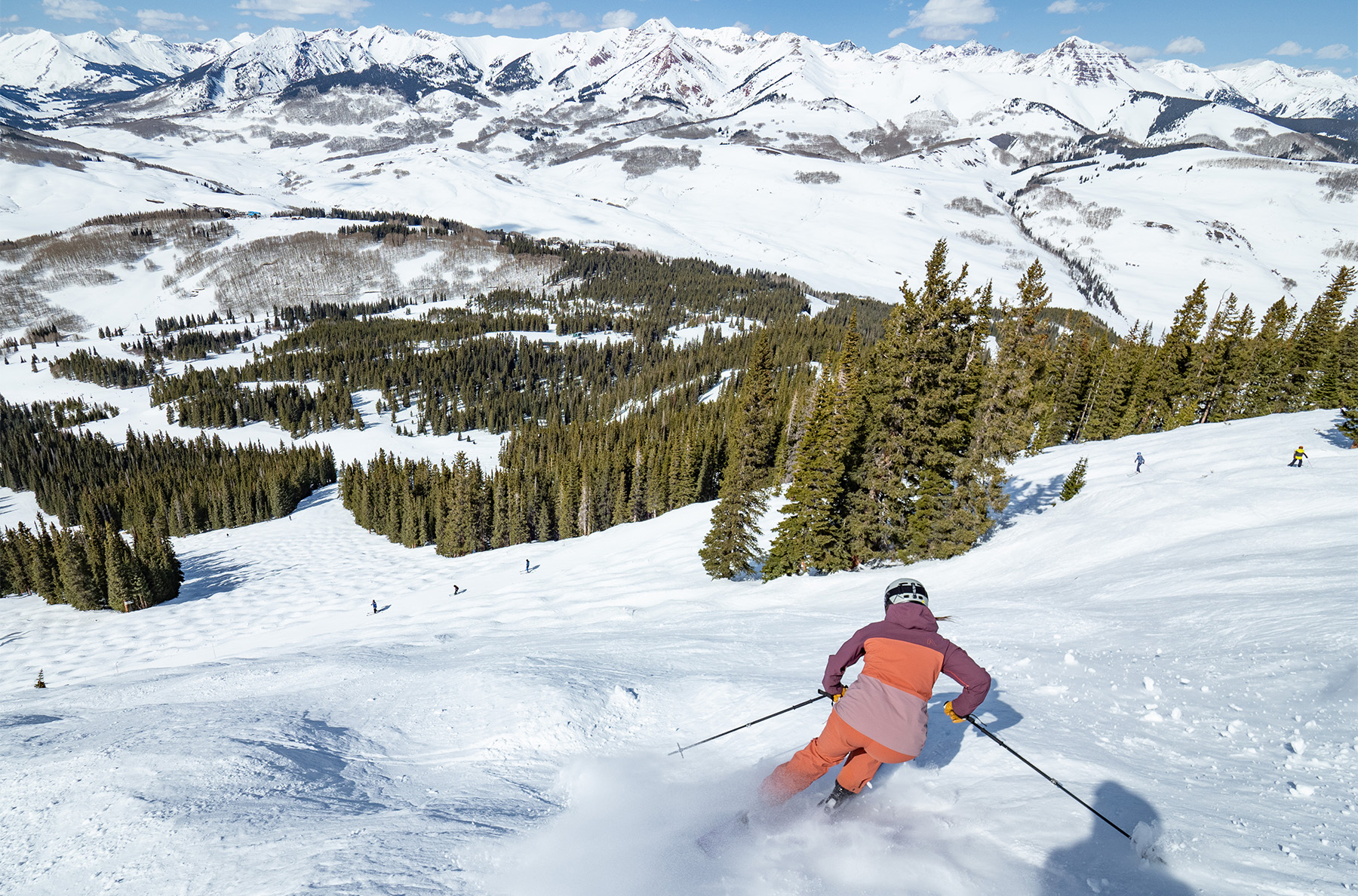 From a forward stance, I found both the shovel and tail to be relatively forgiving, but this sensation would immediately flip the opposite direction if I found myself in the backseat. In these instances, I found that I was certainly benefitting from the relatively short length of the 172 cm Dancer 3X (more on that below).
The more I worked to arc the ski, especially through the troughs of moguls, I found the Dancer 3X to be both highly energetic and damp, as well as nicely supportive. I also noticed this is a trait when skiing the Dancer 3X's narrower sister, the Dancer 2X. While I would prefer the Dancer 2X for almost any day navigating tighter terrain (it's less demanding and more agile), especially on firm snow, the Dancer 3X worked surprisingly well, here, too.
When compared with other dual metal laminate, directional skis, such as the Blizzard Black Pearl 97, Volkl Secret 102, and Nordica Santa Ana 98, I found the Dancer 3X and 2X to be comparable in their supportive flex patterns and damp ride qualities, but the Dancer 2X and 3X feel a bit looser than those skis, and notably more lively. This contributes to a feeling of (directional) playfulness that is often difficult to achieve from similarly stiff, directional, and generally substantial skis like the Volkl Secret series and Nordica Santa Ana 98.
Comparing the Dancer 3X with skis on the more playful end of the spectrum, such as the Nordica Santa Ana 104 Free, Blizzard Sheeva 10, and Nordica Unleashed 98, the Dancer 3X requires more commitment to a forward stance and isn't as forgiving in challenging or super tight terrain. The Dancer 3X is noticeably more demanding than the Armada ARW 106 UL and K2 Mindbender 106C in tight terrain, but feels a whole more stable in firm snow or refrozen troughs. Compared to the Line Blade Optic 104, the Dancer 3X is quicker to punish backseat skiing and not as damp, but offers more support through the shovels and has a lower swing weight.
Overall, I wouldn't recommend the Dancer 3X for a less experienced skier looking for a pretty easy ski to increase their confidence in the tighter stuff, but rather someone who can take advantage of the lively and relatively quick nature of this ski through a more committed skiing style. It's stiff, precise, and stable enough for expert skiers to enjoy, while being a bit looser and more nimble than some other skis that are similar in those regards.
Steeps
The Dancer 3X felt best when cutting aggressive and committed fall-line turns down steep terrain. To me, it felt most confidence-inspiring when conditions were smooth and grippy. So long as I was forward, the tail was willing to easily release from a turn and didn't require much finessing, though again, I could also tell I was benefitting from being on a shorter ski than I might typically choose.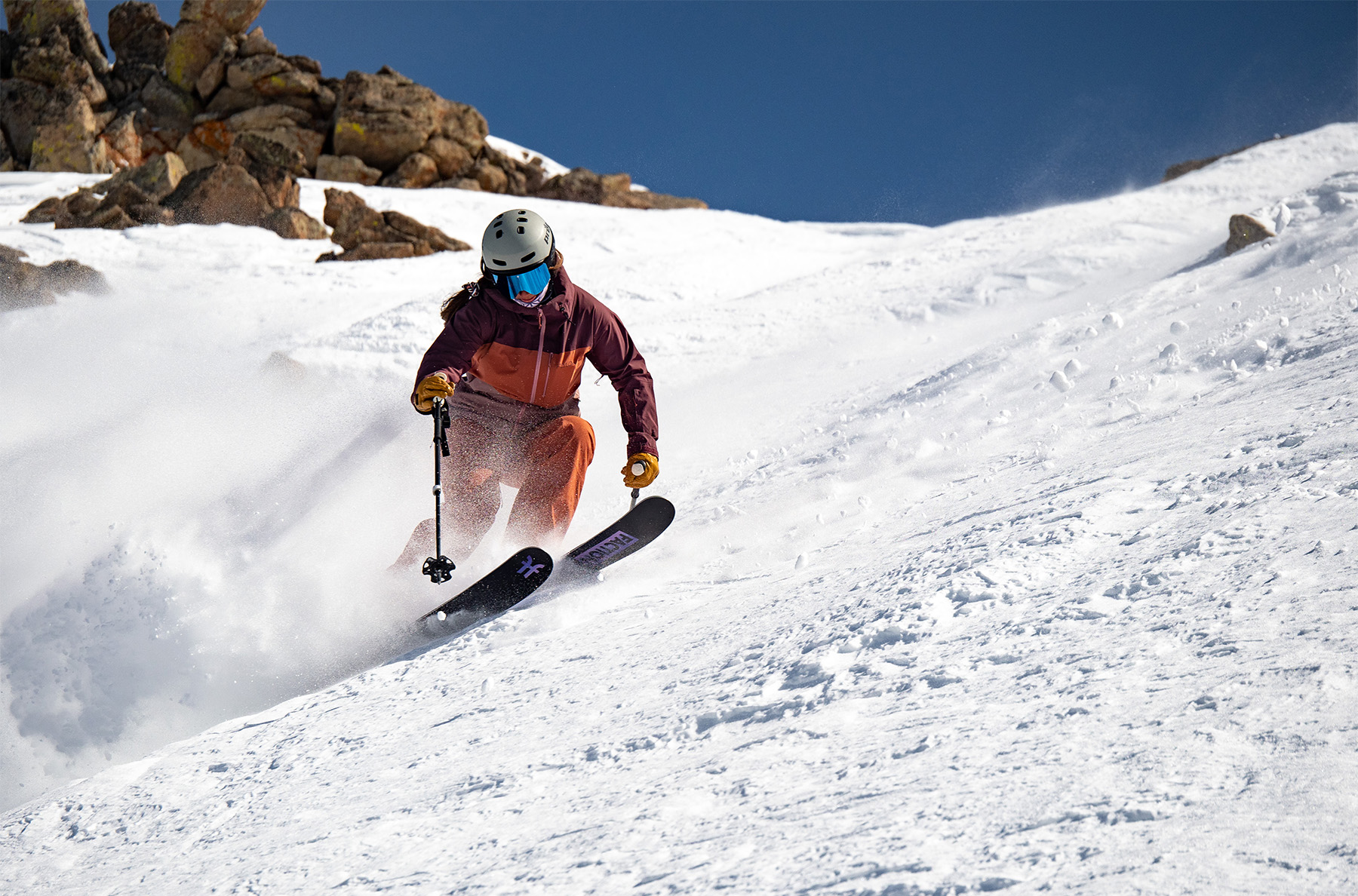 When attempting to skid / slide / slarve the Dancer 3X around, and in the moments I wasn't as willing to really bend the front of the ski, the Dancer 3X wasn't all that friendly and suddenly could feel a whole lot stiffer and more locked in, mostly through the tail.
Chop / Crud
The Dancer 3X is quite stable and can provide a pretty smooth ride through chop and crud, especially when compared with several of the other wider, women-specific skis I have spent time on. The biggest factor to keep in mind with the Dancer 3X is that it feels the most intuitive when actively working to bend the ski via a more forward stance, but when in this stance, it does an impressive job of providing a high level of stability while also allowing for tighter, more controlled turns. The Dancer 3X also does a decent job of charging through chop at higher speeds and feels pretty smooth in rougher crud, though it's not the absolute most planted / damp ski out there.
For a ski of over 100 mm underfoot, the only ski that stands out as being exceptionally more planted and stable in chop and crud is the Volkl Secret 102. Compared to other narrower, metal-laminate skis such as the Volkl Secret 96 and Blizzard Black Pearl 97, the Dancer 3X certainly isn't as planted, but it also feels quite a bit more playful and easier to swing around.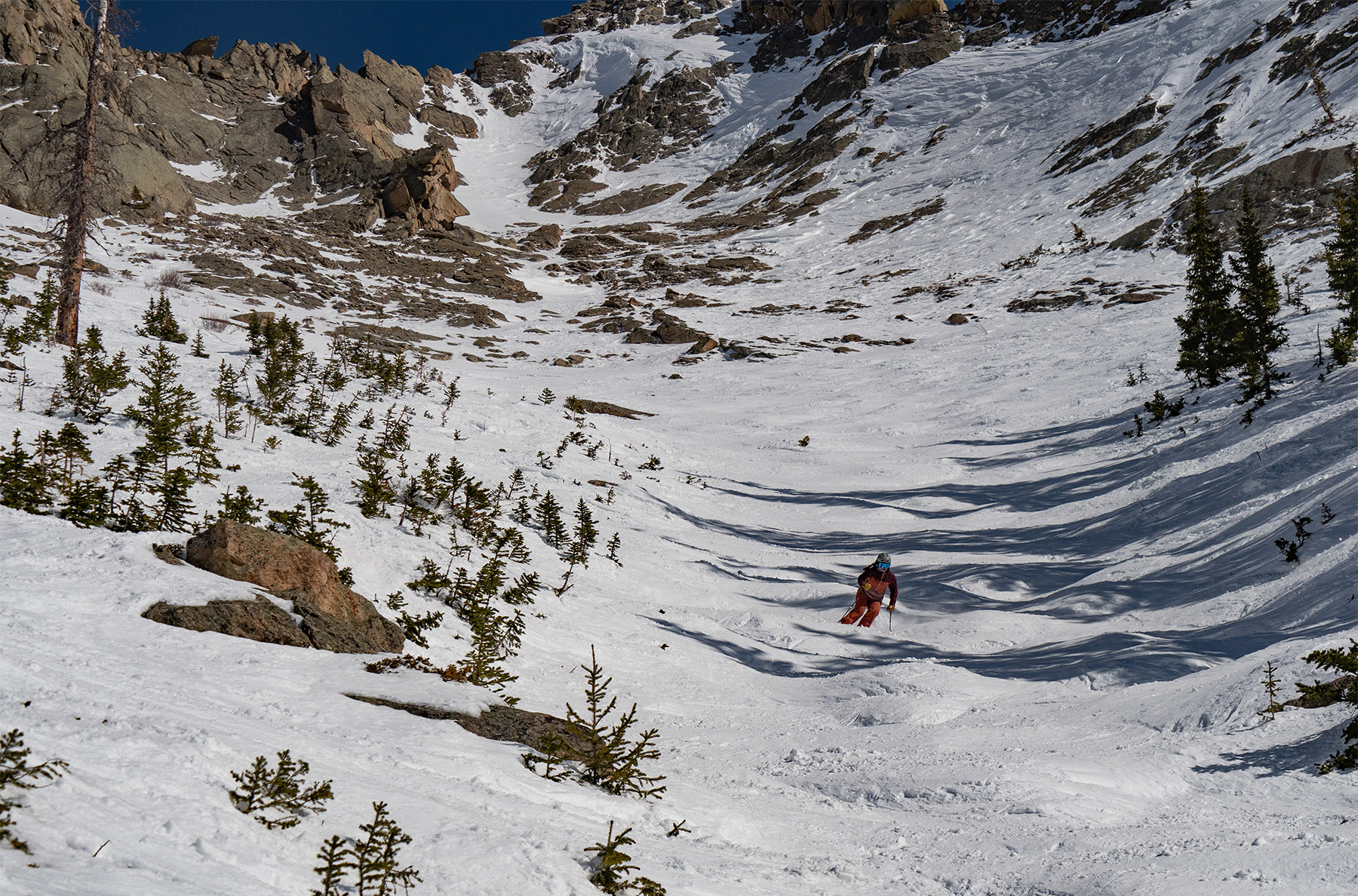 The Dancer 3X isn't as loose or maneuverable as the Rossignol Rallybird 104 Ti, K2 Mindbender 106C, and Armada ARW 106 UL, but the Dancer 3X does stay more composed when skiing rough snow. It's reminiscent of the Line Blade Optic 104 in chop and crud due to its willingness to make slower, more controlled turns while still being quite damp and stable, though the Blade Optic 104 is more forgiving and easier to bend / engage without putting as much power into the ski.
Groomers
As with many of the conditions I spoke to above, the more you work to drive and bend the Dancer 3X, the more energetic it feels, and this is certainly true on piste. It isn't the easiest or quickest ski when it comes to initiating a turn, but the more I was willing to lean into it and drive it from an aggressive stance, the more it locked into a carve. I prefer the overall groomer performance of the narrower Dancer 2X (no real surprise there), since it's quicker, quicker to transition between turns, and a little bit easier when it comes to engaging / bending into a turn.
Still, for a ~106mm-wide ski, the Dancer 3X's groomer performance surprised me. It feels more supportive and precise on edge than the Mindbender 106C, Zag Slap 104, Blizzard Sheeva 11, and Armada ARW 106 UL. There were times when the 172 cm Dancer 3X felt both short to me, particularly when making faster, larger-radius turns on piste, but I'd say this is more of a length thing than a slight against this fairly wide all-mountain ski. For someone looking to optimize groomer experience within the Dancer series, the Dancer 2X (or maybe 1X) makes a bit more sense, but the Dancer 3X is impressive for its width.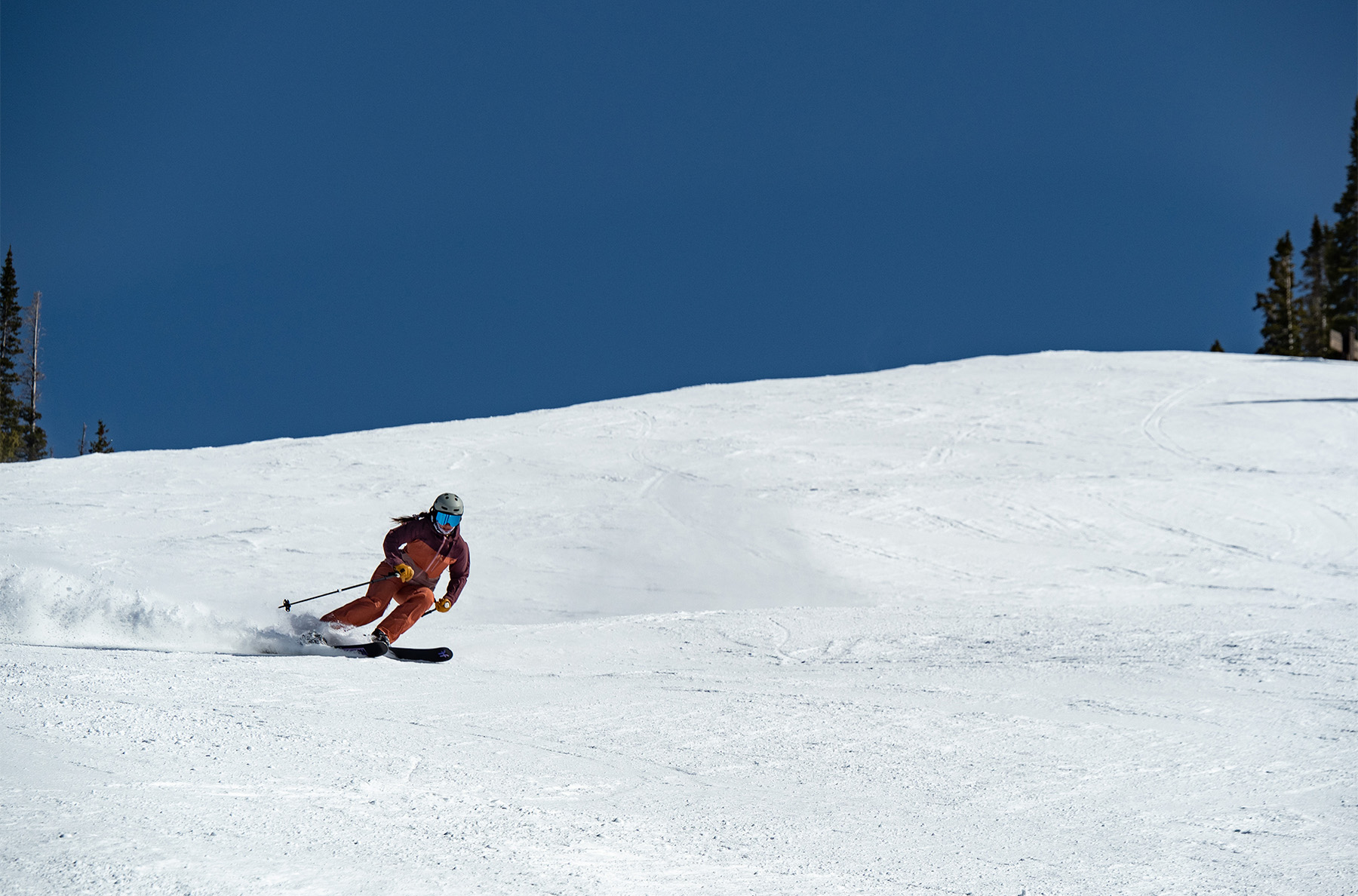 Length
As I mentioned several times, there were instances where I felt acutely aware of the 172 cm Dancer 3X being a bit shorter than I'd typically choose. This was most obvious when attempting to open the ski up into longer and faster turns, and in really rough snow where I wanted maximum suspension / damping. In contrast, there were other moments where it felt just right (especially in tight terrain).
For reference, I've enjoyed skis ranging from about 170 cm to 180 cm. There are more playful skis like the 174 cm Nordica Unleashed 98 where I'm certain I would prefer a longer length, while with stiffer, more directional skis like the 170 cm Secret 96, it's quite obvious that I am perfectly happy on a length in the ~170 cm realm, especially in tight terrain. Given that the Dancer 3X sort of falls between those two categories of skis (though closer to the stiffer, more directional side), I feel a bit caught between lengths.
While this is completely subjective and I'm just guessing for now, when skiing the Dancer 3X in powder and more open terrain, I imagine that I would be stoked to ski the 178 cm (the longest length offered in the women-specific line) for added flotation and stability, and I'd be curious to see how much maneuverability that compromises. Overall, for ease in tight terrain, the 172 cm Dancer 3X worked pretty well, but if I was specifically seeking the Dancer 3X as my powder and/or open-terrain ski, I would probably go up in size (granted, this is speculative since I have yet to ski the 178 cm). This isn't a case where I think many people should size up or down, but if you're coming from heavy, stiff, directional skis, sizing up may be worth considering if caught between sizes. Conversely, if you're coming from very light, soft, and/or rockered skis, sizing down (again, if caught between sizes) may be worth considering.
Length choice can sometimes be tricky, so if you want more specific advice for your particular situation, you can always become a Blister Member and talk with us directly via the Blister Member Clubhouse page.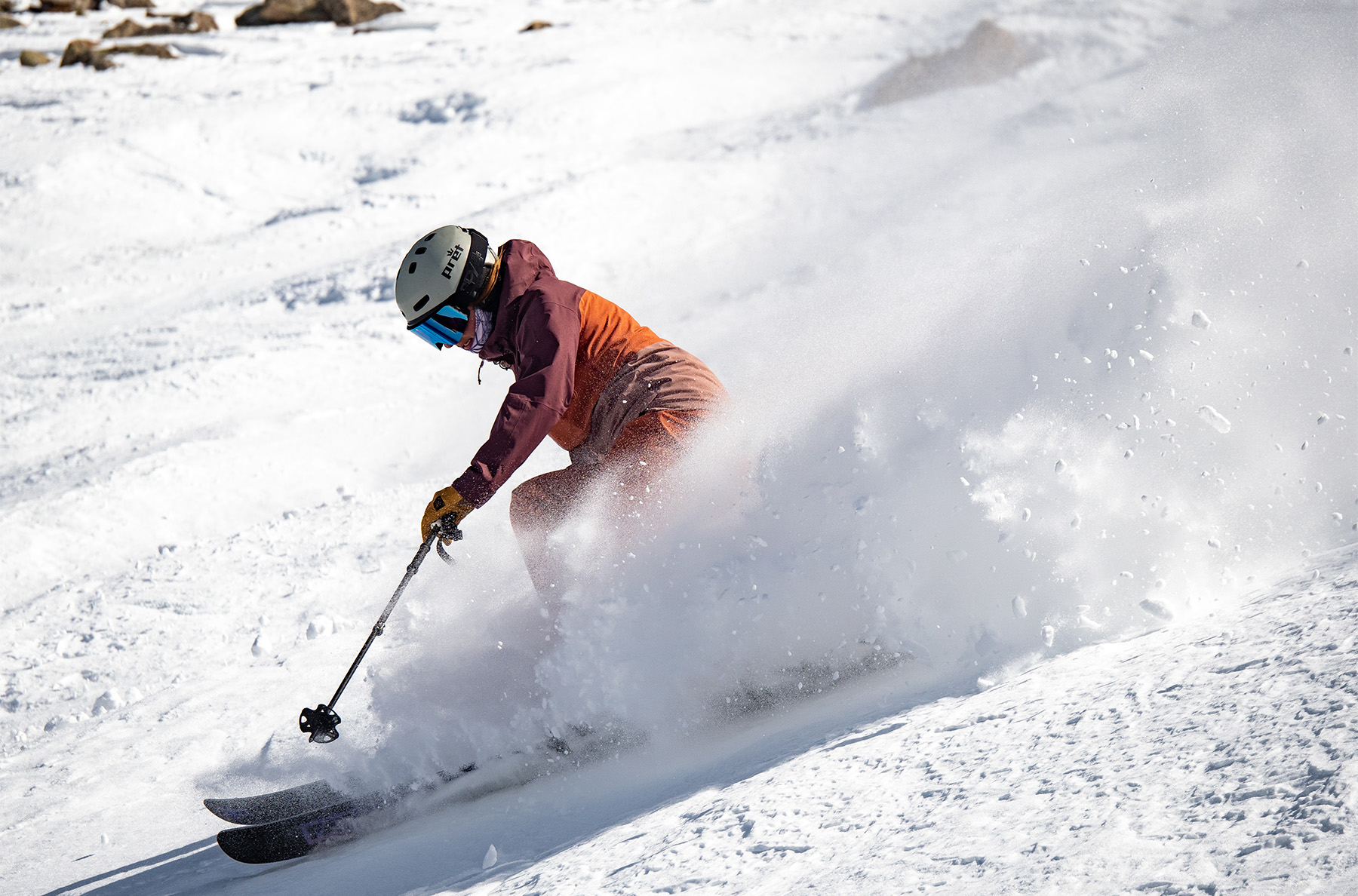 Mount Point
Throughout my days on the Dancer 3X, I stuck to the "Classic" mount point (-10.6 cm from true center) and was happy with it, which makes sense, given my classicly forward, directional skiing style. The Dancer 3X rewarded this forward skiing stance, consistently pressing into the front of my boots. And while I have gotten along fine with skis that have a slightly more forward mount point, such as the Line Blade Optic 104 and Armada ARW 106 UL, the Dancer 3X felt pretty intuitive, for me, in this more rearward setting.
I know I have plenty more days on the Dancer 3X looking toward next season, so I will experiment a bit more with mount point, and disclose any further thoughts. For reference, our more playful male reviewers ended up preferring the Dancer 2 and Dancer 3 on their most forward "Newschool" lines, but the skis performed intuitively across all three mount points, so it's just a matter of personal preference.
Who's It For?
The Dancer 3X is a great all-mountain ski on the wider end of the spectrum that stands out due to its combination of stability & maneuverability. It could be ideal for someone who typically gravitates toward a stiffer, more planted ride and is maybe preferential to dual-metal-laminate skis, but is also seeking something a bit more lively and nimble within the category. There are skis that are a whole lot looser, more forgiving, and easier to bend, as well as skis that are more precise and planted, but the Dancer 3X does offer a rare combination of these often oppositional traits, and is quite versatile for a ski that is ~106 mm underfoot.
Bottom Line
The Faction Dancer 3X is a whole lot more intuitive and versatile than I originally expected it to be, especially when considering my trepidation regarding the previous Dictator series. Due to both its stability and liveliness, the Dancer 3X became one of my go-to skis on days when I knew I would be encountering a range of conditions but didn't want to commit to something overly directional or demanding, nor something too playful or soft.
While it's not the most accessible or forgiving ski, it's a ski that rewards a committed, forward skiing style. And from that stance, the Dancer 3X can provide a lively and stable ride across the mountain.
Rocker Profile - Decambered
Tail Profile - Decambered