Ski: 2022-2023 Faction Dancer 2, 182 cm
Test Location: Mt. Crested Butte, Colorado
Days Skied: 8
Available Lengths: 163, 171, 177, 182, 187 cm
Blister's Measured Tip-to-Tail Length (straight-tape pull): 180.5 cm
Stated Weight Per Ski: 1900 grams
Blister's Measured Weight per Ski: 1981 & 1991 grams
Stated Dimensions: 127-96-117 mm
Blister's Measured Dimensions: 126.6-95.6-116.4 mm
Stated Sidecut Radius (182 cm): 19 meters
Measured Tip & Tail Splay (ski decambered): 61 mm / 24.5 mm
Measured Traditional Camber Underfoot: 6 mm
Core Materials: poplar + titanal (2 layers) + fiberglass laminate
Base: sintered
Factory Recommended Mount Point:
"Newschool": -7.75 cm from center; 82.5 cm from tail
"Progressive": -9.25 cm from center; 81 cm from tail
"Classic": -10.75 cm from center; 79.5 cm from tail
Boots / Bindings / Wax: Tecnica Mach1 MV 130; Atomic Hawx Ultra 130 / Tyrolia Attack 13 / mountainFLOW All-Temp & Warm Hot Wax

Intro
Faction's original Dictator skis caused quite the splash when they were first released several years back, primarily because they were very stiff, dual-metal-laminate skis that also happened to be fairly light for that class of skis. The result was a bit polarizing, but the skis have since gone through various evolutions over the years.
For the 2022-2023 season, the skis get a name switch to Dancer, with a nearly identical construction, but several new length options.
This spring we spent time on the new Dancer 2 and Dancer 3, as well as the women's Dancer 2X and Dancer 3X, which share the same construction but different top sheets and lengths.
The 96mm-wide Dancer 2 sits right in the middle of the lineup, so let's get into what makes this all-mountain ski stand out in the current market.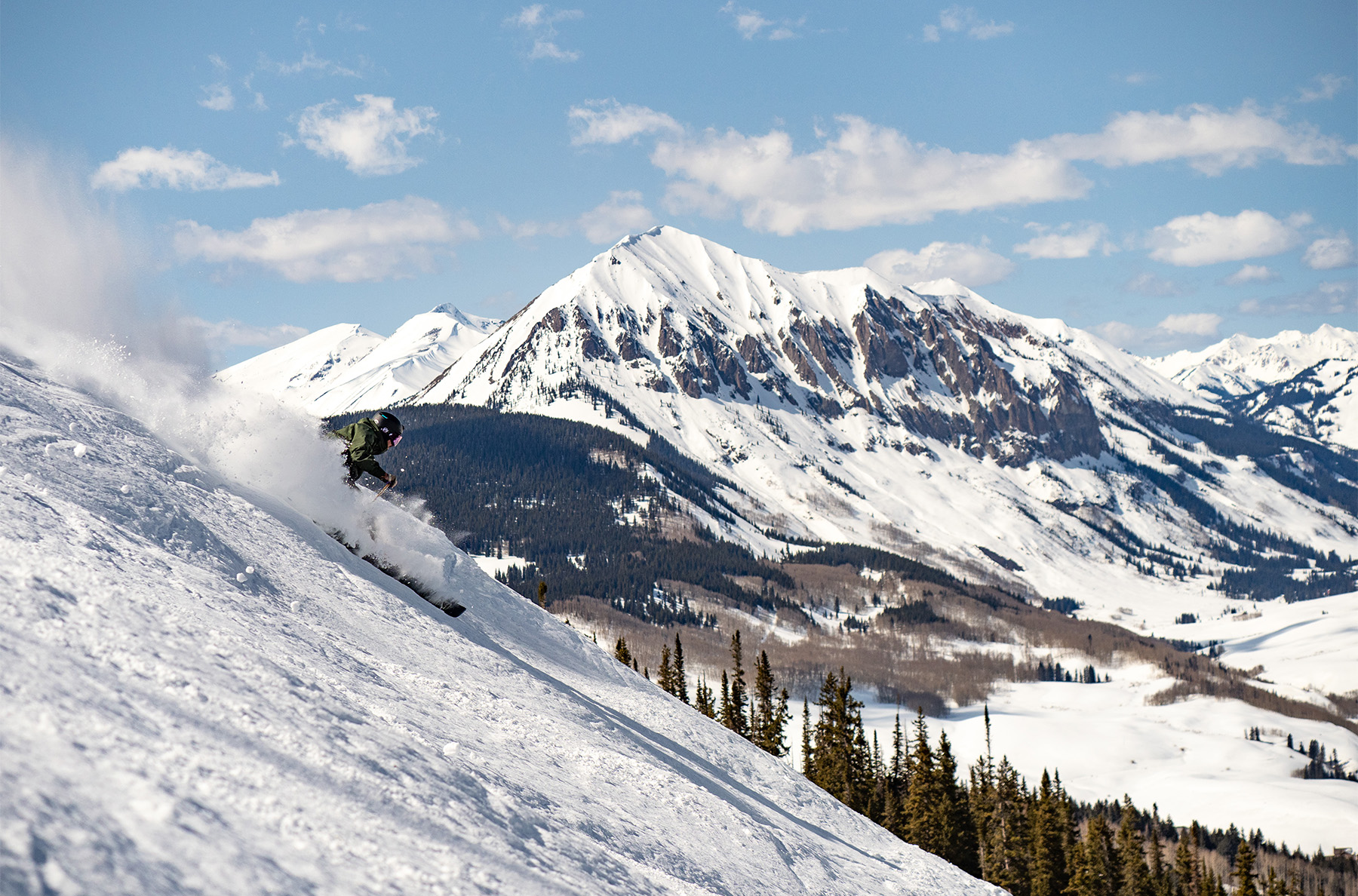 What Faction says about the Dancer 2
"The Dancer 2 is your go-to for pure all-mountain freeride bliss. Two razor-thin sheets of metal complement the sustainably-sourced wood core for the ideal blend of up-tempo energy, light weight and stable, no-chatter, full-confidence handling. Its 96 mm waist is versatile to handle all conditions and all terrain. You'll even float and dance above the choppy stuff thanks to the perfect touch of rocker. Backed by the finest, most durable Austrian construction, powered 100% by renewable energy."
Construction
Across its whole line for 22/23, Faction is highlighting several aspects of their skis that make them less environmentally harmful than traditional methods. They're now using a 35% bio-based resin, sourcing materials close to the production sites wherever possible (including their wood cores), using recycled base and top sheet materials, and the Austrian factory in which the vast majority of their skis are pressed runs on 100% renewable energy. They're also a member of 1% For the Planet, partner with POW, and reportedly calculate and offset the emissions from their film projects.
As for the Dancer 2's construction, it features a poplar wood core, two thin sheets of titanal metal, a fiberglass laminate, and a sintered base. It also has Faction's extra-thick 2.5 mm steel edges.
Shape / Rocker Profile
This is one thing that hasn't changed too much over the years, at least visually, when looking at various Dictator / Dancer skis. The Dancer 2's shape mostly just looks pretty "normal" for a directional 96mm-wide ski, and its rocker lines are about average, if not slightly on the shorter side of the spectrum.
Flex Pattern
Here's how we'd characterize the flex pattern of the Dancer 2:
Tips: 7-7.5
Shovels: 7.5-8
In Front of Toe Piece: 8-10
Underfoot: 10
Behind the Heel Piece: 10-9
Tails: 9-8
The Dancer 2 is a very strong ski overall, particularly around the middle and back of the ski. No part of it is what I'd call particularly soft, with even the tips and shovels feeling pretty strong.
Sidecut Radius
At 19 meters for the 182 cm length we've been testing, the Dancer 2's sidecut radius is neither super long nor super short.
Mount Point(s)
For 22/23, all Faction skis are being labeled with three potential mount points: "Classic" (most rearward), "Progressive" (middle), and "Newschool" (most forward).
On the Dancer 2, that means its recommended lines range from about -7.7 cm from true center to -10.7 cm, with the Progressive line sitting at about -9.2 cm. Those are all pretty rearward mount points, though the Newschool line isn't super far back; we'll say more about that below.
Lengths
This is the main difference between the 21/22 Dictator 2.0 and 22/23 Dancer 2. The previous model was available in four lengths: 163, 171, 179, and 187 cm. The new Dancer 2 is available in five: 163, 171, 177, 182, 187 cm. So that's obviously not a huge change, but it does narrow the gaps by splitting the 179 cm length into 177 cm and 182 cm options.
The Dancer 2X expands that range down to 155 cm, and runs up to the 177 cm length (again, it's the same construction as the Dancer 2).
Weight
Our pair of the 182 cm Dancer 2 weighs about 1985 grams per ski, which might've seemed light several years ago, but now seems to be roughly average for a ski of its size. There are definitely some comparable skis that weigh a whole lot more, and many that weigh even less.
For reference, here are a number of our measured weights (per ski in grams) for some notable skis. Keep in mind the length differences to try to keep things apples-to-apples.
1446 & 1447 Line Vision 98, 178 cm (19/20–22/23)
1734 & 1750 Renoun Endurance 98, 184 cm (18/19–20/21)
1781 & 1795 Atomic Maverick 100 Ti, 180 cm (21/22–22/23)
1807 & 1840 Atomic Bent 100, 188 cm (18/19–22/23)
1808 & 1823 Shaggy's Ahmeek 95, 180 cm (21/22)
1810 & 1828 Armada Declivity 92 Ti, 180 cm (20/21–22/23)
1863 & 1894 Blizzard Rustler 9, 180 cm (18/19–22/23)
1883 & 1906 Season Aero, 180 cm (20/21–21/22)
1900 & 1908 Atomic Maverick 95 Ti, 180 cm (21/22–22/23)
1925 & 1934 Black Crows Camox, 186.5 cm (19/20–22/23)
1933 & 1943 Norse Enduro, 188 cm (20/21–21/22)
1936 & 2013 Salomon Stance 96, 182 cm (20/21–22/23)
1937 & 1945 Fischer Ranger 94 FR, 184 cm (19/20–21/22)
1966 & 1973 Liberty Origin 96, 187 cm (18/19–20/21)
1976 & 2028 Parlor Cardinal Pro, 182 cm (19/20–21/22)
1981 & 1991 Faction Dancer 2, 182 cm (22/23)
1985 & 2006 Parlor Cardinal 100, 185 cm (16/17–21/22)
1994 & 2011 Fischer Ranger 99 Ti, 181 cm (19/20–21/22)
1998 & 2044 4FRNT MSP 99, 181 cm (17/18–22/23)
1999 & 2060 Line Blade, 181 cm (20/21–22/23)
2010 & 2023 Moment Commander 98, 182 cm (20/21–22/23)
2024 & 2112 Dynastar M-Free 99, 185 cm (21/22–22/23)
2043 & 2089 Volkl M6 Mantra, 177 cm (21/22–22/23)
2054 & 2063 Salomon QST 98, 189 cm (21/22–22/23)
2077 & 2096 Line Blade Optic 96, 184 cm (22/23)
2089 & 2105 Nordica Soul Rider 97, 185 cm (15/16–21/22)
2128 & 2186 J Skis Masterblaster, 181 cm (21/22–22/23)
2165 & 2186 Wagner Summit 97, 182 cm (21/22–22/23)
2178 & 2195 Volkl M6 Mantra, 184 cm (21/22–22/23)
2218 & 2244 Volkl Mantra 102, 184 cm (19/20–21/22)
2256 & 2284 Nordica Enforcer 94, 186 cm (20/21–22/23)
2281 & 2284 Blizzard Bonafide 97, 177 cm (20/21–21/22)
2311 & 2342 K2 Mindbender 99Ti, 184 cm (19/20–21/22)
Now, onto how the Dancer 2 performs on snow:
FULL REVIEW
Luke Koppa (5'8", 155 lbs / 173 cm, 70 kg): We got the Dancer skis for the last month or so of lift-accessed skiing, which proved to provide a little bit of everything in terms of conditions. While we go into every review with the goal of identifying who would like the product, not whether we personally like it, personal preference does always play a role in terms of how much fun we're actually having while testing a given ski. And frankly, I didn't think I was going to love the Dancer 2.
However, it very quickly proved me wrong — it became one of my personal favorite skis of the spring, and while it won't be for everyone, I think there are certain folks who could love it. Dylan Wood and Drew Kelly also each got a day on it and were mostly in agreement with what I've already said, so you'll just see additions from them where they have something new / different to add.
Groomers
Luke: I figured I'd probably enjoy the Dancer 2 in bumps, given that it kinda looks like a fat mogul ski, but I think groomers were actually where it surprised me the most. For how quick and lively it feels off piste, it offers impressive turn initiation, edge hold, energy, and precision on piste.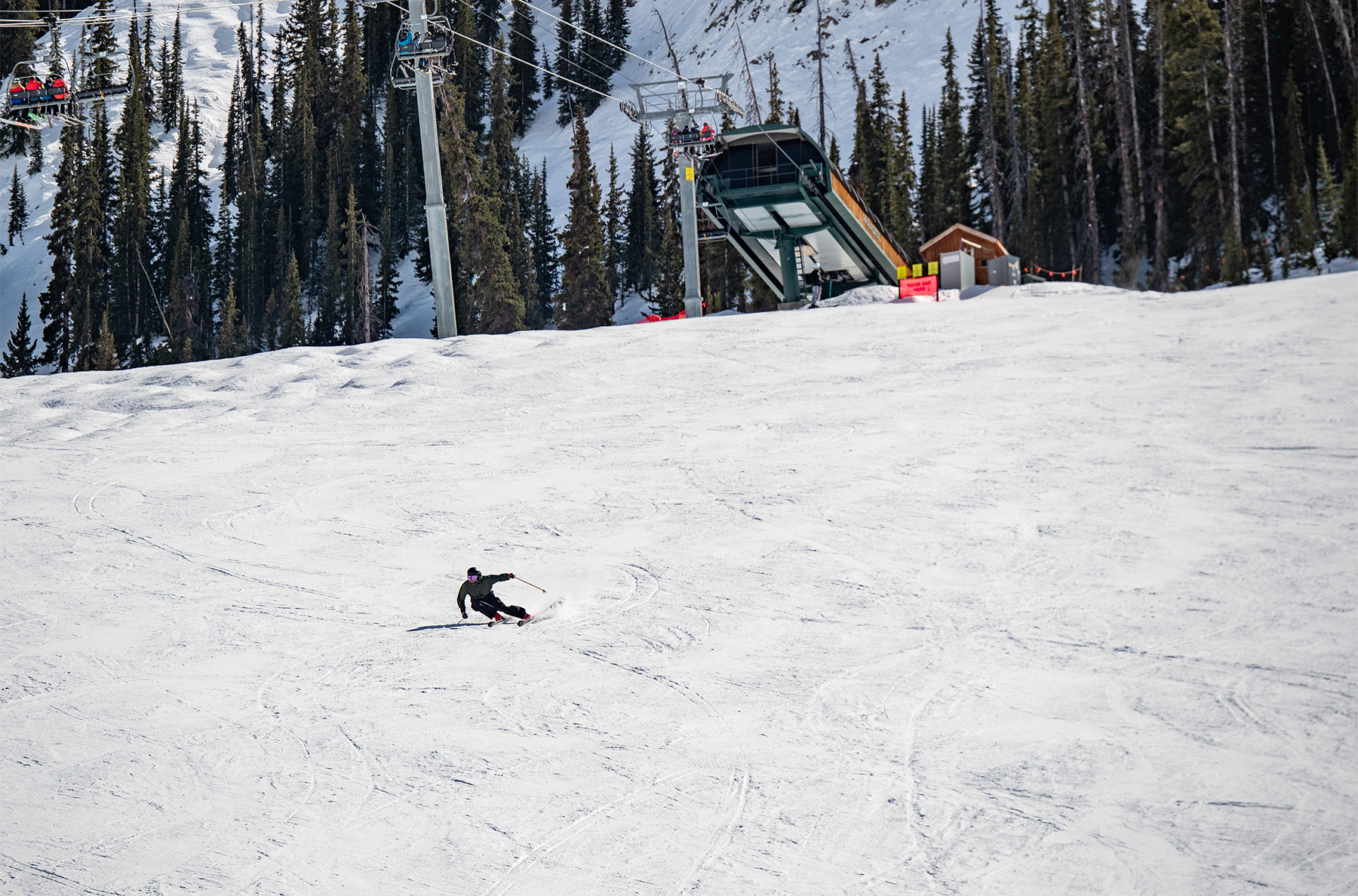 The Dancer 2 doesn't match the turn initiation and edge hold of some of the class leaders in this width (e.g., Volkl M6 Mantra & Atomic Maverick 95 Ti), but it's not super far off in those regards, and I'd say it's definitely better than average. From soft afternoon spring groomers to the firm slopes in the mornings, I had a blast driving the Dancer 2 hard through each turn and being rewarded with powerful and lively exits coming out of each turn. It wouldn't be my top pick for really low-angle slopes or for someone just learning how to carve a ski on edge, but I've been impressed by this ski's versatility on piste. It offers an impressive level of edge hold, but also lets you easily feather it as long as you're driving its shovels a bit, and I never felt like it was hooking up when I didn't want it to.
Dylan Wood (5'10", 155 lbs / 178 cm, 70 kg): I, too was pretty impressed and surprised with the Dancer 2's carving performance. I skied it on a pretty firm day with somewhat icy groomers, and it offered reliable edge hold that was easy to trust right off the bat. Not only that, but it initiated carved turns well, and finished turns cleanly with some energy and poppiness at the latter part of each arc.
Moguls, Trees, & Tight Terrain
Luke: While I've really enjoyed putting the Dancer 2 on edge on groomed snow, I really came to (personally) love it in tight off-piste terrain. And that's not because this is an inherently "easy" ski in this terrain — it's not. But under the feet of a skier with good technique and a somewhat dynamic skiing style, the Dancer 2 can be an absolute blast in tight and varied terrain.
This comes down to a few things. First, the Dancer 2 has a fairly low swing weight. Second, it produces a lot of energy — at least when you're driving it somewhat hard through each turn. And third, it actually feels like it has a fairly large sweet spot, despite being pretty stiff.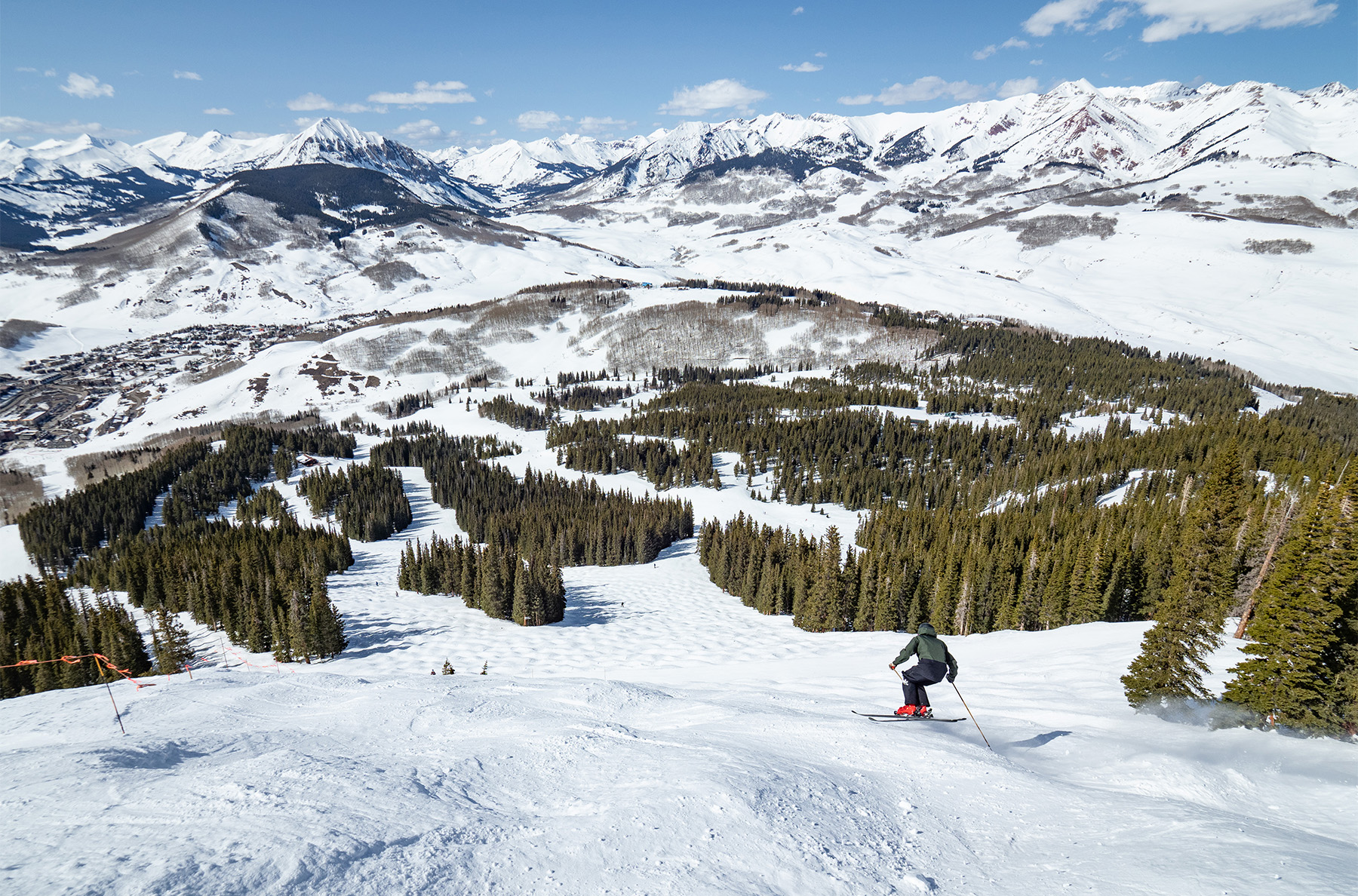 Now, this isn't a ski that just lets you casually pivot it through bumps and trees from a really upright, centered stance. Rather, it feels best when actively driving its tips into troughs and then unweighting its tails to get them over each mound. But if I did that, the Dancer 2's low swing weight and energetic flex pattern let me get into a rhythm, and I soon found myself trying to see just how quickly I could repeat those steps to bash my way through tight bump lines, as well as seeking out gaps to double up.
So while the Dancer 2 is not a loose, forgiving, easy-going ski in tight spots, it is one of my favorite directional skis for trying to ski this terrain very aggressively and dynamically. It will punish backseat skiing, but since there's not a lot of weight at its tips, recovering from the occasional mistake is easier than doing so on an equally stiff but heavier ski, yet the Dancer 2 still offers the support and precision of some of those stiff, heavier alternatives. And even if you're not trying to catch air off every mogul you see, the Dancer 2 can still make for a really fun bump / tree ski, provided that you're also not frequently trying to steer it from the tails. And FWIW, if you like the sound of all that but prefer a looser, more center-mounted ski, you should definitely check out the Faction Mana series (formerly known as the Candide series), which we'll say more about in the future.
Dylan: Luke hit all the main points here. My biggest takeaway from this ski in bumps and tight terrain is that it requires a pretty directional stance and style, and it doesn't like to be slarved around. Rather, like Luke, I found that I was getting the most out of the ski by skiing dynamically, driving the Dancer 2's shovels and picking up its tails after each turn, swinging them around into the next. I definitely didn't find this ski as demanding as last year's 188 cm Dictator 3 in tight terrain, and I was surprised by how much I enjoyed the Dancer 2 in bumps and trees.
Firm Chop / Crud
Luke: The firmer and rougher the snow, the less comfortable the Dancer 2 feels. That's to be expected, since it's the case for most skis, but this is where heavier alternatives definitely outshine the somewhat light Dancer 2.
Now, the Dancer 2's suspension / damping is good enough where I'm comfortable taking it out in pretty much all conditions apart from brutal, refrozen snow. In those truly awful conditions, I'd prefer something that's several hundred grams heavier if I want to ski off piste. The Dancer 2 can feel pretty harsh and jarring in refrozen, bumpy, icy snow.
In anything softer than that, I can still have a good time in this ski. It still doesn't match the bump-asborbing capabilities of much heavier skis, but it's damp enough so that I can still enjoy skiing pretty firm snow, especially if I'm more focused on making quick, dynamic turns than making big, fast turns through everything.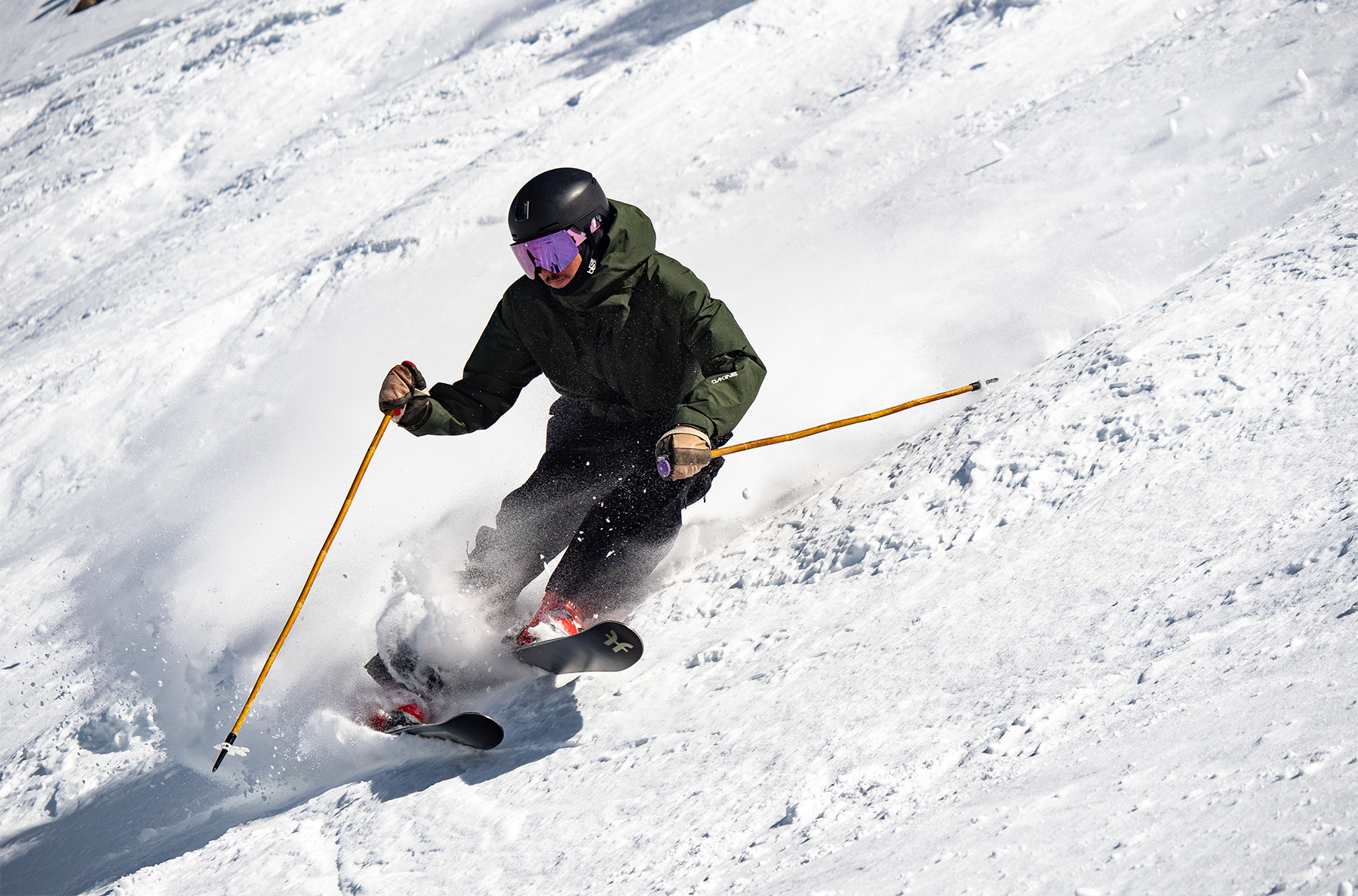 So here I'd echo what I talked about in the tight terrain section — the Dancer 2 isn't for those who want something really planted, or really easy, but rather for folks who appreciate a strong, supportive, and precise ski, but also one that makes it easy to make lots of quick adjustments and transitions.
Mount Points
Luke: With three mount points to choose from, spanning about 3 cm, the Dancer 2 gives you some options. I started with the ski mounted on the middle "Progressive" line (about -9.2 cm from true center). There, it felt quite directional and preferential to a traditional, forward stance. Everything felt intuitive, but as someone who likes the option of skiing pretty forward or fairly centered, I soon bumped the bindings closer to the "Newschool" line (about -7.7 cm from true center).
While the Dancer 2 does not constitute what I'd generally call a "newschool" ski (it's stiff, has a flat tail, and is nowhere near symmetrical), I did prefer that mount point. I didn't feel as though I compromised its carving performance, nor like the tail was drastically more punishing, but I did feel like I could ski the Dancer 2 a touch more centered and push out my turns through my heels when needed. Since I didn't notice any significant compromises, I continued to ski it on the Newschool line for the remainder of the test, and I continued to enjoy it there.
I think most directional skiers will be perfectly happy skiing the Dancer 2 on its middle "Progressive" line. But for those coming from skis with mount points that are closer to center, it's definitely worth considering mounting it on the more forward "Newschool" line.
Length
Luke: Length is a very subjective thing, but personally, I really like the 182 cm Dancer 2 and am glad they added the additional lengths for 22/23. I have a hunch that the old 179 cm length might've felt a touch short when skiing fast in open terrain, while I have no desire to ski the 187 cm length, given that I spend a lot of time in tight bumps. As someone who gets along with skis in this class that are anywhere from 177 cm to about 187 cm, the 182 cm Dancer 2 felt just about perfect to me when it came to "on-snow" length.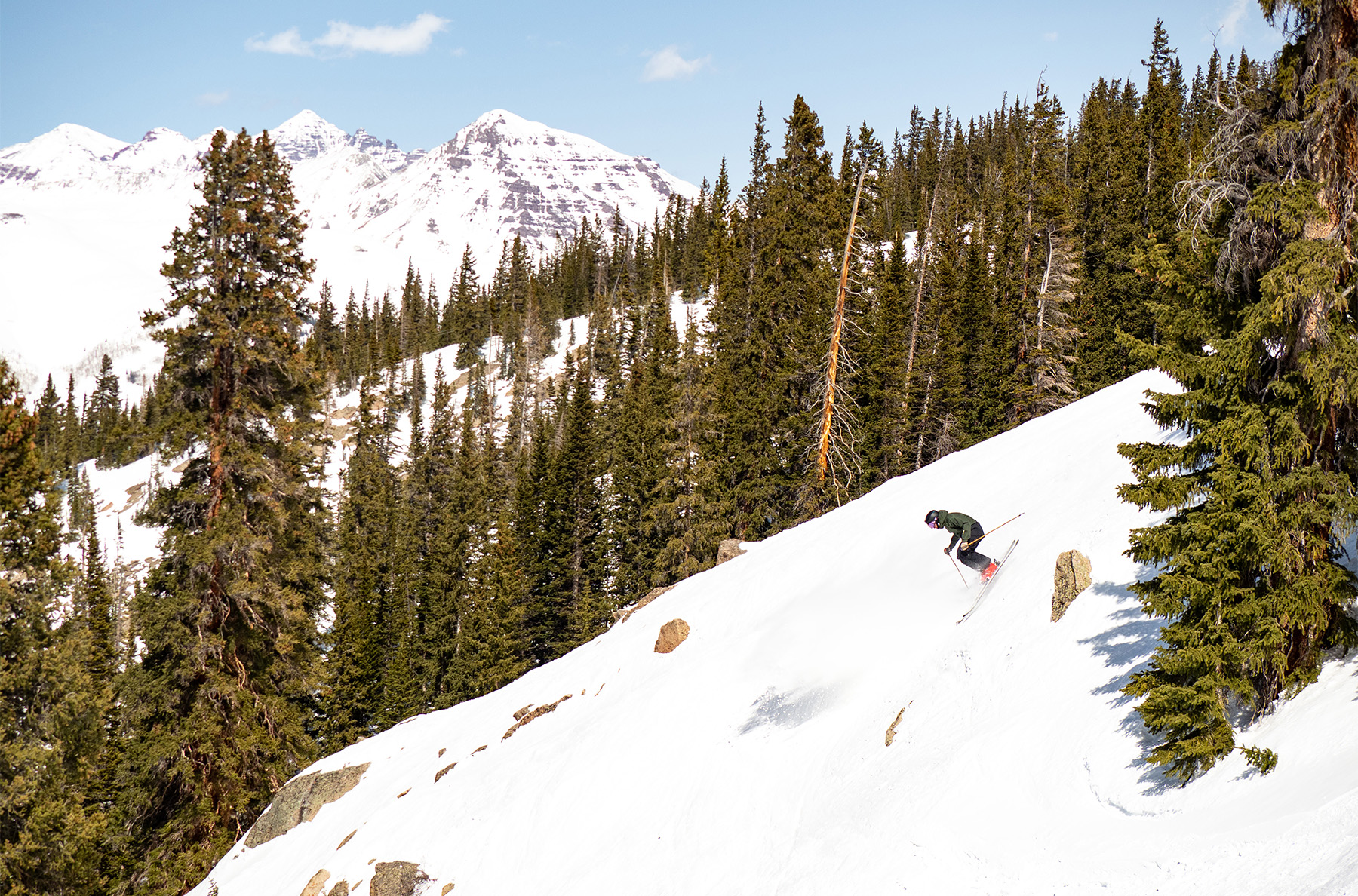 Dylan: Yep, for how much this ski shines in tight terrain, I personally do not feel the need to go longer than 182 cm on the Dancer 2, despite that being a bit short for what I usually ski.
Who's It For?
Luke: I think the Dancer 2 is best suited to high-intermediate to expert skiers who enjoy a strong, precise ski, but who also appreciate a ski with a low swing weight and lots of energy because of how those sorts of skis can make skiing off-piste lines really exciting.
This isn't the ski for those who want something that feels super damp, smooth, and planted in firm, rough conditions. It's also not for those who want something very loose or very forgiving in tight terrain.
But the Dancer 2 does a really good job of performing pretty well to really well in most terrain and conditions, and it's supportive enough to be skied very hard while also encouraging a very dynamic, active, light-on-your-feet style when you feel like it. If you're not worried about a ski with a strong tail that will keep you honest, but you don't like skis that feel dead and sluggish, the Dancer 2 could be the ski you've been looking for.
Bottom Line
Some skis seem like they could make just about everyone fairly happy, but few people ecstatic. The Dancer 2 isn't one of those skis; it's not a super easy-going, "made-for-everyone" ski, but it is a unique ski that could make some people extremely stoked to be on the mountain. It's a stout ski that encourages aggressive skiing, but with the energy and quickness to also inspire you to push your limits and pop your way through all sorts of terrain and conditions.
Deep Dive Comparisons
Become a Blister Member or Deep Dive subscriber to check out our Deep Dive comparisons of the Dancer 2 to see how it compares to the Faction Dancer 3, Faction Mana 2, Volkl M6 Mantra, Blizzard Bonafide 97, Salomon QST 98, J skis Masterblaster, Black Crows Camox, Atomic Maverick 95 Ti, Salomon Stance 96, Moment Commander 98, Nordica Enforcer 94, Black Crows Serpo, Dynastar M-Pro 99, Fischer Ranger 102, 4FRNT MSP 99, and K2 Mindbender 99Ti.
Rocker Profile - Decambered
Tail Profile - Decambered