Ski: 2021-2022 Shaggy's Ahmeek 95 stock "MidLight" construction, 180 cm
Test Location: Mt. Crested Butte, Colorado
Days Skied: 9
Available Lengths: 162, 168, 174, 180, 186 cm
Blister's Measured Tip-to-Tail Length (straight-tape pull): 179.3 cm
Blister's Measured Weight per Ski: 1808 & 1823 grams
Stated Dimensions: 129-95-114 mm
Blister's Measured Dimensions: 131.5-94.9-116.1 mm
Stated Sidecut Radius (180 cm): 20-22 meters
Measured Tip & Tail Splay (ski decambered): 57 mm / 45 mm
Measured Traditional Camber Underfoot: 1.5 mm
Core: poplar/ash + carbon stringers + 19-oz fiberglass laminate
Base: 1.4 mm sintered 4001 Durasurf
Factory Recommended Mount Point: -6.65 cm from center; 83.0 cm from tail
Boots / Bindings / Wax: Tecnica Mach1 MV 130, Atomic Hawx Ultra 130 / Tyrolia Attack 13 AT / mountainFLOW All-Temp
Blister's Measured Tip-to-Tail Length (straight-tape pull): 179.3 cm
Blister's Measured Weight per Ski: 1908 & 1978 grams
Stated Dimensions: 129-95-114 mm
Blister's Measured Dimensions: 131.6-95.0-116.6 mm
Stated Sidecut Radius (180 cm): 20-22 meters
Measured Tip & Tail Splay (ski decambered): 56 mm / 44 mm
Measured Traditional Camber Underfoot: 2 mm
Core: poplar/ash + nanoMAG magnesium strips + carbon stringers + 22-oz fiberglass laminate
Base: 1.4 mm sintered 4001 Durasurf
Factory Recommended Mount Point: -6.65 cm from center; 83.0 cm from tail

Intro
A couple of years ago, we tested Michigan-based Shaggy's Skis' Ahmeek 105, which turned out to be a really versatile ski that we thought could work for a lot of folks, from directional skiers looking to ride a bit of everything, to more playful folks seeking out drops and side hits.
At the end of last spring, we started spending time on that ski's narrower sibling, the Ahmeek 95. Now that we've been able to ski it throughout a full season, it's time for us to offer our thoughts on this all-mountain ski.
What Shaggy's say about the Ahmeek 95
"Versatility is the name of the game for the Ahmeek 95. When the snow is hard and icy, this ski provides you with the confidence to hold an edge and link carved turns. But take it into the softer stuff, and it has plenty of capability to cut through crud and slash through the trees. If you want a ski to take off-piste without sacrificing hardpack performance, look no further than the Ahmeek 95."
Construction(s)
Shaggy's offers all their skis in their respective "stock" configurations, but you can also order custom options with different constructions and/or graphics.
For the Ahmeek 95, we tested it in both the stock "MidLight" construction and a custom "Heavy nanoMAG" version.
Both skis feature an ash / poplar wood core, carbon stringers, and a fiberglass laminate. The MidLight uses 19-oz fiberglass, while the Heavy version uses 22-oz fiberglass, as well as Shaggy's nanoMAG damping system. nanoMAG consists of magnesium sheets inlaid into the wood core, which reportedly improve damping because of their "ability to dissipate mechanical energy into heat, with increased capacity as the material is moved faster."
Both Ahmeek 95s also feature a 1.4 mm sintered Durasurf 4001 base and 2.2 mm edges. All of Shaggy's skis are made in their factory in Michigan, and are laid up with Entropy Super Sap, an epoxy that contains 28% bio-based content.
Shape / Rocker Profile
Like the Ahmeek 105, the Ahmeek 95 doesn't feature a lot of tip or tail taper, instead having fairly blocky-looking tip and tail shapes. That fairly long effective edge is contrasted by the Ahmeek 95's rocker profile, which features pretty deep tip and tail rocker lines for a 95mm-wide ski.
However, the Ahmeek 95 features "camber pockets" in front of and behind the bindings (similar to Moment's "Triple Camber" design). The idea here is that these camber pockets help produce better edge grip where you need it, while still giving you the maneuverability benefits of a ski with deep tip and tail rocker lines. The pockets on the Ahmeek skis are quite subtle, but you can see a closeup shot in our rocker pics.
Flex Pattern
Here's how we'd characterize the flex pattern of the stock Ahmeek 95:
Tips: 5.5
Shovels: 6-7
In Front of Toe Piece: 7-9.5
Underfoot: 10
Behind the Heel Piece: 9.5-9
Tails: 8-6
And here's how we'd characterize the flex pattern of the custom heavier nanoMAG Ahmeek 95:
Tips: 5.5-6
Shovels: 6-7.5
In Front of Toe Piece: 8-10
Underfoot: 10
Behind the Heel Piece: 10-9.5
Tails: 8.5-6.5
Both of these skis are pretty soft at the very ends of the tips and tails, but both are quite strong around the middle, especially behind the bindings and over the camber pockets. The heavier nanoMAG Ahmeek 95 is a bit stiffer overall.
Sidecut Radius
The Ahmeek 95's stated sidecut radius is a bit on the longer side of average, especially for a fairly playful ski, with the 180 cm Ahmeek 95's stated sidecut radius sitting at 20-22 meters.
Mount Point
Like the Ahmeek 105, the Ahmeek 95 has a recommended mount point (-6.7 cm from true center) that's a bit closer to center than many directional skis but not as forward as most pure freestyle skis.
Weight
The Ahmeek 95 is a fairly light ski, with our pair of the stock 180 cm coming in at about 1815 grams per ski. The custom heavy nanoMAG version is unsurprisingly a bit heavier, at about 1943 grams per ski, though it's still not extremely heavy compared to other skis around this width.
For reference, here are a number of our measured weights (per ski in grams) for some notable skis. Keep in mind the length differences to try to keep things apples-to-apples.
1446 & 1447 Line Vision 98, 178 cm (19/20–22/23)
1605 & 1630 Line Vision 108, 183 cm (19/20–22/23)
1680 & 1707 Line Sick Day 94, 186 cm (16/17–21/22)
1734 & 1750 Renoun Endurance 98, 184 cm (18/19–20/21)
1781 & 1795 Atomic Maverick 100 Ti, 180 cm (21/22–22/23)
1807 & 1840 Atomic Bent 100, 188 cm (18/19–22/23)
1808 & 1823 Shaggy's Ahmeek 95, stock, 180 cm (21/22)
1810 & 1828 Armada Declivity 92 Ti, 180 cm (20/21–22/23)
1863 & 1894 Blizzard Rustler 9, 180 cm (18/19–22/23)
1883 & 1906 Season Aero, 180 cm (20/21–21/22)
1900 & 1908 Atomic Maverick 95 Ti, 180 cm (21/22–22/23)
1908 & 1978 Shaggy's Ahmeek 95, custom heavy nanoMAG, 180 cm (20/21–21/22)
1925 & 1934 Black Crows Camox, 186.5 cm (19/20–22/23)
1933 & 1943 Norse Enduro, 188 cm (20/21–21/22)
1936 & 2013 Salomon Stance 96, 182 cm (20/21–22/23)
1937 & 1945 Fischer Ranger 94 FR, 184 cm (19/20–21/22)
1966 & 1973 Liberty Origin 96, 187 cm (18/19–20/21)
1976 & 2028 Parlor Cardinal Pro, 182 cm (19/20–21/22)
1985 & 2006 Parlor Cardinal 100, 185 cm (16/17–21/22)
1994 & 2011 Fischer Ranger 99 Ti, 181 cm (19/20–21/22)
1998 & 2044 4FRNT MSP 99, 181 cm (17/18–21/22)
1999 & 2060 Line Blade, 181 cm (20/21–22/23)
2010 & 2023 Moment Commander 98, 182 cm (20/21–21/22)
2024 & 2112 Dynastar M-Free 99, 185 cm (21/22–22/23)
2043 & 2089 Volkl M6 Mantra, 177 cm (21/22–22/23)
2054 & 2063 Salomon QST 98, 189 cm (21/22–22/23)
2077 & 2096 Line Blade Optic 96, 184 cm (22/23)
2089 & 2105 Nordica Soul Rider 97, 185 cm (15/16–21/22)
2128 & 2186 J Skis Masterblaster, 181 cm (21/22)
2165 & 2186 Wagner Summit 97, 182 cm (21/22–22/23)
2178 & 2195 Volkl M6 Mantra, 184 cm (21/22–22/23)
2218 & 2244 Volkl Mantra 102, 184 cm (19/20–21/22)
2256 & 2284 Nordica Enforcer 94, 186 cm (20/21–22/23)
2281 & 2284 Blizzard Bonafide 97, 177 cm (20/21–21/22)
2311 & 2342 K2 Mindbender 99Ti, 184 cm (19/20–21/22)
Now, onto how the Ahmeek 95 performs on snow:
FULL REVIEW
Moguls, Trees, & Tight Terrain
Luke Koppa (5'8", 155 lbs / 173 cm, 70 kg): This is where I think the Ahmeek 95 really excels and stands out from its competitors in the ~95mm-wide category.
Whether the snow is firm or soft, the Ahmeek 95 feels like a quick and maneuverable ski. It doesn't require much effort or forethought to release its tails and pivot through tight moguls or trees, and its swing weight feels quite light. I've had a blast trying to ski moguls and trees faster and more dynamically on the Ahmeek 95 than I'm able to on heavier, less rockered skis.
Similar to other skis I've used with "camber pockets" (Shaggy's Ahmeek 105, Moment Deathwish 104 & 112), there have been a few times where I got too backseat and felt the camber pocket behind my heel dig in a bit more than expected. However, this was pretty rare and as long as I stayed either balanced over the middle of the ski or kept a bit of pressure on its shovels, the Ahmeek 95 felt loose and easy. And the upside to those camber pockets is that, when I found myself needing to shed speed quickly, I could drive the front of the ski and get those pockets to really dig in and get myself back under control.
The Ahmeek 95 isn't quite as loose / surfy as, say, the Salomon QST 98, but compared to the vast majority of skis around this width, the Ahmeek 95 makes it very easy to quickly work my way through tight lines.
Dylan Wood (5'10", 155 lbs / 178 cm, 70 kg): I definitely agree that the Ahmeek 95 felt most at home in moguls and other tight terrain. It works well with a more dynamic style (picking your skis up off the snow and getting airborne between turns), though it is also perfectly happy to just slip and slide around in tight terrain, and feels predictable to slarve around so long as you aren't super backseat. It isn't the most energetic and poppy ski out there, nor the loosest, though it does have a really nice combination of these two traits that make it really ideal for tight terrain.
Groomers
Luke: The Ahmeek 95 is capable of a variety of things on piste. On fairly soft groomers (think fresh corduroy or late-afternoon spring groomers), it encouraged me to lean into it hard and make high-edge angle turns. On very firm groomers (scraped-off sections or man-made, cold snow), it offers very predictable grip but didn't exactly make me eager to try to drag my hips.
In terms of turn shapes, the Ahmeek 95's somewhat longer-than-average sidecut radius means that it does require a bit of speed to get it high on edge, particularly when compared to many of the similarly maneuverable skis in its class. The Ahmeek 95 is definitely more of a GS-turn cruiser than a tight-turn aficionado. So if you spend the vast majority of your time on piste, I'd look to Shaggy's Brockway series, which offer better edge hold and finish carved turns with a more powerful, precise feel. But if you mostly want a predictable ride on super firm groomers and the ability to lay down GS turns when the snow is remotely soft, the Ahmeek 95 could be a good fit.
Dylan: I concur that the Ahmeek 95 isn't the most exciting or capable carver, but it gets the job done. I found myself pleased with its edge hold on anything but ice, and it was able to make longer GS turns quite comfortably. The Ahmeek 95 just feels like more of an off-piste-oriented ski, so I think most people will be happy with how the Ahmeek 95 handles groomers, so long as you're spending most of your day on ungroomed terrain and groomer performance isn't your primary concern.
Soft Chop / Powder
Luke: I happened to have the Ahmeek 95 with me when I wound up skiing during a late-May storm that dropped about a foot of dense powder on Colorado's higher peaks, so I got to see how it handled both fresh snow and some fairly deep chop. And for a lightweight, 180 cm ski, I think it performed admirably. I wouldn't say it's amazing for its width when it comes to flotation, but skiing it pretty centered in deep snow still let me easily make carved and slashed turns with ease.
In deeper and/or denser chop, I was mostly just wishing for a longer and/or wider ski; I can't think of any sub-100mm, 180cm-long skis that I'd absolutely love in these conditions. The 180 cm Ahmeek 95 required that I ski these conditions in a very balanced manner to avoid stuffing its shovels into a deep pile of chop, though I did enjoy catching air off those piles and skiing these conditions in a dynamic manner.
The Ahmeek 95 (in either construction we tested) definitely wouldn't be my top pick if I planned on skiing a lot of deep, choppy snow, but for what it is, it handles these conditions pretty well. And when skiing fresh snow that was shallow enough that I could still easily feel the firm base underneath, the Ahmeek 95 was a lot of fun.
Dylan: I only got to ski the Ahmeek in shallow, light pow (about 2 inches on hardpack), so I don't have anything to add on top of what Luke has said.
Firm Chop / Crud
Luke: Like most skis, this is where the Ahmeek 95 struggles the most. In firm, rough, inconsistent conditions, the Ahmeek 95 encourages a slower, more conservative approach. Fortunately, as mentioned in the Tight Terrain section, the Ahmeek 95 is easy to skid and slide around, meaning that I don't feel like I'm fighting the ski when more slowly navigating my way around / through rougher conditions.
In terms of suspension, I'd say the stock Ahmeek 95 is about average for its weight. Heavier skis are pretty much always going to feel smoother and more planted than lighter ones, so if you want a ski with really plush suspension when conditions are rough, I'd look to heavier alternatives (the Ahmeek 105 being a good option).
But on that note, the custom heavier nanoMAG Ahmeek 95 does represent a step up when it comes to suspension and stability. It is noticeably more planted and composed at speed than the lighter stock version. However, the custom heavier Ahmeek 95 is still not a very "plush-feeling" ski and I'd still point people toward something heavier (and maybe a bit softer) if they want an ultra-cushy ride on firm, variable snow.
Dylan: Yep, in rough and firm snow, the Ahmeek 95 did not inspire me to ski particularly fast. I found that when trying to drift turns at somewhat high speeds through rough and variable snow, its low weight combined with above-average edge hold can sometimes cause the shovels and tails of the ski to get caught up and deflected. This is something I have experienced on almost all similarly lightweight skis in firm crud, but I feel like the "camber pockets" exaggerated this problem, especially on the stock version of the Ahmeek 95, since they could dig in and then release, creating a sort of chattering sensation. However, as long as I kept my speed in check, the Ahmeek 95 made it through firm crud with no drama.
Playfulness
Luke: Overall, the Ahmeek 95 is a pretty playful ski. It's easy to throw sideways, lets you ski centered, feels pretty balanced in the air, has a low swing weight, and skis switch pretty well. For my skiing style — lots of airs, but not doing a ton of spinning and very rarely flipping — the Ahmeek 95 suits me really well.
Dylan: I would also categorize the Ahmeek 95 as a playful ski, and if you like to ski switch, pop off features, spin, flip, and do other tweaks and/or grabs, I think you'd be happy with the Ahmeek 95. While this is no park ski, it is definitely one that encourages me to swing through the park on my way back to the base and hit some rails and jumps with some tricks thrown in the mix. I would say that it is also a pretty poppy ski, and it allowed me to load up its tails and shovels for some extra air.
Stock "MidLight" Ahmeek 95 vs. Custom "Heavy nanoMAG" Ahmeek 95
Luke: It was really cool to try two skis that were essentially identical apart from their core materials. In the case of the stock vs. custom heavier Ahmeek 95, there are a few notable differences.
As I touched on above, the heavier nanoMAG Ahmeek 95 is unsurprisingly both more damp and more stable. It doesn't feel like an absolutely massive difference, but it's definitely noticeable, and those who want a very maneuverable ski but are worried the stock Ahmeek 95 might be too light for their preferences should definitely consider going with the custom heavier nanoMAG version.
The other difference I noticed was that the heavier nanoMAG Ahmeek 95 felt a bit stiffer overall. It's still a pretty quick, maneuverable, and easy ski, but I had to focus just a bit more on not getting way back on its tails, relative to the stock version. On the flip side, I could drive the heavier Ahmeek 95 just a bit harder through the shovels and, combined with its heavier build, that added to its composure at high speeds.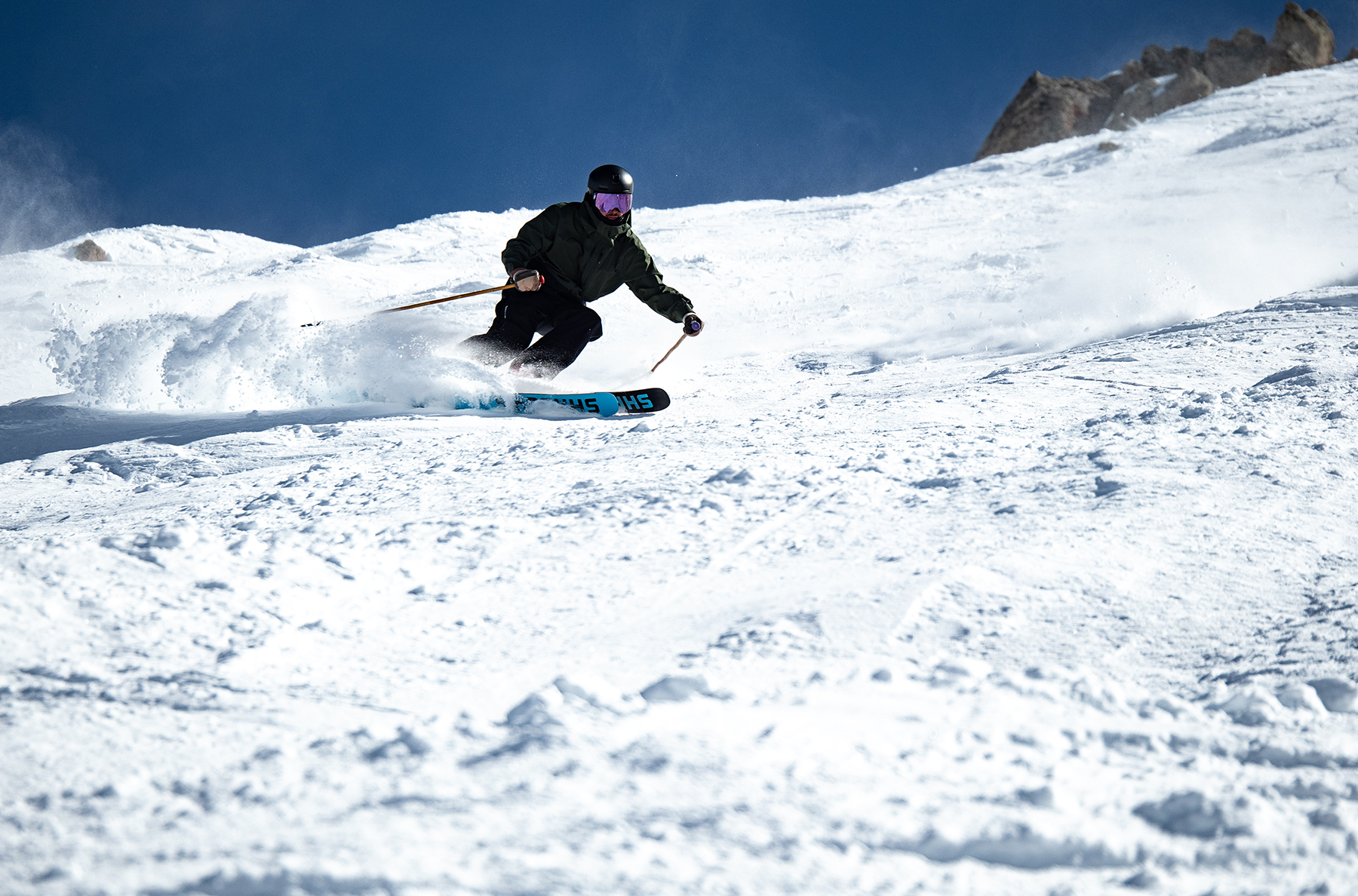 Dylan: Luke and I spent some time A/B'ing the two versions of this ski, and while both versions feel very similar, they do have some immediately noticeable differences. If you want a ski that is a bit more damp, stable, and stiff, go with the heavier nanoMAG version. If you want something a bit quicker and more forgiving, go with the stock layup.
Who's It For?
Skiers who ski on and off piste and prioritize maneuverability, quickness, and/or playfulness.
The Ahmeek 95 handles a wide variety of conditions very well for its width. It's not a ski we'd recommend if you only ski on piste and want to carve hard when conditions are super firm, nor is it your best choice if you primarily like to make huge, fast turns, even when conditions are challenging. But for those who want a ski that's quick and easy to maneuver through tight off-piste lines while still offering reliable edge hold on firm groomers, the Ahmeek 95 offers a lot to like. Plus, given its more centered mount point and twinned tail, it could also function as an all-mountain freestyle ski for those who like to throw tricks.
Bottom Line
Shaggy's says that "versatility is the name of the game for the Ahmeek 95," and that's pretty accurate. It's a ski that rarely feels like the truly wrong tool for the job, whether you're making GS turns on groomers or quickly slashing your way through tight bumps and trees. It's not a very damp or super stable ski in very rough, inconsistent conditions (though the custom heavier version is a bit better in those regards), but for those who prioritize maneuverability and versatility, the Ahmeek 95 warrants a good look.
Deep Dive Comparisons
Become a Blister Member or Deep Dive subscriber to check out our Deep Dive comparisons of the Ahmeek 95 to see how it compares to the Shaggy's Ahmeek 105, J Skis Masterblaster, Atomic Maverick 95 Ti, Fischer Ranger 94 FR, J Skis Fastforward, Blizzard Rustler 9, Nordica Soul Rider 97, Black Crows Serpo, 4FRNT MSP 99, Black Crows Camox, Moment Deathwish 104, Volkl M6 Mantra, Armada Declivity 92 Ti, Dynastar M-Free 99, and Salomon QST 98.
Camber Pocket closeup (ski decambered)