Ski: 2022-2023 Line Blade Optic 96, 184 cm
Test Location: Mt. Crested Butte, Colorado
Days Skied: 14
Available Lengths: 163, 170, 177, 184 cm
Blister's Measured Tip-to-Tail Length (straight-tape pull): 183.8 cm
Blister's Measured Weight per Ski: 2077 & 2096 grams
Stated Dimensions: 129-96-119 mm
Blister's Measured Dimensions: 129.1-95.6-118.7 mm
Stated Sidecut Radius (184 cm): 18 meters
Measured Tip & Tail Splay (ski decambered): 59 mm / 42 mm
Measured Traditional Camber Underfoot: 3 mm
Core Materials: aspen + partial titanal layer + fiberglass laminate
Base: sintered "Fatty" (1.7 mm)
Factory Recommended Mount Point: -7.0 cm from center; 84.9 cm from tail
Boots / Bindings: Tecnica Mach1 MV 130, Atomic Hawx Ultra 130 / Tyrolia Attack 13

Intro
Line has a new collection of freeride skis for the 2022-2023 season: the Blade Optics.
These skis replace some Blister favorites, the Sick Day series, and combine traits from some other skis that some of us (myself included) really like, the Line Visions and original Blades.
Essentially, the Blade Optics take the Vision skis' platform (shape, rocker profile, flex pattern, mount point) and combine it with the Blade's metal-laminate core construction. Given how light the Vision skis are (I'm a big fan of them as touring skis), the heavier Blade core is meant to make the Blade Optics considerably more stable at higher speeds than the Visions, while still maintaining some of the Vision's playful ride qualities.
This past season we spent time on the Blade Optic 92, 96, 104, and 114 — including at our Blister Summit in February. At the Summit, I also got the chance to sit down with Line's Connor Clayton to discuss the backstory and details of the series, and you can check out that conversation below.
We've already posted our review of the Blade Optic 104, but now it's time to go deep on its narrower sibling, the Blade Optic 96. First, we'll cover the details in our original First Look, then Dylan Wood and I add our thoughts in the Full Review.
2022-2023 Line Blade Optic Collection
The Blade Optic series will consist of four models: the 92, 96, 104, and 114. Here are the available lengths for each model:
Line Blade Optic 92: 161, 168, 175, 182 cm
Line Blade Optic 96: 163, 170, 177, 184 cm
Line Blade Optic 104: 171, 178, 185, 190 cm
Line Blade Optic 114: 178, 186, 192 cm
The 92 is more of a price-point ski and does not feature metal, but the other three do. On that note…
Construction
The Blade Optic 96, 104, and 114 all feature an aspen wood core, fiberglass laminate, and Line's "Gas Pedal Medal Overdrive." In short, this is a partial layer of titanal that's split into segmented sections, and that tapers to a point near the ends of the skis. The goal is to get some of the benefits of a titanal layer (added damping, torsional rigidity) while still creating skis that aren't super stiff and produce energy when bent.
It's also cool to see that the Blade Optic 96, 104, and 114 all get Line's "Fatty" base (1.7 mm) and edge (2.5×2.2 mm), which should help with long-term durability.
Shape / Rocker Profile
The Blade Optic 96's shape and rocker profile look a whole lot like the Line Vision 98. If neither ski had graphics, it'd be kinda hard to tell the difference (though the raised metal pattern on the 96 would give it away). The Blade Optic 96's tips and tails have a bit of early taper, but it's not super dramatic (though a bit more tapered than the Line Sick Day 94).
The Blade Optic 96's rocker lines are notably deep for a 96mm-wide ski. Though, like the Vision's rocker profiles, the Blade Optics' rocker lines stay pretty low-slung till you get to the widest points of the tips and tails.
Flex Pattern
Here's how we'd characterize the flex pattern of the Blade Optic 96:
Tips: 5.5-6
Shovels: 6-7
In Front of Toe Piece: 7.5-10
Underfoot: 10
Behind the Heel Piece: 9.5-8
Tails: 7.5-6
The Blade Optic 96 is not a super stiff ski. It's strong around the middle, but especially compared to most other metal-laminate skis, the Blade Optic 96's tips and tails — and the areas between those and the middle — are softer than average.
Sidecut Radius
The 184 cm Blade Optic 96's stated sidecut radius is 18 meters, which isn't very out of the ordinary, but is a touch on the shorter side of average.
Mount Point
Like the Line Vision skis, the Blade Optic 96's recommended mount point is a bit closer to center than average, at -7 cm from the true center of the ski. We found that the Vision skis allowed for a variety of skiing stances (both centered and forward), and we suspect the same will be true of the Blade Optics. The Blade Optics' mount points are notably closer to center than the Line Sick Day skis, but not as close to center as Line's freestyle skis, such as the Sir Francis Bacon and Chronic.
Weight
This is another area where the Blade Optics differ significantly from the Sick Day skis they replace. While the Blade Optic skis are by no means super heavy, they are heavier than the Sick Days, and a bit heavier than several other skis with similar mount points, rocker profiles, and flex patterns.
For reference, here are a number of our measured weights (per ski in grams) for some notable skis. Keep in mind the length differences to try to keep things apples-to-apples.
1446 & 1447 Line Vision 98, 178 cm (19/20–22/23)
1605 & 1630 Line Vision 108, 183 cm (19/20–22/23)
1680 & 1707 Line Sick Day 94, 186 cm (16/17–21/22)
1734 & 1750 Renoun Endurance 98, 184 cm (18/19–20/21)
1781 & 1795 Atomic Maverick 100 Ti, 180 cm (21/22–22/23)
1807 & 1840 Atomic Bent 100, 188 cm (18/19–22/23)
1808 & 1823 Shaggy's Ahmeek 95, 180 cm (21/22)
1810 & 1828 Armada Declivity 92 Ti, 180 cm (20/21–22/23)
1848 & 1903 Line Sick Day 104, 186 cm (16/17–21/22)
1863 & 1894 Blizzard Rustler 9, 180 cm (18/19–22/23)
1883 & 1906 Season Aero, 180 cm (20/21–21/22)
1900 & 1908 Atomic Maverick 95 Ti, 180 cm (21/22–22/23)
1925 & 1934 Black Crows Camox, 186.5 cm (19/20–22/23)
1933 & 1943 Norse Enduro, 188 cm (20/21–21/22)
1936 & 2013 Salomon Stance 96, 182 cm (20/21–22/23)
1937 & 1945 Fischer Ranger 94 FR, 184 cm (19/20–21/22)
1966 & 1973 Liberty Origin 96, 187 cm (18/19–20/21)
1976 & 2028 Parlor Cardinal Pro, 182 cm (19/20–21/22)
1985 & 2006 Parlor Cardinal 100, 185 cm (16/17–21/22)
1994 & 2011 Fischer Ranger 99 Ti, 181 cm (19/20–21/22)
1998 & 2044 4FRNT MSP 99, 181 cm (17/18–21/22)
1999 & 2060 Line Blade, 181 cm (20/21–22/23)
2010 & 2023 Moment Commander 98, 182 cm (20/21–21/22)
2024 & 2112 Dynastar M-Free 99, 185 cm (21/22–22/23)
2043 & 2089 Volkl M6 Mantra, 177 cm (21/22–22/23)
2054 & 2063 Salomon QST 98, 189 cm (21/22–22/23)
2074 & 2088 Line Blade Optic 104, 178 cm (22/23)
2077 & 2096 Line Blade Optic 96, 184 cm (22/23)
2089 & 2105 Nordica Soul Rider 97, 185 cm (15/16–21/22)
2128 & 2186 J Skis Masterblaster, 181 cm (21/22)
2165 & 2186 Wagner Summit 97, 182 cm (21/22–22/23)
2178 & 2195 Volkl M6 Mantra, 184 cm (21/22–22/23)
2218 & 2244 Volkl Mantra 102, 184 cm (19/20–21/22)
2230 & 2290 Line Blade Optic 104, 185 cm (22/23)
2256 & 2284 Nordica Enforcer 94, 186 cm (20/21–22/23)
2281 & 2284 Blizzard Bonafide 97, 177 cm (20/21–21/22)
2311 & 2342 K2 Mindbender 99Ti, 184 cm (19/20–21/22)
Some Questions / Things We're Curious About
(1) The Blade Optic 96 is a blend of Line's Vision and Blade skis, so does it feel more similar to one vs. the other?
(2) The Blade Optic 96 is a bit heavier than most skis in its class, but it's also got a moderately soft flex pattern, deep rocker lines, and a progressive mount point. So just how damp and stable will it feel, and conversely, how playful and maneuverable will it be?
Flash Review
Blister Members can read our Flash Review of the Blade Optic 96 for our initial on-snow impressions. Become a Blister member now to check out this and all of our Flash Reviews, plus get exclusive deals and discounts on skis, and personalized gear recommendations from us.
FULL REVIEW
Groomers
Dylan Wood (5'10", 155 lbs / 178 cm, 70 kg): For its width, the Blade Optic 96 performs well on piste, especially given how it handles the rest of the mountain (more on that later).
The Blade Optic 96 is easy to get on edge, and while its fairly tapered shovels don't eagerly pull you across the fall line, the Blade Optic 96 is easy to bend into relatively tight carved turns on piste. When making longer, faster turns, this ski still feels comfortable, too. Its soft tips can flap a bit when just straightlining groomers, but this is the only time this ski felt unstable to me on piste. While its extremities are pretty soft, this ski is quite stiff underfoot, and this section of the ski provides a lot of power and edge hold, while the tips and tails feel quite easy to feather and release from turns. This results in a sensation of feeling as if you are mostly carving the middle of the ski, though not as much as this ski's wider sibling, the Blade Optic 104. While the Blade Optic 96 is very accepting of a more centered, upright carving stance, it can still be carved with a more forward stance, putting significant pressure into the shovels of the ski.
The Blade Optic 96 also produces energy when bent and can launch you in and out of rhythmic, dynamic carved turns. Additionally, this ski doesn't require much power to tap into this poppiness and is overall a much more accessible carver than something notably more powerful like the Volkl M6 Mantra. Still, I found it hard to overpower the Blade Optic 96, and it handled all the input I gave it just fine. I would expect a heavier and/or more expert carver would maybe want to reach for something stiffer and/or more rearward mounted if they are wanting to really lay into it on groomers, though.
Despite being so accessibly energetic, the Blade Optic 96 also handles roughed-up groomers quite well and still remains composed when carving through piles of pushed-around snow. Again, stiffer and/or heavier skis (e.g. K2 Mindbender 99Ti) are even more damp and stable, but for how easygoing and poppy the Blade Optic 96 feels, it is impressively stable when carving through rough snow.
Luke Koppa (5'8", 155 lbs / 173 cm, 70 kg): Dylan did a great job of hitting all the highlights here. Like him, I've thoroughly enjoyed carving the Blade Optic 96 on a wide variety of groomed trails, from steep and firm to mellow and soft. I'll reiterate that this is a very accessible, energetic ski that can still be pushed quite hard and offers decent suspension, and it's really easy to release and feather while offering very good edge hold around the binding area. These sorts of contrasting characteristics really define the Blade Optic 96 and are a big reason why it has the potential to work for so many different types of skiers.
Chalk
Dylan: I spent a lot of time skiing the Blade Optic 96 on smooth, almost groomer-like chalk, and its performance here is similar to how it acts on piste. The Blade Optic 96 has a pretty strong midsection with soft, forgiving extremities, and this results in a stable platform underfoot that can be pushed hard, but tips and tails that are easy to release from turns. The Blade Optic 96 has good edge hold on firm snow but is quite easy to pivot and slide around when needed.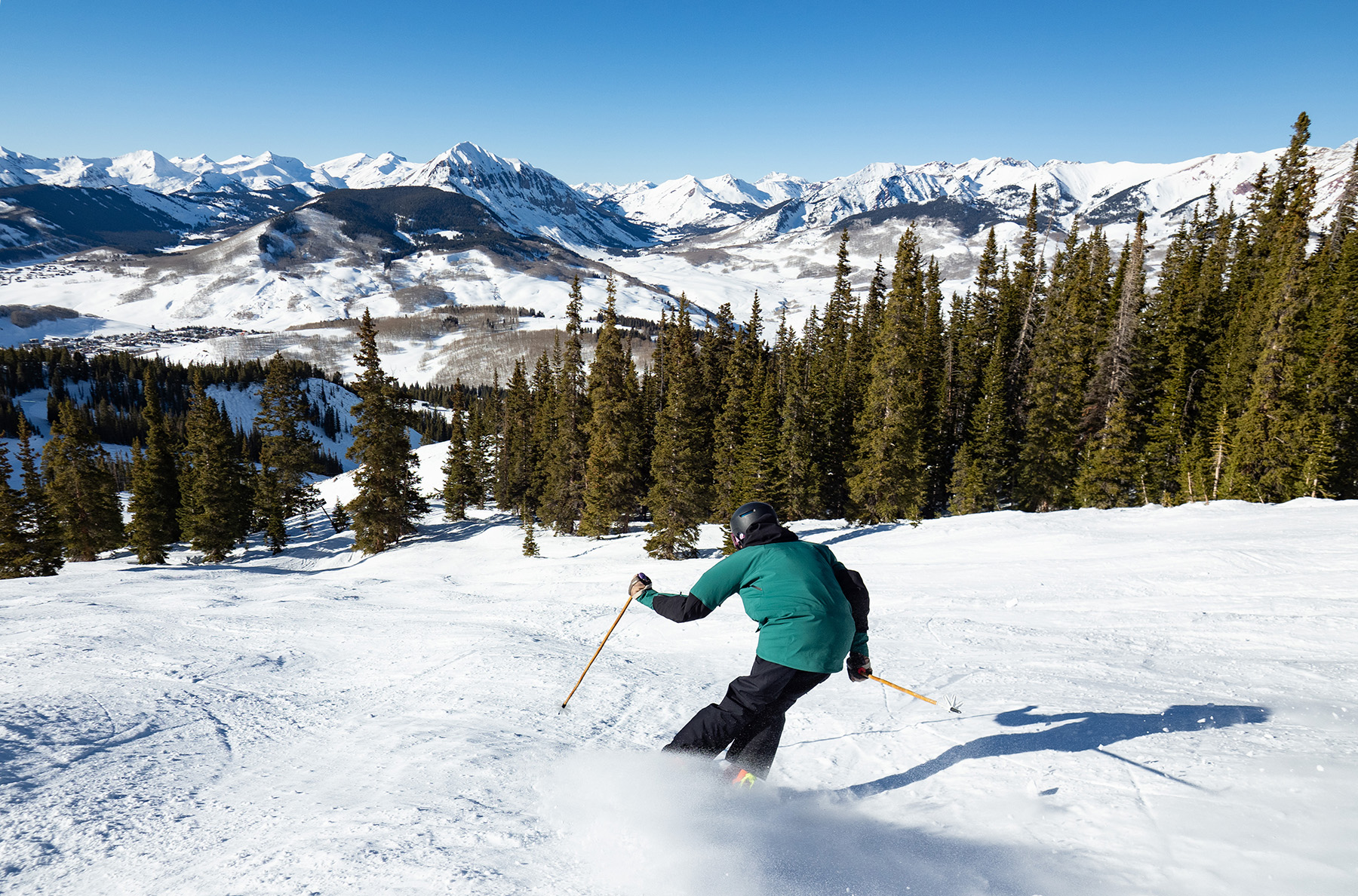 The Blade Optic's impressive mixture of dampness and poppiness continues to be prevalent off-piste. When pointing this ski down the fall line and charging through some rougher snow, it feels fairly smooth and remains composed. But, this ski is far from dead; it doesn't take much speed for it to come alive, and it generates some energy at the bottom of every turn.
Luke: The Blade Optic 96 works really, really well for my personal preferences, and I absolutely loved skiing it very dynamically in chalky steeps, where I could leverage its lively flex pattern, loose tails, and fairly low swing weight to make quick adjustments, while its decent suspension and stiff midsection allowed me to drive it through rougher sections of snow. This certainly is not the most planted, composed ski in this width, but as will become a common refrain in this review, the Blade Optic 96 stands out because of its combination of suspension / stability and quickness / maneuverability.
Moguls, Trees, and Tight Terrain
Dylan: The Blade Optic 96 has a low swing weight (likely due to most of its mass being near the bindings) and loose extremities, and this makes it feel at home in bumps, trees, and other tight spots. The Blade Optic 96 is easy to throw sideways, and its tails are pretty soft and forgiving, making it an accessible and easygoing ski in tight terrain.
It pairs well with a dynamic style, too, and when skied more aggressively in bumps, it provides a nice pop out of every turn, launching you into the next. There are definitely lighter skis out there that are more agile and take less work to swing around in tight spots, and there are also heavier, stiffer ones that can be pushed harder in bumps. But, for how easygoing the Blade Optic 96 is in tight, tricky spots, it is impressively stable.
Luke: Once again, agreed. On that last note, I'd definitely say the Blade Optic 96 leans more toward the quick and easy side of the spectrum in tight terrain, rather than the planted and stable, but it also offers better suspension than many of the even quicker, lighter alternatives. I also really appreciate the Blade Optic 96's versatility in terms of skiing stance in tight terrain, since I feel like I can get pretty far forward or back on the ski while still feeling in control. I'm also a fan of how loose its tips and tails feel, since its midsection still produces a ton of edge hold when you need it to. All in all, I think this is a really adaptable ski in tight terrain, and it could work well as a ski to improve on for less experienced off-piste skiers, or as a nimble ski for experienced skiers who value something that's agile, loose, and playful.
Soft Chop
Dylan: Soft chop can be a lot of fun on stable-yet-playful skis, and the Blade Optic 96 is no exception. Its soft tips do get knocked around a bit when skiing less attentively through piles of chop. But when skiing with a more active, dynamic style and paying more attention to line choice, the Blade Optic 96 can be skied quite hard through soft chop. This ski continues to feel loose in soft snow, and is easy to throw sideways and break the tails loose when you need to dump speed.
As with other conditions, the Blade Optic 96 feels poppy, playful, and light in the air. Utilizing this in soft chop looks like popping off snow piles and taking a more playful approach to soft chop. Those who prefer to keep their skis on the ground will find that the Blade Optic is stable enough to be skied somewhat hard, but it falls short of the stability and composure of other heavier and stiffer skis such as the J Skis Masterblaster. The Blade Optic 96 also requires a more centered stance in soft chop and powder, and those looking to drive the shovels of their ski in these conditions have better, more directional options.
Luke: Yep, the Blade Optic 96 isn't what I'd recommend if high-speed stability is your absolute top priority, but it offers enough mass and a stiff enough flex pattern (especially around the middle) to be skied hard in soft, cut-up conditions. And the more you're willing to adapt on the go, seek out little airs, shed speed where you can, and otherwise ski in a dynamic fashion, the more I think you'll enjoy the Blade Optic 96.
One note: the Blade Optic 96 definitely feels like "less ski" than the Blade Optic 104 and (especially) the Blade Optic 114, so if stability in chop is a big priority for you but you like the sound of the softer, more playful Blade Optic series, I'd probably point you toward the wider, heavier models.
Firm Chop / Crud
Dylan: The Blade Optic 96 is a moderately heavy ski for its width and it has pretty good suspension, especially considering how playful and energetic it is. But while this ski handles firm, crappy snow okay, it is certainly not a variable conditions charger. It is still enjoyable to ski the Blade Optic 96 so long as you are not in absolutely horrendous conditions and you're not trying to ski super hard and fast, but if I frequently encountered tough firm chop, I'd probably reach for a heavier, stiffer ski.
Luke: Yep — the Blade Optic 96 handles these sorts of rough, challenging conditions better than most skis that are similarly maneuverable, nimble, and playful, but it still gets knocked around quite a bit when trying to ski through chunky crud at high speeds.
Playfulness
Dylan: The Blade Optic 96 is impressively playful, considering how well it functions as an all-mountain ski. Its soft tips and tails are easy to bend, and this ski produces a lot of pop off all sorts of features and at both slow and faster speeds. It feels like most of its mass is concentrated near the bindings, and combined with its fairly centered mount point of around -7 cm, the Blade Optic feels balanced in the air and is happy to flip and spin. Its loose extremities give it a fairly surfy feel, too.
While the Blade Optic 96 isn't a true park ski like the similarly wide Line Chronic, I think most skiers will be happy with it in the park. Its lower swing weight works well for quicker rail tricks, and it feels very versatile in terms of handling slower-speed jibs and bigger features that require more speed. Again, its tips and tails are easy to bend, but it has a very strong midsection that provides a lot of support at higher speeds. The Blade Optic 96 also skis switch quite well, and not just in the park. I also think this ski works well mounted 1-2 cm forward of its recommended line for those looking to get more freestyle performance out of it.
Luke: Yep, the Blade Optic 96 doesn't feel like a purely freestyle-oriented ski, but especially for freestyle skiers who value all-mountain versatility and high-speed stability, its overall level of playfulness is impressive. As someone who mostly just does little spins but tries to get in the air at every opportunity, I never felt like the Blade Optic 96 was "holding me back" from skiing as playfully as I wanted.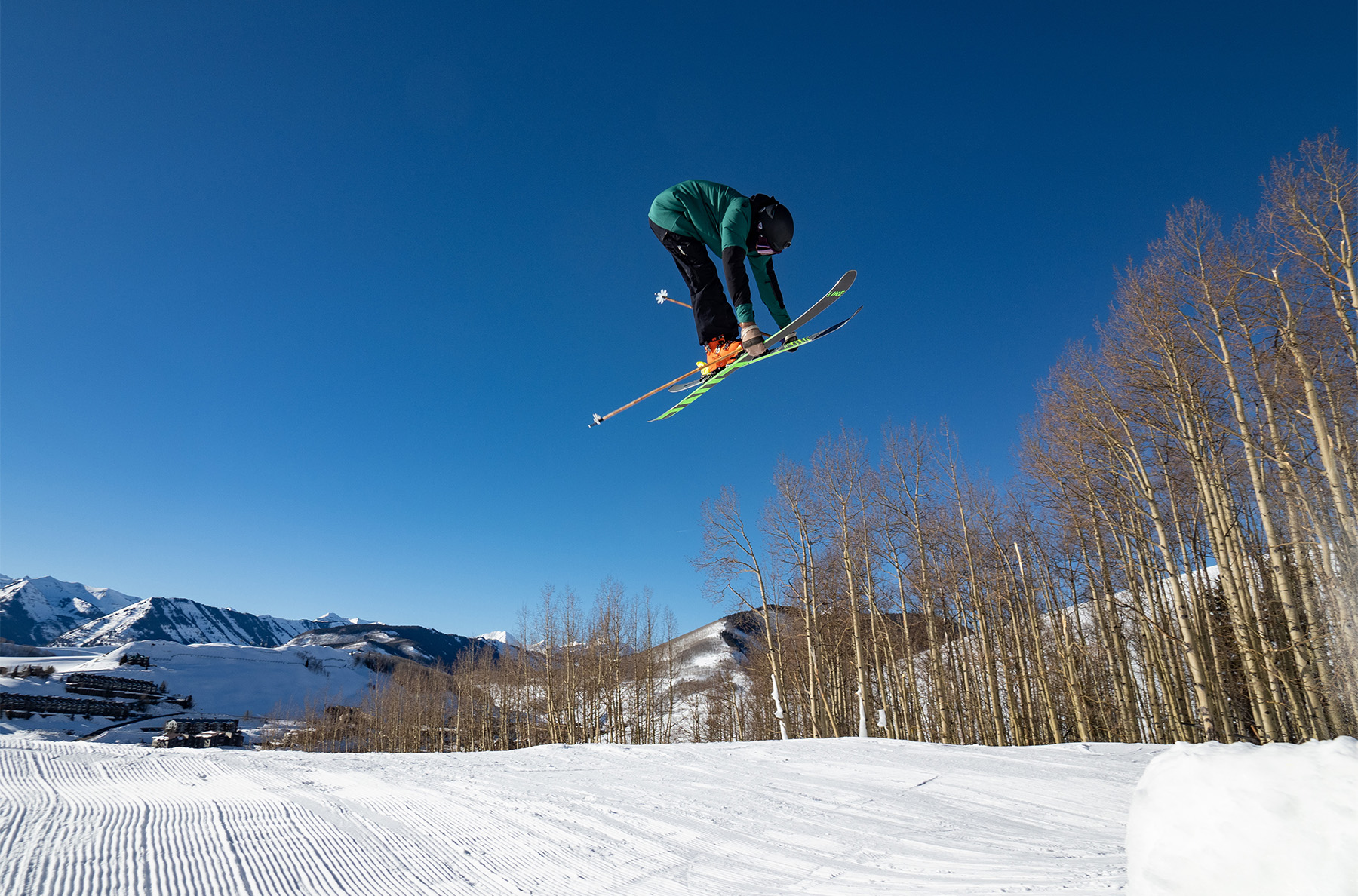 Who's It For?
Dylan: Like the rest of the Blade Optic line, the Blade Optic 96 blends traits from several categories of skis, and it could work well for a lot of different skiers out there. Skiers who feel stuck between more playful, agile, forgiving skis and more stable, damp, powerful ones have reason to consider the Blade Optic 96 because it has a versatile and unique combination of accessibility and stability.
Additionally, this could be a safe bet for beginner or intermediate skiers who aren't really sure what they want out of their all-mountain ski. This ski blends traits from all-mountain freestyle skis, more forgiving all-mountain skis, as well as more stable all-mountain skis, and the result is sort of a chameleon that can grow with you regardless of which path you choose.
Last, more advanced and expert skiers who appreciate a mix of playfulness, maneuverability, dampness, and stability in their skis should have the Blade Optic 96 on their radar. It can be skied quite hard all over the mountain, yet lets you take it easy as well as throw tricks and ski more playfully wherever you go.
I wouldn't recommend this to aggressive directional skiers looking to charge through any crud or chop they encounter, or skiers looking for something ultra quick and nimble with a really low swing weight. Apart from that, the Blade Optic 96 is definitely worth considering, so long as you aren't always skiing bulletproof ice or very deep snow.
Luke: Dylan did a great job of covering the (very wide-ranging) demographic for which I think the Blade Optic 96 is pretty ideal. It's not ideal for those who ski a ton of ice, prioritize stability and suspension above all else, or those who want the lightest, softest ski. But outside of folks in those extremes, a case can be made for many people to consider this ski. And while our goal with our reviews is always to outline who might enjoy a product, not whether we personally do, I'll add that this ski works exceptionally well for my individual skiing style and preferences, and I'm sure you'll be seeing it in my personal ski-quiver selections this fall.
Bottom Line
The Line Blade Optic 96 offers a rare mix of playfulness, stability, energy, and damping that make it difficult to fit into any one category. It can be pushed hard in a variety of conditions, yet it also lets you take it easy and slip and slarve your way down the hill. Directional skiers who aren't fans of stiff, demanding skis, as well as more playful skiers who like to ski all over the mountain can both get along well with the Blade Optic 96. Overall, this ski rarely feels out of place, and could work for an uncommonly large variety of skiers.
Deep Dive Comparisons
Become a Blister Member or Deep Dive subscriber to check out our Deep Dive comparisons of the Blade Optic 96 to see how it compares to the Line Blade Optic 104, Line Blade Optic 92, Line Sick Day 94, J Skis Masterblaster, Line Blade, Blizzard Rustler 9, Season Kin, Rossignol Blackops 98, Fischer Ranger 94 FR, K2 Mindbender 99Ti, Volkl M6 Mantra, Wagner Summit 97, Blizzard Bonafide 97, Salomon Stance 96, Atomic Maverick 95 Ti, Salomon QST 98, Black Crows Camox, Moment Commander 98, Renoun Endurance 98, Faction Dancer 2, Dynastar M-Free 99, Nordica Unleashed 98, Dynastar M-Pro 99, 4FRNT MSP 99, & Black Crows Serpo.
Rocker Profile - Decambered
Tail Profile - Decambered