Ski: 2022-2023 J Skis Masterblaster, 181 cm
Test Location: Mt. Crested Butte, Colorado
Days Skied: 13
Available Lengths: 167, 174, 181, 187 cm
Blister's Measured Tip-to-Tail Length (straight-tape pull): 178.8 cm
Stated Weight per Ski: 2170 grams
Blister's Measured Weight per Ski: 2128 & 2186 grams
Stated Dimensions: 133-99-118 mm
Blister's Measured Dimensions: 132.2-98.2-117.5 mm
Stated Sidecut Radius (181 cm): 18 meters
Measured Tip & Tail Splay (ski decambered): 63 mm / 36 mm
Measured Traditional Camber Underfoot: 2 mm
Core: maple/aspen + titanal (2 strips) + fiberglass laminate
Base: sintered 1.8 mm
Factory Recommended Mount Point: -7.7 cm from center; 81.7 cm from tail
Boots / Bindings: Tecnica Mach1 MV 130; Atomic Hawx Ultra 130; Head Formula RS 130 / Tyrolia Attack 13
[Note: Our review was conducted on the 21/22 Masterblaster, which returns unchanged for 22/23, apart from graphics.]

Intro
Back in 2016, Jason Levinthal introduced a new ski to his (back then) still-new brand, J Skis. Dubbed the Masterblaster, it was a directional metal-laminate all-mountain ski, but it was also pretty different from many other skis that fit that description. It quickly became a favorite of several of our reviewers (and lots of our Blister Members), primarily because of its combination of high-speed stability and lower-speed accessibility.
For the 2021-2022 season, J updated the Masterblaster, widening its waist from 96 mm to 99 mm, and tweaking the rocker profile to reportedly make the ski more maneuverable. The ski returns constructionally unchanged for 22/23, but there will be new graphic options available in August of 2022.
We skied the new Masterblaster throughout this past season, so now it's time to weigh in on how it slots into the current all-mountain market.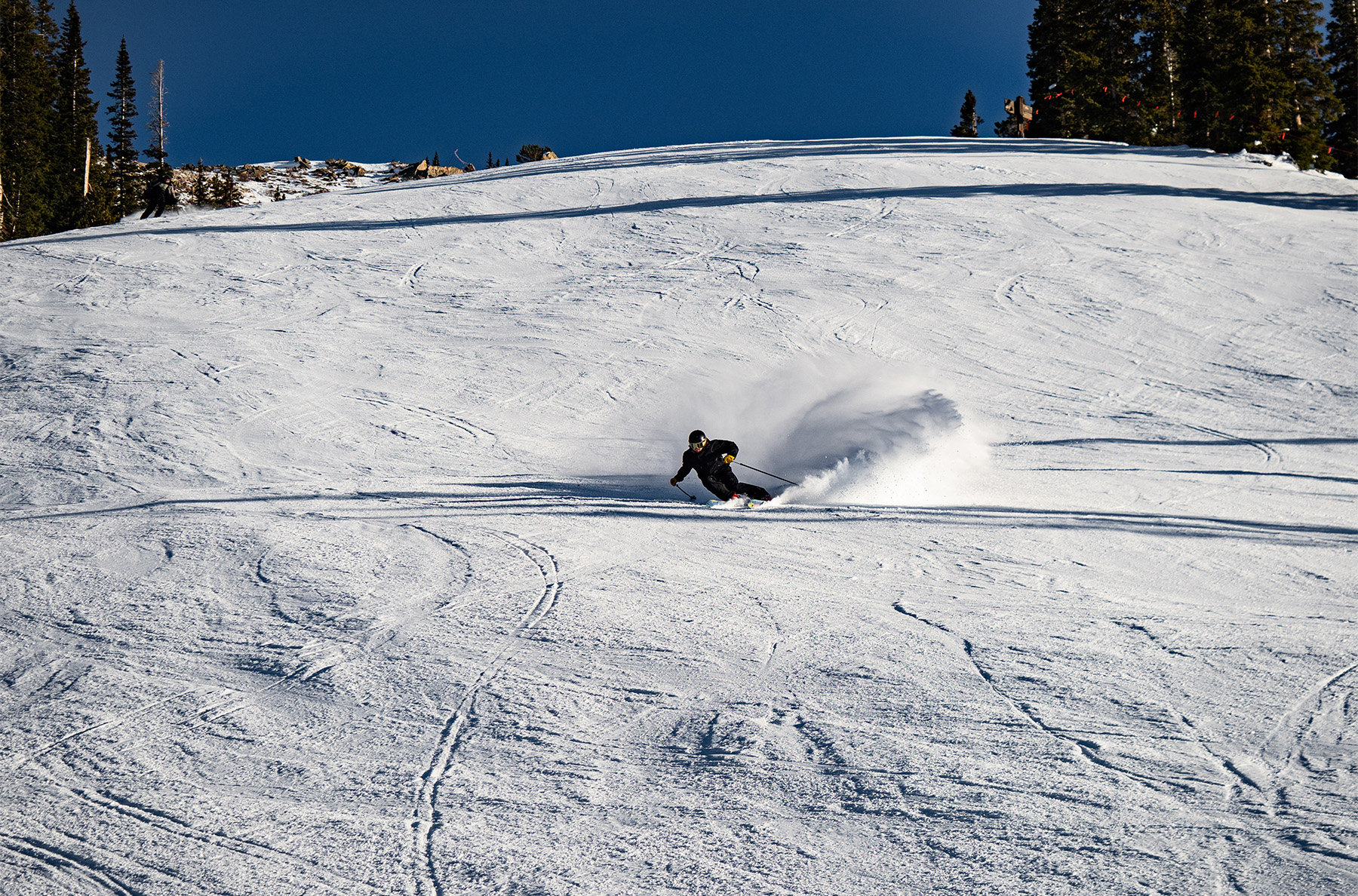 What J Skis says about the Masterblaster
"We redesigned our #1 selling all-mountain ski "The Masterblaster" this season with a new, wider 99mm waist and slightly increased rocker. The result nails the sweet spot of freeride performance by enhancing soft snow playfulness, while providing firm snow precision and responsiveness for ripping everything on the mountain without compromise. Our proven light titanal-laminate construction enables power and stability where you need it, while keeping swing-weight low and maneuverability high. This new ski has the same rebellious frontside attitude you've come to expect from "The Masterblaster," now with a bigger sweet spot that begs to take the road less traveled!"
Construction
In terms of the materials used, the Masterblaster hasn't changed a whole lot. It still features a primarily maple wood core (apart from aspen at the tips), fiberglass laminate, extra-thick 2.2.x2.5 mm edges, and extra-thick 1.8 mm sintered base. It also maintains the original's two titanal metal layers, which don't extend from edge to edge or tip to tail. Instead, they're fairly narrow strips that taper to a point near the tips and tails, with the goal of getting some of the stability and damping benefits of metal, without making the ski excessively sluggish or difficult to release from a turn.
Shape / Rocker Profile
The shape of the latest Masterblaster looks quite similar to the original, with a pretty moderate level of tapering at the tips and tails. The tail rocker line of the new ski looks quite similar to the previous version, but the new ski has a slightly deeper tip rocker line. For a directional ~100mm-wide ski, the Masterblaster's rocker lines are slightly on the deeper end of the spectrum, and it also has more tail splay than most directional skis.
Flex Pattern
Here's how we'd characterize the flex pattern of the Masterblaster:
Tips: 7
Shovels: 7.5-8
Front: 8-9.5
Underfoot: 10
Behind the Heel piece: 10-8.5
Tails: 8-7.5
The Masterblaster's flex pattern is fairly strong overall but not wildly stiff. It feels notably softer at the tips and tails than, say, the Volkl Mantra 102, but stronger than some of the more playful skis in its class, such as the Line Blade Optic 96.
Mount Point
At about -7.5 cm from true center, the Masterblaster's mount point is a bit closer to center than average for a directional ski, but not as far forward as most freestyle-oriented skis.
Weight
Like the original, the latest Masterblaster sits on the heavier end of the spectrum by today's standards, with our pair of the 181 cm length coming in at about 2160 grams per ski. That's quite similar to the weight of the original Masterblaster.
For reference, here are a number of our measured weights (per ski in grams) for some notable skis. Keep in mind the length differences to try to keep things apples-to-apples.
Now, onto how the Masterblaster performs on snow:
1446 & 1447 Line Vision 98, 178 cm (19/20–22/23)
1781 & 1795 Atomic Maverick 100 Ti, 180 cm (21/22–22/23)
1807 & 1840 Atomic Bent 100, 188 cm (18/19–22/23)
1808 & 1823 Shaggy's Ahmeek 95, 180 cm (21/22)
1810 & 1828 Armada Declivity 92 Ti, 180 cm (20/21–22/23)
1816 & 1819 Head Kore 99, 184 cm (22/23)
1863 & 1894 Blizzard Rustler 9, 180 cm (18/19–22/23)
1883 & 1906 Season Aero, 180 cm (20/21–21/22)
1900 & 1908 Atomic Maverick 95 Ti, 180 cm (21/22–22/23)
1901 & 1902 Renoun Endurance 98, 184 cm (21/22–22/23)
1925 & 1934 Black Crows Camox, 186.5 cm (19/20–22/23)
1933 & 1943 Norse Enduro, 188 cm (20/21–21/22)
1935 & 1962 Fischer Ranger 96, 180 cm (22/23)
1936 & 2013 Salomon Stance 96, 182 cm (20/21–22/23)
1938 & 2003 Nordica Unleashed 98, 186 cm (22/23)
1966 & 1973 Liberty Origin 96, 187 cm (18/19–20/21)
1976 & 2028 Parlor Cardinal Pro, 182 cm (19/20–21/22)
1981 & 1991 Faction Dancer 2, 182 cm (22/23)
1985 & 2006 Parlor Cardinal 100, 185 cm (16/17–21/22)
1998 & 2044 4FRNT MSP 99, 181 cm (17/18–22/23)
1999 & 2060 Line Blade, 181 cm (20/21–22/23)
2010 & 2023 Moment Commander 98, 182 cm (20/21–22/23)
2024 & 2112 Dynastar M-Free 99, 185 cm (21/22–22/23)
2043 & 2089 Volkl M6 Mantra, 177 cm (21/22–22/23)
2054 & 2063 Salomon QST 98, 189 cm (21/22–22/23)
2077 & 2096 Line Blade Optic 96, 184 cm (22/23)
2085 & 2120 K2 Mindbender 99Ti, 184 cm (22/23)
2089 & 2105 Nordica Soul Rider 97, 185 cm (15/16–21/22)
2115 & 2149 J Skis Masterblaster, 181 cm (16/17–20/21)
2128 & 2186 J Skis Masterblaster, 181 cm (21/22–22/23)
2165 & 2186 Wagner Summit 97, 182 cm (21/22–22/23)
2178 & 2195 Volkl M6 Mantra, 184 cm (21/22–22/23)
2218 & 2244 Volkl Mantra 102, 184 cm (19/20–21/22)
2256 & 2284 Nordica Enforcer 94, 186 cm (20/21–22/23)
2281 & 2284 Blizzard Bonafide 97, 177 cm (20/21–21/22)
2326 & 2336 Nordica Enforcer 100, 186 cm (20/21–22/23)
2344 & 2367 J Skis Masterblaster, 187 cm (16/17–20/21)
Now, onto how the Masterblaster performs on snow:
FULL REVIEW
Groomers
Luke Koppa (5'8", 155 lbs / 173 cm, 70 kg): Overall, the Masterblaster is an easy-going, predictable ski on piste, but also one that's pretty comfortable at higher speeds — a somewhat rare combination.
When it comes to turn initiation, I'd call the Masterblaster fairly "subdued." It doesn't eagerly pull you across the fall line the moment you lean into the front of your boots, but it does predictably begin a carved turn the harder you drive it. Somewhat similar to the J Skis Fastforward, I felt like most of the turn initiation and edge hold of the Masterblaster came from the forebody and middle of the ski, rather than way out at the shovels. Once I got used to that, I found myself being able to carve it fairly hard on firm groomers, but it definitely doesn't feel as precise and powerful as some stiffer, more subtly rockered skis like the Volkl M6 Mantra and K2 Mindbender 99Ti. Still, you can make a pretty wide variety of turn shapes on the Masterblaster, and it's also perfectly happy to slide / skid turns when you're feeling less inclined to commit to a carved turn on firm, scraped-off sections of a run.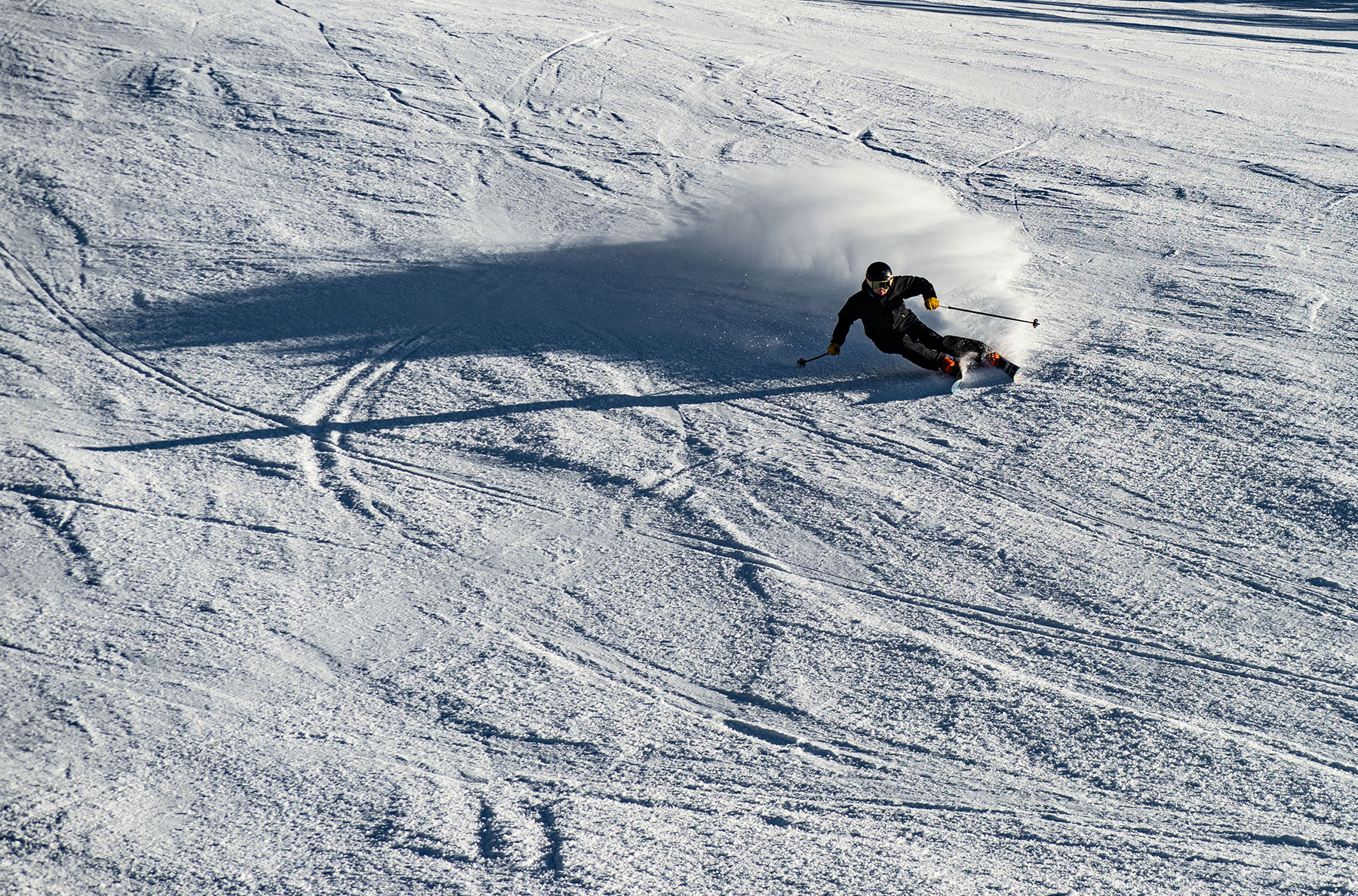 Similar to the original Masterblaster, I wouldn't recommend the current version to those who prioritize carving performance on icy slopes, but it feels comfortable and intuitive in most other groomed-snow scenarios. In particular, it shines when the groomers are littered with piles of pushed-around snow, where it doesn't get deflected very easily, but remains easy to feather and release from a turn when needed.
Dylan Wood (5'10", 155 lbs / 178 cm, 70 kg): I agree with everything Luke said here, and his first point really stands out as a general theme for the Masterblaster — it's a predictable, pretty forgiving ski that is also stable and can be skied really hard.
Going back to piste-specific thoughts on the Masterblaster, it stood out as a calm, intuitive ski on groomers. It doesn't provide really engaging, instant turn initiation from the shovels; rather, it eases its way into a turn and can be bent into tighter, more aggressive carved turns with force and higher edge angles. As Luke mentioned, the Masterblaster is also quite easy to release from a carved turn when needed, and is happy to slarve and slide its way down a groomer if you don't have the space or skills to make a carved turn.
Moguls, Trees, & Tight Terrain
Luke: For how capable it can be at high speeds, the Masterblaster is surprisingly easy at slow ones. Its tails don't take much effort to release and pivot through tight lines; its flex pattern feels supportive yet forgiving; and its swing weight isn't as high as you'd expect when looking at its on-paper weight.
There are plenty of lighter skis that still feel quicker when making back-to-back turns where you're rapidly flicking them side to side, but I didn't feel like the Masterblaster's weight was holding me back from trying to ski it with that sort of dynamic style (which is not the case for many skis I've skied that weigh roughly the same as the Masterblaster). It's also a very adaptable ski in terms of stance, which I really appreciate in tight terrain; I think it feels best when driving its shovels with a fairly forward stance, but it still feels intuitive when skiing it more upright and centered. That equates to a big sweet spot, which is great for moguls and trees — whether you're skiing them slowly and conservatively or pushing your limits.
Like the original Masterblaster, the new one still stands out because it offers very good suspension / damping while also being pretty maneuverable and even "playful." In this ~100 mm all-mountain category, you often can either get a ski that's quite damp and planted or one that's very maneuverable and forgiving. The Masterblaster gives you some of both, and this is particularly nice when those tight mogul and tree lines are also really firm — it does a far better job of absorbing and muting out harsh snow than most of the lighter, quicker alternatives. At the same time, the latest Masterblaster also feels a bit quicker, looser, and generally more maneuverable than its predecessor.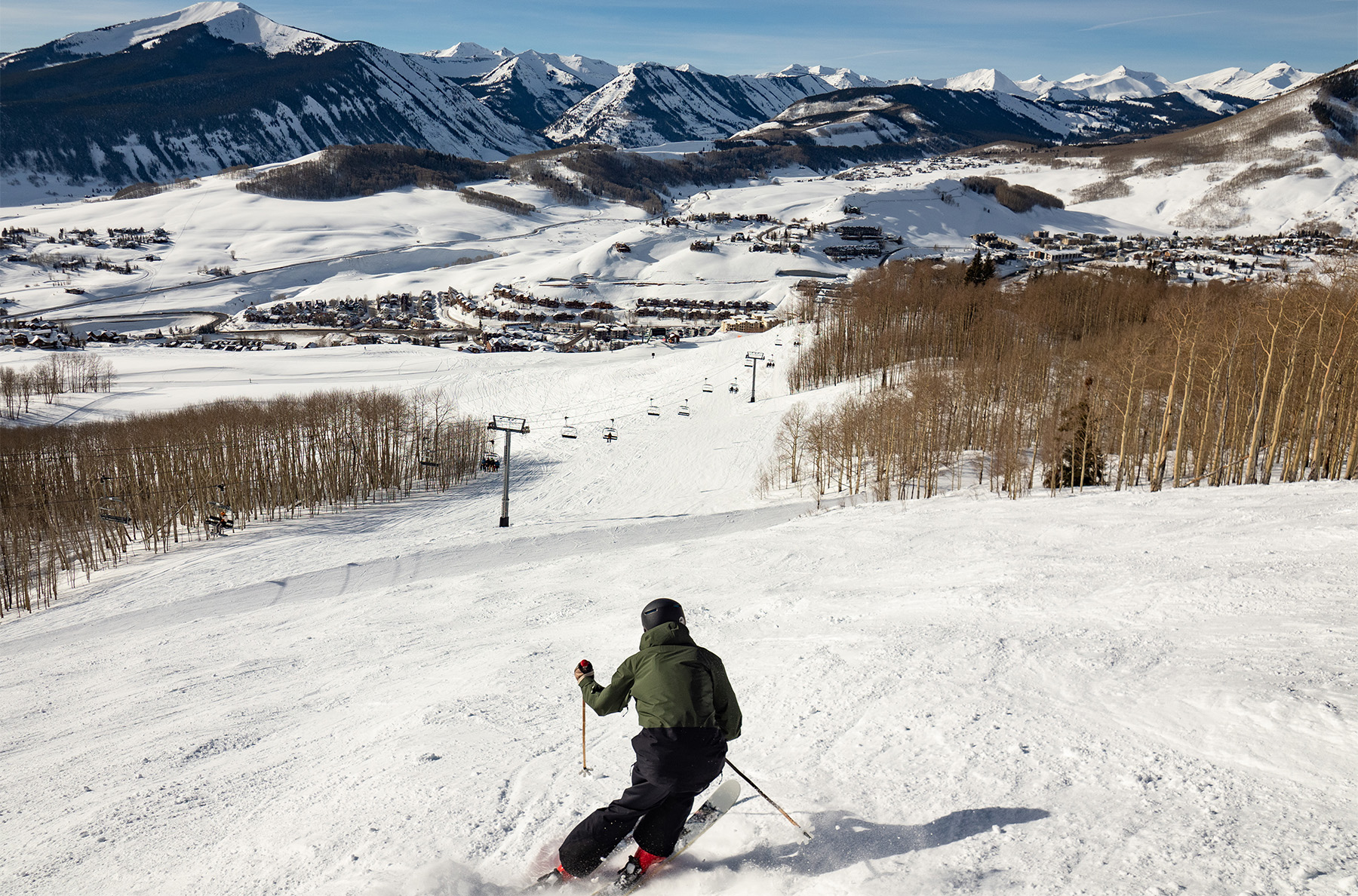 Dylan: The main takeaway from the Masterblaster continues in this section; the Masterblaster is impressively easy to ski and forgiving for how stable and damp it is. It's pretty easy to slide through tight terrain and doesn't demand perfect technique. Despite being on the heavier side, it isn't solely comfortable at high speeds and is uncharacteristically easy to pivot around at slower speeds.
Don't get me wrong, though, the Masterblaster is still a heavier ski that takes a bit more muscle to maneuver through tight terrain than, say, a lighter option like the Salomon QST 98. It also doesn't produce that much energy when bent, thus forcing you to do most of the work or utilizing natural features to pick it off the ground.
Soft Chop
Luke: In soft snow where you can still feel the firm base underneath, the Masterblaster is a ton of fun. The slightly looser ride of this latest version makes the ski feel even surfier in soft conditions, but it maintains much (but not quite all) of the original's suspension and stability, meaning that you can ski it in a variety of ways in soft, cut-up snow. Like to make a lot of turns and slash every patch of untouched snow? Go for it. Want to make some bigger, faster turns? It's game for that, too.
Now, the Masterblaster doesn't quite match the high-speed composure of some of the class leaders around this width, but it's not far off — and it's more maneuverable than pretty much all of them. If you appreciate how heavier skis don't get knocked around a ton in choppy conditions but you also value a ski that's easy to shut down, lets you ski centered, and feels fairly balanced in the air, the Masterblaster remains one of your top options in the ~100mm-wide category.
Dylan: I agree, the Masterblaster feels versatile and at home in soft chop. Its heftier weight keeps it composed and feeling relatively smooth when skiing fast through patches of cut-up snow. With just a little pressure on its shovels, it's also easy to throw sideways and dump speed when things start to get out of control.
Firm Chop / Crud
Luke: Echoing what I've already said a few times, the Masterblaster's nice suspension and easy going ride once again make it stand out when conditions are rough and harsh. Compared to lighter skis, the Masterblaster doesn't transmit nearly as much of the vibrations created by skiing on firm, inconsistent snow — equating to a calmer, more planted, and generally more enjoyable ride quality. You don't have to be skiing really fast to appreciate this, though; I think skiers of almost all skill levels could appreciate the Masterblaster's smooth suspension when conditions are nasty.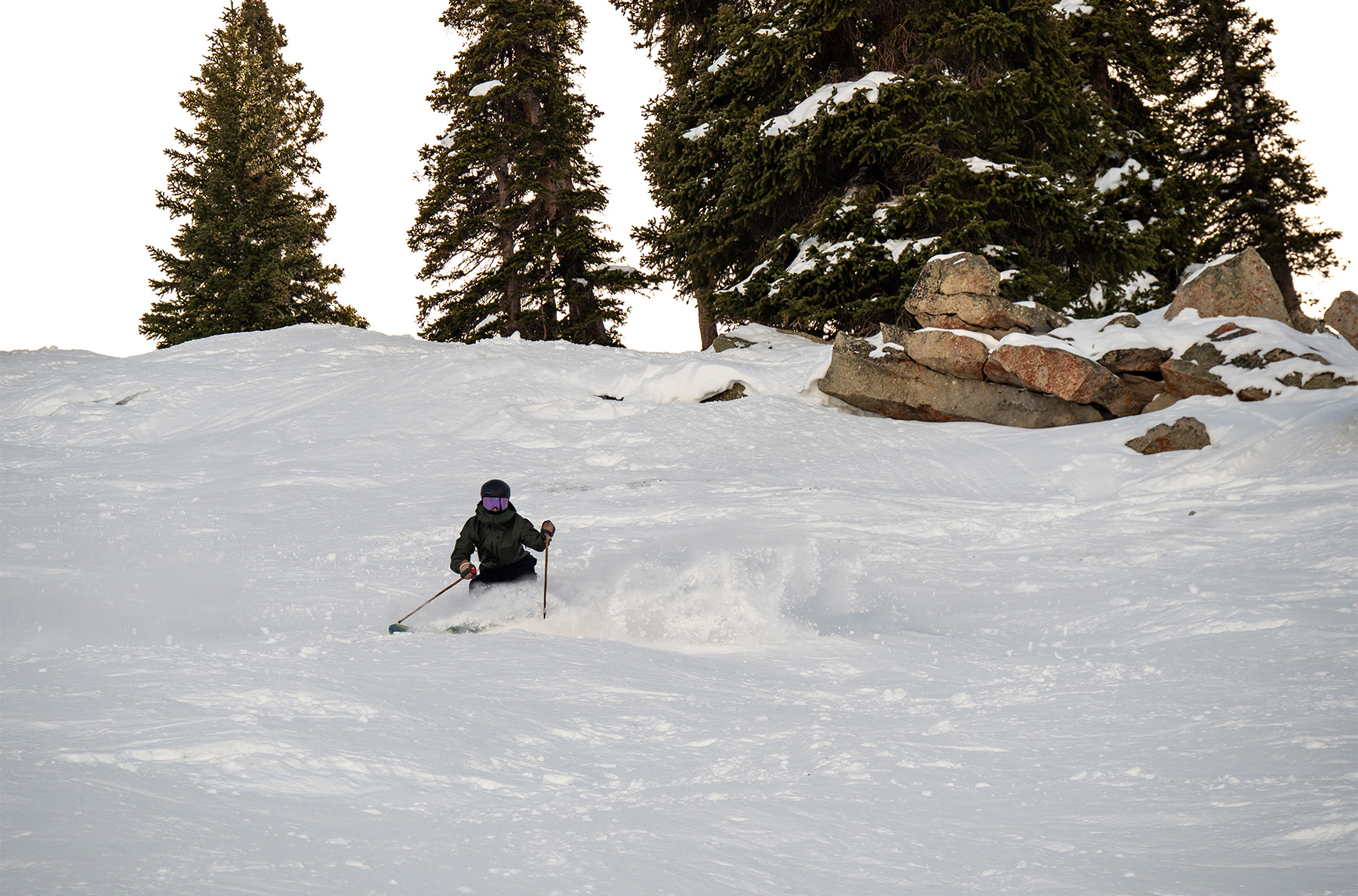 Now, on the upper end of the skier skill-level spectrum, some aggressive directional skiers will likely notice that the Masterblaster is not a super stiff or precise ski. So if you know you like very heavy, directional, strong skis (e.g., Volkl Mantra 102) because of how composed they stay when driving them hard through rough conditions, know that the Masterblaster isn't quite at that level. It's worth noting that Jonathan Ellsworth, who falls into that category of skiers, still gets along very well with the Masterblaster. But I mostly want to note that the Masterblaster doesn't magically offer the best of all worlds; you sacrifice a bit of high-speed stability and edge hold in exchange for its accessible, maneuverable ride at slow speeds.
Dylan: If you think Luke and I are getting repetitive by mentioning the Masterblaster's combination of great suspension and accessible performance, you're not wrong, but I hope you get the point by now. The Masterblaster offers a smooth, predictable ride through firm and variable snow, and will allow you to ski at high speeds without needing the technique or experience that is sometimes required to do so on other similarly stable/damp skis. As Luke mentioned, this isn't without some sacrifice, as the Masterblaster isn't a very precise ski with terrific edge hold.
Playfulness
Luke: I'd call the Masterblaster a very playful directional ski. It still prefers a forward, driving stance and doesn't feel like it was designed with the explicit purpose of freestyle performance, but it's generally more playful than many directional skis in its class. It's a fairly loose ski that's easy to slash sideways, it produces a bit of energy when you bend it, it doesn't feel super unwieldy in the air, and it even skis switch pretty well. J makes better skis for those who prioritize freestyle performance above all else, but the Masterblaster treads the line between more traditional directional skis and more center-mounted freestyle ones, to the point where it could work for a wide range of skiers who don't want to feel relegated to one end of that spectrum.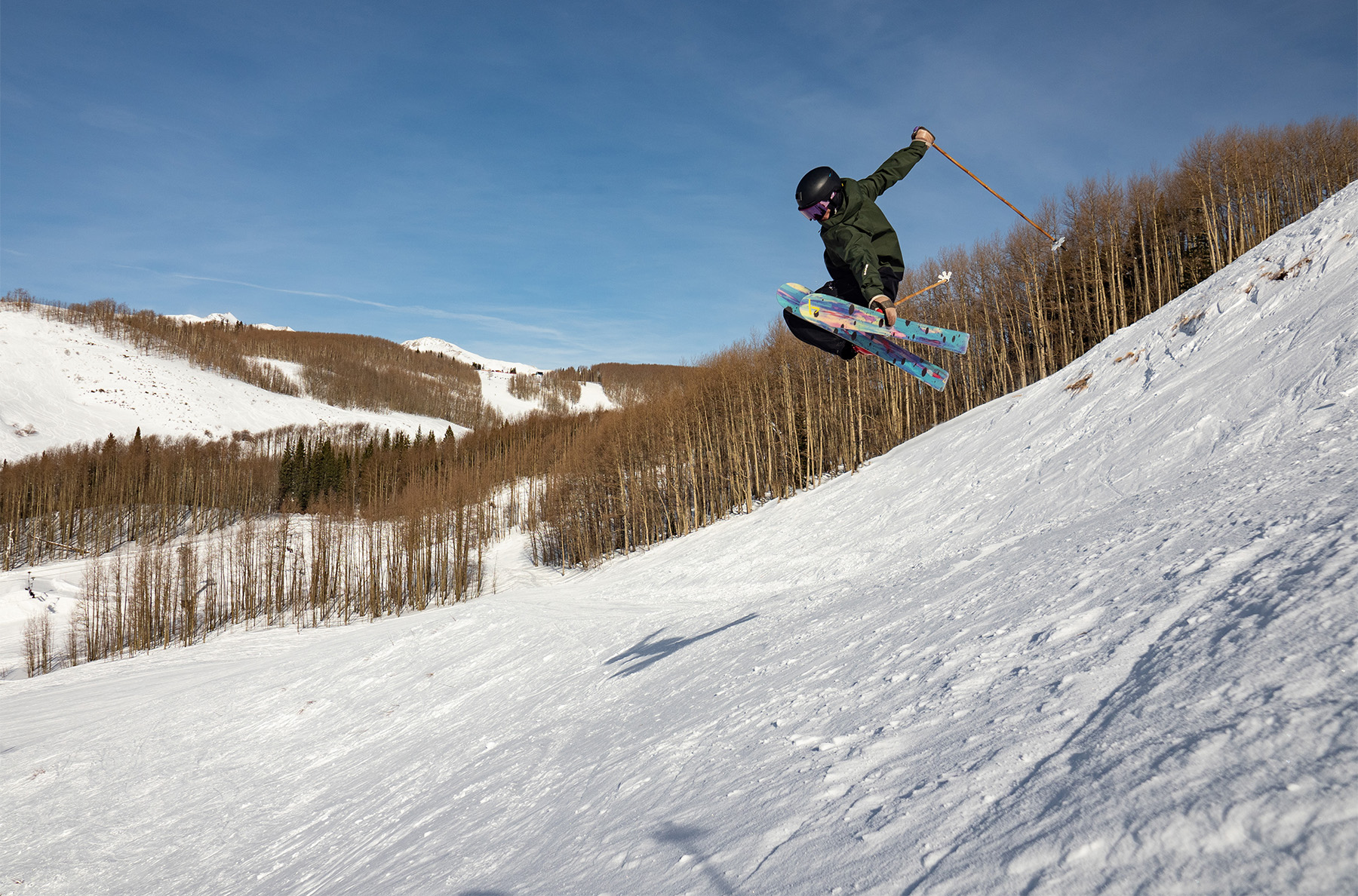 Dylan. Yep, playful directional. The Masterblaster is somewhat balanced in the air, leaving spins and flips still on the table. It's also pretty easy to slash and skis switch about as well as any casual switch skier could hope for (i.e., fine for landing and cruising switch, but not ideal for park skiers who spend almost as much time skiing backward as they do forward). I'm hesitant to call this an energetic ski, but it also isn't a dead one; it'll still give you a little bit of pop if you load up its shovels or tails.
Who's It For?
Luke: As is common for skis in the ~100mm-wide all-mountain category, the Masterblaster could potentially work for a wide range of skiers. But I think its potential demographic is arguably a bit larger than most skis around the same width.
On one hand, the Masterblaster offers better suspension and high-speed stability than many skis in its class, but on the other, it's also on the more maneuverable and playful end of the spectrum for a directional ski. It's not going to be the best choice for those who want the most stable, most precise, most playful, or most nimble ski. However, its ability to do a lot of seemingly contradictory things is very impressive. So if you're looking for a do-everything all-mountain ski and feel caught between heavy, stiff, demanding skis and lighter, softer ones, the Masterblaster could be a great ski for bridging the gap. I think it'd also be a great choice for those who have been curious about the benefits of a heavier, more damp ski, but who don't want something that's really sluggish and difficult to ski. It could also be ideal for those who have been on more traditional, directional, heavy skis and who are looking to try something a bit more maneuverable and playful, without seriously compromising suspension and stability.
Dylan: Luke summarized this nicely. The Masterblaster incorporates traits from a fairly wide spectrum of skis that make it a very appealing option for folks who feel stuck in the middle of said spectrum. And if you're still not sure if this is a viable option for you, our accompanying Deep Dive article with comparisons to 20+ other skis in its class should help, or you could become a Blister Member, send us a note through the Blister Member Clubhouse, and we'll work one-on-one with you to figure out the ideal ski for you.
Bottom Line
The latest J Skis Masterblaster continues to stand out because of its rare combination of suspension, stability, and maneuverability. It's a ski that doesn't need to be skied very aggressively to be enjoyable, but that certain skiers will be able to ski very hard when they feel like it.
Deep Dive Comparisons
Become a Blister Member or Deep Dive subscriber to check out our Deep Dive comparisons of the Masterblaster to see how it compares to the previous J Skis Masterblaster, J Skis Fastforward, Volkl Mantra 102, Blizzard Bonafide 97, Black Crows Camox, 4FRNT MSP 99, K2 Mindbender 99Ti, Faction Dancer 2, Salomon QST 98, Volkl M6 Mantra, Nordica Enforcer 100, Dynastar M-Free 99, Atomic Maverick 100 Ti, Dynastar M-Pro 99, Wagner Summit 97, Fischer Ranger 102 FR, Moment Commander 98, Renoun Endurance 98, Fischer Ranger 102, Line Blade Optic 96, Salomon Stance 102, & Salomon Stance 96.
21/22 "Upstream" Top Sheet