Ski: 2022-2023 Renoun Endurance 98, 184 cm
Test Location: Mt. Crested Butte, Colorado
Days Skied: 8
Available Lengths: 163, 170, 177, 184 cm
Blister's Measured Tip-to-Tail Length (straight-tape pull): 182.2 cm
Stated Weight per Ski: 1915 grams
Blister's Measured Weight per Ski: 1901 & 1902 grams
Stated Dimensions: 134-98-119 mm
Blister's Measured Dimensions: 133.2-96.8-118.4 mm
Stated Sidecut Radius (184 cm): 18.0 meters
Measured Tip & Tail Splay (ski decambered): 68.5 mm / 29.5 mm
Measured Traditional Camber Underfoot: 4.5 mm
Core Materials: aspen + 6 "VibeStop" channels + titanal (2 partial layers) + carbon & fiberglass laminate
Base: sintered Durasurf 4001
Factory Recommended Mount Point: -10.1 cm from center; 81.0 cm from tail
Boots / Bindings: Tecnica Mach1 MV 130; Tecnica Cochise Pro W; Nordica Promachine 115 W / Marker Griffon
[Note: Our review was conducted on the 21/22 Endurance 98, which returns unchanged for 22/23.]

Intro
A little over four years ago, we tested a ski that, frankly, didn't make any sense. The original Renoun Endurance 98 weighed the same as many touring skis, but we found ourselves being able to ski it just as hard as some of the heaviest, most stable skis in its class (at least in certain scenarios). And while we're always wary of attributing too much of a ski's on-snow performance to individual aspects like the core materials, it was clear that Renoun's truly unique, non-Newtonian "VibeStop" construction was what made that ski so different from anything else we had ever skied.
Four years later, we've had the chance to test many more Renoun skis, with similarly interesting results. For the 21/22 season, Renoun updated their do-everything Endurance 98, and a few of us spent time on it this season to see how the latest iteration of the ski that started it all compared to the current market.
Construction
The main thing that makes all of Renoun's skis stand out is the inclusion of Renoun's patented "VibeStop" material, which is a non-Newtonian polymer called Polydimethylsiloxane. In theory, it's similar to the D30 material used in a lot of mountain bike pads; it is flexible when it's not subjected to impacts / vibrations, but stiffens considerably when subjected to a certain level of force. I'm no engineer, but if you want to get the full story with more detail, I recommend listening to episode 67 of our Blister Podcast, where we sat down to get the rundown from Renoun founder, Cyrus Schenck.
VibeStop aside, the latest Endurance 98 features an aspen wood core, two partial layers of titanal metal, and a carbon / fiberglass laminate. It's also got a sintered Durasurf 4001 base, 1.8 mm edges, and is made in Canada.
The latest 21/22–22/23 Endurance 98 features several notable changes, relative to the previous 18/19–20/21 version, including construction. The newer ski has 6 "channels" of VibeStop material, whereas the old one had 8; the old version also only had titanal under the binding area, and did not feature carbon fiber in its construction.
Shape / Rocker Profile
The latest Endurance 98 still looks a good bit like the original, but with a few tweaks. First, its tips and tails aren't quite as tapered / pointed as the previous generations; I'd say its shape is now pretty "average" in terms of the level of tapering. Its rocker lines are also a bit deeper; they're not as deep as, say, the Salomon QST 98, but the Endurance 98 is a bit more rockered overall than several of the directional skis in its class. The Endurance 98 still has camber underfoot, and this latest version has a bit more camber than previous generations.
Flex Pattern
Here's how we'd characterize the flex pattern of the Endurance 98:
Tips: 6.5
Shovels: 6.5
In Front of Toe Piece: 7-9.5
Underfoot: 10
Behind the Heel Piece: 10-8.5
Tails: 8-7.5
The flex pattern of the Endurance 98 — at least when hand-flexing it — is pretty moderate, with fairly soft tips and shovels that ramp up slowly as you move to the middle of the ski, and a tail that's stiffer than the shovels, but not super stiff overall. However, one of the things that Renoun's VibeStop material does is make the ski's flex pattern dynamic — it changes depending on how much force is being applied to it. Below, we'll get into how that feels on snow.
Sidecut Radius
Another area of change between the new and old Endurance 98 is sidecut radius. In the 184 cm lengths we've tested, the latest Endurance 98's stated sidecut radius is 18 meters, whereas the previous version's was 19 meters (and the original's was 22 m).
Mount Point
The previous Endurance 98 skis all had fairly forward mount points (around -7 cm from true center), but the newest version has a more traditional, directional mount point of about -10 cm from true center.
Weight
The Endurance 98 has always been light for its size, especially compared to resort / lift-access-oriented skis. The newest version still follows that trend, but to a lesser degree; at a little over 1900 grams per ski for the 184 cm length, the Endurance 98 is still fairly light (especially compared to other metal-laminate skis), but it's not as absurdly light as its predecessors.
For reference, here are a number of our measured weights (per ski in grams) for some notable skis. Keep in mind the length differences to try to keep things apples-to-apples.
1446 & 1447 Line Vision 98, 178 cm (19/20–22/23)
1734 & 1750 Renoun Endurance 98, 184 cm (18/19–20/21)
1781 & 1795 Atomic Maverick 100 Ti, 180 cm (21/22–22/23)
1807 & 1840 Atomic Bent 100, 188 cm (18/19–22/23)
1808 & 1823 Shaggy's Ahmeek 95, 180 cm (21/22)
1810 & 1828 Armada Declivity 92 Ti, 180 cm (20/21–22/23)
1816 & 1819 Head Kore 99, 184 cm (22/23)
1863 & 1894 Blizzard Rustler 9, 180 cm (18/19–22/23)
1883 & 1906 Season Aero, 180 cm (20/21–21/22)
1900 & 1908 Atomic Maverick 95 Ti, 180 cm (21/22–22/23)
1901 & 1902 Renoun Endurance 98, 184 cm (21/22–22/23)
1925 & 1934 Black Crows Camox, 186.5 cm (19/20–22/23)
1933 & 1943 Norse Enduro, 188 cm (20/21–21/22)
1935 & 1962 Fischer Ranger 96, 180 cm (22/23)
1936 & 2013 Salomon Stance 96, 182 cm (20/21–22/23)
1938 & 2003 Nordica Unleashed 98, 186 cm (22/23)
1966 & 1973 Liberty Origin 96, 187 cm (18/19–20/21)
1976 & 2028 Parlor Cardinal Pro, 182 cm (19/20–21/22)
1981 & 1991 Faction Dancer 2, 182 cm (22/23)
1985 & 2006 Parlor Cardinal 100, 185 cm (16/17–21/22)
1998 & 2044 4FRNT MSP 99, 181 cm (17/18–22/23)
1999 & 2060 Line Blade, 181 cm (20/21–22/23)
2010 & 2023 Moment Commander 98, 182 cm (20/21–22/23)
2024 & 2112 Dynastar M-Free 99, 185 cm (21/22–22/23)
2043 & 2089 Volkl M6 Mantra, 177 cm (21/22–22/23)
2054 & 2063 Salomon QST 98, 189 cm (21/22–22/23)
2077 & 2096 Line Blade Optic 96, 184 cm (22/23)
2085 & 2120 K2 Mindbender 99Ti, 184 cm (22/23)
2089 & 2105 Nordica Soul Rider 97, 185 cm (15/16–21/22)
2128 & 2186 J Skis Masterblaster, 181 cm (21/22–22/23)
2165 & 2186 Wagner Summit 97, 182 cm (21/22–22/23)
2178 & 2195 Volkl M6 Mantra, 184 cm (21/22–22/23)
2218 & 2244 Volkl Mantra 102, 184 cm (19/20–21/22)
2256 & 2284 Nordica Enforcer 94, 186 cm (20/21–22/23)
2281 & 2284 Blizzard Bonafide 97, 177 cm (20/21–21/22)
2311 & 2342 K2 Mindbender 99Ti, 184 cm (19/20–21/22)
Now, onto how the Endurance 98 performs on snow:
FULL REVIEW
A whole bunch of folks skied the Endurance 98 back at our Blister Summit, and then we continued spending time on it throughout the remainder of the season to see how it performed in a wider range of conditions. Here, Kara Williard and I will each weigh in; Dylan Wood also skied on it, but just on the day we were shooting photos, and Jonathan Ellsworth also got a day on it at the tail end of the season, so I'll note a few of his main takeaways.
Groomers
Luke Koppa (5'8", 155 lbs / 173 cm, 70 kg): ~98mm-wide all-mountain skis can vary a lot when it comes to groomer performance, with some being incredible, and others being pretty lackluster. In my experience, the Endurance 98 falls somewhere in the middle.
On groomers where it's somewhat easy to get an edge in — think somewhat fresh mid-winter corduroy or just before the snow starts to get slushy on a warm spring day — the Endurance 98 performs quite well. It doesn't take a ton of effort to initiate a turn and get it on edge, it can carve a wide variety of turn shapes, and it even produces some energy coming out of a hard carve.
On very firm slopes, like scraped-off rollovers, I had a harder time really trusting the Endurance 98 enough to really try to properly carve it. While it initiates turns more readily than the previous 18/19–20/21 version, the current Endurance 98 still doesn't dig into really firm, smooth snow as well as some less rockered, less tapered skis (e.g., Volkl M6 Mantra). Instead, when encountering some sketchy spot, I'd just casually slide and skid my turns on the Endurance 98, until I could find some more reliable snow. If you plan on carving a lot of groomers that are bordering on icy, Renoun's Atlas 80 is the ski to use, and the narrower Endurance 88's edge hold is also a bit better than its wider sibling.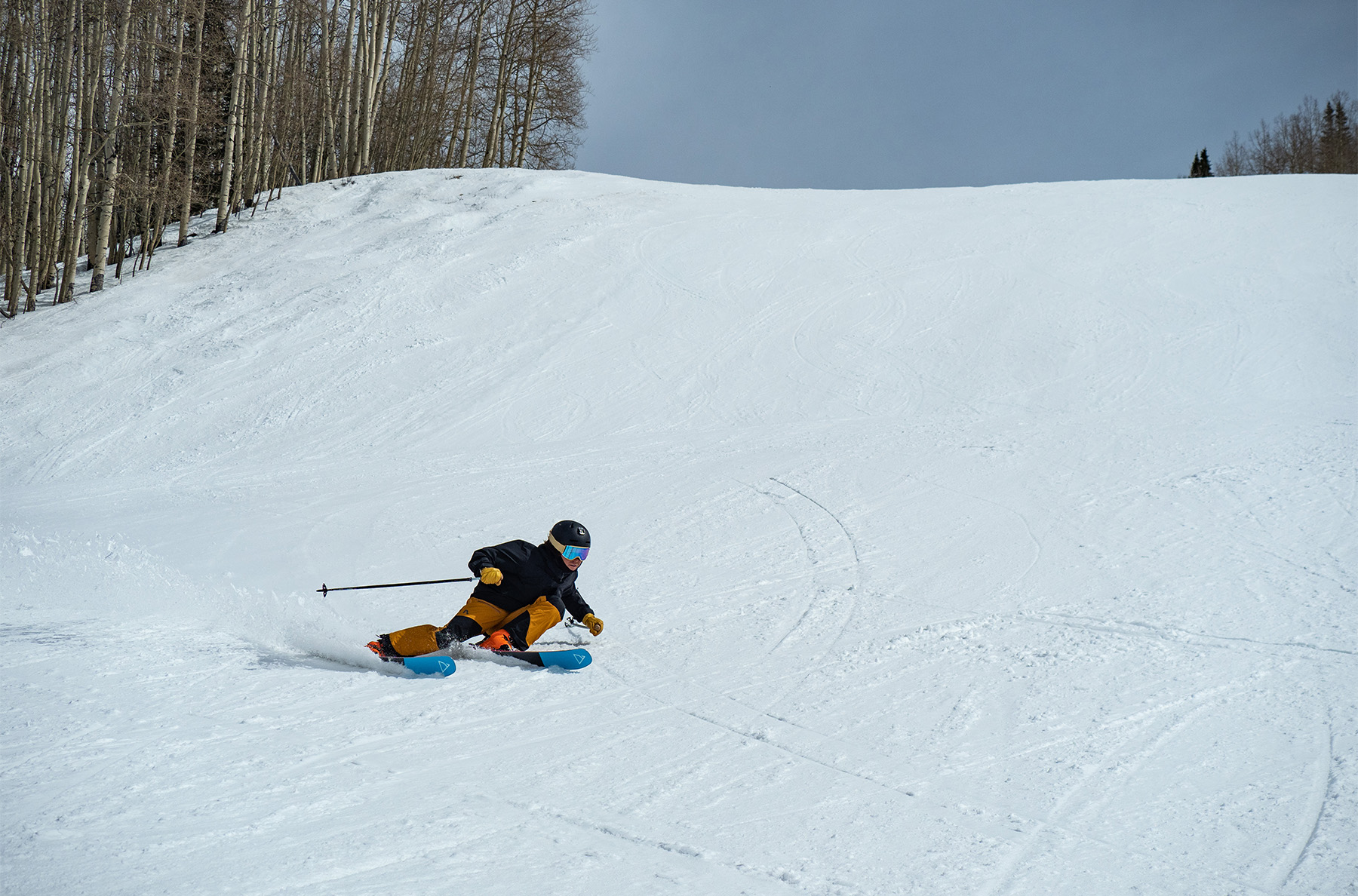 It's worth highlighting that the latest Endurance 98 is notably better than the previous version when it comes to (1) turn-shape versatility and (2) energy / pop when exiting a turn. The old ski could feel pretty one-dimensional and "dead" on piste, but I didn't feel that was the case with the newer ski.
Kara Williard (5'9", 167 lbs / 175 cm, 75.7 kg): Luke hit all the main points here, the key one being that grippy groomers are where I found myself most trusting of the Endurance 98. Overall, I found the Endurance 98 to be pretty forgiving when it comes to smearing turns, switching up turn size, or skiing more slowly. And while it didn't feel overly soft or chattery, or super planted and stable, it is fairly easy to roll in and out of turns while feeling pretty smooth. The Endurance 98 is a pretty lively ski, especially on conditions where I could lay it hard on edge, where it was willing to propel me from one turn to the next.
Compared to several of the women-specific skis in the category, such as the 170 cm Volkl Secret 96 and 170 cm Blizzard Black Pearl 97, the 184 cm Endurance 98 doesn't require its shovels to be driven nearly as hard, but it also doesn't feel as reliable or confidence-inspiring on icy or skied-off groomers, where I found myself reluctant to really drive it at an aggressive edge angle. However, with its overall ease of use, willingness to let me play around with turn shapes, and energetic, lively nature, I had plenty of rewarding groomer turns on the Endurance 98.
Moguls, Trees, & Tight Terrain
Luke: Overall, the Endurance 98 feels like a very maneuverable ski — it's got a pretty low swing weight, it's pretty easy to release and pivot, and it's fairly forgiving. There are some skis that feel looser / more inclined to slide around (e.g., Salomon QST 98), but there are a whole lot more that feel much more sluggish, more locked in, and/or more punishing of backseat skiing than the Endurance 98.
Like other Renoun skis I've used, there have been a few instances where I was skiing very fast and got caught off-guard by a random mogul at the last second, and the Endurance 98's tail felt stiffer / more punishing than expected. Now, these were quite rare and all occurred when I was trying to ski some really tight, awkward bump lines (e.g., Crystal at Mt. CB) faster than I realistically can, but that's one complexity you might deal with when skiing a ski with a reactive, non-Newtonian construction. FWIW, Jonathan's main takeaway during his time on the Endurance 98 was that it just felt very "normal" and intuitive, and he spent much of his day on it doing repeat laps down moguls. So I don't think most people will need to worry about the Endurance 98 feeling punishing in bumps, especially if you rarely ski super tight moguls with no clear line through them.
Those instances aside, I really enjoyed skiing the Endurance 98 with a dynamic style; its low swing weight and fairly energetic flex pattern cater well to quick, on-the-fly adjustments, as does its fairly loose tail. And the upside to its unique construction is that I never once felt like it was lacking in support when I ended up slamming the shovels into the top of an unforeseen bump or trough, yet it also did a good job of absorbing those impacts when skiing more slowly. And on that note, the Endurance 98 also felt perfectly happy skiing bumps with a slower, more controlled style. It does prefer a more traditional, forward stance, rather than pivoting it with a centered, upright stance, but it by no means feels uncontrollable the moment you lay off the shovels.
Kara: The first word that came to mind as I took the Endurance 98 to moguls and trees was "nimble." It is a super quick and maneuverable ski, making it one of my favorite bump and tree skis of the season (despite being longer than most of the other skis I ski). The Endurance 98 is willing to make a lot of quick turns, since it allows for slower, more deliberate skiing. And unlike Luke, I am not always keen on maching at top speeds through the moguls, so for my skiing style, the Endurance 98 was energetic, yet composed.
In tight and challenging terrain, the Endurance 98 was forgiving and really easy to flick around. It initiated turns quickly and easily, but still provided a solid and stable platform to trust on edge when the snow was firm. There are other skis I would turn to for a more stable ride on really firm snow (e.g., Secret 96 or Nordica Santa Ana 98), but for any chalky or slushy coniditons, the Endurance 98 felt effortless when navigating tight terrain. It's also worth noting that I was skiing the 184 cm without a second thought, in a lot of the really tight terrain at Mt. Crested Butte, which highlights the fact that this ski is really quick and nimble. There is no instance in which I would opt for the shorter length of the Endurance 98.
Luke: One of the interesting things about the 184 cm Endurance 98 is that Kara, Jonathan, Dylan, and I all got along really well with that length. 184 cm is usually my go-to length for this sort of ski, so I definitely wouldn't say everyone should size up (I don't want a longer version for myself), but as evidenced by Kara, the Endurance 98's quickness and fairly easy ride potentially allow for that if you want a bit more stability.
Slush
Luke: I loved the Endurance 98 in spring slush. In these soft, consistent conditions, you can really take advantage of the ski's combination of agility and stability. I could keep the Endurance 98 on-line with little deflection while driving it through open fields of slushy snow, but it was also easy to throw sideways and get in the air. If I was greeted with 1000 feet of fully open slush skiing and wanted to make as few turns as possible, I'd still opt for a heavier ski since the Endurance 98 can get knocked around at speed if you hit a firmer, more set-up chunk of snow. But for the most part, it performs well above its weight in springtime snow, but without the weight and sluggishness of heavier, even more planted skis.
Kara: I agree with Luke here. As we mentioned above, on grippy snow where you can really lock in an edge, the Endurance 98 feels playful and fun. Where there is good slush, also comes the chances of more variability due to springtime temperatures, so I was a little less willing to jump the Endurance 98 when I knew that there might still be some unforgiving ice patches or crud to bust through. But when it came to making a lot of lively turns in slushy snow, even when skiing pretty fast, the Endurance 98 felt plenty stable and smooth.
Soft Chop
Luke: In shallow, soft chop (roughly 4" / 10 cm or less), the Endurance 98 offers a similarly appealing combination of stability and maneuverability that it exhibits in slush. It's in deeper chop where its VibeStop construction starts to find its limit in terms of how stable and composed it can make the ski feel.
In deeper chop, the Endurance 98's tips will get knocked around, especially if that chop is fairly heavy / dense. While driving its shovels hard will mitigate this to a degree, this is still a ~1900-g ski, and there's not a lot of weight in its tips, so they will get bumped around in these conditions more than, say, a 2100-g ski. Whereas I'd say the Endurance 98's suspension and stability in most conditions are above average for its weight, they're more average in deep chop.
That said, the Endurance 98's tips do plane up in deeper snow quite well for its width, and it's a pretty solid pow ski for its width. Just don't expect this lightweight ski to feel like a bulldozer when navigating lots of deep, cut-up tracks.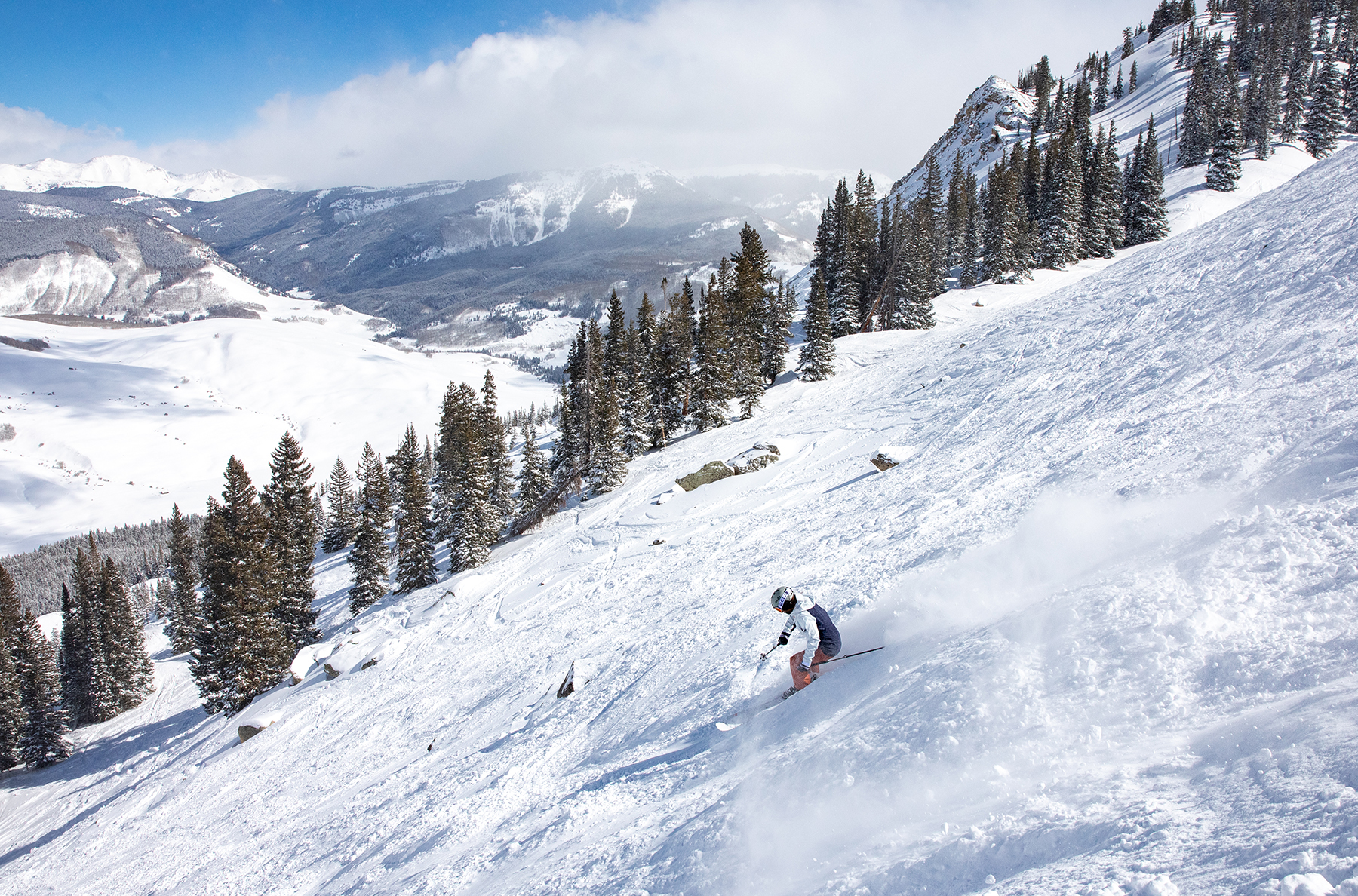 Kara: My first day on the Endurance 98 was a pretty optimal soft-chop day, but my legs were also really tired. Pretty quickly, I discovered that the Endurance 98 was going to work well for me because its agility paired well with the slower, more composed skiing I was aiming for. While it isn't the ideal skiing for sailing through chop at high speeds, since it does get knocked around a bit, it is an excellent ski for making quick and easy turns through soft chop without having to work hard to drive the ski.
Overall, the Endurance 98 isn't demanding. It also strikes a nice balance of being maneuverable but smooth. For someone who looks to charge hard through chop and wants a really planted ski, there are plenty of heavier options out there. But for those who want a fairly smooth and stable ski that is also pretty playful and offers respectable flotation for its width, the Endurance 98 is a uniquely good option.
Firm Crud (and Suspension)
Luke: One of the standout aspects of all the Renoun skis I've used is how well they mute out vibrations — especially small, high-frequency ones — for how little they weigh. In conditions like roughed-up groomers, shallow / smaller-sized crud, refrozen corduroy, and other scenarios that create repeated, small, frequent impacts, the Endurance 98 feels more smooth and less harsh than almost any other <1950-g ski I've used. I wouldn't call it "plush," but I think "damp" is the right word. I think of it like this: super heavy, soft skis are a bit like foam pit, absorbing everything, whereas the Endurance 98 is more like a fairly firm memory-foam mattress that absorbs slow and/or small impacts, but firms up if it gets struck with more speed and/or force.
What that translates to is a ski that feels nicer on firm, somewhat rough conditions than it should, given its weight, but that will still get knocked off-track by bigger, more abrupt impacts. Hitting a big pile of consolidated pushed-around or cut-up snow will make the Endurance 98 deflect — not more than I'd expect of a ~1900-g ski, but not a whole lot less.
So all that is to say that the Endurance 98 is not a great ski for skiing fast in chunky, firm crud, but it does handle firm, somewhat rough / bumpy / inconsistent conditions really well for how light and quick it is. And if you want even better suspension in crud at the expense of some quickness and maneuverability, the heavier, narrower Endurance 88 should be on your radar. I'd also add that the latest Endurance 98 feels less "on / off" than the previous, lighter versions. Those skis felt similarly, if not slightly more damp when you were really driving them (particularly on groomed snow), but they also felt more prone to getting deflected when you stopped driving them. The newer version feels less binary when it comes to suspension and stability, which is part of why I think more people will find it more intuitive.
Kara: I didn't spend much time on the Endurance 98 in firm crud, so I will mostly rely on Luke for this one. Though, in regard to suspension, I spent a good bit of time skiing some super firm steeps on the Endurance 98. Overall, it isn't a super planted or damp ski, but for its weight, I was impressed that it felt quite smooth, even when striking really rough patches of snow.
The Endurance 98 is also forgiving enough to not feel punishing when hitting these inconsistencies throughout the day. So while there are plenty of skis that feel more plush and planted to me in firm crud (e.g., Black Pearl 97, Secret 96, Sheeva 10, Santa Ana 98), those skis also have a tendency to knock me around a bit when I get off-balance. The Endurance 98 makes for an easy recovery, allowing me to feel more comfortable in bad snow conditions without having to exert as much power and control over the ski.
Mount Point
Luke: I was actually surprised when we measured the Endurance 98 and found that its mount point was -10 cm from true center. While it definitely feels like a directional ski that rewards a forward, driving-the-shovels stance, it doesn't feel quite as one-dimensional in those regards as many skis with similarly rearward mount points. As someone who tends to get along best with skis with mount points around -8 cm to -4 cm, I still found the Endurance 98 quite intuitive and could still ski it fairly centered at times (especially in more open terrain). I might move a cm or two forward of the recommended line if I owned it, but I was pretty happy just staying on that recommended line during my testing period.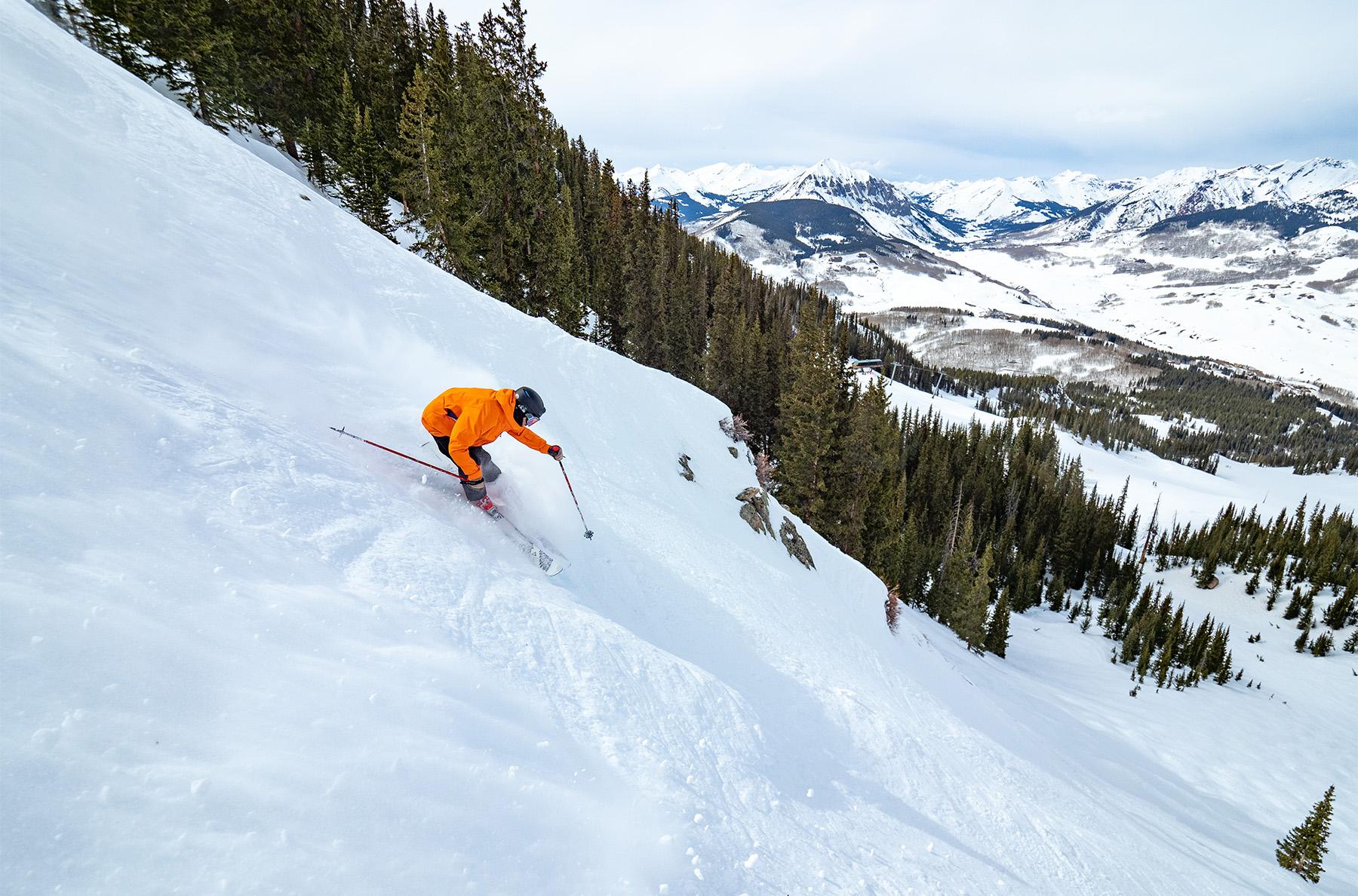 Kara: This mount point makes plenty of sense for my skiing style, and the Endurance 98 definitely felt instantly intuitive to me. That said, it initiates turns much more readily than several other directional skis with similar mount points, and it doesn't require as aggressive of a forward stance as several of the other skis I've compared it to here. When my legs were tired and the chop was deep, I was able to ski in a more relaxed and upright position without the Endurance 98 feeling out of balance or punishing.
Who's It For?
Luke: The Endurance 98 is a versatile all-mountain ski that could work for a lot of skiers, and a few of its unique traits make it particularly appealing for certain folks.
If you don't tend to ski super fast but you do ski a wide variety of terrain and conditions, the Endurance 98 could serve well as a pretty maneuverable, easy-going ski. Granted, many skis could potentially do that, but what sets the Endurance 98 apart is that, for how quick and maneuverable it feels off-piste, it offers very nice suspension and above-average stability in many conditions. So it's particularly well suited to skiers who value a ski that's fairly light and pretty forgiving at slow speeds, but who have found similarly light and/or soft skis to feel harsh on firm snow and/or not supportive enough to be skied hard. As a result, it could be a very good ski to progress with, since it's pretty easy at slow speeds but capable of being skied very hard. At the same time, both fairly inexperienced and expert skiers have reason to check it out, due to its adaptable performance at different speeds.
Kara: Luke has it covered. For many people looking for a do-everything all-mountain ski, the Endurance 98 will be easy to get along with. Those who are most likely to not like this ski are those who know they prefer really planted, really stable, heavy skis. However, for someone who still wants a fairly smooth and supportive all-mountain ski, but really prioritizes maneuverability and quickness, the Endurance 98 is a very versatile and well-rounded option, especially considering its low weight.
Bottom Line
Like the original, the latest Renoun Endurance 98 still offers a unique ride, feeling pretty quick, maneuverable, and accessible in most scenarios, but more damp and stable the harder and faster you ski it. However, the current Endurance 98 feels more refined, with more intuitive on- and off-piste performance. Renoun's unique VibeStop construction still brings with it some small quirks, but the result is an all-mountain ski with a very rare combination of maneuverability and stability.
Deep Dive Comparisons
Become a Blister Member or Deep Dive subscriber to check out our Deep Dive comparisons of the Endurance 98 to see how it compares to the Renoun Endurance 88, Volkl M6 Mantra, Salomon QST 98, Blizzard Bonafide 97, Salomon Stance 96, 4FRNT MSP 99, Blizzard Rustler 9, Black Crows Camox, J Skis Masterblaster, Moment Commander 98, Dynastar M-Pro 99, Line Blade Optic 96, Dynastar M-Free 99, Atomic Maverick 95 Ti, Faction Dancer 2, & K2 Mindbender 99Ti.
Rocker Profile (decambered)
Tail Profile (decambered)