Ski: 2021-2022 Atomic Maverick 95 Ti, 180 cm
Test Location: Mt. Crested Butte, Colorado
Days Skied: 9
Available Lengths: 164, 172, 180, 188 cm
Blister's Measured Tip-to-Tail Length (straight-tape pull): 178.9 cm
Stated Weight per Ski: 1800 grams
Blister's Measured Weight per Ski: 1900 & 1908 grams
Stated Dimensions: 129-94.5-113 mm
Blister's Measured Dimensions: 128.4-93.9-112.6 mm
Stated Sidecut Radius (180 cm): 19.3 meters
Measured Tip & Tail Splay (ski decambered): 62 mm / 17 mm
Measured Traditional Camber Underfoot: 4 mm
Core: poplar + titanal (2 layers) + fiberglass laminate
Base: sintered
Factory Recommended Mount Point: -8.55 cm from center; 80.9 cm from tail
Boots / Bindings: Tecnica Mach1 130 MV, Atomic Hawx Ultra 130 Professional / Atomic Warden MNC 13

Intro
As we discussed back in January of this year, Atomic is overhauling their all-mountain lineup for the 2021-2022 season.
Gone are the 20/21 Vantage skis, and in their place are the new Maverick and Maven series.
Kara Williard already chimed in with her thoughts on the women-specific Maven 93 C, and now, we will be discussing the unisex, metal-laminate version, the Maverick 95 Ti, how it compares to the Vantage skis it replaces, and where it fits into the current market of all-mountain skis.
Shape / Rocker Profile
One of the main differences between the new Maverick / Maven skis and the previous Vantage skis is that the new skis feature shapes that look a bit more similar to Atomic's "freeride" skis, like the Bent Chetler 100 and Backland 107. I.e., these Maverick and Maven skis feature a bit more tip and tail taper than the Vantage skis they replace.
The Maverick and Maven's rocker profiles also feature some noteworthy changes. The Vantage skis had very minimal tip and (especially) tail rocker, and while the Maverick and Maven skis are far from super-rockered, they do have deeper tip and tail rocker lines than their predecessors.
Overall, the rocker profile of the Maverick 95 Ti looks pretty similar to the Atomic Backland 107. It's not a radical rocker profile by any means, but there's a nice, moderately deep tip rocker line that stays pretty low-slung until the widest point of the shovel, and a notably shallower and lower-slung tail rocker profile. A modest amount of camber is featured across the rest of the ski.
Nothing about the Maverick 95 Ti's shape or rocker profile is particularly out of the ordinary, apart from its "HRZN Tech" tips, which feature a very subtle convexity near the ends, which Atomic says helps when it comes to flotation and maneuverability in soft snow. Still, those convex portions are pretty minimal and cover a portion of the ski that would rarely be in contact with the snow when tipped on edge, given the ski's tip rocker profile.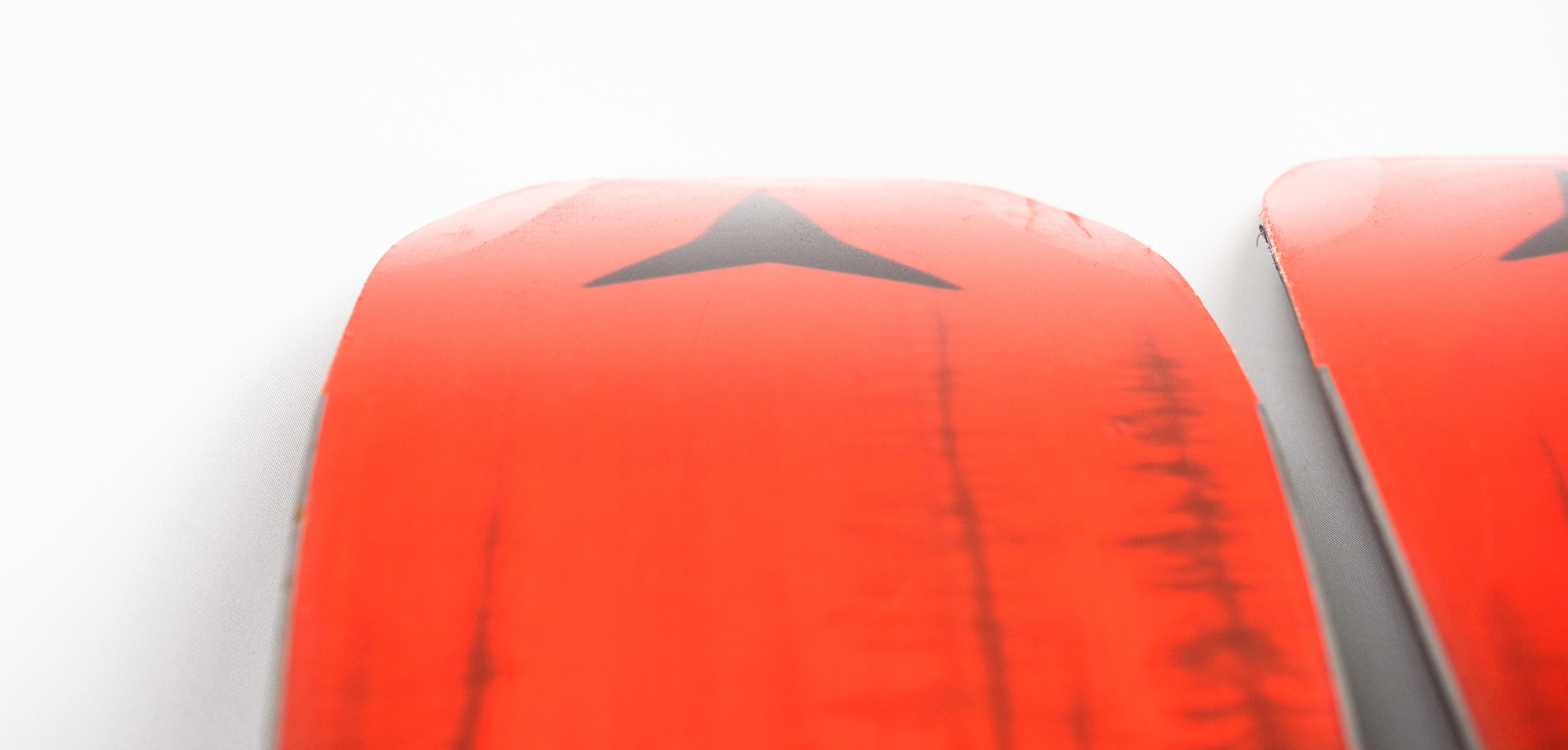 Flex Pattern
Here's how we'd characterize the flex pattern of the Maverick 95 Ti:
Tips: 5.5-6
Shovels: 6.5-8
In Front of Toe Piece: 8.5-9.5
Underfoot: 10
Behind the Heel Piece: 9.5-8.5
Tails: 8
Here's another significant departure from Atomic's latest Vantage skis. The Maverick 95 Ti (and the Maverick 88 Ti and 100 Ti) are notably softer. Now, they're still strong skis overall, but especially through the tips and shovels, the Maverick skis are not as super-stiff as the Vantage skis.
The Maverick 95 Ti's flex pattern is pretty soft at the very end of the tip, but it very quickly stiffens up as you move toward the middle of the ski. It finishes with a tail that's not wildly stiff overall, but it is notably stiffer than the front of the ski, which is noticeable on snow (more on that in a bit).
This flex pattern is very similar to another ski in this class, the Armada Declivity 92 Ti. The main difference between the two is that the Maverick 95 Ti's flex pattern ramps up in stiffness a bit quicker when you move from the tip or tail to the middle of the ski, and the Maverick 95 Ti's tail is a bit stiffer overall.
Mount Point
Not a whole lot of change here. All of the Maverick skis feature mount points around -8.5 to -9 cm from true center, with the Maverick 95 Ti's coming in at just about -8.5 cm. That's a bit closer to center than some other directional skis like the Volkl M6 Mantra and Blizzard Bonafide 97, but not as close to center as more freestyle-oriented options.
Weight
Interestingly, the weights of the Maverick skis aren't wildly different from the Vantage skis, despite the two collections of skis featuring pretty different constructions. The Maverick skis are fairly light for their size, especially compared to most other skis with two layers of metal.
Now, before we did any of our measured specs for the Maverick skis, we just went and skied them. And from the start, the Maverick 95 Ti emerged as the personal favorite of a few of our reviewers. After putting a number of days on the skis we finally did our measured specs, and it came as a surprise (or maybe, not a surprise at all?) that the 95 Ti was the heaviest of the bunch.
The Maverick 95 Ti is still a somewhat light ski overall, but its weight is not far off from skis like the Armada Declivity 92 Ti, Salomon Stance 90, and Black Crows Camox.
For reference, here are a number of our measured weights (per ski in grams) for some notable skis. Keep in mind the length differences to try to keep things apples-to-apples.
1638 & 1639 Atomic Maven 93 C, 172 cm (21/22)
1734 & 1750 Renoun Endurance 98, 184 cm (18/19–20/21)
1758 & 1758 Head Kore 93, 180 cm (19/20–20/21)
1781 & 1795 Atomic Maverick 100 Ti, 180 cm (21/22)
1801 & 1839 Salomon Stance 90, 176 cm (20/21–21/22)
1807 & 1840 Atomic Bent Chetler 100, 188 cm (18/19–21/22)
1810 & 1828 Armada Declivity 92 Ti, 180 cm (20/21–21/22)
1823 & 1853 Atomic Maverick 88 Ti, 184 cm (21/22)
1863 & 1894 Blizzard Rustler 9, 180 cm (18/19–21/22)
1869 & 1894 Atomic Vantage 90 Ti, 184 cm (18/19–20/21)
1883 & 1906 Season Aero, 180 cm (20/21)
1900 & 1908 Atomic Maverick 95 Ti, 180 cm (21/22)
1921 & 1968 Head Kore 99, 188 cm (18/19–20/21)
1925 & 1934 Black Crows Camox, 186.5 cm (19/20–21/22)
1925 & 1937 Liberty Helix 98, 186 cm (18/19–21/22)
1936 & 2013 Salomon Stance 96, 182 cm (20/21–21/22)
1937 & 1945 Fischer Ranger 94 FR, 184 cm (19/20–21/22)
1966 & 1973 Liberty Origin 96, 187 cm (18/19–20/21)
1976 & 2028 Parlor Cardinal Pro, 182 cm (19/20–20/21)
1985 & 2006 Parlor Cardinal 100, 185 cm (16/17–20/21)
1994 & 2011 Fischer Ranger 99 Ti, 181 cm (19/20–21/22)
1998 & 2044 4FRNT MSP 99, 181 cm (17/18–21/22)
1999 & 2060 Line Blade, 181 cm (20/21–21/22)
2043 & 2089 Volkl M6 Mantra, 177 cm (21/22)
2049 & 2065 Volkl Mantra M5, 177 cm (18/19–20/21)
2053 & 2057 Atomic Vantage 97 Ti, 188 cm (18/19–20/21)
2054 & 2063 Salomon QST 98, 189 cm (21/22)
2055 & 2080 Salomon QST 99, 181 cm (19/20–20/21)
2085 & 2096 Dynastar Menace 98, 181 cm (19/20–20/21)
2089 & 2105 Nordica Soul Rider 97, 185 cm (15/16–21/22)
2115 & 2149 J Skis Masterblaster, 181 cm (16/17–20/21)
2256 & 2284 Nordica Enforcer 94, 186 cm (20/21–21/22)
2281 & 2284 Blizzard Bonafide 97, 177 cm (20/21–21/22)
2311 & 2342 K2 Mindbender 99Ti, 184 cm (19/20–21/22)
Now let's get to how all of those design traits actually add up on snow:
FULL REVIEW
We spent time on the Maverick 95 Ti for several months this season at Mt. Crested Butte, from mid-winter hardpack to primo spring chalk and a bit of slush. It's proven to be a versatile all-mountain ski that lives up to a lot of what Atomic has claimed about it, but whether it's the exact right ski for you will depend on a few things.
Groomers
Luke Koppa (5'8", 155 lbs / 173 cm, 70 kg): Per usual, I want to start off with where I liked the Maverick 95 Ti the most. In this case, that would be groomed snow.
Now, that's not always — or even most often — where I find skis around this width to be the most fun. And just looking at the shape and rocker profile of the Maverick 95 Ti, it's certainly not where I expected to really shine.
But each day I spent on this ski, I was consistently blown away by how much fun it was on piste.
The Maverick 95 Ti doesn't yank you across the fall line like a narrower, less tapered, less rockered, and generally more piste-oriented ski will. That said, I loved how it initiated carved turns — for an all-mountain ski. It wouldn't randomly start arcing across a slope, but with pretty minimal input on my end and just a bit of pressure on its shovels, it'd predictably start digging in and carving a clean arc.
What really stood out to me with this ski was what happened after the start of the turn. Because, whether I was really pushing it or just skiing it pretty casually, the Maverick 95 Ti just felt really, really reliable on edge for a ski this wide. Whether it's something about its torsional rigidity, shape, longitudinal flex pattern, or Atomic's fancy-sounding "OMATIC" core, the Maverick 95 Ti provides very impressive edge hold once you tip it over.
This ski is also pretty versatile in terms of turn shapes. Its soft shovels (relative to the rest of the ski) make it easy to bend and manipulate into fairly tight turns, but the supportive-feeling midsection means that I can really lay into it without it folding and wanting to shoot across the fall line. It's a very fun blend of accessible-yet-reliable. And when you do really lean into it, the Maverick 95 Ti will produce that level of pop and rebound that I always want from a ski on piste.
Overall, I'd label the Maverick 95 Ti as one of the better-carving all-mountain skis in the ~95mm-wide category. It's certainly not the most damp or planted on really roughed-up slopes, but provided that the groomers were fairly consistent, there aren't many skis in the same class that I'd rather be on if the day's activities involved a lot of carving.
Jonathan Ellsworth (5'10", ~175 lbs / 178 cm, 79 kg): Well one of the things that has become clearer over the years is that Luke tends to get along with (and quite like) lighter skis than I do for on-piste carving. In other words, I don't disagree with anything Luke wrote … I just typically feel the most comfortable and confident on (let's say) 2000+ gram skis that remain quite stable at speed.
And in that sense, I don't think I'd say that the Maverick punches above its weight when it comes to stability at speed. But especially on really clean groomers — and / or on lower-angle groomers — these skis do carve really cleanly and really well, and certainly provide a good bit of pop and rebound. So I might suggest that you ask yourself what carving skis you've tended to like most — lighter weight, poppy skis that produce a ton of energy? Or heavier, very planted skis that are very confidence inspiring at high speeds. If you know happen to know which camp you fall into, then you are off to a good start toward identifying what you'll think of this ski.
Moguls, Trees, & Tight Terrain
Luke: The Maverick 95 Ti is one of those skis that has some traits that make it very good for skiing quickly through tight spots, and others that kind of counter that.
On one hand, the Maverick 95 Ti has a very low swing weight and requires very little physical effort to flick around. Quick changes of direction are easy, and mistakes are relatively easy to recover from because you can move the ski around from a variety of stances.
On the other hand, the Maverick 95 Ti is not a particularly "loose" ski in terms of how easy it is to release / pivot, and its stiff tail is noticeable when you really screw up and try to steer it from way back on the tails.
Now, the Maverick 95 Ti is a dramatically more accessible and more forgiving ski than both the Atomic Vantage 90 Ti and Vantage 97 Ti. The Maverick 95 Ti doesn't require you to be on your A-game 100% of the time, and it's easier to feather and slide than both of those skis.
But if you rack up a lot of frequent-flyer miles in the backseat, you've got better, softer, more forgiving alternatives. The Maverick 95 Ti performs best when you've got your weight over the front of the ski, and its stiff tail makes itself known when you mess up and try to tail-gun it through a few moguls in a row.
The nice thing with lighter skis like the Maverick 95 Ti is that I find them easier when it comes to recovering from sloppy technique. Since there's less weight to move around with the Maverick 95 Ti, you can flick it around more easily from the middle of the ski, and I find that I can get things back under control more easily than with a heavier ski like the Volkl M6 Mantra or Nordica Enforcer 94.
Overall, I think the Maverick 95 Ti will be most appealing to advanced and expert skiers who have good technique and who can take advantage of its low swing weight and supportive flex pattern. I think intermediate skiers will be able to adjust and improve on this ski, but if maximum maneuverability or a really forgiving flex pattern are top priorities for you, I'd check out the "All-Mountain More Forgiving" section of our Winter Buyer's Guide.
Jonathan: Interesting. If groomers are where Luke liked the Maverick 95 Ti the most, for me, it was in moguls. Now in a way, this isn't surprising; Luke is often quicker to call skis "fairly demanding" in moguls than I am, and that's once again the case here. In moguls, I thought the Maverick 95 Ti offered a nice low weight and low swing weight to make the skis feel quite quick in bumps, while also offering a pretty nice blend of suspension and supportiveness. I definitely like to tail-gun at least a few turns when I'm bump skiing, and I don't recall ever feeling like the tail of the Maverick 95 Ti was overly harsh or punishing.
On groomers, where I tend to like big, fast turns, the low weight of the Maverick 95 Ti didn't offer the inherent high-speed stability that I personally find rather comforting. But when chopping up moguls, quickness and swing weight become more noticeable virtues than they are when making GS turns, so this is why I think I'm probably right and you probably just shouldn't listen to Luke. (Unless you typically agree more with Luke than with me. In that case, you're probably all just doing it wrong. Cough.)
But one area where Luke and I very much agree: this Maverick 95 Ti is way more forgiving than the previous Vantage 97 Ti. WAY more.
Chalky Steeps
Luke: Steep, chalky snow combines my favorite parts of the Maverick 95 Ti's performance characteristics on both groomed snow and tighter terrain. I can carve it hard where the terrain allows, then use its low swing weight and energetic flex pattern to get it airborne during transitions. In a relatively forgiving snow condition like consistent chalk, I can't really complain about this ski — it's quick and fairly easy to maneuver, yet strong and stable enough to encourage me to push my limits.
Jonathan: Ok well yeah, this ski is really fun in chalk, too. For all the reasons Luke says.
Soft Chop & Slush
Luke: Compared to similarly wide directional skis, the Maverick 95 Ti is lots of fun in softer conditions. Given its moderately low weight, it's not a ski that wants to play the game of "make the fewest turns" in these conditions, but its weight is less of a factor than it is when the snow really starts to set up.
In soft chop and slush, the Maverick 95 Ti can be pushed quite hard while also allowing for a very dynamic skiing style, seeking out things to jump off and making turn transitions mid-air. It's not a very planted ski, but when the snow is providing more of the suspension than the ski, the Maverick 95 Ti allows you to ski it quite hard.
As for this ski's "HRZN Tech" tips and their impact on soft-snow performance, I can't say I really noticed much of a difference compared to skis with more traditional tip designs. Maybe the ski was a touch easier to pivot in these conditions, but it certainly wasn't massive. However, I'd say the same for firm snow. I.e., I don't think the Maverick 95 Ti's beveled tips hamper its edge hold or turn initiation on firm snow, and maybe there's a chance that they make the ski easier to smear around in softer / deeper conditions, so I'm not opposed to this design choice.
Jonathan: Same.
Firm Chop / Crud
Luke: Here's where the Maverick 95 Ti struggles the most compared to heavier alternatives in its class. The Maverick 95 Ti is not a super smooth, glued-to-the-snow kind of ski, and it requires attention and deliberate input from the skier to be pushed hard when the conditions are anything but consistent or forgiving.
I'd still pick the Maverick 95 Ti in a heartbeat over the Vantage skis it replaces for these conditions. While I wouldn't say the Maverick 95 Ti's suspension is drastically better than the Vantage 90 Ti or Vantage 97 Ti, the Maverick 95 Ti makes it much easier to stay in the sweet spot of the ski and recover from mistakes, which are frequent for me when the snow is choppy / cruddy.
So, similar to most skis around the same weight, the Maverick 95 Ti is most enjoyable in otherwise not-enjoyable conditions when you take a more conservative approach, seeking out more consistent snow and making slower, more controlled turns through the really rough sections.
Jonathan: First of all, I would say that the suspension of the Maverick 95 Ti is drastically better than the Vantage 97 Ti it replaces — since I literally did just say that a few paragraphs ago. That 188 cm Vantage 97 Ti was incredibly powerful and fast on smooth surfaces. But get it on roughed-up, firm snow, and it was one of the most jarring, unforgiving skis I've been on. By comparison, the 180 cm Maverick (to me, at least) feels better. Certainly better than the ski it replaces. Still, heavier skis in this class will more easily smooth out and dampen firm, rough snow.
But I did find the Maverick 95 Ti to be pretty compliant when slowing things down a bit and skiing a bit more conservatively through crud. It's not a steamroller, but it won't rattle all of the teeth out of your head, either.
Who's It For?
Luke: Skiers looking for an all-mountain ski that makes groomed slopes a lot of fun, and who prioritize a low swing weight and nimble platform off piste.
Those who love a really damp ski that feels planted should look to heavier options. And if you're someone who wants a really maneuverable, forgiving ski for tricky off-piste lines, I'd look to something with a bit more tail rocker and a slightly softer flex pattern (like the Atomic Bent Chetler 100).
But if you're a directional skier with pretty good technique, you like a ski that holds a strong edge on piste, and you like to make quick work of trees and bump lines, the Maverick 95 Ti warrants a spot on your list.
Bottom Line
In terms of the sheer number of skiers that will get along with it, we think the Atomic Maverick 95 Ti is a marked improvement over the previous Atomic Vantage skis in general, and the Vantage 97 Ti in particular.
The Maverick 95 Ti is not the most damp or stable ski in its class, nor is it the absolute easiest. But it's a ski that's a blast on piste, and under the feet of a skier with good technique and a preference for quicker skis, can be a lot of fun all over the mountain.
Deep Dive Comparisons
Become a Blister Member or Deep Dive subscriber to check out our Deep Dive comparisons of the Maverick 95 Ti to see how it compares to the Atomic Maverick 88 Ti, Atomic Maverick 100 Ti, Atomic Vantage 90 Ti, Atomic Vantage 97 Ti, Armada Declivity 92 Ti, Salomon Stance 96, Atomic Bent Chetler 100, Volkl M6 Mantra, Salomon QST 98, 4FRNT MSP 99, Salomon QST 99, Blizzard Bonafide 97, Moment Commander 98, Fischer Ranger 94 FR, Nordica Enforcer 94, Dynastar M-Pro 99, K2 Mindbender 99Ti, Black Crows Camox, Liberty Origin 96, Blizzard Rustler 9, & J Skis Masterblaster.