Ski: 2022-2023 K2 Mindbender 99Ti, 184 cm
Test Location: Mt. Crested Butte, Colorado
Days Skied: 11
Available Lengths: 166, 172, 178, 184, 190 cm
Blister's Measured Tip-to-Tail Length (straight-tape pull): 184.0 cm
Blister's Measured Weight per Ski: 2085 & 2120 grams
Stated Dimensions: 134-99-120 mm
Blister's Measured Dimensions: 133.3-98.3-119.3 mm
Stated Sidecut Radius (184 cm): 19.6 meters
Measured Tip & Tail Splay (ski decambered): 60 mm /26 mm
Measured Traditional Camber Underfoot: 2.5 mm
Core Materials: aspen + titanal "Y-Beam" layer + fiberglass laminate
Base: sintered
Factory Recommended Mount Point: -10.6 cm from center; 81.4 cm from tail
Boots / Bindings: Tecnica Mach1 MV 130; Atomic Hawx Ultra 130; Tecnica Firebird 140 R / Marker Griffon

Intro
Back in 2019, K2 launched a new line of freeride skis, dubbed the Mindbenders. The collection included both metal-laminate and lighter, carbon models, each with some interesting tech designed to optimize the torsional flex of the ski in different areas to achieve a better combination of precision, stability, and maneuverability.
For the 2022-2023 season, K2 updated all the metal-laminate Mindbender "Ti" skis, and we spent time on several of them last season. The do-everything Mindbender 99Ti arguably received the most substantial updates of all the Mindbenders, and we think a lot of skiers could be very happy with this new ski. Here, we'll describe why.
First, though, if you want to hear the in-depth background story on the new Mindbenders and how / why K2 changed them in the way that they did, check out our Blister Summit Brand Lineup with K2's head ski designer, Jed Yeiser:
What K2 says about the Mindbender 99Ti
"Quick edge to edge? Check. Surprising float in the soft stuff? Oh, you bet. The Mindbender 99Ti boasts the most well-rounded skill set among its peers thanks to a moderate waist width, Titanal Y-Beam construction, and our All-Terrain Rocker profile. Striking the perfect balance between agility and stability, the K2 Mindbender 99Ti men's freeride ski is the go-to model for confident ripping all over the mountain."
Construction
Again, I'd recommend checking out the video above to learn about the Mindbender Ti skis' construction from the guy who designed it. But to try to summarize here, the Mindbender 99Ti features an aspen wood core, K2's updated "Titanal Y-Beam" layer, and a fiberglass laminate.
The previous (19/20–21/22) Mindbender 99Ti used a heavier aspen / maple wood core, and the original version of the metal Y-Beam layer. The new Y-Beam features a slightly different shape and placement on the ski; K2 moved mass away from the mount point for added stability and composure at the tips and tails. The overall goal of the Y-Beam layer is still similar to the previous generation, though. It's a layer of titanal that runs edge to edge underfoot, but then splits into two "prongs" over the edges near the shovels and a single strip as it extends toward the tail. The idea is that you get a very torsionally rigid section underfoot for edge grip there, a fairly torsionally rigid area around the shovels for precise turn initiation, and a less torsionally rigid tail for easier release. This is in contrast to a more traditional layer of titanal, which often either extends edge to edge throughout the length of the ski or is a consistent-width strip, both of which offer fewer fine-tuning options when it comes to torsional rigidity.
Shape / Rocker Profile
The shape of the new Mindbender 99Ti looks very similar to the previous version, but the new ski has deeper rocker lines, especially through the tail. Its shape is pretty typical for a modern ~100mm-wide all-mountain ski, while its rocker lines are deeper than average.
Flex Pattern
Here's how we'd characterize the flex pattern of the Mindbender 99Ti:
Tips: 6.5-7
Shovels: 7-8
In Front of Toe Piece: 8-9.5
Underfoot: 9.5
Behind the Heel Piece: 9.5-9
Tails: 8.5-7.5
The main difference, when compared to the 19/20-21/22 Mindbender 99Ti, is that this new version feels a bit softer in the rockered portion of the tail. It's a pretty strong ski overall, though its shovels and tails aren't super stiff.
Sidecut Radius
K2 also tweaked the sidecut radius of the Mindbender 99Ti slightly; the stated (average) sidecut radius of the new 184 cm Mindbender 99Ti is 19.6 meters, whereas the old one was 18.5 meters.
Mount Point
No real change here — the Mindbender 99Ti still has a traditional, rearward mount point of a little more than -10 cm back from true center.
Weight
The original Mindbender 99Ti was a fairly heavy ski compared to its competitors, but the new version is a bit lighter. Our pair of the 184 cm Mindbender 99Ti weighs about 2100 grams per ski, which is about 100 grams lighter than K2's stated weight for the previous version (and about 200 grams lighter than our pair of the previous version, which K2 said was heavier than average). There are plenty of skis that are notably lighter than the new Mindbender 99Ti, but it doesn't stand out quite as much on paper when it comes to weight, relative to the original.
For reference, here are a number of our measured weights (per ski in grams) for some notable skis. Keep in mind the length differences to try to keep things apples-to-apples.
1446 & 1447 Line Vision 98, 178 cm (19/20–22/23)
1781 & 1795 Atomic Maverick 100 Ti, 180 cm (21/22–22/23)
1807 & 1840 Atomic Bent 100, 188 cm (18/19–22/23)
1808 & 1823 Shaggy's Ahmeek 95, 180 cm (21/22)
1810 & 1828 Armada Declivity 92 Ti, 180 cm (20/21–22/23)
1816 & 1819 Head Kore 99, 184 cm (22/23)
1863 & 1894 Blizzard Rustler 9, 180 cm (18/19–22/23)
1883 & 1906 Season Aero, 180 cm (20/21–21/22)
1900 & 1908 Atomic Maverick 95 Ti, 180 cm (21/22–22/23)
1901 & 1902 Renoun Endurance 98, 184 cm (21/22–22/23)
1925 & 1934 Black Crows Camox, 186.5 cm (19/20–22/23)
1933 & 1943 Norse Enduro, 188 cm (20/21–21/22)
1935 & 1962 Fischer Ranger 96, 180 cm (22/23)
1936 & 2013 Salomon Stance 96, 182 cm (20/21–22/23)
1938 & 2003 Nordica Unleashed 98, 186 cm (22/23)
1966 & 1973 Liberty Origin 96, 187 cm (18/19–20/21)
1976 & 2028 Parlor Cardinal Pro, 182 cm (19/20–21/22)
1981 & 1991 Faction Dancer 2, 182 cm (22/23)
1985 & 2006 Parlor Cardinal 100, 185 cm (16/17–21/22)
1998 & 2044 4FRNT MSP 99, 181 cm (17/18–22/23)
1999 & 2060 Line Blade, 181 cm (20/21–22/23)
2010 & 2023 Moment Commander 98, 182 cm (20/21–22/23)
2024 & 2112 Dynastar M-Free 99, 185 cm (21/22–22/23)
2043 & 2089 Volkl M6 Mantra, 177 cm (21/22–22/23)
2054 & 2063 Salomon QST 98, 189 cm (21/22–22/23)
2077 & 2096 Line Blade Optic 96, 184 cm (22/23)
2085 & 2120 K2 Mindbender 99Ti, 184 cm (22/23)
2089 & 2105 Nordica Soul Rider 97, 185 cm (15/16–21/22)
2128 & 2186 J Skis Masterblaster, 181 cm (21/22–22/23)
2165 & 2186 Wagner Summit 97, 182 cm (21/22–22/23)
2178 & 2195 Volkl M6 Mantra, 184 cm (21/22–22/23)
2218 & 2244 Volkl Mantra 102, 184 cm (19/20–21/22)
2256 & 2284 Nordica Enforcer 94, 186 cm (20/21–22/23)
2281 & 2284 Blizzard Bonafide 97, 177 cm (20/21–21/22)
2311 & 2342 K2 Mindbender 99Ti, 184 cm (19/20–21/22)
Now, onto how the new Mindbender 99Ti performs on snow:
FULL REVIEW
From February through April, we had several reviewers skiing the updated Mindbender 99Ti (and women's Mindbender 99Ti W), with pretty unanimously positive feedback — which is not all that common. In what follows, we'll have several folks chime in on the new ski's overall performance, where it really stands out from the competition, and what sorts of skiers we think will click with it the most.
Groomers
Luke Koppa (5'8", 155 lbs / 173 cm, 70 kg): I thought the original Mindbender 99Ti (and all the Mindbenders, really) carved very well for its width and for how easy it was to release off piste, and I'd say the same of the 22/23 version.
The Mindbender 99Ti doesn't quite match the super quick turn initiation, energy, or powerful turn finish of some of the class leaders (e.g., Volkl M6 Mantra), but the Mindbender 99Ti isn't far off in those regards, and it's notably more maneuverable off piste. I found it quite easy to get the Mindbender 99Ti carving on edge, I could make a pretty wide range of turn shapes on it, and I thought it offered a very impressive level of edge hold on firm snow. Compared to the previous version, the new Mindbender 99Ti isn't as damp or composed at very high speeds, but it does feel more lively, and the difference in stability between the two is fairly subtle in most groomed-snow scenarios.
It's not what I'd pick for carving tight turns on mellow-angle slopes, but overall, I think the Mindbender 99Ti will satisfy the demands of most people when it comes to how well a ~100mm-wide all-mountain ski should carve.
Dylan Wood (5'10", 155 lbs / 178 cm, 70 kg): I think Luke hit all the main points here. What stood out the most to me about the Mindbender 99Ti's on-piste performance was its intuitive feel, versatility, and energy, all while being less demanding than I expected, given what I had heard about the previous (19/20–21/22) version of this ski.
I never ski raced and don't have stellar carving form, but the Mindbender 99Ti never felt too demanding for me. It definitely prefers a forward stance and initiates carved turns from its relatively untapered shovels, but its tails never launched me unpredictably out of a turn after getting backseat, and it didn't require a ridiculous amount of force to bend into tighter turns. Overall, the Mindbender 99Ti is impressive on piste, especially given how well it performs elsewhere on the mountain.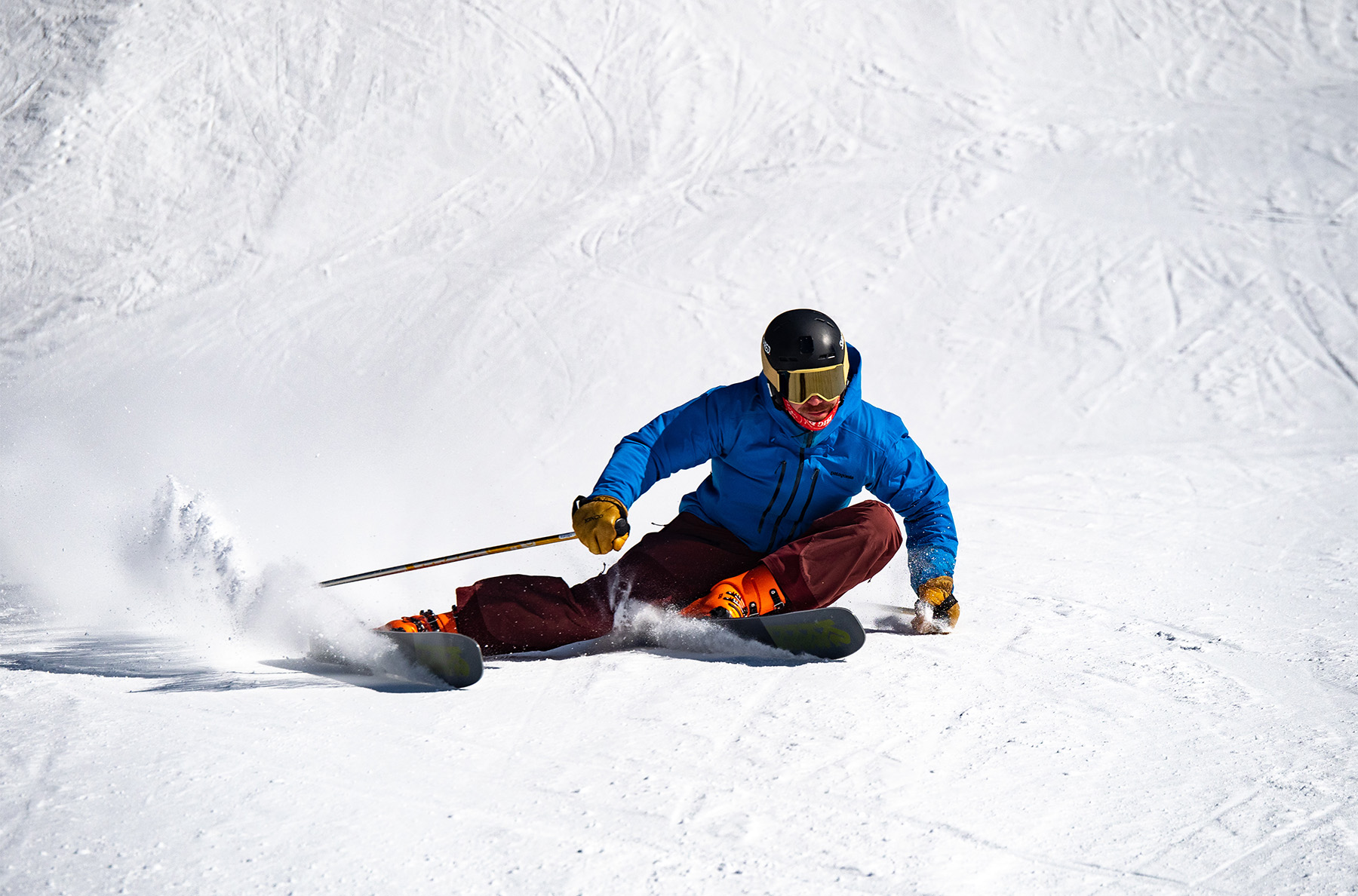 Drew Kelly (5'11, 165 lbs / 180 cm, 75 kg): These guys nailed it. As someone who typically wants the most capable carving ski on the market, I found the Mindbender 99Ti to be pretty impressive, and also just fun. I would add that if you're used to strong directional skis and spend a lot of time on groomers railing hard turns, then the Mindbender 99Ti might feel more forgiving and capable of a variety of turn shapes. I felt that it offered pretty good rebound coming out of a turn, is capable of railing long- or short-radius turns, and precisely holds an edge up until the highest of speeds. I mostly skied the Mindbender 99 Ti in the spring though, so I'd be curious to lay it over on some true ice to see how its edge hold and torsional flex react.
Jonathan Ellsworth (5'10", ~175 lbs / 179 cm, 78 kg): I was mostly surprised by how much Drew, in particular, liked carving this ski. I had some very fun days this spring chasing him around on groomers, and I'm used to Drew complaining that many skis are too soft and want to fold in half. I don't predict that Drew will find the 99Ti to be some sort of revelation on ice, but on soft-ish groomers, this all-mountain ski is a lot of fun.
Moguls, Trees, & Tight Terrain
Luke: This is where I noticed the biggest differences between the old and new Mindbender 99Ti, and where I personally came to love the updated version.
The original Mindbender 99Ti, particularly in the 184 cm version we tested, often felt pretty sluggish and demanding to me when I took it into Mt. Crested Butte's tight mogul lines and techy off-piste zones. The new version is much easier in those scenarios — it's got a notably lower swing weight, it's a bit easier to release / skid around, and it's not as quick to punish backseat skiing.
Now, I'm not saying the new Mindbender 99Ti is some super light, soft, playful ski like, say, the K2 Reckoner 102 — far from it. The Mindbender 99Ti still performs best when you're actively driving its shovels, and it's not what I'd recommend if you want a super loose, forgiving, ultra-nimble ski. However, I think a whole lot more people are going to get along with the new Mindbender 99Ti in bumps, trees, and other off-piste terrain that requires lots of quick adjustments. Overall, I'd put it somewhere in the middle of the spectrum when it comes to how easy vs. demanding it feels in tight spots; there are lots of skis that are quicker and/or more forgiving, but there are also many that feel more sluggish and/or punishing. What makes the Mindbender 99Ti stand out is that, for how stable and capable it feels at high speeds, it's relatively easy to get along with at slow speeds. That's a combination that I think a ton of skiers could appreciate; it doesn't require you to be skiing super fast or with perfect technique to be enjoyable in bumps and trees, but I also never felt like it was holding me back when it came to how aggressively I could push it in tight terrain.
Dylan: Again, I haven't skied the older Mindbender 99Ti, but I do agree with what Luke is saying here. The updated Mindbender 99Ti is a stable, directional ski, yet it feels agile and loose enough in tight terrain that it doesn't require an expert pilot to handle. Like Luke, I think a lot of skiers could get along well with the Mindbender 99Ti in off-piste terrain.
On edge, the Mindbender 99Ti has a precise feel and secure edge hold in steep, firm snow. But when skiing with the bases flat, the Mindbender is relatively easy to pivot around with enough pressure on the shovels. I did get stood up a few times by the Mindbender's relatively stiff tails a few times after getting backseat and otherwise a bit rowdy in moguls, but with good technique and/or a slower, more conservative approach, this ski didn't throw any other surprises my way.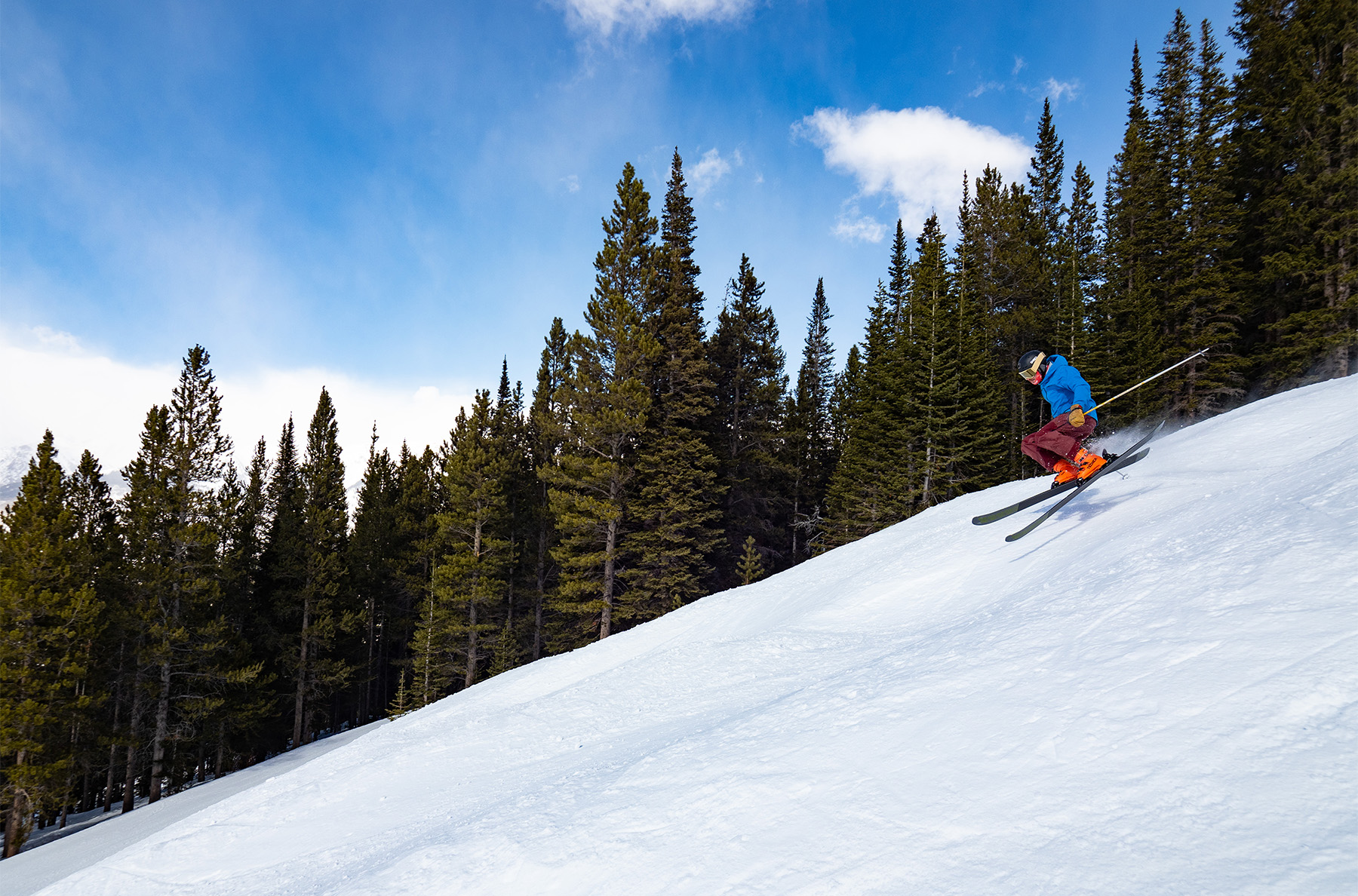 Drew: Having skied the old Mindbender 99Ti, I'd agree with Luke in saying that the new version is more accessible in bumps. But more so than many other skis that are built (or redesigned) to be more accessible and have broad appeal, the Mindbender 99Ti is capable of being pushed. While softer, more rockered skis like the Line Blade Optic 96 and Salomon QST 98 are really agile and forgiving mogul skis, their composure when pushed hard limits how fast I can ski a bump line. That's not the case with the Mindbender 99Ti. Despite being easy to pivot through or slide over bumps, I could still zipper-line moguls without excessive harsh feedback or deflection.
What I will say is that, before the Mindbender 99Ti, I had been spending a lot of time in the bumps on skis that are ~10 mm wider. Coming from those, I did not find the shovels of this ski to be ungainly, which often bothers me in moguls, but I could see how they might to someone used to skiing something with more tapered tips, or just a narrower ski overall.
Jonathan Ellsworth: I'd mostly like to add here that, when skiing off piste, the difference between this new 184 cm Mindbender 99Ti and the previous 184 cm Mindbender 99Ti is absolutely night and day. I know a number of people who found the 184 cm 99Ti to be way too much ski for their tastes. (I was one of those people, especially in moguls.) I don't find the new 184 Mindbender 99Ti to be demanding at all in moguls. Instead, I just really like it in moguls, trees, and tight terrain. It's a nice combination of being pretty stable, relatively quick, easy to pivot and release (the ski never felt stuck), and extremely predictable.
Soft Chop & Powder
Luke: As we mentioned up top, the new Mindbender 99Ti is not as damp or stable as the original, and that's most evident in roughed-up, variable snow. The new ski doesn't naturally blast through soft chop as well as its predecessor, but it's still heavy and strong enough that many experienced skiers will find it capable of skiing fast in chopped-up conditions.
What I personally really like with the new Mindbender 99Ti is that, by giving up some of the bulldozer-esque stability of the older, heavier version, the new ski can now cater to a wider range of skiing styles. To me, the old Mindbender 99Ti felt pretty inclined to just ski fast, stay on the ground, and try to blow through everything (especially the 184 cm). The new ski can still handle some big turns and high speeds (especially in softer, lower-density chop), but it also feels much more intuitive / practical than the old one if you want to ski with either a slower, more conservative style or a really dynamic, light-on-your-feet manner.
For me, my style, and my preferences, the Mindbender 99Ti hits a really nice sweet spot of being damp and stable enough to not get knocked around a bunch in soft chop, while also being quick, loose, and energetic enough to not feel like a burden when I want to ski more dynamically, make quick slashes, and get in the air at every opportunity. While there are lots of skis that do better jobs of catering more specifically to either side of the spectrum (i.e., even more stable, or even quicker), the Mindbender 99Ti's standout trait is its versatility.
All that talk about different styles aside, the new Mindbender 99Ti still floats really well for its width, and the deeper rocker lines on the new version (and lower weight) make it feel like an even more maneuverable and capable powder ski. I'd still prefer the wider Mindbender 108Ti if I planned on skiing a lot of deep (10+ in / 25+ cm) snow, especially deep chop, but the Mindbender 99Ti handles soft-snow duties as well as or better than most ~100mm-wide skis.
Jonathan: I might sum it up this way: the previous 184 cm 99Ti primarily felt — and performed — like a fat GS ski that always wanted to be on edge, being carved powerfully. And if this is your default style in soft chop and powder, you might have loved this. But if you tend to be skiing soft chop and powder not in open bowls but in tighter, techier terrain, then I suspect you will prefer how the 22/23 99Ti performs in soft chop and pow. The ski feels more comfortable making quick changes from running bases flat to pivoting turns to being carved on edge. The previous model was notably more one-dimensional.
Firm Chop & Crud
Luke: If you don't let really rough, firm, inconsistent conditions keep you from skiing as fast as you do in other conditions, the new Mindbender 99Ti won't be as ideal as the old one. The new ski gets knocked around more in these conditions, and it doesn't do as good of a job of absorbing vibrations and impacts from harsh snow.
That said, we're still talking about a ~2100-gram ski (184 cm), so the new Mindbender 99Ti is still on the more damp and stable end of the spectrum when compared to the current market. It's just that the old version was near the very top of its class in those regards.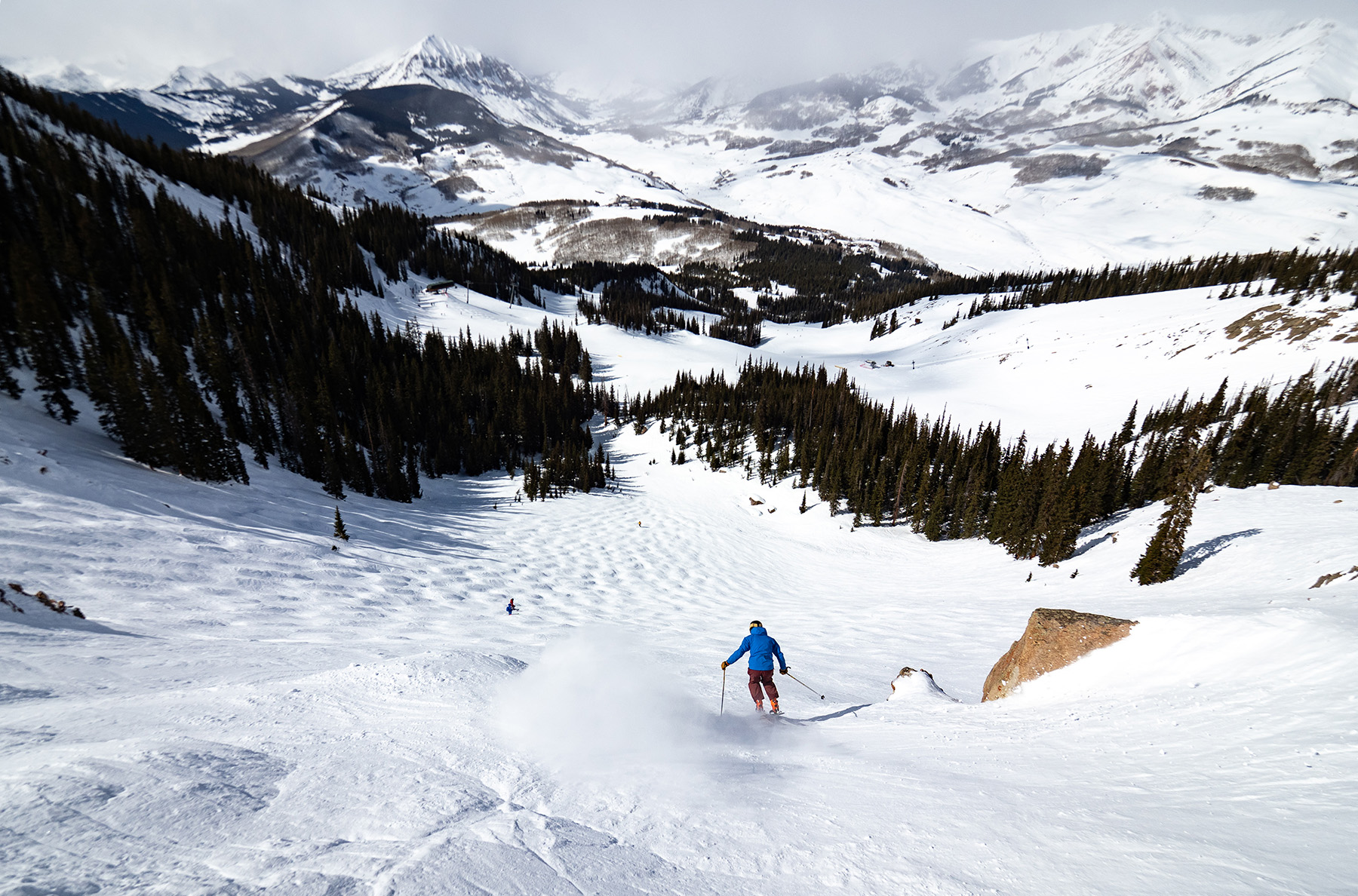 And if you're not someone who wants to ski very aggressively in conditions that make doing so really challenging, then the new Mindbender 99Ti might actually work better for you. It doesn't take as much physical effort or as proper of technique to maneuver in a slower, more controlled fashion, so it's pretty easy to slip and slide your way through the worst snow, then open it up when you find some conditions that are a bit more consistent / forgiving.
Dylan: Yep, the Mindbender isn't an ultra-damp, variable-conditions charger, but it also isn't a harsh, pingy, lightweight ski that makes you regret skiing anything other than soft or very smooth snow. I didn't feel like this ski held me back too much when wanting to charge hard through variable crud, but it also didn't mute out every inconsistency in the snow like a much heavier, more plush ski might.
Jonathan: I'd go back and read what I had to say above in our "Soft Chop and Powder" section. My primary message there is still relevant here. And as someone who tends to like heavier, stiffer skis, given the greater versatility one gets out of the 22/23 Mindbender 99Ti, I'd still take it over the previous model in firm chop and crud, even if the new model doesn't offer as much damping or stability as the previous model.
Mount Point
Luke: Like the original, the new Mindbender 99Ti has a pretty traditional recommended mount point of about -10.5 cm from true center. And like the previous version, I found myself personally preferring the new ski mounted a cm or two forward of that line. It didn't make a huge difference and is totally a subjective choice, but I found that the ski just worked a bit better for me when mounted around -9.5 or -8.5 cm from true center. There, it didn't feel quite as unbalanced in the air, I could ski it just a bit more centered in open terrain, and I didn't feel it seriously hampered carving performance. That said, I don't think I'd go any closer to center — this is a directional ski designed around a directional, rearward mount point, and I think moving farther away from the recommended line would start to hamper overall performance. For the vast majority of people, I think the recommended mount point will be ideal.
Dylan: To be clear, I agree with what Luke wrote last and it is important to reiterate, "For the vast majority of people, I think the recommended mount point will be ideal." But, this ski really came alive for me when skiing it mounted +2 cm of the line (-8.5 cm from true center), and I am confident that this is due to my playful style and more centered stance. When skiing it with a more directional style and forward stance, the recommended line was great and the ski felt very cohesive.
Drew: For me, a -10 cm mount point is ideal for skiing hard in a more versatile style across a wide range conditions. It allows me to turn a ski from a variety of fore / aft stances, from aggressive to casual. And that's what the Mindbender 99Ti does on its recommended mount point. To me, it neither feels like it skis short, nor like the length of ski in front of me is cumbersome, even with its relatively rearward mount point. But, as Dylan and Luke have mentioned, the tails aren't so unforgivingly stiff that you can't move the mount point forward a little bit and be stuck with hooky, punishing planks behind you.
Jonathan: I skied the 99Ti on the recommended line (-10 cm), and didn't have a problem with it there. But I also doubt that I would have disliked the ski a centimeter or two forward. So if you're really on the fence here, I don't think you'll screw things up by pushing forward a cm or two … but if you are a solidly directional skier, we don't think you need to get forward.
Length
Luke: I felt a little bit caught between the old 177 cm and 184 cm Mindbender 99Ti, since the 184 felt like a pretty big, demanding ski, while the 177 didn't quite offer the stability or flotation I wanted (though I'd lean toward the old 177). With the new version, the 184 cm length feels pretty ideal for me. That's right around the length I typically prefer for an all-mountain ski of this width, so I don't think I'd say there's anything weird / notable when it comes to sizing the new Mindbender 99Ti.
Dylan: While I would have been nervous about skiing the original Mindbender 99Ti in a 184, I have absolutely no reservations about this updated model in the 184 cm length. Size normally.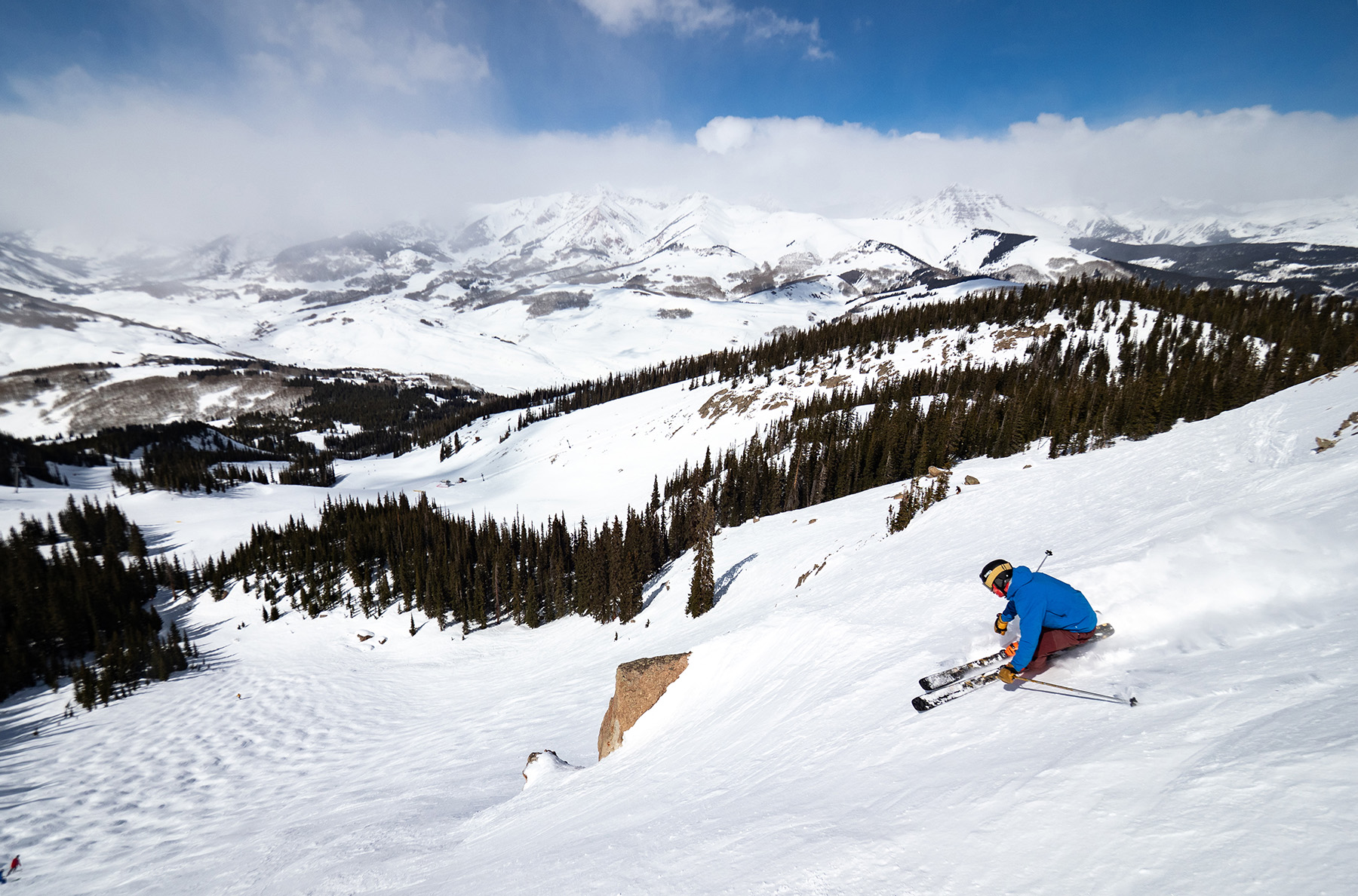 Jonathan: Let's continue to beat a dead horse here: if you found the previous 184 cm Mindbender 99Ti to be too much ski for you, do not make the mistake of assuming that you then need to size down on this 22/23 Mindbender 99Ti. You don't. I promise. For all-mountain skiing, I personally preferred the previous Mindbender 99Ti in a 177 cm length over the 184 cm length. But I have no interest in dropping down from the 184 to a 177 length in the 22/23 Mindbender 99Ti.
Finally, I'd also say that if you liked the previous Mindbender 99Ti in, say, a 177 cm length, then you should (probably) size up on the new 99Ti, and the 184 will be the right length.
Who's It For?
Luke: On Blister, you'll basically never see phrases like "you can't go wrong with X product" or "X product will work for everyone." Every person is different, so it's pretty much impossible to accurately claim something that conclusive. And if you do see those phrases on our site, well, expect me to go missing promptly afterward, with our founder insisting that the freshly dug hole in his backyard has nothing to do with my abrupt disappearance.
(Jonathan: Actually, you've been at this long enough now, Luke, that I'd probably just tell our audience that I had to murder you for obvious reasons, and they'd all nod approvingly.)
Luke: However … that doesn't change the fact that certain products work well for a wider range of people than other products. And I think the latest K2 Mindbender 99Ti could work "pretty well" to "excellently" for a lot of skiers out there.
It's a ski that offers enough stability and suspension to satisfy many aggressive skiers, but it is also surprisingly easy to ski at moderate speeds. It carves really well for its width, yet it's also quite easy to release, pivot, skid, and slarve when you need to. It handles high speeds better than the (numerous) lighter alternatives on the market, but it's still quick enough to encourage dynamic, light-on-your-feet skiing (especially for physically strong skiers). It's not the best choice for those who only look to skis on the most stable, demanding end of the spectrum, nor is it great for those who prioritize freestyle performance. But if you're not one of those people and you're in the market for a versatile, ~100mm-wide all-mountain ski, I'd say you have reason to consider the Mindbender 99Ti.
Dylan: The biggest takeaway here is that the Mindbender 99Ti is an excellent all-mountain ski that could work for a lot of skiers, as Luke outlined above. It already has and will likely continue to rather frequently show up in our personalized ski recommendations to Blister Members.
Drew: The Mindbender 99Ti could be an excellent option for someone looking for one ski to handle most conditions really well. And I think it'd be especially appealing if you're an intermediate or advanced skier looking to progress and/or push yourself a bit.
Jonathan: If you still really want to know, then see our accompanying massive Deep Dive where we compare the 99Ti to TWENTY TWO other skis…
Bottom Line
The revised K2 Mindbender 99Ti is a ski that manages to offer a pretty good level of high-speed stability and damping while not being so singularly catered to those things that it feels one dimensional. It's an exceptionally versatile ski — in terms of conditions, terrain, and being adaptable to different skiing styles.
Deep Dive Comparisons
Become a Blister Member or Deep Dive subscriber to check out our Deep Dive comparisons of the Mindbender 99Ti to see how it compares to the previous Mindbender 99Ti, K2 Mindbender 89Ti, K2 Mindbender 108Ti, Volkl M6 Mantra, Faction Dancer 2, Blizzard Bonafide 97, original Fischer Ranger 102 FR, 22/23 Fischer Ranger 102, Black Crows Camox, 4FRNT MSP 99, Moment Commander 98, Dynastar M-Pro 99, Wagner Summit 97, Black Crows Justis, J Skis Masterblaster, Salomon QST 98, Nordica Enforcer 100, Dynastar M-Free 99, Line Blade Optic 96, Salomon Stance 96, Atomic Maverick 100 Ti, & Renoun Endurance 98.
Rocker Profile - Decambered
Tail Profile - Decambered