Ski: 2021-2022 Volkl M6 Mantra, 177 cm
Test Location: Mt. Crested Butte, Colorado
Days Skied (total): ~13
Available Lengths: 163, 170, 177, 184, 191 cm
Blister's Measured Tip-to-Tail Length (straight-tape pull): 178.1 cm
Blister's Measured Weight per Ski: 2043 & 2089 grams
Stated Dimensions: 135-96-119 mm
Blister's Measured Dimensions: 134.7-95.7-118.3 mm
Stated Sidecut Radius (177 cm): 29.8 m / 17.5 m / 24.3 m
Measured Tip & Tail Splay (ski decambered): 51 mm / 16 mm
Measured Traditional Camber Underfoot: 2 mm
Core: poplar/beech + titanal layers + carbon stringers at tip + fiberglass laminate
Base: sintered P-Tex 2100
Factory Recommended Mount Point: -11.35 cm from center / 77.7 cm from tail
Ski: 2021-2022 Volkl M6 Mantra, 184 cm
Blister's Measured Tip-to-Tail Length (straight-tape pull): 183.0 cm
Blister's Measured Weight per Ski: 2178 & 2195 grams
Stated Dimensions: 135-96-119 mm
Blister's Measured Dimensions: 134.8-95.8-118.5 mm
Stated Sidecut Radius (184 cm): 31.8 m / 18.7 m / 25.9 m
Measured Tip & Tail Splay (ski decambered): 54 mm / 18 mm
Measured Traditional Camber Underfoot: 3 mm
Factory Recommended Mount Point: -11.5 cm from center / 80.0 cm from tail

Intro
2021 kicked off with a big announcement in the ski world: Volkl had decided to update their long-standing Mantra and Secret.
We discussed the changes in our breakdown of the announcement back in January, but the summary is that Volkl was aiming to make the skis work better for skiers of various sizes and abilities, without compromising the versatility and stability for which the Mantra and Secret have become known.
Soon after that announcement, we started spending time on four different lengths of these skis (the M6 Mantra and Secret 96 share an identical construction, apart from subtle changes we discuss below). Now it's time for us to share our thoughts on the latest iteration of Volkl's ubiquitous all-mountain ski, and we'll also be dropping a review of the Secret 96 in the future, where our female reviewers will add their thoughts on some of the shorter lengths.
What Volkl says about the M6 Mantra & Secret 96
"The Mantra and Secret – popular and well-established brand icons within Völkl's All Mountain Freeride series – are known for providing reliable performance in a staggering variety of snow conditions. With the new M6 Mantra and Secret 96, the Bavarian ski maker introduces the next generation: the new models offer more stability, liveliness, maneuverability and best of all, greater versatility, making the mountain more fun both on and off the groomers. This is mainly achieved thanks to two of the latest innovations from Völkl: Tailored Titanal Frame and Tailored Carbon Tips."
And just for kicks, we might as well include Volkl's anthropomorphized and … erotic (???) product copy as well — which is most definitely worthy of the Blister Swagger Award, and which you should imagine being read in the voice of Barry White:
"I am the legendary all-rounder. No matter whether on-piste or off-piste, hard or soft snow – I can do almost everything with you. I playfully guide you through every curve radius, even with fast changes of directions. Even if you take me to full speed, I will stay calm and follow your desired line. Are you a good to very good skier? If yes I will seduce you at any time with my high quality technologies and riding dynamics. If this sounds like a good match, then take me home with you!"
While we would quickly swipe left on this profile, the gist of this is pretty standard — the M6 Mantra and Secret 96 are supposed to be versatile and stable all-mountain skis for decent to expert skiers. And they're supposed to do this with the help of some fancy sounding new tech:
Construction
Most of the construction of the previous M5 Mantra and Secret 92 carry over to the new M6 Mantra and Secret 96, with the exception of a few main parts.
First, the skis' "Titanal Frame" — essentially a single layer of titanal below the core and multiple segmented pieces above it — is now tweaked depending on the length of the ski. The shorter lengths get a bit less metal, the longer ones get a bit more. The goal here is to keep performance relatively the same across different lengths and the different-sized skiers who would be on them.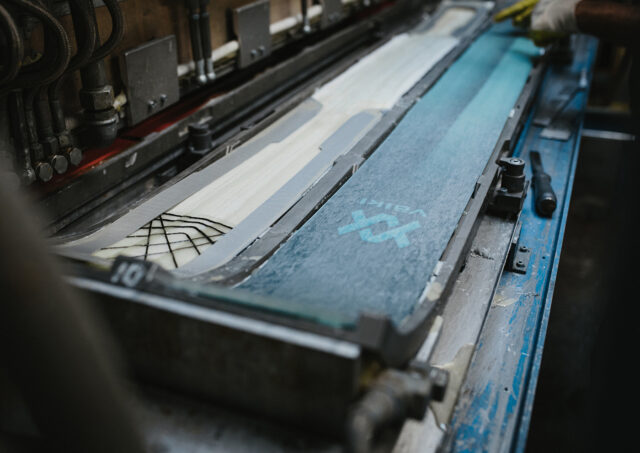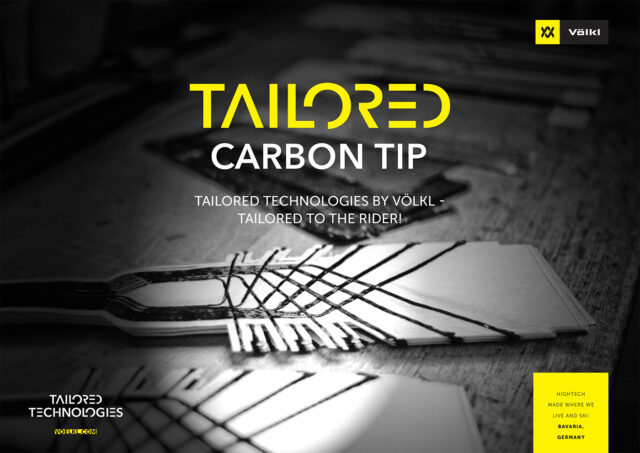 As for those "Tailored Carbon Tips," they're basically referring to a sheet of fabric into which carbon stringers are embroidered in a pattern Volkl deemed ideal. This allows for more customization than the carbon fiber we usually see, which is typically only laminated into the ski in one, two, or three directions, with the idea being that Volkl can better fine-tune the longitudinal and torsional stiffness added by the carbon stringers.
The one other noteworthy change is that Volkl added slits in the piece of metal under the binding area, in an effort to make the ski a touch softer torsionally in that area for a more responsive feel when initiating turns.
Other than those updates, the rest of the construction carries over from the 18/19–20/21 M5 Mantra and Secret 92, including a poplar / beech wood core, fiberglass laminate, and sintered P-Tex 2100 base.
Shape / Rocker Profile
No real change here — the M6 Mantra maintains the M5's minimal tip and tail taper and its low-slung rockered tips and tails. The M6 Mantra and Secret 96's rocker lines are actually fairly deep for 96mm-wide skis when you look at them real close, but these two skis' tips and tails only really rise near the very ends. All that equates to a long effective edge and a pretty long contact length when you tip the skis over on edge.
Flex Pattern
Here's how we'd characterize the flex pattern of the 163 cm Secret 96:
Tips: 8-8.5
Shovels: 8.5-9
In Front of Toe Piece: 9-9.5
Underfoot: 10
Behind the Heel Piece: 9.5-9
Tails: 8.5
Here's how we'd characterize the flex pattern of the 177 cm M6 Mantra:
Tips: 8.5
Shovels: 8.5-9
In Front of Toe Piece: 9-9.5
Underfoot: 10
Behind the Heel Piece: 9.5-8.5
Tails: 8
Here's how we'd characterize the flex pattern of the 184 cm M6 Mantra:
Tips: 8.5
Shovels: 9
In Front of Toe Piece: 9-9.5
Underfoot: 10
Behind the Heel Piece: 9.5-9
Tails: 8
Comparing various lengths of the new M6 Mantra and Secret 96 to our pair of the 177 cm M5 Mantra, the flex patterns of all of them feel quite similar. If anything, the 177 cm M6 Mantra is a touch softer through the back half than the 177 cm M5 Mantra.
The 184 cm M6 Mantra feels a hair stiffer near the ends than the 177 cm M6 Mantra, while the 163 cm Secret 96 feels a touch softer at the end of the tips, but actually a bit stiffer than the longer M6 Mantras at the end of the tail.
The main point here, though, is that all of these new skis have consistently stiff flex patterns. They're not unbendable, but especially near the ends, the skis feel quite stiff when compared to most other options in their class. But it's also worth noting that the tips and tails of the M6 Mantra / Secret 96 feel quite similar in terms of stiffness, which we tend to like (rather than drastically stiffer tails than tips).
Sidecut Radius
This is the other big change for 21/22. The new M6 Mantra and Secret 96 now feature Volkl's "3D Radius," which they've been rolling out on most of their recent skis.
To sum it up, these skis feature three different sidecut radii that are blended together to try to get the best of all three worlds. There's a long radius near the shovel, a slightly shorter radius around the tail, and the tightest radius underfoot.
For reference, here's how Volkl describes the sidecut radii of the M6 Mantra and Secret 96. The R1 number refers to the tip radius, the R2 number refers to the radius around the midsection of the ski, and the R3 number refers to the radius at the tail.
Sidecut Radii: 2021-2022 Volkl M6 Mantra
163 cm: R1(24.1 m), R2(14.2 m), R3(20 m)
170 cm: R1(26.9 m), R2(15.8 m), R3(22.1 m)
177 cm: R1(29.8 m), R2(17.5 m), R3(24.3 m)
184 cm: R1(31.8 m), R2(18.7 m), R3(25.9 m)
191 cm: R1(35 m), R2(20.5 m), R3(28.3 m)
Sidecut Radii: 2021-2022 Volkl Secret 96
149 cm: R1(19 m), R2(11.2 m), R3(16.1 m)
156 cm: R1(21.4 m), R2(12.7 m), R3(18 m)
163 cm: R1(24.1 m), R2(14.2 m), R3(20 m)
170 cm: R1(26.9 m), R2(15.8 m), R3(22.1 m)
Mount Point
No change here — these skis still feature very traditional mount points around -11 cm from center.
Weight
This is another area where the skis aren't seeing much change. The M6 Mantra and Secret 96 still fall on the heavier side of the spectrum these days, though not by a huge margin. There are skis that are heavier, but there are more that are lighter.
For reference, here are a number of our measured weights (per ski in grams) for some notable skis. Keep in mind the length differences to try to keep things apples-to-apples.
1638 & 1639 Atomic Maven 93 C, 172 cm (21/22)
1734 & 1750 Renoun Endurance 98, 184 cm (18/19–20/21)
1758 & 1758 Head Kore 93, 180 cm (19/20–20/21)
1781 & 1795 Atomic Maverick 100 Ti, 180 cm (21/22)
1801 & 1839 Salomon Stance 90, 176 cm (20/21–21/22)
1807 & 1840 Atomic Bent Chetler 100, 188 cm (18/19–21/22)
1810 & 1828 Armada Declivity 92 Ti, 180 cm (20/21–21/22)
1833 & 1842 Volkl Secret 96, 163 cm (21/22)
1863 & 1894 Blizzard Rustler 9, 180 cm (18/19–21/22)
1883 & 1906 Season Aero, 180 cm (20/21)
1900 & 1908 Atomic Maverick 95 Ti, 180 cm (21/22)
1921 & 1968 Head Kore 99, 188 cm (18/19–20/21)
1925 & 1934 Black Crows Camox, 186.5 cm (19/20–21/22)
1925 & 1937 Liberty Helix 98, 186 cm (18/19–21/22)
1936 & 2013 Salomon Stance 96, 182 cm (20/21–21/22)
1937 & 1945 Fischer Ranger 94 FR, 184 cm (19/20–21/22)
1966 & 1973 Liberty Origin 96, 187 cm (18/19–20/21)
1976 & 2028 Parlor Cardinal Pro, 182 cm (19/20–20/21)
1985 & 2006 Parlor Cardinal 100, 185 cm (16/17–20/21)
1994 & 2011 Fischer Ranger 99 Ti, 181 cm (19/20–21/22)
1998 & 2044 4FRNT MSP 99, 181 cm (17/18–21/22)
1999 & 2060 Line Blade, 181 cm (20/21–21/22)
2043 & 2089 Volkl M6 Mantra, 177 cm (21/22)
2049 & 2065 Volkl Mantra M5, 177 cm (18/19–20/21)
2054 & 2063 Salomon QST 98, 189 cm (21/22)
2055 & 2080 Salomon QST 99, 181 cm (19/20–20/21)
2085 & 2096 Dynastar Menace 98, 181 cm (19/20–20/21)
2089 & 2105 Nordica Soul Rider 97, 185 cm (15/16–21/22)
2115 & 2149 J Skis Masterblaster, 181 cm (16/17–20/21)
2178 & 2195 Volkl M6 Mantra, 184 cm (21/22)
2218 & 2244 Volkl Mantra 102, 184 cm (19/20–21/22)
2256 & 2284 Nordica Enforcer 94, 186 cm (20/21–21/22)
2281 & 2284 Blizzard Bonafide 97, 177 cm (20/21–21/22)
2311 & 2342 K2 Mindbender 99Ti, 184 cm (19/20–21/22)
Now that we've gotten that out of the way, let's get into how these things actually perform on snow:
FULL REVIEW
As we noted above, we got to spend time on a few different lengths of this ski in order to get an idea of how Volkl's "tailored" technology actually feels on snow, and to see how these skis stack up against their competition. Jonathan Ellsworth and I are both very much in agreement on this ski, so we're kicking things off with our thoughts, and then will likely add thoughts from reviewers Dylan Wood and Drew Kelly in the future.
Groomers
Luke Koppa (5'8", 155 lbs / 173 cm, 70 kg): Long story short, the M6 Mantra was one of the best-carving all-mountain skis I got on this year, and frankly, one of the best I've ever used.
Note: I did say "all-mountain" ski. I'm not saying the M6 Mantra offers the turn initiation, edge hold, or overall precision of a much narrower, dedicated piste ski. But it comes closer than a whole lot of similarly wide skis.
Apart from the lowest-angle slopes, I just really, really like carving turns on this ski. It's extremely predictable on groomers ranging from fresh to fully deteriorated, it can make a variety of turn shapes, and it offers an excellent combo of suspension and energy.
With both the 177 cm and 184 cm M6 Mantra, it's obvious that the skis have stiffer tips and shovels than a lot of other skis in this class, so they take a bit more effort, technique, and speed to bend and engage. But for most intermediate to expert skiers, I think you'll be able to adjust pretty quickly and soon be carving nice, clean turns.
Given those stiffer-feeling tips, the M6 Mantra isn't what I'd pick if I primarily wanted to focus on super tight, slalom-esque turns. But as someone who likes those kinds of turns and longer ones, the M6 was a blast. I never felt like I was over-flexing it, nor did it feel like it was excessively difficult to bend and engage. And in terms of edge hold, I'd say there are very few 95mm+ skis that beat the M6 Mantra.
All in all, the M6 Mantra is one of the most versatile, reliable, and exciting carvers I've used in this ~95mm-wide all-mountain category.
Moguls, Trees, & Tight Terrain
Given how well it carved, I was honestly a bit pessimistic about how I'd get along with the M6 Mantra when I ventured outside groomed terrain. Fortunately, those worries were mostly unfounded.
Yes, compared to the numerous options in this category that are lighter, more rockered, softer, and / or more tapered, the M6 Mantra is a comparatively more difficult ski when the terrain gets tight and technical. But overall, I found the M6 Mantra easier in this terrain than I expected.
Particularly for the 177 cm M6 Mantra, its swing weight does not feel excessively heavy, and it is pretty easy to release and pivot if you stay over its shovels. The 184 cm length feels notably more sluggish, but for those who like to keep their skis on the ground and who have good technique, I don't think you'll find it to feel notably sluggish.
Either length of the M6 Mantra will punish super sloppy backseat skiing, and those seeking maximum quickness, surfy maneuverability, or a really forgiving ski have many better options. But if you're used to fairly stiff, fairly heavy, directional all-mountain skis, I wouldn't worry much at all. And if the reason you're used to those more demanding skis is that you like how they feel more calm and composed in bumps and trees when the snow is far from ideal, then you should definitely consider the M6 Mantra.
This ski's suspension isn't quite best-in-class, but it's still significantly better than lighter, "easier" skis. Which, in turn, can actually make the M6 Mantra easier to ski when you're trying to bash down a very firm, variable mogul line, since the M6 Mantra won't be getting knocked around by every little inconsistency in the snow.
Overall, the M6 Mantra is still more planted and precise than it is quick and loose. Some people will love that, others won't, but I wouldn't say there's anything out of the ordinary in terms of how the M6 performs in bumps and trees when compared to similarly shaped, similarly heavy skis.
Steeps
In more open steeps, the M6 Mantra can be a lot of fun — especially when the snow isn't perfect. I have a blast on most skis in ideal, chalky, steep terrain (like Mt. CB's Headwall in the spring), but skis like the M6 really stand out when conditions aren't as favorable.
Most of what I said about the M6 in trees and bumps applies here. It's not the best ski if you love an ultralight swing weight or a ski that's always eager to go sideways. But if you like a ski that doesn't get knocked around a bunch in variable snow, the M6 Mantra offers a lot to like. It's pretty smooth, very predictable, and the effort it takes to ski is less noticeable when you move from super tight bumps to more open, steep zones.
Soft Chop & Powder
The M6 Mantra certainly wouldn't be the first ski I'd grab if I knew it had snowed that day, but it does fine for what it is.
As far as soft snow goes, the M6 Mantra feels comfortable when you can still feel a firm base underneath. Deeper than that, and it starts to get bogged down and difficult to turn (at least turn tightly). That's what I'd say about most ~95mm-wide skis, but there are certainly better-floating, more maneuverable options around this width if you want to make the most of soft-snow days on your all-mountain ski. But especially if you like to make bigger turns when the snow is soft and don't need a super surfy, loose ski, the M6 Mantra performs well enough to still be lots of fun in up to about 6–8" / 15–20 cm of fresh snow.
Firm Chop & Crud
As we've alluded to above, more challenging conditions are where the M6 Mantra — like the M5 Mantra before it — sets itself apart from the lighter competition.
Again, I wouldn't say the M6 Mantra is the absolute best when it comes to suspension or flat-out stability, but it's still quite good. Hitting patches of variable, inconsistent, rough snow results in relatively little deflection or drama compared to a lot of ~95mm-wide skis on the market these days. And the good news is that, despite being an excellent carver, I didn't notice any significant "hookiness" or difficulties breaking the ski free when I wanted to dial things back.
The Volkl Mantra 102 and Katana 108 are better for absolutely nuking through crud (especially if it's punchy / grabby), but for its width, the M6 Mantra is one of the better options in its class when it comes to composure and stability in rough conditions.
Volkl M6 Mantra: 177 cm vs. 184 cm
One of the big stories with the M6 is the differing constructions between different lengths, though in my experience, there wasn't a massive difference between the 177 cm and 184 cm lengths I tried. They feel really similar overall, just with the differences I'd expect — the shorter ski is easier to bend, quicker, and feels more energetic to me, while the longer one is a bit more sluggish but also notably more damp and stable at speed.
Personally, I felt split between the 177 cm and 184 cm lengths, though I think I ended up preferring the 184 cm. The shorter ski felt snappier and more lively on piste, but the 184 cm M6 Mantra was notably more composed at speed and on rough snow, and it didn't feel excessively sluggish off piste. But in the end, I could be very happy on both for the terrain I ski. I think the main point is that I don't see many reasons to steer from your usual ski length when considering the M6 Mantra. I suspect that the folks who would really notice the "tailored" construction of the M6 Mantra and Secret 96 would be those on the very longest, or very shortest lengths of the skis.
Who's It For?
High-intermediate to expert skiers who value on-piste precision, stability at speed and on rough conditions, and who ski a bit of everything.
As we noted above, those who want a really quick, maneuverable, and / or forgiving ski should look to lighter, more rockered, and / or more tapered skis. And if you want the absolute most stable ski in this class, there are a few other better alternatives.
But if you appreciate very good edge hold, turn initiation, and composure on piste when considering an all-mountain ski — but you still spend a significant amount of time in bumps, trees, and other off-piste terrain and conditions — the M6 Mantra offers a whole lot to like.
Bottom Line
With the history of the Mantra name behind it, the Volkl M6 Mantra had a lot to live up to. The good news is that Volkl didn't go in a wildly different direction from the M5 — the new M6 is still a very good, versatile, stable all-mountain ski that will reward experienced skiers with plenty of precision and stability while still serving as a useful tool for exploring just about any mountain.
Deep Dive Comparisons
Become a Blister Member or Deep Dive subscriber to check out our Deep Dive comparisons of the M6 Mantra to see how it compares to the M5 Mantra, Volkl Mantra 102, Blizzard Bonafide 97, Atomic Maverick 95 Ti, Nordica Enforcer 94, Armada Declivity 92 Ti, Salomon QST 98, Salomon Stance 96, Salomon QST 99, Moment Commander 98, 4FRNT MSP 99, Fischer Ranger 102 FR, Fischer Ranger 94 FR, Dynastar M-Pro 99, K2 Mindbender 99Ti, J Skis Masterblaster, Blizzard Rustler 9, & DPS Pagoda Piste 94 C2.