Ski: 2022-2023 Nordica Unleashed 98 W, 174 cm
Test Location: Mt. Crested Butte, Colorado
Days Skied: 9
Available Lengths: 144, 152, 160, 168, 174 cm
Blister's Measured Tip-to-Tail Length (straight-tape pull): 171.8 cm
Stated Weight per Ski (168 cm): 1760 grams
Blister's Measured Weight per Ski (174 cm): 1741 & 1747 grams
Stated Dimensions: 132-98-121 mm
Blister's Measured Dimensions: 132.4-97.5-121.3 mm
Stated Sidecut Radius (174 cm): 17.4 meters
Measured Tip & Tail Splay (ski decambered): 70.5 mm / 54.5 mm
Measured Traditional Camber Underfoot: 3 mm
Core Materials: poplar/beech + partial titanal layer + carbon & fiberglass laminate
Base: sintered
Factory Recommended Mount Point: -7.2 from center; -78.7 from tail
Boots / Bindings: Tecnica Cochise Pro W; Rossignol Pure Elite 120 / Marker Griffon

Intro
I (and several of our other reviewers) have gotten along with many versions of Nordica's Santa Ana skis, including everything from the 18/19 Santa Ana 100 and 110 to, more recently, the 22/23 Santa Ana 104 Free and Santa Ana 98. So when Nordica announced the new 22/23 Unleashed line of skis, which are designed to be more playful and maneuverable alternatives to the Enforcer / Santa Ana series, I was quite intrigued and curious to see how they'd compare.
I spent several days on the women's Unleashed 98 W at the tail end of our lift-accessed season, and it's now time to weigh in on its overall performance, how it compares to the Santa Ana skis, and what sort of skiers I think will enjoy it the most.
What Nordica says about the Unleashed 98 W
"Be brave, be bold, and be you with Nordica's Unleashed 98 W. Refined for the modern freeskier, this female-driven design is as playful as it is versatile. And because it's equally at home exploring deep snow, bumps, and trees, it's the perfect daily driver for adventurous skiers. To amplify your confidence, it pairs a wood core with carbon and a sheet of terrainspecific metal. This design boosts edge hold and dampens vibrations for an especially smooth ride. Its rocker profile thrives in any terrain and all conditions while the traditional camber underfoot offers exceptional response and plenty of pop. And an early rise tip and tail provide additional floatation and love to play around the mountain. Break free and never look back-with Nordica's Unleashed 98 W."
Women-Specific Aspects of the Unleashed 98 W
The women's Unleashed 98 W features the same construction as the men's Unleashed 98, but the "W" version is available in some shorter length offerings and slightly different graphics.
Shape / Rocker Profile
At a first glance, the Unleashed skis certainly look less directional than the Santa Ana series, with the Unleashed skis having a more symmetrical shape and rocker profile. Overall, the Unleashed 98 W has very little tip or tail taper and fairly shallow rocker lines, with the most pronounced difference between it and the Santa Ana 98 being the Unleashed's significantly higher tail splay.
Flex Pattern
Here's how we'd characterize the flex pattern of the Unleashed 98 W:
Tips: 6.5
Shovels: 7-8
In Front of Toe Piece: 8.5-9.5
Underfoot: 9.5
Behind the Heel Piece: 9.5-8.5
Tails: 8-7
This flex pattern is nearly identical to the 186 cm Unleashed 98 and is pretty similar to the Santa Ana 98, with the Unleashed 98 W being a bit softer through the back half of the ski, especially through the tail. That said, the Unleashed 98 W is still a fairly strong ski overall.
Mount Point
At about -7.2 cm from center, the Unleashed 98 W's recommended mount point is a bit closer to center than the Santa Ana skis, but not as forward as some more freestyle-oriented options (e.g., Moment Sierra).
Weight
Whereas the Nordica Santa Ana skis sit slightly on the heavier end of the spectrum, the Unleashed 98 W is closer to the middle, if not a bit on the lighter side of things.
For reference, here are a number of our measured weights (per ski in grams) for some notable skis. Keep in mind the length differences to try to keep things apples-to-apples.
1556 & 1575 Liberty Genesis 96, 165 cm (19/20–20/21)
1592 & 1637 Head Kore 97 W, 170 cm (21/22)
1622 & 1638 Blizzard Black Pearl 88, 165 cm (20/21–22/23)
1638 & 1639 Atomic Maven 93 C, 172 cm (21/22–22/23)
1685 & 1731 Black Crows Camox Birdie, 168 cm (19/20–22/23)
1687 & 1695 Elan Ripstick 102 W, 170 cm (20/21–22/23)
1693 & 1710 Moment Sierra, 172 cm (21/22)
1709 & 1710 Blizzard Sheeva 10, 172 cm (17/18–22/23)
1741 & 1747 Nordica Unleashed 98 W, 174 cm (22/23)
1762 & 1801 K2 Mindbender 98Ti Alliance, 168 cm (19/20–21/22)
1792 & 1792 Nordica Santa Ana 104 Free, 172 cm (20/21–22/23)
1797 & 1839 Rossignol Rallybird 102, 170 cm (20/21–22/23)
1812 & 1817 Salomon Stance 94 W, 174 cm (20/21–22/23)
1831 & 1852 Rossignol Rallybird 104 Ti, 171 cm (20/21–22/23)
1833 & 1842 Volkl Secret 96, 163 cm (21/22–22/23)
1881 & 1895 Salomon QST Lumen 99, 174 cm (19/20–21/22)
1903 & 1917 Nordica Santa Ana 93, 172 cm (20/21–22/23)
1917 & 1935 Nordica Santa Ana 98, 172 cm (20/21–22/23)
1928 & 1945 K2 Mindbender 99Ti W, 172 cm (22/23)
1933 & 1975 Volkl Secret 96, 170 cm (21/22–22/23)
1955 & 1990 Coalition Snow SOS, 173 cm (19/20–20/21)
1969 & 1988 4FRNT MSP CC, 171 cm (20/21–22/23)
1983 & 1999 Nordica Santa Ana 100, 177 cm (18/19 – 19/20)
2015 & 2024 Blizzard Black Pearl 97, 171 cm (20/21–22/23)
2104 & 2115 Volkl Secret 102, 170 cm (19/20–21/22)
Flash Review
Blister Members can read our Flash Review of the Unleashed 98 W for our initial on-snow impressions. Become a Blister member now to check out this and all of our Flash Reviews, plus get exclusive deals and discounts on skis, and personalized gear recommendations from us.
FULL REVIEW
Groomers
Kara Williard (5'9", 167 lbs / 175 cm, 75.7 kg): Groomers on the Unleashed 98 W were a nice surprise — it proved to be exceptionally lively, energetic, and even powerful. I realized early on that I could easily load up the ski and use its energy to propel me from one turn to the next. On piste, the Unleashed 98 W offers a nice mix of traits: it's pretty stable and secure on edge; offers both easy turn initiation and release; and it's quite energetic. All of this meant that the Unleashed 98 stood out as one of the better 90-100mm-wide skis I've used when it comes to overall carving performance.
This held true as I migrated from grippy groomers to those that were more skied off. I tend to ski with a very forward, driving stance on groomers, which worked fine, but the Unleashed 98 W didn't demand this in order to carve precise turns. And while carving the Unleashed 98 W is a lot of fun, it also works fine for skidding and slarving turns, making it a pretty forgiving option for a less experienced skier.
As for comparisons, the Unleashed 98 W feels similarly stable and precise on piste as the K2 Mindbender 99Ti W, while also feeling similarly maneuverable. The Santa Ana 98 and Blizzard Black Pearl 97 feel more stable and supportive on firmer snow, but the Unleashed 98 W is more lively and easier to release / slide when you want.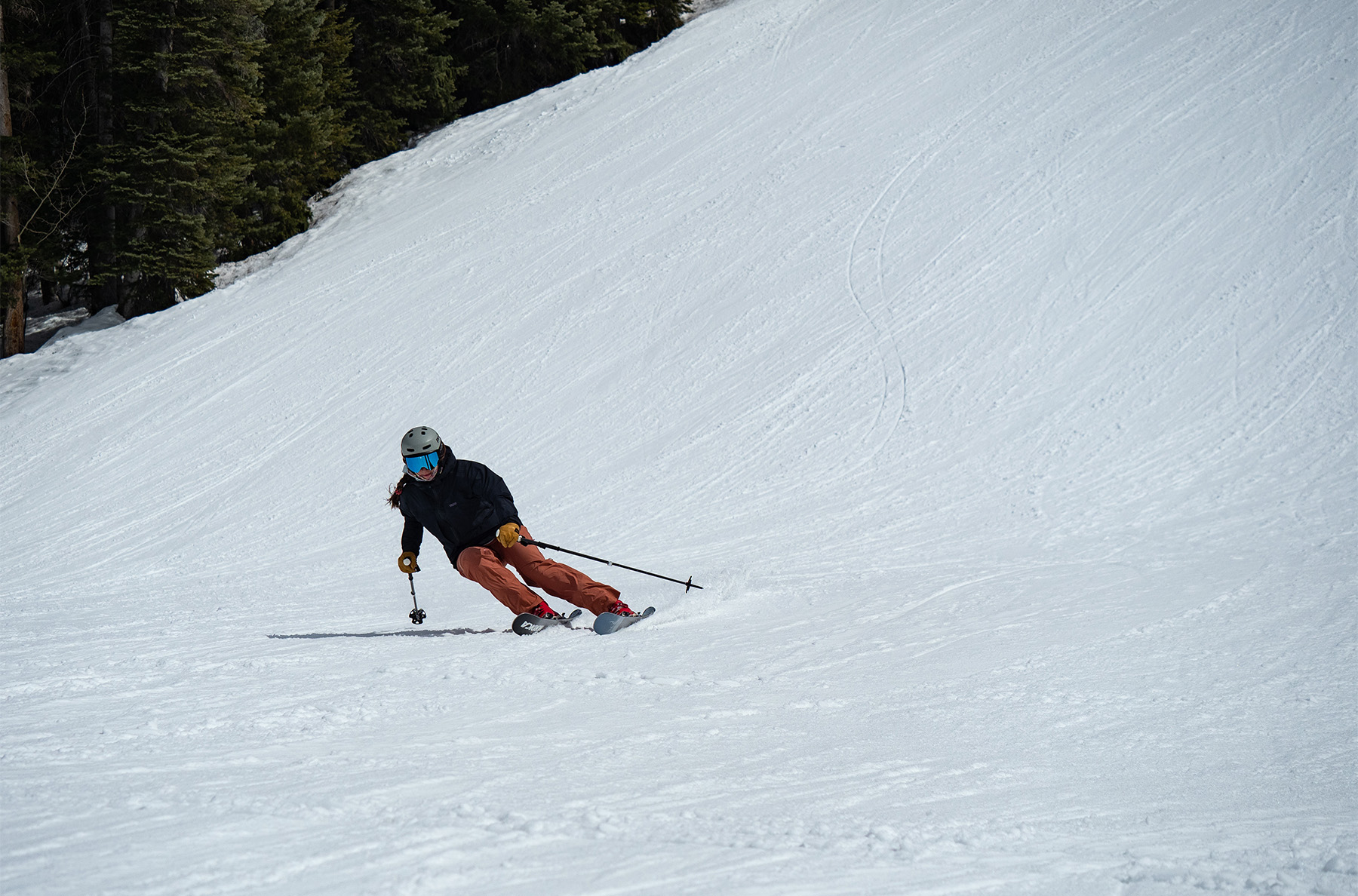 Moguls, Trees, and Tight Terrain
The Unleashed 98 W is a whole lot more playful in bumps and tight terrain than the Santa Ana 98, but the Unleashed 98 W is by no means some super loose, soft ski that falls apart in firm conditions or serious terrain.
As I noted in my initial Flash Review, I am a directional skier and don't often find myself needing a twin tip for things like skiing switch. However, I do appreciate how the more rockered tails of skis like the Unleashed 98 W will more easily roll over and around massive moguls, making it easy to finesse and smear through tricky spots. This allowed me to ski lazily at times, but in other instances, it actually helped me ski more confidently and with more speed through mogul fields, since I never felt concerned that the Unleashed 98 would punish a slightly sloppy turn.
The Unleashed 98 W isn't quite as damp or planted as the Santa Ana skis, the Volkl Secret 96, or the Black Pearl 97, but it is a whole lot easier to maneuver without having to drive / pressure the shovels as aggressively. The Unleashed 98 reminded me of the 178 cm Line Blade Optic 104 and Faction Dancer 2X when it came to quickness and maneuverability, though both the Blade Optic 104 and Dancer 2X felt a bit more stable on really firm snow. On the other hand, the Blizzard Sheeva 10 isn't quite as uniformly stable and predictable as the Unleashed 98 W in firm, tight terrain.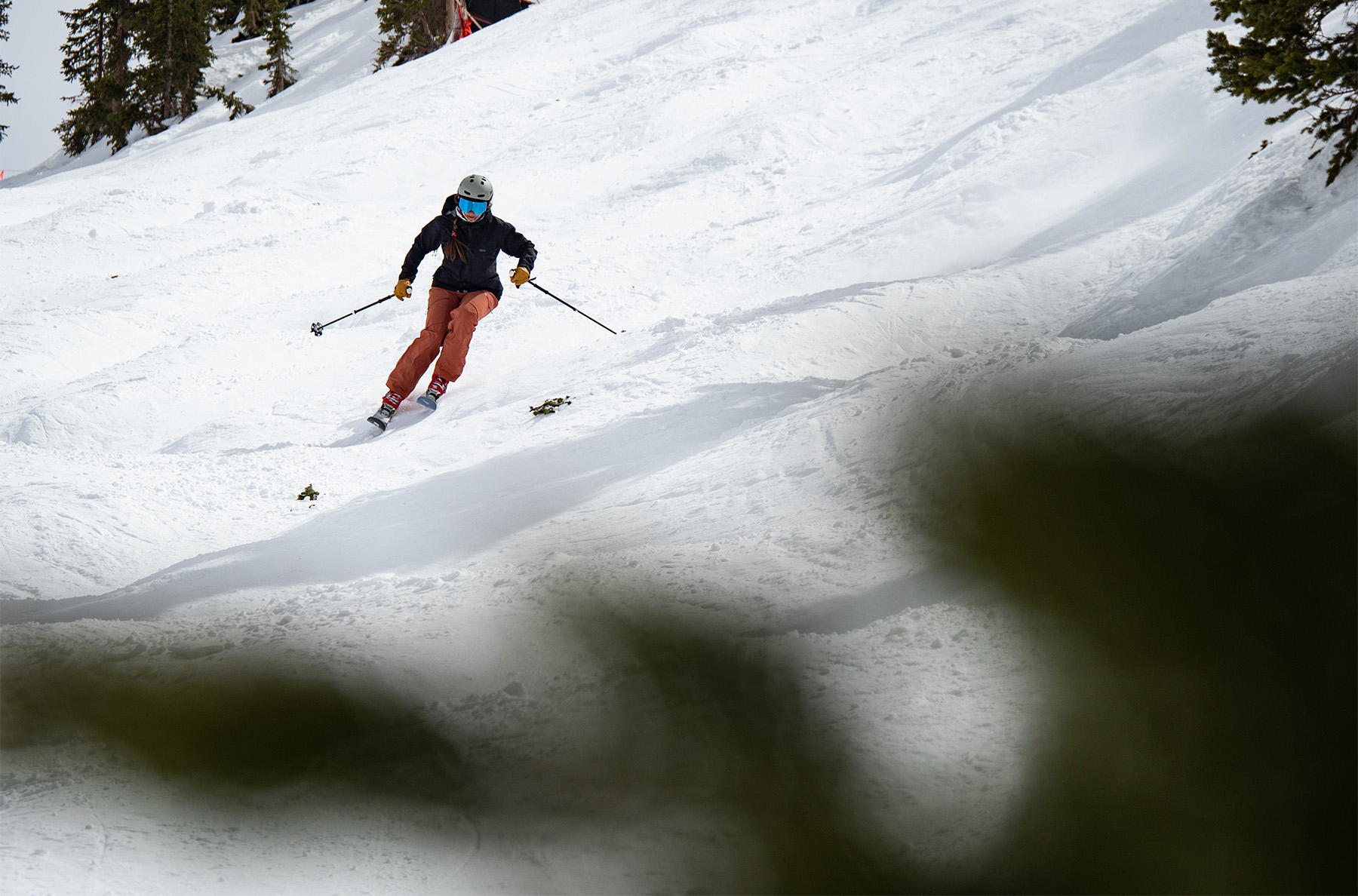 Overall, the Unleashed 98 W was a confidence-inspiring ski for me in tight terrain and moguls. When I found myself skiing a lot of narrow chutes on it, I felt fine doing so with a bit more speed and quicker turns than I might on a heavier, stiffer ski because the Unleashed 98 W makes it easy to both initiate and release turns, while also feeling lively enough to make this style of skiing fun and rewarding.
Chop / Crud
To me, the Unleashed 98 W feels pretty easy and predictable when navigating tough conditions, while also not feeling excessively soft or chattery. I think the best quality of the Unleashed 98 in unforgiving snow conditions is its smooth and intuitive flex pattern, which makes it possible to ski however feels best to me at the time (whether I want to push it fairly hard or take it easy).
In chop and crud, there were times that the Unleashed 98 W had me thinking longingly about the Santa Ana 98, which is notably more damp / planted. That said, for its weight (about 200 g lighter than the SA98), the Unleashed 98 W's suspension in rough snow is very respectable.
In more challenging and variable conditions, the Unleashed 98 W feels best when making quicker turns, where you can take advantage of its energetic flex pattern. At higher speeds in similarly rough snow, it feels less planted more harsh than my reference skis for these qualities, such as the Black Pearl 97, Santa Ana 98, and K2 Mindbender 99Ti. In these conditions, the Unleashed 98 reminds me of the Line Blade Optic 104 when it comes to its level of maneuverability and predictability, but the Blade Optic is notably more damp and capable when trying to blast through the patches of crud.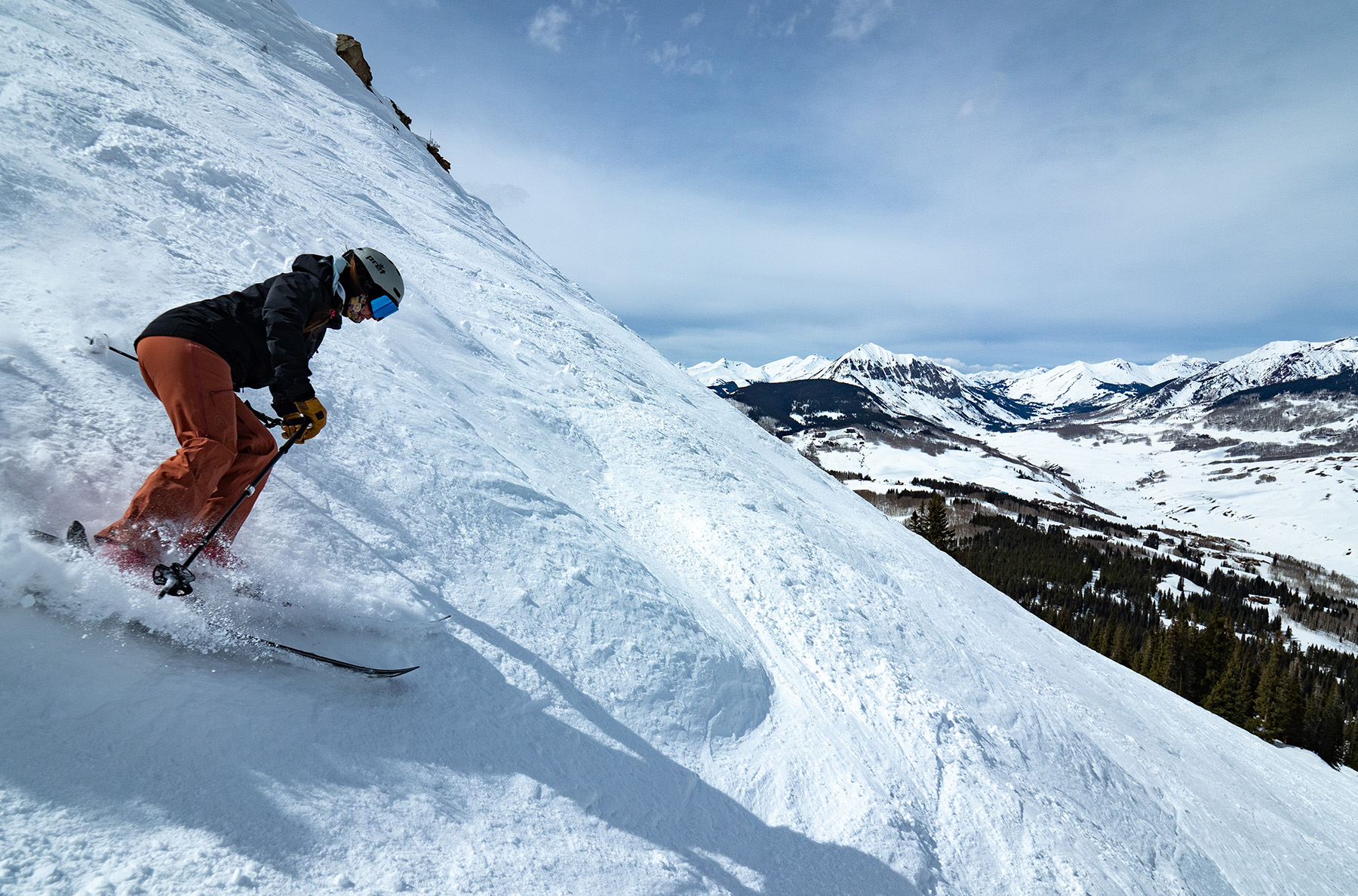 Overall, the Unleashed 98 feels more comfortable and predictable in crud and chop than you might expect from the "more playful" alternative to the Santa Ana series, but for someone who prioritizes suspension, composure at speed, and maximum stability, there are several better alternatives.
Powder
The playfulness and maneuverability of the Unleashed 98 W translate to a pretty fun ride in fresh snow, especially pow that is less than ~6" deep and has a supportive base beneath. While I didn't get the chance to try the Unleashed 98 W on a really deep day, I'd typically look to something wider in that scenario (e.g., the unisex Unleashed 108).
In fairly shallow, soft snow, the Unleashed 98 W was easy to pivot without getting bogged down, feeling pretty similar to the Blizzard Sheeva 10, which I have always found to be a fun powder ski despite not being super wide. For someone who wants the ability to charge full-speed in powder, there are wider, more damp skis that are better for that, such as the Nordica Santa Ana 104 Free, K2 Mindbender 106C, or Faction Dancer 3X. Or if you want to optimize flotation and slower-speed maneuverability, I would point you in the direction of the Armada ARW 106 UL.
But for someone looking for an all-mountain ski that does most things quite well, the Unleashed 98 W's performance in deeper snow by no means disqualifies it from being a very good 1-ski quiver contender.
Steeps
I really enjoyed skiing steeps on the Unleashed 98 W because it is not overly committing, but also pretty supportive and predictable. This ski's willingness to make any turn without too much effort on my end made it feel intuitive and "comfortable," even as I pushed out of my comfort zone. This is an example of where a more maneuverable, easy-going ski was actually much more confidence-inspiring for me than stiffer, less rockered, more directional options that require more forward pressure and overall commitment, such as the Santa Ana 98 and Black Pearl 97. The Unleashed 98 is also pretty ideal for hop turns, with its low swing weight making it easy to flick around in a precise manner.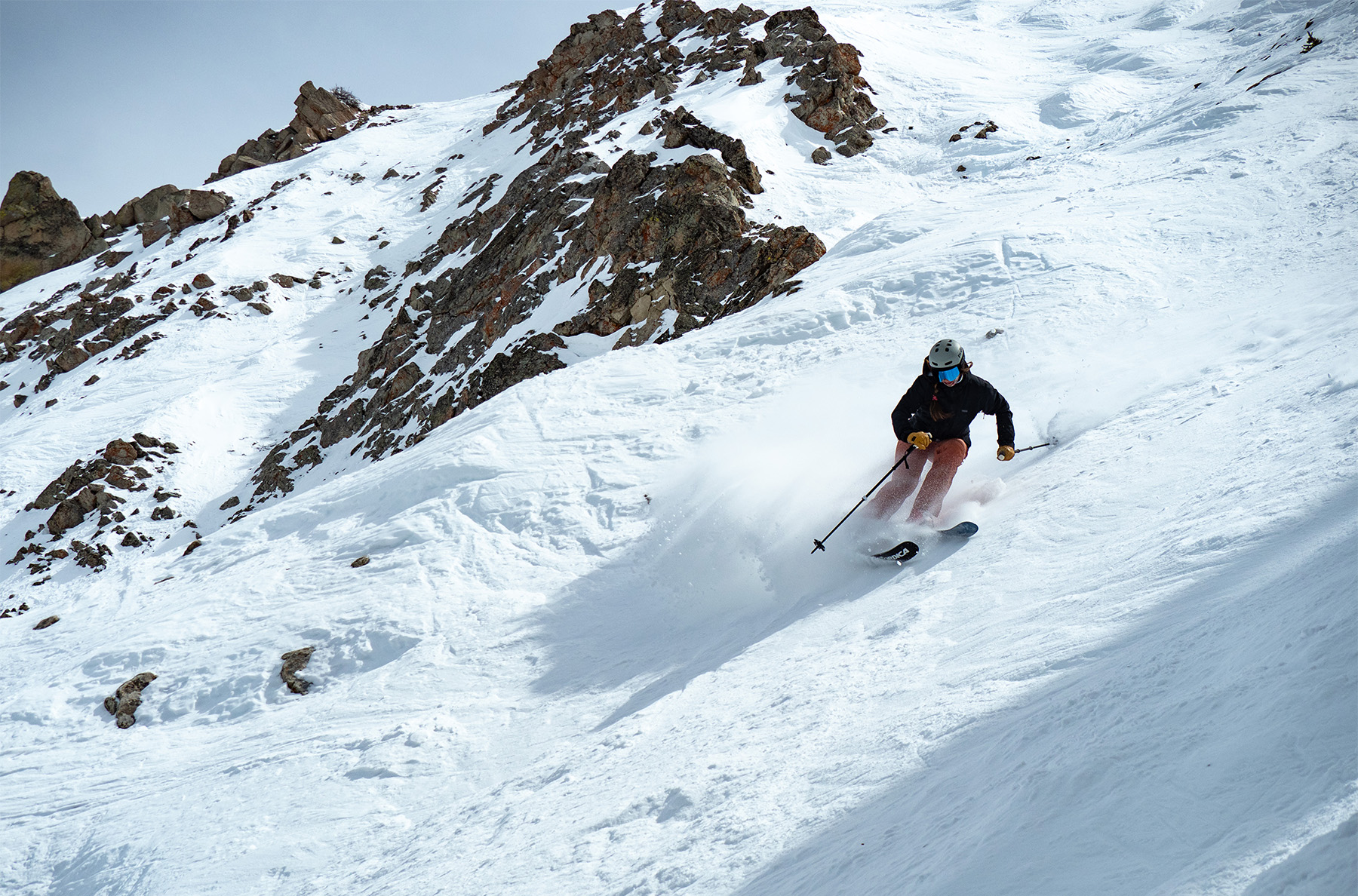 While there are lots of fairly light, maneuverable skis out there, the Unleashed 98 W stood out to me in steep terrain because, while it makes it easy to initiate turns and flick it around, this ski also feels consistently supportive once I put it on edge. For example, I found the Unleashed 98 W to be smoother and more intuitive in this regard than the Dynastar M-Free 99 and Blizzard Sheeva 10, both of which can feel a little more hinge-y or inconsistent in their flex patterns when committing to a very steep fall-line turn. That said, when the steeps are frighteningly firm, people who have loved the smooth and planted ride of the Nordica Santa Ana 98 would likely still prefer the Santa Ana.
Length
Skiing the 174 cm Unleashed 98 W was pretty easy and effortless for me, and there were times when I felt myself flexing the ski. A lot. While I enjoyed the easy nature of this length in trees, moguls, steeps, etc. for all the reasons mentioned above, given just how maneuverable the Unleashed 98 W is, I think I might benefit from a longer version. This would bring me to the men's / unisex version in 180 cm, which features the same construction. While this is mostly speculation, I imagine that the 180 cm would still feel pretty maneuverable and playful, but would likely be a step up when it comes to support and stability. That said, my ability to really bend the 174 cm both in moguls and on groomers made for a more lively / snappy ride, so skiing this shorter length wasn't necessarily a bad thing, just different.
For reference, I have gotten pretty used to skiing more directional, heavier, stiffer skis in the lower 170's realm (e.g., 171 cm Black Pearl 97, 170 cm Secret 96, 172 cm Mindbender 99Ti W), and more playful skis with deeper rocker lines (especially tail rocker) closer to 180 cm (e.g., 178 cm Line Blade Optic 104, 180 cm Blizzard Sheeva 10, and 180 cm Armada ARW 106 UL). The Unleashed 98 W falls into that latter category so I hope to someday spend time on the 180 cm. Side note: our male reviewers have been skiing the 186 cm, which seems like a bit of a stretch for me.
Mount Point
From its recommended mount point (-7.2 cm from true center), the Unleashed 98 W felt easy to drive from both a forward or more centered stance. Overall, the ski felt most intuitive to me when not leaning super aggressively into the front of my boots, instead adopting a more upright position over the ski. Overall, I found the recommended mount point to feel intuitive and didn't move away from it. For someone who is more interested in throwing tricks and/or taking this ski into the park, moving the mount point a bit closer to center is a viable option (our reviewer Dylan Wood did this with the 186 cm length when he knew he'd be hitting the park).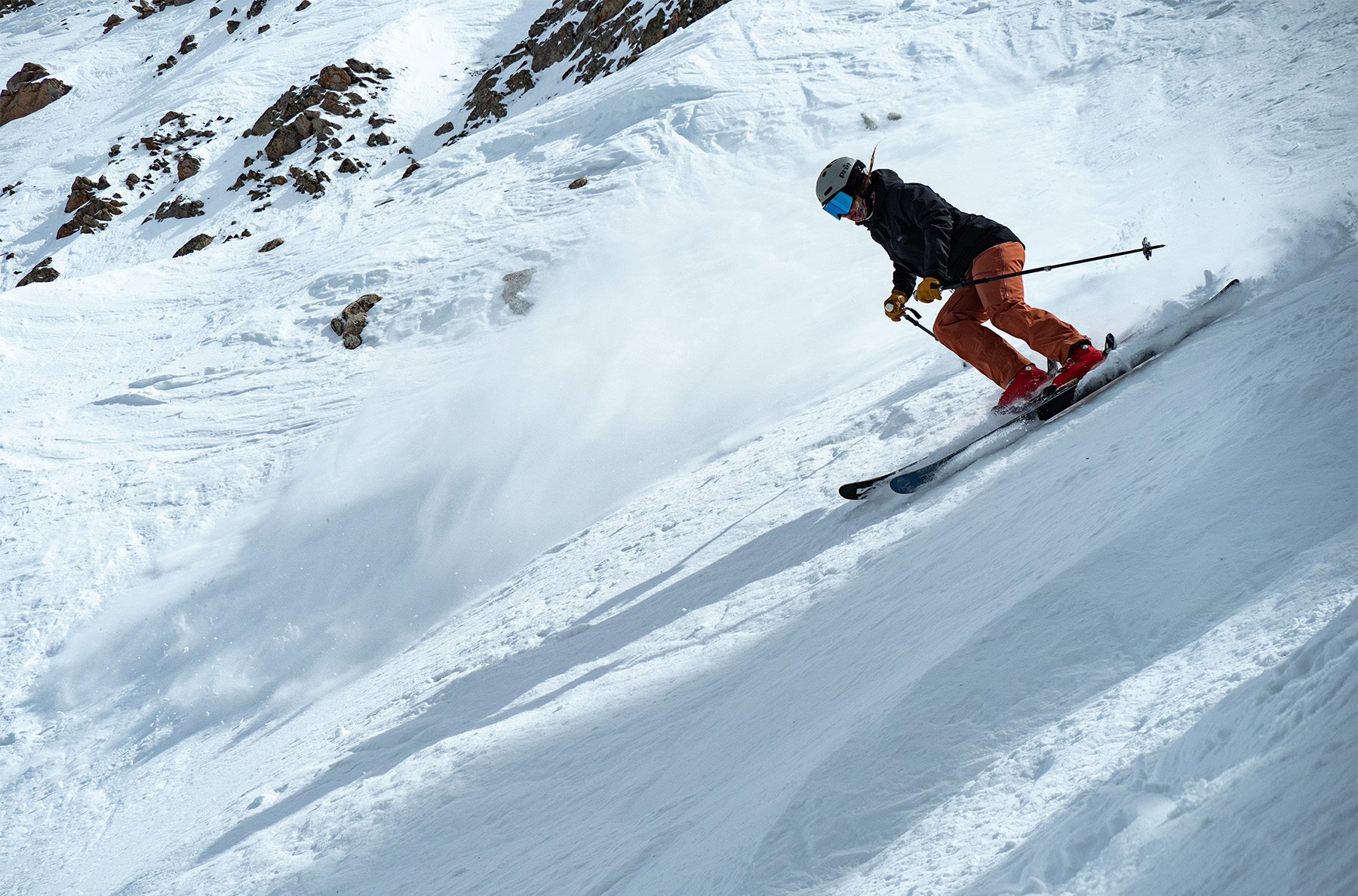 Playfulness
Throughout the last season, I was reminded of so many benefits of "playful" skis, whether that means skis that are more energetic, more maneuverable, more forgiving, or more balanced in the air — even though I'm not spinning or flipping. While skiing the Unleashed 98, I found myself adopting a slightly more playful skiing style, including airing off moguls and hitting side hits, because the ski feels natural and energetic when doing so, and also feels a little more forgiving than more directional skis when I find myself off-balance. The Unleashed 98 W is by no means the loosest or softest ski (particularly compared to freestyle-oriented models), but it's far more playful overall than the Santa Ana 98, while also still being intuitive for many directional skiers.
Who's It For?
I think a lot of skiers will get along with the Unleashed 98, from upper-intermediates to more playful expert skiers. For those who have skied one of the stiffer, directional skis mentioned in this review but have found them punishing and/or sluggish, I would recommend trying the Unleashed 98. It's also worth a look for those who just prioritize off-piste maneuverability, but who also want a ski that carves really well. While it doesn't match the planted, stable ride of the heavier Santa Ana 98, the Unleashed 98 W is a more lively, maneuverable ski that still does a lot of things really well. It's a great potential 1-ski-quiver for those who ski with a more centered stance, prefer an energetic ride over a very damp one, and/or want a fairly forgiving ski that's still quite capable on piste and in steep terrain.
Finally, if you'd like to take the guesswork out of your next gear decision, you can always become a Blister Member, submit a question through the Blister Member Clubhouse page, and we'll work individually with you to figure out which products would be ideal for you.
Bottom Line
After being such a fan of the Nordica Santa Ana series of skis, I was actually quite unsure about how I was going to feel about the Unleashed 98. Thankfully, the best general trait of the Santa Ana skis — their overall predictability — translates to the ride of the Unleashed 98. There were times on really firm snow where I found myself missing the more planted, stable ride of the Santa Ana 98, but across a whole lot of other scenarios, I was impressed by how much versatility and confidence the Unleashed offered me, while also being a notable step-up when it came to maneuverability and accessibility when I wasn't looking to ski super hard. Overall, I think the Unleashed 98 makes the most sense for someone looking to push their skills or grow their confidence (especially off piste), or who just naturally has a more playful skiing style.
Rocker Profile - Decambered
Tail Profile - Decambered