Ski: 2022-2023 Renoun Earhart 88, 170 cm
Test Locations: Mt. Crested Butte, Colorado; Ski Santa Fe & Taos Ski Valley, New Mexico
Days Skied: 20+
Available Lengths: 149, 156, 163, 170, 177 cm
Blister's Measured Tip-to-Tail Length (straight-tape pull): 166.5 cm
Stated Weight per Ski: 1540 grams
Stated Dimensions: 127-88-111 mm
Blister's Measured Dimensions: 126.4-86.6-110.6 mm
Stated Sidecut Radius (170 cm): 14.5 meters
Measured Tip & Tail Splay (ski decambered): 70 mm / 10 mm
Measured Traditional Camber Underfoot: 5 mm
Core Materials: maple + titanal (2 partial layers) + VibeStop (8 channels) + carbon & fiberglass laminate
Base: Durasurf 4001
Factory Recommended Mount Point: -9.05 cm / 74.2 cm from tail
Boots / Bindings: Marker Griffon / Salomon S/Max 120 W
[Note: Our review was conducted on the 20/21 Earhart 88, which returned unchanged for 21/22. It received a minor core & graphic update for 22/23, which we discuss below.]

Intro
Renoun has been making skis for several years now, all of which feature their proprietary, non-Newtonian "VibeStop" construction, which results in a truly unique on-snow ride.
We've reviewed several of their skis, including the current Endurance 88, Endurance 98, and Citadel 106, but I've also been spending time on their women-specific all-mountain ski, the Earhart 88. After 20+ days on it, it's time to discuss where it slots into the market and which kinds of skiers I think will enjoy it the most.
What Renoun says about the Earhart 88
"Designed, prototyped and tested by women, the Earhart 88 is anything but a "shrink it and pink it" model. With best-in-class edge hold, smooth turn initiation and a playful personality, the Earhart makes skiing feel effortless. Rocker in the tip and tail adds versatility in soft or variable snow, while camber underfoot allows you to carve hard on groomers. With plenty of stability thanks to 8 inlays of our patented non-Newtonian VibeStop polymer, the Earhart is designed to inspire confidence in every turn."
Women's Specific Aspects of the Earhart 88
The Earhart 88 was reportedly designed specifically for women with women being involved in the design, prototyping, and testing phases. The Earhart 88 is not the only ski in Renoun's lineup with an 88 waist, but unlike other companies, the women's ski is actually distinct in terms of its construction. When comparing the Earhart 88 with the Endurance 88, both in a 170 cm length, the Endurance 88 is considerably heavier (1540 g/ski vs 1800 g/ski) and has a different core makeup. I don't think the Earhart 88 is just for women and conversely, I don't think the Endurance 88 is only suitable for men, but what I find interesting and refreshing is that the two skis are different.
"Renoun's women-specific ski is the lightest ski in this section, but since it features Renoun's signature, non-Newtonian VibeStop construction, the Earhart 88 feels smoother and more damp the harder you push it. This translates to a very versatile ski that works quite well on and off-piste, and makes it an excellent contender for a 50/50 ski (touring + resort skiing) or a 1-ski quiver in low-snow areas. It's very easy to pivot / slide thanks to its tapered and rockered tips and tails, and overall is a pretty forgiving ski that doesn't require an aggressive, forward stance or a lot of speed to be fun. Compared to the Head Kore 91, the Earhart 88 is more approachable for a wider range of skiers, though expert skiers may not find it as stable at speed. But from the backcountry to lift-served terrain, beginner to expert skiers all have reasons to consider the Earhart 88."
Construction
The main thing that makes all of Renoun's skis stand out is the inclusion of Renoun's patented "VibeStop" material, which is a non-Newtonian polymer called Polydimethylsiloxane. In theory, it's similar to the D30 material used in a lot of mountain bike pads; it is flexible when it's not subjected to impacts / vibrations, but stiffens considerably when subjected to a certain level of force. I'm no engineer, but if you want to get the full story with more detail, I recommend listening to episode 67 of our Blister Podcast, where we sat down to get the rundown from Renoun founder, Cyrus Schenck.
VibeStop aside, the Earhart 88 features a maple wood core, two partial (i.e., not full-width) layers of titanal metal, a carbon & fiberglass laminate, sintered Durasurf 4001 base, and 1.8 mm edges. Like all of Renoun's skis, the Earhart 88 is made in Canada. The 22/23 Earhart 88 is quite similar overall to the original version, with the main change being that the newer ski is a bit heavier, due to the switch from an aspen wood core to a maple one.
Shape / Rocker Profile
Like Renoun's other all-mountain skis, the Earhart 88 features a notably tapered and rockered tip (for a <90mm-wide ski), with more subtle tip taper and rocker. Overall, its shape and rocker profile are much more reminiscent of wider all-mountain skis than narrower piste-oriented options.
Flex Pattern
Here's how we'd characterize the flex pattern of the Earhart 88:
Tips: 5.5-6
Shovels: 6-6.5
In Front of Toe Piece: 7-9
Underfoot: 9.5
Behind the Heel Piece: 9.5-8.5
Tails: 8-7
The Earhart 88's flex pattern is pretty soft all around. For comparison, the Elan Ripstick 94 W has a slightly softer hand flex overall. The tips of the Fischer Ranger 90 have a similar flex, but the rest of the ski is slightly stiffer than the Earhart 88.
It's worth noting our hand flex is a very slow motion that doesn't really impact or activate Renoun's VibeStop polymer. When skiing the Earhart 88 and subjecting the ski to rapid impacts on snow, it feels stiffer than what is reflected by these numbers.
Mount Point
At about -9 cm back from true center, Renoun's recommended mount point for the Earhart 88 is fairly traditional / rearward.
Weight
The 21/22 Earhart 88 was the lightest ski I've tested, and the slightly heavier 22/23 model is still one of the lightest options in its class.
For reference, here are a number of our measured weights (per ski in grams) for some notable skis. Keep in mind the length differences to try to keep things apples-to-apples.
1364 & 1392 Renoun Earhart 88, 170 cm (19/20-21/22)
1409 & 1414 Moment Sierra Tour, 172 cm (21/22)
1540 g (stated weight) Renoun Earhart 88, 170 cm (22/23)
1545 & 1553 Head Kore 85 W, 170 cm (21/22)
1556 & 1575 Liberty Genesis 96, 165 cm (19/20–20/21)
1572 & 1575 Head Kore 91 W, 170 cm (21/22)
1584 & 1629 Elan Ripstick 94 W, 170 cm (20/21-22/23)
1592 & 1637 Head Kore 97 W, 170 cm (21/22)
1622 & 1638 Blizzard Black Pearl 88, 165 cm (20/21–22/23)
1638 & 1639 Atomic Maven 93 C, 172 cm (21/22–22/23)
1687 & 1695 Elan Ripstick 102 W, 170 cm (20/21–22/23)
1693 & 1710 Moment Sierra, 172 cm (21/22)
1709 & 1710 Blizzard Sheeva 10, 172 cm (17/18–22/23)
1742 & 1697 Salomon Stance 88 W, 174 cm (20/21–22/23)
1762 & 1801 K2 Mindbender 98Ti Alliance, 168 cm (19/20–21/22)
1764 & 1794 Fischer Ranger 90, 170 cm (22/23)
1788 & 1793 ZAG Harfang 96, 170 cm (22/23)
1792 & 1792 Nordica Santa Ana 104 Free, 172 cm (20/21–22/23)
1797 & 1839 Rossignol Rallybird 102, 170 cm (20/21–22/23)
1812 & 1817 Salomon Stance 94 W, 174 cm (20/21–22/23)
1831 & 1852 Rossignol Rallybird 104 Ti, 171 cm (20/21–22/23)
1833 & 1842 Volkl Secret 96, 163 cm (21/22–22/23)
1881 & 1895 Salomon QST Lumen 99, 174 cm (19/20–21/22)
1903 & 1917 Nordica Santa Ana 93, 172 cm (20/21–22/23)
1917 & 1935 Nordica Santa Ana 98, 172 cm (20/21–22/23)
1933 & 1975 Volkl Secret 96, 170 cm (21/22–22/23)
1955 & 1990 Coalition Snow SOS, 173 cm (19/20–21/22)
1969 & 1988 4FRNT MSP CC, 171 cm (20/21–22/23)
2015 & 2024 Blizzard Black Pearl 97, 171 cm (21/22–22/23)
2104 & 2115 Volkl Secret 102, 170 cm (19/20–21/22)
Now, onto how the Earhart 88 performs on snow:
FULL REVIEW
Kristin Sinnott (5'8", 125lbs / 173cm, 57 kg): For the last decade or so, I have considered a ski with an ~88 mm waist to be fairly narrow and likely best suited for groomers (despite growing up on the East Coast & frequently skiing there each year). Like most of my ski buddies, I preferred 100 mm or wider skis for my daily driver, but over the last few seasons, I've gotten the opportunity to test a number of 85-94mm-wide skis and I've really enjoyed them. And not just on groomers.
One of those has been the Renoun Earhart 88, which I've been spending a considerable amount of time on over the past two seasons. I have mentioned the Earhart 88 several times in my ski-quiver selections because of its versatility and its low weight. What has surprised me most about this ski is that it doesn't share some of the downsides of other lightweight skis — I've found it to work well in most conditions and terrain types.
When reading this review, note that I'm not a particularly heavy or powerful skier. I tend to actively and precisely finesse my turns more than powerfully force them, and as I'll get into below, I think that is one of the many reasons I get along so well with the Earhart 88.
Groomers
In my opinion, one place a (relatively) narrow ski like the Earhart 88 should excel is on groomers. And it is good on groomers, though, for some folks, it might take some getting used to when skiing less than ideal conditions. This is less of a criticism of the ski than it is a heads up regarding Renoun's unique "VibeStop" construction.
To reiterate what we outlined above in the "construction" section, here's a brief rundown: VibeStop is Renoun's patented anti-vibration technology. It's a polydimethylsiloxane polymer that is embedded into channels (8 for the Earhart 88) within the core of each ski. The polymer is lighter than most wood types used in ski cores, but despite this, Renoun claims that the polymer "performs like metal as you ski more aggressively." So while the Earhart 88 is quite light for its size, it should perform (in regards to stability), like a much heavier ski. Note that the damping and stabilizing properties of the polymer don't really kick in until you are skiing aggressively and / or in rough conditions (e.g., chop, crud, hard snow). This is because the "non-Newtonian" polymer is fairly soft and pliable when not subjected to impacts / vibrations, but gets stiffer when subjected to more substantial impacts / forces / vibrations.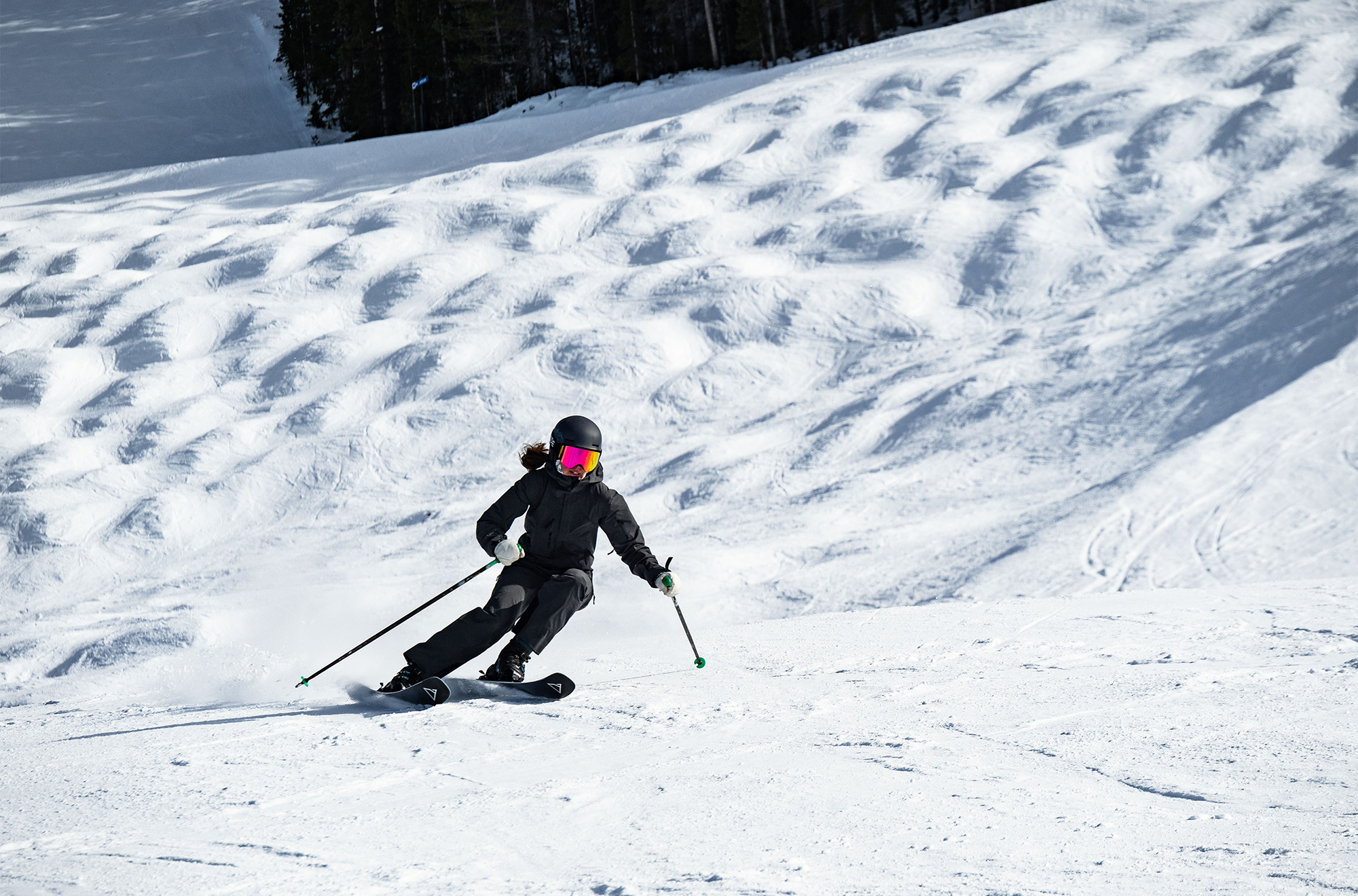 Having read very little about Renoun's VibeStop technology prior to my first turns (I tend to test skis without looking at the company's marketing; see this video for more on how we test skis), I assumed the skis would perform as well on the groomer as a heavier ski like the Salomon Stance 88. I was initially disappointed that I didn't immediately feel as comfortable at high speeds on the Earhart 88. But the more I skied the Earhart 88, the more I enjoyed them, and the more comfortable I felt at speed (and consequently, the better the ski performed).
The Earhart 88 can feel a little soft and chattery if you aren't really driving and pushing it (and taking advantage of the VibeStop construction). I only noticed this when I was traversing between the top of one lift and the bottom of another one. Basically, it was the start of my ski day, my boots were unbuckled, and I was not paying attention to my turns. With this type of skiing, I could feel the tips chatter, but once I started to make real turns and weight the ski properly, the Earhart 88 felt notably more stable (and responsive and quick). For beginner or intermediate skiers who are still working on their technique, you might experience more chatter at the tips than a heavier ski, but once you start weighting the downhill ski, you should notice a difference in performance.
When initiating turns and making turns in general, I'd call the Earhart 88 responsive and intuitive. Short- and large-radius turns are easy and fun and I particularly enjoy the ski at the beginning of the season when my legs aren't quite ski-ready. The Earhart 88's low swing weight allows me to stay on the slopes longer since I'm not needing to really muscle it around to make turns.
While the Earhart 88 is capable of short- and large-radius turns, I'd say it excels when making turns on the shorter side of things. It can pop you out of a turn if you put some energy into the ski, but relative to the Nordica Santa Ana 88, you have to put more force into each turn on the Earhart 88 to get a response. I do love how much energy the Santa Ana 88 provides, but sometimes it's too much and can throw me into the backseat. The Earhart 88 has a more subtle / subdued rebound and very rarely did the ski kick me into the backseat at the end of a turn. On the other end of the spectrum, the Earhart 88 does feel more energetic when completing a turn than the Head Kore 91 and DPS Pagoda 90.
I didn't initially trust the Earhart 88 at speed on non-fresh corduroy (e.g., scraped-off groomer with golf-ball-sized debris) as much as the Kore 93, Stance 94, Nordica Santa Ana 88, but in general, they're still quite respectable in terms of stability and dampness. The Earhart 88 wouldn't be my top pick if high-speed stability was a top priority, but rather, it handles higher speeds and rougher snow really well for how light and maneuverable it feels.
Compared to one of my benchmarks skis in this class, the Blizzard Black Pearl 88, the Earhart 88 makes it easier to initiate quick carved or skidded turns, but I find the more traditional shape (i.e., longer effective edge) of the Black Pearl 88 more confidence-inspiring when ripping groomers. The Black Pearl 88 offers more edge hold and doesn't chatter quite as much at higher speeds, while the Earhart 88 feels quicker and a little more playful.
Moguls, Trees, Tight Terrain
I really started to appreciate the Earhart 88 when I took it off piste; it's designed and marketed as an all-mountain ski and I don't think this claim is misleading. The Earhart 88 is quick, nimble, and it's exceptionally easy to get the tails of the skis around. In early season conditions when runs resemble half-buried Christmas tree farms, the overall maneuverability of the Earhart 88 was very noticeable and very much appreciated.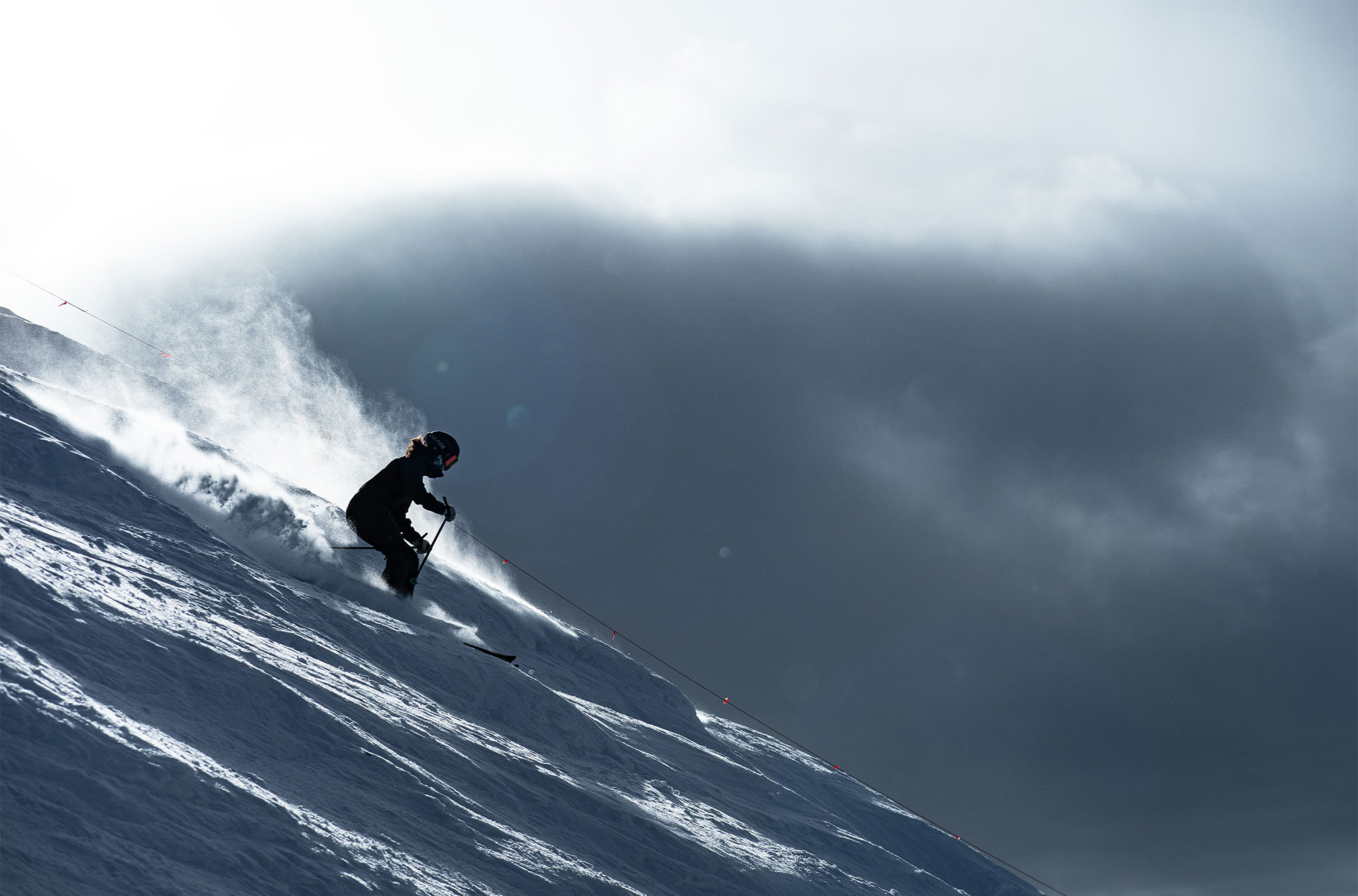 Of the skis I've tested, the Earhart 88 has been one of my favorites for skiing moguls. The Blizzard Black Pearl 88 was a bit more intuitive in the bumps at first, but once I got used to the tip shape and weight (or lack thereof) of the Earhart 88, the Earhart 88 became my preferred ski for moguls.
When conditions get rough off-piste, like in large, very firm moguls or in heavy windblown snow, the lightweight tips of the Earhart 88 have a tendency to get pushed around a bit. That's where I would prefer to be on a heavy ski like the Nordica Santa Ana 88, but I really enjoyed the Earhart 88 in tight terrain when conditions were more typical / not as challenging.
Steeps
When I first skied the Earhart 88 in the steeps, I was hesitant to trust it. Compared to the considerably heavier skis that I had been testing (e.g., Nordica Santa Ana 93, Santa Ana 88, Salomon Stance 94), the Earhart 88 felt shockingly lightweight at first. I didn't think I could trust the ski in steep, chalky bumps, but the more turns I made, the more these thoughts disappeared.
The Earhart 88 also felt more damp / smooth than I expected. This isn't to say it's the most damp ski (there are many that feel more planted), but for its weight and width, the Earhart 88 performs remarkably well on firm snow. Similar to what I noted in the groomer section, the Earhart 88 will get bounced around a bit more if I am skiing from the backseat, as I have a tendency to do when I'm not bringing my A-game. But when I'm on top of the ski and driving it through each turn, the Earhart 88 offers a level of composure that's rare in a ski this light.
In chalky conditions, the Earhart 88 holds an edge pretty well, but it does get bounced around when sliding turns over more inconsistent, bumpy sections of snow. I tend to favor short, carefully placed turns rather than more elongated, skidded turns in these conditions and the Earhart 88 is ideal for these more precise turns. If you want a very stable, planted ski, then something heavier like the Santa Ana 88 or Salomon Stance 88 might be a better option. But if you want a really nimble ski that performs above its weight on firm snow, the Earhart 88 offers a lot to like.
Chop / Crud
In soft or heavy chop / crud, the Earhart 88 has a tendency to get pushed around a bit, which isn't too surprising given how lightweight and narrow it is. The ski is predictable in these conditions, but it's far from a crud-buster.
In heavy, wet snow, the Earhart 88 doesn't get bogged down as much as many similarly narrow skis and it's easy to unweight it and get it to turn, but the ski doesn't plow through chop or crud. Instead, I find myself trying to make shorter turns and taking advantage of its maneuverable ride. I've skied the Earhart 88 multiple days where conditions included remnants of heavy, wet powder and heavy chop; I definitely would have preferred a wider ski for these conditions, but I was surprised by how well the Earhart 88 worked.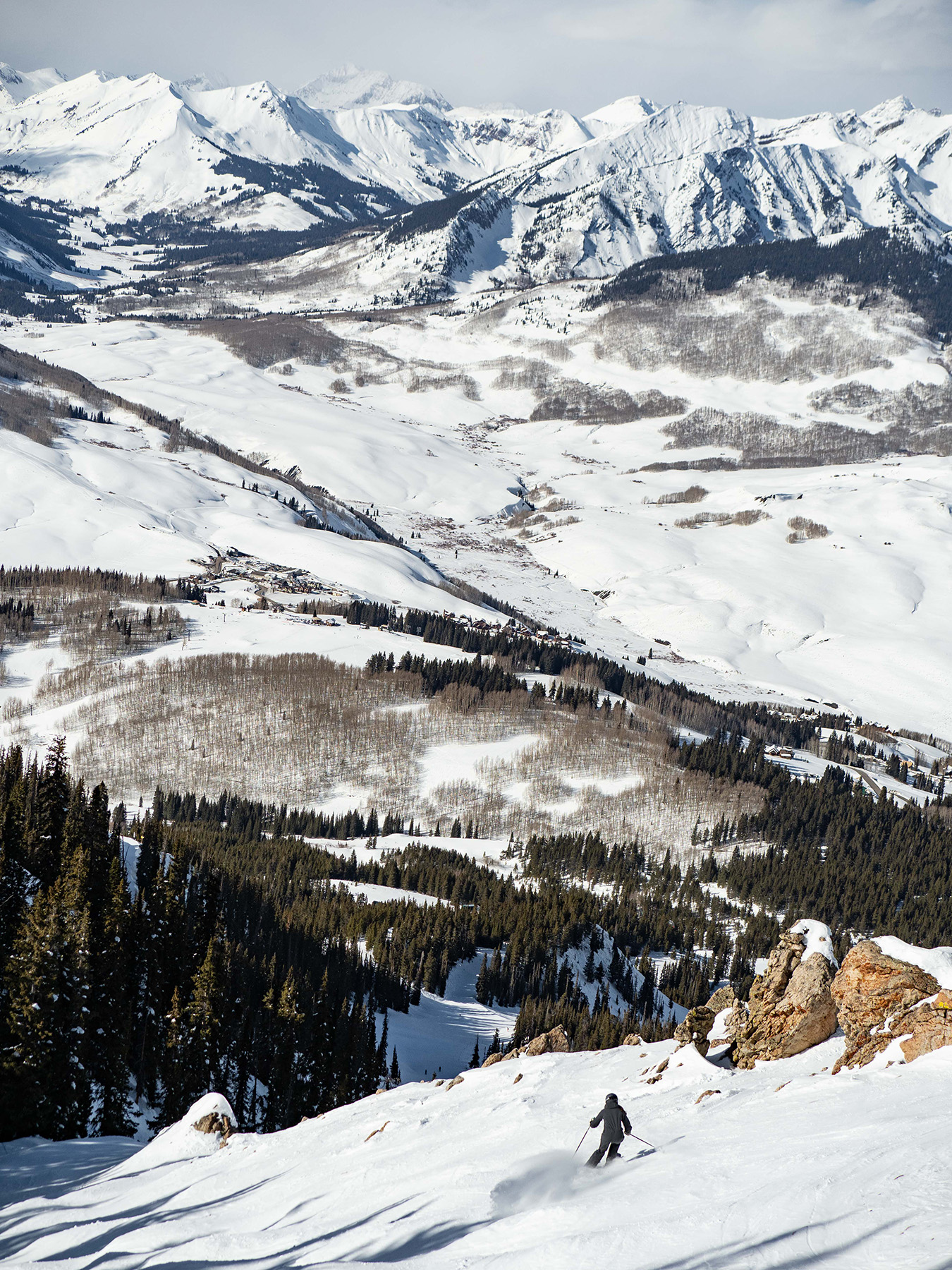 Powder
At 88 mm underfoot, the Earhart 88 is not a ski I would take out on a powder day if I had other, wider options, especially if there was more than 6" of fresh snow. But given its notably rockered, tapered tips and low weight, I suspect that the Earhart 88 would handle the occasional pow day better than many of the other skis in this sub-90 mm category.
Length
The 170 cm length initially felt a little short for me when I was first trying to open it up on groomers, but over time, I got more comfortable with it. If I sized up to the 177 cm length, I think I would feel more confident and comfortable skiing fast but I would lose some maneuverability. With the majority of my skiing taking place off-piste, I think 170 cm is a good length. For reference, I've enjoyed skis around this width in lengths ranging from about 170–175 cm.
Who's It For?
The Earhart 88 is a good all-mountain option for skiers who want to prioritize maneuverability without drastically sacrificing stability. Intermediate or advanced skiers who want to progress and need a ski that won't hold them back have many reasons to consider the Earhart 88, since it handles a wide variety of terrain and conditions well, is pretty easy and quick off piste, but offers better high-speed composure than most similarly lightweight skis. With its easy turn initiation and intuitive feel, newer or less advanced skiers will likely find the Earhart 88 to feel accessible in bumps and groomers, while expert skiers who prefer a quicker, more maneuverable ride will appreciate how nimble the ski is in tight terrain.
If you're a powerful or heavier skier who prioritizes high-speed stability, you might want to take a look at the heavier, stiffer Endurance 88 instead of the Earhart 88 (or maybe consider sizing up on the Earhart 88).
Bottom Line
The Renoun Earhart 88 is a lightweight ski that makes it easy to make a wide variety of turn shapes and styles all over the mountain. I think it's a ski that could work for a lot of people, especially those who finesse their turns more than power through them. The Earhart 88 is also worth considering for the occasional skier who never quite has the legs to ski all day. I've enjoyed every day I've skied the Earhart 88 and I'm looking forward to spending more time on the ski next season.
[Note: We haven't yet shot our rocker profile shots for the Earhart 88, but it shares the same rocker profile as the Renoun Endurance 88, so we're including those rocker profile images here.]